One of the best reasons to visit Taiwan is due to the incredible hiking opportunities.
Jade Mountain (玉山) is a top hiking challenge in Taiwan and highly recommended if you have the chance to do it. There are about 100 peaks higher than 3000 meters (9,843 feet) in Taiwan to add to the hiking bucket list. Jade Mountain's main peak tops off at 3,952 m (12,966 ft), the highest in Taiwan, and gives hikers spectacular views of the surrounding mountains.
We decided to hike Jade Mountain in one day which was quite an adventure.  It's no easy task climbing up this mountain!
Why only one day?! Work gives me the chance to travel to Asia few times a year and I had a trip scheduled for Taiwan in May. My friends who are avid hikers planned a Jade Mountain hike at the start my trip. 
If you're able to do the Jade Mountain hike in 2+ days – go for it! You'll have a better time acclimating to the altitude and can take your time hiking. 
Continue reading on how we hiked Jade Mountain in a day and the process for climbing this place. For the adventurers and hikers, this place is the perfect addition to your Taiwan itinerary, especially if you have two weeks!
(Disclosure: Several links in the post are affiliate links. As an Amazon Associate, we earn from qualifying purchases. If you click on them and make a purchase, we receive a small commission. Appreciate the support.)
---
The Jade Mountain Process
The process is well regulated as hikers need permits (park entry and mountain climbing) to reach the summit. My friends applied for the permits and submitted the proper paperwork to the police office.
To complete the paperwork at the police office, check in on the website 5 days early. Within five days of the trip, submit your information to nearly police office.
Read more about the process here. The website is in English.
---
How Many Days are Needed on Jade Mountain?
Most hikers spend 2 days on Jade Mountain:
Day 1: Hike from Mt. Jade Trailhead to the Paiyun Lodge.
Day 2: Hike from Paiyun Lodge to the summit and back down the mountain.
Day 3 (optional): After reaching the summit, spend one night at Paiyun Lodge before heading down Mt. Jade Trailhead.
Paiyun Lodge is the only lodge for the Jade Mountain climb and requires a lottery for bunk bed spots. As the demand was high, we applied for the lottery for a Thursday or Friday.
We were unable to get spots, so our last option was to attempt the summit in one day. This is not recommended for everyone as the climb is strenuous.
---
How We Hiked Jade Mountain in One Day
For the one day attempt we did the following:
Day 0 – Travel Day
We drove to Dongpu Villa Hostel (東埔) to spend the night. 
Tip: You'll need to call them to see if there are beds available. Once there is a confirmation, you'll pay for the beds in advance.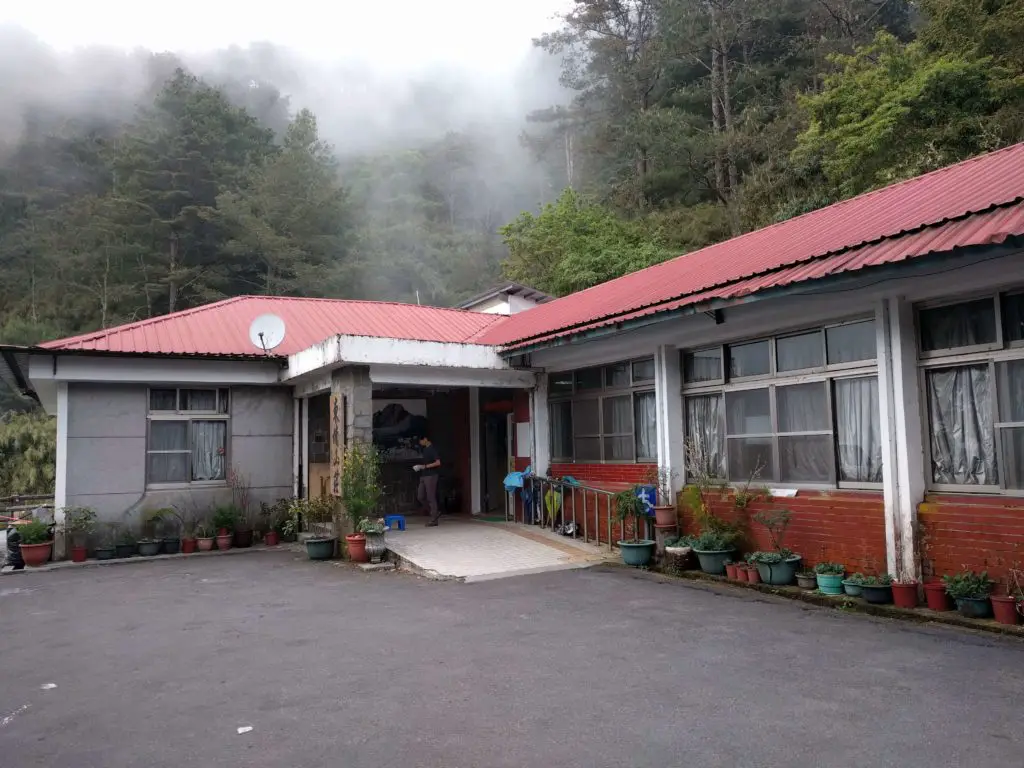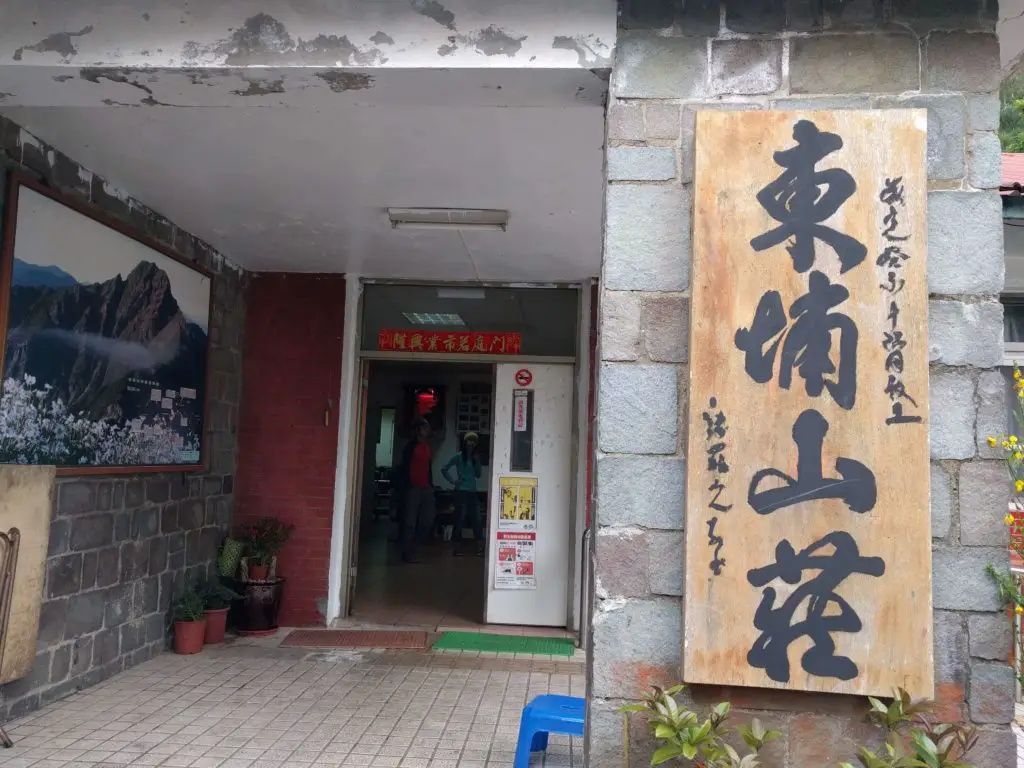 The lodge was basic. At $300TWD ($10 USD) per bunk bed spot, we could not complain. The beds had some slight padding, a pillow, and a comforter.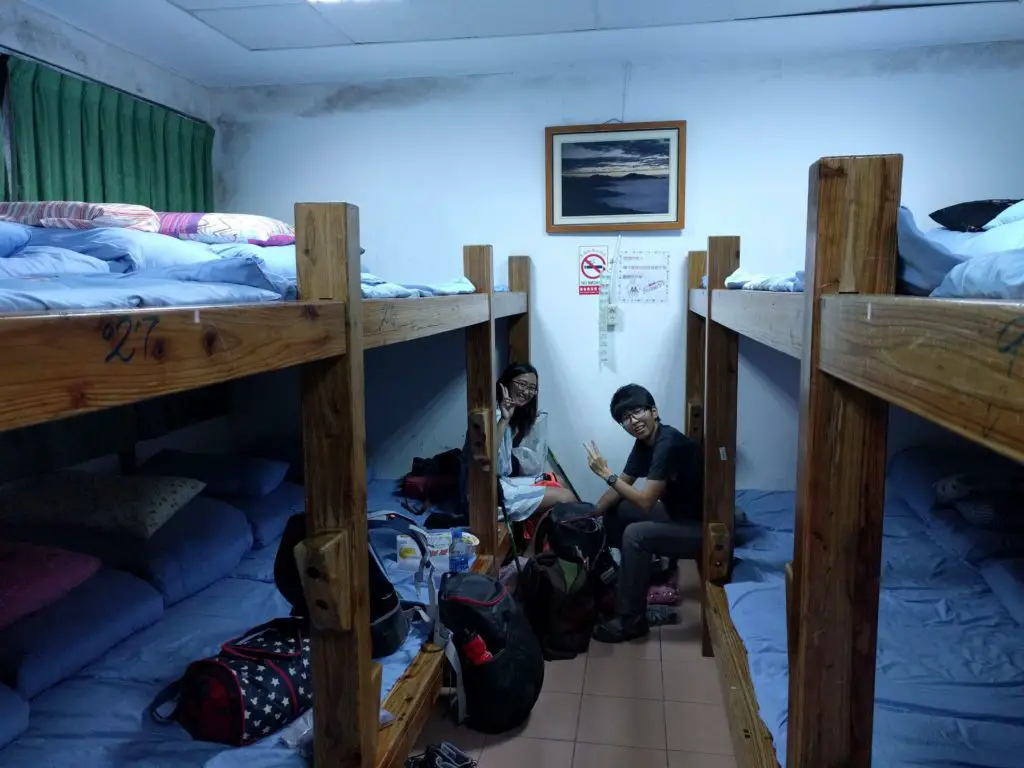 Bathrooms were typical squat toilets, urinals, showers (hot water after 6pm).
As with food, some groups brought food and cookware to cook in designated places. Our group chose to have the hostel cook our dinner. The meal cost $200TWD ($6.60 USD) per person and was expensive for Taiwanese standards. Due to the remote location, there weren't many choices.
We all tried to sleep around 8:00pm due to our early planned wake-up at 1:00am. The room was noisy and bright. Earplugs and eye covers are recommended. I slept well due to jetlag as I arrived in Taiwan the day before, and was told that I was the loudest guy in the room. Sorry guys! 😉 I should have followed some of these tips to overcome jetlag. 
Day 1 – Summit Day
Waking up at 1:00am should have been tougher, but that's where my jetlag worked in my favor. As we dragged ourselves out of bed and ate our hostel's porridge breakfast for $80TWD ($2.70 USD) per person, we were anxious to get started.
We finished packing up and moved our cars about a ½ mile from the hostel which was closer to the main entrance.
The morning was brisk. Temperatures started around 6°C (42°F). For my upper body, I wore a long-sleeve baselayer and my Patagonia Houdini
jacket knowing I would heat up later.
The hike officially started at 2:00am. We hiked 2km (1.6miles) up the hill to the Mt. Jade Trailhead which we arrived at 2:30am. Headlamps are required.
Having hiked Mt. Kilimanjaro 5 months prior to this, I knew the importance of going "Pole Pole" ("slow slow" in Swahili) and not rushing up the mountain, especially with a group of various physical strengths.
Our group of 9 quickly split into 3 groups- the fastest, the medium, and the slower paced. To ensure a higher rate of success, we had at least one "sweeper" in each group. I chose to stick with the medium pace group and led with a "Pole Pole" fashion. Some experienced altitude sickness within the first hour of hiking and had to take altitude medication. It was important to eat snacks for fuel, drink plenty of water, and take breaks as needed (not too long though).
Along the way, there were a few ECO-restrooms as well as a larger rest platform that people can spend the night on.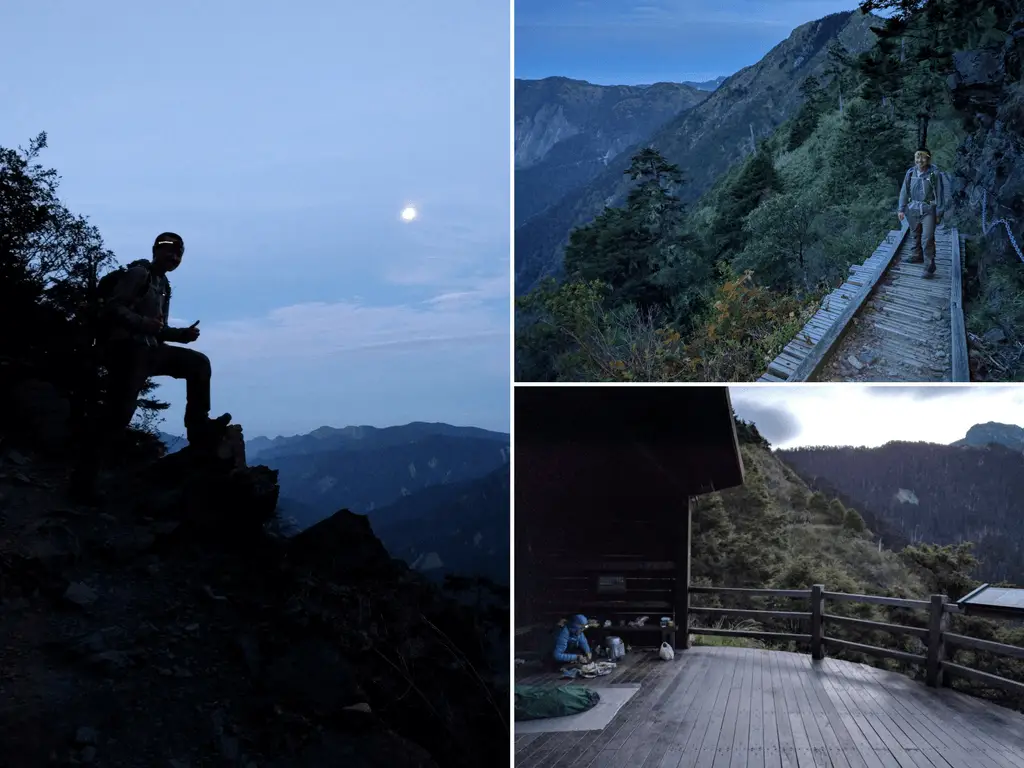 Eventually we arrived at the Paiyun Lodge around 7:00am which we were unsuccessful in booking. We stopped for a brief amount of time for a snack break before the summit attempt.
I packed a Taiwan style sushi lunch that I bought the day before and definitely savored it during this trip.
The section between Paiyun Lodge and Mt. Jade's main peak was much steeper and more challenging than the previous section. Gloves are recommended as they give your hands protection while scrambling up rock faces and grabbing chains.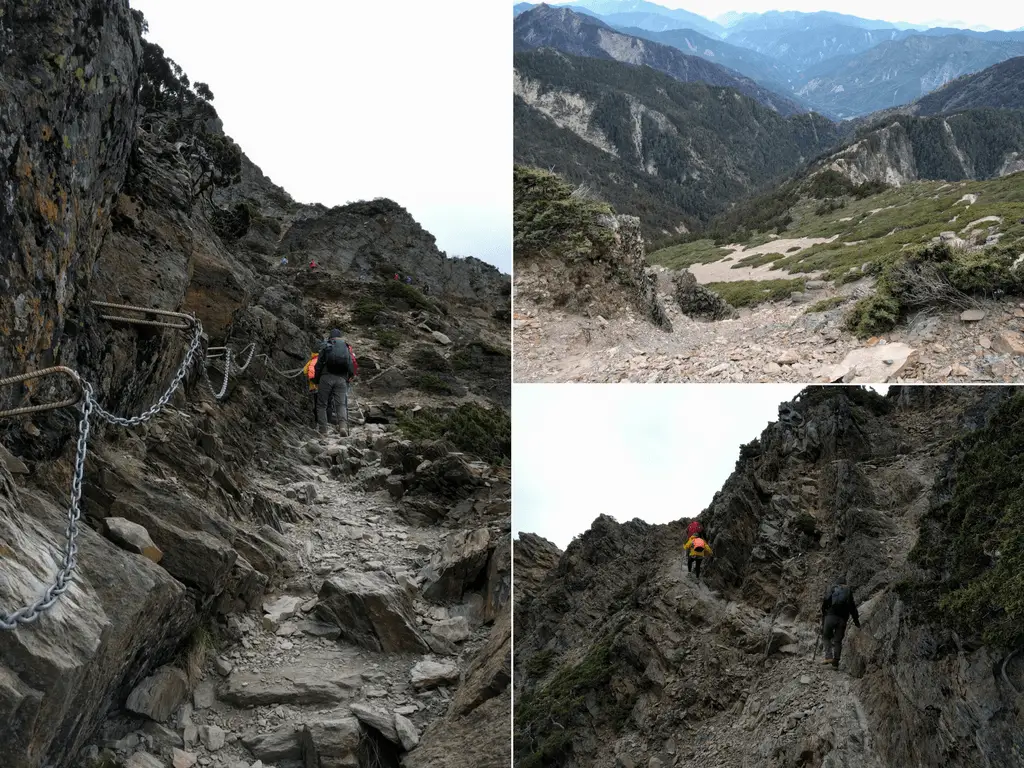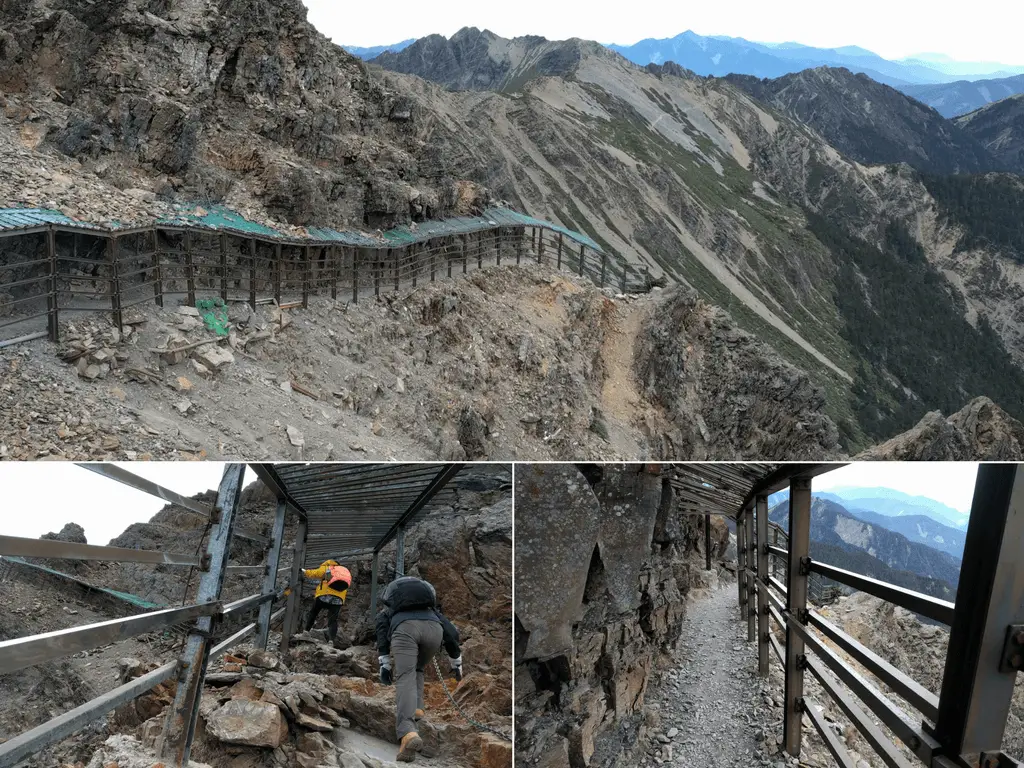 With enough determination, you are rewarded with a spectacular view at the top of Taiwan. We reached the summit at 10:00am. We spent some time here to rest and take pictures.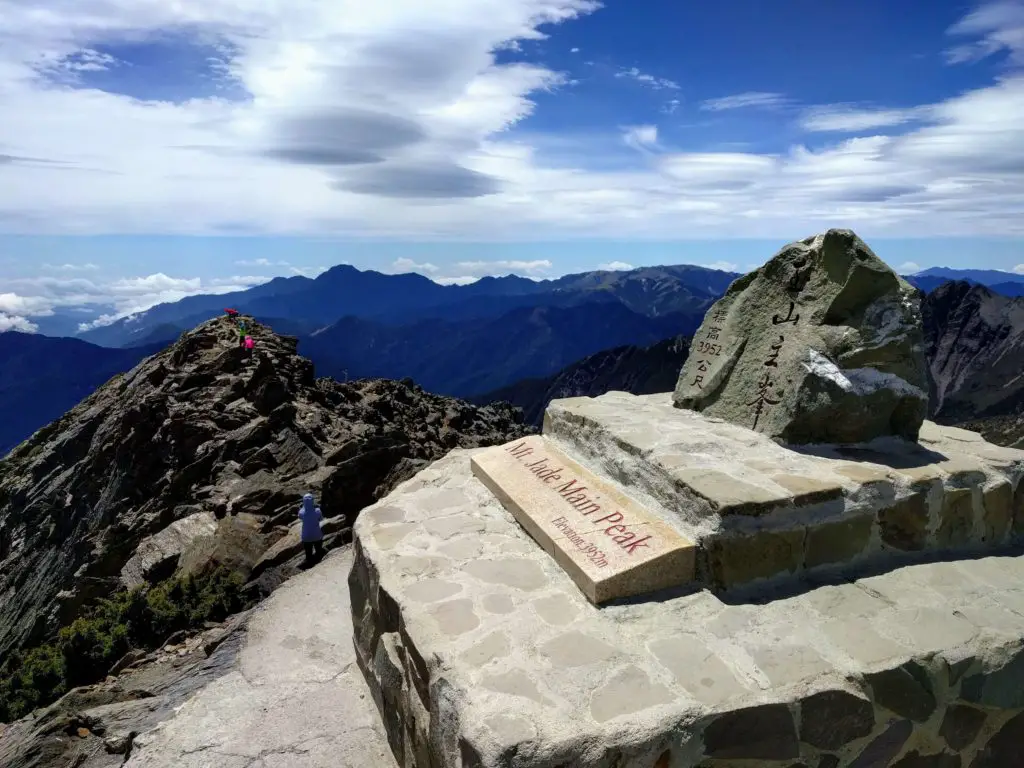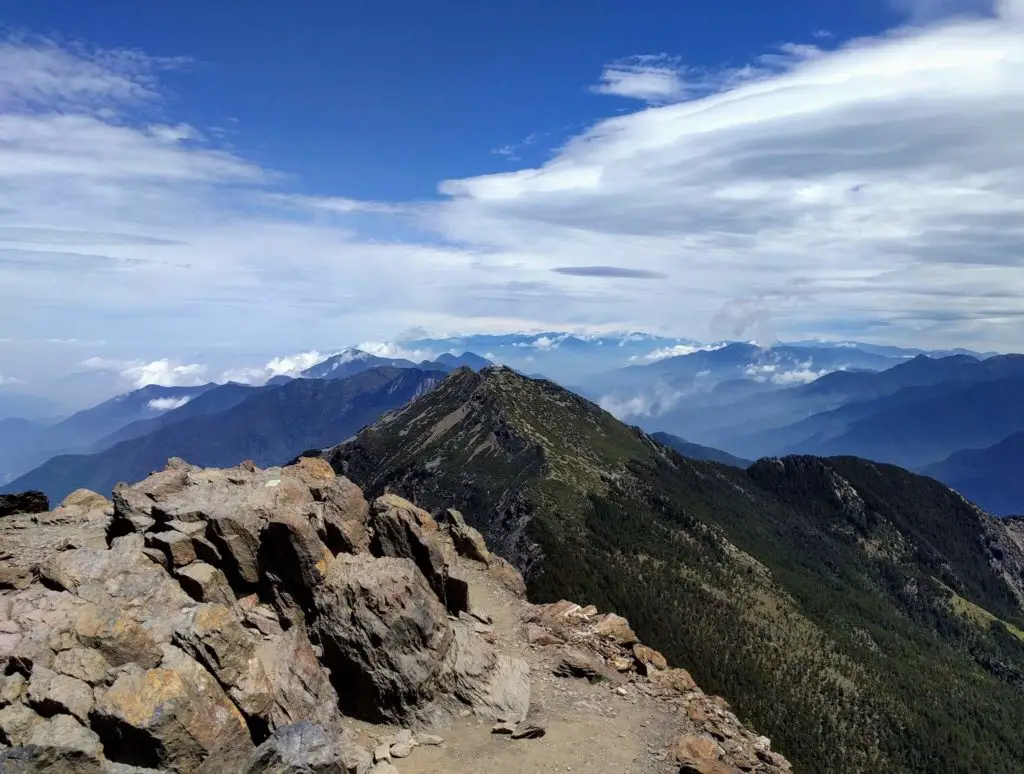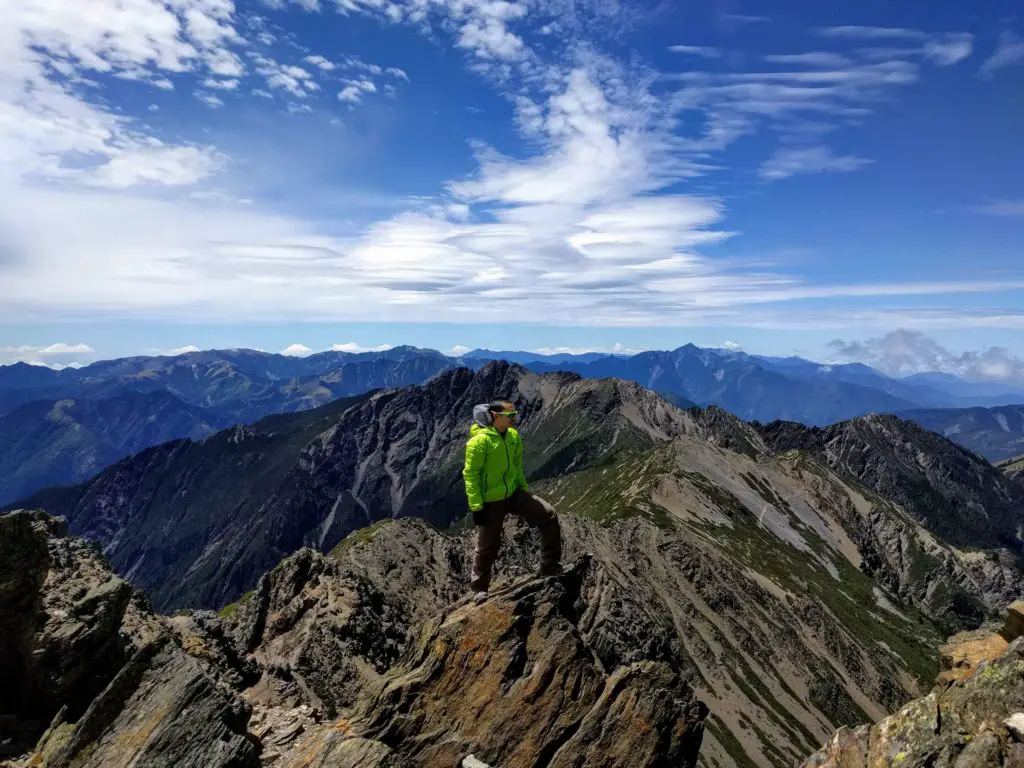 If you want cell phone reception to post that awesome photo on social media, there is a spot marked on the top of the mountain. My Google Project Fi phone plan worked flawlessly here and also in various spots along the trail. (Receive a $20 credit if you click on the link! We'll write about Project Fi soon.)  
It was time to head back down at 11:00am. Trekking poles were not helpful during the hike up so I kept them strapped to my day pack. On the descent, I whipped them out in hopes of saving my knees. The temperature steadily increased so having layers of clothes helped.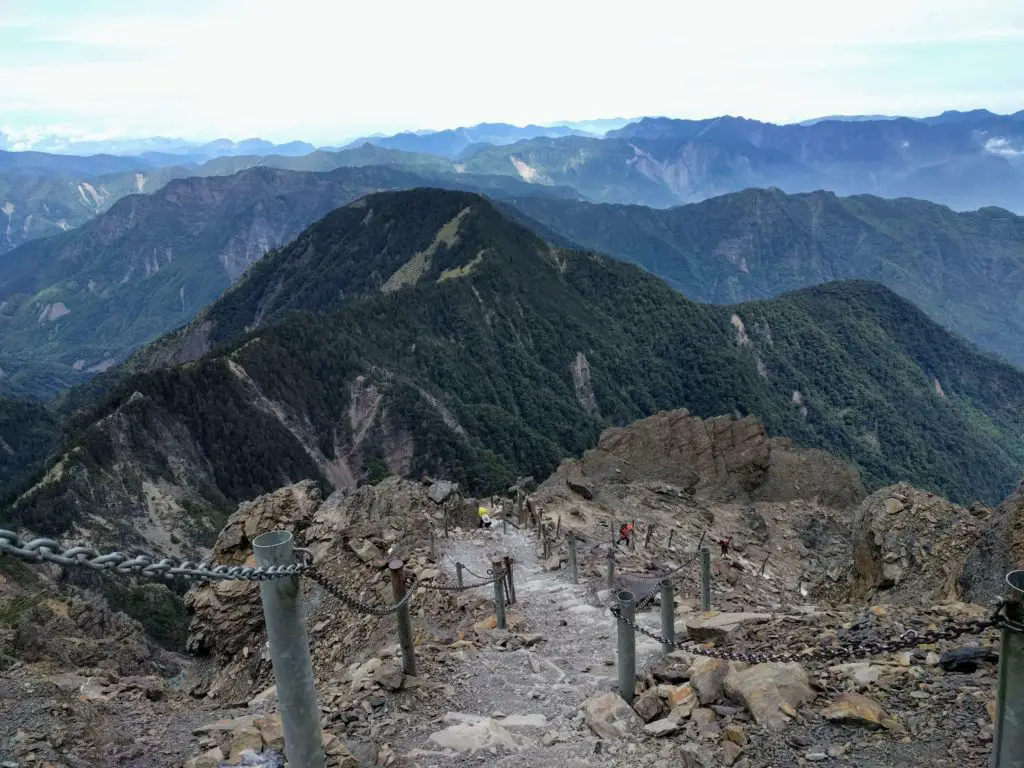 Going down was quicker than coming up. My group was tired, but motivated to move more quickly as we realized we were near the shuttle cutoff time of 5:00pm.
This shuttle (cost $100TWD/$3.30 USD) will bring you from the trailhead down to the parking area (2km down the hill). Hikers who finished around the time we did all decided to take the shuttle. If you do not catch the last shuttle, you need to walk the last 2km to your car. If you do not drive your car past the checkpoint gate by 5:30pm, you must spend one more night at Dongpu Villa Hostel.
I was ready to sleep on a real bed back in Taichung, so I sped down the hill with an hour to spare. The slower group also decided they didn't want to spend another night at the hostel and burned through their energy reserves to, arrive in time for the last shuttle.
Our entire team of 9 was successful in reaching the summit of Jade Mountain's main peak and descending in one day!
This is a challenging hike as it was about 31km (19.2 miles) long and ascends from about 2590 m (8497 ft) to 3952 m (12,966 ft). This is achievable if you are physically active and love to hike. A little bit of training beforehand will help.
I am happy we got to tackle this together and thanks to my friend, Kozi, for planning this trip of a lifetime. One of our future adventures is to climb Taroko George's marble mountain in Hualien, Taiwan.
---
Packing List for Jade Mountain
Here is a recommended packing list of what I brought for the hike including the exact items brought.
Clothing
Others
Backpack- 20 to 30L (Osprey Talon 22)
Headlamp (Black Diamond Iota Headlamp)

Sunglasses

Hydration pack and/or water bottles (3 liters)

Trekking Poles

Altitude sickness medication – Diamox (optional)

Lots of snacks – candy, energy bars, food

Cell Phone

Camera and extra batteries

Camping towel
Earplugs and eye covers
Toothbrush and toothpaste
Sunscreen
Have you done other hikes in Taiwan? Do you want to hike Jade Mountain in Taiwan? Let us know in the comments where you would recommend. See you on the next hike!