Spending a quick 18 hours layover in Beijing, China was a whirlwind. It was an overnight layover and my first non-work related solo trip in a few years. I had quite the adventure – managed to get lost multiple times, had a crazy taxi driver and thought I was going to be kidnapped, slept in a shared dorm room at a hostel for the first time, and yet saw two of the must-see highlights in Beijing – the beautiful architecture in the Forbidden City and the famous Tiananmen Square.
Why did I visit for a short time? Justin scheduled a work trip to Taiwan and we were also invited to a friend's wedding. My manager allowed me to work remotely for the festivities. One month prior to departure, Justin found an amazingly cheap round trip deal on Air China from San Francisco (SFO) – Beijing (PEK) – Taipei (TPE) for $571 USD, including the taxes and fees. I couldn't pass up the deal and wanted to see a glimpse of mainland China. 
If you have more time to travel to Beijing, consider taking the slow and scenic route via the Trans Mongolian Railway. Or, if you're planning a trip to Beijing with your family and kids, there are many exciting sightseeing places to visit.
We'll be back to Beijing for a longer visit. In the meantime, read more about what I did for our Beijing layover and some logistical aspects such as the tourist visa and accommodations.
Check out our other layover posts: Spend 8 hours in Singapore,  Explore Sydney, Australia for 12 hours, Narita, Japan layover, and Brunei layover.
(*Disclosure: We have affiliate links in this post. If you click on them and make a purchase, we receive a small commission. There is no extra cost to you. Appreciate the support.)
Initial Thoughts on the Layover in Beijing
I was both excited and nervous about the trip. The exciting part was staying in Dongcheng area and the hostel was within walking distance to Tiananmen Square and Forbidden City. The most fear that I had was the language barrier. Even though I'm Chinese-American, I don't know Mandarin except for my one-quarter worth of Mandarin class that I learned in college. I had a lot of anxiety about people talking to me and not knowing how to respond. Luckily everything turned out mostly okay.
China Visa Process
One of the challenges of planning a trip to China is obtaining a visa. Luckily I didn't have any issues with obtaining a 24 hour visa-free transit for foreigners. (NEW: 72 hours and 144 hour visa-free is also available depending on where you land.) I went to one of the Customs lines and said that I needed a visa. They directed me to the Diplomatic line, where I showed my flight itinerary and hostel information and received my passport stamp. For the 24 hour visa-free transit, you have to arrive and depart from the same port.
The Taxi Driver
I'm a fan of taking public transportation as there is less hassle than dealing with taxis. Beijing's public transportation is easy to use too! Unfortunately, my flight arrived past 10pm and the Airport Express subway was closed. I waited in the long queue for taxis and entered one. That is where the awkwardness and fear kicked in.
The taxi driver was interesting/weird. He spoke out loud every five minutes. I wasn't sure if he was talking to me, himself, or to another person on the phone. I responded a few times in English that I didn't understand him, and was silent throughout car ride. I thought of a worst case scenario of getting kidnapped and dumped in a ditch somewhere. (I've read way too many horror stories on social media channels.) My smartphone with Google Project Fi service was on and ready in case my whereabouts turned out ugly. As we entered the Dongcheng area, I noticed that the taxi was parallel to the subway line so I felt more at ease with arriving at the hostel.
The driver dropped me off at a side street. It was dark so I was lost on where to go for the hostel. It didn't matter as I wanted to leave the taxi ASAP.
Hostel Experience
I eventually found my way to 365 Inn after passing it by the first time. It was my first time sleeping in a shared dorm room at a hostel. Normally Justin and I would book a private room with a private bathroom at hostels. 365 Inn was cheap at $15 USD for the night, and the room, linens, and shared bathroom were clean. Plus, the hostel had a bar and a restaurant. I would recommend this place for a quick overnight stay.
>> Check availability and reserve a room at the 365 Inn, or find hotels in Beijing here.
I met a cordial tourist from Europe who was on a 6-month backpacking trip. He was in Mongolia for 2 weeks prior to Beijing and planned to spend 1 month in China. It was amazing to hear how he took a 30-hour train ride from Mongolia to Beijing.
It usually takes a few days for me to adjust to new sleeping arrangements. Sleep was interrupted at 3am when one of the guests who I didn't meet yet stumbled in and reeked of alcohol and sweat. I eventually fell asleep not thinking about the stench and had 6 hours of sleep.
Tiananmen Square and Forbidden City (in 3-4 hours)
It was an early start to maximize the morning for sight-seeing. After checking out of the hostel at 7:30am, I passed through many restaurants selling fried Chinese donuts and the soy milk along Dazhalan Xijie Street. Yum. What a good breakfast! However, I was too shy to talk or even point the items, so I passed the vendors. Next time, I'll get out of my comfort zone and have fun with placing an order.
The walk to Tiananmen Square and the Forbidden City was less than a 15-minute walk. There were so many tour groups and students visiting the sites. It was amazing to see how crowded it was considering it was a Tuesday.
We went through the first Security check to get into Tiananmen Square. Everyone was close together waiting in line. If you have enochlophobia (fear of crowds), this isn't the place to be. I said my hellos to Chairman Mao. Plenty of people took photos and selfies with the Chairman.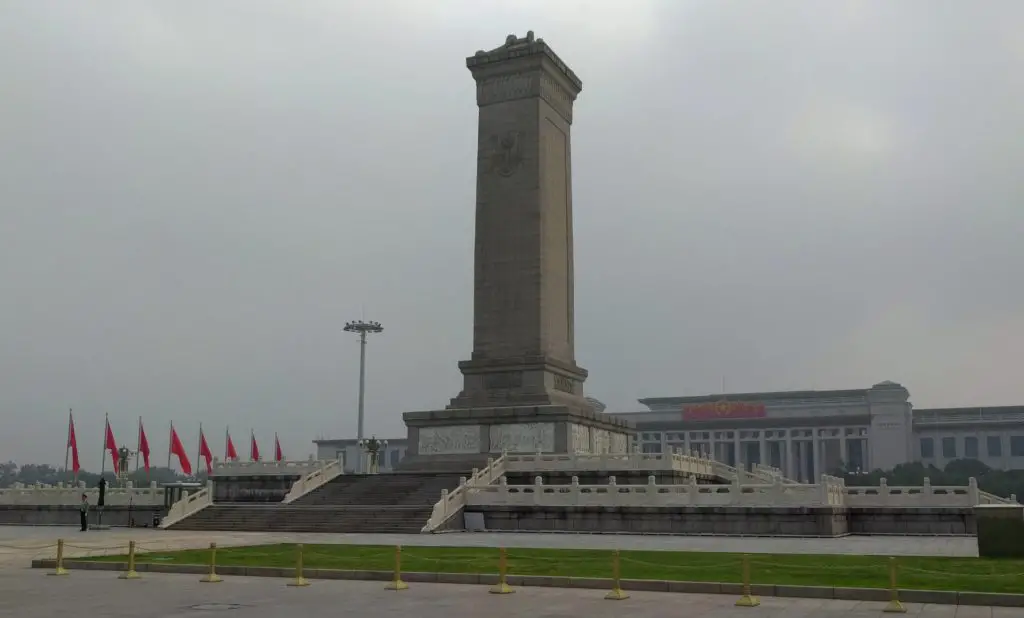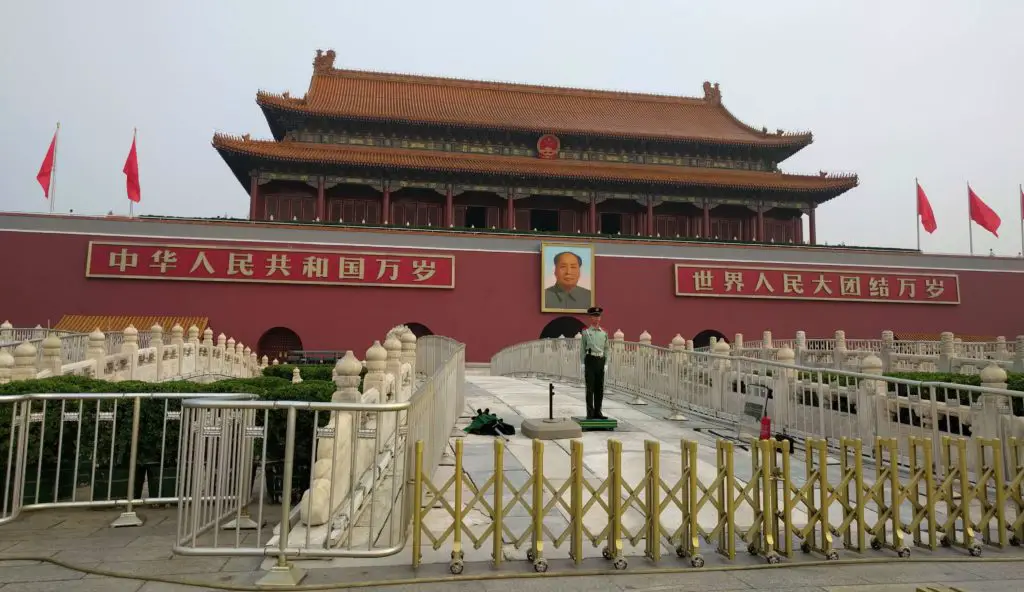 The next stop was the Forbidden City. Don't forget to bring your passport to purchase the ticket. The cost was 60 RMB ($9 USD) and then had to go through a second Security check.
The Forbidden City was huge! Dedicate at least 3-4 hours to go through the various areas. The architecture and sculptures were amazing. Signs were also in English. I enjoyed seeing the palace that was made out of mostly marble.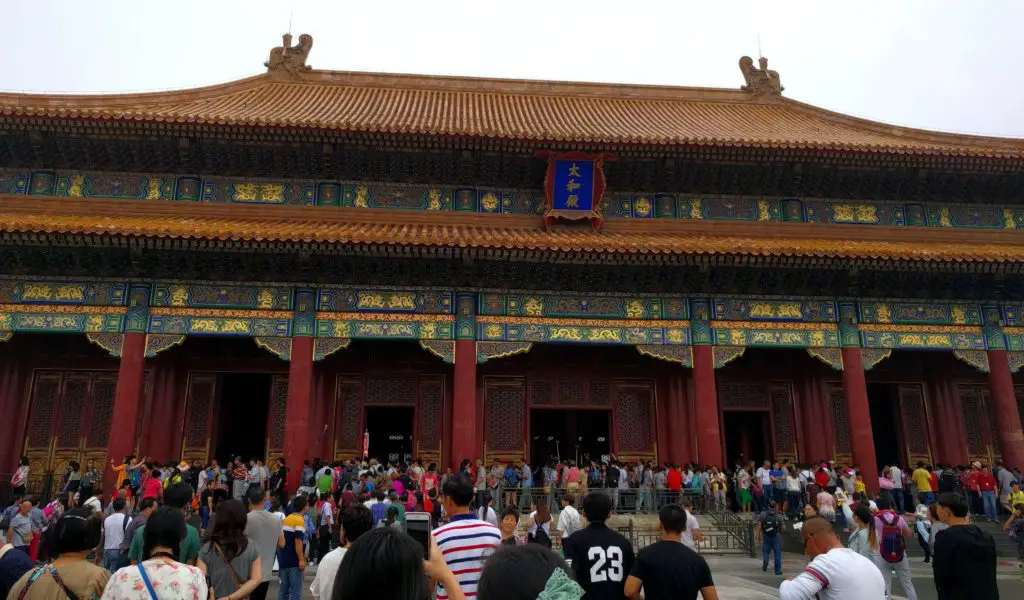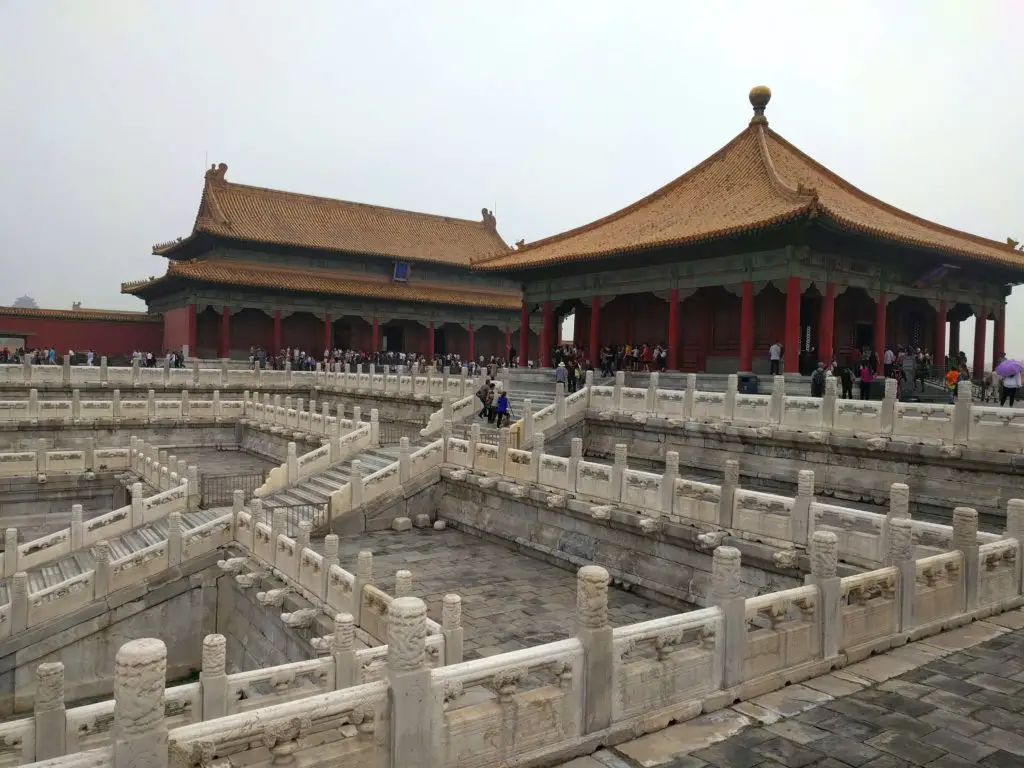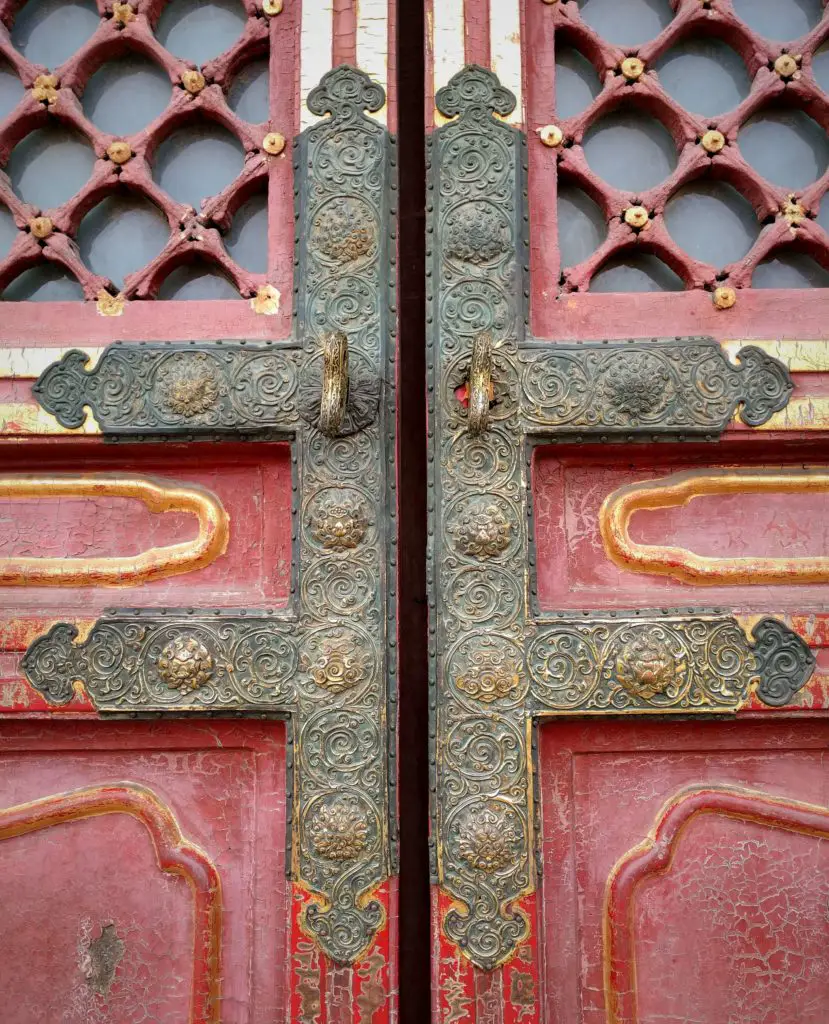 To leave the Forbidden City, you can't go the same direction as coming in. There were exits to both the East and West gates where you had to walk around the City. I went through the East gate, and somehow got lost after traveling around the moat. Since I didn't have a map, I wandered around thinking that I was going towards the direction of the subway. Should have taken a hint that it was over 20 minutes of walking, and ended up being over a mile away from the subway in the opposite direction.
I eventually made it to the metro station, transferred at the airport stop, and hopped on the Airport Express to the airport. The ride was over an hour. Made it past airport security with 1.5 hours prior to departure.
Read More: Learn about Caves in China in our "Caves Around the World" post
Final Thoughts
I would love to go back to Beijing and explore further. My next visit will include visiting the Great Wall, Summer Palace, local gardens, Olympic Stadium, and other historical places in China. Plus, I have to go back to try the soy milk and Chinese donuts, and other local foods since I missed out the first time. I'll be more prepared with the language and learn some basic Mandarin or conversational skills by then!
Have you visited Beijing? What are some of your top places to visit?
Save this pin for your China board on Pinterest!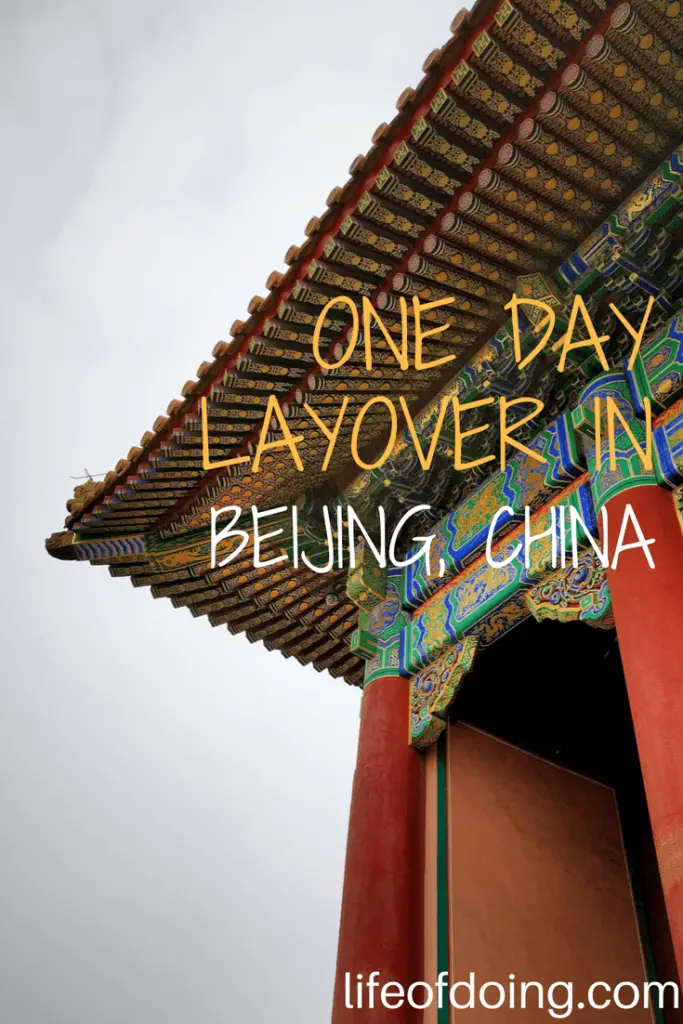 Post Updated: January 18, 2019