What can you see during a 12-hour layover in Sydney, Australia? Luckily you can see a whole lot of the downtown city area! 
While staying at the airport for the Sydney layover is possible, this was our first time visiting Australia. So, we were eager to take advantage of the long stopover and the ability to leave the airport. 
In this post, we're sharing our recommended things to do during a layover in Sydney. We also include important travel requirements, airport luggage storage, and transportation options for your Sydney stopover.
Although the weather wasn't great for us with the overcast skies and occasional rain, it didn't stop our exploration. 
Click here to jump to certain areas of this post: 
Interested in the other layovers that we've done? Read more about Beijing, China, Singapore, Narita, Japan, and Brunei layovers.
*Disclaimer: This post contains affiliate links. If you click on them and make a purchase, we receive a small commission. There is no additional cost to you. Appreciate the support.
---
Reasons to Consider Sydney as a Stopover City
With the awesome things to do in the city, it's the perfect spot to stretch your legs and get some fresh air after a long flight. 
The efficient train system can take you from Sydney International Airport to the city center. It takes only 15 to 20 minutes to get to the city by train. 
Once you get off at your desired stop, you can see the top highlights in Sydney and Australian landmarks, such as the famous Opera House. 
Sydney is a walkable city and tourist-friendly. We appreciated how all of the major sites were close to each other and nearby a train station. Plus, the signage for various sightseeing destinations made our experience super easy. 
There are also tons of restaurants to check out on your exploration. While we didn't have a chance, the restaurants along Circular Quay had delicious-looking food. Plus, the views of the ocean would be peaceful to enjoy. 
For those planning a trip to Australia and have more time, consider spending 2 days in Sydney, pairing a visit with an exciting celebration such as New Year's Eve, or leaving the city for fun weekend getaways such as to Royal National Park to see waterfalls or do the Bronte to Bondi Walk.  
Other memorable experiences include taking a road trip or backpacking through the country. 
---
Things to Do During a 12-Hour Layover in Sydney, Australia
If you need data during your layover, you may consider getting a SIM card at the airport or setting up an eSIM in advance. 
If you're from the U.S. and want to have an international phone plan, consider signing up for Google Fi (formerly Google Project Fi). We've used this phone plan since 2016 and love how there is access to data in over 200+ countries without extra charges. Learn more here and try it for free. 
Take a Free Walking Tour of Sydney Highlights
Depending on your schedule, consider doing a free walking tour. It's an opportunity to meet a local who is your tour guide, visit hidden gems, learn history, and hear stories about tourist attractions. 
The tours are 2.5 to 3 hours long. Pre-registration is required. 
Here are two free walking tour operators to check out: I'm Free Tours and Free Tours by Foot. 
Note: Since these tours are free, please provide a small tip to the tour guide for his/her service. 
Unfortunately, we didn't have a chance to participate in a walking tour in Sydney. We've done walking tours in other cities in Hanoi, Vietnam and Berlin, Germany. On a return trip, we'll try one of these tours. 
---
Explore Chinatown
Located on Dixon Street, Sydney's Chinatown is a cultural place to explore and wander through.
The Chinatown Friendship Entrance Gate is the main highlight and takes you to the main plaza which has restaurants, bakeries, and small shops selling souvenirs. 
It's one of our traditions to see various international Chinatowns and to see similarities and differences with San Francisco's Chinatown (California, U.S.) which is near our hometown. 
During our visit, Chinatown was very quiet. We visited before 9:00am so many shops and restaurants were not open. But we smelled food getting prepared and Chinese pastries and buns baking in the ovens. 
On our return trip, we'll be back to try Chinese food and dim sum. 
Address: 82/84 Dixon St, Haymarket NSW 2000, Australia
Nearest Train Station: Chinatown (Light Rail), Central Station
---
Visit Chinese Garden of Friendship (Optional)
If you have the chance to visit, the Chinese Garden of Friendship is a few blocks away from the main Chinatown plaza. 
It's a small 1-hectare garden area with waterfalls, pagodas, and tranquil walking paths. Many visitors enjoy sitting around the pond area to admire large koi and enjoy the peacefulness here. 
There is an admission cost, and you can buy tickets ahead of time here. 
Address: Pier Street, Cnr Harbour St, Darling Harbour NSW 2000, Australia
Nearest Train Station: Exhibition Centre (Light Rail) 
---
Stop by St. Andrews Cathedral & Town Hall
The next stop is the St. Andrews Cathedral and the Town Hall. These places are located a few blocks away from Chinatown. The cathedral and the town hall are located next to each other.
The St. Andrews Cathedral is beautiful and located in the heart of Sydney. It was founded in 1819 and consecrated in 1868. There are regular Sunday services and Healing services on Wednesday evenings.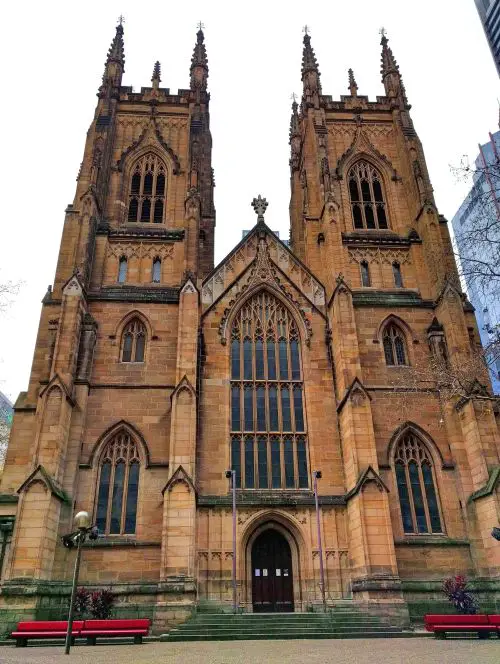 The Town Hall is a gorgeous 19th-century building with Victorian architecture. Since the Town Hall is used for events, visitors are not allowed inside the building. You will need to be on a guided tour to go inside. 
We didn't go inside the two buildings and admired them from the outside. Therefore, you only need a few minutes to snap some photos before proceeding to the next destination. 
Cathedral Address: Cnr of George and, Bathurst St, Sydney NSW 2000, Australia 
Town Hall Address: 483 George St, Sydney NSW 2000, Australia
Nearest Train Station: Town Hall 
---
Awe at the Gorgeous Architecture at Queen Victoria Building
A visit to Queen Victoria Building needs to be on your of places to check out in Sydney. 
Built in 1898, this place was named after Queen Victoria and commemorated her Diamond Jubilee.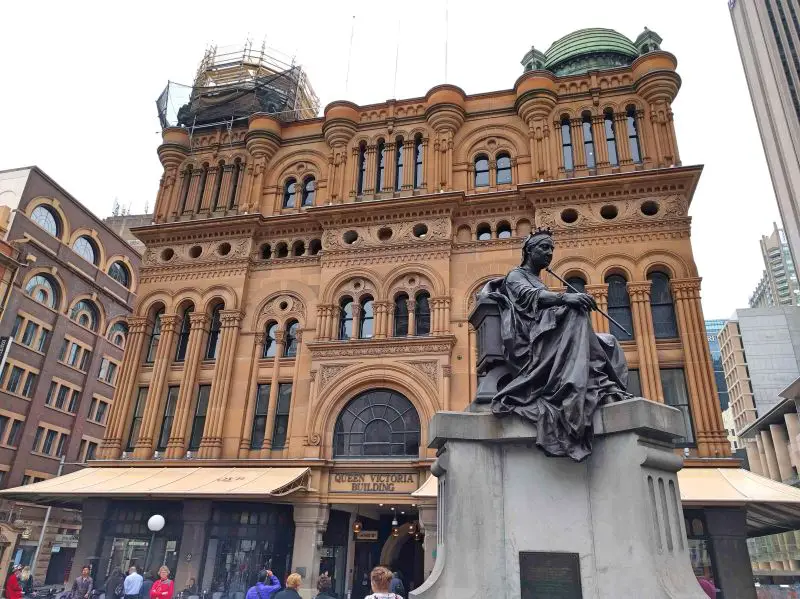 Currently, it's a beautiful multi-level shopping center with boutique shops and cafes. 
When you enter the building, you'll notice the gorgeous stained glass windows. 
Also, look up into the building and you'll see a domed stained glass ceiling. We loved how the domed ceiling provided natural sunlight to the building. 
There are two mechanical clocks, one is the Great Australian Clock, and the other is the Royal Click, hanging from the ceiling. They're quite impressive to see.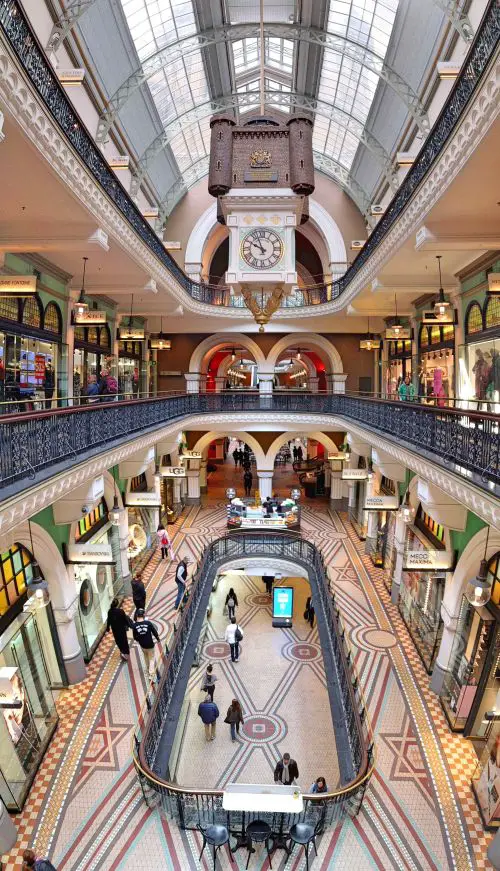 With the stunning architecture and interior details, it's no wonder this place is a popular place to take photos! 
Want to know more about the Queen Victoria Building? Take a guided 45-minute walking tour of the building.  You'll get the chance to learn the history of the building and get up close to the building's architecture from the ground floor to the second floor. 
Reservations are required in advance. Adults over 18 years old are allowed to take this tour. Book your spot here. The cost is 25 AUD ($16.50) per person. 
Address: 455 George St, Sydney NSW 2000, Australia 
Nearest Train Station: Town Hall 
---
Wander through Hyde Park
Hyde Park is a 16-hectare park that is available for everyone to access for free. It's also the oldest park in Sydney. If you're interested in learning the history of the park, click here. 
For those who seek greenery and fresh air, especially after a long flight, Hyde Park is the perfect spot to visit on your Sydney layover.
Depending on your previous location, you can enter the park from different main streets such as Park Street, Market Street, or Liverpool Street. 
When we entered the park, there was a cafe and a lifesize chess board game. Although we didn't have time to play a game, we can easily see it as a fun way for two people or a team to spend an afternoon. The chess pieces were made out of plastic so they were easy to move around.
One of the main landmarks of the park is the Archibald Fountain. It's located in the northern area of the park and is a nice photo spot to take photos. There are benches around the area to relax and enjoy the view.
During our visit, we saw many Australian white ibises munching on the grass.
From the park, you'll see the Sydney Tower Eye, the tallest building in Sydney, in the background.
Address: Elizabeth St & Cross Streets of St. James, Park Street, and Liverpool Street, Sydney NSW 2000, Australia
Nearest Train Stations: Town Hall, Museum, and St James
---
Explore Historic Macquarie Street
Macquarie Street is a long road that connects from Hyde Park and ends at the Royal Botanic Gardens.
Across from Hyde Park, there are several historic sites to visit – Hyde Park Barracks Museum, The Mint, Parliament House, Sydney Hospital, and State Library. All of the sites are open to the public to visit.
One of the places to check out is The Mint. Its former name is "Rum Hospital" as it was a former hospital for convicts and cost an equivalent of 45,000 gallons of rum to build. 
Admission is free to visit this museum. Here, you can read more history about the Mint and see photos of how the hospital has evolved over the years. 
Nearby is the Sydney Hospital. It's the oldest hospital in Australia and still currently operates. 
If you have a chance, walk through the hospital's courtyard area. There is unique architecture to admire especially since we're used to the sterile concrete hospital building facade in the U.S.
Address: Along Macquarie Street
Nearest Train Station: St. James
---
Explore Royal Botanic Gardens
Royal Botanic Gardens is another great place to surround yourself with greenery and views along the water. It's a 30-hectare park, so there are lots of green trees, plants, gardens, and endless amounts of grass to enjoy. 
Wear your comfortable walking shoes for a nice stroll or run through the park. Admission is free.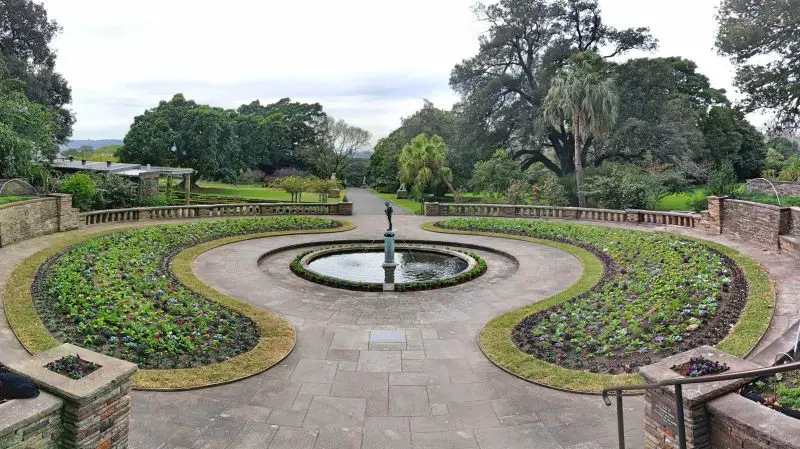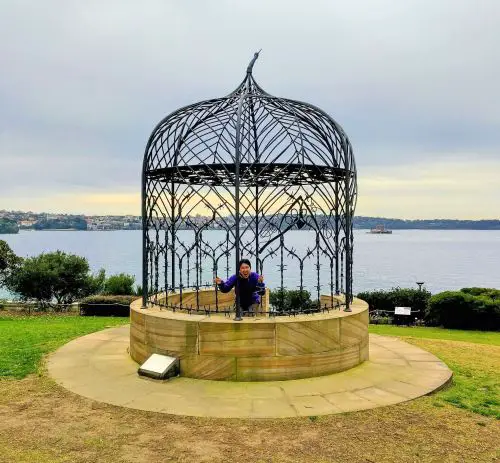 The garden has a castle, which is the Government House. During our visit, there wasn't public access. According to the website, there are daily tours for the Government House and you'll need to register for one ahead of time.
We recommend that you check out the calendar of upcoming events at the Botanic Garden. There are daily guided walking tours of the park, Aboriginal Harbour Heritage Tours, behind the scenes Glasshouse tours, and more. Registration is required for these tours. 
There are also various pop-up events around the park. During our visit, the Queen Elizabeth II gate from the Royal Botanic Garden had an exhibit on "Water Stories: The Global Water Crisis in Images." It was amazing to see how this precious resource is hard to come by in countries such as the U.S., India, China, and more.
Address: Mrs. Macquaries Rd, Sydney NSW 2000, Australia
Nearest Train Station: Circular Quay
---
Visit the Iconic Sydney Opera House
The famous Sydney Opera House is easy to get to from the Royal Botanic Gardens. 
As one of the best attractions to visit in Sydney, it's such a beauty to see in person. Taking photos of the iconic shelled rooftop is a must-do while you're here. 
The view of the Sydney Harbour Bridge is also stunning from the Opera House. 
There are events here all year round, so it would be a treat to see a performance. Click here to see an Opera show. 
If you are not able to see a performance, consider taking a guided tour of the Opera House. You get the chance to walk inside the venue and learn the history. Learn more about this tour here. Or, you can consider taking a tour with a meal option here. 
Address: Bennelong Point, Sydney NSW 2000, Australia
Nearest Train Station: Circular Quay
---
Eat and Shop Along Circular Quay
In the same vicinity of the Opera House is the Circular Quay. The area is the harbor area with plenty of restaurants along the waterfront and souvenir shops. 
You can also take ferry rides from this area and several cruise lines dock here. We saw a Carnival cruise ship here. For a special treat, book a 1.5 to 2-hour cruise with champagne from Circular Quay here.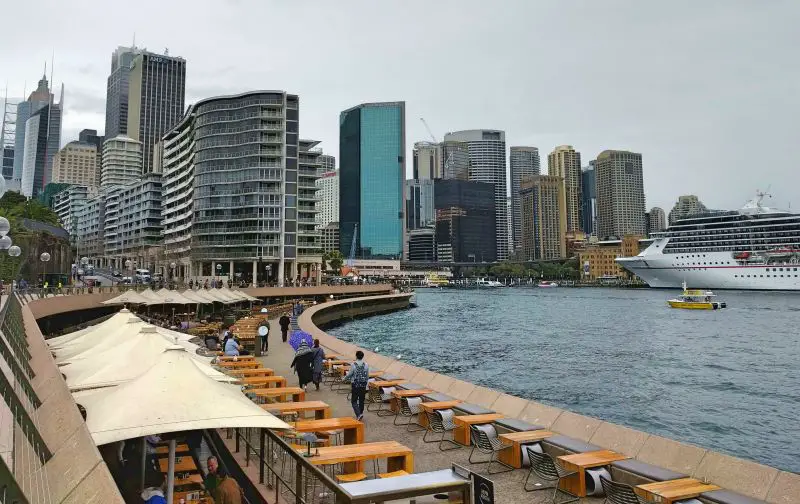 Address: Circular Quay, Central Business District
Nearest Train Station: Circular Quay
---
Explore The Rocks 
Around the corner from Circular Quay is The Rocks area. You can't miss it as the area has brick buildings and cobblestone grounds and is considered one of the oldest areas in Sydney. 
There are plenty of cafes, pubs, boutique shops, and restaurants. The baked goods looked scrumptious in one of the cafes that we passed by. 
Click here to plan your visit to The Rocks. 
Address: Next to Circular Quay
Nearest Train Stations: Circular Quay, Wynyard 
---
Walk Along the Harbour Bridge
Another great opportunity is to walk along the Harbour Bridge from The Rocks. 
It's the perfect place for a walk or run from one end of the bridge and back. Plus, there were awesome views of the city, Circular Quay, and the Sydney Opera House. It's free to access this bridge. 
To get here, we followed signs that pointed to the bridge along George Street, walked up a flight of stairs, and were already on the bridge. 
If you want to go higher and climb up on the bridge itself, check out the Pylon Lookout. You have access to the aerial view of the bridge and a museum. It's about 200 steps to the highest point of the bridge. 
The cost is 24.95 AUD ($16.45 USD) for adults and 12 AUD ($7.90) for children (4-13 years old). 
Address: Sydney Hbr Brg, The Rocks NSW 2000, Australia
Nearest Train Stations: Circular Quay, Wynyard
---
Where to Eat in Sydney
To be honest, we didn't stop by any restaurants or cafes to eat. We were on the go and wanted to visit as many places as possible. On a return trip, we'll need to eat our way through the city.
So what did we do? 
We finished exploration in the late afternoon and decided to head back to the airport for a late lunch. I know, you're thinking why airport food?
With our handy Priority Pass card (a great benefit from our U.S. Chase Sapphire Reserve credit card), it grants us access to several airport lounges. You'll need to check ahead of time on the Priority Pass website or app on which lounges accept Priority Pass. 
What is fantastic about the airport lounges is that they're comfortable, and have snacks, hot food, and beverages, including wine, for guests. 
Currently, Sydney International Airport has two Plaza Premium lounges and The House Lounge and two restaurant options that accept Priority Pass. Click here for more information. 
Don't have a Priority Pass and want to use the Plaza Premium Lounge? Save money and buy lounge access here.
At the time of our visit, the lounges that accepted Priority Pass were not open.
But we could use our card to spend 36 AUD ($23.70) per person at different restaurants. Therefore, the Priority Pass member and 1 guest can get 72 AUD ($47.40) off their bill. It's a fantastic deal to save money!
We were in Terminal 1 and ate at Benny Burger. Unfortunately, Benny Burger is closed. They had memorable vegetarian burgers made out of beets and fried egg. 
---
Do You Need a Visa for Your Sydney Layover?
The short answer is "yes."
It's highly recommended to start with the Australian Immigration site to determine which visa you need for your travels. The site has a quiz where you input your nationality, purpose of stay, and how long you plan to stay (less than 3 months or more than 3 months). Then, it'll give you options for your visa. 
We'll discuss the visa options below: 
Option 1: Transit Visa (Recommended for the Layover)
If you are staying at Sydney International Airport and not leaving the terminal, you do not need to apply for an Australia Transit Visa. 
But, if you are visiting Australia during transit (up to 72 hours) and leaving the airport, then you'll need the Transit Visa. The online application is free. You must apply for this Transit Visa outside of Australia and have flight confirmation of your next leg of the journey. 
Give yourself at least 1 week before to your flight to apply for the Transit Visa. The government processes 50% of applications in 3 days, and 75% of applications in 8 days. 
Click here to apply on the official site. 
---
Option 2: Electronic Travel Authority (ETA)
For eligible passport holders, such as U.S. and United Kingdom, planning to visit Australia multiple times in a 12-month time frame, then the Electronic Travel Authority (ETA) is a suitable option. 
This ETA allows you to visit family and friends, travel around the country, and do some business visitor activities. Each visit allows a stay of up to 3 months. 
To apply, you need to download the Australia ETA app and submit an application. The cost is 20 AUD ($13 USD) and takes up to 72 hours for approval. You must apply for this ETA outside of Australia. 
Read more about this ETA here. 
---
Option 3: Tourist Visa (Apply Outside of Australia)
For those visiting Australia as long-term tourists or seeing family and friends, it's possible to apply for a tourist visa. The application must be submitted outside of Australia. It grants stays for 3, 6, or 12 months. The cost starts at 190 AUD ($124). 
---
Option 4: Tourist Visa (Apply In Australia)
If you plan to stay in Australia as a tourist and see family and friends (no business or medical treatments allowed), then can apply for the Tourist Visa. It grants up to a 12-month stay in Australia. The application must be done in Australia. The cost starts at 475 AUD ($310). 
---
What Did We Do? 
We took several flights to reach our final destination. We started in Ho Chi Minh City, Vietnam as we're expats, and ended in Auckland, New Zealand. 
So we had three legs: 
Flight 1: Ho Chi Minh City, Vietnam to Bangkok, Thailand on Thai Airways
Flight 2: Bangkok to Sydney on Thai Airways
Flight 3: Sydney to Auckland, New Zealand on Air New Zealand
Since we're U.S. Citizens, we thought that we could get the Australia transit visa on arrival similar to the experience in Beijing. 
Nope! As we got our boarding passes from Ho Chi Minh City to Bangkok, the Thai Airways customer service agent asked us about our Australian visa. 
Time for panic mode. We had to apply for the visa weeks in advance for approval. And, my heart literally sank sitting in the airport.
After Justin's excellent Google Search, he found an alternative option which was to complete the Electronic Travel Authority (ETA). 
We completed the application in the Bangkok Airport waiting area and paid 20 AUD per application. It was easy and took 5 minutes to complete. We were lucky as we received instant approval and had a copy of our ETA to show Australia Immigration. 
It was such a relief since we wanted to explore Sydney. Otherwise, we would have hung out at the Sydney Airport.  
---
Luggage Storage at Sydney Airport
On-site Luggage Service
Sydney International Airport has on-site luggage service via Baggage Storage Smarte Carte. 
If you're in Terminal 1 in Arrivals, drop off your bags at the Baggage Storage desk and Smarte Carte Associates look after them. 
The cost is a flat rate.
Small luggage / Loose Baggage – 12 AUD ($7.90 USD)
Large luggage – 15 AUD ($9.85)
Extra large / Odd Shaped – 20 AUD ($13.10)
You can either show up to drop off the luggage or make a reservation ahead of time here. 
The Bag Storage opens from 7:00am to 7:00pm. 
If you have a later flight, you'll need to pick up your bags earlier or consider using the storage lockers. More information about the lockers is below. 
---
Luggage Storage Lockers
If you need more time for luggage storage, consider checking out the Smart Carte Storage Lockers. 
Located in the P7 Car Parking Building on Levels 1 & 2 (nearby the rental car area), you can choose your locker size – small, medium, and large, and rent for up to 24 hours.  
The cost is: 
Small locker (420cm Height x 900cm depth x 420cm width / 13.8in x 29.5in x 13.8 in) – 12 AUD ($7.90 USD)
Medium locker (520cm height x 900cm depth x 420cm width / 17in x 29.5in x 13.8 in) – 14 AUD ($9.20)
Large locker (864cm height x900cm depth x 420cm width / 28.3in  x 29.5in x 13.8 in) – 16 AUD ($10.50)
As you can see, the pricing is similar to the luggage storage in the airport. 
The lockers are secured as you use a six-digit code provided to you during the rental process to open the locker and retrieve items. 
The locker can only be opened once and then the rental ends. 
These lockers are available for 24 hours. 
NOTE: Your luggage is not attended to, so use the lockers at your own risk. 
Click here for more information. 
---
What Did We Do? 
We had two Patagonia Black Hole Duffel 60L (an older model) as our carry-on luggage and opted to use the locker storage. 
We rented one medium size locker, and it was large enough to hold both of our duffel bags.
The process to reserve a locker was easy as you follow the directions on the touch screen. Credit cards are accepted as payment. 
We would use this service again for a future stopover in Sydney. 
---
How to Leave Sydney Airport for Downtown Sydney
By Subway
We are fans of public transportation and Sydney has an excellent subway system. The routes are easy to read.
Sydney International and Domestic Airport conveniently have a station that leads directly to the Downtown/Circular Quay Station. It will take 20 minutes to get there by subway on the Airport Link. 
The Airport Link is open from 5:00am to midnight. 
The cost will vary depending on your exit station. Using the Airport Link has an extra Airport Station fee added to the ticket price. The estimated cost is:
Adults: 20.60 AUD ($13.50 USD) [16 AUD station fee and 4.60 AUD ticket]
Children (4-16 years old): 16.40 AUD ($10.80) [14.10 AUD station fee and 2.30 AUD ticket] 
Click here for more information. 
TIP: If you plan to transfer to Central Station, use this online planner to determine the upcoming subway times and estimated costs. 
---
Transportation Cards
You can purchase an Opal Card, a prepaid card used for transportation, similar to Singapore's EZ-link card, Japan's IC card, and Hong Kong's Octopus Card.
This option is ideal for those who plan to visit Australia in the future for a longer trip and don't want to worry about using cash to pay for physical tickets. 
Or, use your credit card (American Express, Visa, or Mastercard) and tap at the entrance and exit. This is the easiest option as you're only in Sydney for a few hours. 
Tip: Notify your credit card companies ahead of time that you'll be traveling and they'll note your travels in their system. 
---
Other Transportation Options from the Airport
Depending on the number of people in your group and your schedule, you can also consider taking taxis, buses, airport shuttles, private transfers, and ride-share cars (Uber). More information is here. 
Alternative Subway Route from Sydney Airport to Wolli Creek Station to Sydney Center
Not interested in paying the Airport Station fee to head to Sydney Center? 
Consider taking this alternative route. Walk 30 minutes from the airport to the Wolli Creek Station. Then, take the subway to the Downtown area. 
From Wolli Creek Station to Circular Quay, it'll take 22 minutes and cost around 4.71 AUD ($3.10 USD). 
TIP: Only do this walk if you have the time during your Sydney layover. Since we had extra time, we decided to go on the adventurous route. 
Pros: 
Saves money as you don't need to pay the Airport Station fee. This route is 4.71 AUD ($3.10) vs 20.60 AUD ($13.50) from Airport. It's a savings of 15.89 AUD ($10.49) for adults!
See a different area of Sydney. 
Cons: 
It takes time to walk to the Wolli Station from the Airport. 
---
From Sydney International Airport to Wolli Creek Station 
We asked the Information Center how to get to the Wolli Creek subway station and received inaccurate information. During our visit, we walked along a sketchy route against traffic and road construction. 
So, on our way back from Sydney Center to the Airport, we found a better and safer way to get to the Wolli Creek Station from the Airport. 
The directions are below:
1. From Arrival, cross the street to go towards the carpark/rental cars.
2. Follow the road towards "Express Pick-up," and you'll go through the rental car section. Continue to follow the road.
3. You'll be next to the side street and see the sign "To Marsh Road" and it'll lead you to a walkway bridge.
4. Go up the bridge, cross the street with apartments, and then head to Cahill Park.
5. Follow the walking path in Cahill Park to reach the street light. Cross the street when you see the Woolworths Supermarket
6. Turn left at Woolworths Supermarket, and go up the street to the central restaurant plaza area.
7. Cross the plaza and you'll arrive at the Wolli Creek Station.
8. Hop on the subway and head to the Downtown area. 
---
Was it worth the trek? 
Yes, it was! Cahill Park was nice to walk through. It was quiet during our visit, but we saw a few playgrounds for children. 
---
How to Get Around Sydney
By Train
As mentioned earlier, Sydney's train system is efficient. There are trains and light rails to use around central Sydney. Many of the attractions are within a short walk from the train stations.  
---
By Walking
Walking through Sydney Central Area is so easy. The sidewalks are paved and clean. Enjoy the fresh air too. 
---
By Bus
Sydney's bus system is another option to travel around the city. The bus system allows the use of credit cards to tap on and off for payment. 
---
By Ride-Hailing
Uber is available in Sydney, so you could use it to request a car. 
To use the app, input your starting and ending location and then wait for the driver. Payment is done through the app via credit card. 
Remember: You'll need to have data access, whether it's through a SIM Card, e-SIM, or an international phone plan. 
---
By Hop On Off Bus
This double-decker bus allows you to explore the best of Sydney at your own pace. Choose from two different routes and 30 stops to explore. The ticket options are 24 hours or 48 hours. Learn more here. 
---
Final Thoughts
Although we had a short time during our Sydney layover, we loved exploring the city. We wouldn't hesitate to return to stay for a longer time to explore other parts of the city. 
If you're planning a trip to Australia, check out our other Australia adventures:
Have you visited Sydney before? What are some of the places that we missed during our layover?
Like this post? Save it to your Australia Travel Board on Pinterest.
Featured photo credit: Ben Tang via Scopio Photos