Singapore has been on our travel list for years. After seeing photos of the Gardens by the Bay and hearing about the delicious Singaporean cuisine, it was our turn to check out this amazing city for ourselves. We were fortunate enough to have a quick Singapore stopover from 7:30am to 3pm  with Singapore Airlines. What is great about Singapore is that it's an ideal city for a long layover with plenty of free things to do and see.  It was plenty of time to get a glimpse of the area and leave the airport.
In this post, we're sharing top things to do during your Singapore layover, especially if you have 8 hours or less to explore. Plus, we have helpful tips on logistics on leaving the Changi Airport. (If you decide to not leave the airport, check out the new Jewel Changi Airport to experience a waterfall, canopy walk, and more exciting attractions!)
For those with extra time to explore, consider visiting Singapore in the evening with this unique overnight layover. If you have more time, spend a full one day, 4 days, or even up to two weeks in Singapore. The opportunities are endless!
Check out our other layover posts: Beijing, China Layover, Sydney, Australia Layover, Narita, Japan Layover, and Brunei Layover.
*Disclaimer: Visiting Singapore during your layover? We have affiliate links in this post. If you click on them and make a purchase, we receive a small commission. There is no additional cost to you. Thank you for supporting us.
---
Where to Store Luggage at Singapore Changi Airport
If you don't want to carry your luggage during the Singapore stopover, store it at the Changi Airport's Baggage Storage. It's convenient and someone watches your luggage. Each terminal has its own storage area. Follow the signs when exiting the terminal for the storage area. Cost varies depending on the item and is available for 24 hours (or more).
Loose Items (4 SGD / 4.28 SGD with tax / $3.14 USD with tax)

Small Luggage below 10kg (8 SGD / 8.56 SGD with tax / $6.30 USD with tax)  

Big Luggage above 10kg or Odd Size Items (12 SGD / 12.84 SGD with tax / $9.40 USD with tax)
We used the service in Terminal 2 and didn't have any issues. After paying for our bags, a representative checked our bags for extra security and placed them in the back of the secured room. Remember to have a copy of the receipt for pick-up.
---
How to Leave Singapore Changi Airport
It's easy to leave the Singapore Changi Airport and arrive in the main city. The main options are taking taxis, Grab, (Southeast Asia's version of Uber), buses, or the Mass Rapid Transit (MRT) trains. The taxi and Grab will get to the main city the fastest in 30 minutes while the buses and MRT will take an hour.
With our extra time, we opted for Singapore's MRT. Can't beat a cheap and local way to travel in the city. It took an hour from Changi Airport to our first stop, Bayfront.
Cost of the one-way ride is 2.40 SGD ($1.80 USD).
Here are some helpful tips:
Pick up a free visitor's map at one of the Customer Service desks and refer to a copy of the train lines. Or click

here

for a copy of the MRT lines.

Ensure that you have cash (in denominations of 5 SGD or less) for the MRT ticket as credit cards aren't accepted. The ticket machines don't accept 10 SGD bills unless the ride is over 6 SGD.

Reuse your ticket and add money as needed. Every 3rd and 6th ride has a $.10 discount.
---
Things To Do for A Singapore Layover
Singapore has a lot to offer and it's hard to choose what to do. Since we had 8 hours for our layover, here are recommendations on things to do during your Singapore layover. 
1. Take a free Singapore tour.
**Currently, the complimentary city tours have been temporarily suspended. We'll continue to monitor this.**
Singapore Airport provides complimentary city tours to all visitors during the layovers. Visitors must have at least 5.5 hours during the layover to participate in the tour. They have the option to choose a morning/afternoon Heritage Tour or an evening City Tour Tour. Registration closes one hour prior to the tour departure time. Each tour is 2.5 hours long and has free transportation included. Unfortunately, the timing of the tour didn't work out with our schedule.
Singapore Airlines also offers free tours if you take their airlines.
2. Awe at the plants at the Gardens by the Bay.
A trip to Singapore is incomplete without seeing the iconic Gardens by the Bay. As one of the top things to try in Singapore, you can literally stay here for the entire day. It's a massive park that covers 101 hectares/250 acres of land and has thousands of plants throughout the park. The city focused a lot of time and energy to provide a green space for everyone to enjoy.
The most popular section of the garden is the Bay South Garden which has the Supertree Grove, Flower Dome, and Cloud Forest. The Outside Gardens and Children's Garden in Bay South is free admission, while the Supertree Grove, Flower Dome, and Cloud Forest have additional fees. At the time of our visit, the Outside Gardens had various Lunar New Year flowers and lions sculptures.
Gardens By The Bay
Address: 18 Marina Gardens Dr, Singapore
Opening Times: 5am to 2am daily (Outdoor Gardens)
Supertree Grove
The Supertrees Grove was an amazing sight with "trees" up to 50 meters (164 feet) tall and the plants grown along their sides. The Silver Garden, which is next to the Flower Dome, also contains Supertrees but on a smaller scale. There is a free light show at 7:45pm and 8:45pm daily.
If you want to have a birds-eye view of the Gardens from the Supertree Grove, check out the 128-meter (420 feet) walkway at OCBC Skyway. Although our schedule didn't allow for this activity, it looks fun to see Singapore and the area from above.
Cost is 8 SGD for adults/ 5 SGD for children (3-12 years old). 
Click here to save money on both the Conservatories and OCBC Skyway.
Opening Times: 9am to 9pm daily; Last admission is 8:30pm
Flower Dome and Cloud Forest – Cooled Conservatories
Flower Dome and Cloud Forest are a must do in the area. The cooled conservatories are impressive with over 1 million plants in the garden.
Cost: If see both conservatories, 28 SGD ($21 USD) for adults/15 for children (3-12 years old). Receive a 10% discount if you have a copy of your Singapore Airlines boarding pass.
Click here to save money on your one-day admission to the Conservatories.
You may want to bring a jacket inside as it is cold inside.

Opening Times: 9am to 9pm daily; Last admission is 8:30pm
The Flower Dome has a variety of plants from various areas from the Mediterranean to Australia. You'll love the various succulents, baobab trees, and even the themed floral arrangements. During our visit, we saw the "Dahlia Dreams" which had pretty dahlias and also integrated the Lunar New Year decorations. We even observed fruit trees and plants from our home state, California.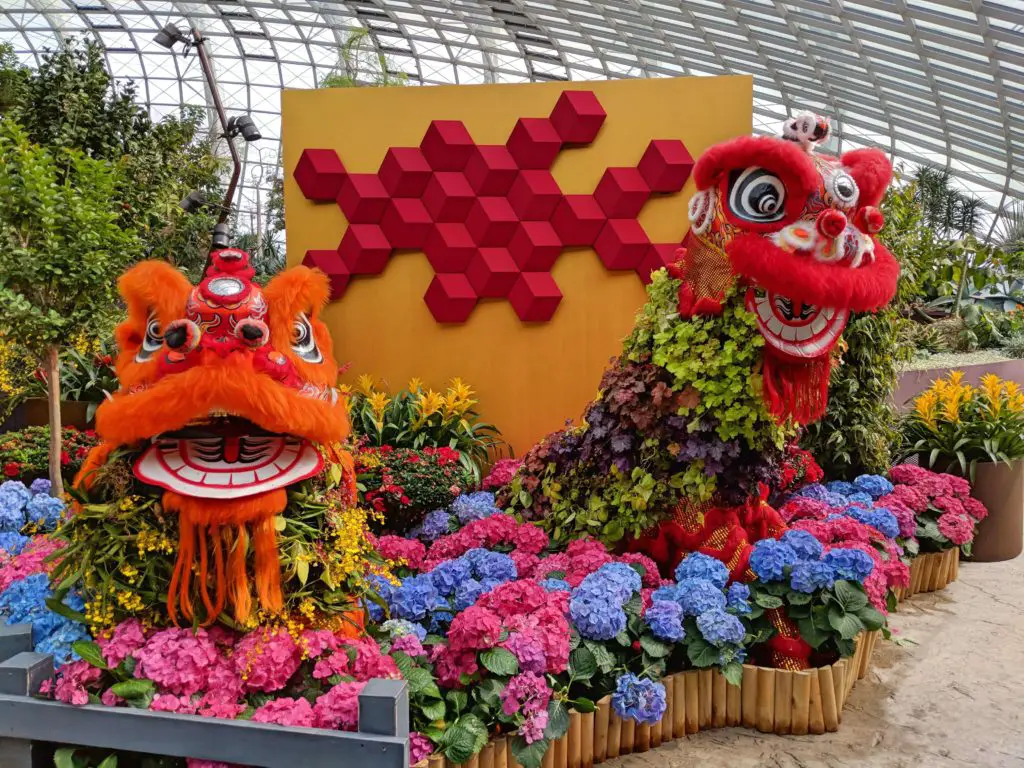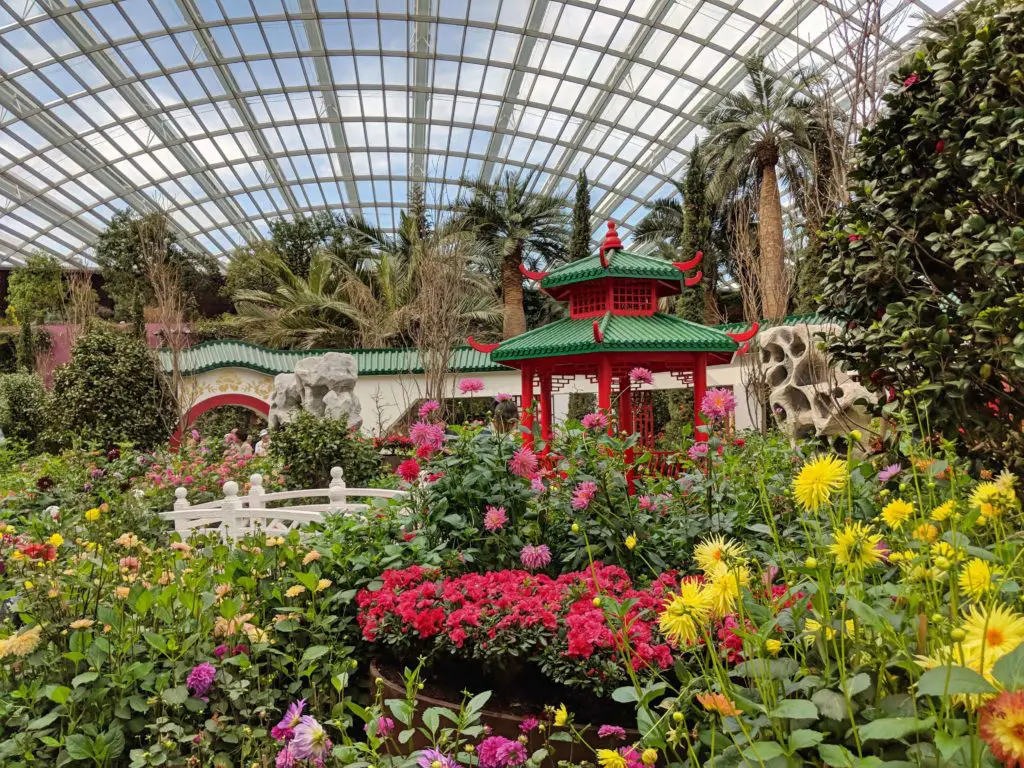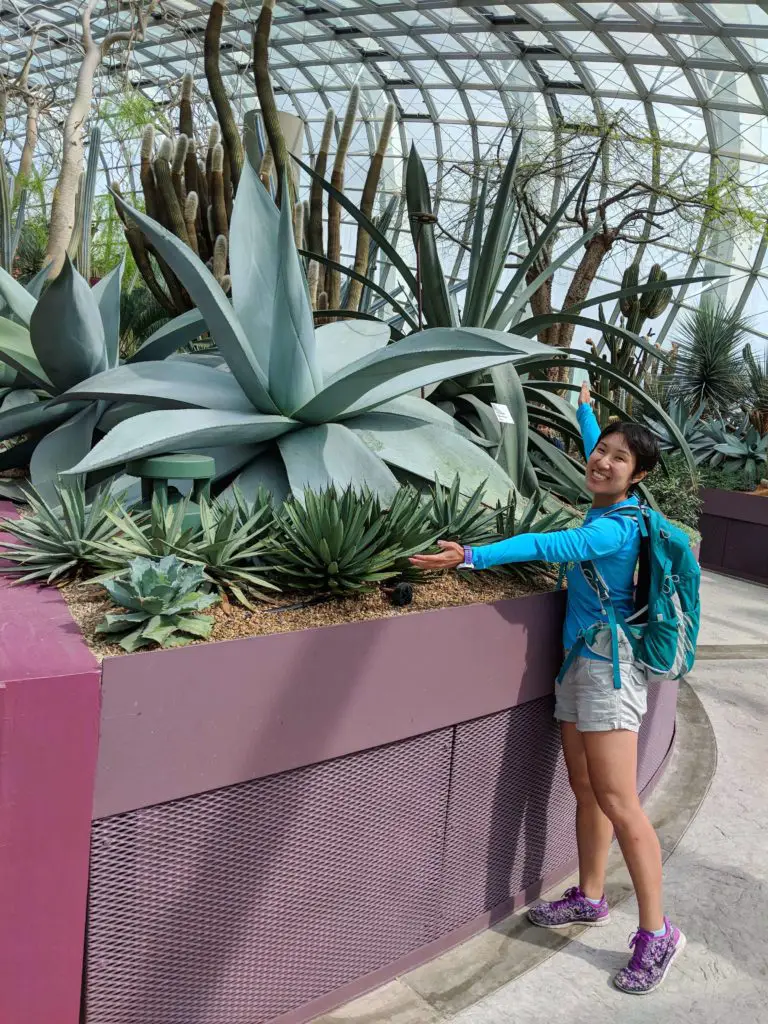 Cloud Forest is equally as impressive as the Flower Dome. When you walk into the Cloud Forest, you'll notice the huge mountain and waterfall as the main centerpiece. Visitors travel through the 7 levels of the mountain to observe various plants. Check out the "Lost World" level to see live Venus Flytraps, the carnivorous plant, and also in Lego format. The walking path for Cloud Forest is not a loop so the entrance and exits are different. We enjoyed our hour spent in the forest.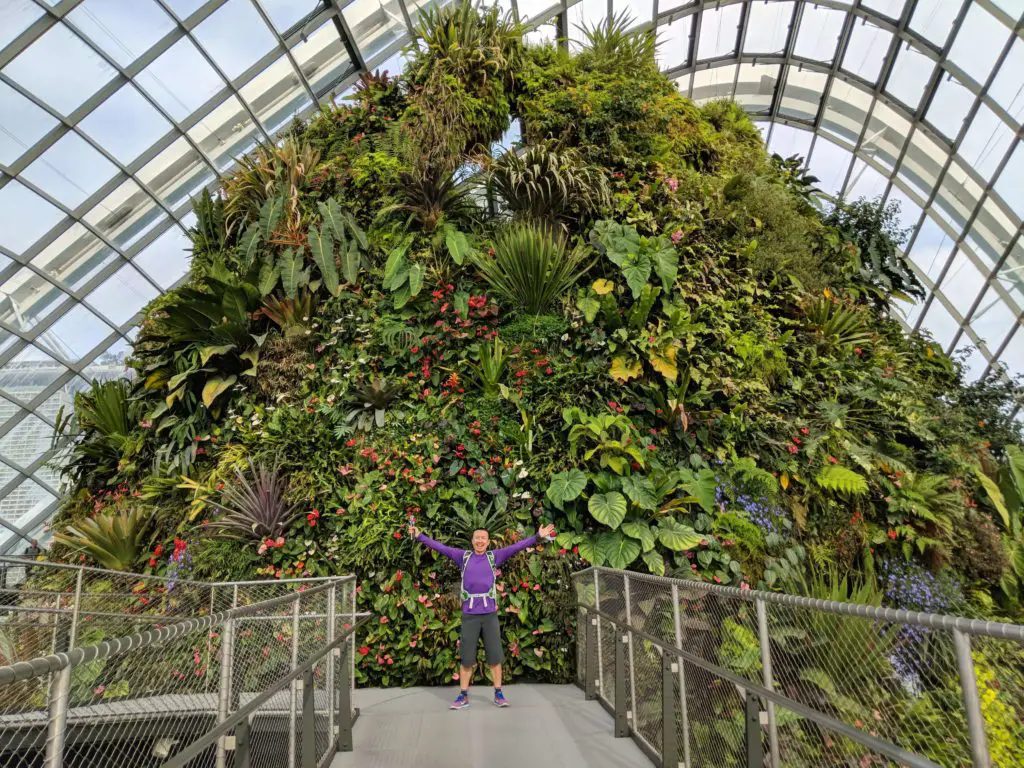 Read about our other favorite garden: Garden of Morning Calm in Gapyeong, South Korea
3. Take Fun Photos with the Merlion Statue at the Marina Bay's Merlion Park.
Have you seen a merlion before? It's Singapore's national icon of a half lion, half fish creature. The merlion statue is scattered through Singapore, yet the popular spot is Merlion Park in Marina Bay. It is really crowded so you'll need to be patient with taking fun and creative photo.  (If you're visiting Danang, Vietnam, you can also see a mini version of the merlion statue at Sun World Danang Wonders theme park.)
We walked to the Marina Bay from the Gardens by the Bay. The walk took over 30 minutes, but you can easily take a MRT train. 
Merlion Park
Address: One Fullerton Road, Singapore
Opening Times: 24 hours
4. Visit Chinatown for Shopping
Due to Singapore's high Chinese population, we had to see what Chinatown looked like. The area is touristy with upgraded with renovated/newly painted structures next to Chinatown MRT station. It didn't have the pushy crowds or grit that we're used to like in San Francisco's Chinatown.
Regardless, the area has plenty of shopping and good eats. You can spend a few hours here wandering the side streets or inside the market for souvenirs. Luggage tags with anime and Disney characters are popular items to purchase.
Consider taking the time to explore the Buddha Tooth Temple Relic and Museum and the offerings. It has free admission. You can learn more about the Buddhist culture and see Buddha statues inside. Please remember to cover up shoulders and legs before entering the building. You can borrow a sarong at the entrance area.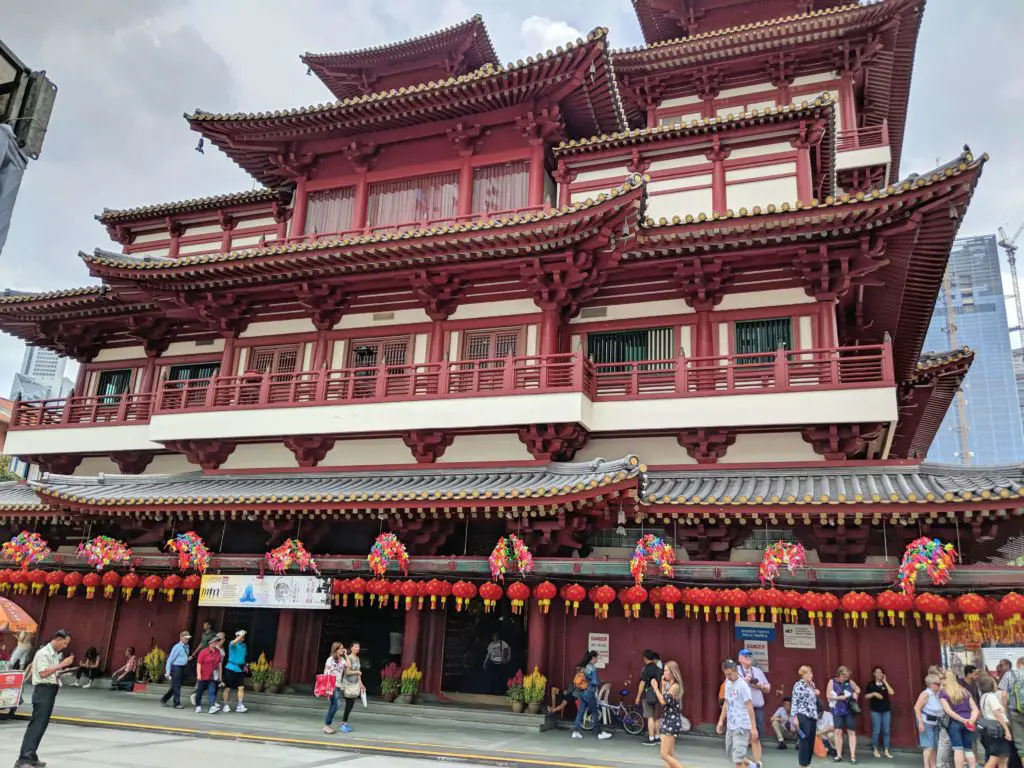 Buddha Tooth Temple Relic and Museum
Address: 288 South Bridge Rd, Singapore
Opening Times: 9am – 6pm (Buddhist Culture Museum on Third Floor) / 7am – 7pm ( Emiment Sangha Museum on Mezzanine Floor)
5. Try the Numerous Eateries at Hawker Stations.
The food is heavenly in Singapore. We couldn't wait to try the various hawker stations for lunch! There are tons of hawker centers to eat a variety of food for cheap.
Hawker Chan is a must-try famous Michelin star restaurant that serves Hong Kong style food for cheap. It was formally at a hawker stall across the street at the Chinatown Complex until it became too popular after winning its Michelin star award in 2016-2018. All of the dishes are highly recommended. You won't go wrong with choosing any of the items. The bbq pork with noodles and the soy sauce chicken with rice are delicious and one of the best Hong Kong style foods we've eaten. The total came out to 11 SGD ($8 USD).
Hawker Chan
Address: 78 Smith Street, Singapore
Opening Hours: 10:30am – 8pm
Another opportunity for hawker stalls is the Chinatown Complex, right across from Hawker Chan. The second floor has all of the food. There are hundreds of stalls to choose from – dessert, drinks, noodle soup, and others. It can be overwhelming to pick a place.
After a recommendation, we found An Ji (Stall #02-194) which is known for their fish head soup. The soup was delicious noodle soup with a creamy fish base and fish head. Great deal for 5 SGD ($3.70 USD). Cash only.
Chinatown Complex
Address: 335 Smith Street, Singapore
---
Singapore captured our hearts and stomachs with a short layover and we look forward to another visit. Next time we would love to visit Little India, Singapore Botanic Gardens, Singapore wildlife reserves, have some fun at Sentosa amusement park area and eat more delicious food.
Update: Check out our Singapore 4 days itinerary as we returned for a second visit!
Have you been to Singapore before? What are some places that you recommend that we see next time? Let us know in the comments below.
Save this post in your Singapore Pinterest board.
Pin #1 photo credit: Rajaraman Arumugam via Scopio Photos
Pin #2 photo credit: Heather Holdings via Scopio Photos