Singapore has been on our travel list for years, and it's the perfect spot for a layover. After seeing photos of the Gardens by the Bay and hearing about the delicious Singaporean cuisine, it was our turn to check out this amazing city for ourselves.
We were fortunate enough to have a quick Singapore stopover from 7:30am to 3pm with Singapore Airlines.
What is great about Singapore is that it's an ideal city for a long layover with plenty of free things to do and see.  It was plenty of time to get a glimpse of the area and leave the airport.
In this post, we're sharing top things to do during your Singapore layover, especially if you have 8 hours or less to explore. Plus, we have helpful tips on logistics for leaving Changi Airport. 
If you decide to not leave the airport, check out the new Jewel Changi Airport to experience a waterfall, canopy walk, and more exciting attractions!
For those with extra time to explore, consider visiting Singapore in the evening with this unique overnight layover. If you have more time, spend a full one day, 4 days, or even up to two weeks in Singapore. The opportunities are endless!
Check out our other layover posts: Beijing, China Layover, Sydney, Australia Layover, Narita, Japan Layover, and Brunei Layover.
*Disclaimer: Visiting Singapore during your layover? We have affiliate links in this post. If you click on them and make a purchase, we receive a small commission. There is no additional cost to you. Thank you for supporting us.
---
Check Singapore Travel Requirements for Singapore Layover
Before traveling to Singapore, you'll need to check the current travel requirements as they've changed. 
If you know that you'll pass through immigration and leave the airport, click here on what to do next. 
Currently, there are no requirements for COVID vaccinations. COVID tests, quarantining, and proof of vaccinations are not required.
Note: If you plan to travel to other places, please follow the country's travel requirements. Please make sure that your COVID vaccinations are up to date and get booster shots as needed.
*Important: You must complete the SG Arrival Card 3 days prior to arrival. Here is the link to complete the SG Arrival Card.
On the SG Arrival Card website, you can complete an individual or group submission. If you have a large group traveling to Singapore, then group submission will be a faster option.
---
What to Do When Land at Singapore Changi Airport
Once your flight has landed at Singapore's Changi Airport, you'll need to do the following to continue with your layover:
Step 1: Go Through the Immigration
If you're a foreign visitor who has completed the SG Arrival Card in advance, over 6+ years of age, have a machine-readable biometric passport, and a passport holder of one of the following countries below, then you can use the "Automated Immigration Lanes."
The countries eligible: Australia, Austria, Brunei, Belgium, Bulgaria, Cambodia, Canada, China, Croatia, Cyprus, Czech Republic, Denmark, France, Estonia, Finland, Germany, Greece, Hungary, Hong Kong, Iceland, India, Indonesia, Ireland, Italy, Japan, Laos, Latvia, Lithuania, Luxembourg, Macao, Malaysia, Netherlands, Malta, New Zealand, Norway, Philippines, Poland, Portugal, South Korea, Romania, Switzerland, Slovakia, Slovenia, Spain, Sweden, Thailand, United Kingdom, United States, and Vietnam.
With the Automated Immigration Lanes, you use your passport and biometric screening thumbprint to scan at the machine and complete the immigration process faster.
There isn't an additional Customs area.
---
Step 2: Decide Where to Go Next
After Immigration, you can decide on where you want to go next.
Depending on which terminal you've landed at, you may need to take the airport bus to go to Terminal 1 to take the metro (MRT) transportation and visit to head to the main Singapore area (more details below).
Another option is to hang out at the Jewel next to Changi Airport's Terminal 1.
---
Step 3: Buy SIM Card (Optional)
If you need a data plan during your short layover in Singapore, then you should get one at the airport before leaving. Singapore doesn't have too many areas with free wifi.
Here are some options to consider with pick-up at the airport:
---
Google Project Fi (For U.S. Travelers)
Or, if you are from the U.S. and want an affordable international phone plan with free data, consider signing up for Google Project Fi.
It's the phone plan with coverage to 200+ international coverage with data and text included.
We've used Project Fi since 2016 and love how easy it is to get data.
Sign up here and get a $20 credit.
---
Where to Store Luggage at Singapore Changi Airport
If you have carry-on luggage and don't want to carry your luggage during the Singapore stopover, store it at the Changi Airport's Baggage Storage.
It's convenient and someone watches your luggage. Each terminal has its own storage area. Follow the signs when exiting the terminal for the storage area.
Cost varies depending on the item and is available for 24 hours (or more).
Loose Items (5 SGD / $3.60 USD)
Small Luggage below 10 kg (22 pounds) (10 SGD / $7.20)
Big Luggage above 10 kg (22 pounds) or Odd Size Items (15 SGD / $10.90)
Extra Large Items (18 SGD / $13.00)
We used the service in Terminal 2 and didn't have any issues. After paying for our bags, a representative checked our bags for extra security and placed them in the back of the secured room.
Remember to have a copy of the receipt for pick-up.
---
How to Leave Singapore Changi Airport
It's easy to leave Singapore Changi Airport and arrive in the main city for your Singapore long layover.
The main options are taking taxis, Grab (Southeast Asia's version of Uber), private cars, buses, or the Mass Rapid Transit (MRT) trains.
The taxi and Grab will get to the main city the fastest in 30 minutes while the buses and MRT will take an hour.
---
Taxi
Head to the Arrivals of Terminals 1, 2, and 3 and call for a taxi there. The cost is from 20-40 SGD ($14.50-$29), plus an additional surcharge cost.
The surcharge is for leaving the airport and costs between 6-8 SGD ($3.60-$5.80), or 25-50% of the final metered.
You can find out the surcharge info here. 
---
Grab Ride-Hailing Car
Taking a ride-hailing car is a good option to travel around Singapore.
At Changi Airport, private cars are not allowed to pick up passengers at the airport curbside.
If you decide to use Grab (similar to Uber), the driver will need to tell you where to go for pick-up. Examples of pick-up spots are here. 
You'll need to download the Grab app ahead of time. Download Grab Here: iOS / Android
You'll also need to have a data plan to call the Grab vehicle.
---
Private Car
If you want to have a private car, consider hiring one here. You can have a choice of a private or shared transfer to town. Choose from the options below:
---
Bus
There are bus stops at Terminals 1, 2, and 3 in the basement bus area. Take the bus numbers 24, 27, 34, 36, 53, 110, and 858 to your destination.
For Terminal 4, there is a bus stop next to Car Park 4B, and then take the bus numbers 24, 34, 36, and 110. 
You'll need to have exact change for the bus. 
---
MRT (Recommended)
Taking Singapore's MRT is very easy and is highly recommended as a more affordable and local way to travel.
It's what we used for our Singapore layover, and we got off at Bayfront Station in the Downtown area. 
There are two ways to get to Downtown Singapore from Changi Airport:
Take the train from Changi Airport Station (CG2) to Tanah Merah Station (EW4), then transfer to the East West Line towards Tuas Link Station (EW33). 
Take the train from Changi Airport Station to Expo Station (CG1/DT35), then transfer to the Downtown Line towards Bukit Panjang Station (BP6/DT1).
Find more information about the train times here. 
The cost of the one-way ride is 2.40 SGD ($1.80 USD).
Here are some helpful tips:
Pick up a free visitor's map at one of the Customer Service desks and refer to a copy of the train lines. Or click

here

for a copy of the MRT lines.

To buy a paper ticket, e

nsure that you have cash (in denominations of 5 SGD/$3.60 or less) for the MRT ticket as credit cards aren't accepted in the machine. The ticket machines don't accept 10 SGD ($7.30) bills unless the ride is over 6 SGD ($4.40).

Reuse your paper ticket and add money as needed. Every 3rd and 6th ride has a $.10 discount.

NEW: If you want to use a credit card, debit card, or mobile device to buy an MRT fare, use one of them to tap at the MRT fare gates or card reader to get onto the MRT or buses. Use the same card to tap again when exiting and the fare will get charged. It's convenient since you don't need to worry about losing a paper ticket. Read more about this process here.
---
Things To Do for A Singapore Layover
Singapore has a lot to offer and it's hard to choose what to do.
Since we had 8 hours for our layover, here are recommendations on things to do during your Singapore layover. 
1. Take a free Singapore tour.
**Currently, the complimentary city tours have been temporarily suspended. We'll continue to monitor this.**
Singapore Airport provides complimentary city tours to all visitors during layovers.
Visitors must have at least 5.5 hours during the layover to participate in the tour. They have the option to choose a morning/afternoon Heritage Tour or an evening City Tour Tour. Registration closes one hour prior to the tour departure time. Each tour is 2.5 hours long and has free transportation included.
Unfortunately, the timing of the tour didn't work out with our schedule.
Singapore Airlines also offers free tours if you take their airlines. (Also currently not running until further notice.)
---
2. Awe at the plants at the Gardens by the Bay.
A trip to Singapore is incomplete without seeing the iconic Gardens by the Bay.
As one of the top things to try in Singapore, you can literally stay here for the entire day.
It's a massive park that covers 101 hectares/250 acres of land and has thousands of plants throughout the park. The city focused a lot of time and energy to provide a green space for everyone to enjoy.
The most popular section of the garden is the Bay South Garden which has the Supertree Grove, OCBC Skyway, Flower Dome, Cloud Forest, and Floral Fantasy. With your limited time, choose 1 or 2 of the attractions to visit.
The Outside Gardens and Children's Garden in Bay South is free admission, while OCBC Skyway, Flower Dome, Cloud Forest, and Floral Fantasy have additional fees.
At the time of our visit, the Outside Gardens had various Lunar New Year flowers and lion sculptures.
Address: 18 Marina Gardens Dr, Singapore
Opening Times: 5am to 2am daily (Outdoor Gardens)
Closest MRT Station: Bayfront (CE1/DT16)
---
Supertree Grove
The Supertrees Grove was an amazing sight with "trees" up to 50 meters (164 feet) tall and plants grown along their sides. The Silver Garden, which is next to the Flower Dome, also contains Supertrees but on a smaller scale.
If you have extra time in your itinerary or your flight leaves in the middle of the night, you must return to the Supertree Grove area to see the free music and light show, Garden Rhapsody, at 7:45pm and 8:45pm daily.
It's a beautiful show with the lights synchronizing with the music. There is a different music theme every few months. See the schedule here. 
Admission Cost: Free admission 
---
OCBC Skyway
If you want to have a bird-eye view of the Gardens from the Supertree Grove, check out the 128-meter (420 feet) walkway at OCBC Skyway.
A unique opportunity is seeing the Garden Rhapsody show from here. It's a different perspective of seeing the aerial views of the show. Plus, you don't have to worry about the crowds. 
Although our schedule didn't allow for this activity, it looks fun to see Singapore and the area from above.
Admission Cost: 8 SGD ($5.80) for Adults/ 5 SGD ($3.60) for Children (3-12 years old)
Opening Times: 9am to 9pm daily; Last admission is 8:30pm
---
Flower Dome and Cloud Forest – Cooled Conservatories
Flower Dome and Cloud Forest are a must do in the area. The cooled conservatories are impressive with over 1 million plants in the garden.
Tip: If you're sensitive to cold, you may want to bring a jacket as it is cold inside (23-25°C / 73-77°F).
Admission Cost: To see both Flower Dome and Cloud Forest, the cost is, 28 SGD ($20.25) for adults/15 SGD ($10.90) for children (3-12 years old). 
Opening Times: 9am to 9pm daily; Last admission is 8:30pm
---
Tip: In the past, we receive a 10% discount when showing a copy of the Singapore Airlines boarding pass. We're not sure if this still applies or not but you can try!
---
Flower Dome
The Flower Dome is considered the world's largest greenhouse according to the Guinness World of Records.
This place has a variety of plants from various areas from the Mediterranean to Australia. You'll love the various succulents, baobab trees, and even the themed floral arrangements.
During our visit, we saw the "Dahlia Dreams" which had pretty dahlias and also integrated the Lunar New Year decorations. We even observed fruit trees and plants from our home state, California.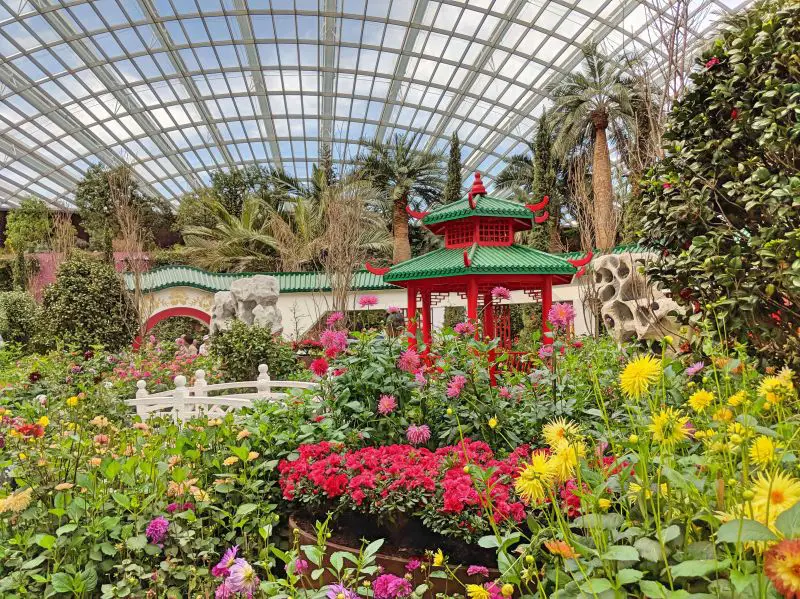 ---
Cloud Forest
Cloud Forest is equally as impressive as the Flower Dome.
When you walk into the Cloud Forest, you'll notice the huge mountain and 35-meters (115 feet) waterfall as the main centerpiece. Visitors travel through the 7 levels of the mountain to observe various plants.
Check out the "Lost World" level to see live Venus Flytraps, the carnivorous plant, and also in Lego format. The walking path for Cloud Forest is not a loop so the entrance and exits are different.
We enjoyed our hour spent in the forest.
---
Floral Fantasy
Floral Fantasy is also another place to see creative bouquets and flower arrangements suspended from the ceiling. There are over 15,000 cut, dried, and preserved flowers from the ceiling arrangements. 
We haven't been here yet, but it looks beautiful! 
Tip: Similarly to the Flower Dome and Cloud Forest, the temperature is from 23-25°C / 73-77°F, so it is chillier than outside. Bring a jacket if needed. 
Admission Cost: 20 SGD ($14.50) for Adults, 12 SGD ($8.70) for Children (3-12 years old). 
Opening Times: Monday-Friday 10am to 7pm (Last admission at 6:30pm)
---
---
3. Take Fun Photos with the Merlion Statue at Marina Bay's Merlion Park.
Have you seen a merlion before? It's Singapore's national icon of a half lion, half fish creature.
The merlion statue is scattered through Singapore, yet the popular spot is Merlion Park in Marina Bay.
It is really crowded so you'll need to be patient with taking fun and creative photo. 
Note: If you're visiting Danang, Vietnam, you can also see a mini version of the merlion statue at Sun World Danang Wonders theme park.
We walked to Marina Bay from the Gardens by the Bay. The walk took over 30 minutes for us, but you can easily take an MRT train. 
Address: One Fullerton Road, Singapore
Opening Times: 24 hours
Closest MRT Station: Raffles Place (EW14/NS26)
---
4. Visit Chinatown for Shopping and Eating.
Due to Singapore's high Chinese population, we had to see what Chinatown looked like.
The area is touristy with upgraded with renovated/newly painted structures next to Chinatown MRT station (DT19/NE4). It didn't have the pushy crowds or grit that we're used to like in San Francisco's Chinatown.
Regardless, the area has plenty of shopping and good eats. You can spend a few hours here wandering the side streets or inside the market for souvenirs. Luggage tags with anime and Disney characters are popular items to purchase.
---
Buddha Tooth Temple Relic & Museum
Consider taking the time to explore the Buddha Tooth Temple Relic and Museum and the offerings. It has free admission. You can walk inside and learn more about the Buddhist culture and see Buddha statues inside.
On Saturday, there is a free guided temple tour in Mandarin and English. For the tours in Mandarin, they occur from 10:30am to 12pm, while tours in English occur from 2:30pm to 3:30pm. Register for your spot here. (Currently, the tours are not running until further notice.)
Please remember to cover up your shoulders and legs before entering the building. You can borrow a sarong or shawl at the entrance area. 
Address: 288 South Bridge Rd, Singapore
Opening Times: 9am to 5pm (For Temple & Buddhist Culture Museum on Third Floor)
Closest MRT Station: Chinatown (DT19/NE4)
---
Chinatown Visitor Centre 
Another fun spot to visit in Chinatown is the Visitor Centre. You can stop by to ask for information about what to do in the area or any questions that you have about Singapore. 
We like seeing the various souvenirs available for sale here. 
Address: 2 Banda St, Singapore (Right across from the Buddha Tooth Temple Relic) 
Opening Times: 10am to 7pm 
---
5. Try the Numerous Eateries at Hawker Stations.
The food is heavenly in Singapore. We couldn't wait to try the various hawker stations for lunch! There are tons of hawker centers to eat a variety of food for cheap. We're staying specifically around the Chinatown area since it's a convenient area.
---
Hawker Chen Restaurant
Hawker Chan is a must-try famous Michelin star restaurant that serves Hong Kong-style food for cheap. It was formally at a hawker stall across the street at the Chinatown Complex until it became too popular after winning its Michelin star award in 2016-2018.
All of the dishes are highly recommended. You won't go wrong with choosing any of the items. The bbq pork with noodles and the soy sauce chicken with rice are delicious and one of the best Hong Kong style foods we've eaten. The total came out to 11 SGD ($8 USD).
Address: 78 Smith Street, Singapore
Opening Hours: 10:30am – 8pm
---
Chinatown Complex
Another opportunity for hawker stalls is the Chinatown Complex, right across from Hawker Chan. The second floor has all of the food. There are hundreds of stalls to choose from – dessert, drinks, noodle soup, and others. It can be overwhelming to pick a place.
After a recommendation, we found An Ji (Stall #02-194) which is known for the fish head soup. The soup was delicious noodle soup with a creamy fish base and fish head. Great deal for 5 SGD ($3.70 USD). Cash only.
Address: 335 Smith Street, Singapore
Opening Times for Chinatown Complex: 12pm to 7pm (Individual stall openings varies)
---
Maxwell Hawker Centre
Only a few minutes walk from the Buddha Tooth Relic Temple and Museum is the Maxwell Hawker Centre. It's one of the best hawker stalls/food courts to try delicious street food for cheap. 
You can order Hainan chicken rice, laksa, noodles, chili crab, and much more. 
Here are some recommended places:
The Hainan chicken rice at Tian Tian Hainanese Chicken Rice (Stall 10 & 11) is really good! Once this place sells out of chicken for the day, the store closes up. 
Another recommended place to eat chicken and rice is Ah Tai Hainan Chicken Rice (Stall #07). The former chef of Tian Tian Chicken Rice opened up his own shop.
It's a personal preference but the chicken taste even better than at Tian Tian. The chicken comes with a bone, and there is a side of soup.
If you like chili crab, consider visiting Dingdinghong Mala HotPot (鼎鼎紅麻辣香鍋) (Stall #41). A 800g chili crab costs around 48 SGD, and it's delicious! The crab is enough for 2 people. Add a side of rice and stir-fried vegetable for a complete meal.
Feel free to browse the various offerings and choose a few items to try. Another strategy is to find the longest lines and then wait in them. 
Address: 1 Kadayanallur St, Singapore 069184
Opening Times: 8am to 8pm
---
6. Visit Jewel at Changi Airport
The Jewel, next to Changi Airport Terminal 1, is a must-visit on your layover. It's the newest section of the airport with restaurants, an indoor waterfall, shopping, and fun activities for kids and families.
We suggest that you leave Singapore city center early and arrive at the airport at least 3-4 hours early from your departure. It takes about 10 to 15 minutes to get to the Jewel from Terminal 1 main entrance.
If you're hungry, there are plenty of food options at the Jewel. Whether you want dumplings from Din Tai Fung, sushi, Tsuta ramen, or fast food, then you'll want to add extra time for a meal break here. 
The main attraction is the indoor waterfall, Rain Vortex. It's incredible to see cascades fall in the middle of the airport. You can walk up various floors and see different views of the vortex waterfall. 
There are lots of indoor activities for children and families here. Visit a hedge maze, walking net, bouncing net, dinosaur section, and more. 
Opening Times: 24 Hours but shops operate from 10am to 10pm
---
Final Thoughts
It's time to head back to the airport! You can use the MRT train to return to Changi Airport or your choice of transportation.
Singapore captured our hearts and stomachs with a short layover and we look forward to another visit.
On a return trip, add a visit to Little India, Singapore Botanic Gardens, Singapore wildlife reserves, have some fun at Sentosa amusement park area, and eat more delicious food.
We hope you enjoyed your long stopover in Singapore!
Have you been to Singapore before? What are some places that you recommend that we see next time? Let us know in the comments below.
Save this post in your Singapore Pinterest board.
Featured photo & Pin #1 photo credit: Rajaraman Arumugam via Scopio Photos
Pin #2 photo credit: Heather Holdings via Scopio Photos