Rottnest Island, located off of Perth, Australia needs to be on your travel bucket list.
As one of the best places to visit in Australia, Rottnest Island is the perfect place for a day trip if you're visiting Perth on vacation or Western Australia on a road trip. 
You can't go wrong with pristine beaches, turquoise ocean waters, smooth roads for cycling, and lots of outdoor adventures.
Plus, one of the main attractions is seeing the adorable quokkas and taking selfies with them! You'll fall in love with them. We're still OBSESSED with this Australian animal even after we've returned home.
Below is our detailed Rottnest Island travel guide on how to spend one day (or even longer!) when visiting Rottnest Island. During your Rottnest Island day trip, you can visit all of these attractions on your own as it's super easy to navigate around the island. Or, you can choose to schedule a day tour from Perth. 
If you have extra time, it's worth it to stay for two days which is what we did. You'll love how beautiful and peaceful everything is and won't want to leave!
Enjoy your day trip to Rottnest Island!
---
How to Get to Rottnest Island
The best way to get to the island is by ferry. There are three companies to choose from: Rottnest Express, Rottnest Fast Ferries, and SeaLink Rottnest Island.
Each of the companies has different routes and times on where they depart or arrive from Perth (Elizabeth Quay or North Perth) and Fremantle (Victoria Quay or North Fremantle).
Visit the companies' website for scheduling and pricing information. Some of the ferry companies have discounted tickets prices depending on departure times (ie: late afternoon) or low season. The companies also have add-ons packages such as bike or scuba equipment rentals, day tours, etc.
Buy Tickets Ahead of Time
Here are some options if you want to buy discounted tickets online or if you want to combine with a bus tour, bicycle and snorkel rental:
What Did We Take?
We took Rottnest Express and had a great time. Our ferry departed on Sunday at 8:15am from Fremantle B-Shed and returned at Monday at 5:30pm to Perth. From Fremantle, the ride was 30 minutes. From Perth, the ride was 1.5 hours.
If you get seasick, don't sit in the front of the boat as the waters are choppier. Seasick bags are available at the snack bar.
Cost was $72 AUD /$56 USD per person (includes a credit card transaction fee).
Helpful Tips:
If you have only one day on Rottnest Island, it's best to leave Perth or Fremantle early in the morning (7-8am) and depart Rottnest Island in the late afternoon (4-5pm) to maximize your time.

Pre-book tickets online since ferries can get booked up, especially during the summertime.

Ensure that you have either a printout of your ticket or your cell phone has enough battery to scan the QR code to board the ferry.

If you stay overnight on Rottnest Island, collect your luggage tags at the ferry's front desk.

Rottnest Express's online ticket purchasing confirmation page asks you for a mailing address to deliver the tags, however, this is only if you live in Australia.

At the front desk, you'll need to know the accommodation location and room number provided by the Rottnest Island Authority confirmation email for the luggage delivery.
---
How to Get Around Rottnest Island for the Day
Bus
One of the popular ways is to take the Island Explorer Bus. It's easy to get on the bus and get off at various bus stops. More information about transportation and purchasing tickets is here.
We also saw several buses organized through Rottnest Express that traveled to popular destinations.
Bicycle
The best way to travel on Rottnest Island for one day is by bicycle. The roads are smooth and clear as cars aren't allowed on the island. Plus, everyone has more freedom and fun on a bicycle. Just note that the island is a lot hillier than expected.
Many of the ferry companies have their own bicycle rentals, such as Rottnest Express, and you'll need to reserve during the ticket purchasing process. We mentioned options in the previous section above.
We opted to go with Pedal and Flipper which is less than a 10-minute walk from the Visitor Center. Just follow the signs from the Visitor Center to the bike rental. There are a variety of bikes such as commuter bikes to mountain bikes and sizes to choose from (small, medium, large).
Cost is $30 AUD /$23 USD per person for a 1 day/24 hour rental for the commuter bike.

If doing a 2-day rental, the cost is $45 AUD /$34.60 USD.

A $50 AUD /$38 USD per bicycle security deposit is charged and gets refunded back once the bicycle is returned.
Helpful Tips:
Don't forget to wear your helmet and lock up your bicycle. The chances of your bike getting stolen are slim, but you never know!

Pre-booking for Pedal and Flipper is not necessary but can speed up your process for getting a bicycle. Online reservation is for one day only. You can extend your reservation to two days or more by paying the difference at the check-out area.

Tools are available at the exit area to adjust the seat height. Old tubes are available to tie things to the rear rack.
---
Things To Do in Rottnest Island on Your Day Trip
Now, we're on the fun part of things to do on the island.
1. See the Adorable Quokkas
Our main reason to visit the island was to see quokkas. Quokkas are one of the happiest, cutest, and most curious creatures in the world! They are marsupials that are the size of a housecat.
Once you've seen one, you'll be in awe of their adorableness and smiles. Plus, they are so cute when they look up at you with sand on their noses and show their teeth.
Quokkas are everywhere on the island as they lack predators and love to hop towards people. If you see them hop away, they hop just like kangaroos.
If you want to maximize your quokka sightings, there are a few places to consider:
Near the Thomson Bay (#1 Island Explorer Bus Stop) and Kingston Barracks (#2 Island Explorer Bus Stop)
Near Nancy Cove area (#10 Island Explorer Bus Stop) and Stark Bay (#14 Island Explorer Bus Stop)
Around the picnic tables at the Settlement Shops
Check out this map for further information.
Don't forget to take hundreds of selfies with them for social media. We're still obsessed with them even after our trip!
Helpful Tips:
As with any wildlife, please don't feed or touch them. Speak up when you see someone doing this.

Quokkas will approach you if you stay still.

Many of the quokkas live under bushes and trees along with annoying flies. The flies bite with a vengeance and it stings. You may consider wearing insect repellent.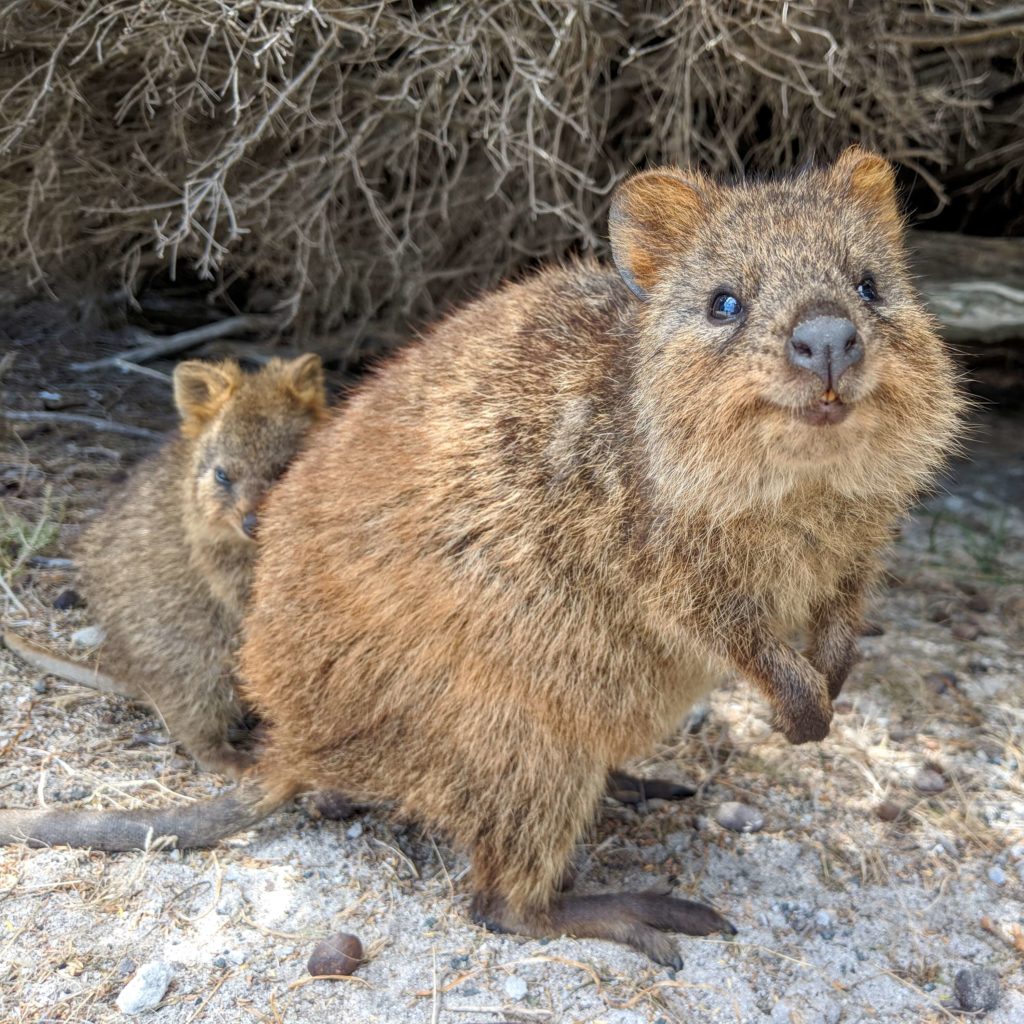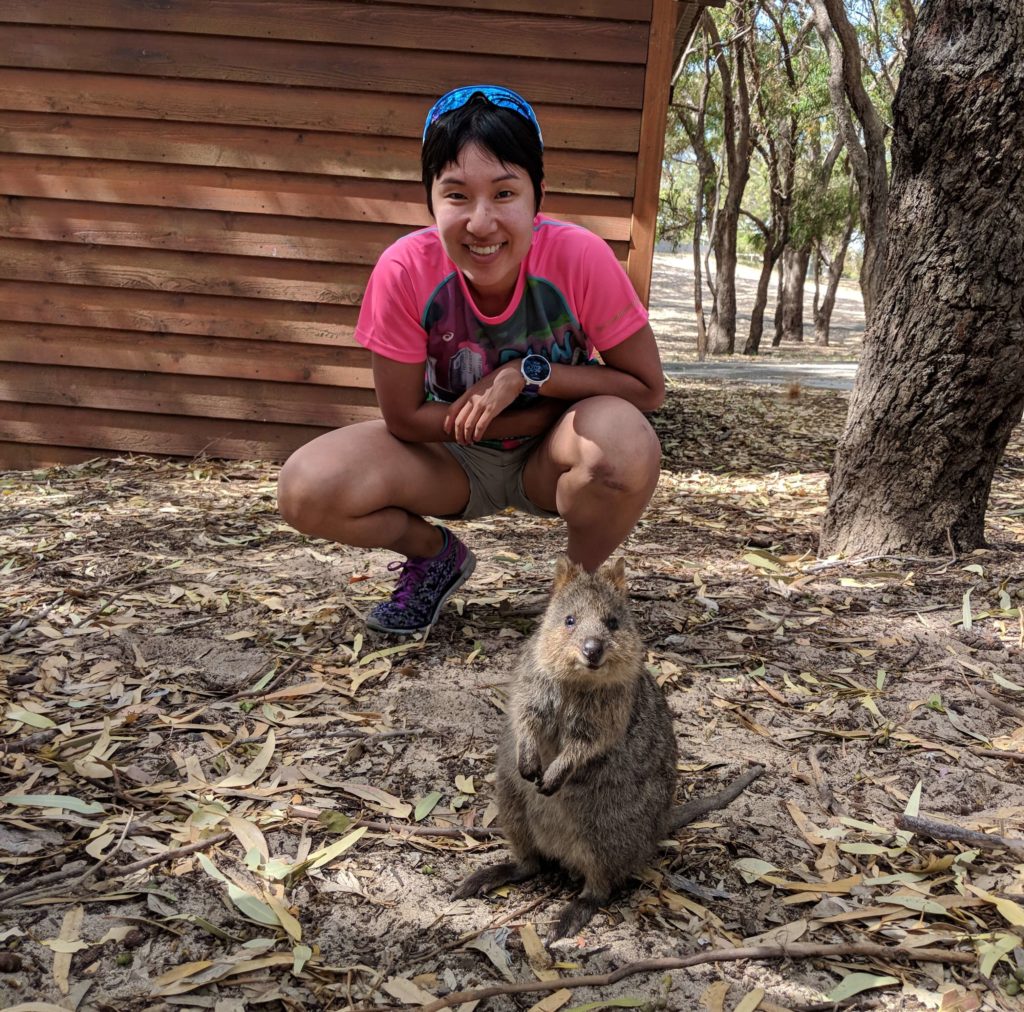 2. Bike Around Rottnest Island
Rottnest Island is absolutely beautiful to bike around. It's very safe to bike around the island.
The roads are wide, nicely paved, and there are no cars to worry about. The bus drivers are courteous to the riders. It is a great workout due to the rolling hills on the island!
Don't worry about getting lost as there are plenty of signs around the island to direct you to a location.
Or, you can pick up a map from your ferry operator which highlights various cycling routes or refer to the online map.
According to the map, there are routes that can be 4km/2.4 miles (30 minutes), 10km/6.2 miles (1.5-3 hours), and up to 22km/13.7 miles (3-5 hours). Plus, biking allows you to be flexible with your schedule.
We recommend a ride to the Cape Vlamingh in the West End to see the waves and also the arch in the rocks.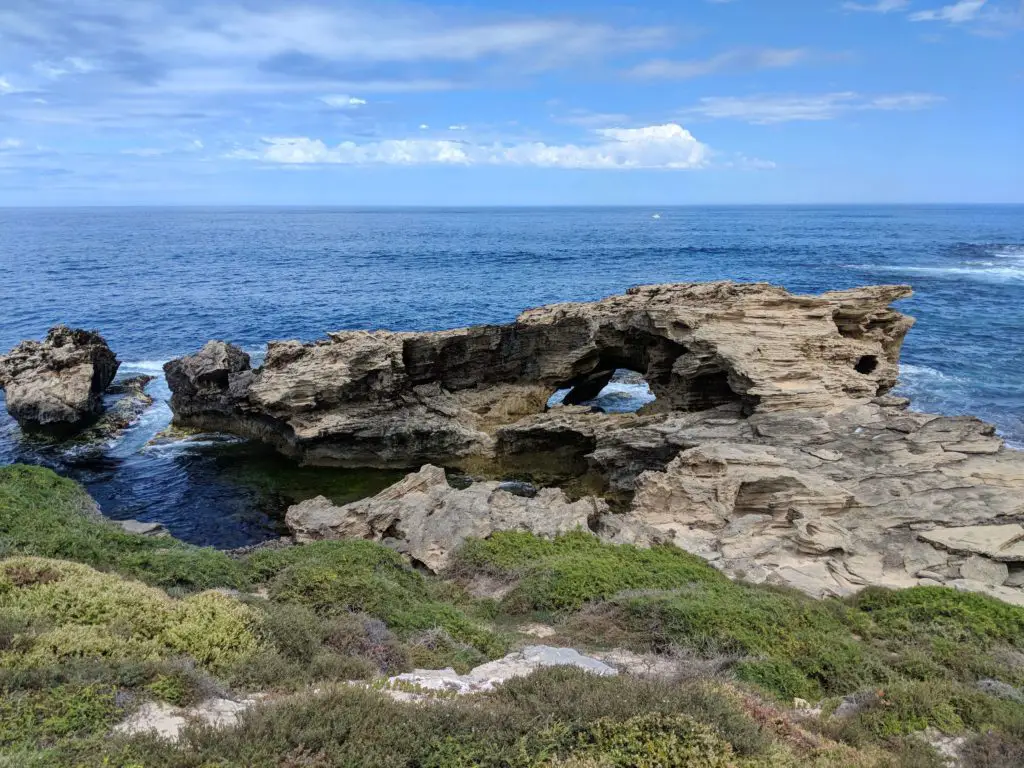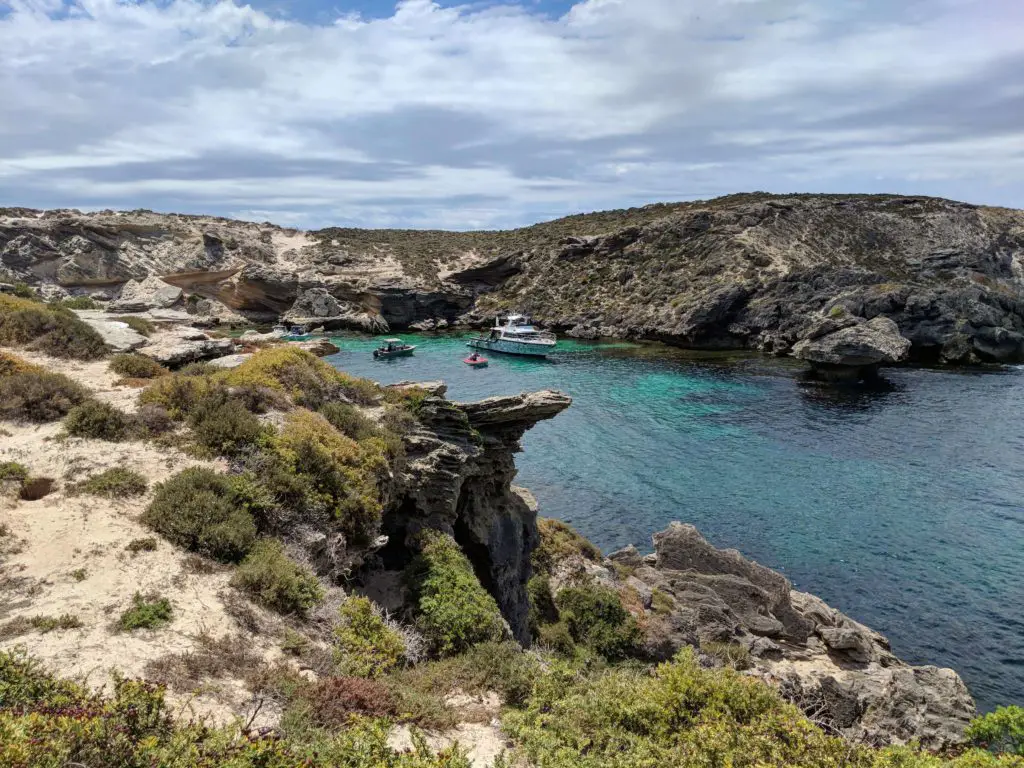 If you're passing Wadjemup Lighthouse, consider riding through the pink lakes. The lakes are pink due to the high salt content and algae that have beta-carotene. Some of the lakes have a lighter pink hue compared to others.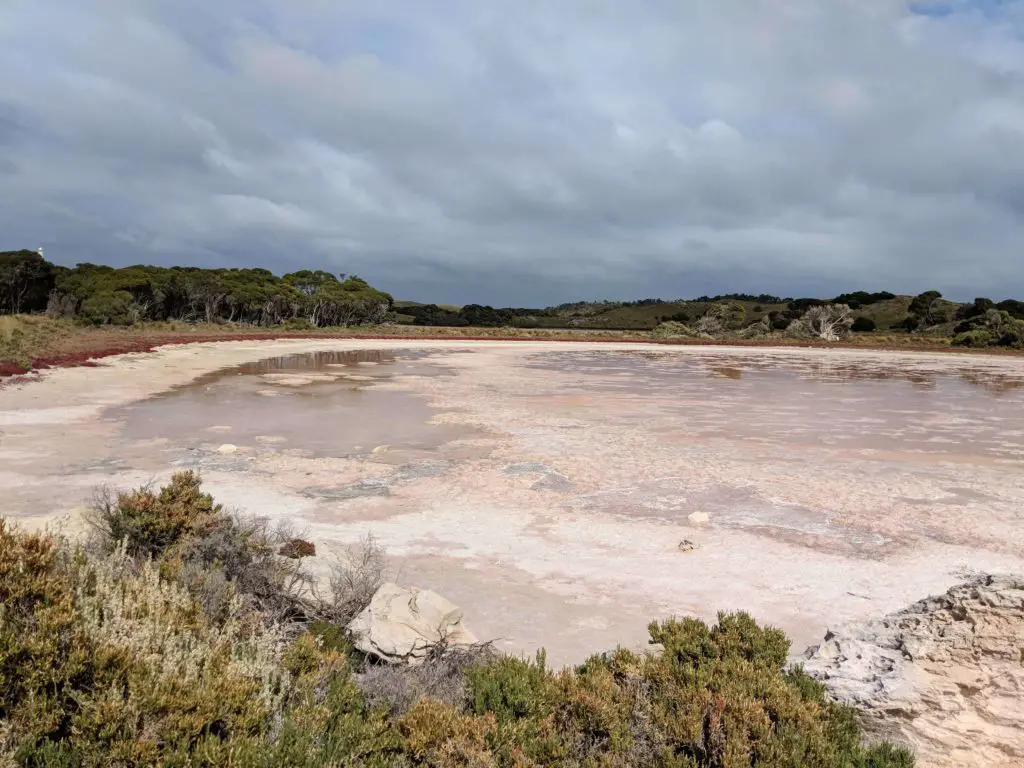 3. Swim or snorkel in the clear blue waters.
The waters are spectacular and sparkling blue. You won't go wrong with stopping by any place for a swim.
If the waters are good, you could swim out to the shipwrecks between Bickley Bay and Porpoise Bay.
Although we didn't snorkel, some of the recommended places are Porpoise Bay, Parker Point, and Little Salmon Bay.
4. Relax on the beach.
We loved the clean beaches. Parakeet Bay is an awesome place to relax, take a nap, and hang out.
Some of the other recommended beaches are Thomson Bay (which is crowded due to the proximity to accommodations), The Basin, and Little Armstrong Bay.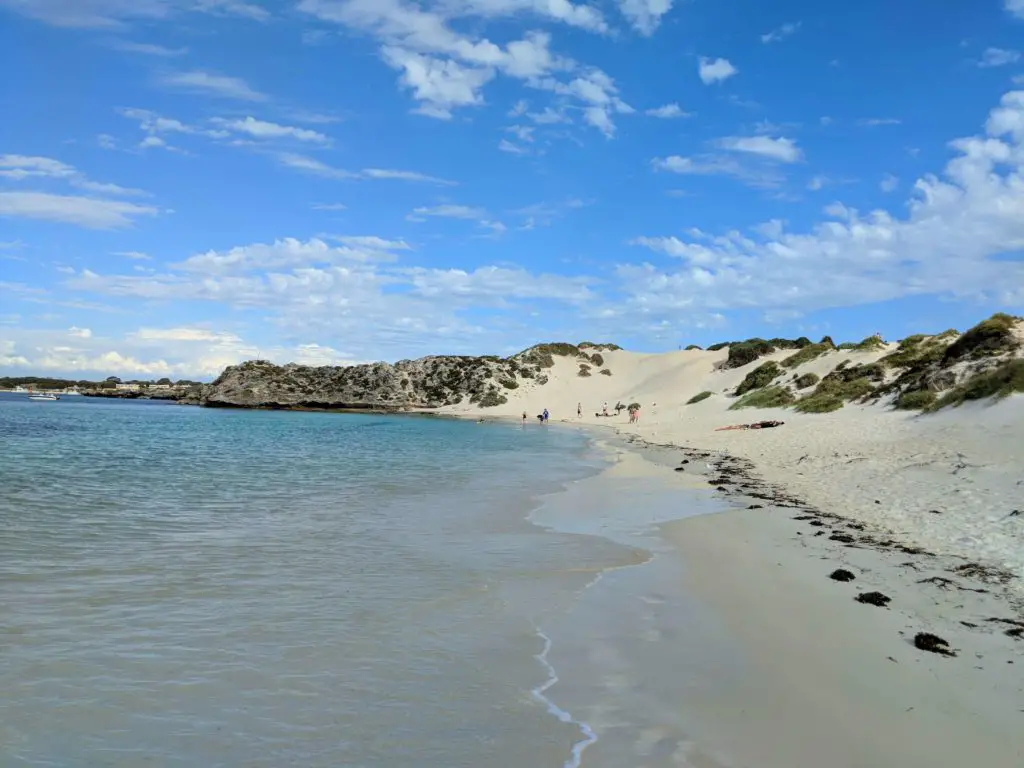 5. Visit historic places and take tours.
Want to learn more about historic places? Consider taking a tour at Oliver's Hill Lookout or Wadjemup Lighthouse.
Tours are $9 AUD /$6.90 USD each. Although we didn't join the tours, we browsed through the Oliver's Hill Lookout and saw the artillery used during World War II. Views are amazing at both locations.
As a heads up, biking to Oliver's Hill Lookout is steep! It took some effort and standing up on the bicycle to get up the hill. If the road is too steep, you can easily dismount the bicycle and walk up.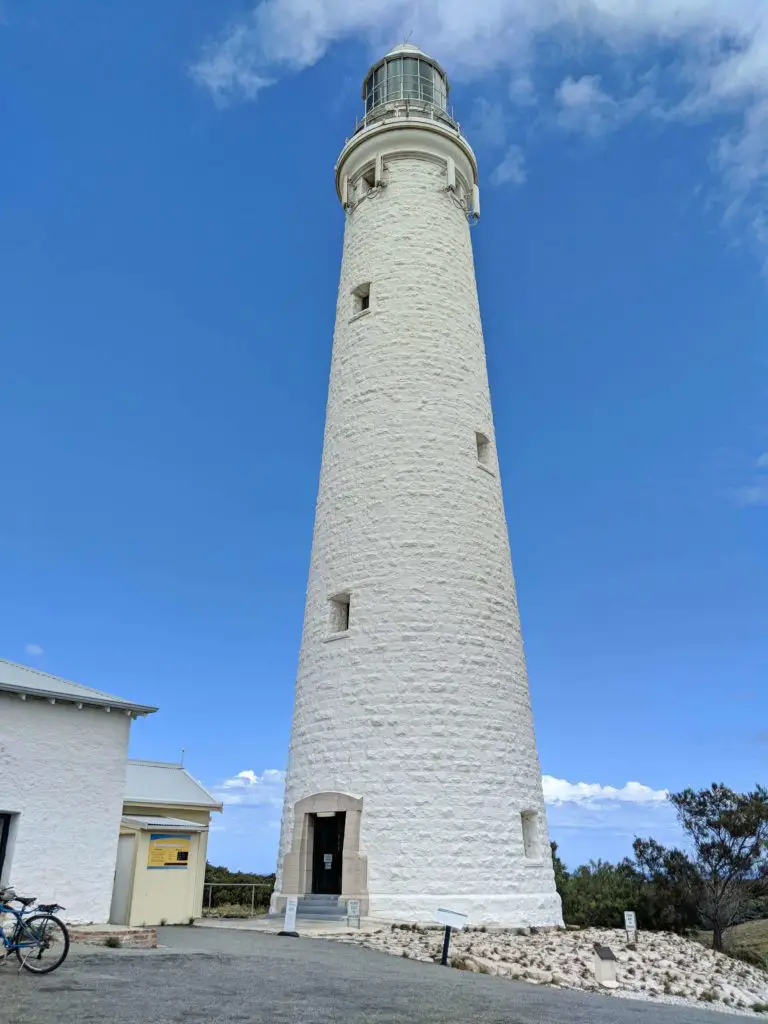 6. Other things to see and do on Rottnest Island
Depending on the timing and your interest, here are other recommendations on things to do on the island:
See beautiful peacocks walk around in the Settlement Shops area.

Watch fur seals on Cathedral Rocks. Unfortunately, we didn't get to see them this time so we'll save these for the next opportunity.
---
Places to Eat in Rottnest Island
Most of the restaurants are in the Settlement Shops area which is behind the Visitor Center.
There is the Rottnest Bakery, Rottnest General Store, Simmo's ice cream, Subway, and Frankie's On Rotto. We had our fair share of baked goods from Rottnest Bakery (meat pies and other baked goods).
The pizzas at Frankie's On Rotto are delicious with the sourdough crust. There are other sit down restaurants nearby Hotel Rottnest as well.
If you want a change of scenery, consider booking a cruise during lunchtime and enjoy lobster! You'll try some fresh seafood and daily catches. 
---
Accommodations/Hotels in Rottnest Island
If you have the opportunity to stay overnight or longer, here are the accommodations available on the island.
Guests have their choice of hostels at the Rottnest Hostel, camping, budget accommodations at the Caroline Thomson Cabins, or higher-end hotels at Hotel Rottnest or Karma Rottnest. More information about availability and prices is here.
Due to the island's exclusiveness, there aren't any Airbnbs listed.
Where Did We Stay?
We stayed at the Caroline Thomson cabin and had an awesome time! The individual cabins (or "glamping") had 2 bunk beds and 1 double bed. It was enough room for up to 6 people. Each cabin had a private bathroom, shower, cooking appliances, fridge, and microwave. This place was clean. There is a communal BBQ area too.
Beds came with a wool blanket and pillow provided, but no linens. Linens available for rent prior to arrival or bring your own sleeping bags/linen. The area also had fast and free wifi connection. Room doesn't have air conditioning though. 
Cost of the Caroline Thomson Cabin for one night: $114 AUD /$87 USD
Helpful Hints:
Depending on the time of the visit, it's recommended to book accommodations in advance. By the time we looked for places to stay, we only had the Caroline Thomson cabins available. We booked two months prior to our arrival.

Feel free to bring your own food or purchase food at the Rottnest General Store (in Settlement Shop).

For the Caroline Thomson cabins, check in is at 2pm and check out is at 9am the following morning at the Visitor Center.

Luggage must be placed in the designated luggage area for the departing ferry from Rottnest Island to Perth or Fremantle either by 7:30am or 8am depending on your ferry time.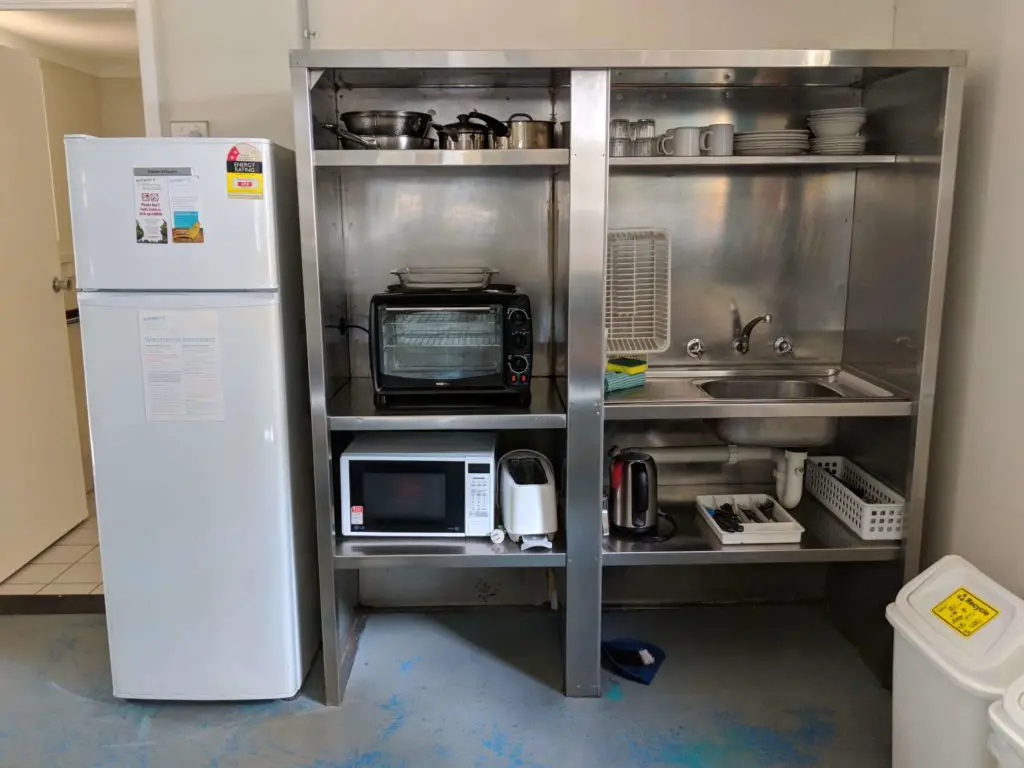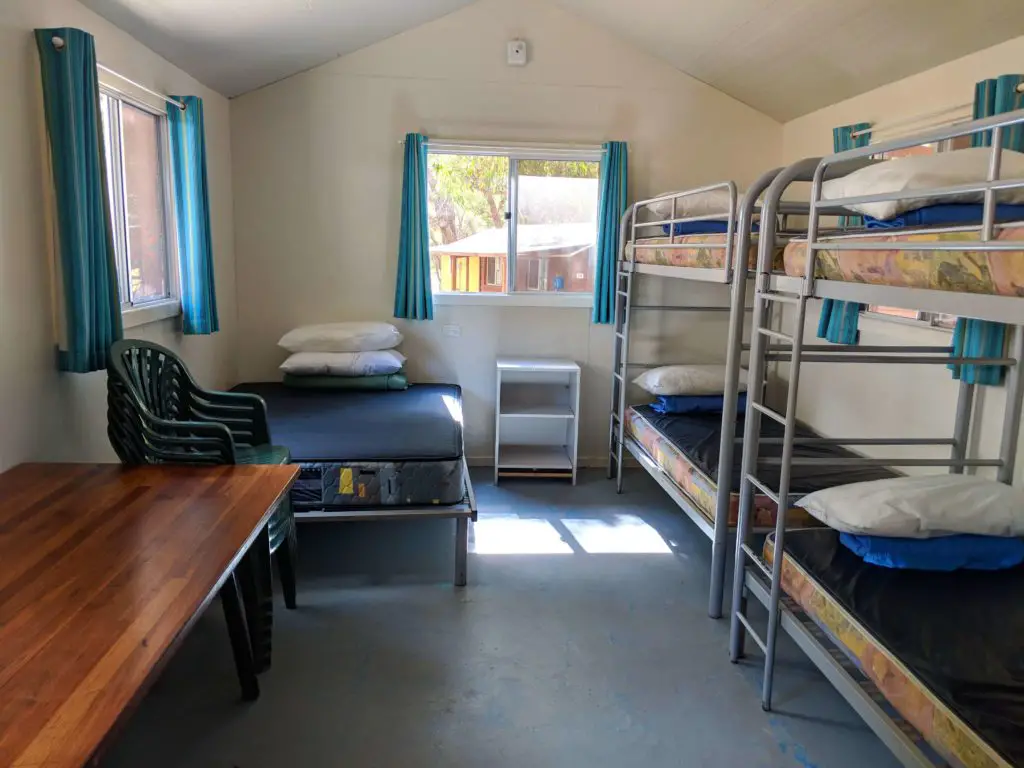 ---
Final Thoughts About Rottnest Island
We hope you consider a day trip to Rottnest Island. It's an absolutely incredible place to visit if traveling in Western Australia and close by Perth and Fremantle. You won't be disappointed with this beautiful island.
For more information, check out the Rottnest Island website.
Check out our other posts about Australia to help with your planning:
Excited to visit Rottnest Island, Australia? Tell us what you would like to do or see in the comments below.
Save the post to your Australia Pinterest board.
Pin #1 & Pin #2 photo credit: Jade Dilnot via Scopio Photos