General Information about Traveling to New Zealand North Island
How Many Days to Stay in New Zealand North Island? 
New Zealand is a vast and beautiful place so you can easily spend 1-2 weeks in North Island. This post specifically focuses on two weeks, yet it can be tailored for 7 to 10 days or any amount of time that you have for your trip.
Please do not rush with your trip so you can take the time to travel and enjoy the sceneries and experiences. You don't want to regret not visiting somewhere. 
If you have more time, consider extending your trip to explore South Island. There are tons of hiking opportunities and more epic landscapes to see. 
---
New Zealand Travel Requirements
Before arriving to New Zealand, please check the current travel requirements. They're changing all the time! 
You'll need to have the proper visa (if necessary) and complete the New Zealand Electronic Travel Authority (NZeTA). 
---
Best Time to Visit North Island New Zealand
Summertime (December to February) is considered one of the best times to visit New Zealand. The temperatures are comfortable and pleasant to do outdoor activities and adventures. Temperatures vary depending on where you're located, but the average is 21℃ to 32℃ (70 to 90℉). Expect the crowds during this time. 
We went to North Island in February and the temperature was cooler for us. Since we're based in Vietnam, we're used to the heat and humidity!
Fall (March to May) and Spring (September to November) have similar temperatures from 5℃ to 20℃ (41℉ to 68℉). You will need to wear some jackets for the cooler weather.  
Winter (June to August) season is the coldest and most rainy time of the year. Bundle up with jackets and long sleeves. It's around 2℃ to 16℃ (36 to 61℉). 
---
How to Travel Around New Zealand's North Island 
The easiest and most convenient way to travel around North Island is by driving a car/campervan. Check out our post on driving a car in New Zealand here. 
You'll most likely arrive at North Island by plane, so you can rent a car at the airport.
Two of the International Airports have rental car agencies – Auckland (north of North island) and Wellington (south of North Island). 
We're starting in Auckland so it's our main starting point for this trip. You could do the reverse of this road trip and start in Wellington if you want!
---
Don't Forget Travel Insurance.
We highly suggest that you get travel insurance for your trip. Accidents happen and you may need to get medical attention. Or, your luggage is missing on arrival. Having travel insurance will help ease issues that may occur on the trip. 
---
Buy a SIM Card or eSIM Card. 
You'll need to have a New Zealand SIM card if you plan to rely on your smartphone for navigation, maps, and/or calls around the country. Buy a SIM Card at the Auckland Airport here. 
Another option is to use an international phone plan. We have Google Fi (formerly Google Project Fi) which covers international data for over 200 countries. We've been using this phone plan since 2016 and love how we don't need to buy an extra SIM card. 
If you're based in the U.S. and are looking for an affordable plan, sign up and try it for free. 
---
North Island New Zealand Itinerary Road Trip Overview
Below is where we'll go on our 2 weeks trip. Again, feel free to customize this itinerary based on your interest. 
Day 0: Travel Day to Auckland
Day 1: Auckland
Days 2-4: Paihia/Bay of Islands
Days 5-7: Waikato Region 
Days 8-9: Rotorua
Days 10-11: Taupo
Day 12: Taihape/Rangitikei River
Days 13-14: Wellington Region
Day 15: Travel Day
---
Map of the North Island NZ Road Trip
---
North Island New Zealand Itinerary: Day 0 – Auckland
It's the first day of travel, so get some rest on the plane and relax before arriving in Auckland.
Once you've arrived in Auckland, head to your accommodations to get some more rest before you start your trip. You may be jetlagged from the long travels.
---
North Island NZ Itinerary: Day 1- Auckland
Auckland is a fantastic place to start your North Island. As the largest city in North Island, you'll get the city vibe with the tall skyscraper buildings and pretty harbor views, and plenty of outdoor activities with beach access and hikes.  
We're allotting only one day in Auckland as there are many cities and towns to visit on this itinerary. 
Many visitors spend time in the Central Business District/Downtown area. Check out the aerial views or go bungee jumping from the Sky Tower. Wynyard Quarter and Silo Park are nearby the Sky Tower where you can eat fresh seafood and other cuisines and explore art exhibits. 
For some exercise, take a short drive to the Eden area and hike up an inactive volcano, Mount Eden. It's an easy hiking path for everyone to walk on. You'll get some awesome views of the city when reaching the summit at 196 meters (643 feet).
If you want to spend more than a day in Auckland, then consider going on day trips to neighboring islands such as Waiheke Island for the wineries and beaches and Rangitoto Island for hiking. Another fun area is to explore Devonport as it's a 12-minute ferry ride from Auckland's Ferry Terminal. 
---
North Island NZ Itinerary: Days 2-4 – Paihia/Bay of Islands
By Delilah, Our Travel Mix 
Distance from Auckland to Paihia: 230 kilometers (143 miles) / 3 hours Drive
At the heart of the picturesque Bay of Islands, Paihia is a must-visit destination in the North Island. To properly experience all the best things to do in Paihia, 3 days is the perfect amount of time to spend in his idyllic location.
Paihia is home to arguably the most important historic site in New Zealand – the Waitangi Treaty Grounds, which is where the country's founding document was first signed between the Maori and the European Settlers in 1840.  
The Treaty was significant as it defined Maori rights and land ownership in New Zealand, so make sure to take a few hours to explore the grounds and visit the well-maintained museum.
Urupukapuka Island is one of the most popular islands in the bay thanks to its beautiful beaches and vistas.  A return boat ride to the island costs $50 NZD ($31 USD) with Explore.  
You can also consider adding on a visit to the famous Hole in the Rock.
Lastly, a visit to the quaint town of Russell rounds out your trip with great food and historic architecture.
Note: On the last day of your visit to Paihia, you'll need to account for travel time to the next destination in Waikato Region.
North Island NZ Itinerary: Days 5-7: Waikato Region
For the next three days, let's explore the best of the Waikato Region – Whitianga, Matamata, Waitomo Caves, or Raglan. It's recommended to choose 1 to 2 places to explore to spend less time on the road traveling. 
Taupo is located in this region, but we'll mention Taupo later in the itinerary due to the location. 
Hamilton is the main city in Waikato Region. 
---
Option 1: Whitianga (3 Days)
By Angie, Where Angie Wanders
Distance from Auckland to Whitianga: 190 kilometers (118 miles) / 2.5 hours Drive 
Distance from Hamilton to Whitianga: 40 kilometers (25 miles) / 35 minutes Drive
Whitianga is a charming coastal town and a popular destination for Aucklanders and tourists wanting to escape the hustle and bustle of the city. It's the perfect place to spend 3 nights on the Coromandel Peninsula to see all the natural delights available in this area of New Zealand.
Whitianga has a lovely coastal vibe with independent shops selling everything you could need for a beach holiday. While art galleries, of which there are quite a few, promote the talents of local NZ artists by showcasing artworks with a coastal/aquatic theme. 
Overlooking the harbor, Whitianga's cafes and fine dining restaurants serve freshly caught fish and other locally sourced products. 
Numerous boat trips leave from the harbor making Whitianga a perfect base to get out onto the water. 
The number one cruise is to the famous Cathedral Cove which takes visitors along the peninsula coastline before arriving at one of New Zealand's most famous natural landmarks. 
Other water-based sports such as kayaking and paddleboarding can be arranged locally.
The town and nearby countryside have lots of walking trails to suit all levels of fitness from one that follows the route around Nelson Bay to more strenuous mountain hikes taking in the Coromandel's breathtakingly stunning scenery.
Near to town, there are some fun things to do including a visit to the Lost Spring, a tropical oasis with hot spring pools to relax in after a day of activities. 
---
Option 2: Matamata (½ Day)
Distance from Auckland to Matamata: 160 kilometers (100 miles) / 1 hour 50 minutes Drive
Distance from Hamilton to Matamata: 65 kilometers (40 miles) / 50 minutes Drive
Matamata is a small town famous for the Hobbiton Movie Set tourist spot. 
If you've seen the movie trilogies or read the books of The Hobbit or Lord of the Rings, you'll know how important Hobbiton is to the story. As a quick summary, Hobbiton is a village located in the Shire, and this is where many Hobbits live. Hobbits are short creatures (around 3 feet 6 inches tall) who love to eat. 
The Hobbiton Movie Set is located in the gorgeous farmlands of Alexander Farms with rolling hills and greenery. 
There are various tours to take such as the Movie Set (the most popular tour), Second Breakfast (breakfast included), Evening Banquet (dinner included), and other special holiday tours. You can't go wrong with any of the tours. 
The best part about the tour is walking around the set with a tour guide and taking as many photos as possible with the colorful Hobbit holes such as Bag End. Don't forget to grab your complimentary drink at the Green Dragon Inn at the end of the tour.  
Back in the main Matamata town, check out Broadway Street to see the large Hobbit house facade for the Information Center and the "Welcome to Hobbiton" sign. There are plenty of restaurants and shops nearby these landmarks.  
You'll only need to spend about half a day in Matamata, so you can combine a visit with another nearby town or attraction such as the Waitomo Glowworm Caves below. 
---
Option 3: Waitomo Glowworm Caves (½ Day to 1 Day)
By Lana, Wallflower in Wanderland 
Distance from Auckland to Waitomo Caves: 191 kilometers (119 miles) / 2 hour 15 minutes Drive
Distance from Hamilton to Waitomo Caves: 69 kilometers (43 miles) / 1 hour Drive
New Zealand's Hobbiton isn't the only place in New Zealand where you can experience ultimate magic. Glowworm caves are one of the country's most popular and amazing natural attractions, a must-do for any itinerary or New Zealand bucket list. 
Although you're able to see the glowworms in many places including Rotorua, Lake Te Anau, and Lake McLaren, the Waitomo Caves are by far the best and most accessible. The caves are a short drive from big cities like Auckland, Rotorua, and Hamilton. 
Scientifically known as arachnocampa luminosa, these glowworms make you feel like you're on another planet. 
The Waitomo Caves are tailored to every kind of traveler. Whether it's a slow guided walk through the caves, a leisurely boat ride, or a more adrenaline-pumping experience of black water rafting or abseiling. 
Black Water Rafting is the most unique way to experience the caves – you'll swim, crawl, and float on tubes through the caves. Book tickets on the official website or here.  
Due to the length of the tours ranging from 1 to 5 hours, one day is plenty to explore the caves. 
However, there is much more to see and explore in and around Waitomo. So if you're flexible with time and are wanting to use the town as a base to explore the region, then there are plenty of accommodation options too.
---
---
Option 4: Raglan (1 Day)
By Kate, Kate Abroad
Distance from Auckland to Raglan: 155 kilometers (96 miles) / 1 hour 45 minutes Drive
Distance from Hamilton to Raglan: 40 kilometers (25 miles) / 35 minutes Drive
Raglan is a beach town that often gets missed by tourists but is a huge hit with locals. Located on the west coast of North Island, it's only a short drive from Hamilton. 
On your way out to Raglan, stop by Bridal Veils Falls, the most spectacular waterfall on the North Island.
Raglan is most famous for its left-hand break, the kind of waves that draw surfers from around the world. A surf lesson is a must-do. There are plenty of local companies that can help even absolute beginners stand up on some waves.
If you aren't keen on getting on a board, then you can swim or enjoy walks along the coast. For a more serious hike, try tackling the climb up Mount Karioi, and you'll be rewarded with spectacular views up and down the coastline.
Away from the water, Raglan township has a growing food and art scene with lots of little galleries popping up and some great coffee courtesy of the local company, Raglan Roast.
If you're visiting Raglan in winter and looking for indoor activities, try one of the many yoga studios in town and refuel after class with some vegan goodies from The Shack.
---
North Island NZ Itinerary: Days 8-9 – Rotorua
Distance from Auckland to Rotorua: 229 kilometers (142 miles) / 3 hours Drive
Distance from Hamilton to Rotorua: 110 kilometers (68 miles) / 1.5 hours Drive
Distance from Tauranga to Rotorua: 64 kilometers (40 miles) / 1 hour Drive
Located in the Bay of Plenty Region, Rotorua is an ideal spot to spend two days doing outdoor adventures, seeing the bubbly geothermal springs and mud pools, and learning about the Maori culture. 
Mountain biking is a popular activity as there are hundreds of kilometers of trails to explore. Many of the hiking trails have designated mountain biking paths. 
Rotorua is a walking and hiking-friendly place. You can walk around the Downtown area easily. Also, head to The Redwoods in Whakarewarewa Forest Park and walk through the peaceful Redwood trees. It's a flat and easy path for all walkers.  
Another exhilarating activity to try is Zorbing where you're in a giant ball and rolling down a hill. 
This city is surrounded by geothermal hot springs and they're easy to access. There are plenty of spots to check out for free such as Sulphur Point and Kuirau Park. 
For a paid option, consider checking out Wai-O-Tapu Thermal Wonderland to see colorful orange, green, and yellow pools. Champagne Pool and Devil's Bath have the most vibrant colors. 
Rotorua has a few places where you can learn about the Maori culture and the indigenous Polynesian people. You'll see outdoor artwork at the Government Gardens and Rotorua Museum (currently getting renovated). Or, you can take a tour and experience an authentic Hangi dinner. 
---
North Island NZ Itinerary: Days 10-11 – Taupo
By Lauren, Never Ending Footsteps
Distance from Auckland to Taupo: 280 kilometers (174 miles) / 3 hours 20 minutes Drive
Distance from Hamilton to Taupo: 155 kilometers (96 miles) / 2 hours Drive
The town of Taupo is known as the adventure sports capital of the North Island, where you can spend your mornings bungee jumping, your afternoons skydiving, and your evenings paragliding on the town's lake. 
This is the place for adrenaline lovers; a town where 30,000 people opt to skydive every year, where you can sign-up for New Zealand's highest water-touch bungy jump, and where you can experience 360-degree spins in a racing jet boat, meters from the rock face of a towering gorge. 
If you prefer your activities to be a little more sedate, however, there are plenty of less-adventurous things to do in Taupo. 
There is the scenic hour-long walk from Taupo's Spa Park out to the magnificent Huka Falls, the most-visited natural attraction in all of New Zealand. 
You've also got Orakei Korako, which offers up some of the best geothermal-induced landscapes in the country. You could easily spend a morning there, exploring its bubbling mud pools, dozens of geysers, and vibrantly-colored silica terraces.
And finally, if you love your travel adventures to come with a touch of eccentricity, you'll be excited to learn that Taupo is the only place on the planet where you can eat a McDonald's in a decommissioned DC-3 aircraft. It makes for a particularly unusual dining experience.
---
North Island NZ Itinerary: Day 12 – Taihape/Rangitikei River
By Jolayne, Simply Jolayne Travels
Distance from Auckland to Taihape: 244 kilometers (152 miles) / 3 hours 15 minutes Drive
Distance from Taupo to Taihape: 164 kilometers (102 miles) / 2 hours 20 minutes Drive
The River Valley Lodge, located 32 kilometers (20 miles) from the nearest town of Taihape, is in the heart of the north island and offers half and full-day tours on the Rangitikei River. 
Whether you are traveling as a couple, a family group, or as a group of young 20-somethings, book an overnight stay at the River Valley Lodge and enjoy dinner as well. The lodge offers private rooms, family rooms, and bunk room options. 
Experience class 2 to class 5 rapids for two and half hours of fun if you opt for the morning trip, longer if a full-day trip is on your schedule. Rafting the Rangitikei River was recently voted among the top 8 rafting trips in the world.
Wetsuit attire is provided. All you need is a swimsuit and a towel. 
The best advice for your trip: Have fun but pay attention to your river guides. 
Their instructions will hopefully keep you from being dumped from your raft. Your insulating attire should keep the chill of the river from dampening the rest of your day if you do happen to find yourself swimming.
---
North Island NZ Itinerary: Days 13-14 – Wellington Region
The last two days will be in the Wellington area. You can hang out in the capital city or visit the neighboring, Martinborough, or do both!
---
Option 1: Wellington (2 Days)
By Kate, Where in Wellington
Distance from Auckland to Wellington: 645 kilometers (400 miles) / 8 hours Drive
Distance from Taihape to Wellington: 265 kilometers (165 miles) / 3.5 hours Drive
As it's the capital city, you could easily spend a week or more in Wellington. But a weekend in Wellington is a great amount of time to get a taste of what the city has to offer. 
If you're visiting in summer, then getting out on the water is a great way to explore the city. You can rent kayaks from Queen's Wharf, go for a swim at Lyall Bay, or take the ferry to Matiu Somes Island. Make sure to pack lots of layers as Wellington is hardly ever warm.
Winter is a great time to make the most of the city's foodie scene by exploring the laneways full of cafes, street art, and hidden cocktail bars. Don't miss Prefab for brunch or Customs for coffee.
When in Wellington, you also can't miss Te Papa, the national museum, or a ride up the iconic red cable car. 
There are also the Parliament buildings which you can tour if you're interested in learning about New Zealand's history and politics.
If you're interested in Lord of the Rings, then Wellington has awesome spots to visit. Take a tour at Weta Workshop to see film props and special effects. Also, check out the filming locations, such as Putangirua Pinnacles and Mount Victoria.
---
Option 2: Martinborough (2 Days)
By Roxanne, Faraway Worlds
Distance from Auckland to Martinborough: 645 kilometers (400 miles) / 8 hours Drive
Distance from Taihape to Martinborough: 260 kilometers (162 miles) / 3.5 hours Drive
Just over an hour's drive from Wellington, you'll find the historic village of Martinborough. Surrounded by vineyards, Martinborough is laid out in the style of an English town with colonial buildings set around a town square in the center. 
With over 20 wineries near the village, Martinborough is a New Zealand version of a European-style wine village. Visitors spend their time visiting the local wineries with many opting to cycle between them. 
The town is also known for its food, and the Toast Martinborough Food and Wine Festival fills the town with people in November.
Martinborough also makes a charming base for exploring the broader Wairarapa region. There are many hikes near Martinborough, winding through native forest and Waiohine Gorge. 
Or, if you prefer shopping and restaurants, the nearby towns of Carterton and Greytown make a good day trip from the village.
If you have a car and don't mind exploring a bit further afield, take a drive along the rugged coast near Castle Rock, or head south to the lighthouse and seal colony at Cape Palliser. There are many stairs up to the lighthouse, but the stunning views of the southernmost tip of New Zealand's North Island make it worthwhile.
---
North Island New Zealand Itinerary: Day 15 – Travel Day/Departure
On your last day in New Zealand, there are several options to consider:
Fly out of Wellington International Airport to return home.
Drive back to Auckland from Wellington. If you take this route, consider adding another day or so to get back. Otherwise, it's a 650 kilometers (404 miles) drive and will take 8 hours without breaks. That is a lot of driving in one day!
Drive to NZ's South Island and continue with the road trip. Read more on what to do in South Island here. Consider visiting Christchurch on your road trip.
---
Frequently Asked Questions
Is North Island or South Island NZ Better?
Both islands are wonderful places to visit and deserve a visit on any New Zealand itinerary. 
While South Island tends to be a more popular place to visit with beautiful landscapes, North Island has tons of attractions to visit from waterfalls, beaches, hiking routes, outdoor activities, and more. 
We loved our time in North Island, especially since we traveled during the summer season. It wasn't too crowded for the destinations we visited. Plus, the cities and towns that we visited were memorable with the local attractions and pretty sights. 
We wouldn't hesitate to return to North Island again to explore more places. 
---
How Much Should You Budget for a North Island NZ Road Trip? 
The budget will depend from person to person. 
We tend to travel from a budget to a moderate level of expenditure. While we tried to keep expenses low, New Zealand's cost is on the higher side compared to Southeast Asia and Vietnam (where we live). 
We spent a minimum of $100 USD per person per day. As for airfare, we used airlines points so that helped with reducing the costs. 
Here are some things to consider for your budget: 
Airfare 
Rental Car (or campervan)
Gasoline
Meals 
Accommodations (hostels, guesthouses, hotels, or Airbnbs)
Local attractions tickets
Travel Insurance
SIM card
---
Final Thoughts
Whew! Two full weeks of New Zealand North Island are filled with fun adventures, beautiful landscapes, and fantastic memories. 
A huge thank you to our travel blogging friends who contributed to this post and shared their favorite places to visit on the North Island. We encourage you to visit their websites and follow them on their social media platforms. 
Which of these places are you the most excited to visit on your road trip to North Island? Let us know in the comments below.  
Like this post? Save it to your New Zealand Pinterest Travel Board.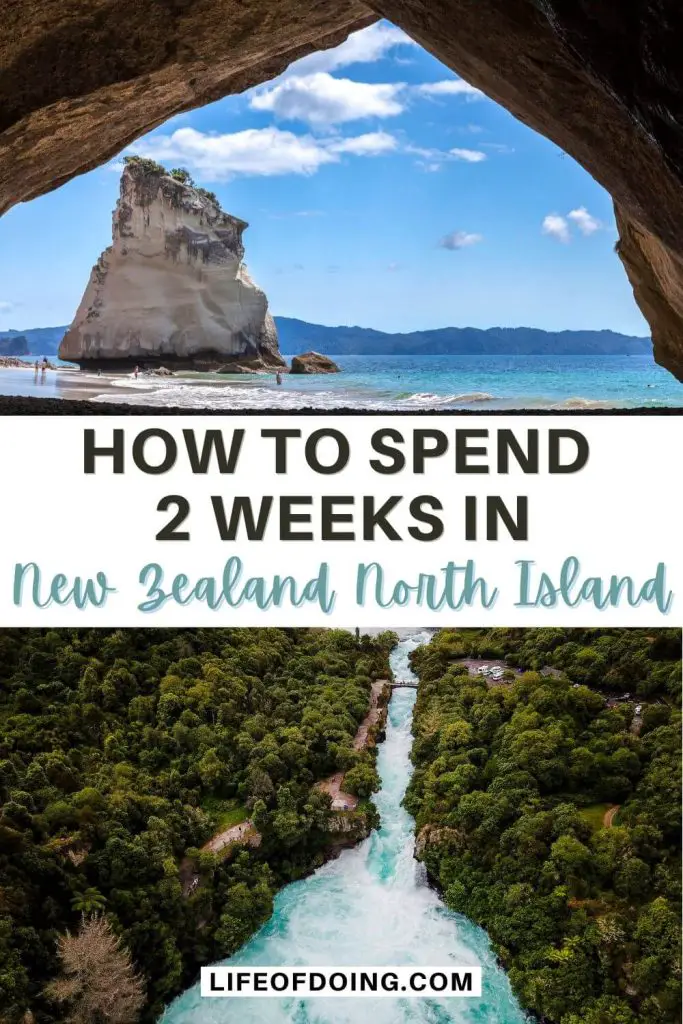 Featured photo credit: Philip Bird via Scopio Photos
Pin #1 photo credit: Philip Bird via Scopio Photos (top) & James Grant via Scopio Photos (bottom)