We would live in New Zealand in a heartbeat. After an exciting one day in Auckland, Rotorua was an even better experience! The area is super green, woodsy, and peaceful. It's an awesome place for adrenaline junkies and outdoor explorers. Plus, it has zorbing (where you are a 'human hamster' and roll down a hill inside a giant ball), geothermal pools, Maori culture, mountain biking, hiking, and much more. 
How do you spend two days in Rotorua? With our limited time in Rotorua, our objective was to focus on the geothermal springs and mud pools, many of which are available to see for free, and also include some hiking!
The crazy colors from the geothermal springs also piqued our interest. Our Airbnb host recommended that we should pay the admission for one geothermal springs only; since many paid admission locations have similar features.
We know, two days in Rotorua is not enough time as it barely scratches the surfaces. There are so many free activities in Rotorua and outdoor activities to do, you'll need at least a week here. Now, let's head out and read more about the two day itinerary in Rotorua!
If you need more ideas on traveling through New Zealand, check out our other adventures:
---
How to Get to Rotorua
We had a rental car from Go Rentals and the drive is over 3 hours from Auckland. Many of the roads are one-lane with a speed limit of 100 kilometers/hour and cars have the opportunity to pass when safe. The route did not have any tolls. Check out our experiences about rental cars during our road trip through South Island in one week. 
---
Two Day Itinerary in Rotorua
Rotorua Itinerary – Day 1
Government Gardens
Start out at the Government Gardens, which is in downtown Rotorua. We didn't go into the building due to renovations being done.
Afterwards, take a stroll around the Sulphur Point and bay. It was an easy, flat route with some occasional sandy walkways. Plus, it's free! A great starting point for the walk is parking nearby the Polynesian Spa. The route passes through many geothermal hot springs, sulphur vents, and even see the mud pools. Don't stray from the path as you may step on the vents. Prepare yourself for sulphur's 'rotten egg smell' as it can be strong. We went in the mid-afternoon, so there were a lot of gnats flying in the air.  
Kuirau Park
If you're short on time, definitely check out Kuirau Park. It's an open park with geothermal springs and the mud pools everywhere. Free admission to the park. You can easily see where the springs are located based on the steam vents and also the wooden barrier around each thermal pool. Check out the large geothermal crater lake which had a lot of steam come out from the water. It was an awesome sight, plus super warm to stand next to.
Rotorua Itinerary – Day 2
Wai-O-Tapu Thermal Wonderland
Wai-O-Tapu Thermal Wonderland is the place to see the colorful geothermal springs. It is a 20 minute drive south to get here from the main area of Rotorua.
Tickets are $32.50 NZD for adults and $11 NSD for children ages 5-15 years. If you grab one of the Auckland visitor guides at the airport, there is a coupon for 10% off admissions. Credit cards accepted for the payment.
After buying the tickets, we drove about ½ a mile away from the ticket office to see the Lady Knox Geyser. The show started after 10:15am, but didn't geyser didn't erupt until past 10:30am. We originally thought it was a free flowing geyser which erupted at a specific time, but the geyser is induced with chemicals to erupt. Our host made the show fun by asking the audience members on where they were located and saying hello in various languages, and having us clap our hands for Lady Knox to burst. If you have the time to see the geyser, it is fun, but otherwise, not worth it.
The Wai-O-Tapu Thermal Wonderland main area is a visual treat with a number of different types of different looking geothermal springs. There are three different walking paths which all connect to each other and is a total of 3km (1.8 miles) The guide map provides the overview of the sight seeing areas and what the colors mean. The colors are based on different mineral elements:
Green – Colloidal sulphur/ferrous salts

Orange – Antimony

Purple – Manganese oxide

White – Silica

Yellow-primrose – Sulphur

Red-brown – Iron oxide

Black – Sulphur and carbon
The names of the various pools are fun, such as Devil's Home, Artist's Palette, Oyster Pool, Champagne Pool, and the Devil's Bath.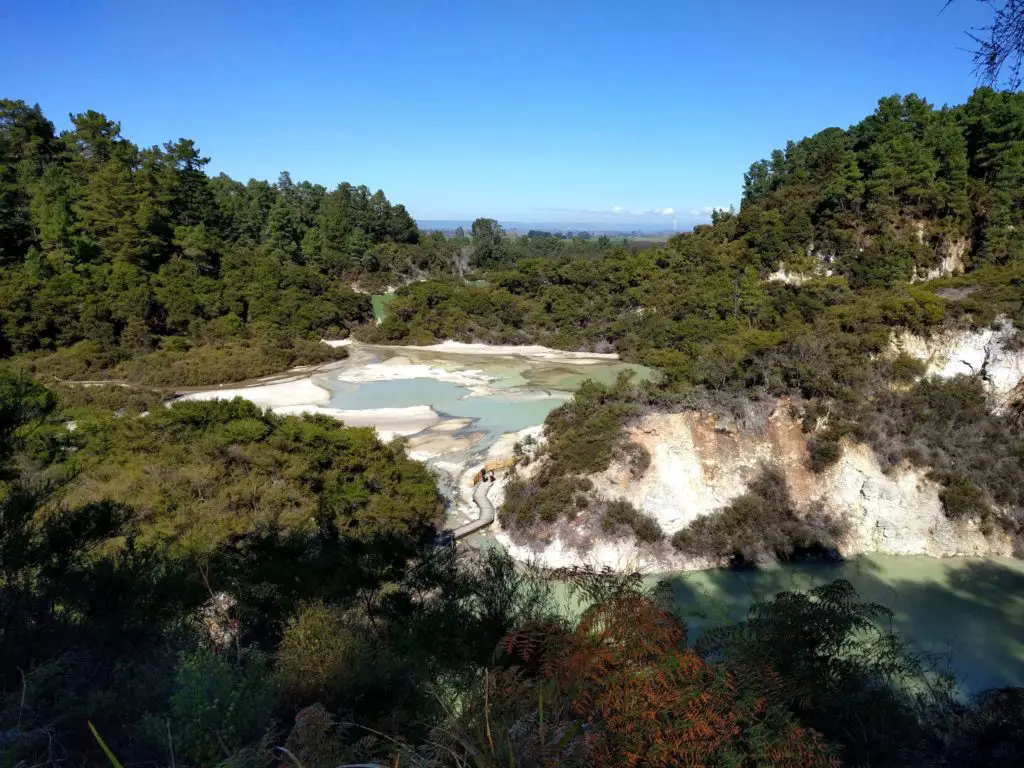 If you want to see large mud pools that are outside Wai-O-Tapu Thermal Wonderland, then look for a sign, "Mud Pool" along Waiotapu Loop Road. It's fun to hear the mud pools spurt mud into the air with a "bloop bloop" sound. Free to access.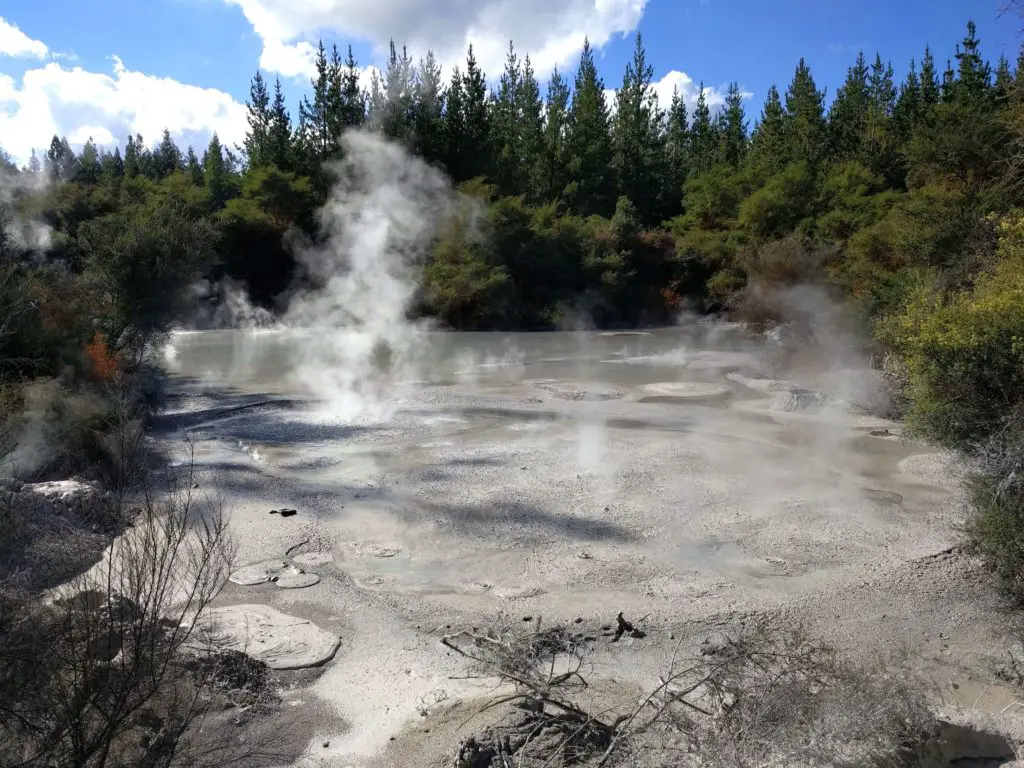 Rainbow Mountain Scenic Reserve Hike
Need some hiking? Stop by Rainbow Mountain Scenic Reserve which isn't far from Wai-O-Tapu Thermal Wonderland. Park your car in the dirt parking lot, wear your walking shoes (hiking boots aren't necessary unless it has been raining a lot recently), and hike up. The hiking route is free to access.
As one of the top hikes in New Zealand, we did an out and back route along the Te Tihi O Ruru trail which you can also ride mountain bikes up but not down. There weren't any mountain bikers during our time of visit. Our total route was 4 miles (6.4 kilometers). Once we reached the Maungakakaramea (Rainbow Mountain) summit at 743 meters (2438 feet), we were awarded to a beautiful view of the city with lakes and rolling green hills filled with forests. Either on your way up or down the hiking path, stop by the scenic point to see the mountains and also a lake.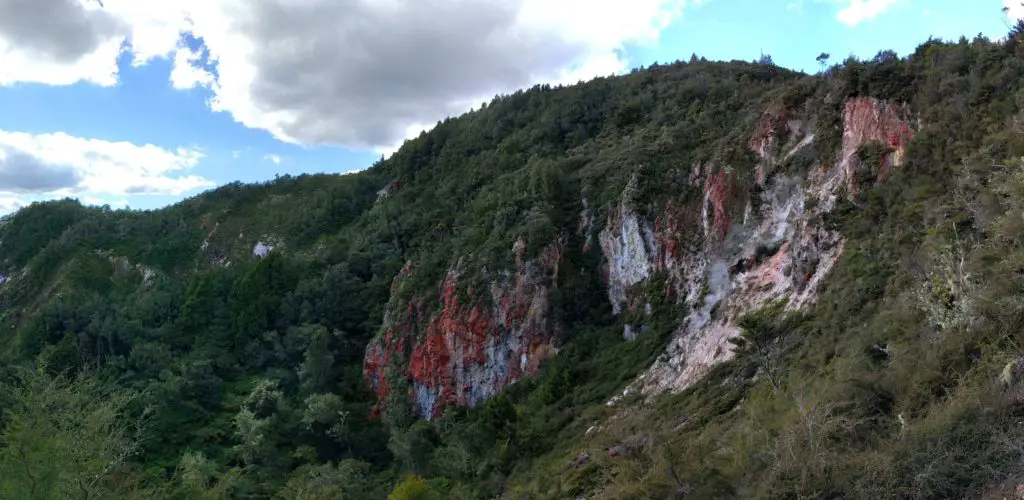 We would love to visit Rotorua again to explore more!
Have you seen geothermal springs before? If so, where would you recommend that we see them next?