How do you spend 2 days in Rotorua, New Zealand?
Two days in Rotorua will go by quickly as there are many incredible things to do here. 
The area is green with tons of forest areas which is why it's perfect for mountain biking, hiking, and zorbing (where you're a "human hamster"' inside a giant ball and rolling down a hill). 
In this post, we're sharing our 2 days Rotorua itinerary and providing recommendations on what to see on each day. (There are plenty of free activities in Rotorua to check out if you're on a budget.)
You're more than welcome to stay longer than 2 days, such as a full week, to explore more of the area. 
*Disclaimer: This post contains affiliate links. If you click on them and make a purchase, we receive a small commission. There is no additional cost to you. Appreciate the support.
---
How to Get to Rotorua from Auckland
From Auckland to Rotorua, it's 229 kilometers (142 miles) away and will take approximately 3 hours one way by car. 
The easiest way is to rent and drive a car to get to Rotorua. You get the chance to set your own schedule and drive at your own pace. We rented a car through Go Rental in Auckland.  
---
---
Another way to get to Rotorua is by flying. When coming from an international destination, you'll need to head to Auckland International Airport (airport code: AKL). 
Rotorua has a domestic (regional) airport (airport code: ROT) and there are 40-minute flights from Auckland. Other flight spots from Wellington, Christchurch, or Queenstown. Once you arrive in Rotorua, then take a taxi approximately 9.5 kilometers (5.9 miles) to Downtown Rotorua. 
---
How to Travel Around Rotorua
Car: Having a rental car will be the easiest way to travel to the various sites of Rotorua. Parking is easy to find on the streets or parking lots in the Downtown area. Check the signs to see if the parking spots are free or metered. 
Bus: The city has 11 bus routes that go to various attractions. Click here to see the schedule and timetables of the bus routes. The bus fares vary and you can read more about it here. 
Walking: In the main Rotorua area, it's easy to walk to the local attractions such as Government Gardens and Kuirau Park. 
---
Map of Where to Go in Rotorua
---
Rotorua Itinerary – Day 1: Travel & Explore Rotorua Downtown
A part of the day will be spent driving from Auckland to Rotorua. It's up to you when you want to depart Auckland. Earlier is always recommended so you can avoid any traffic and have more time exploring Rotorua. 
Once you arrive in Rotorua, it's time to start exploring! 
---
1. Stop by the Rotorua Visitor Centre. 
If you want to ask for recommendations on what to do, where to eat from locals, or need help with booking attractions, stop by the Rotorua i-SITE Visitor Centre. 
There are two locations – Downtown (temporarily closed) and nearby Redwood Treewalk (which we mentioned on Day 2, but feel free to visit the Redwoods area on Day 1 if you'd like.) 
Addresses: 
Downtown: 296 Fenton Street, Glenholme, Rotorua 
Redwoods:  Tītokorangi Drive (formerly Longmile Road), Whakarewarewa, Rotorua 
Opening Hours: 
Downtown: Temporarily closed
Redwoods: Sunday to Friday 9:30am to 8:30pm, Saturday 9:30am to 9:00pm
---
2. Explore Rotorua Museum & Government Gardens.
Start at the Government Gardens, which is in downtown Rotorua. 
Visit Rotorua Museum (Te Whare Taonga o Te Arawa) which is a beautiful building with timber framing. There is a manicured lawn and garden in front of the building. The museum has a collection of arts and photography and showcases the Maori culture. 
**Unfortunately, the museum is closed for earthquake renovations until 2025. We'll continue to monitor this place on the opening. 
Other places of interest in the Government Gardens include Prince's Arch and Gateway and Rachel Spring Whangapipiro thermal pool. Rotorua Lakefront Boardwalk is also nearby and a good place to see the sunset. 
Address: Government Gardens Oruawhata Drive, Rotorua 
---
3. Walk along the trails next to Owhatiura Bay.
Behind the Rotorua Museum and Government Gardens is where you can take a stroll for 1-2 hours next to the Owhatiura Bay.  
Along the bay, walk to the Sulphur Point. It was an easy, flat route with some occasional sandy walkways. 
As a part of the Sulphur Bay Wildlife Refuge, you'll see many geothermal hot springs, sulphur vents, and even see mud pools. Don't stray from the path as you may step on the vents. Prepare yourself for sulphur's "rotten egg smell" as it can be strong.
It's a nice place to see birds flying around and standing in the lake. The lake is acidic (pH 3.5) which gives it a murky look, yet the birds it 
Note: There are tons of gnats flying in the air in the mid-afternoon. 
Once you reach the Hatupatu Drive Parking Lot and Scenic Point, it's a dead-end so you need to turn around. You can go back in the same direction and head to the Polynesian Spa. (Polynesian Spa is a spot to enjoy 28 natural hot springs and spa services.)
Address: Hatupatu Drive, Rotorua
Admission Cost: Free
---
4. Explore the geothermal pools at Kuirau Park.
Kuirau Park is another awesome place to visit in Rotorua for free. It's an open public park with geothermal springs and mud pools everywhere. 
You can easily see where the springs are located based on the steam vents. To prevent people from going into the springs, there are wooden barriers around each thermal pool.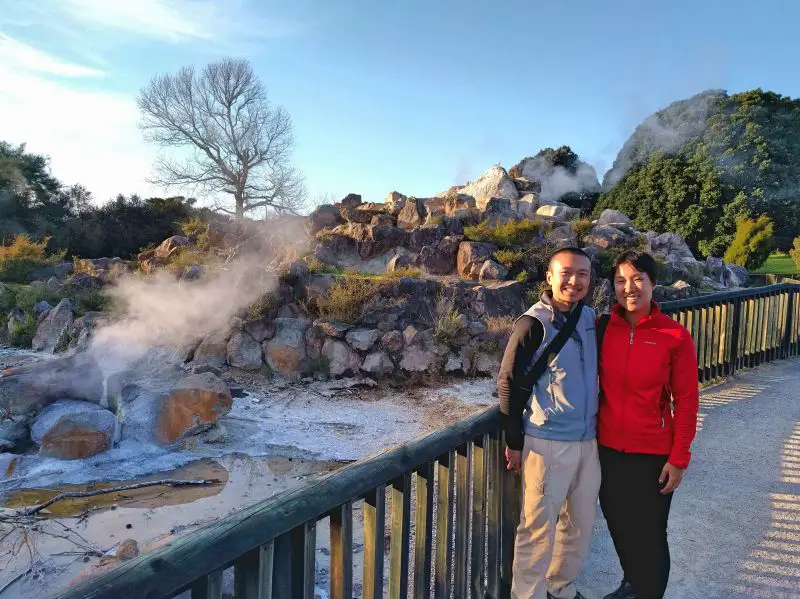 At the end of the park next to Lake Road, there is a large geothermal crater lake. It's an awesome sight to see tons of steam coming out from the lake. Plus, it's super warm to stand next to. This lake has a wooden walkway so you can get up close and observe this natural phenomenon.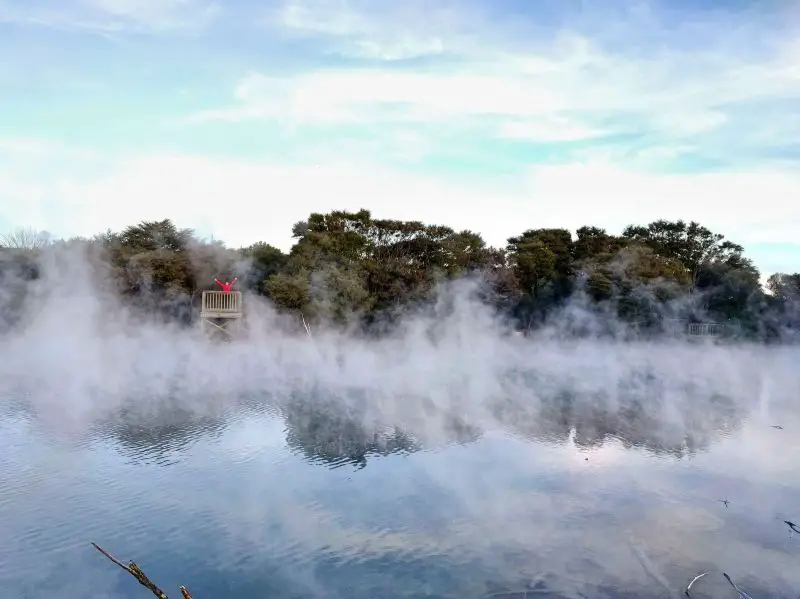 If you have more time to explore this area, feel free to have a picnic here and enjoy the park. 
Address: Kuirau Street, Rotorua 
Admission Cost: Free 
---
Rotorua Itinerary – Day 2: More Geothermal Springs & Hiking
On our second day, we're off to explore more of the geothermal springs and go for a short hike. 
Tip: Our Airbnb host recommended that you should pay the admission for one geothermal spring only as many paid admission locations have similar features. This is something to consider if you decide to visit more than one spring. 
---
1. Visit Wai-O-Tapu Thermal Wonderland. 
There are two main areas- Lady Knox Geyser and Geothermal Springs. 
Lady Knox Geyser
Lady Knox Geyser erupts daily around 10:15am. It takes take 15 minutes for the geyser to warm up and fully erupt. 
We originally thought it was a free-flowing geyser that erupted at a specific time, but the geyser is induced by chemicals to erupt. 
While waiting for the full eruption, the host interacted with the audience members by asking questions such as which countries everyone is from and how to say "hello" in various languages. We also encouraged Lady Knox to erupt by clapping our hands. 
If you have the time to see the geyser, it's a fun show, especially for children. Otherwise, you can skip it and focus your time at the geothermal springs. 
Note: Lady Knox Geyser is about ½ a mile away from the ticket office so it's best to drive there after getting tickets.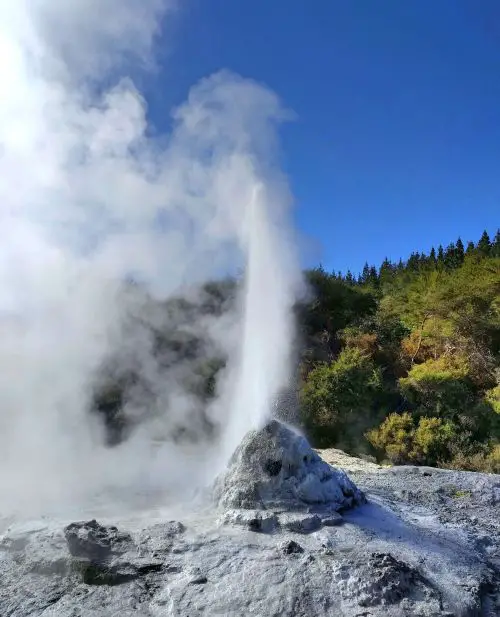 ---
Geothermal Springs
Wai-O-Tapu Thermal Wonderland's main area is a visual treat with many different types of colorful, bubbly geothermal springs. You'll want to bring your camera to take photos of all of the springs and mud pools. 
Three walking paths interconnect and are a total of 3 kilometers (1.8 miles). You must follow the walking path for your safety. 
Tip: Grab a complimentary guide map which is available in many languages. The guide map provides an overview of the sightseeing areas and what the colors of the geothermal springs mean. 
The colors are based on different mineral elements:
Green – Colloidal sulphur/ferrous salts
Orange – Antimony
Purple – Manganese oxide
White – Silica
Yellow-primrose – Sulphur
Red-brown – Iron oxide
Black – Sulphur and carbon
The names of the various pools are fun, such as Devil's Home, Artist's Palette, Oyster Pool, Champagne Pool, and the Devil's Bath.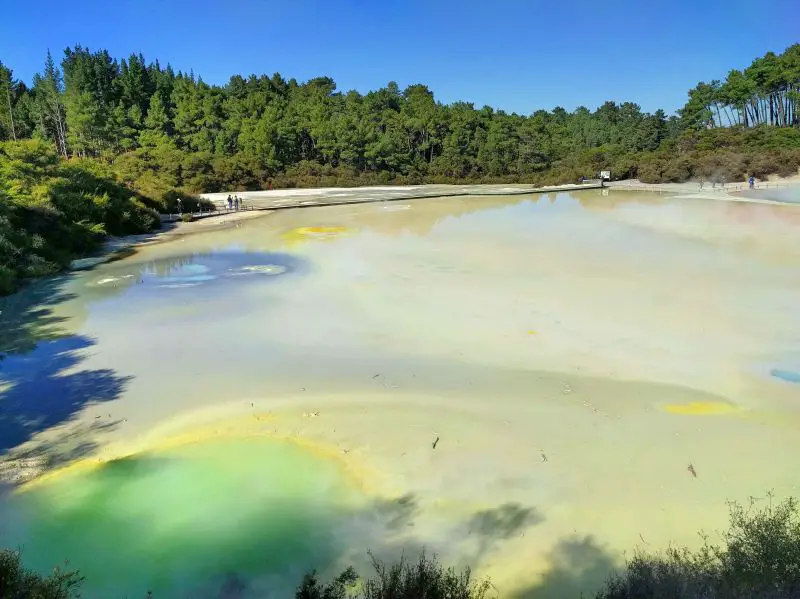 Note: There aren't any toilet facilities on-site so please use the toilet before visiting. 
Address: 201 Waiotapu Loop Road, Rotorua 
Opening Hours: Daily 8:30am – 3:00pm
Admission Cost: 
Tickets are $32.50 NZD ($20.30 USD) for adults and $11 NZD ($6.90) for children ages 5-15 years. 
If you grab one of the Auckland visitor guides at the airport, there is a coupon for 10% off admissions. 
Credit cards are accepted for payment.
---
2. Stop by Waiotapu Mud Pools.
It's not crowded so you can have this area all for yourself. It's fun to hear the mud pools spurt mud into the air with a "bloop bloop" sound. 
To find this place, look for a sign, "Mud Pool" along Waiotapu Loop Road. There is a small parking lot in front. 
Address: Waiotapu, Rotorua, New Zealand
Admission Cost: Free 
---
3. Go hiking. 
Rainbow Mountain Scenic Reserve Hike
All you need to do is to park your car in the dirt parking lot, wear your walking shoes (hiking boots aren't necessary unless it has been raining a lot recently), and hike for 2 hours. 
We did a 4-miles (6.4 kilometers) out and back route along the Te Tihi O Ruru trail. Mountain bikers can cycle up but not down the trail. There weren't any mountain bikers during our time of visit. 
Along the way, there were several scenic points of the mountains and the lake. 
Once we reached the Maungakakaramea (Rainbow Mountain) summit, we were awarded a beautiful view of the city with lakes and rolling green hills filled with forests.
Address: 2208 State Highway 5, Whakarewarewa, Kaingaroa Forest 
Admission Cost: Free
---
The Redwoods
The Redwoods at Whakarewarewa Forest Park is a gorgeous hiking spot close to the Rotorua Downtown area. There are over 5,600 hectares of forest area. 
Redwood trees are native to California (U.S). These trees were planted in Rotorua in 1901 and only 6 hectares of redwood trees survived in this area. 
You can go hiking through the redwood forests or mountain biking. The hiking trail distance varies from 1.7 to 34 kilometers (1 to 21 miles) long. The trails are marked by different colors so you can't get lost. Some of the trails are shared with hikers and mountain bikers. 
There is a Redwoods Treewalk which is a 700 meters (.43 miles) long walkway with suspension bridges between the redwoods. For a unique experience, check out this place at night or sunset to see illuminated walkways and lanterns. An additional cost is required to visit the Treewalk. 
Address: Whakarewarewa, Rotorua 
Opening Hours: 
Summer 9:30am to 10:30pm
Winter 9:30am to 9:30pm
Main gates are open for vehicles at 5:30am so walkers can arrive early. 
Admission Cost: Free 
---
Lake Tikitapu Scenic Reserve
Blue Lake (Tikitapu), located in the Lake Tikitapu Scenic Reserve, is a beautiful spot to go for a walk around the lake. This easy loop is 5.5 kilometers and passes by a beach and a part of the Whakarewarewa Forest. (You could combine this visit with The Redwoods as mentioned above.) 
Swimming is allowed in the lake if you decide to stay here longer. 
Address: Off of Te Ngae Road and Tarawera Road
Admission Cost: Free
---
Other Fun Things to Do in Rotorua
If you have additional time, check out some of these incredible activities to do in Rotorua.
Visit Hamurana Springs. 
Hamurana Springs is a picturesque tourist location where you can walk through the forest area and see the natural springs. It's located on the North side of Lake Rotorua.
Address: 773 Hamurana Road, Hamurana 
Opening Hours: Winter Friday to Sunday 10:00am to 3:00pm
Admission Cost: Varies for self-guided or guided tours. For self-guided tours, adults cost $18 NZD ($11.20 USD), children (5-15 years old) $8 NZD ($5), and children under 4 years old are free.  
---
Check out Waimangu Volcanic Valley.
Waigmangu Volcanic Valley is a cool spot to see the youngest geothermal springs. There are guided and self-guided hiking tours and boat outings. The hiking routes vary from 1.5 to 4.5 kilometers ( miles) where you can see hot springs, geothermal springs, volcanic craters, and more. 
Address: 587 Waimangu Road, Rotorua 
Opening Hours: 8:30am to 5:00pm
Admission Cost: There is an admission fee to enter here. The cost varies depending on which activity you're looking to do. For example, the self-guided walking tracks cost $44 NZD ($27.80 USD) for Adults and $15 NZD ($9.35) for Children (ages 6-15 years), and free for under 6 years old. 
---
Go Zorbing. 
Zorbing is one of the adventurous things to do in Rotorua.
It's an opportunity to roll down a hill in a giant inflatable ball (think of yourself as a hamster). Inside the ball, there are 40 liters of water so you'll roll and splash your way down a path. There is hot and cold water depending on the season that you're visiting. 
It looks like a lot of fun for all ages and probably not as easy to maneuver the ball down a hill! 
Address: 525 Ngongotaha Road, Fairy Springs, Rotorua
Opening Hours: Friday to Monday 10:00am to 4:00pm
Admission Cost: Prices vary depending on single rides or multi-rides. The single rides cost between $40-$75 NZD ($25-$47 USD) while the multi-rides starting cost is $85 NZD ($53+) and up. 
---
Experience Whitewater Rafting on the Kaituna River. 
Want to go on a half-day trip whitewater rafting at Kaituna River? You get the chance to go down a 7-meter (23 feet) Tutea Falls for an adrenaline rush.
---
Learn more about the Maori culture. 
Interested in visiting a Maori village and learning about the traditions? Check out this evening tour around the Te Pa Tu (formerly Tamaki Maori Village) where you get the chance to learn about the culture and try a hangi meal for dinner.
---
Where to Stay in Rotorua
Rotorua has a variety of accommodations depending on your budget and comfort levels. There are guesthouses, motels, hotels, and Airbnbs. 
Find the perfect accommodations in Rotorua by clicking here.
If you prefer to stay at a hotel, check out some of these options based on the positive reviews. Expect to pay around $125+ USD per night. 
We stayed at an Airbnb as it was a cheaper option for our stay for $43 USD per night. Our Airbnb location was in a quiet area and surrounded by trees. The room was separate from the main house, so we had to go into the main house to use the restroom. Otherwise, our host was lovely and welcoming. 
---
Where to Eat in Rotorua
Rotorua's restaurant scene has changed since our visit. 
Both of the restaurants that we visited are no longer open. We went to one place that served Maori cuisine and had traditional food called hangi, and another place to eat Italian pizzas. The pizza shop has changed its name and ownership to "Mamma Rosa Pizzeria" so we can't comment on the food. 
We would love to try these places on our return trip to Rotorua:
---
Final Thoughts
Excited about visiting Rotorua on your next trip to New Zealand? 
While 2 days in Rotorua will speed by, it's a fantastic getaway from Auckland and to surround yourself with fun adventure and nature. Seeing the geothermal springs and mud pools will be the highlight of this place! 
Check out the posts below to figure out where to go next in New Zeland:
Have any questions about Rotorua or any of the attractions? Feel free to ask in the comment section below.
Like this post? Save it to your New Zealand Pinterest board.