Are you looking for the best hot springs in New Zealand? You've come to the right place!
Thanks to its geologically active location, New Zealand is home to over 100 hot springs and geothermal pools scattered throughout the North and South Islands. And that doesn't even account for those on private property.
With so many options, picking which ones to visit on your trip might seem impossible. 
We've put together this post on New Zealand's top 9 hot springs and thermal pools to experience on your next trip. 
Whether you want to relax as a solo traveler, couple, or with family members, or need some recovery after your outdoor adventures or hiking excursions to soothe blistered feet, you'll find the right spot for your vacation. 
Now if you are ready to relax in one of these healing pools, keep reading this NZ hot springs and thermal pools guide. Add one or more of these pools to your next NZ itinerary.
*Disclaimer: This post contains affiliate links. If you click on them and make a purchase, we receive a small commission. There is no additional cost to you. Appreciate the support.
---
New Zealand's Hot Springs Overview
As you know, we love New Zealand's amazing outdoor adventures. 
The weather varies depending on the season and which part of the island you're located in. With the vast wilderness, the cooler summers and cold winters can take campers and hikers by surprise. 
What better way to warm up than in a natural hot spring?
New Zealand's hot springs range from untouched, natural streams to luxurious hot springs with a full menu of additional services. 
Note: Keep in mind that some springs might be dangerous and too hot for swimming, so respect the signs and only swim in marked hot springs.
---
Here is our selection of 9 hot springs in New Zealand:
Hot Water Beach – Coromandel
Te Waiariki Ngawha Springs – Kaikohe, Northland
The Lost Spring – Whitianga, Coromandel
Polynesian Spa – Rotorua
Hell's Gate Geothermal Reserve and Mud Spa – Rotorua
Kerosene Creek – Rotorua
Onsen Hot Pools – Queenstown
Hanmer Springs Thermal Pools and Spa – Hanmer Springs, Canterbury
Hot Tubs Omarama – Omarama
---
It's recommended to drive a car to get to these hot spring locations. Check out tips on how to drive around New Zealand.
---
Map of NZ Hot Springs Locations
---
Best Hot Springs in the North Island, New Zealand
1. Hot Water Beach – Coromandel
We're starting with one of the most unusual hot springs in New Zealand. 
Hot Water Beach in the Coromandel Peninsula is exactly what it sounds like – a sandy beach, where people come with a shovel to dig holes in the sand at low tide. 
As the hot water flows through the sand, it creates a private hot pool.
TIP: Don't have a shovel? It's not a problem! You can rent one at the nearby beach bars. 
For the best experience, come to the beach within 2 hours of low tide. 
Address: Off of Hot Water Beach Road, Coromandel Peninsula
How to Get There: The best way to reach Hot Water Beach is a 30-minute car ride from Whitianga.
Admission: Free to access
---
2. Te Waiariki Ngawha Springs – Kaikohe, Northland
Te Waiariki Ngawha Spring has 16 mineral-rich public pools and is operated by local Maori people. These geothermal springs have cultural, environmental, and political significance for the local community. 
What makes this hot spring special is that each of the 16 public pools is unique with different temperatures, colors, and healing properties. 
The Bulldog is the oldest and hottest pool while Kowhai and Milky Way have cooler temperatures. The last two have a milky blue-colored pool.
Address: 303 Ngawha Springs Road Ngawha, Kaikohe 0473
How to Get There: You'll find Te Waiariki Ngawha Springs about 5 kilometers (3.1 miles) outside of Kaikohe and can get there by car.
Admission: The admission fee to access the Ngawha pools is quite affordable starting at $34 NZD ($20.80 USD) for adults and $15 NZD ($9.20) for children. Book your session in advance here. 
---
3. The Lost Spring – Whitianga, Coromandel
The Lost Spring is the most lavish natural spring in New Zealand. The experience is similar to "Disneyland for adults" with many relaxing pools and caves. 
The story of the Lost Spring is an interesting one. The owner, Alan Hopping, spent 20 years drilling in the area searching for the lost spring of Taputapuatea. Luckily, he was successful, and today you can enjoy this relaxing oasis in 16,000-year-old mineral-rich waters. 
This is an adults-only hot spring place so children under 14 years old are not allowed. 
The Lost Spring also has spa treatments and a restaurant. It's a full day of relaxation here!
Address: 121A Cook Drive, Whitianga 3510
How to Get There: The pools are located in the city of Whitianga on the Coromandel Peninsula so it's easy to get here by car. 
Admission: The pricing varies depending on the package – 2 hours for $60 NZD ($37 USD), 4 hours for $100 NZD ($36.40). It's highly recommended to book your ticket in advance.
---
4. Polynesian Spa – Rotorua
Located in Rotorua, Polynesian Spa is one of New Zealand's popular hot springs.
The mineral waters in this hot spring are a blend of acidic and alkaline springs providing a memorable experience unlike any other spa on this list. 
This is an upscale spa so it's popular with tourists and locals alike. You can choose between 28 different springs and pools to enjoy and spend the day. There are private and public pools available, and even family-friendly pools. 
To contribute to its relaxing atmosphere, Polynesian Spa is situated overlooking Owhatiura Bay/Rotorua Lake.
Address: 1000 Hinemoa Street, Rotorua 3010
How to Get There: This place is located in the center of Rotorua. You can drive or walk here if you're based in the town.
Admission: There are various packages to choose from. 
Deluxe Lake Spa starts at $50 NZD ($31 USD)
Family Pool starts at $23 NZD ($14) for adults and $10 NZD ($6.15) for children, and more. 
---
5. Hell's Gate Geothermal Reserve and Mud Spa – Rotorua
What makes Hell's Gate Spa different from others in the geothermally rich area of Rotorua is that it's home to the only mud spa. 
Thanks to the nutrient-rich nature of this mineral pool, the silky mud in Hell's Gate contains extraordinary healing properties. It's also a fantastic way to detox the skin!
There is more than just mud in Hell's Gate! When you've had enough of the mud, you can hop into one of the sulfur spa baths or the cool, springwater waterfall. 
If you're not looking for a full-body soak in the thermal pools, then take a guided and self-guided walking tour. There is also a foot soak afterward. 
Address: 351 State Highway 30, Tikitere, Rotorua 3010
How to Get There: Hell's Gate is located just a 15-minute car ride outside of Rotorua.
Admission: It will vary depending on the package. 
The Hell's Gate Experience costs $105 NZD ($64.40 USD) for adults and $52.50 NZD ($32) for children. 
The Walking Tour costs $42 NZD ($25.80) for adults and $21 NZD ($13) for children. 
---
6. Kerosene Creek – Rotorua
Finally, Kerosene Creek is one of the most magical natural hot springs in New Zealand. 
Located in a lush green forest, Kerosene Creek has a 2-meter (6.6 feet) high waterfall offering a free hot water massage. It's a completely natural hot spring, so there aren't any facilities on site apart from untouched nature. 
This stunning place doesn't have a lot of visitors so you can have the springs all to yourself!
Address: Old Waiotapu Road, Waiotapu 3073
How to Get There: The hot spring is about 35 kilometers (21.8 miles) away from Rotorua and is best accessed by car, followed by a short hike through the forest. 
Note: We heard about the deep potholes along the road so drive carefully. 
Admission: Free, so it's perfect if you are on a budget
---
Best Hot Springs in the South Island, New Zealand
7. Onsen Hot Pools – Queenstown
How does unwinding in a wooden hot tub with naturally steaming hot water overlooking the mountains and a river sound? That is exactly the experience you get in luxurious Onsen Hot Pools. 
This hot spring is a flawless blend of natural and manmade, stunning scenery with cedar-lined hot tubs to soak in. 
The view from the private tubs is especially stunning for sunset, so make sure to book it in advance, as they tend to sell out quickly! 
Children (5-11 years old) can visit in the mornings and afternoons. Yet, in the evenings, the age requirement is 12 years and up. 
Address: 162 Arthurs Point Road, Arthurs Point, Queenstown 9371
How to Get There: Onsen Hot Pools are located just a quick 10-minute car ride from Queenstown. There are also complimentary shuttle buses from central Queenstown which must be requested at the time of booking. 
Admission: Prices depend on the package chosen. The outdoor and original onsen package is based on the price per pool and number of people starting at $87.50 NZD ($54 USD) for 1 person, $145 NZD ($89) for 2 people, and up. Book your package ahead of time here. 
---
8. Hanmer Springs Thermal Pools and Spa – Hanmer Springs, Canterbury
Hanmer is the largest pool complex on the South Island and New Zealand in general! Tourists have been flocking to Hanmer since the 19th century. 
This hot spring is best for families as there are different pools and activities for the whole family. 
Children will love the natural thermal water pools with four water slides and rides, while adults can relax in Hanmer Spa and adult-only pools.
Hanmer Springs is a resort town, so you can choose to stay there for a long weekend. Otherwise, taking a day trip here from Christchurch is doable.
Address: 42 Amuri Avenue, Hanmer Springs 7334
How to Get There: It's a 2-hour drive from Christchurch. A shuttle can also be arranged between Christchurch and Hanmer Springs. Hanmer Springs I-SITE Visitor Centre can arrange the transportation for you.
Admission: $38 NZD ($23.30 USD) for adults, $25 NZD ($15.30) for senior citizens, and $22 NZD ($13.50) for children. Buy tickets online here. Prebooking is only required for private thermal pools. 
---
9. Hot Tubs Omarama – Omarama
Finally, we have the luxurious Hot Tubs Omarama, located in the small town of Omarama. It does not get much more relaxing than soaking in one of their private hot tubs surrounded by mountain ranges overlooking the lake.
It's a perfect experience for couples and everyone who wants to get away from the crowds. 
The tubs filled with fresh mountain water are spaced out throughout the premises for an ultimately serene experience.
There are tubs available for large groups (up to 8 people) and for those who need easy accessibility tubs. 
Each tub soak lasts 90 minutes. If you want to have more time here, feel free to add a sauna service for a total of 120 minutes. 
Address: 29 Omarama Ave Main, Twizel Highway, Omarama 9448
How to Get There: Hot Tubs Omarama is about a 20-minute drive from Twizel, the largest town in the Mackenzie District.
Admission: The price for a hot tub is $68 NZD ($41.80 USD) for 1 person, $120 NZD ($73.80) for 2 people, and up. Children (5-14 years old) are $25 NZD ($15.40) and children under 5 years old are $20 NZD ($12.30). Click here for more information.
---
Final Thoughts
After reading this comprehensive list of the best hot springs in New Zealand, how many of these do you want to visit on your next Kiwi adventure? 
Luckily, there is something for every type of traveler from natural hot springs for hikers and adventurers to luxury private hot tubs and family-friendly pools with slides.
Take advantage of these natural spas and enjoy the health benefits of warm, mineral-filled water. 
Since hot springs are sprinkled throughout the country, there is no reason to miss out on this unique New Zealand attraction regardless of your itinerary!
Like this post? Save it to your New Zealand Pinterest board.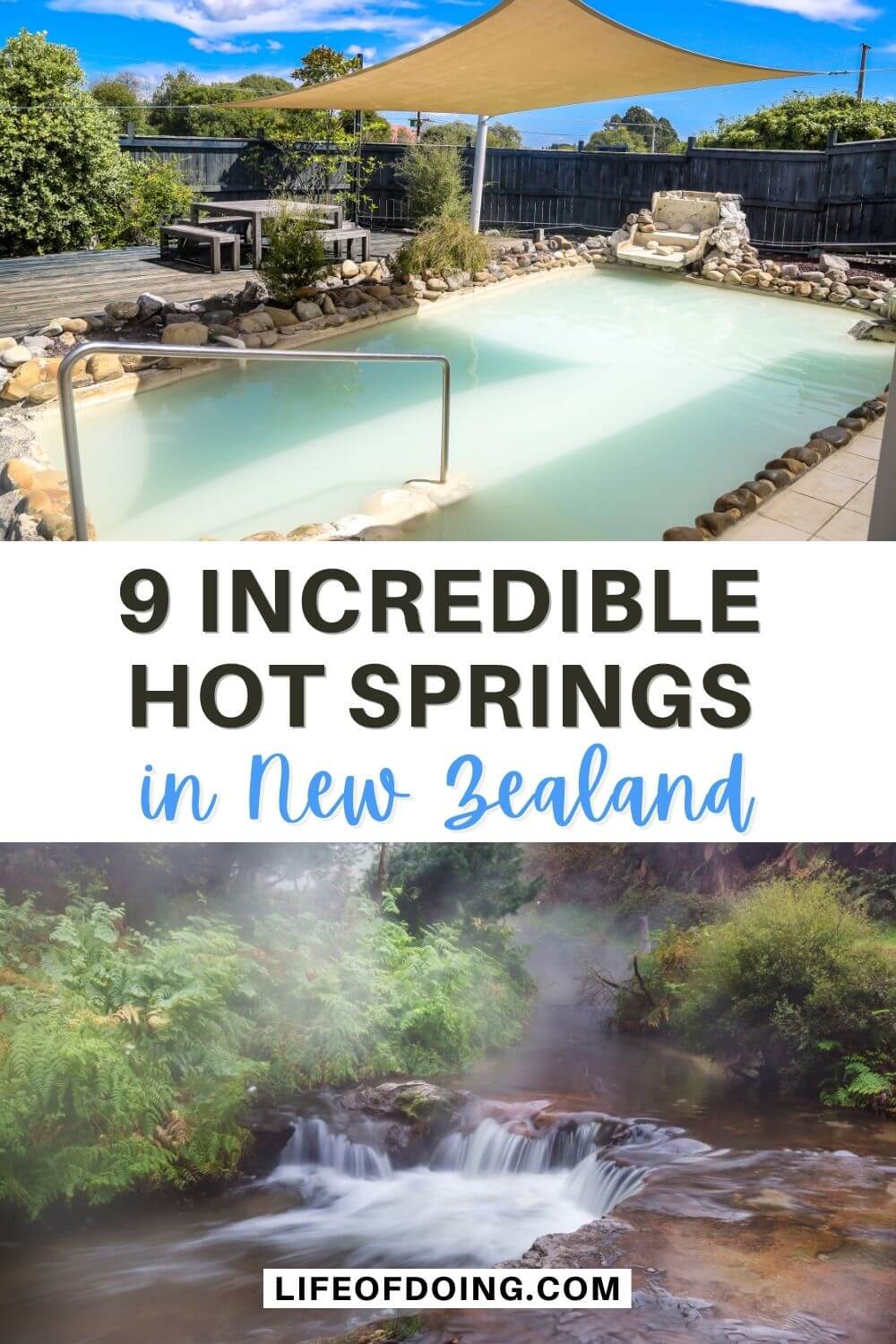 Featured photo credit: zhukovsky via Depositphotos.com
Pin #1 photo credit: zhukovsky via Depositphotos.com (Top); Kamchatka via Depositphotos.com (Bottom)