Christchurch is one of the best places to visit in New Zealand's South Island. As the largest city on South Island and the second biggest city in the country, there are many exciting things to do here.  
From New Zealand's English heritage with its architectural style and gardens to the River Avon running through the city similar to the English cities of Cambridge, Oxford, and Stratford-Upon-Avon, and punting, you'll need a few days to explore this area.  
So, how many days should you stay in Christchurch?
Two days in Christchurch will give you enough time to see the highlights of the city without wearing yourself out too much. If you do have more time, it is an excellent place to base yourself for additional day trips. 
This post provides the best things to do in Christchurch in 2 days and helpful travel information.
It's a great place to visit, especially if you are road-tripping around the South Island. So, you don't want to miss this city!
Click on the links below to jump to certain areas of this Christchurch itinerary:
*Disclaimer: This post contains affiliate links. If you click on them and make a purchase, we receive a small commission. There is no additional cost to you. Appreciate the support.
---
New Zealand Travel Requirements
Check if you need a visa ahead of time. Read more about visa requirements here. 
Complete a New Zealand Electronic Travel Authority (NZeTA). Visitors who come from visa-exempted countries must complete an NZeTA. Click here to see if your country is on the list. 
This is an online application. It's valid for 2 years for travelers. The NZeTA is available to those who will stay up to 3 months or 6 months (for British citizens).
The cost is 23 NZD ($14 USD) or 17 NZD ($10.30) through the app. Apply for the NZeTA here. 
---
How To Get To Christchurch
Although there are some international flights from Australia and Singapore to Christchurch (airport code: CHC), most international visitors will first arrive in New Zealand at Auckland on the North Island. 
From Auckland, you can take a domestic flight to Christchurch, and then hire a car from there. 
Or, hire a car and road trip through both the North Island and South Island. 
Driving a car in New Zealand is convenient to travel to various attractions. It's recommended that you're up to date on the driving rules. Since you only have two days in Christchurch, it'll be better to drive around.
For those who are used to driving on the left side of the car, New Zealand's driver side is on the right-hand side. It can take some time to adjust to driving on the opposite side.
---
Best Ways to Get Around Christchurch
By Walking
Many of Christchurch's attractions are in the walkable city center. 
---
By Ride-hailing
Otherwise, ride-hailing apps such as Uber are a good option. 
For visitors using ride-hailing apps, you must have data set up for your phone. 
Buy a SIM card at Christchurch Airport here. Or, set up a New Zealand eSIM ahead of time.
If you're looking for an international plan (U.S. only), consider getting Google Fi (formerly Google Project Fi). Life Of Doing has used this phone plan for international travel since 2016. Read more and try it for free here. 
---
By Car
For trips outside the city, it would be best to hire a car, either at the airport or from one of the city center locations. 
---
By Hop On Hop Off Tram
Want to experience Christchurch in a fun way? Consider taking the red and golden yellow tram where you can hop on and off to the various attractions in the city. Buy a day pass here. 
---
Map
---
Christchurch Itinerary Day 1 – City Center
Visit Christchurch Botanic Gardens
Christchurch is often called New Zealand's Garden City, and a visit to the Botanic Gardens and Hagley Park will show you why. The gardens are especially beautiful in the spring and summer (September-February). 
The most popular part of the Botanic Gardens in the warmer months is the Central Rose Garden, but the Botanic Gardens are designed with seasonal highlights so that even in winter there is always something to see.
There are also several conservatories, each housing a different type of plant. Fern House is unsurprisingly dedicated to different types of ferns, including the national symbol of New Zealand – the silver fern. 
Some of the other conservatories include Foweraker House which is dedicated to alpine plants, and Garrick House for viewing cacti.
There are also several sculptures in the gardens, most famously the rose sculpture at the entrance to the Central Rose Garden.
For visitors with children, there is a paddling pool open in the summer months, and a playground.
There are also free and paid group walking tours of the Botanic Gardens. Learn more here. 
Address:  Rolleston Avenue, Christchurch Central City, Christchurch
---
Visit Christchurch Earthquake Memorial (Canterbury Earthquake National Memorial)
The 2011 Christchurch Earthquake had a profound effect on the city and claimed the lives of 185 people. Many significant buildings were damaged or destroyed in the earthquake, including the famous cathedral.
The Christchurch Earthquake Memorial, also referred to as the Canterbury Earthquake National Memorial, is located on the banks of the River Avon. The memorial has a park on the north bank and a memorial wall on the south bank. 
It's dedicated to the victims and survivors of the earthquake with the names of those who died carved into the wall.
Address: Montreal Street, Christchurch Central City
---
Explore Street Art
Christchurch has a thriving street art scene which has expanded significantly since the 2011 earthquake. 
Several studios and galleries were damaged in the earthquake. The Christchurch Art Gallery was closed to the public for several years, initially for Civil Defence to operate out of and then for repairs to be completed. 
Artists began to use public spaces to create artwork as traditional venues became unavailable to them. 
Many works immediately following the earthquake acted as memorials to the victims or expressed the emotional distress felt by residents over the damage to their city. 
Over time, many more pieces have been added which act as social and political commentary on modern New Zealand. 
Watch This Space keeps an updated map of street art around the city. Many of the works are in the city center and can easily be visited.
---
Learn About Earthquakes at Quake City
New Zealand's location in the 'Pacific Ring of Fire' leaves it vulnerable to seismic activity, and although many earthquakes occur each year most of them are too small to be felt. 
Quake City is home to exhibitions that explore the background and effects of the 2011 earthquake. Displays also include wider information on what causes earthquakes and how new architecture in New Zealand is designed to cope with such events. 
To make the most of your visit, don't miss the audio and video displays to see first-hand accounts of the earthquake. 
It's also a good option for kids with interactive displays such as Lego areas for kids to create their own structures, and activity sheets for them to complete. 
Address: 299 Durham Street North, Christchurch Central City
Admission Cost: 
20 NZD ($12 USD) for Adults
16 NZD ($9.60) for Students and Seniors
Free for Children Under 15 years (if accompanied by an adult) 
---
Stop by Christchurch Cardboard Cathedral
For your final stop of the day, pass by the Christchurch Transitional Cathedral. 
One of Christchurch's main public spaces is Cathedral Square, named for Christchurch Cathedral. 
The Cathedral was an iconic building and one of the most photographed places in Christchurch until its destruction in the 2011 earthquake. Parts of the building including the spire can be seen at Quake City.
The Transitional Cathedral, commonly called the Cardboard Cathedral, opened in 2013 and uses a few unusual materials in its construction. Shipping containers have been used to form the walls, and cardboard tubes have been used extensively, giving the cathedral its nickname. 
The Cardboard Cathedral continues to be a symbol of the rebuilding of Christchurch and the innovation used for both temporary and permanent structures in the aftermath of the earthquake. 
Address: 234 Hereford Street, Christchurch Central City
---
Christchurch Itinerary Day 2 – Outer Christchurch
Experience Antarctica at International Antarctic Centre
Many scientific expeditions to Antarctica leave from Christchurch, including those to the largest of the research stations – the US-operated McMurdo Station. 
Christchurch's links to Antarctica have led to the creation of the International Antarctic Centre which is now a popular visitor attraction. 
This place showcases the history of Antarctic exploration and demonstrates some of the hardships experienced by those early explorers. 
Visitors can enter the Storm Room to discover what a storm with -18C/-0.4F winds feels like (open-toed shows not recommended!) 
Go for a ride on a Hägglund, an all-terrain vehicle that is driven over an outside course designed to replicate some of the conditions in Antarctica. 
The Centre is also home to a small colony of Little Blue Penguins. These birds are the smallest species of penguin, and the residents are rescued birds that are unable to survive in the wild. 
Money generated by ticket sales helps pay for the specialist veterinarians who look after these cute little birds. 
There is a lot to see at the International Antarctic Centre, so plan for at least 2-3 hours to see the penguins, watch some of the films, and see the exhibits. 
Address: Corner Roy Place and, Orchard Road, Christchurch Airport, Christchurch
Admission Cost:
59 NZD ($35.50 USD) Adults (16+ years)
39 NZD ($23.45) Seniors (Please bring ID)
39 NZD ($23.45) Children (5-15 years) (Must have 1 paid adult) 
Free for ages 4 and under 
149 NZD ($89.55) Family Option for Up to 2 Adults & 3 Children
Buy tickets ahead of time here. 
---
Ride the Christchurch Gondola
Drive to Heathcote Valley to the southeast of Christchurch to take a trip on the Christchurch Gondola. 
New Zealand is known for its spectacular scenery, which for many people is one of the most significant factors in making New Zealand worth visiting. 
The Gondola is one of the best places to get excellent views of the Canterbury region. You'll find some amazing views over Lyttelton Harbour, the ocean, and the city. On clear days you can even get great views of the Southern Alps. 
A few walking trails start from the station with options for different hiking abilities. 
The Summit Station also has a cafe, shop, and a short ride that recounts the history of Christchurch. 
Address: 10 Bridle Path Road, Heathcote Valley, Christchurch
Admission Cost:
40 NZD ($24 USD) Adults (16+ years and up)
18 NZD ($10.90) Children (5-15 years)
Free for ages 4 and under 
98 NZD ($58.95) Family Pricing (2 Adults & up to 3 children)
Note: If you want to go punting on the River Avon, enjoy a tram ride, and the Gondola, then consider getting a combined ticket for all three activities. Learn more here. 
---
Visit Canterbury Museum (Optional)
If the weather isn't suitable for a trip up the Christchurch Gondola, check out some of the collections at the Canterbury Museum instead. 
The primary site for Canterbury Museum is currently undergoing major renovations, so some of the collections are now at pop-up sites around the city. This does, unfortunately, mean that the full museum collection is not currently available to the public. 
Despite the limited collection, it's a good alternative on a day when the Gondola is closed or visibility will be limited.
The main pop-up site is the Canterbury Museum at CoCA, located next to the Christchurch Art Gallery, which also holds some of the museum collections. 
The CoCA site is free to visit and displays some of the most popular displays from the permanent collection, as well as a space for temporary exhibitions. 
Visit the museum's website before your visit to confirm which exhibition is on during your visit. 
Address: 66 Gloucester Street, Christchurch Central City
Day Trips From Christchurch
If you have 3+ days in Christchurch, consider checking out these day trip options. 
Take the TranzAlpine Train
The TranzAlpine Train is one of the world's best train journeys, and some careful planning would allow you to take the train from Christchurch to Arthur's Pass.
You can then explore for a few hours some of the trails and lookouts in the middle of the Southern Alps, before taking the returning train back to Christchurch. 
Just be careful not to miss the train back – this is a sightseeing route and not a frequent train service. 
---
Go Whale Watching at Kaikoura
Another day trip option is to drive up the coast to Kaikoura to go whale and dolphin watching.
Depending on your luck you could see anything from dolphins to orcas, sperm whales, and even humpbacks. 
Booking a tour in advance is essential. Click here to check out a tour option.
---
Where to Stay in Christchurch
Christchurch has many accommodation options depending on your budget and preferred amenities. 
Click here to see all accommodation options on Booking.com 
Find accommodations on Agoda here 
---
The Observatory Hotel is located nearby the Botanic Gardens. It's a perfect choice if you want to make the most of the city's green spaces. 
Address: 9 Hereford Street, Christchurch Central City
Click here to read reviews of Observatory Hotel on Booking.com 
See pricing and reviews for Observatory Hotel on Agoda here 
---
If you are on a budget, then consider Jailhouse Accommodation. This award-winning hostel offers 
great value shared dorms in a former prison. 
Address: 338 Lincoln Road, Addington, Christchurch
Click here to see availability for Jailhouse Accommodation on Booking.com
Learn more about Jailhouse Accommodation on Agoda here
---
Where To Eat In Christchurch
Below are a few places to check out on your next trip to Christchurch.
Tramway Restaurant
For an unusual dining experience, check out Tramway Restaurant which takes you on a tour of the city as you enjoy excellent local cuisine. The total dining experience is 2.5 hours. 
Booking is essential, so visit the website to see the current menu and book a table 
The Tramway Restaurant takes the same route as the daytime tram, so you probably won't want to do both. 
Address: 111 Worcester Street, Christchurch Central City
---
Fiddlesticks
Fiddlesticks is a great choice any time of the day. This restaurant offers weekday breakfasts, weekend brunches, lunch, and dinner. 
The menu includes options such as salmon from the nearby Akaroa Harbour, and the ever-popular New Zealand lamb. 
You will need to book a table in advance as it's a popular place to eat.
Address: Corner of Worcester Boulevard &, Montreal Street, Christchurch Central City
---
Riverside Market
Love visiting local markets? The merchants of Riverside Market include everything from fresh produce and a fishmonger to Vietnamese street food and a beer garden. 
Check it out in the morning to grab a coffee and scope out where you would want to return to for lunch or dinner. 
Address: 96 Oxford Terrace, Christchurch Central City
---
Final Thoughts
It's worth the visit to Christchurch. Two days will go by quickly, yet it will be memorable. 
After the earthquake, the city has been constantly changing and redeveloping as it recovers. Between the thriving art scene, excellent food choices, and beautiful scenery, it offers something for everyone. 
Have a fantastic time on your next trip to Christchurch.
Check out our other New Zealand posts: 
Like this post? Save it to your New Zealand Pinterest board.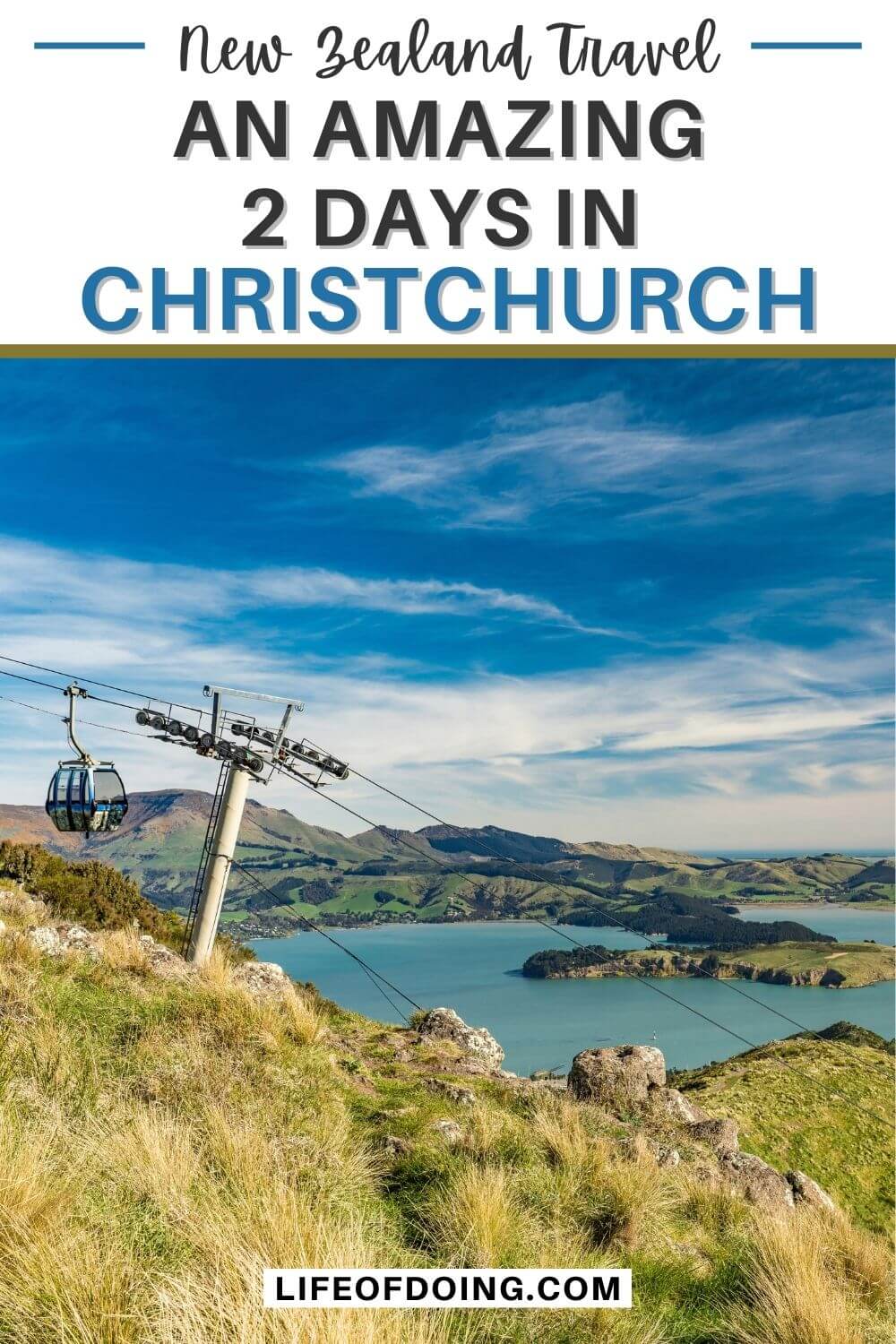 Featured photo & pin #1 photo credit: mvaligursky via Depositphotos.com