Want a unique experience in Vietnam? Visit a theme park! 
Vietnam has a lot of amusement parks due to the increase in tourism for domestic and international travelers.
They're fun to visit for all travelers, especially those with families and children. Plus, the parks provide a new opportunity to see something new and different than the typical sightseeing places. Some of the theme parks have water parks, thrill rides, shows, gardens, and zoos. 
While Vietnam doesn't have Disneyland or a Disney theme park, many of Vietnam's amusement parks have Disney-inspired facades and similar themes incorporated. The two largest entertainment companies are Sun World Group and Vin Group, so you'll see many parks hosted by these two. 
Here are the 11 best theme parks in Vietnam to visit and to add to your Vietnam itinerary. We've personally visited these amusement parks since we live in Vietnam and will share what to expect when visiting these places. Plus, we'll list a few parks that are on our travel bucket list.
Each of the parks listed has the admission cost in Vietnamese and U.S currency.
*Disclaimer: This post contains affiliate links. As an Amazon Associate, we earn from qualifying purchases. If you click on them and make a purchase, we receive a small commission. There is no additional cost to you. Appreciate the support.
---
Tips for Visiting a Theme Park in Vietnam
Check the opening and closing hours of the theme park. Plan your theme park stay wisely. Some parks require a full day visit while others only a few hours. 
Weekends and holiday times tend to be the most crowded. If possible, visit the amusement park on the weekdays or early morning/late afternoon. 
Bring a daypack to hold your stuff. Check out this option or this other option.  
Wear comfortable clothes and walking shoes. We do not suggest wearing sandals all day long, unless you plan to stay at the water park only. 
Bring a portable hand fan or paper fan. 
Stay hydrated and bring water. It may be hot and humid as you walk around the theme park, so bring a water bottle with you. We recommend a reusable water bottle to reduce your plastic waste. 
*Note: Some theme parks do not allow outside water bottles (ie: VinWonders Nha Trang), so you'll need to check in advance. 
Bring cash. Some of the restaurants and shops do not accept credit cards, so you'll need to have extra cash. 
Bring a swimsuit and towel (optional). If the theme park has a water park, don't forget your swimsuits and swimming gear, such as swimming goggles and towels. 
Wear a mask. If visiting during the pandemic, masks are required to enter the park. 
Have travel insurance on hand just in case something happens during your excursion.
Read our other Vietnam posts for more details:
---
Map of Vietnam's Theme Park Locations
---
1. Suoi Tien Theme Park, Ho Chi Minh City
Suoi Tien Theme Park (Khu Du lịch Văn Hóa Suối Tiên in Vietnamese) is a quirky place to visit in Ho Chi Minh City. Located in District 9, this cultural theme park opened in 1995 and revolves around Buddhism and the Buddhist culture. 
You'll see tons of Buddhas, dragons, lotus, and other fun statues and decor throughout the park. Many of the statues are based on Buddhist stories. Unfortunately, there isn't much signage describing the stories and statutes, so you'll just need to admire them for what they are.
While you're walking around, you'll hear Disney music playing on the PA system. It's a bit strange to hear, yet contributes to the overall funky experience.  
There are plenty of children and theme park types of rides and activities, such as go-karting, Ferris wheel, 4D rides, and rollercoasters. You'll need to pay an additional fee to ride some of these. 
Here are the fun attractions to visit at Suoi Tien:
Nine Golden Unicorn Square – See 9 golden unicorns line up on a platform. 
Buddha Square – There is a white Buddha statue on top of the world.
Wishing tree – A huge tree with red ribbons for prayers and wishes. 
Snow castle – Enter a cold environment (-5°C to -15°C) and have fun sliding down snow, see polar bears, etc. 
Knock off of Harry Potter's castle with Dobby-like statues in front, yet it's a haunted house. 
Suoi Tien also has a water park with slides, lazy rivers, and pools. You can find it easily as you see a grey mountain range with a giant head of the god, Lac Long Quan. It's often crowded on the weekends with children, so you must come early. 
You can also visit this place during the holiday season as there are seasonal parades and events. Popular times to visit include the Lunar Festival (January-March) and the King Hung Temple Festival (third month of the Lunar calendar).
Admission: 120,000 VND ($5.20 USD) Adults, 60,000 VND ($2.60 USD) Children [General admission only]
Find up to date information here: Website / Facebook
Find a place to stay in Ho Chi Minh City here.
---
2. Buu Long Theme Park, Bien Hoa
Buu Long Theme Park (Khu Du Lịch Bửu Long) is a fantastic day trip to take from Ho Chi Minh City. 
Located in South Vietnam's Bien Hoa City in Dong Nai Province, it's a cultural theme park with mini versions of Vietnam cities and other famous landmarks around the world. There is a mini version of Halong Bay, a UNESCO World Heritage site, with limestone karsts that looks just like the real one. If you're missing Hoi An, there is a walking street with colorful silk lanterns hanging from the overhead trellis. 
As with the international sites, we saw a mini version of Sydney Opera House and the famous gates of Bali, Indonesia. 
This place is made for Instagram as there are plenty of cute photo spots around the park. Walk under the floral trellis, walk across a pond to see a waterfall, and more. 
Children will enjoy the children-friendly rides as well. There is a swan boat ride to ride through the lake, Halong Bay, and Sydney. 
Admission: 100,000 VND ($4.35 USD) Adults, 50,000 VND ($2.18 USD) Children 
Find up to date information here: Website / Facebook
Click here to find accommodations in Bien Hoa.
---
3. Sun World Ba Na Hills, Danang
Sun World Ba Na Hills is easily one of the most popular and coolest amusement parks to visit in Vietnam. 
You'll recognize this place on social media with the two large grey hands holding up the gold-colored bridge. This is the iconic Golden Bridge (or Golden Hands Bridge) and is a must-visit attraction when you're here. We suggest that you get here when it first opens so you can enjoy the bridge with fewer people.
The rest of the park has beautiful French-inspired buildings and castles and has musical shows, Instagrammable photo spots and gardens, meet and greets, and tons of European food from German to French. There is even a Beer Garden here.  It's a gorgeous place to spend the day wandering around.
Some main highlights include: 
Speeding down the mountain on alpine coasters. 
Seeing the gorgeous Saint Denis Church (which many people use as a backdrop for their wedding engagement photos).
Playing arcade games and going on indoor rides at the Fantasy Park. 
Exploring the Linh Ung Pagoda and seeing the views of the mountains.
Ba Na Hills is located on top of the mountains in Danang at 1,487 meters (4,878 feet) above sea level. The only way to get there is by taking a cable car and you'll need to take the cable car between the mountains. The cable car takes about 20-30 minutes one-way, depending on your stop. A smaller funicular is available for the shorter rides. 
Admission: 750,000 VND ($32.65) Adults, 600,000 VND ($26.10) Children (1-1.4 meters) [Admission includes the cable car ride]
Take a day tour to Ba Na Hills from Danang here. 
Find up to date information here: Website / Facebook
Stay overnight at Mecure Danang French Village at Ba Na Hills here.
---
4. Sun World Danang Wonders (Asia Park), Danang
Another awesome theme park to visit when you're in Danang is Sun World Danang Wonders (also referred to as Asia Park). When you're in the center of town or crossing the river, you'll see a giant Ferris wheel called Sun Wheel and this is where Danang Wonders/Asia Park is located. 
What differentiates Danang Wonders from other Vietnam theme parks is that this one has Disney World's Epcot vibes. Epcot highlights 11 countries and has food, rides, and decor, while Danang Wonders focuses on 10 Asian countries (Cambodia, China, India, Indonesia, Japan, Korea, Nepal, Singapore, Thailand, and Vietnam). There are mini replicas of famous landmarks such as Angkor Wat in Cambodia and are a must visit!
It's an underrated amusement park since it only opens in the late afternoons to evenings. There aren't any lines so you can easily go on rides over and over again. In addition, there are plenty of children-friendly rides here.
Our favorite attractions to visit at Danang Wonders include: 
Sun Wheel Ferris Wheel – Check out Danang's evening views from above.
Angkor Wat replica 
Queen Cobra roller coaster ride – This was our favorite ride of the evening! It's a fast roller coaster with twists and turns and exhilarating to experience in the evenings.  
Monorail – It's a slow-speed ride around the park and you'll pass by the illuminating Ferris Wheel. 
Admission: 200,000 VND ($8.70 USD) Adults, Children between 1-1.3 meters (39-51 inches): 150,000 VND ($6.50 USD)
Find up to date information here: Website / Facebook
Find the perfect accommodation to stay in Danang here.
---
5. VinWonders Nha Trang, Nha Trang
Need a change of pace from relaxing on the beaches in Nha Trang? Check out VinWonders Nha Trang (also known as Vinpearl Land Nha Trang) located south of the city. 
This is one of Vietnam's family-friendly amusement parks and it has everything you can imagine from live shows with animals and sea mammals, an aquarium, children rides, alpine coasters, and much more. There is also a large castle in the middle of the park where outdoor shows take place. 
Since it gets hot and humid in Nha Trang, VinWonders Nha Trang is a popular weekend spot for children and families to hang out at the Water World water park. 
Some recommended attractions to check out include: 
World Garden – It's a lovely place to see a variety of plants and trees from around the world, such as the baobab tree and cacti.  We loved walking through the greenhouses to take advantage of the air conditioning and also see the pretty flowers. There is a cute Japanese area with zen gardens and a temple.
King's Garden – It's technically a "zoo" so this may turn some visitors off. You get to see a variety of animals such as the white Bengal tiger, hippos, Asian black bear, flamingoes, and more. 
Underwater Aquarium – Check out the colorful fish and sea creatures in this aquarium. Do not tap on the glass as this will scare them. 
To get to VinWonders Nha Trang, you take either a 10-minute cable car ride or a speedboat to Hon Tre island. 
Admission: 880,000 VND ($38.30 USD) Adults, 600,000 VND ($26.10) Children (1-1.4 meters / 39-55 inches) [Admission includes access to the water park and cable car or speedboat transportation]
Find up to date information here: Facebook
Read reviews and find a place to stay in Nha Trang here.
6. Sun World Fansipan Legend, Sapa
Want to visit the highest peak in Vietnam? Head to Fansipan Mountain in Sapa. Reaching the peak at 3,143 meters (10,312 feet) used to be catered to hardcore trekkers as it's a challenging hiking trail. (It's what we did in a day!)
Now it's accessible to reach the peak by taking a combination of funicular and cable cars from the center of Sapa. The cable car ride has beautiful views of the Hoang Lien Son mountain range and Muong Hoa Valley. 
Fansipan Legend is more cultural and spiritual attraction. There aren't any children rides and thrill rides, but you get the chance to visit beautiful temples, see giant Buddha statues, and other Buddhist statues. Gorgeous flower displays are also scattered throughout the park. 
The main highlight is taking a photo at the summit peak, which is the highest point in Indochina (Laos, Vietnam, and Cambodia). This area is the most crowded with people, so you'll need to be patient with taking a photo. On a clear day, you can see the green mountain range stretch for miles. Otherwise, it's mostly overcast with the fog rolling in at any hour of the day.
You'll need to wear comfortable walking shoes as there is a lot of walking and stair climbing between sights. Unfortunately, it's not wheelchair-friendly. 
Admission: For the cable car, it's 728,000 VND ($31.70) Adults, 534,000 VND ($23.25) Children. The Muong Hoa funicular is an additional 100,000 VND ($4.35) per person.
Find up to date information here: Website / Facebook
Check out a place to stay in Sapa here.
---
8. Sun World Ba Den, Tay Ninh
Ba Den Mountain (Black Virgin Mountain) is the highest peak in South Vietnam's Tay Ninh Province at 986 meters (3,235 feet). Many visitors tend to hike to Ba Den's challenging peak in a day. 
To make it more accessible to non-hikers, Sun World invested in a cable car system to reach the peak of this cultural attraction, Sun World Ba Den. 
At the peak of Ba Den Mountain, you can walk around to see gorgeous plant topiaries in various shapes and designs, take a photo with the summit peak sign, and of course, see the 72 meters (236 feet) bronze Lady Buddha statue. 
At the moment, there aren't any children's rides for the theme park feel yet we can see this place expanding to include these types of attractions in the future. 
Admission: 250,000 VND ($10.90) Adults, 150,000 VND ($6.50) Children
Find up to date information here: Website / Facebook
Click here to find a hotel in Tay Ninh Province.
---
9. Thuy Tien Lake Abandoned Water Park, Hue
When visiting Hue in Central Vietnam, add a visit to an abandoned theme park, Thuy Tien Lake (also referred to as Ho Thuy Tien). It's a former water park and will give an apocalyptic feel as you walk around the dilapidated structure. It's not advisable to bring children due to the safety hazards and the potentially scary ambiance.
This place is technically closed to the public but you can pay a small fee to Security to enter.  
We haven't been to this place and would love to visit on a return trip to Hue.
Check out accommodation options in Hue here.
---
10. VinWonders Phu Quoc, Phu Quoc
When visiting Phu Quoc Island, add VinWonders Phu Quoc theme park to your itinerary. The layout looks similar to VinWonders Nha Trang with children-friendly rides in Fantasy World, swimming pools and slides in Typhoon World, roller coaster rides, aquariums, and outdoor shows to watch. 
While we haven't been to this theme park yet, it looks like an awesome place to relax. It's connected to the Vinpearl resorts in the Kien Giang area of Phu Quoc so you can stay overnight for a few days here. You can also combine a trip to the nearby Vinpearl Safari.
Admission: 750,000 VND ($32.50) Adults, 560,000 VND ($24.30) Children (1-1.4 meters/ 39-55 inches) Buy discounted tickets here. 
Find up to date information here: Website
Find the perfect accommodation to stay in Phu Quoc Island.
---
11. Sun World Ha Long Complex, Halong Bay
Need to relax more after going on a Halong Bay cruise? Head to Sun World Ha Long Complex. It's a huge place that has a water park (additional fee), artificial beach, lighthouse, and plenty of theme park rides in the Dragon Park area. 
Although we haven't been here yet, we wouldn't mind relaxing on the beaches since many of the beaches are in Central and South Vietnam.
Sun World loves their cable car system, so there is one to travel between the water park and amusement park areas. 
This place is only open from Fridays-Sundays and in the late afternoon to evening. 
Admission: 200,000 VND ($8.70) Adults and Children over 1 meter for Amusement Park & Cable Car; 200,000 VND ($8.70) Adults and Children for Water Park; 300,000 VND ($13) for Amusement Park & Water Park Adults and Children
Find up to date information here: Website / Facebook
Click here to find a place to stay in Halong area.
---
Final Thoughts
We hope you enjoyed reading this Vietnam theme park guide! Which of these theme parks do you want to visit in Vietnam?
There are many to choose from so it'll depend on your budget, time duration, and what you're interested in doing. 
If you have a week in Vietnam, you may consider adding one to your itinerary.
If you have any questions about any of these places or want to share a theme park tip, use the comment box below. 
Like this post? Save it to your Vietnam Pinterest board.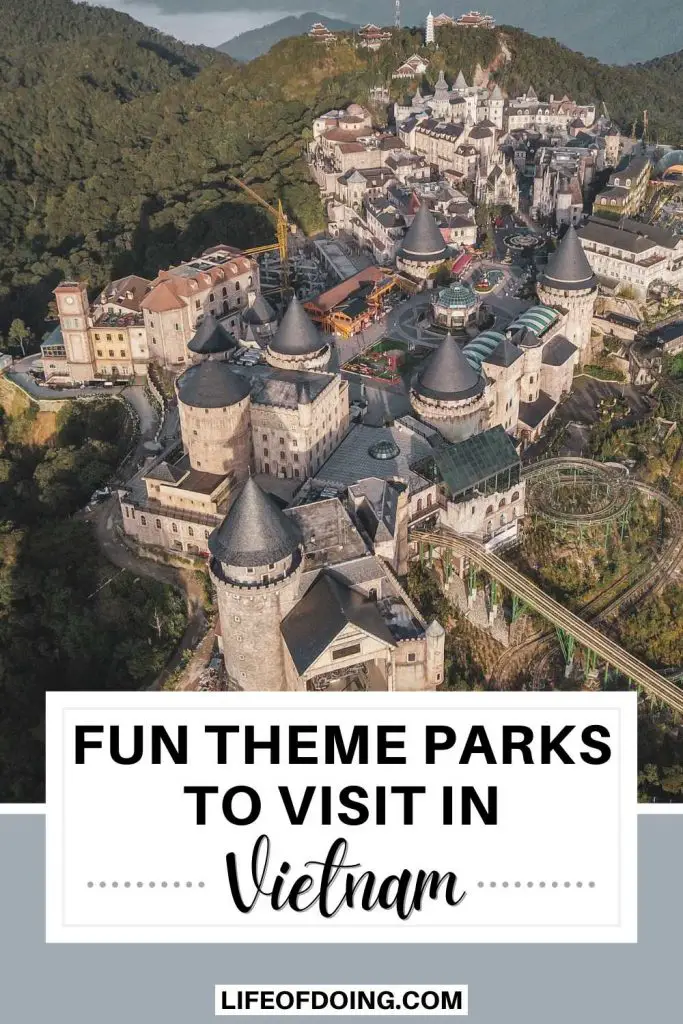 Featured photo credit & pin #1 photo credit: Pierrick Lemaret via Scopio Photos