Nha Trang is one of the most well-known tourist destinations in Vietnam. From endless beaches and snorkeling activities to booming volume of high rises and resorts along the beachfront, welcome to Nha Trang.
How many days should you spend in Nha Trang? The perfect amount of time is 3 days in Nha Trang to visit the highlights.
If we were to redo our trip, 2 days in Nha Trang would also have been enough time. Extend it to 4 days or more if you want more relaxation and exploration. Although we would recommend that you visit the other Vietnam beach cities – Danang, Phu Quoc, or Con Dao Islands.
Nha Trang often gets mixed reviews from travelers. Located off of the South Central Coast, Nha Trang is a popular destination for Russians, Chinese, and local Vietnamese tourists. (You'll see signs in both Vietnamese and Russian languages.) Plus, it's the bigger, crazier brother of Mui Ne (another beach area closer to Ho Chi Minh City) with more beaches, parties, and nightlife.
It was my mom's first time in Vietnam and I wanted to give her a comprehensive experience of Southern Vietnam.
While the city's vibe is not one of my favorite places in Vietnam, there are some charming areas and plenty of things to do in Nha Trang.
In this post, we're covering how to spend 3 days in Nha Trang. With this Nha Trang itinerary, we'll cover some of the general information on how to get to Nha Trang, transportation, Nha Trang accommodations, how to get around, and where to eat in Nha Trang.
Check out our other Vietnam posts to help you with your planning.
*Disclosure: Yes, we have affiliate links in this post. If you click on them and make a purchase, we receive a small commission. There is no additional cost to you. Thank you for supporting us.
---
Nha Trang Itinerary: Day 1 – Shopping & Beach Time
After you've arrived in Nha Trang, head to your accommodations to drop off your luggage. On this first day in Nha Trang, you can spend the time enjoying the sunshine on the Nha Trang beach and shopping.
Nha Trang Beach
One of the main highlights is visiting the Nha Trang beach. The golden sandy beach stretches to over 6 kilometers (3.7 miles).
The most popular area is Tran Phu Beach as many of the guesthouses and resorts are close by. There are a lot of people lounging on the beach throughout the day and especially crowded during the sunset period.
While the beach and the ocean aren't the cleanest, taking a quick dip in the ocean is refreshing. During our visit in November, the water wasn't cold but the waves were harsh and I was almost washed away.
It's best to bring your own towels to relax at the beach.
If you want to sit on a lounge chair, the hawker seller will charge a minimum of 100,000 VND ($4.30 USD) per person. We made the mistake of sitting on one and thought that ordering a fresh coconut would have been enough.
Resorts also reserve certain areas for guests. We're not sure how this is even legal, but there is a monopoly on designated spaces on the beach.
Walking along the coastline and even along Tran Phu is a great option if relaxing is not your thing. How can you not resist the immaculate palm trees?!
We passed by the Sailing Club which was a popular place to hang out and eat.
Dam Market
If you've been to Ho Chi Minh City, you've probably been to Ben Thanh Market. In Nha Trang, Dam Market (Chợ Đầm) is the equivalent version. Located in the northern part of the city center, it's considered one of the largest markets in the city.
It's recommended to visit in the morning. Dam Market is bustling with vendors that sell fresh produce, seafood, and beautiful flower bouquets on the outside of the market! Inside the market area is the main building with two levels of vendors selling an array of souvenirs and clothes.
Don't forget to bargain if you're planning to buy souvenirs.
If you come in the afternoon, the outside area is empty but still active in the main building.
Address: Between Nguyễn Công Trứ and Bến Chợ, Vạn Thạnh, Nha Trang, Khanh Hoa Province
Night Market
The Night Market (Chợ Đêm) is a bit touristy yet it's fun to do some shopping. You'll find similar items like at Cho Dam. If you've been eyeing a fruit-printed shirt or want to buy cashews in bulk, then consider visiting this place.
Address: Intersection of Nguyễn Thi and Trần Phú, Lộc Thọ, Nha Trang, Khanh Hoa Province
Shopping Centers
It seems like Nha Trang has a shopping center at every corner. Take a break from the heat and humidity with the much-appreciated air conditioning. Head to one of many shopping centers to purchase new swimming outfits, watch movies, or browse around at Nha Trang Center or Vincom Plaza.
---
Nha Trang Itinerary: Day 2 – City Tour
Now that you're relaxed and have your bearings for the city, let's take a Nha Trang city tour. On your second out of three days in Nha Trang, this is a fabulous opportunity to explore the scenic areas and also hidden gems.
We did a 4-hours city morning tour with OneTrip. If you haven't heard about OneTrip, they provide travelers with a variety of fun experiences with local guides and works closely with the communities in main Vietnam cities. Other adventures include food, waterfall, hiking, and more.
We loved OneTrip and hanging out with the guides so much that we took two tours with them in Dalat a few days later. (Update: OneTrip doesn't offer the city tours anymore for Nha Trang and Dalat but do check out the Facebook page for updates.)
Check out this alternative half day city tour of Nha Trang here.
For our tour, we decided to ride a motorbike versus having a car to see the main attractions of Nha Trang from pagoda to beautiful views along the coastline. The guides ensure your safety when riding the motorbike.
Our guides, Tri and Trang, met us at our hotel and we were off to the following places:
Coastal Drive
After leaving the main city area, we navigated through the mountains to the coastal area of Nha Trang. We stopped at a picturesque spot to see the blue waters and also take photos along the quiet road. It's rare to not encounter traffic or have to worry about cars or motorbikes on the road!
Vinh Luong Fishing Village
Nha Trang gets their fresh seafood from Vinh Luong Fishing Village. It's an off-beaten path as we didn't see other visitors during our visit.
Visiting the fishing village is an eye-opening way to see the lifestyle and the hard work of the fishermen. The blue water is surreal here compared to the Nha Trang beach area. Like what we've seen in Ly Son Island, the round boats are used for fishing here as well!
Due to the chopping waves, there wasn't as much action on the fishing dock. However, we saw a couple of sellers selling a variety of fish and octopuses. If you're sensitive to the smell of fish, you may want to skip this place.
Address: Cảng cá Vĩnh Lương, Nha Trang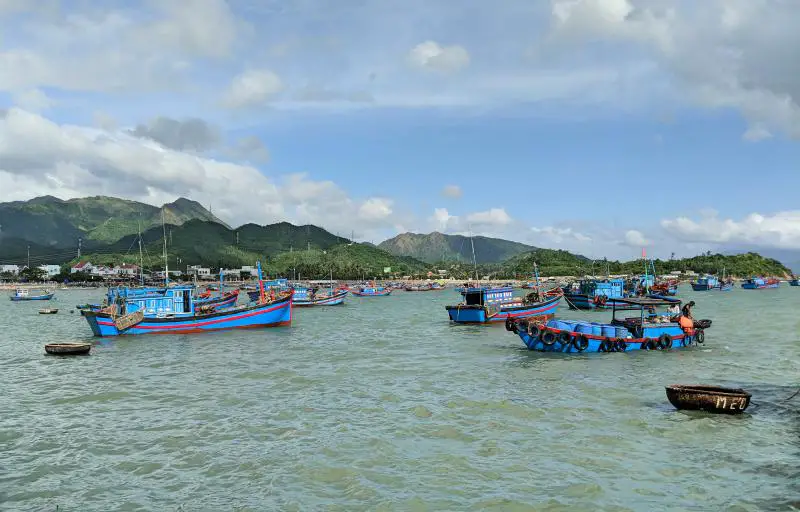 Vinh Hai Market
We love visiting the local markets for the vibe and seeing the bright colors of the produce. Vinh Hai Market (Chợ Vĩnh Hải) is geared more to the locals versus Cho Dam. We stopped by for a chè, Vietnamese dessert, break. It was one of the best chè that we've eaten as it wasn't too sweet and had lots of jellies (our favorite!)
Address: Hai Tháng Tư, Vĩnh Hải, Nha Trang
Long Son Pagoda
Now, we're off to see the Long Son Pagoda (Chùa Long Sơn). The pagoda is up on a hill so there is some stair-climbing involved. At the peak of the pagoda is a white Buddha statue where you can enter inside to see carvings. On the lower level of the area, you can see a reclining Buddha.
Address: 20 Đường 23/10, Phương sơn, Nha Trang, Khanh Hoa Province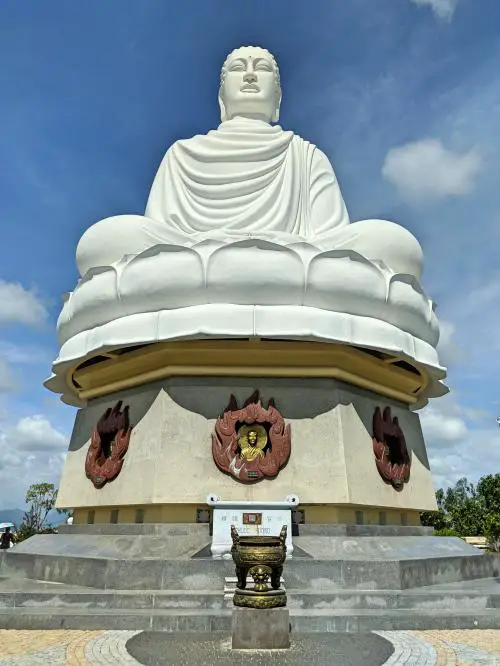 Po Nagar Cham Towers
The Cham people are an integral part of the Vietnamese culture as one of the ethnic minorities in the country. If you've been to Cambodia's Siem Reap, Vietnam's Mui Ne, Quy Nhon, or My Son (a UNESCO site), you'll see the similar Khmer architecture at Po Nagar Cham Towers (Tháp Bà Ponagar).
We're fans of seeing temples and this place is one of the popular must-see places in Nha Trang. The temples get crowded so it's best to come early in the morning. Admission cost is 22,000 VND ($1 USD).
Address: 2 Tháng 4, Vĩnh Phước, Nha Trang, Khanh Hoa Province
Whew! We accomplished a lot during the morning. We said our goodbyes to our new friends, Tri and Trang. Feel free to spend the afternoon at leisure along the beach.
---
Nha Trang Itinerary: Day 3 – Nha Trang Mud Bath
On our third day in Nha Trang, we originally planned to go to the Ba Ho Waterfalls. However, the morning had non-stop thunderstorms. It would have been too dangerous to visit the waterfalls in the afternoon with wet grounds.
Plans changed to incorporate more R&R (rest and relaxation) at the popular mud bath spas.
Yes, you heard that right – we're going to soak in mud! It can be daunting to sit in the mud, but it's relaxing and good for the skin.
There are three popular spa places to choose from.
We ended up going with I-Resort due to a recommendation from Tri, our OneTrip guide from yesterday.
It was the right choice as we chose the VIP package for some privacy and pampering. The package came with a silky smooth mud bath, a soak in the mineral pool, 45 minutes massage, Himalayan salt steam room, and choice of meal. It was pricey at 3 million VND ($129 USD) for two people but well-worth the half-day here. There are public mineral pools and mud baths available which will be cheaper. 
If you forget your swimsuit (like us), they have swimsuits available for you to borrow. You may want to consider borrowing them since the mud can damage light-colored swimsuits.
Address: Tổ 19, Thôn Xuân Ngọc, Vĩnh Ngọc, Nha Trang, Khanh Hoa Province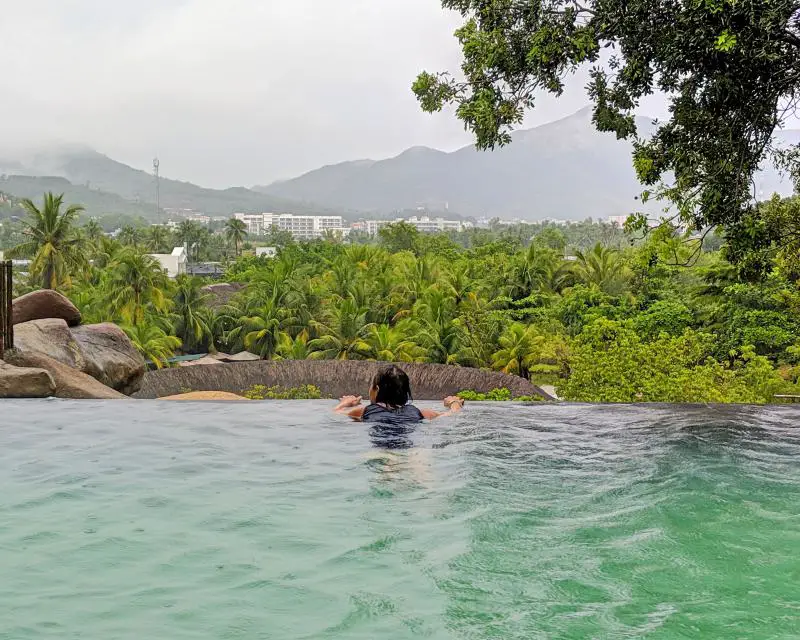 ---
Other Places to Consider for Your Nha Trang Visit
We didn't a chance to visit all of the places in the Nha Trang during our 3 days. Here are some ideas to explore if you have more time in Nha Trang.
VinWonders Nha Trang (VinPearl Amusement Park)
VinWonders Nha Trang, also referred to as VinPearl Amusement Park, is one of the most fun adventures to do in Vietnam. Spend the day at this amusement park which has shows, a zoo, beautiful gardens, and a water theme park. Don't forget to take the cable car to get to the park and see the nice views of the city.
Purchase discounted tickets to VinPearl Amuseument Park here.
Snorkeling in Nha Trang
We heard that the snorkeling and the diving opportunities are incredible in Nha Trang. Hon Mun Island or Hon Mieu Island are popular destinations to swim. Unfortunately, we encountered rainy weather during our time in November, so the waters were rougher. If the weather is better, consider taking this tour opportunity.
Hon Tam Island
Let's spend the day at one of Vietnam's islands. Hon Tam Island is south of the main Nha Trang. You need to take a speedboat to visit this private island. The day will pass by quickly with swimming in the pools and ocean, soaking in the mud baths, and eating some delicious seafood lunch. You can also kayak and do outdoor water activities.
National Oceanographic Museum
Located in the city center, the National Oceanographic Museum is an aquarium and a museum which is a nice option for children. You'll see a variety of fish and marine life in the aquarium or head to the museum to see a whale skeleton and other preserved animals on display.
---
How to Get to Nha Trang 
Airplane
It's easy to take a flight from Hanoi or Ho Chi Minh City to Nha Trang. The closest airport to Nha Trang is Cam Ranh International Airport (airport code: CRX). The distance between Cam Ranh to Nha Trang is about 34 kilometers (21 miles).
Transfer from Cam Ranh airport to Nha Trang, via the Dat Moi Bus (Đất Mới Bus). Exit the Arrivals Hall and purchase tickets at the kiosk outside. It's a yellow and white bus that departs from the airport to the Nha Trang city center. This is the cheapest way as it cost 50,000 VND ($2.15 USD) per person. Reservations are not necessary.
The ride takes about an hour where you'll pass through Cam Ranh, home of future apartments and resorts along the coastline. The bus customer service person will notify the bus driver to drop you off on the main street near your hotel. You can find the return bus back to the airport along the main roads with the line #18 bus sign.
Once you depart the airport, you can also consider taking a taxi or hire a private driver to bring you to the city center. This will be an easier option if you have a lot of luggage.
Click here to reserve a driver with airport pick up and drop off in Nha Trang.
Train
Taking the train is a unique way to travel throughout Vietnam. From Ho Chi Minh City to Nha Trang, it'll take between 7.5 to 8 hours to travel between the two cities.
Reserve your train seats here.
Bus
Sleeper buses are popular in Vietnam where you can recline in your seat during your ride. From Ho Chi Minh City to Nha Trang, it'll take about 12 hours which is one of the longer ways to get here. The bus has pit stops for bathroom and meal breaks. Pre-book your seats on Futa Bus.
---
How to Get Around Nha Trang
Walking
It's a very walkable city and it has functional sidewalks (unlike in Ho Chi Minh City). It's refreshing to see visitors on the sidewalk and not having to watch out for motorbikes who use sidewalks as another lane.
Scooter/Motorbike
If you're comfortable riding a scooter or motorbike, consider renting one in Nha Trang. Luckily the roads are wide and not as congested as Hanoi and Ho Chi Minh City. Ask your accommodations if they have motorbike rentals available.
Taxis
They're plentiful in the area and you often don't need to wait for more than a minute. One will pass by eventually. Choose a reputable taxi company such as Mai Linh or Vinasun. Both are metered taxis and take credit cards.
Grab, the ride-hailing app
We prefer using the ride-hailing app, Grab as the main transportation in Nha Trang. It's easy to use as you select your starting and ending location The driver meets you at your starting location. No need to worry about a metered or non-metered taxi as the app shows the cost. The transaction is cashless, if using a credit card for payment, or by cash. Download for free on iOS or Google Play.
You'll need to have a SIM card in order to book a car via Grab. Click here to pre-purchase a 4G SIM card with pick-up at the Cam Ranh International Airport.
If you are from the U.S. and want to have an international phone plan, consider signing up for Google Project Fi. Receive a $20 USD credit when you sign up! We've used Project Fi for years and love how we can get text and data in over 200+ countries without needing to pay extra.
---
Where to Stay in Nha Trang
Since Nha Trang is a beach destination, you won't have any difficulties finding accommodations. There are hostels, guesthouses, hotels, and resorts to suit any budget. If you want easy access to the Nha Trang Beach, it's best to find accommodations along Biệt Thự, Trần Phú, or Trầng Quang Khải. The beach is just a five-minute walk away.
Find the perfect accommodations in Nha Trang and make a reservation here!
We stayed at the budget-friendly, Straw Hat Hostel. Our simple private room with bathroom was cheap at 265,000 VND ($11 USD) per night and close to many restaurants. Breakfast is not offered here and daily cleaning isn't provided. However, you can ask the front desk for fresh towels if you need daily changing. Day tours and bus tickets are available through the staff. We used them to help book bus tickets to go to our next destination, Dalat.
Learn more about Straw Hat Hostel and make a reservation here.
On our second visit to Nha Trang, we stayed at the guesthouse, Xala Boutique. We had a clean and spacious private room with a bathroom. The window view overlooked a portion of the beach. You can walk to the beach in a few minutes. The room came with breakfast. Offerings were limited due to the COVID travel restrictions so we had a choice of of phở (noodle soup) or bánh mì ốp la (bread with egg). We would love to stay here again.
Check out reviews and make a reservation for Xala Boutique here. 
---
Where to Eat in Nha Trang
You won't have any difficulties finding food in this city. There are plenty of restaurants to choose from such as local Vietnamese food, Chinese food, seafood BBQ, and buffets. Seafood is a must-have due to Nha Trang's easy access to fresh seafood. You can pick and choose which seafood you want, the weight, and your choice of preparation. 
If you're craving dessert, we saw many Thailand rolled ice cream carts. Choose your choice of tropical fruits and they get mixed, flattened, and rolled.
We loved visiting these restaurants:
---
Nha Trang is a good weekend getaway for those who want to get away from the chaos of the big cities of Vietnam such as Ha Noi and Ho Chi Minh City. While there are tons of tourists, there are some charming areas and things to do in Nha Trang. We hope you enjoyed reading more about this Nha Trang in 3 days itinerary.
Check out our other Vietnam posts for more inspiration:
Have you been to Nha Trang? What are you the most excited about when visiting Nha Trang?
Visiting Vietnam in the future? Save this post to your Vietnam Pinterest board.