Five days in Seoul, South Korea is the perfect amount of time to see the buzzworthy highlights of this city. With over 9.7 million people living in Seoul, it's has everything you can ask for from a large city – historic cultural attractions, mouth-watering street foods and kimchi galore to the nonstop shopping and hiking trails, you'll have an adrenaline rush every single day during your exploration.
With the help of our favorite travel bloggers, we're sharing our 5 days itinerary in Seoul and provide the unique attractions and must-see places to visit in Seoul. On each day of the itinerary, it may seem like a lot of attractions to see. However, choose 1-2 attractions for the day and modify the recommendations based on availability and interests. This city is HUGE, so you won't be able to see everything. We wouldn't want you to burn out on your vacation. 
Before we head to the itinerary, we'll cover some Seoul travel tips including transportation, where to stay, and more.
Since South Korea has so much to offer, consider extending your stay to travel to other parts of the country. Jeonju is a cute and quaint area to see the famous Hanok Village and try bibimbap. Busan is another option to spend some time on the beaches or visiting amazing temples, not just for the zombie-filled Train to Busan movie. Another favorite is Jeju Island to get your beach fix and also to see waterfalls. For the more adventurous route, try backpacking through South Korea in 2 weeks.
In this post, you'll learn how to spend 5 days in Seoul. Click on the links below to jump to the sections.
*Disclosure: Yes, we have affiliate links in this post. As an Amazon Associate we earn from qualifying purchases. If you click on them and make a purchase, we receive a small commission. There is no additional cost to you. Thank you for supporting us.
---
General Information for Seoul, South Korea
South Korea Visa Requirements
Currently, 48 countries can enter South Korea without a visa and can stay up to 90 days. If you're a U.S citizen, you can come here visa-free. Check out more information about the visa entry requirements.
How Many Days Should You Spend in Seoul?
With this 5 days itinerary, it includes 3 days in Seoul and 2 days of day trips from Seoul. You can easily spend more time in Seoul, but that is for a return trip. We know, things can happen during the vacation so change the schedule as much as your heart desires.
Best Time to Visit Seoul
Spring (March to May) and Autumn (September to November) are the best seasons. The weather is pleasant and in the 13℃ to 15℃ (55℉ to 59℉). There is also fewer chances of rain. In April, Seoul and other areas of South Korea burst of pink cherry blossoms everywhere. Check out more information on what to expect during springtime in South Korea. 
Summer (June to August) is unbearably hot and humid similarly to other parts of Asia. Prepare to sweat like crazy and stay hydrated. Think mid 20℃ to 28℃ (77℉ to 82℉) and with high chances of rain. Don't worry, we have you covered with things to do during rainy season.
Winter (December to February) is cold and snowy so bundle up with the puffy jackets and warm thermal gear. It's around -7℃ to -5℃ (19℉ to 23℉).
How to Navigate through Seoul
Rely on Google Maps for directions? You'll be out of luck. Google Maps is terrible in South Korea and we were often lost when using it as the GPS couldn't find our location. The recommended app for navigation is Kakao and can be translated to English. Download for free on iOS or Android.
---
Transportation in Seoul
1. Walking
Although it's a large city, you can walk around everywhere. Seoul is considered one of the walkable cities in the world.
Walking is a great exercise to explore places on foot and also reach your 10,000+ step goal on your fitness tracking device. (We've used this device for years!)
2. Subways, Taxis, and Buses
One of the best things about South Korea's transportation system is that it's so easy! From the subways, taxis, and buses, you have various options to travel throughout Seoul. Taking the subway is the most convenient way to go to your destination. Signs are in English so you can't get lost and you can take the subway to any location in the city (or outside of Seoul).
We recommend that you purchase a T-Money card from the convenience store. There is a fee of 4,000 KRW / $3.54 USD for the card and you can add funds to the cards at the convenience stores or at the subway stations.
Using the T-Money card for the subways, taxis, and buses fare makes life so much easier. Plus, the subway is slightly cheaper when using T-Money versus purchasing individual tickets (which have a 500 KRW / $.44 USD deposit for the paper tickets).
Any unused funds can be refunded to you at the refund stations or convenience stores.
Tip: Don't forget to download the free Subway Korea app. It's a lifesaver when determining the subway routes, approximate costs, and where to transfer. Since it has live information, you'll get accurate information once you include your starting and ending destinations. Download here: Apple iOS or Google Play Store.
3. KORAIL
The Korean railroad system, KORAIL, is also a good option if you're going for longer distance travels (ie: 3+ hours). For other destinations, you can pre-purchase tickets one month in advance and can choose your seats. You cannot use your T-Money card for purchases.
4. Seoul City Tour Bus
A unique way to travel through Seoul is through the Seoul City Tour Bus. Choose a variety of attractions to see where you can get off and on the bus along the route. All you need to do is buy one ticket for the day.
---
How to Get to Seoul from Incheon International Airport
The easiest and most convenient way to get to Seoul from the airport is to take a combination of the Airport Railroad Express (AREX) and subway to get to your accommodations.
Take the Incheon International Airport → Seoul Station (Line: Airport Railroad or the Airport Railroad Express). The Express will arrive at Seoul Station slightly faster. Seoul Station is a central location to head to other areas of Seoul. Time needed: About 1 hour
Purchase the Airport Railroad Express (AREX) Tickets in advance here.
Otherwise, you can take a taxi to your accommodations.
---
Where to Stay in Seoul
This city has a wide variety of places to stay from the dorms, hostels, hanok guest houses, to the fancy 5-star hotels. It depends on your budget and where you want to sleep.
Click here to see reviews of accommodations in Seoul and book your stay.
We personally recommend the Myeongdong area. You're in a central location with some of the best restaurants in Myeongdong, nonstop shopping galore for beauty products and clothing (these are some of the top things to buy in Korea), and next to the Myeongdong subway station. 
We stayed at the Aloft Seoul Myeongdong and loved it! It's a modern hotel with stylish rooms with comfortable beds and a clean bathroom. Ask for a room with the view of the city which makes it more interesting to observe in the evenings. The hotel workers are very nice to ensure that we had a pleasant stay. Plus, you're within a 5-10 minute walk to the local street food and restaurants. We used Marriott reward points for our stay at Aloft Seoul Myeongdong, so our stay was free. Regardless, we would recommend it.
Check out availability at Aloft Seoul Myeongdong and make a reservation here.
---
Seoul Itinerary: Day 1 – City Center & Historical Areas
Whew! You've traveled a long way to get to Seoul. From the airport, head to your accommodations to drop off your luggage and to freshen up. Afterwards, we're off to explore the main city center and the historical areas.
1. Palace Hop Through the Five Grand Palaces
With five palaces built during the Joseon Dynasty, which ones should you see? Unfortunately, we didn't have enough time to see all of the temples and we didn't want to get "palace fatigued."
The five palaces are Gyeongbokgung, Changdeokgung (UNESCO World Heritage Site recognized), Changgyeonggung, Gyeonghuigung, and Deoksugung. Click on the links to each of the palaces to learn more. Feel free to choose whichever ones sound interesting to you.
Tip: If you rent a hanbok, traditional Korean dress, to any of these palaces, admission is free.
For less stress, sign up for a half day tour which will go to the palace and the markets.
We visited the Deoksugung Palace due to the easy accessibility. Located in the City Hall area, it's easy to see after taking a photo of the I.SEOUL.U sign (more info below). Admission is 1,000 KRW per person to enter. The palace is beautiful with the Western style architecture and garden. We saw a few visitors take photos of the white columns of the palace. The back has the National Museum of Modern Art.
One of the main highlights was seeing the changing of the royal guards ceremony in front of the palace. Visitors can take photos with the guards when the ceremony concludes. The ceremony occurs at 11:00am, 2:00pm, 3:30pm from Tuesdays to Sundays.
How to get there: City Hall Station (Subway Line 1) and Exit 2, or Subway Line 2 and Exit 12.
2. Take a Photo of the I.Seoul.U Sign
Amsterdam has its "I amsterdam" sign when you depart from the Schiphol Airport. Seoul has its "I.Seoul.U" sign. Although it was criticized when it was released, it's a prominent landmark for photo opportunities. There are several signs around the city such as City Hall/ Seoul Plaza and across from the Deoksugung Palace, Dongdaemun Design Plaza (DDP), and Yeouido's Hangang Park. You can't miss the large white letters. Come here early to avoid other visitors photobombing your picture.
How to get there: To the City Hall sign – City Hall Station (Subway Line 1) and Exit 5 or 6, or Subway Line 2 and Exit 8.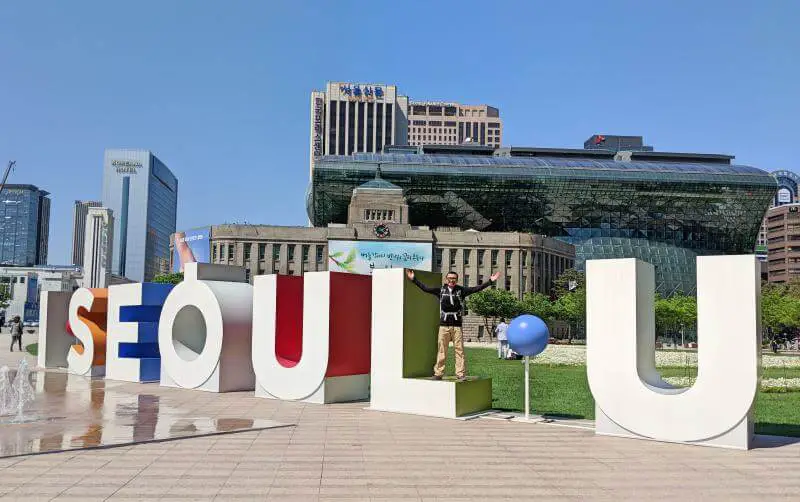 3. Join a Pedicab Tour from Artee Riders Club
Contributed by Claire from The Adventurous Flashpacker

Looking for a unique way to explore Seoul's prettiest backstreets and tick off some key tourist sites at the same time? Artee Riders Club offers 1 and 2-hour tours by pedicab around the historic neighborhoods of Bukchon and Seochon.

Depending on what tour you choose, you could visit Gyeongbokgung and/or Changdeokgung Palace and the Blue House (presidential residence). Sit back and relax as you ride through the alleyways and traditional hanok houses of Bukchon Village or the artist's village of Seochon.

The 'drivers' double as tour guides and photographer extraordinaires. They'll teach you about the city's rich culture and history, show you hidden laneways, and take you to the best photo spots away from the crowds. You can find more information here or flag down a driver on the street.
How to get there: The Bukchon tours start at Anguk Station (Subway Line 3) and Exit 1. The Seochon tour starts at Gyeongbokgung Station (Subway Line 3) and Exit 4.
4. Navigate through the Bukchon Hanok Village
Contributed by Leyla from Women on the Road
Amid the dazzling neons and skyscrapers of downtown Seoul sits a small haven of peace and serenity – Bukchon Hanok Village, which has been around since the late 14th century. Spend an hour or two wandering around the hilly alleys, often made of cobblestones, and admire some of the 900 hanoks, or traditional houses, made of natural materials like wood or stone.
A favorite pastime is to rent a hanbok and pose for pictures but there's plenty more to do. Culture is all around and some houses have been turned into cultural centers or handicraft shops – but the ancient spirit of the village feels very much alive. People still live here, although having a home in the midst of a highly popular attraction must also be somewhat disconcerting. To get the best sense of what this village was once like, visit when there are fewer people, in the early morning or late evening.
How to get there: Anguk Station (Subway Line 3) and Exit 2. Walk for 10 to 15 minutes.
5. Meander through Insa-dong
Contributed by Wendy from Empty Nesters Hit the Road
After years of traveling throughout Asia, the neighborhood we fell most in love with is Insa-dong. Every trip to Korea has included at least part of a day here.
What this area is best known for is Insadong-gil, a long street with dozens of smaller streets and alleys connecting to it. A large section of the main street is closed to cars making it an enjoyable place for pedestrians to meander. Along the way are hundreds of small shops selling traditional craft items, clothing, makeup, and souvenirs.
Food vendors can be found along the sidewalks selling some of the best street food. Our absolute favorite is hotteok, a donut like pastry filled with sugar, ground peanuts, and sesame seeds. These are available in other places in the city, but the ones in Insa-dong are by far the best.
Over the years we've enjoyed many lunches and dinners at restaurants throughout this neighborhood. Some we've sought out after reading reviews and others we've chosen randomly–you can't go wrong either way. After a meal, consider a stop at one of the many traditional tea shops in the area. For a good meal, unique souvenir, or simply a lovely walk, Insa-dong always delivers.
6. Stop by the Beautiful Jogyesa Temple
Not far from Insa-dong Street is the Jogyesa Temple. It's a stunning Korean Buddhist temple that welcomes everyone. One of the iconic views of the temples is the colorful streamers and lanterns that covers the area. We went during the time frame of Buddha's birthday and the temple had a huge celebration with food, activities for children, and performances.
A unique opportunity is staying at this temple for 1-10 nights. You can participate in activities such as chanting, meditating, and/or talk a monk about their lifestyle or any questions that you have over tea time.
Click here for more information and to make a reservation.
How to get there: Anguk Station (Subway Line 3) and Exit 6. Go straight until you reach the intersection, turn left at the Ujeongguk-ro Street, and continue until you see the temple. Or take Jonggak Station (Subway Line 1) and Exit 2. Go straight for a few blocks.
7. Eat Your Way Through the Gwangjang Market at Night
Is your stomach growling from all of the sightseeing opportunities? Head to Gwangjang Market in the evening. This must-see night market is overwhelming and chaotic with street food stalls everywhere. Choose from traditional Korean foods such as japchae (glass noodle stir fry), topokki (rice cakes) simmering in spicy gochujang sauce, sundae (blood sausage), kimbab (similar to a sushi roll), and more. Or, you may get suckered to try the bindaetteok (fried mung bean cake) – so oily yet so good! You can even eat sashimi, have fresh seafood, or eat Korean BBQ at one of the local restaurants.
All you have to do is find an open seating area at one of the food stalls and start ordering. Feel free to eat all night long and try different stalls. To walk off the food, go shopping for household items, groceries (such as kimchi), furniture, and more in the area.
How to get there: Jongno 5(o)-ga Station (Subway Line 1) and Exit 7 or 8. Walk for five minutes to the market.
---
Seoul Itinerary: Day 2 – Cultural Attractions & Popular Neighborhoods
Hopefully, you're not jetlagged as we're continuing with seeing the cultural attractions of Seoul and hitting up the popular neighborhoods.
1. Learn to Make Kimchi
Contributed by Amber from With Husband in Tow
For travelers who are curious to learn more about Korean food and culture, a unique thing to do is to learn how to make one of their national dishes, kimchi. Kimchi is a side dish for almost every meal in Korea. It's made of fermented cabbage and it's red, pungent, and spicy. Normally it takes 9 to 12 hours to make kimchi. A kimchi cooking class offers a sped-up version but still requires you to get your hands dirty. Get elbow deep in cabbage and spices.
The best way to learn how to make kimchi in Seoul is to book an at-home cooking class, which focuses not only on preparing kimchi but provides all sorts of information and Korean culture and traditions. Some of the activities include traditional Korean games or dressing up in a hanbok.
How to get there: Classes are held at the instructor's house, so please contact the instructor for further information.
Register for kimchi cooking class which includes a market tour. Kimchi classes only available on Thursdays.
2. See Panoramic Views of the City from the N Seoul Tower
Contributed by Claire from Curious Claire
One thing that shouldn't be missed is a visit to N Seoul Tower (also known as Namsan Tower). At 236 meters (774 feet) high, the tower is the second-highest point in Seoul so a great place to get stunning views of the city.
The Tower is a wonderful place to check out since there is a lot more going on than just heading up for views. Split up into three main sections, The Lobby, The Plaza and The Tower, visitors get the chance to check out the locks of love, a photo studio, the Alive Museum, a rooftop bar, the wishing pond, a light garden, plus much more.
Tip: If you visit before sunset you can enjoy the beautiful day and sunset views before seeing the city lit up at night. Plus if you head up in the evening for sunset, enjoy dinner in the revolving restaurant.
How to get there: Take either the bus, cable car, Seoul City Tour bus, or car. You can also walk to the summit from the Myeongdong Station (Subway Line 1) and Exit 2, 3, and 4 and walk straight up along the walking path. You'll pass the cable car station. Check out more information here.
3. Learn about the Seodaemun Prison Hall
Contributed from Marie from Be Marie Korea
The Seodaemun Prison Hall is located outside the historic city center and was built at the start of the Japanese occupation in 1910. It was used by the Japanese to lock up, torture, and execute Korean freedom fighters. Now the prison is turned into a museum to remember the death of the independence fighters. The grounds itself are quite big for being located in the city and contain the main men's prison with 3 different cell rows, a tiny women's prison, the execution chamber, a factory, a prison for the sick, the kitchens, sports facilities, and an exhibition hall. The exhibition halls cover everything from the history of the prison, torture equipment to a room dedicated to all the historic figures that died in this prison-like Yu Gwan-Sun.
The prison is open Tuesday to Sunday from 9:30 to 18:00. The entrance fee is 3000 KRW for adults. If you would like to take a free docent tour in English, please contact the museum one week in advance. Check out more on exploring the prison in this Seoul 4 days itinerary.
How to get there: Dongnimmun Station (Subway Line 3) and Exit 5
4. Look for Street Art at Ihwa Mural Village in Ihwa-dong
If finding street art is your thing, then visit Ihwa Mural Village in the Ihwa-dong area. This former slum residential area is now a must-see destination for colorful murals and staircases, street art, and sculptures. We loved seeing the bunny and fish artwork on a random corner of a building. The area is up on top of a hill so some stair climbing is required. As a reminder, residents live in the area so don't disturb or make too much noise as you walk around.
While you're in the village area, walk through the Naksan Park to see a portion of the Seoul City Wall. The city wall is impressive as it's made out of stone. You'll see panoramic views of the city when you're walking along the wall. For the active visitors, consider walking along the trail from Dongdaemun to Naksan Park (or vice versa).
How to get there: Hyehwa Station (Subway Line 4) and Exit 2. Follow the signs and walk for 10 to 15 minutes. (To get a head start of the street art, notice the colorful poop sculptures as you exit the subway.)
5. Head to Dongdaemun Area & Shop Until the Late Evening
One of the iconic landmarks in the Dongdaemun area is the Dongdaemun Design Plaza (DDP) is across Heunginjimun Gate in a busy intersection. from the is a cool place to hang out and see. The architecture looks like a giant spaceship with thousands of aluminum panels. If you're interested in learning about the architecture, the DDP offers daily tours. The area has museums, shopping, and a park. You'll also see pianos in the area that welcomes everyone to showcase their musical talents.
After the DDP, head across the street to the various shopping malls (ie: Hyundai City Outlets and Doota) for fashion and accessories. Some of the shopping malls are open late (ie: past midnight). 
Another unique experience is shopping at the wholesale markets (ie: Pyeonghwa). The wholesale markets are interesting as each vendor specializes in one clothing item or accessories, such as hats, socks, pajamas, and more.
How to get there: Dongdaemun History & Cultural Park Station (Subway Line 2, 4, or 5), or Dongdaemun (Subway Line 1) and Exit 6. Walk for a few blocks towards the DDP.
6. Check out Namsangol Hanok Village in Jung-gu
If you're looking to see another Hanok Village consider Namsangol Hanok Village in the Jung-gu area. Unfortunately, no one lives in the village as the restored traditional houses are used for cultural experiences and activities. The village has free admission and you can browse around the area. A local park and a lake also connect to the village area where a time capsule was buried in 1994 and will be opened in 2394.
In our opinion, it's a bit of a letdown and you're better off going to Bukchon Hanok Village as there is more to see. There is one store in front of the main entrance where you can rent a hanbok.
How to get there: Chungmuro Station (Subway Line 3 or 4) and Exit 3 or 4. Walk 5 minutes to the main entrance of the village.
7. Continue shopping at Myeongdong Area
Myeongdong Street is a buzzing shopping destination. From cosmetics, face masks, to beauty products and clothing, you can spend hours walking down the street to fill your luggage. There are also plenty of delicious food options and creative street food (during the evenings) to satisfy your hunger. We highly recommend Sulbing Korean Dessert Cafe for the best snow-ice dessert!  Also check out the Myeongdong Cathedral and the flagship Lotte and/or Shinsegae Department stores while you're in the area.
How to get there: Myeongdong Station (Subway Line 4) and Exit 5 or 6.
8. Explore and Eat at Namdaemun Market
Located nearby the restored Sungnyemun Gate, Namdaemun Market is the place to shop and eat more food! (We think you've been eating all day.) It's one of the largest outdoor markets and has a more "local household" type shopping vibe. However, you can find clothes priced at 3000 KRW (all the ladies went crazy for this sale), sunglasses, and more.
Check out the different alleys that focuses on various good eats such as Eatery Alley (Mokja Golmok) for various Korean foods, the Noodle Alley that sells kalguksu, hand cut noodles, or other street food. We were almost whisked away by a Korean woman who wanted to bring us to her seating area for noodles. Since we weren't hungry we declined graciously.
How to get there: Hoehyeon Station (Subway Line 4) and Exit 5. You'll walk a few minutes to reach the market.
9. Hang out Hongdae for the College Area Vibe
Hongdae is a popular area around Hongik University. You'll see lots of university students either shopping, relaxing at the cafes, eating, or showcasing their talent along the main walking street. Future dancers and singers may be discovered by agents here.
One of the interesting things to do here is the Trick Eye Museum where you can pose with 3D artwork. The idea is similar to Artinus 3D Art Museum in Ho Chi Minh City, Vietnam. It's a fun experience and best to have a group of people to help with photo taking.
We also stopped by the Mural Street as it was highlighted on a map but it wasn't anything interesting. Most of the murals were faded, so we wouldn't recommend it.
How to get there: Hongik University Station (Subway Line 2), and Exit 9. Walk for a few minutes.
---
Seoul Itinerary: Day 3 – Day Trip from Seoul to DMZ
Korea has a rich history and you can't leave the country without going to the DMZ (Demilitarized Zone). We're sharing with you two ways to visit the DMZ from Seoul – 1) DMZ train ride, or 2) taking a DMZ day tour. The rest of the afternoon can be spent resting and/or going to places that you missed during the first two days of the itinerary.
1. Take the DMZ Train Ride
Contributed by John from Roaming Around the World
Taking the DMZ train to the North Korea border is one of the most interesting activities to do. While many visitors opt for one of the bus tours to the notorious border between Koreas, it's also possible to take a train there.
The special DMZ train departs from Seoul for an hour and a half ride to the North, which culminates in entering the Demilitarized Zone. The final stop is Dorasan Station, built as an immigration point to connect the two Koreas. Currently, the daily DMZ train is the only train that stops here. Yet the station appears ready to board passengers on the next train to Pyongyang.
At Dorasan Station, DMZ train passengers can further explore the DMZ by busing around to famed sights like the Third Tunnel of Aggression, the Dorasan Peace Park, and even a viewpoint to peer into North Korea. It all makes for a most intriguing day of exploration from Seoul.
How to get there: The DMZ train departs promptly from Seoul Station from Wednesday-Sunday at 10:08 am and costs 17,800 KRW round trip.
2. Or, Spend a Half Day on the DMZ Tour
We originally signed up for this DMZ & JSA Full Day Tour but it was canceled due to discussions between North and South Korea. It was a shame since we looked forward to standing in the JSA (Joint Security Area)'s conference room and to be *that* close to the North Korea border. Hopefully, it gets offered again the future or after the resolution between North and South Korea. Regardless, Cosmojin Travel Agency rescheduled us to take a DMZ Half Day Tour.
The day tour is still worth the time to learn about the political history of North and South Korea. With over 30 people on the bus and an enthusiastic tour guide, the tour consisted of the following locations:
Imjingak Theme Park –

It's a quick stop to see the Bridge of Freedom and the destroyed train during the war from the Gyeongui Train Line.

Third Tunnels

– Grab a hard hat and walk down the tunnel that the North Koreans soldiers dug to infiltrate South Korea. If you're claustrophobic, it's best to skip this attraction due to the low ceiling. The route is steep coming back up to the entrance so take your time with walking. Bags and cell phones must be placed in the lockers prior to walking.
Dora Observatory Deck

 – On a good day, see a panoramic view of North Korea. The theater has a short video on specific North and South Korea landmarks from the Observatory Deck.

Norasan Station

– In addition to what was stated above, you can buy a special Norasan Station ticket as a souvenir. If you like to send postcards, there is a Norasan Station rubber stamp in the same area where you can purchase the souvenir ticket. A sign on the counter says that you cannot stamp the passport.

Ginseng and amethyst jewelry store

– It's the obligatory souvenir shops that you have to stop by during a tour. Supposedly the South Korean ginseng is better than the other Asian countries.
How to get there: Depending on your tour operator, there will be different meeting points. Check with your tour operator for further instructions.
---
Seoul Itinerary Day 4 – Day Trip from Seoul
On your fourth day, we're headed for another day trip excursion from Seoul. There are many options to choose from as your day trip from exploring nature or visiting nearby cities. Pick one of the places that you would like to see the most.
1. Go Hiking at Bukhansan National Park
Contributed by Sylvia from Wapiti Travel
Bukhansan is a vast National Park that borders the capital in the North. The park is an ideal day trip on a sunny day. The uphill hikes in the rugged mountains of the park can be quite strenuous but once you reach the top the view will ensure that you quickly forget your aching muscles. You're awarded impressive panoramic views on the towering granite peaks and the skyline of Seoul. There are plenty of hikes to choose from, some more demanding than others. The National Park's website has a good overview. Entrance is to the National Park is free and a small fee if you want an English map from the Visitor's Center.
Click here to read more about hiking Bukhansan National Park.
How to get there: Dobongson Station (Line 1 or 7) and walk 10-minute walk from the Weondobong entrance. If you arrive by car, park at the Jeongneung Visitor Center. There is a fee for the parking lot.
2. Tour the Toilet Museum in Suwon
Contributed by Rachel from Rachel's Ruminations
Here is a decidedly quirky sight to see – visit the Toilet Culture Museum in Suwon, a suburb south of Seoul. Known locally as Mr. Toilet House, it was founded by Sim Jae-duck, known as Mr. Toilet. This man was so obsessed with toilets and their importance to people's lives that he designed his house to look like one.
Inside, and particularly outside in the garden, visitors can learn about a variety of different toilets through the ages and around the world. Examples dot the garden, many with life-sized statues poised to demonstrate how they are used, often in graphic detail. It's, frankly, hilarious. If you're traveling with kids, they'll love it.
How to get there: Suwon Station (Subway line 1). Ask at the Visitor Information Center for the tourist bus to the museum, or take a taxi.
3. Visit Incheon's Chinatown
Want to see South Korea's official Chinatown? Spend the day in Incheon, Seoul's neighboring city. Walk through the Chinatown area, hike through Jaya Park, and try the jjajangmyeon, a Korean-Chinese noodle dish with black bean sauce. See the whimsical street art of princesses and fairy tale stories and sculptures at Songwol-dong Fairy Tale Village. From Chinatown, take a short bus ride to go to Wolmido Island for thrill rides or a nice walk around the Wolmi Traditional Park.
How to get there: Incheon Station (Subway Line 1)
4. Explore the Peaceful Gapyeong Area
Gapyeong is a quiet and beautiful area surrounded by luscious mountains and a spectacular getaway from the main city. The top attractions in this area are Gapyeong Rail Park, Nami Island, Petite France, and Garden of Morning Calm. You can do all of these in a day, but will require some planning if you travel by yourself (versus a tour).
The Rail Park is an opportunity to pedal a rail cart and pass through the countryside. If you love Korean dramas, then head to Nami Island. It's a romantic place to walk through and you may recognize some of the filming locations. The next stop is Petite France, a French-inspired cultural village/theme park with the Le Petite Prince theme. End your day with walking through one of the most beautiful gardens, Garden of Morning Calm. You'll return to Seoul after a long day.
How to get there: There are several ways to get here by subway and to the Gapyeong Station. Click on the link above to see the various ways to get to Gapyeong. Otherwise, schedule a tour which departs from Seoul.
5. Roam through the Yongma Land Abandoned Park
If you're doing the DIY approach to visit Gapyeong, you may be interested in seeing an abandoned theme park at Yongma Land. Despite the official closing of the park, it's open to the public to visit. With a small fee of about 5000 KRW, it's an opportunity to take unique photos with the amusement park rides and the area. It's not as eerie and dilapidated as you may think.
How to get there: Mangu Station (Subway Line Gyeongui Jungang) and Exit 1. Either walk or take a taxi to the park.
---
Seoul Itinerary: Day 5 – Free Day
It's your fifth and final day in Seoul! This day is open for you to do whatever you want. You may have missed some of the must-see places from the other days or want to do last minute shopping before heading home. If you have extra time, check out these unique and fun places to visit in Seoul.pi
1. Shop at Gangnam District
Contributed by Liza from Tripsget
One of the great things to do is shopping in the district of Gangnam, as it's one of the best areas in Seoul. You've probably heard of this name as it was featured in the famous song by PSY, Gangnam Style, the biggest hit of 2012. 

Gangnam is a visit-worthy location. The first place to go is Sinsa Boulevard, where you can find a wide variety of unique street-style shops, fancy boutiques, and even cosmetic shops (although if you're looking to buy cosmetics only, it's better to head to Myeongdong). There are also interesting places such as The Alley, a tea shop serving brown sugar tea with tapioca, similar to the bubble tea, but a bit more special.
How to get there: Sinsa Station (Subway Line 3). Walk for about 3-4 minutes.
2. Visit the Mullae Art Village in Yeongdeungpo
Contributed from Marie from Be Marie Korea
Located in Yeongdeungpo, the Mullae Art Village used to be an area filled with steel foundries and workshops. In the past years, the government invested money in the area and invited different artists to create artwork, mural paintings, and sculptures to revive the area. Now Mullae is a combination of hipster cafes, restaurants, boutiques, and metal factories. This village was also one of the film sets of the movie Avengers 2, which really helped boost tourism.
The best restaurant to eat at is Yankees Burgers in Mullae. The best burger on the short menu is the Mullae Burger 2, for a reasonable price of 7 dollars. Other dishes on the menu are pizzas, pasta, and wings. The interior has a very industrial feel to it as every wall is covered with graffiti and old posters. As this restaurant became instantly famous, it opened a second branch in central Seoul, but this one is not as good as the original burger shop. Check out in this Seoul 7 days itinerary.
How to get there: Mullae Station (Subway Line 2), and Exit 1 or 7. Walk for five minutes.
3. Eat Fresh Seafood at Noryangjin Fish Market
If you're craving fresh seafood and at cheaper prices, you have to visit this market. When we visited Seoul back in 2013, the Noryangjin Fish Market was dark and damp. After its renovation, we're pleased to see the high ceilings and how bright and inviting this place is.
When you walk in, it may be overwhelming to see the amount of fish tanks and seafood options – live crab, lobster, shrimps, snow crab, octopus, clams, sea urchin, and more. Some stalls offer sashimi too.
What is amazing about this place is that you can browse the various levels to see what you're interested in, choose and purchase your seafood, and have it cooked at one of the restaurants. You'll need to pay for a cooking fee at the restaurant.
Korea is known for raw octopus, so definitely try it. The restaurant will cut the octopus to smaller pieces and add sesame oil. Yes, the octopus will wiggle in the bowl. Pick up a piece with your chopsticks and chew it quickly, or the tentacles may stick to your mouth.
How to get there: Noryangjin Station (Subway Line 1) and Exit 1. Walk for a few minutes until you cross over the bridge to reach the market.
---
It's time to return home after your fun-filled activities in Seoul. We hope you enjoyed this travel plan and have fabulous memories from Korea during your five days here.
Many thanks to the travel blogging friends who also helped with this post. Don't forget to browse through their sites and subscribe to their social media channels!
Which places are you the most excited to see in Seoul? If you've been to Seoul before, which places did we miss? Share a comment below!
Save this post in your Asia or South Korea Pinterest boards!
Pin #2 photo credit (top to bottom): fenlio via Depositphotos.com and Gabriela Bernal via Scopio Photos
Pin #1 & #3 photo credit by fenlio via Depositphotos.com