If you need time to decompress from Seoul, South Korea, consider a trip to Jeonju. It's a small, relaxed city (also known as the "Slow City") and isn't too crowded with tourists, especially on the weekdays. Jeonju is famous for the traditional hanok village. It's also a fantastic place to visit because of the good eats. After all, the city is the birthplace of bibimbap and was named a UNESCO Creative City of Gastronomy in 2012. 
What should you do in Jeonju? Here are our recommendations on the top 8 things to do in Jeonju, South Korea.
We spent three days here and had plenty of things keep us occupied. If you have one day extra, consider this tour that departs from Seoul.
If you have additional time to explore South Korea, add these places that we loved to your South Korea itinerary: Day Trip to Gapyeong & Incheon Day Trip
In this Jeonju post, you'll learn about the following. Click on the links to jump to a certain section.
*Disclosure: We have affiliate links in this post. If you click on them and make a purchase, we receive a small commission. There is no extra cost to you. Appreciate the support.
---
Recommended Things to Do in Jeonju
1. Jeonju Hanok Village
Jeonju Hanok Village is a must-visit for all visitors. It's a 15-20 minute taxi ride from the Jeonju train station. The village is picturesque and charming area over 800 traditional houses with the slate colored rooftops. You'll love walking on the cobblestone roads and navigating through the various alleyways of the village for a few hours. The top activities are shopping, eating, and visiting several of the cultural museums. If you visit on the weekends, it can get crowded so come early!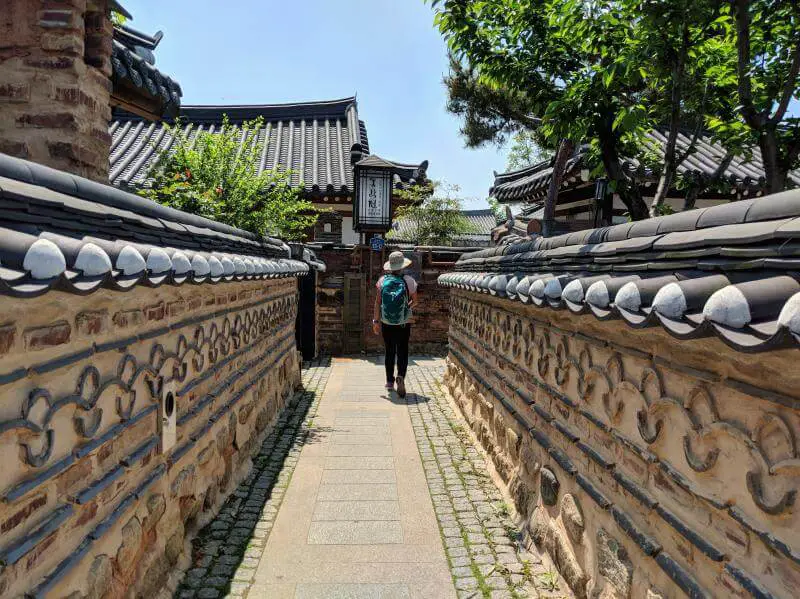 Interested in wearing a hanbok, a traditional Korean outfit? Feel free to browse around and choose a shop that has hanbok designs and colors to your liking. There are lots of shops to rent the colorful hanbok outfit. Many couples dress up with matching hanbok colors and styles and take couples photos throughout the village.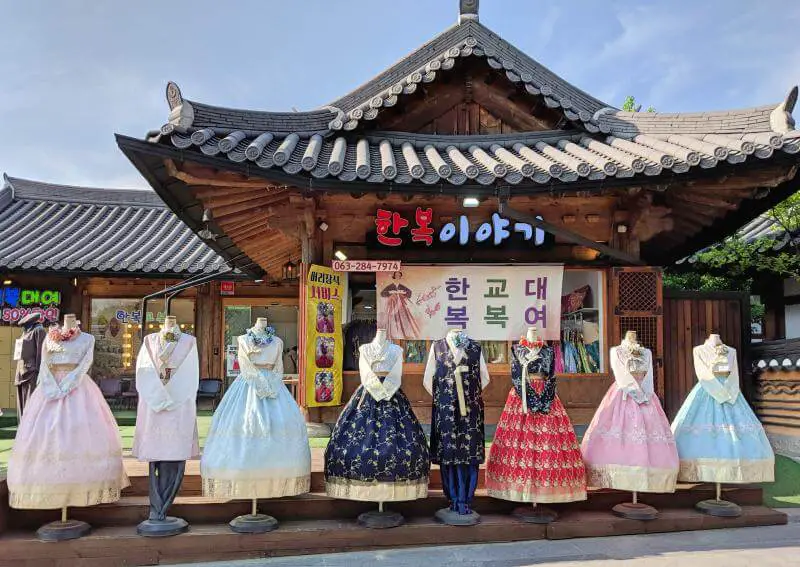 If you're staying overnight, consider a hanok guesthouse in the village. It was one of the best experiences that we had! Although our guesthouse, Somangchae Guesthouse, was a 2 minute walk outside of the Jeonju Hanok Village, we had an awesome time. Owners were nice. The heated floors were a nice touch for the cold evenings. Sleeping on the ground wasn't too bad with our comfortable futon mattress, but can be challenging for side sleepers. The room does not come with breakfast.
>> Find guesthouses and accommodations in Jeonju here.
Must See in Jeonju Hanok Village
Omokdae –

If you want a panoramic view of the Hanok Village, visit the

Omokdae pavilion.

It's a short walk up the hill. There is a wooden walkway on the perimeter of the hill where you can see the rooftops of the Hanok Village. No hiking boots needed for the walk up. The area is great for the sunrise or sunset to take photos.

Jeonju Hyanggyo Confucian School

– The school grounds are serene with the huge gingko trees. The gingko trees must be hundreds of years old!

Jeondong Catholic Church

– You can't miss this iconic Catholic Church on the edge of the village.

Gyeonggijeon Shrine

– If you get the chance to see the changing of the guards on Saturdays at 2pm, it's quite a sight. The guards leave the Sori Arts Center and walk along Hanjigil and Taejo-ro Street to the Gyeonggijeon Shrine.

Cultural museums

– Visit the Kimchi Cultural Center and Traditional Wine Museum which are interesting to browse through and learn more about Korean traditions. There is signage in the museums but only in Korean.  
Must Try Foods in Jeonju Hanok Village
You won't leave this area hungry! Street food is everywhere, especially on the Taejo-ro road. You'll notice many foods on skewers which makes it fun and easier to eat. The famous street foods include grilled octopus skewers, fried potato tornado rings, grilled cheese block, grilled chicken, dumplings, and more. Here are some recommended places:
If you want large dumplings as a snack, go to

Da Urang (Dawoorang)

. Line may be long but it goes by quickly. Dumplings are 2,500 KRW ($2.20 USD)
     Address: 120, Gyeonggijeon-Gil, Jeonju, Jeollabuk-do
Bulgogi stuffed in a baguette at

Gilgeoriya

for 4,000 KRW ($3.60 USD). This is "fast food" as you'll get a prepared baguette in a takeaway bag after payment.
              Address: 267-2 Gyo-dong, Wansan-gu, Jeonju, Jeollabuk-do
---
2. Jaman Mural Village
Across from Omokdae is the Jaman Mural Village. If you love street art, then this is the place for you. The residential area is colorful with street art of anime characters, such as Totoro, and iconic Hollywood figures. Browse through the area and visit several cafes along the way. You may need the break at the cafes after going up and down the hilly area.
Address: 1-10, Jamandong 1-gil, Wansan-gu, Jeonju-si, Jeollabuk-do
---
3. PNB Chocopies
PNB Bakery started in 1951 and has the best chocopies we've eaten. What are chocopies, you might ask. They're two fresh baked cookies sandwiching a flavored whipped cream, dipped in dark chocolate. So decadent from the first to last bite. Chocopies were one of our favorite things to eat for breakfast and dessert. We know… it's not the healthiest breakfast. Our favorite flavor is matcha. Other flavors include chocolate, strawberry, and more. Small chocopies are 1,500 KRW ($1.30 USD) and the larger ones are 2,300 KRW ($2 USD)
If you visit the larger PNB shops (outside of the Hanok Village), the other baked goods are also delicious! It's easy to find PNB in Jeonju, while there's just one store in Seoul. Many visitors stock up while they're in town. Look out for the orange and brown shopping bags.
Address:  40-5 Gyeongwondong 1(il)-ga, Wansan-gu, Jeonju, Jeollabuk-do, South Korea (This one is a large PNB Bakery with a variety of baked goods and has a cafe on the second level. Also available in the Hanok Village); Selection at different locations vary.
---
4. Bibimbap
Jeonju is famous for bibimbap as it's the birthplace of this dish. Bibimbap is a delicious dish with the beef, rice, and over 10 different types of seasonal vegetables that you mix together. A beef tartare (raw beef) is also very popular in Jeonju. You can get bibimbap in a normal or a sizzling hot stone bowl (dolsot bibimbap). We're fans of the hot stone bowl which produces crispy rice. What's different about Jeonju bibimbap versus others that we've eaten is that it doesn't come with egg and isn't overly spicy with the gochujang chili sauce. Recommended places are:
Hankook Jib (Hanguk Jip)

–

This popular place is known for their bibimbap – Jeonju bibimbap with raw meat and dolsot bibimbap. It's located on the outskirts of the Hanok Village. Come early to put your name down for a table. The bibimbaps are delicious and have a clean flavors with the fresh vegetables. All tables receive 6 amazing banchans, bean sprout soup, and kimchi soup. Price for bibimbap is 12,000 KRW ($10.70 USD).
      Address: 119, Eojin-gil, Wansan-gu, Jeonju-si, Jeollabuk-do
Gajok Hoegwan

– This restaurant is a 15 minute walk from the Hanok Village and close to the Pedestrian Walking Area/shopping. You have a choice of just two items on the menu – Jeonju bibimbap with raw beef or a regular version with cooked beef. The highlight is having 12 different banchan included with your meal.  Price for bibimbap is 13,500 KRW ($12 USD).
      Address: 17, Jeollagamyeong 5-gil, Wansan-gu, Jeonju-si, Jeollabuk-do; On the second level
---
5. Nambu Market and Pungnammum Gate
Nambu Market is one of the oldest traditional markets. There are lots of stores that sell produce, furniture, and other household goods. The south side of Nambu Market has most of the produce and fish for sale and some vendors selling produce along the sidewalk.
Must Try Foods in Nambu Market
Hungry? The market has traditional Korean restaurants tucked in the alleyways.
Hyundaiok Nambusijang –

 Known for their bean sprouts and rice soup. The restaurant has operated since 1979 and is a popular place! You have the choice of an original bean sprouts rice soup for 6,000 KRW ($5.30 USD) or with octopus for 10,000 KRW ($8.90 USD). The meal comes with a sizzling pot of soybeans in rice and a raw egg. To eat the egg, crack it into a small bowl, add soup, stir it up, and add crumbled seaweed. So good and great for hangovers!
      Address: 2-242, Jeon-dong 3-ga, Wansan-gu | Nambu Market 2-74, Jeonju, Jeollabuk-do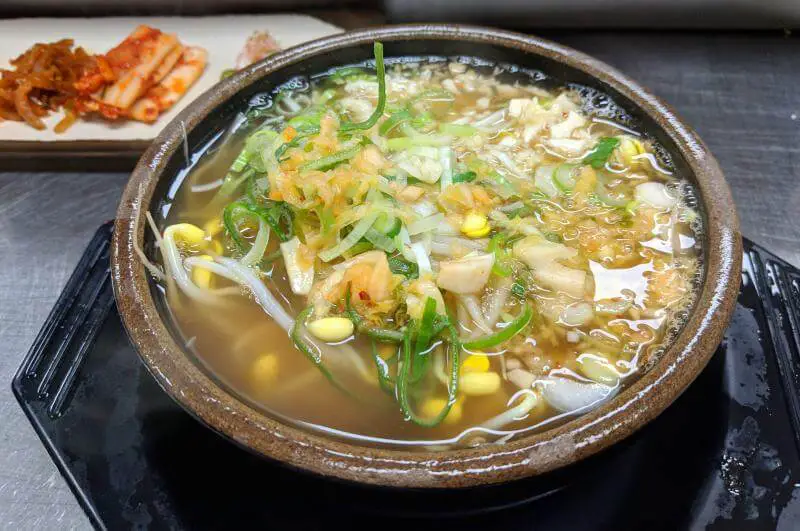 On Friday and Saturday nights from 5pm to midnight, the Nambu Market transforms to a bustling place with street foods and performances. The second level has the

Youth Mall

which has hipster type snacks and drinks and shops with handcraft artwork. It's a good hang out place and relax compared to the craziness of the ground level.
      Nambu Market Address: 63, Pungnammun 2-gil, Wansan-gu, Jeonju-si, Jeollabuk-do
Pungnammum Gate
Outside of the Nambu Market and across from the Hanok Village is the colorful Pungnammum Gate. The gate was built around 1768 and is the only gate still standing in the city. The lights illuminating on the gate is stunning in the evening.
Address: 1, Pungnammun 3-gil, Wansan-gu, Jeonju-si, Jeollabuk-do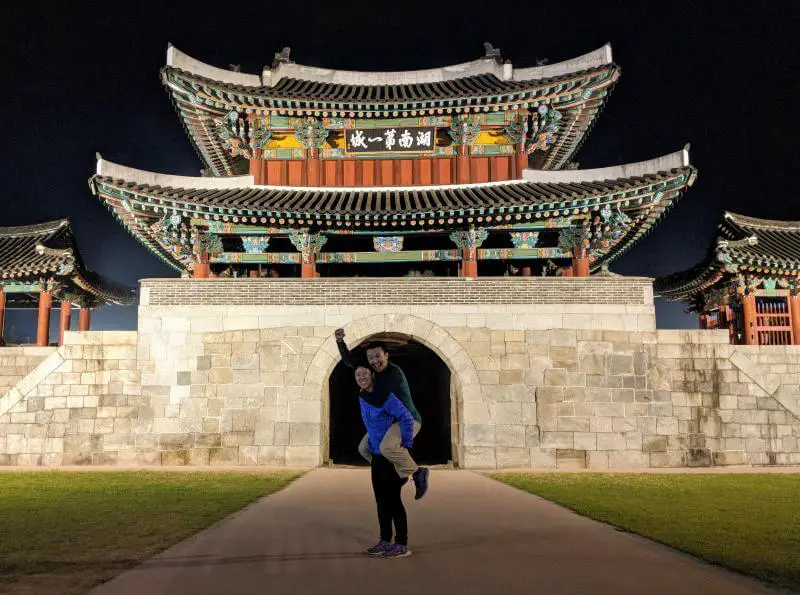 ---
6. Wansan Park
Wansan Park is a quick stop after a visit from Nambu Market. This place is a must visit during the cherry blossom season. It's an amazing view with the bursting of pink and red flowers everywhere. You'll see locals taking a walk along the park and also picnicking throughout the area. There are some hills in the park, and hiking shoes are not needed for the walk.
To get to the park, head south from Nambu Market, cross the overpass, and continue to go straight up on Maegok-ro Street which will lead you to a walking path.
Address: Seoseohak-dong, Wansan-gu, Jeonju, Jeollabuk-do
---
7. Deokjin Park
Deokjin Park is a nice getaway from the Hanok Village. It's a large park with a water fountain that plays music (similar to what is done at the Bellagio water fountain). In the middle of the park, you can walk along a suspension bridge and check out the lake with the blooming lotus plants. Unfortunately, the lotus dried up during our visit in April so the pond wasn't as pretty as expected. Towards the back of the park, there is a man-made Byeokjin waterfall and the Yeonjljeong resting area. Both of these places are relaxing to escape the crowds in the park.
Address: 390 Gwon samdeuk-ro, Deokjindong 1(il)-ga, Deokjin-gu, Jeonju, Jeollabuk-do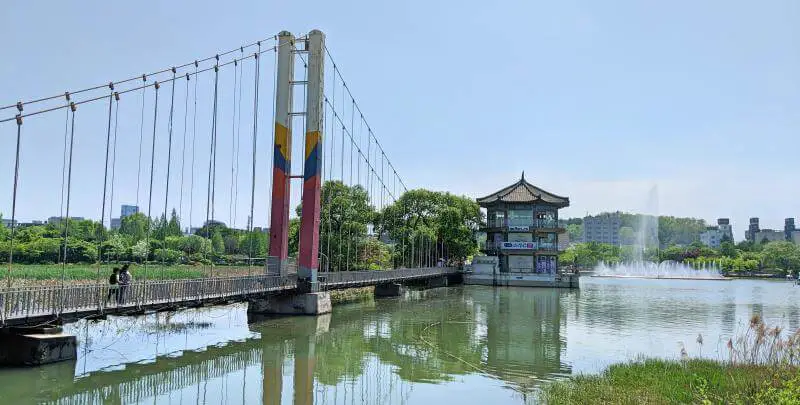 ---
8. Visit the Off-beaten Paths and Explore South of Jeonju
If you have extra time and want to explore the local parts of Jeonju, consider a trip south from the Jeonju Hanok Village to the southern part of Jeonju. It was a long walk (about 45 minutes). It was awesome to get away from the crowds and see the local life as there were no other tourists around.
Here are stops along Dongseohak-dong Road:
Namgo Sanseong Fortress and Namgosa Temple

– Follow the signs that head to Namgosa Temple to reach the

Namgo Sanseong Fortress

. If you're walking, beware that this hill is STEEP. It was challenging to go up this hill without some form of motorized transportation. Once you reach the top, you'll be awarded with colorful lanterns and a resting spot.
The fortress was used to defend against the Japanese army during the Hubaekje kingdom era; used as military barracks, storehouses, and armories. Currently, there isn't much of the fortress walls left, except for the Namgosa Temple.
The Namgosa Temple is a five minute walk from the fortress. It's a well-maintained temple. We were the only ones at the temple so you can easily browse through the area. There is a walking path along the forest area of the temples, but it isn't maintained.
 Address: 715 Dongseohak-dong, Wansan-gu, Jeonju, Jeollabuk-do, South Korea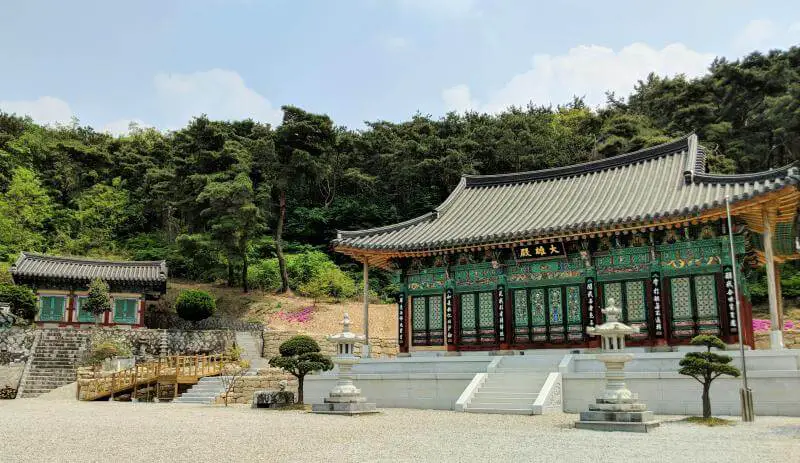 Chunggyeongsa Temple

– This temple is much easier to get to as it's on Dongseohak-dong Road. The temple has three tiers and is surrounded by beautiful trees. The area is not maintained due to the high grass growth yet has a serene presence. There isn't anyone in the area too. Bathrooms are available here. 
Apparently, the temple is a shrine for Yi Jeong-ran who helped raise over 700 volunteers to defend against the Japanese army in 1592. Yi was the mayor and volunteer force organizer when Japan invaded again in 1597. He helped with public morale during the time of war and passed away at 72 years old.
      Address: 152-13 Dongseohak-dong, Wansan-gu, Jeonju, Jeollabuk-do, South Korea
---
Transportation from Seoul to Jeonju
Taking the train from Seoul to Jeonju is the easiest way. You can depart either from Yongsan Station, Seoul Station, or other ITX lines depending on your location. 
Recommendation:
Download the free "Subway Korea" app which has live updates on the current timetables of the subway lines, approximate cost, and when you need to transfer. This will make navigating the subway lines so much easier! In the app, click on your starting and ending subway stations and the app provides various routes and where to transfer. Learn more on
Apple iOS
or
Google Play Store
.
From Yongsan, there are different trains to go to Jeonju: KTX (takes 1.5 hours), Nuriro (3.5 hours), ITX-Saemaul (3 hours), or Mugunghwa (3.5 hours).
Recommendation:
Book the ticket in advance online via
Korail website
. Pricing for first class, economy, and non-reserved seating is available on the website. Seats are available one month before train departure. You'll need a passport number when purchasing tickets. Save a copy of the ticket on your phone or print the confirmation.
Don't make the same mistake we did.
Since we came from Incheon, Yongsan Station was closer. There were plenty of seats available when we checked the online booking before our arrival to Seoul. However, when we arrived and decided to buy tickets on the day of departure, the reserved seats sold out. Purchase the tickets in advance!
The only option we had was the slower train and standing room/non-reserved train on the Mugunghwa line. Luckily, we boarded the standing car early to grab the last two remaining seats. Otherwise, we would have needed to sit on the floor or stand for three hours. Reserved seat cars have cushioned seats while the standing cars do not.
Cost of the Mugunghwa Line from Yongsan Station to Jeonju:
Economy Adult 17,600 KRW ($15.80 USD) // Children 8,800 KRW ($7.90)

Standing/Non-Reserved Adult 15,000 KRW ($13.50) // Children 7,500 KRW ($6.70)
Cost of the KTX Line from Yongsan Station to Jeonju:
First Class Adult 48,200 KRW ($42.80 USD) // Children 31,000 KRW ($27.50)

Standing/Non-Reserved Adult 29,200 KRW ($26) // Children 14,600 KRW ($13)
---
Transportation in Jeonju
If you're coming from Jeonju Station, take a taxi and go anywhere throughout the city. Taxis are priced reasonably and will run between 5,000 – 8,000 KRW ($4.50 – $7.20 USD) around the city. It's the best transportation to take as there are taxis everywhere. Plus, taxis accept credit cards!
Another option is the local bus, but we found the lines confusing to figure out. If you have the T-Money card (a card that can be used on buses and subways in South Korea), you can use it on the local bus.
---
Jeonju is a great place to visit for the laid-back, small city atmosphere. There are plenty of things to do (and eat) in Jeonju. Definitely add this city to your list when visiting South Korea.
Have you been to Jeonju? If not, what would you like to do in Jeonju? Let us know in the comments below.
Pin the post to your South Korea Pinterest board and read later!​
Pin #2 photo credit: Gabriela Bernal via Scopio Photos