It's hard to not fall in love with Vietnam. From the amazing street foods and beautiful landscapes to the once-in-a-lifetime opportunity to live in Ho Chi Minh City, Vietnam will always have a special place in our hearts. 
Whenever we have a free weekend, we love exploring the various areas of Vietnam including the hidden gems and offbeat places. Since many of the smaller cities and Vietnam islands don't get as much recognition, we're excited to share with you our favorite off the beaten track destinations in Vietnam.
While this list isn't comprehensive, we're continuing to visit as many places as possible. So far we've explored Central Vietnam and South Vietnam locations and we'll head back to Northern Vietnam soon! (We went to North Vietnam on a family trip a few years ago but things do change.) We'll continue to add to this list of places that are deemed worthy to visit. 
Now, let's check out these 15 underrated and off the beaten track places in Vietnam. 
Map of the Offbeat Destinations in Vietnam
*Disclosure: Visiting Vietnam? Yes, we have affiliate links in this post. If you click on them and make a purchase, we receive a small commission. There is no additional cost to you. Thank you for your support.
---
1. Ly Son Island
Never heard of Ly Son Island (Đảo Lý Sơn in Vietnamese)? Neither did we until we did a weekend trip with friends after moving to Ho Chi Minh City, Vietnam.
Located off the South Central Coast, this remote island recently opened up to allow non-Vietnamese tourists to visit so it's still quiet with visitors. It takes a while to get to Ly Son Island as you need to take a speedboat from Sa Ky Port, but it's well worth the travel time to spend a few days here.
The island is famous for growing garlic and onions. Due to the rich soil from the volcanic rocks and white sand, the garlic and onions have a pleasant flavor compared to the conventionally grown versions. You'll get a whiff of the garlic and onion smells when you pass the fields. 
It's recommended to rent a motorbike and explore the small island. It'll take about 20 minutes to cross the island from the east to the west side. 
The top things to do in Ly Son include eating the delicious seafood cooked with the island-grown garlic and onions, swim in the blue waters of the neighboring Be Island (a 15-minute boat ride from Ly Son), visit pagodas, and hike up the Gieng Tien Mountain. 
Find accommodations in Ly Son Island by clicking here.
---
2. Quy Nhon
Nestled between Hoi An and Nha Trang of central Vietnam is the coastal beach town, Quy Nhon (Quy Nhơn or Qui Nhơn.) Considering that Quy Nhon is the capital of the Binh Dinh Province, it's an offbeat destination in Vietnam since we didn't see too many tourists in the area. The city still maintains an easy-going ambiance with its local lifestyle and charm. 
You'll need to rent a motorbike to explore the various attractions of Quy Nhon and the neighboring areas. From the awesome beach and snorkeling opportunities at Ky Co Beach area to exploring the Cham Towers from the ethnic Cham people, you can easily spend a few days here. (You'll recognize the architecture of the Cham Towers if you've been to My Son Sanctuary, a recognized UNESCO site in Vietnam). The afternoons are brutal with the humidity and heat so head to a couple of cafes to relax. 
If you are a runner, there is an International Marathon and also has 5k, 10k, half marathon, and marathon available in July.
Read our travel guide on the top things to do in Quy Nhon and other important information.
Click here to find accommodations in Quy Nhon.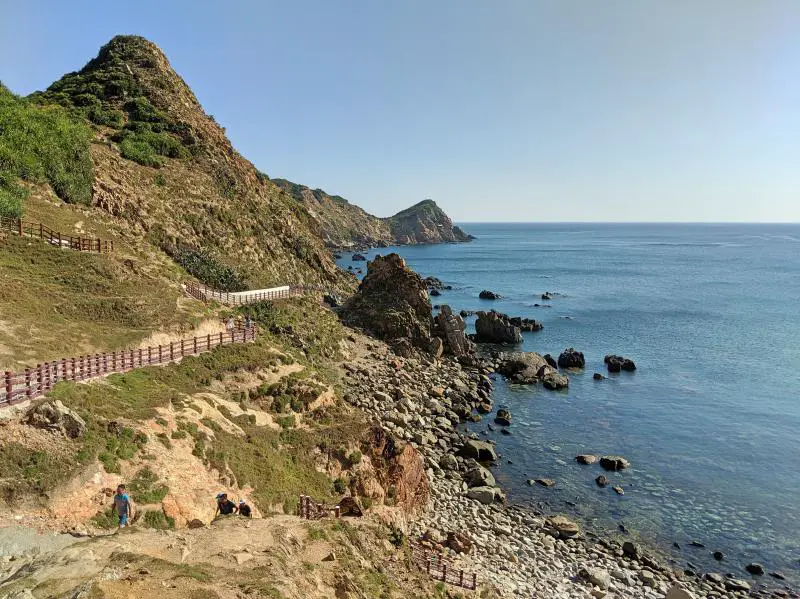 ---
3. Bao Loc
Most visitors bypass this hidden gem, Bao Loc (Bảo Lộc) when they're heading or leaving Dalat. We understand since Dalat has awesome outdoor activities such as stunning waterfalls to incredible hiking adventures. 
What Bao Loc has going for it is their stunning mountainside of coffee and tea plantations. The luscious greenery is gorgeous and a rare find in South Vietnam. Plus, you can buy local coffee and tea as souvenirs. 
While there isn't a whole lot to do in Bao Loc, you can spend a day or two exploring the nearby Dambri Tourist Area to see Dambri and Dasara waterfalls, Linh Quy Phap An Pagoda, a beautiful Buddhist pagoda, and hang out in the main city area to try the local foods.
Check out our post on what to do in Bao Loc and other travel tips. 
Find accommodations in Bao Loc by clicking here.
---
4. Bidoup Nui Ba National Park
Want to go hiking at an off-the-beaten-path spot in Vietnam? Head to Bidoup Nui Ba National Park (Vườn quốc gia Bidoup Núi Bà). It's located in the Lam Dong Province and nearby Dalat, yet it feels like you're worlds away from the city life. 
Hikers need to join a 2 day/1 night tour group to hike Bidoup Nui National Park since the trail isn't marked and all food and camping gear needs to be brought in by porters. 
This moderate-challenging hike goes through the forest area of the national park. The hiking route is steep at certain portions so take your time going up. It's quite an adventure as you'll need to monitor your shoes and socks as there are land leeches and they'll inch their way up the pants and legs. 
Don't forget to take a photo of the highest peak at 2,287 meters (7,503 feet)! (Although, there isn't an overlook as the marker is in the middle of the forest).  
Once you've reached the campground, enjoy the rest of the evening with a BBQ feast. 
---
5. Cat

Tien

National Park
Ho Chi Minh City doesn't have a lot of places to see nature, which is why we recommend a visit to Cat Tien National Park (Vườn Quốc Gia Cát Tiên). Located 150 kilometers (93 miles) from Ho Chi Minh City's District 1, it's one of the best places in Vietnam to visit to get your nature fix. Due to its offbeat location, you won't see the large crowds in this National Park. 
It's well worth the time to walk through the forest to see the large Tung trees and explore the Botanic Gardens. You can also take tours organized through the National Park such as taking a night safari to see deer, wild pigs, and other animals or go trekking before sunrise to see the gibbons.
If you prefer to meet with the locals, consider visiting the ethnic minority group of the Ma, Stieng, and Tay as a day trip. 
Find accommodations in Cat Tien National Park here.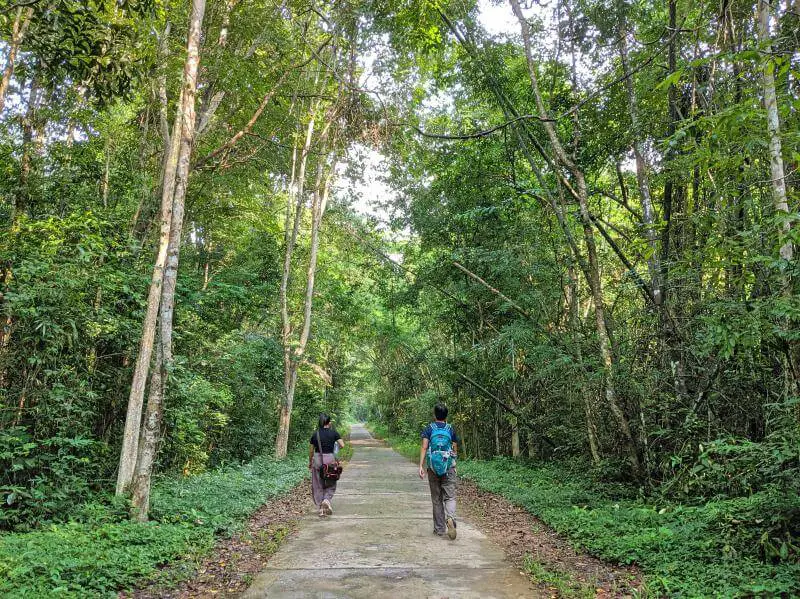 ---
6. Ma Da – Tri An
Ma Da (Mã Đà) is a destination that Vietnamese locals seem to know about. Located in Dong Nai Province, Ma Da is a fun getaway where you can visit in a day or spend overnight at a campsite. (The campsite has limited resources so you'll need to bring your own camping equipment and food.) 
Most people visit this area for outdoor activities. A popular activity is to kayak or stand up paddleboard in the gorgeous manmade Tri An Lake. Or, they can cycle, run, or walk through the quiet and luscious Ma Da Forest area. The forest area has a unique landscape due to the red clay dirt so it's recommended to not wear white shoes or clothing that will stain easily. We loved how this area had butterflies flying around. 
---
7. Mui Ne
Mui Ne (Mũi Né) is a small beach town of Phan Thiet in South Vietnam that is known for kitesurfing and its beautiful sand dunes. While some visitors prefer the attractions and nightlife in Nha Trang, Mui Ne is much quieter and has fewer visitors. Walking along the main road in the evenings seems like a ghost town with many restaurants open but not a lot of visitors. 
A popular trip in Mui Ne is to take a Jeep tour either to see the sunrise or sunset and visit the red and white sand dunes, walk along the Fairy Stream, and see the fishing village. We prefer the sunrise tour as you see the morning catch in the fishing village. If you have extra time, take a class or two to learn how to kitesurf or feel free to hang out at the beaches.
If you're a fan of eating seafood, Mui Ne's seafood doesn't disappoint. Check out Seafood Restaurant (Nhà Hàng Chợ Hải Sản) which has a huge variety of fresh seafood that can be cooked to your liking. 
While you're in the area, consider hiking Ta Cu Mountain and seeing the largest white reclining Buddha in Southeast Asia. Ta Cu is only a one-hour motorbike or car ride away from Mui Ne.
Read more about the top things to do in Mui Ne and helpful tips to get to Mui Ne. 
Click here to find accommodations in Mui Ne.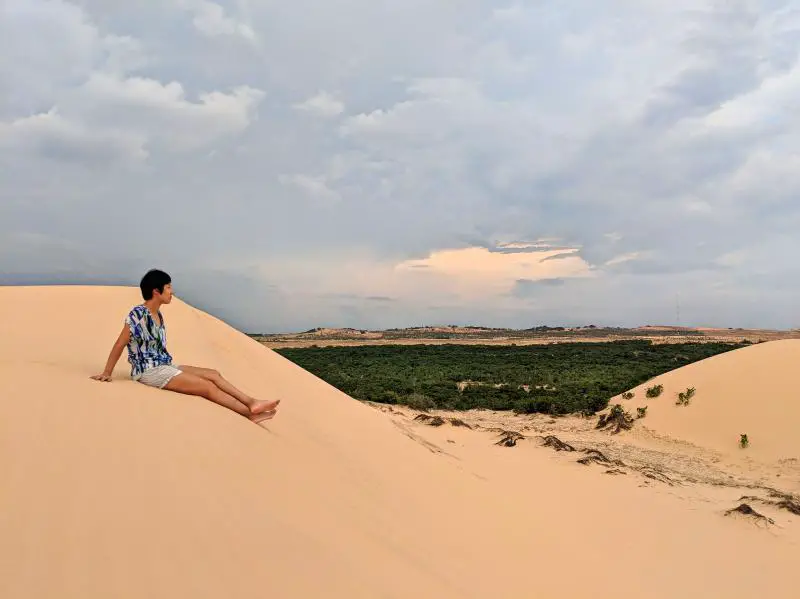 ---
8. Can Tho 
Most people tend to go to Ben Tre to go to the Mekong Delta as it's closer as a day trip from Ho Chi Minh City. Yet, we think of Can Tho (Cần Thơ) as a hidden gem to visit in Vietnam even as the fourth largest city in Vietnam. 
Many tourists visit the famous Cai Rang Floating Market in the morning which is an awesome thing to do in Can Tho. It's exciting to see boats filled with fruits and produce and to see transactions occur.
Other eco-tourism spots in Can Tho are underrated and not as heavily visited, such as the Con Son Ecotourism Area and My Khanh Tourist Village. The Con Son Ecotourism Area is a new tourist area where you see a fish farm, learn how to make Vietnamese snacks, and wander through the island to see how the locals live. My Khanh Tourist Village is on the outskirts of Can Tho and is a mini theme park with a part zoo and activities.  
If you're interested in visiting Can Tho, read our Can Tho guide on what to expect when visiting this place.
Find accommodations in Can Tho by clicking here.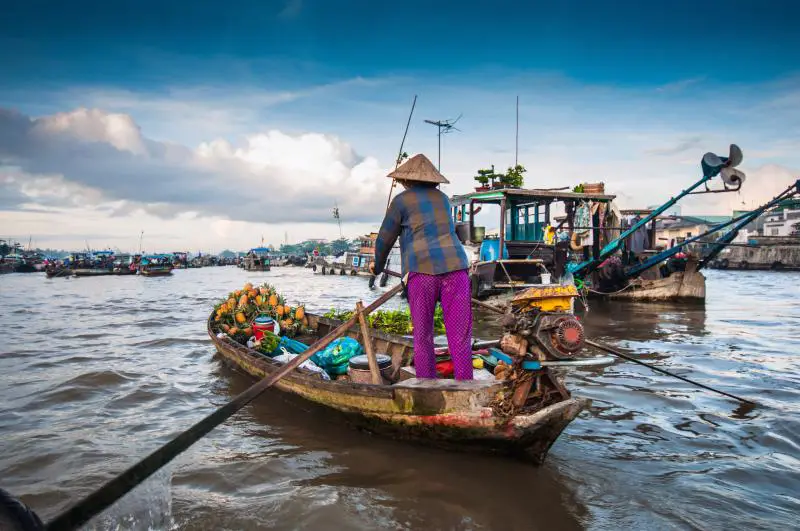 ---
9. Con Dao Islands
Located in southern Vietnam, Con Dao Islands (Côn Đảo) is one of those must-see and off-the-beaten-track places that you have to visit ASAP. Con Dao Islands is an archipelago of 16 islands with Con Son Island as the only habitable island.
It's currently underdeveloped with pristine beaches (Nhat Beach is highly recommended), super clean ocean water with corals that are still alive, and no traffic on the roads! You'll have no problem riding a motorbike or a bicycle here as you'll encounter very few tourists on the island. It doesn't feel like you're in Vietnam!
We foresee that this small island will increase with tourism very soon due to the improving transportation options of a one-hour flight from Ho Chi Minh City to Con Dao and a 4-hour speedboat ride from Vung Tau. 
The best part about Con Dao is to relax whether you go to the beaches or stay at your resort. You can also hike through the forest of the Con Dao National Park. For the history buffs, it's recommended to visit the various prisons on the island to learn about its dark past as a former prison for 113 years. 
Read our guide on the top things to do in Con Dao and other helpful travel tips on how to get to Con Dao.  
Check out accommodations for Con Dao Islands here.
---
10. Binh Phuoc
Binh Phuoc Province (Bình Phước) is one of the hidden gems of Vietnam. Located at the Vietnam-Cambodia border, this area is known for producing cashews so you'll see many cashew trees along the roadside and small productions of cashews drying outside on tarps.
As a heads up, you cannot eat the raw cashew that is attached to the cashew fruit due to the toxin, urushiol. Otherwise, you'll get painful itching, blisters, and rashes. 
There isn't much tourism infrastructure here so you'll see the rural side of Vietnam. 
The main highlight is hiking Ba Ra Mountain (White Virgin Mountain) at 736 meters (2,415 feet). It's the third highest peak in South Vietnam. Even then, it's hard to hike here as the main stairways leading to the summit aren't open to the public and need prior arrangements.
---
11. Tay Ninh 
Most visitors have heard of Cu Chi Tunnels in the countryside of Ho Chi Minh City, yet only an additional 1-hour ride north is the Tay Ninh Province. Tay Ninh (Tây Ninh) is not on a typical Vietnam travel itinerary unless you have extra days in Ho Chi Minh City and want to have a day trip in the countryside. 
The main highlight of this area is hiking Ba Den Mountain (Black Virgin Mountain) as it's the highest peak in South Vietnam at 986 meters (3,235 feet). The hike is very challenging and will be a leg burner so it's best to start early in the morning to avoid the intense humidity and heat. A cable car is available as an accessible way to travel to the peak and explore Sun World Ba Den tourist attraction.
Another local attraction is visiting the Cao Dai temple and seeing the daily prayer sessions. It's also an opportunity to learn about the Caodaism religion. 
Other cool places to check out include visiting Dau Tieng Lake, Go Ken Pagoda, and a Cham Tower (Tháp cổ Chót Mạt). 
Check out places to stay in Tay Ninh here. 
---
12. An Giang
An Giang Province is located along the Mekong Delta and next to the Vietnam-Cambodia border. Compared to the other Mekong Delta locations such as at Ben Tre, An Giang is not touristy and an off-the-beaten-path spot to visit in Vietnam. You won't see any foreign tourists here so the vibe and ambiance are quieter and peaceful. 
The two main cities are – Chau Doc and Long Xuyen. 
Chau Doc is where many of the local attractions are located so it's an ideal spot to spend a few days here. Rent a motorbike and wander through the green luscious area. Visit attractions such as Cam Mountain to see beautiful pagodas and a giant Buddha statue, Chau Doc floating market, Tra Su Cajuput Forest, and ethnic Cham people in the villages. 
Click here to find the perfect accommodation in Chau Doc or Long Xuyen City. 
---
13. Tan Lap Floating Village
Located in Long An, along the Mekong Delta, Tan Lap Floating Village (Làng Nổi Tân Lập) is a secret spot to explore in Vietnam. It's an ecotourism site that is gorgeous as a side trip from Ho Chi Minh City. Whether you visit on a weekday or weekend, you can have portions of the area to yourself since it's so quiet here! 
Spend the day wandering through the walking paths of the Melaleuca Forest, riding a sampan through the Melaleuca Forest, trying traditional Vietnamese games, crossing "monkey bridges" (a makeshift bridge made from tree branches or bamboo that sometimes have handrails), and enjoying nature. 
During the September time frame, pretty lotus blooms in the waters so it's a picturesque sight to experience. 
---
14. Phong Nha-Ke Bang National Park
Phong Nha is an underrated place to visit in Central Vietnam. While Hue and Danang are popular on a Vietnam trip, Phong Nha is the best place for adventurers who love to wander through caves in the Phong Nha Ke Bang National Park and experience outdoor activities. 
There are 500+ caves to explore here yet the popular and accessible ones to explore in a day are Paradise Cave, Phong Nha Cave, and Dark Cave. If you're riding a motorbike, you can stop by other attractions in the National Park loop such as the Botanical Garden. 
The bucket list caves include the Son Doong Cave as the largest cave in the world or Hang En Cave as the third largest cave in the world. You'll need 2-3+ days to visit these caves as they require hiking to the cave area and staying overnight in the caves. 
Read our recommended Phong Nha itinerary on what to do here. 
Find a place to stay in Phong Nha here. 
---
15. Bong Lai Valley
When visiting Phong Nha, one of the rural areas to explore is Bong Lai Valley. If you have an extra day in Phong Nha, ride a motorbike or bicycle through this area. Unfortunately, cars cannot pass through the narrow, dirt roads. 
You'll ride through beautiful rice fields and small towns. Several children may come up to you to wave hello. As a heads up, conquering steep hills will be challenging if you have a single-speed bicycle. 
When you're in the area, stop by the original Pub with Cold Beer (Watch out for the "fake" one along the paved road.) They have delicious vegetarian spring rolls where the veggies are picked from the garden. Other fun places to stop by include feeding ducks at the Duck Stop and swinging high in the air at Bong Lai Swing. 
It's a fun day trip from the main Phong Nha area in an untapped area of Vietnam.
---
Which of these hidden gems do you want to visit in Vietnam? Let us know in the comments.
Enjoy this post? Save it to your Vietnam Pinterest board.
Featured photo and pin top photo credit: thuhuyen via Depositphotos.com
Can Tho photo credit: filmlandscape via Depositphotos.com