Trekking Bidoup Nui Ba National Park (Vườn quốc gia Bidoup Núi Bà in Vietnamese) in the Lam Dong province of Dalat for two days?! Sign us up! Dalat has some of the best hiking trails in Vietnam due to the mountainous region. Plus, it's one of our favorite cities to visit in Vietnam. 
We're always up for a new hiking and trekking adventure in Vietnam. Since living in Ho Chi Minh City for 3+ years now, the nearest hikes are over 2 hours away from the city so it requires some planning to do a hike. (Chua Chan Mountain is a good hike close enough to Ho Chi Minh City.)
We had the opportunity to join this Bidoup Nui Ba National Park trek with our friends at Vietnam Track who organized our previous Can Tho and Mekong Delta trips. They partnered with Tổ Ong Adventure, a local trekking company in Ho Chi Minh, to organize the trek.
While we did this trek in November 2018, it's still one of the most memorable weekend trips that we've done in Vietnam. Our two days on Bidoup Nui Ba National Park were full of surprises and craziness due to the intense weather conditions. Without giving it away, Mother Nature wanted us to have a challenge on the Bidoup mountain. (Our experience is not typical, so your Bidoup experience will be much different from ours.)
Read more to find out what happened on our Bidoup trek and check out helpful tips on what to bring for this trek. 
*Disclaimer: This post contains affiliate links. As an Amazon Associate, we earn from qualifying purchases. If you click on them and make a purchase, we receive a small commission. There is no additional cost to you. Appreciate the support.
---
Overview of the Trekking Bidoup Nui Ba National Park
Bidoup National Park is one of the largest national parks in Vietnam. It's named after the two highest peaks along with the Liangbiang mountain range – Bidoup (2,287 meters / 7,503 feet) and Nui Ba (2,167 meters / 2,167 feet.)
This is a moderate-challenging trek as you're walking on the trail for two full days at 4-6 hours each day. There are some technical parts where the trail becomes a small ledge.  If you're physically active, then this hike is doable. Otherwise, prepare with walking longer distances as much as possible before the day of the event. 
Challenging level:

Moderate – Challenging (There were plenty of beginner hikers on the trail)

Distance:

28 kilometers (17.3 miles)

(We ended up going over 30 kilometers (19 miles) before our GPS watch ran out of battery on the second day.)
Summit height:

2,287 meters (7,503 feet)
Time to complete:

2 full days
Helpful tip:

Go slowly as the altitude change can be difficult.
---
How Much Does the Bidoup Trek Cost?
We paid 2,800,000 VND ($120 USD) per person. The cost included 3 guides for our group of 15 hikers (we were the only foreigners), 1 cook, 4 person tent, sleeping bags, 1.5-liter water bottle, camp set-up, meals (breakfast, lunch, and dinner) for Saturday and Sunday, bus transportation, a rain poncho, and travel insurance. 
We thought it was very reasonable since the trek was supported and we didn't need to bring our sleeping bags and cooking equipment.
After going through the trek, it's better to have a guide. We're not sure how you can do this hike on your own since the trail isn't marked. Plus, Bidoup as an off-the-beaten-path place so you can easily get lost. 
If you have dietary restrictions, the tour operator will accommodate as much as possible. As a pescatarian (a person who eats seafood but no meat), I asked for a vegetarian meal option and ended up eating a lot of hard-boiled eggs as the main protein for each meal. I felt like I was Gaston from Beauty and the Beast with eating dozens of eggs each day. If you are allergic or don't like eggs, then it's best to skip the trek. 
Don't forget to purchase travel insurance in case something happens during the trek! Although our payment included some travel insurance, you can always get extra coverage.
---
What to Bring to the Bidoup Trek
Since Tổ Ong Adventure handled everything, all you need is daily accessories and essential items in your daypack. 
Daypack – It's recommended to pack everything in your daypack for the two days. Although there is support, there aren't porters to carry everyone's stuff. We used our Osprey 30-liter backpacks and they fit everything that we needed. Here are our favorite men

and

women

versions.

Hat – It was an overcast day but it helped with shielding our eyes from the rain. Here is our favorite type of hat

.

Sunglasses – These are our favorite sunglasses to wear

.

Basic travel accessories such as toothbrush, toothpaste, and floss
Extra set of clothes
Extra snacks – You can purchase snacks in the main area of Dalat before starting the trek.
Small pillow – Pillow can be bulky so we used our jackets and extra clothes for the extra fluff.
Trekking poles (Optional) – One pole would be enough if you need extra help climbing up the mountain. Here are recommended trekking poles

to buy.

Cash to tip the guides
Gloves – If you have sensitive skin, you may want to bring a thin pair of gloves. The grass on the mountain was taller than us and touching them made my skin itchy. 
---
What to Wear on the Bidoup Trek
Technical t-shirt – You will get sweaty on your way up the mountain.
Hiking pants – Or anything comfortable for you to walk long distances.
Knee-high socks or leech socks – There are land leeches and they will crawl up your hiking boots and to your leg! I had mid-calf socks and they weren't long enough. Ended up with two land leeches biting me. Here are some leech socks to purchase

.

Hiking boots – This is the type of trek where you would need hiking boots as the train can be technical in some parts. We love these hiking boots – Men

and

Women

.

Rain poncho – It rained the majority of the day on Saturday. We received rain ponchos which came with a rain jacket and pants and these were so helpful! 
---
Schedule of the Bidoup National Park Trek
Day 0 – Friday
10:00pm – Take the overnight sleeper bus from Ho Chi Minh City to Dalat with Sinh Tourist cafe. We love taking the sleeper bus since you get to recline your seat. Check out more about why we like to use the sleeper bus as our mode of transportation in Vietnam. 
Day 1- Saturday
4:30am – Arrive in Dalat
5:00am – Breakfast at a local restaurant of bánh mì (sandwich), coffee, or soymilk
7:30am – Depart to go to the Bidoup hiking entrance
9:00am – 4:30pm – Hike Bidoup with a lunch break and short breaks
6:00pm – Dinner 
7:30pm – Rest and sleep 
Day 2 – Sunday 
7:00am – Breakfast at camp
8:30am – 5:00pm Head back down the mountain
6:00pm – Back to Dalat city center
7:00pm – Group dinner eating hot pot 
9:00pm – Bus back to Ho Chi Minh City
---
Our Bidoup Nui Ba National Park Trek Experience
Day 1: Saturday 
We started our trek to Bidoup Nui Ba National Park around 9:00am and passed by luscious rice fields, farms, and a school along the way. It took about 30 minutes to reach the entrance of the Bidoup trail. 
The welcome sign reminded visitors to stay on the trail, follow your guide, don't litter, and don't collect animals or plants. Let's preserve Bidoup for future generations and to keep this National Park as clean as possible.
The plan was to follow the trail that was on the map:
Saturday:

From the entrance, reach the Bidoup highest point and then head to the campsite for the overnight stay.

Sunday:

Head to a station to take the boat to cross the Danhim River and then hike back down the mountain.
After an hour of walking, the rain started which wasn't a problem. We busted out our handy rain ponchos and pants provided by the tour provider. What we didn't realize was that we would wear these all day long till the evening. 
We continued to climb up some steep areas of the hill and crawled over fallen tree branches. Since the trail wasn't maintained, many of the grass and plants were taller than the heights of our bodies. 
What we liked about the trek was that it was a no drop hike. Everyone started and finished together. There was always a guide ahead for the fast hikers and a guide in the back of the group. Plus, there were plenty of breaks along the way for others to catch up.
Around 12:30pm, we had a lunch break on top of the rock. Everyone received a box of steamed rice cakes (bánh bèo) with pork. You can't forget about pouring fish sauce over the rice cakes!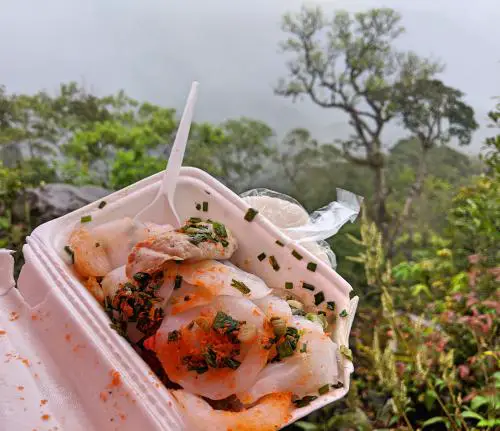 During our breaks, we saw some interesting insects and fungi on the trees. The important thing was to check if we had any land leeches on our legs. I ended up with two leeches on my right calf and didn't even feel them! They crawled up my hiking boots, mid-calf high sock (I should have worn knee-high socks!), and then latched onto the skin. 
I didn't have it as bad compared to others. We saw several girls who wore ankle-high socks with sneakers and had 5+ leeches around both ankles. Their ankles were a bloody mess. The guides used salt to remove them. Yikes! Those bloodsuckers are savage!
We finally reached the Bidoup peak at 2,287 meters (7,503 feet). WooHoo! We expected to have this grand view of the mountain area. Yet, the monumental Bidoup sign with the summit height was smacked in the middle of the forest area. It was a bit of a letdown. Yet, it was a great milestone for the group and we took group photos here. 
Since we reached the top of the mountain, it was time to go back down and head to the campsite. Luckily the campsite wasn't too far away from the peak area. It was about an hour or so. 
Huge kudos to the tour operators for setting up our campsite before our arrival. The four-person tents were set up and each person received their sleeping bag. It felt awesome to sit down by the warm fire to dry off our clothes and hiking boots. Since we were on the mountain, the weather cooled down drastically once the sunset. 
The rain picked back up and didn't settle down throughout the rest of the evening. 
Dinner was grilled pork with noodle soup (bánh canh). For my vegetarian option, it was hard-boiled eggs with lettuce and tomato salad. The chef was very skilled considering the resources and environment he worked in. He cooked the pork over a fire to give the pieces a nice charbroiled flavor.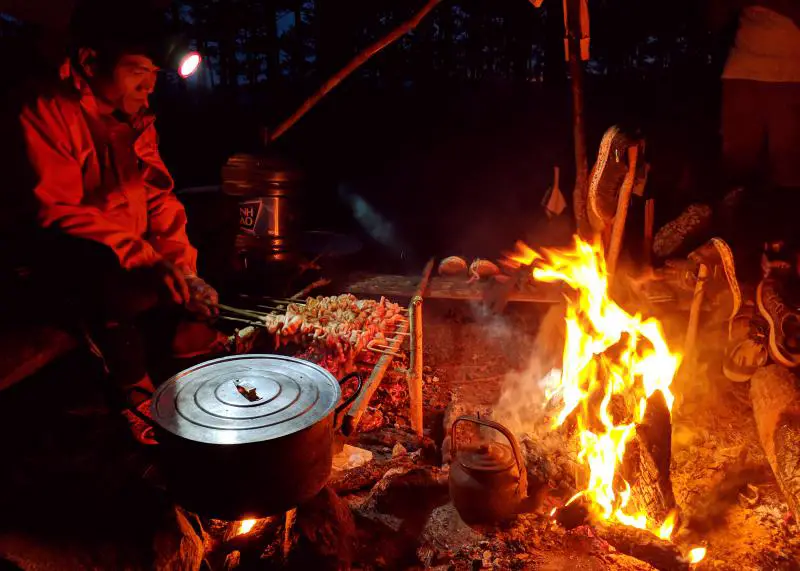 We knocked out early since it was pitch black at 7:30am and we were exhausted by the day of hiking. 
Day 2: Sunday
We woke up to clear and dry skies! Yay! Mother Nature finally gave us a break from the rain since it poured all night. 
After washing up, everyone received a cup of instant noodles (vegetarian version for me) for breakfast. A simple, yet satisfying way to warm the body and get some carbs for another day of hiking. 
Our tour guides received a call that hikers had to reach the station to take a boat ride across the Danhim River. Due to the previous night's rainstorm, the river water levels kept on increasing so people needed to be at the station by a certain time. 
A handful of us hustled to the station (which was beyond the campsite area). I lagged but Justin and a few others rushed ahead. After five minutes of catching up with running/walking, I saw their long faces of defeat. It wasn't safe to cross with the boat. 
Darn. It wasn't a problem since the back-up plan was to take the same route back down. It went a lot faster descending the mountain. 
After 2 hours into the hike, we had a quick snack/lunch break. It was prepared in advance since we were on the go. The meal was sticky rice with grilled pork (boiled eggs for me). Everyone received disposable gloves to roll the sticky rice into their palms. 
Once we passed through the National Park entrance area, we were supposed to cross the bridge to catch our ride. Umm.. the bridge collapsed during the storm! What a heart-wrenching sight to see parts of the bridge dangling from the edge. We were so close to finishing! I'm sure by now the bridge has been rebuilt and reinforced.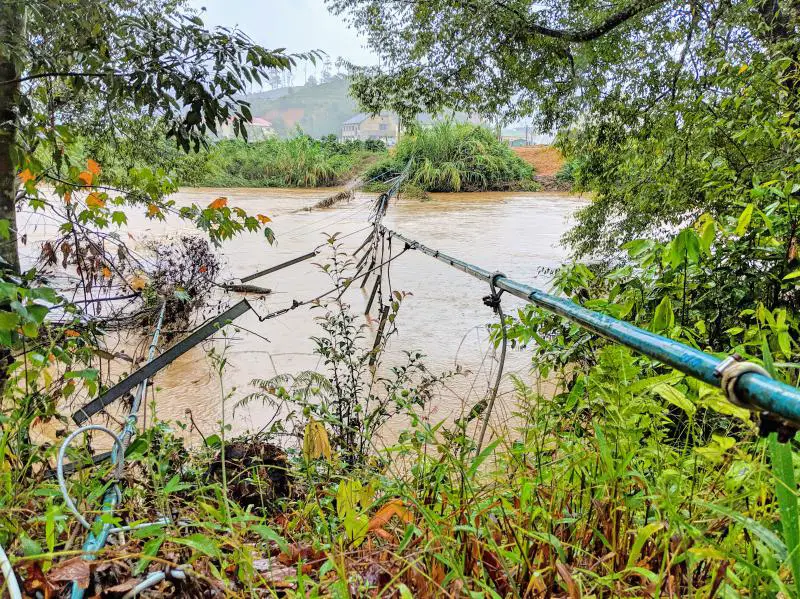 The only way was to take a different route back up the mountain to cross the river. Two to three other groups took the same alternative route. The route was barely used as we walked through tall grass most of the time. We did pass by some coffee plantations which was quite lovely.
We reached a point where we had to bear crawl and scale a mountain on all fours. It was so crazy and exhausting that we had to cling to the side of the mountain. We grabbed any small branches that were strong enough to hold our pulls. Unfortunately, there weren't any photos since we needed to keep going.
I had to give myself pep-talk to continue with the hike as I felt like giving up. Luckily Justin was there to also provide encouraging words and help me when I was tired. 
As we descended the mountain, we reached a huge lake with muddy water. It was time to cross. We used the rain pants to cover our hiking pants and walked across the calf-deep to almost waist-deep cold waters. So much for wearing hiking boots with Gore-tex lining as we walked through the water. (The hiking shoes are great to repel water but don't dry when water gets inside.)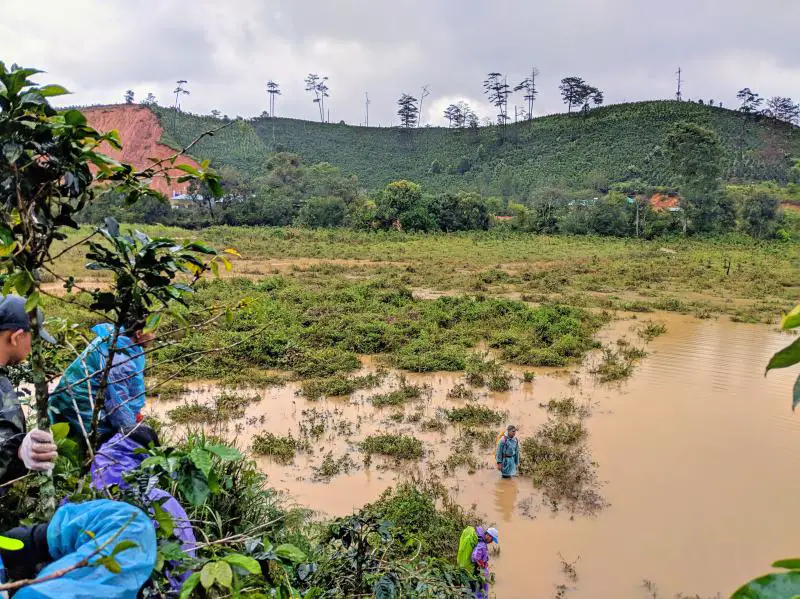 The fun didn't stop as we walked (more like trudged) through small sand dunes. It looked like a sad construction sight that we trespassed. The sand felt like quicksand since our feet got stuck every time we stepped. I had to get help to get my legs out.  
The last hurdle was crossing the stream of rushing water. Unfortunately, you couldn't just walk through the stream normally. The water rushed so fast that anyone who misstepped could have been washed away. We can see how the bridge collapsed the previous night. 
The trick was to turn your body across the wooden stick which was held by a few guides. Thank goodness all of the tour guides, including those from other companies, worked together so everyone could cross safely. We had a 100% success rate, although, someone lost a pair of glasses during the transition. 
We finally made it through the ordeal! A huge burden lifted off our shoulders. Now, all we had to do was walk back to the car. It ended up being after 6pm once we reached the car. The second day of the hike ended up being an all-day adventure. We gave each other high-fives for our accomplishments. It was such a relief to be done and to head back to Dalat for dinner. 
---
Final Thoughts
You're wondering if we would trek Bidoup again after our intense experience. 
The verdict: Yes, if the weather conditions are favorable and not expected to rain. However, we can't predict what Mother Nature will do.
At the time, it was so wild. We hope that no one needs to experience the alternative route since it was quite dangerous. Who knows what the back-up plan was if someone fell off the mountain or injured themselves. Luckily you've purchased travel insurance ahead of time! 
Once we arrived in Ho Chi Minh City and rested for a few hours, we recollected our thoughts and thought that it was one of our top experiences in Vietnam. 
What was supposed to have been a moderate Bidoup hike became a challenging hike to remember. The group of hikers built camaraderie to support and help each other out. We can't forget about our awesome tour guides from Tổ Ong Adventure who helped us through the two days considering the circumstances. 
Thanks, Vietnam Track for organizing the weekend at Bidoup National Park! 
---
If you're looking for more things to do in the Central Highlands and Dalat area, check out our posts: