Have you been in Ho Chi Minh City for a couple days and need a break from the big city? What better way to escape the busy Ho Chi Minh City than to go to Can Tho (Cần Thơ in Vietnamese), along the Mekong Delta?!
Located 150 kilometers (93 miles) west of Ho Chi Minh City, Can Tho is the perfect weekend trip and a must see during your South Vietnam itinerary. As the fourth largest city in Vietnam, it has everything that you can ask for and numerous of things to do – friendly locals, delicious street food, calmer environment, famous Cai Rang floating market, and many hidden gems to explore.
In this Can Tho guide, we're sharing how you can spend at least two days in the Mekong Delta. We've been to Can Tho three times over the past three months with family members and friends and can't get enough of this place. Now, let's start planning your trip to Can Tho, Vietnam.
In this Can Tho guide, you'll learn about the following. Click to the various links to jump to the desired section:
*Disclosure: Headed to the Mekong Delta? Yes, we have affiliate links in this post. If you click on them and make a purchase, we receive a small commission. There is no additional cost to you. Thank you for your support.
---
Your Complete Can Tho Guide
How Many Days to Visit Can Tho
Two days in Can Tho is the perfect amount of time needed to explore the city. If you want a weekend trip from Ho Chi Minh City, a suggestion is to leave on Saturday morning at 6:00am and return on Sunday after dinner.
One day in Can Tho is doable, but it's a long and exhausting day with leaving Ho Chi Minh City at 2:00am (if you want to catch the Cai Rang Floating Market) and returning back to Ho Chi Minh City after midnight. You're better off taking the slower route to stay here for a couple days.
---
Can Tho Tour or DIY Exploration?
Visiting Can Tho via a tour is a great way to explore the city. You can pre-schedule a Can Tho Mekong Delta tour at one of many tour agencies in Ho Chi Minh City or when you arrive to Can Tho. A tour helps make things easier when bringing family members and friends. Otherwise, the city is manageable to explore on your own.
Our friends at Vietnam Track coordinated our trips and we've done unique things in Can Tho each time. We loved the friendly local guides and getting an insiders' view of the city. Plus, they made our experience so much fun with incorporating traditional Vietnamese games too.
This is not a sponsored post as we genuinely had memorable experiences with their small and mighty team and paid for the excursions. 
---
Transportation from Ho Chi Minh City to Can Tho
For the cheapest and more local way to get around Vietnam is to take the sleeper bus from Ho Chi Minh to Can Tho. The sleeper buses are a popular way to travel through Vietnam. Ticket prices are cheap at 120,000 VND ($5 USD) one-way and you get to lie down (almost flat) during the ride. You don't have to worry about driving in the crazy traffic and the bus makes several stops for food/bathroom breaks.
Buses depart to West Vietnam every hour from the Mien Tay Bus Station (Address: Kinh Dương Vương, An Lạc, Bình Tân, Hồ Chí Minh). It'll take between 3-4 hours to arrive, depending on the traffic.
Helpful Tips
Buy your bus ticket online at least 1-2 days before your departure date. We've used Futa Bus going to Can Tho and both Futa and Thanh Buoi Bus coming back to Ho Chi Minh City. With the online purchase, choose your seat location (either window or middle aisle) and whether you want a lower or top level. We personally prefer the window seats to lean our backpacks or bags against the window. If there are difficulties, have one of your Vietnamese friends help reserve/buy the seats or go to the bus stop early to buy the tickets.
Once you've arrived at the Mien Tay Bus Station, head to the bus company sales office to pick up your ticket. Afterward, find the location of your bus. It's a huge station, so you may need to ask someone for guidance.
Once you've arrived at the Can Tho Bus Station, take a taxi to your Can Tho accommodation. Or, if taking the Futa bus line, take the complimentary transportation van which goes to certain areas. There will be a person sitting at the desk closest to the transportation vans. Show the person the address of where you're going and you'll receive a popsicle stick as your ticket. Ask which van you need to go to and show your address to the driver as well.
For your return trip, you can pre-book your tickets or have your accommodation help reserve the tickets for you.
---
How to Get Around in Can Tho
Can Tho is a walkable city, especially if you're staying nearby the Ninh Kieu (Ninh Kiều) area where all of the main attractions are located. You can also rent a motorbike and arrange it through your accommodation. Otherwise, take metered taxis to travel longer distances. If possible, take the official metered taxi companies – Mai Linh and Vinasun.
---
Where to Stay in Can Tho
It's recommended to stay near the Ninh Kieu port area so you'll be close to the evening nightlife and the next morning's floating market experience. There are many hotels and guesthouses along Nguyen An Ninh (Nguyễn An Ninh), or you can choose a homestay in Can Tho for a unique experience. Read reviews and find a place to stay here.
We've stayed at the following two places and would recommend them for affordability and cleanliness.
Ruby Can Tho Hotel
Ruby Can Tho Hotel is less than a 8-minute walk to the Ninh Kieu Wharf which makes it a prime location. Although it's along a main street, we didn't hear any noise in the evening. The hotel is clean, has air conditioning, and friendly receptionists. Our room was $28 USD with three twin size beds. Check availability and reserve a room at Ruby Hotel here.
Address: 34 Nguyễn An Ninh, Tân An, Ninh Kiều, Cần Thơ
Amazon 1
Amazon 1 is in a residential area about 15-20 minutes walk from the Ninh Kieu. This place operates more of a hostel style as there are shared bathrooms and accommodations. We opted for a private deluxe room with an ensuite bathroom. The room was huge with two queen size beds and also came with air conditioning. The cost was $21 USD. Check availability and reserve a room at Amazon 1 here.
Address: Hẻm 51, 88 Lê Lai, An Lạc, Ninh Kiều, Cần Thơ
---
Where to Eat in Can Tho
You'll have plenty of restaurants, cafes, and local foods to try, especially around Ninh Kieu Wharf. Vietnam Track showed us some of the best local restaurants in Can Tho. If you want street food type carts, then check out the next section which discusses the street food.
Bánh Canh Cua Ngô Khang
This place has delicious noodle soup (bánh canh cua) with crab and fresh seafood. The noodles are thicker and has a slightly sticky texture (like gum), but oh so good! You can't beat the fresh seafood and chunks of crab in the soup.
Address: 23 Đề Thám, Tân An, Ninh Kiều, Cần Thơ
Tiệm Mì Hồng Phát
This is a popular place to eat noodles and you often need to wait for a table during dinnertime. They're known for their huge pork bone in their noodle soup. A shrimp noodle soup is also available.
Address: 6, Đường Đề Thám, Tân An, Ninh Kiều, Cần Thơ
Read More: Take Cooking Classes in Vietnam
---
7 Incredible Things to Do in Can Tho
1. Explore the Con Son Ecotourism Area
One of the hidden gems in Can Tho is visiting the Con Son Ecotourism (Cồn Sơn Ecotourism) area. Located on a small island off of the Can Tho mainland, it recently opened to tourism. Over 30+ families live on the island and they help each other out with the tourism activities. It also helps that the island installed electricity in 2014. The island is stunning with the tropical fruit trees and gardens everywhere.
Tours cater to Vietnamese visitors but can be visited by anyone with a Con Son Ecotourism tour guide. Vietnam Track coordinated this amazing 3-4 hour tour with an English speaking guide for us. The tour requires a short boat ride across the Mekong Delta and walking around the island.
The highlights of Con Son Ecotourism include:
Seeing a fishing farm that farms a specialty fish in the area called thát lát in Vietnamese. It's a distinctive fish that has a line of spots on the sides. You can even feed the fish some food too.

Trying seasonal fruits straight from the orchard such as pomelo, oranges, and

star apple

.

Making your own Vietnamese snacks such as rolled crepes (similar to a sweet eggroll), crispy pancakes (bánh xèo), or mini rice pancakes (bánh khọt). Plus, you get to enjoy your creations!

Relaxing and enjoying a hearty lunch. Definitely try the fresh fish hot pot with the fresh vegetables, herbs,  and edible flowers. It was one of our favorite meals in Can Tho.

Playing with the adorable dogs! All they want to do is find a place to rest – by your feet or in between the small hole of the plastic chairs.
Here is a video of the area, although it's in Vietnamese.
2. Visit the Cai Rang Floating Market
Cai Rang Floating Market (Chợ nổi Cái Răng) is on the list as a top fun activity to do in Vietnam. It's worth the early morning start at 5:30am. Most of the Can Tho Mekong Delta tour starts at the Ninh Kieu Wharf. If you walk towards the pier, many women will approach you and ask if you want to hire a wooden boat (sampan). It'll be between 300,000 – 400,000 VND ($13 – $17 USD) for the 3-4 hours ride. Otherwise, you can work directly with a tour agency.
It's quite an experience to take a 40 minutes boat ride in a wooden boat (sampan). You can opt for a speedboat for faster arrival time. The wooden boat looks a little worn down but the ride is perfectly safe. Our boat driver knew how to navigate through the area and some choppy waters. It's required to wear life jackets when you're on the boat. You'll also see the beautiful sunrise along the way to the floating market.
Once you enter the market area, you'll see the buzz of the daily transactions between sellers and vendors on their boat. The sellers often have an overstuffed boat of seasonal produce and fruits, such as pineapples, watermelons, pumpkin, and they must sell the entire inventory before heading home. Look out for the long bamboo sticks on the boats which indicates what produce the sellers have for sale.
For a unique breakfast experience, consider having a bowl of fresh hủ tiếu noodle soup while you're on the boat. It's an amazing task for the chef to whip out many bowls of noodles on a tiny boat. A drink seller will also approach you via boat. Enjoy a fresh coconut or Vietnamese coffee with your noodles.
During your tour, you may stop by the area to see the process of how the hủ tiếu noodles are made from the steaming, drying, and cutting the noodles. Other stops include a factory that makes flavored popped rice crackers. Flavors include strawberry, durian, coconut, and more. Purchase these unique souvenirs before you leave as you will not find these in the main Ho Chi Minh City area. Lastly, try fresh pineapple on the roof of the fruit seller's boat before heading back to the Ninh Kieu Wharf.
3. Walk Along the Ninh Kieu Wharf
The best time to visit the Ninh Kieu Wharf is in the evenings or at sunset. It's the perfect place to walk along the Mekong Delta with your friends or significant other. Head to the bridge area with the lights in the shape of a lotus for the hang out spot.
4. Eat and Shop At the Ninh Kieu/Can Tho Night Market
Love shopping at night markets? The Ninh Kieu/Can Tho Night Market off of Hai Ba Trung and Nguyen Thai Hoc has street food and clothing and accessories. The street food side has a variety of affordable and delicious Vietnamese snacks. The best thing to try is grilled rice paper (bánh tráng nướng) stuffed with meat and quail egg or without meat if vegetarian for a cheap evening snack at 10,000 VND ($.40 USD) each! This pairs well with a cup of sugarcane juice (nước mía).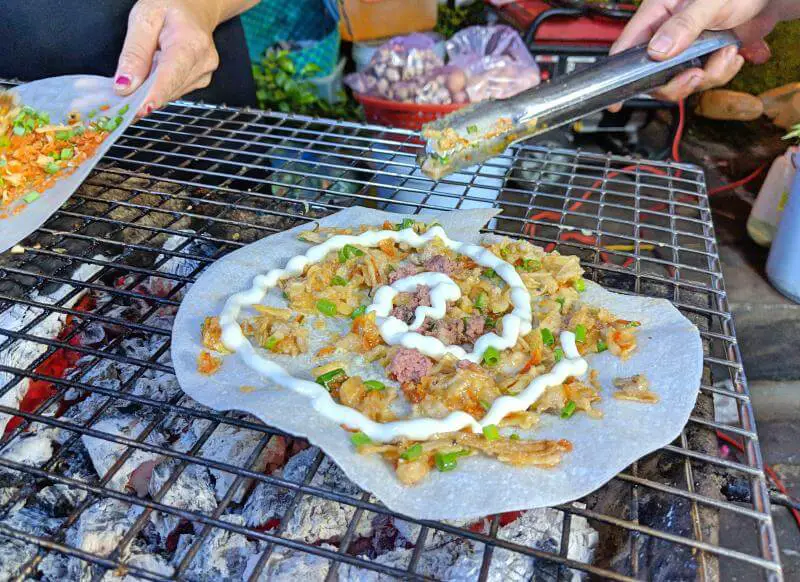 5. Eat Some More At Tan Dai Phong Night Market
If you're looking a night market specifically for food, then visit the Tan Dai Phong Night Market (Chợ Đêm Trần Phú Tân Đại Phong). Located 3 kilometers (1.8 miles) away from the Ninh Kieu Night Market, this place has lots of BBQ seafood stalls where you can choose your own seafood and have it cooked it any way you'd like. While you're there try the dessert stall where you fill up a cup with fresh tropical fruits and jellies topped with ice and syrup. It's the best way to get your daily serving of fruits!
6. Check out One of Many Temples in Can Tho
Can Tho has a variety of temples that you can explore. Please be courteous and wear appropriate clothing and take off shoes when entering certain areas, such as praying areas.
Ong Temple
(
Chùa Ông)
Located across from the riverside, it's a small Chinese Buddhist temple where many come for prayers. Inside the temple has hundreds of coiled incense hanging from the ceiling. If you're sensitive to smoke, you may want to avoid this place as it is smoky from the incense.
Right across from the temple is the Ho Chi Minh statue which you can visit at any time of the day.
Address: 32, Hai Bà Trưng, Tân An, Ninh Kiều, Cần Thơ
Phat Hoc Pagoda
(Chùa Phật Học)
On the busy corner of Dai Lo and Nguyen Thai Hoc is a beautiful Buddhist temple. Explore the five stories of the pagoda to see the architecture and also Buddhist statues. The top level has the best views of the city streets. You'll need to take off your shoes when visiting the higher levels.
 Address: 11 Đại Lộ, Hòa Bình, Tân An, Ninh Kiều, Cần Thơ
Muniransay Temple  
Contrasting to the Buddhist temple is Muniransay Temple, a Khmer style temple. The temple ground is quiet in the afternoon and mid-afternoon sunshine accentuates the golden facade of the area.
Address: 36 Hòa Bình, Tân An, Ninh Kiều, Cần Thơ
Truc Lam Phuong Nam Zen Monastery
(Thiền Viện Trúc Lâm Phương Nam Monastery)
As one of the largest Buddhist temples in Can Tho, it's a quiet and spiritual place to visit in the afternoon. The area is huge with several lakes, pagodas, and many Buddhist statues near the entrance. It's not located in the central Can Tho area, so you'll need to take a taxi or motorbike here. It's also a 2-3 minute walk from My Khanh Tourist Village.
Address: TL 923, Mỹ Khánh, Phong Điền, Mỹ Khánh, Phong Điền, Cần Thơ
7. My Khanh Tourist Village
What surprised us with the My Khanh Tourist Village (Làng Du lịch Mỹ Khánh) was how large the place is. It has a county fair vibe that highlights local fruits and gardens, animals, animals racing, fish feet spa (where fish eat the dead skin off your feet) and traditional games. The place is still a work in progress as they're adding more exhibits. You can also stay overnight at the bungalows.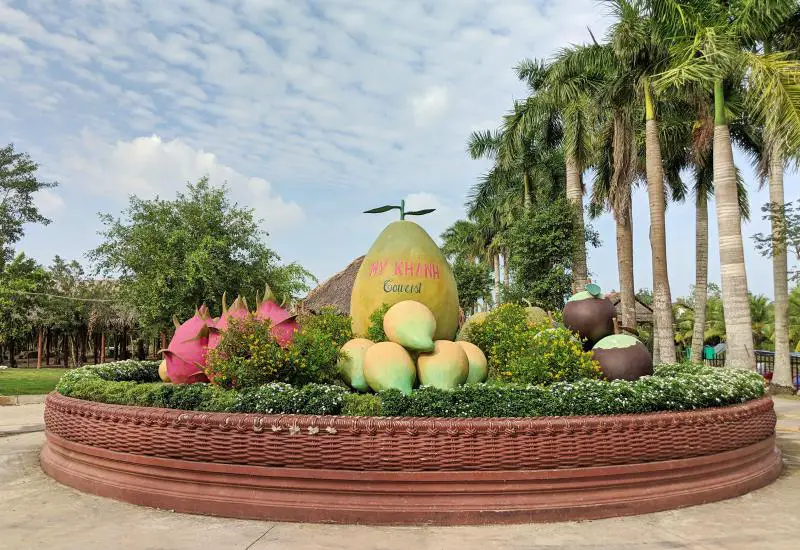 We enjoyed walking through the fruit garden due to the luscious greenery and peacefulness of the area. Try your balancing skills with various balance beams in the traditional games section. There is an impressive 500+ crocodiles that living in the crocodile pond area. You can feed the crocodiles with the fishing poles similar to Can Gio Monkey Island.
If you're an animal lover, you may not want to come here. Although the pig and dog races are adorable to watch, there are monkeys wearing collars and stuck in cages and used for performances. We also saw a distressed sea otter swimming in a circle and crying out for help.
Admission is 60,000 VND ($2.60 USD) for adults, 30,000 VND ($1.30 USD) for children.
Address: 335 Lộ Vòng Cung, Mỹ Khánh, Phong Điền, Cần Thơ
---
We hope this Can Tho travel guide is helpful for your future planning to visit this place. It's a great place to explore life along the Mekong Delta and a good getaway from Ho Chi Minh City.
If you're looking for more places to visit along the Mekong Delta, check out Ben Tre, famous for their coconuts, or Tan Lap Floating Village in Long An.
Headed to the Mekong Delta? What are you the most excited for about your future trip to Can Tho? Share in the comments below. 
Headed to Vietnam? Save this post to your Pinterest boards.