Five years ago, my first impression of Ho Chi Minh City (also known as "Saigon"), Vietnam were not great. It was hot, dusty,  chaotic with the scooters and traffic, and not a lot of exciting things to see in this large city. Our 10-day family trip in Vietnam started in Hanoi and ended in Ho Chi Minh City via a tour. We wish we could have seen more as two days in Ho Chi Minh City was not enough time.
Fast forward to the present day. We've moved to Ho Chi Minh City in January 2018. Scooters and motorbikes are still everywhere. Weather is still the same – humid and hot. New high rises and constant construction is everywhere. The environment is similar to the previous visit. The major difference was that my mind has opened up and is more adaptable due to my experiences after years of travel.
If you're visiting Ho Chi Minh City for six days, here are some recommendations on things to do in Ho Chi Minh City. The agenda is simple and relaxing – eat lots of good food, relax, pamper myself with spa days, visit attractions/sites, and learn about Vietnam history. You can feel free to mix up what you want to see each day. Six days seems like a long time to spend in Ho Chi Minh City, but it goes by quickly. 
Have a longer holiday in Vietnam? Take a motorbiking road trip from Hanoi to Ho Chi Minh City (or vice versa), check out some of these other fun activities to do in Vietnam, or continue your journey as you explore South Vietnam.
---
Eat delicious food in Ho Chi Minh City/Saigon.
You're in food heaven and eat till your heart desires! I had my share of Vietnamese food – vegetarian pho (since I don't eat meat), bánh mì (sandwiches), bánh xèo (Vietnamese crepe), spring rolls, soft shell crab, unique vegetables, and tropical fruits. So much good food! We can't forget the delicious dessert, chè with condensed milk and jellies. Click here for more mouth-watering foods to eat around Vietnam.
Some of the best foods have been in the open rooftop restaurants. They're fun with the hipster vibe and cool decor. Plus, the city views are awesome and you may have a beautiful sunset as a reward. Highly recommend Mountain Retreat (36 Lê Lợi, Ben Nghe) and Secret Garden (158 Pasteur, Ben Nghe), which have delicious Vietnamese food. Thumbs up to the creative drinks at Mountain Retreat too.  
Have a vegetarian or vegan diet? This city has lots of vegetarian-specific restaurants to choose from. It's easy to find with a Google search or wandering through the alleyways and streets. Look for "chay" which is vegan food. Many restaurants have a vegetarian section on the menu too.
Don't want Vietnamese food? The city has lots of ethnic food – Indian, Korean, American, and much more. We ate Japanese food every other day. The sushi is pretty good, catering to a large number of Japanese visitors, and also Saigon Centre has tons of Japanese food options.
Read More: What better way to experience Vietnamese food than to take cooking classes?!
---
Relax and hang out.
Relax at a cafe for Vietnamese coffee or a boba shop for pearl tea.
Vietnam loves their coffee. You'll have plenty of opportunities to sit down at a cafe or take out boba drinks. One of the unique places for coffee is the Cafe Apartments off of Nguyen Hue. It's a converted building with 8 floors of cafes, restaurants, and boutique clothing shops. Take the stairs (free) or ride the elevator (3000 VND/$.13 USD). Hang out at one of the shops and get an aerial view of Nguyen Hue walking street.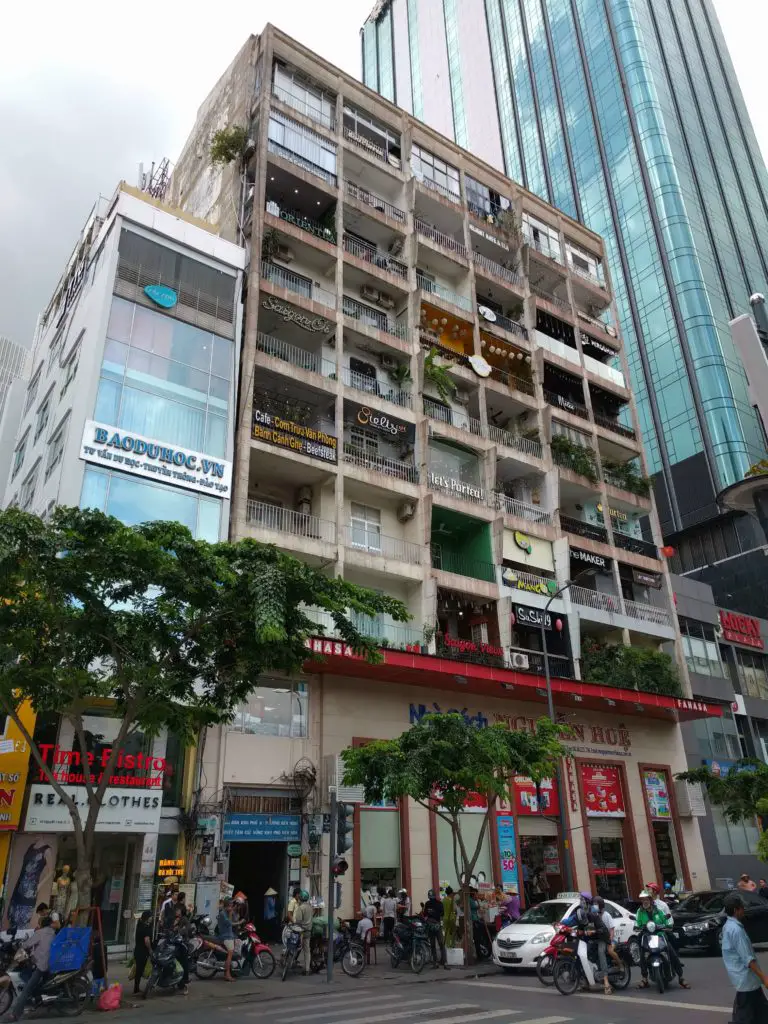 Hang out at Ho Chi Minh City's Nguyen Hue.
Nguyen Hue is a long street that stretches over a few blocks and blocked off for pedestrians only. In the evenings, this is the place to be as hundreds of people are here to hang out with friends and family members. Don't forget to stop by and take a photo with the Ho Chi Minh statue and the City Hall in the background.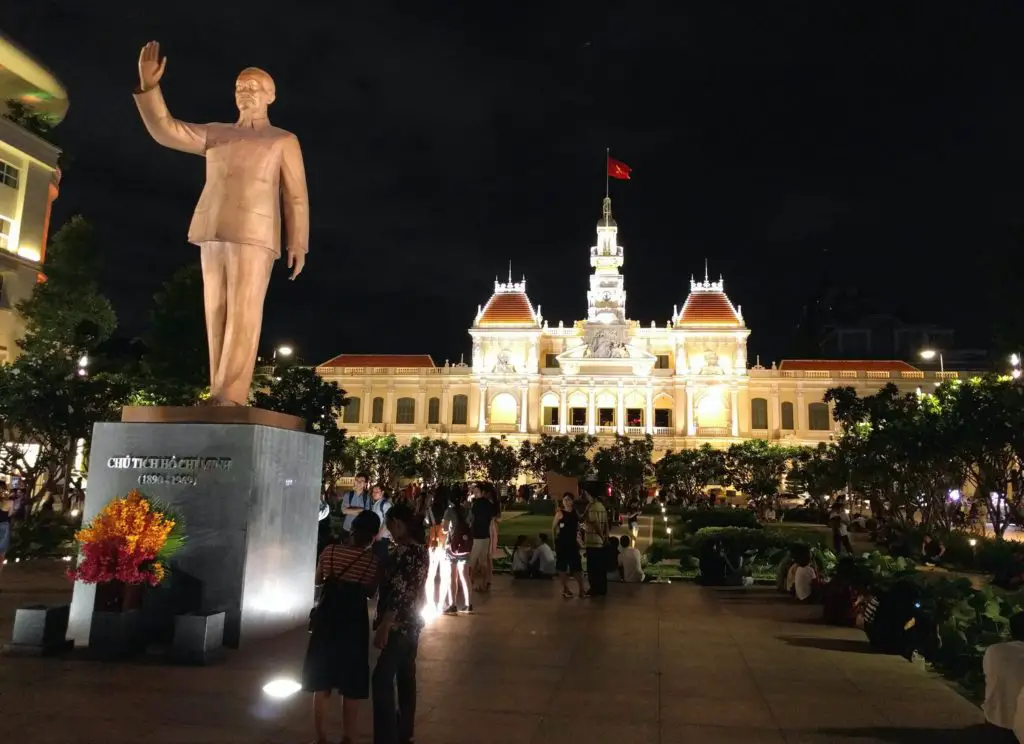 Walk along the Saigon River.
The Saigon River is the main river in the city. Although it's brown and dirty, it's an opportunity to get away from the city's craziness. Enjoy the walking path without scooters and cars. Someone may ask you to take a boat/cruise ride. For all rides, prices should be negotiated before taking the trip.
Stay at the shopping malls in the afternoon.
It's unbearably hot and humid in the afternoons. To cool off, head to the nearest shopping mall or any place that has air conditioning. My favorite is the Saigon Centre which has quite a few restaurants in the food court and dessert options. If you love matcha desserts, then come here pronto. I drooled over every single matcha ice cream, ice dessert, and cake. Morico Cafe (30 Lê Lợi, Ben Nghe) is across from Saigon Centre and has matcha tiramisu, mochi, and more.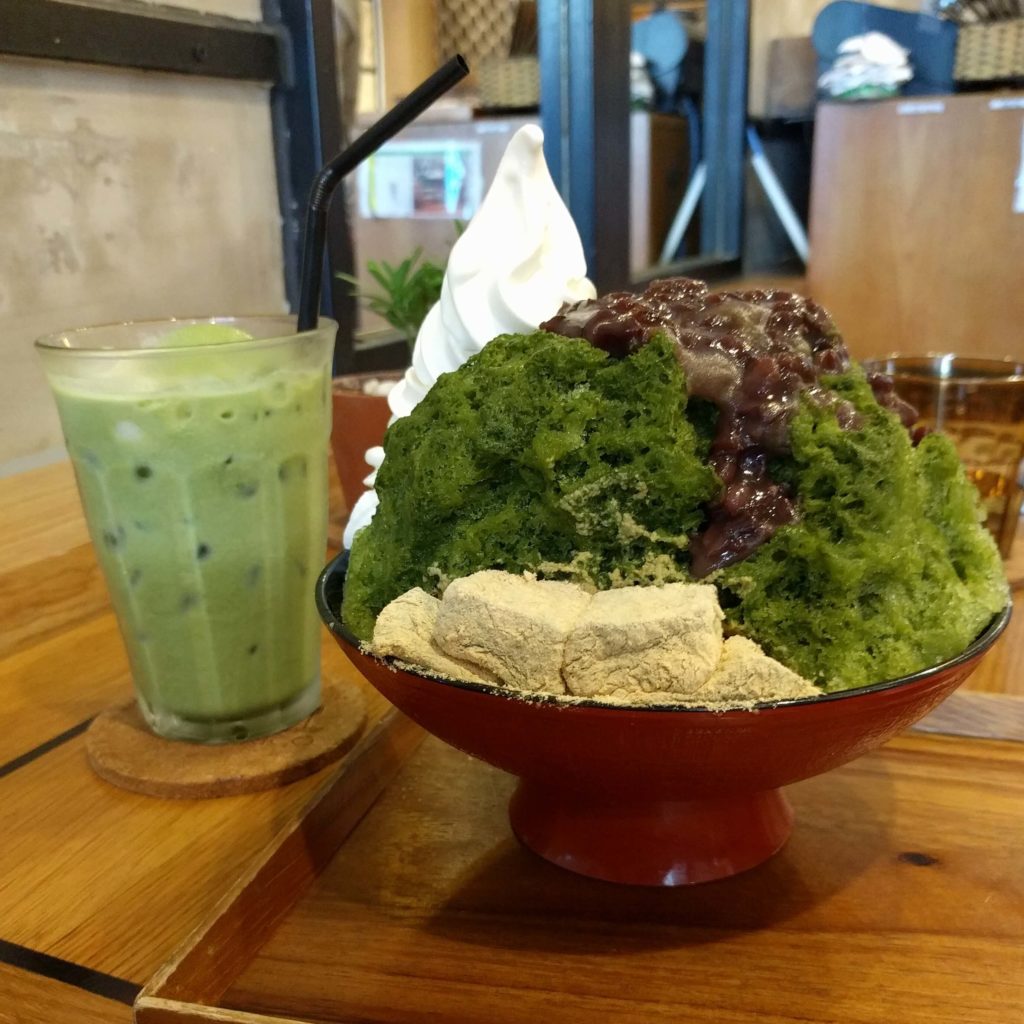 Think you're a good negotiator? Stop by Ben Thanh Market for souvenirs and clothing and haggle your way for the pricing. If not, don't worry, they have fixed price shops on the perimeter.
---
Pamper yourself with spa days.
Get a massage.
Massages are affordable here. There are hundreds of places to choose from such as the clean, legit places to the sketchy ones. Our favorite place is the Miu Miu 3 which has three other locations related locations nearby. The offerings are facials, aroma massages with hot stones, shiatsu, and thai massages. Cost is between 380,000 VND ($16 USD) for 60 minutes – 500,000+ VND ($22 USD) for 90 minutes depending on the times. The cost is higher than other places, but it is clean and tip included in the price.   
Schedule a manicure/pedicure.
Consider a manicure, pedicure, and/or a foot scrub if you've been on the road for a while. Nail Alley off of Le Thanh Ton and across from Ben Thanh Market. It's known to have cheap manicures and pedicures for 40,000 VND ($1.80 USD) each. Or, splurge for a nicer spa environment that is around 350,000+ ($15+ USD) VND for both manicure and pedicure.
---
Visit City Attractions/Sites
Some people may not find visiting sites as relaxing, but it's a great way to learn about culture and history.
Visit the Saigon Skydeck.
It's not hard to miss the high skyrise building and to have awesome views of the city and the Saigon River. Check out our review of the Saigon Skydeck.
Stop by the Cathedral of Notre Dame and Central Post Office.
The Cathedral of Notre Dame and the Central Post Office are two iconic tourist spots with amazing architecture. The Cathedral of Notre Dame was unfortunately closed due to restoration. Right across from the cathedral is the Central Post Office. You'll instantly see the Ho Chi Minh painting in the back of the building when you enter the building. Buy postcards, souvenirs, and stamps here as prices are fixed.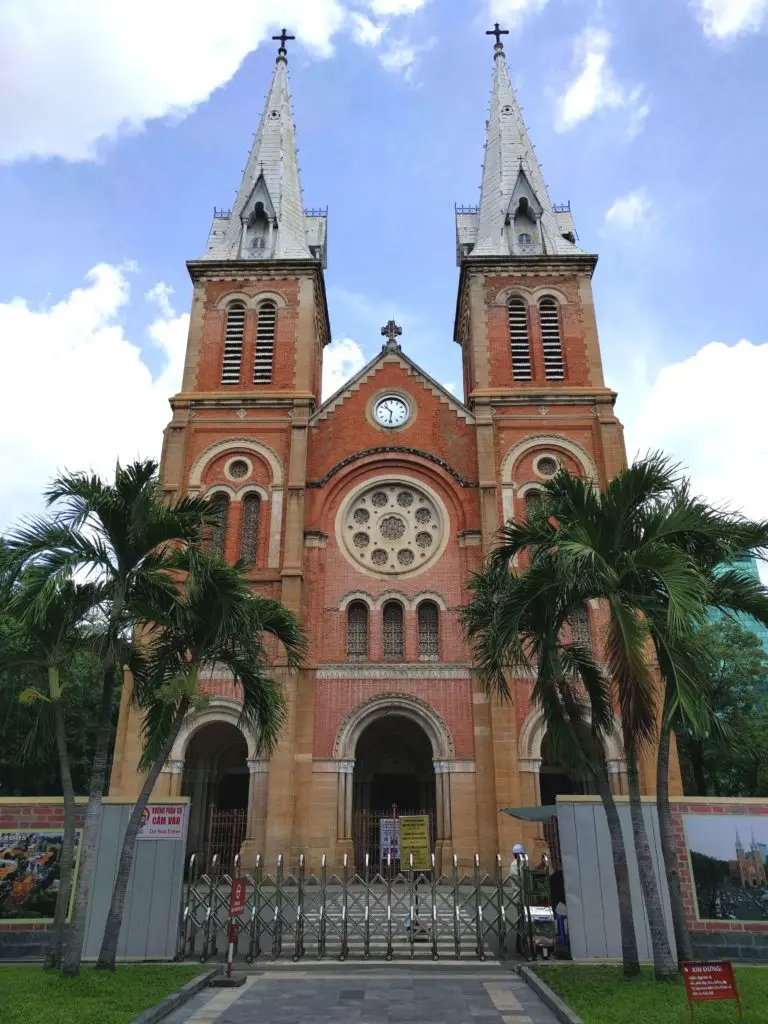 Take a Break at the Book Street
The Book Street (on Nguyen Van Binh) is next to the Notre Dame Cathedral and Central Post Office. It's a small street with a handful of bookstore vendors. Feel free to pick up a book or two.
---
Learn something new at the numerous museums in Ho Chi Minh City.
I'm not usually a museum person, but Ho Chi Minh City has a lot of museums. On the complimentary visitor's map, I counted over 7 museums to visit. Luckily all are within walking distance from the hotel. While I didn't get to see all, I went to one museum every day I was in town.
Tip: Visit the museums early in the morning or after lunch break. The sites close down for at least 1.5-2 hours for lunch between 11:30am to 1:30pm. 
Independence Palace
If you like to see how furniture decor and life was like in the 1970s, then this is the place for you.  The palace has well-preserved rooms where important meetings occurred. The dining rooms and entertainment rooms were fun to see. The outside perimeter of the complex also had large army tanks and helicopters used in the war. Admission cost: 40,000 VND ($1.80 USD).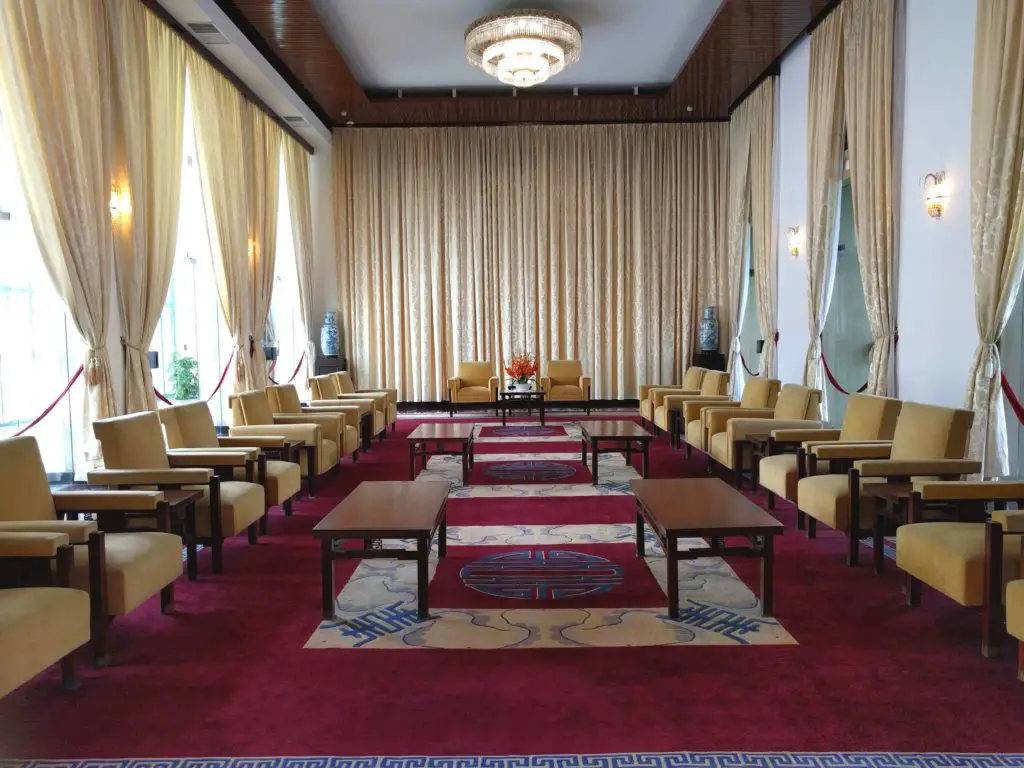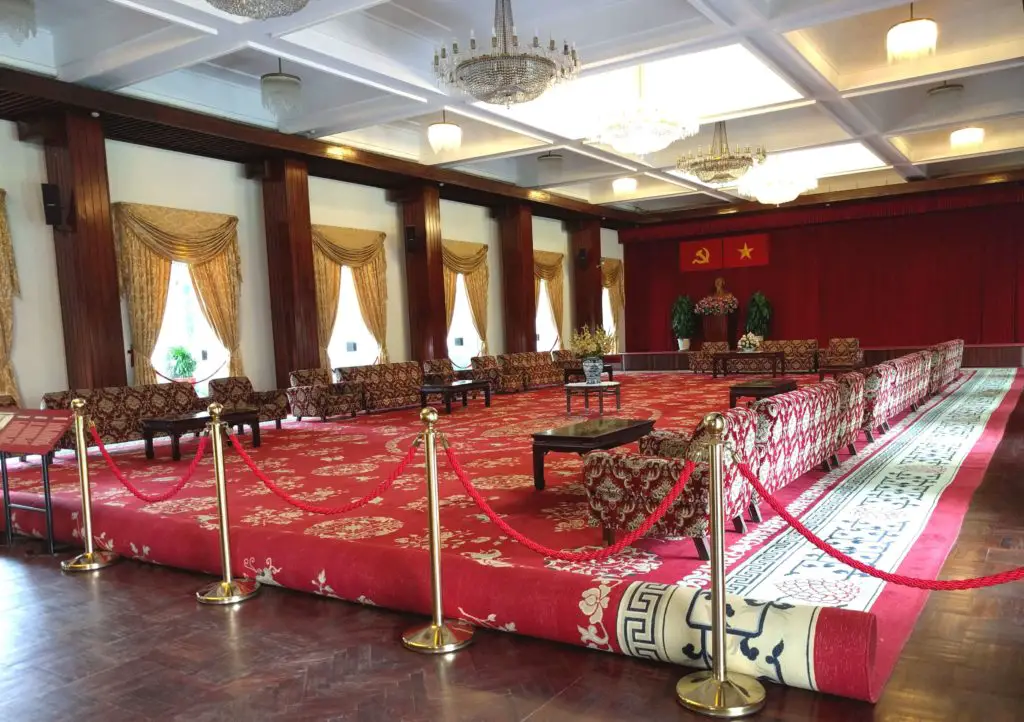 War Remnant Museum
Some visitors may love this place. Others may dislike based on the anti-American biases in the Vietnam War. Regardless of the viewpoint, it's a good way to spend a few hours to learn about the Vietnam War and history. The most devastating part of the museum was the "Agent Orange" section and the consequences of the chemical for future generations. Outside of the main building is a separate exhibit with "tiger cages" and other various torture devices. The museum is located in District 3. Admission cost: 15,000 VND ($.70 USD).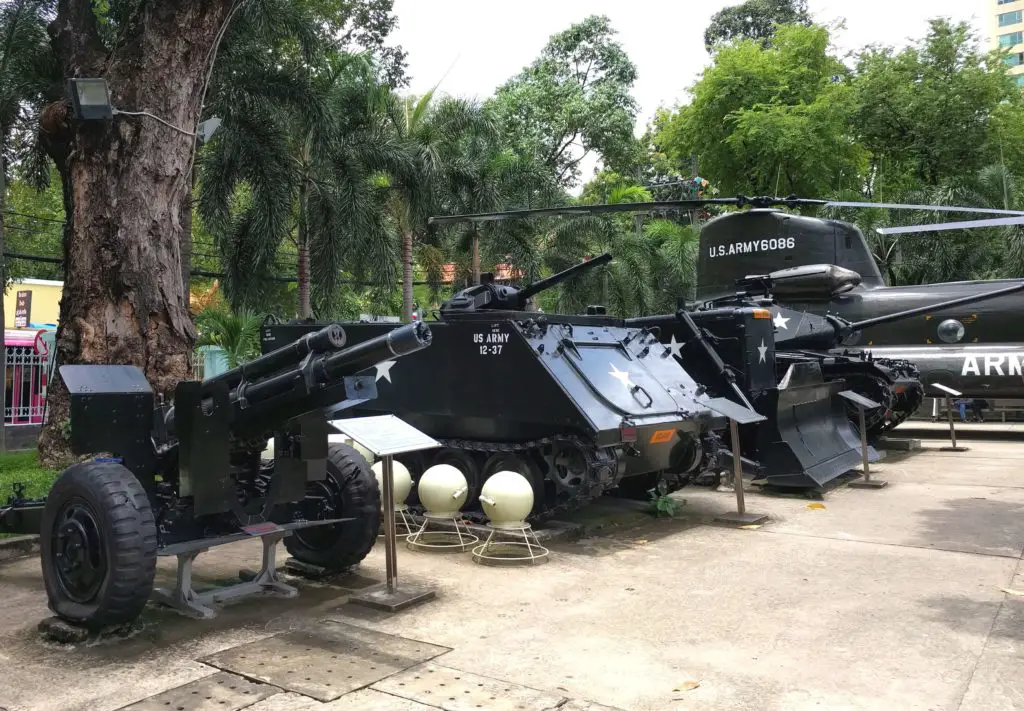 Southern Women's History Museum
Women played an integral part in the Vietnam War and other demonstrations, whether they were for or against it. The museum has a small exhibit near the entrance and two floors of documents, photographs, and paintings in the main building. It was interesting to read about the women's efforts. The museum is located in District 3, and about a 15 minute walk from the War Remnant Museum. Admission cost: Free as all guests must wear a visitor's badge.
Fine Arts Museum
The Fine Arts Museum is decent and one of the least visited museums that we've been to. The museum is large with three buildings with various themes – paintings, ancient sculptures and art, pottery, and current artwork/special exhibitions. Be sure to stop by the main building to see lovely stained glass doors and windows. While it was good to browse around, the art didn't have much cohesion. Many artworks didn't have a description or who the artist was so it's an opportunity for improvement. Admission cost: 10,000 VND ($.45 USD).
Tip: Before your visit, check out these handy art museum tips to maximize your time.
Ao Dai Exhibition
Ao dai, traditional Vietnamese dresses, are beautiful with embroidery, colors, and design. To see the history of the different ao dai styles, check out the exhibition which is on Nguyen Hue. The exhibition is on the second floor where you take the elevator up. It's in a very small room so you could easily browse through everything in five minutes. I took my time to read the placards and examine the details of the ao dai as the admission was steep. Admission fee: 100,000 VND ($4.40 USD).
The exhibition also has a two-hour show available called "Sounds of the Nation" on Wednesdays, Thursdays, Saturdays, and Sundays from 8pm to 10pm. Show is 700,000-800,000 VND ($31-$35 USD) for adults.
A larger Ao Dai museum is located in Ho Chi Minh City's District 9. Address: 206/19/30 Long Thuận, Long Phước, District 9.
Artinus 3D Art Museum
We had an awesome time at Artinus 3D Art Museum. It's located in District 7, so you can take a taxi, Grab, or other ride hailing services to get here. You'll spend a few hours getting creative and posing with various illusions and art subjects, so it's not an educational museum. It's purely fun.
Admission cost: 250,000 VND ($11 USD) for the weekend price; Kids are free.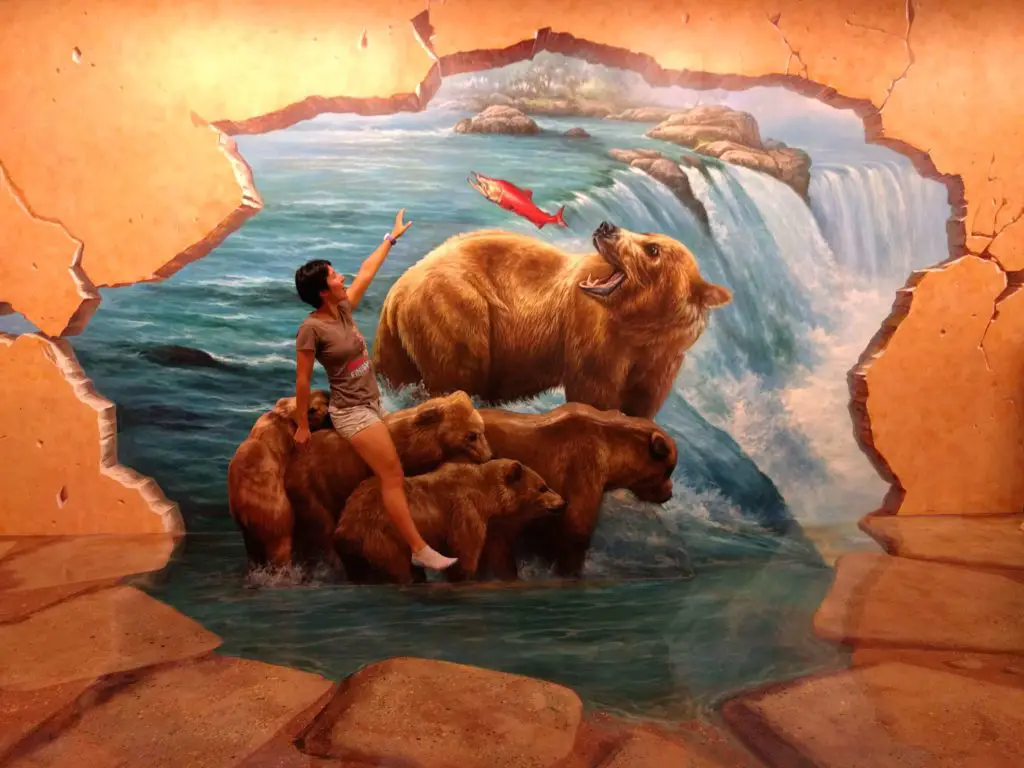 Have you been to Ho Chi Minh City/Saigon before? What are your recommendations to relax in this city?