Bali, Indonesia has a special place in our hearts and is one of our favorite places that we've been to. 
We know. Everyone raves about Bali with people spending months here and even having honeymoons in Bali.
There is a good reason why – natural beauty, amazing adventures, picturesque landscapes, friendly locals, fantastic restaurants, best waterfalls, sacred temples, cooking classes, budget-friendly, and so much more.
We had limited time in Bali (only four days) and made the most of it! We originally planned to spend a weekend, but 2 days in Bali isn't enough!
Here is a recommended Bali itinerary for 4 days to maximize your time and serve as an introduction to the island life for your first visit.
This itinerary includes where to go and what to see in Bali in 4 days, what to do, places to eat, transportation, accommodations, and things to consider. It also assumes that you have four full days dedicated to exploring Bali.
Are you ready to explore this amazing and beautiful island? 
How This Itinerary is Organized
Pin #1 photo credit: Alyshia Maryanne via Scopio Photos
Pin #2 photo credit: Chloe Boucherit via Scopio Photos
---
Map of the Bali Attractions to See in 4 Days
---
Bali Itinerary Day 1 – Arrival
You've arrived at Ngurah Rai (Denpasar) International or Domestic Airport (airport code: DPS). Hooray! 
Depending on where you flew in, you'll be either wired and ready to explore the area or exhausted from the long flight.
If you have the energy, consider spending some time in Kuta, Seminyak, or Tanah Lot before departing to your hotel location. 
We suggest that you choose one of these places before heading to your accommodation. 
---
Kuta
---
Seminyak
---
Tanah Lot
Tanah Lot is one of the iconic temples in Bali. It's unique as the main temple area is located in the ocean, about 300 meters from the mainland. 
Before you enter the main Tanah Lot area, you'll walk along a walkway with shops and restaurants. Don't forget to use your bargaining skills if you're interested in souvenirs. Also, indulge yourself with coconut ice cream and your choice of toppings. The coconut shell is used as a natural bowl. 
It's best to visit Tanah Lot during the early morning, late afternoon, or sunset. Just a heads up that this place is very crowded, especially if there are ceremonies. 
If you're able to time the tides, definitely check it out when the tide is low so you can walk directly to the temple. 
Otherwise, you can view the temple from the mainland. It's still lovely to see the temple from afar. There is a flat walking path along the cliffside so you can see the ocean views and smaller temples. 
You can walk down towards the Tanah Lot Temple and close to the ocean, but don't go too far into the water as Security will blow their whistle. 
There is a holy snake at the bottom of the cliff area to the left side. Unfortunately, you can't see the snake unless you pay a small fee. 
Tanah Lot is located 20 kilometers (12.4 miles) away from Kuta which is close by for a visit.
---
Recommended Restaurant Near Tanah Lot
Warung Cantik
---
Whew! That was a long day. You're ready to head to your hotel to check-in. If you have the additional energy, explore the local area, grab some dinner, and/or get a good night's rest. You deserve the sleep.
---
Bali Itinerary Day 2 – Explore North Bali
We're off to a fresh start exploring and heading north of Bali. It's a day of exploring nature and experiencing fewer crowds at the attractions.
---
Sekumpul Waterfall
Address: Sekumpul, Sawan, Lemukih, Sawan, Kabupaten Buleleng, Bali 81171, Indonesia
---
Pura Ulun Danu Beratan
Pura Ulun Danu Beratan Entrance Fee: 75,000 IDR ($5.20) for adults, 50,000 IDR ($3.50) for children. A water bottle is included in the price. 
Address: Danau Beratan, Candikuning, Baturiti, Tabanan Regency, Bali 82191, Indonesia
---
The Bloom Garden (Optional)
---
Jatiluwih Rice Terrace
Bali is known for its endless rice fields. 
Jatiluwih Rice Terrace Entrance Fee: 40,000 IDR ($2.70)
Address: Jalan Jatiluwih No No.Desa, Jatiluwih, Penebel, Kabupaten Tabanan, Bali 82152, Indonesia
---
Pura Luhur Batukau (Optional)
Despite visiting the popular temples, there is something serene and peaceful about visiting the smaller and intimate, Pura Luhur Batukau (Luhur Batukau Temple). 
It's a quiet temple on the slopes of Mount Batukaru and known to protect from evil spirits.
Since we visited at the end of the day, we were the only ones there.
The best part about this temple is how untouched it is with moss covering the temple walls.
In the back of the temple complex is a small lake that overlooks a smaller temple in the center of the lake. The lake also has huge koi fish if you love to see fish.
What a cool and rustic vibe to this place.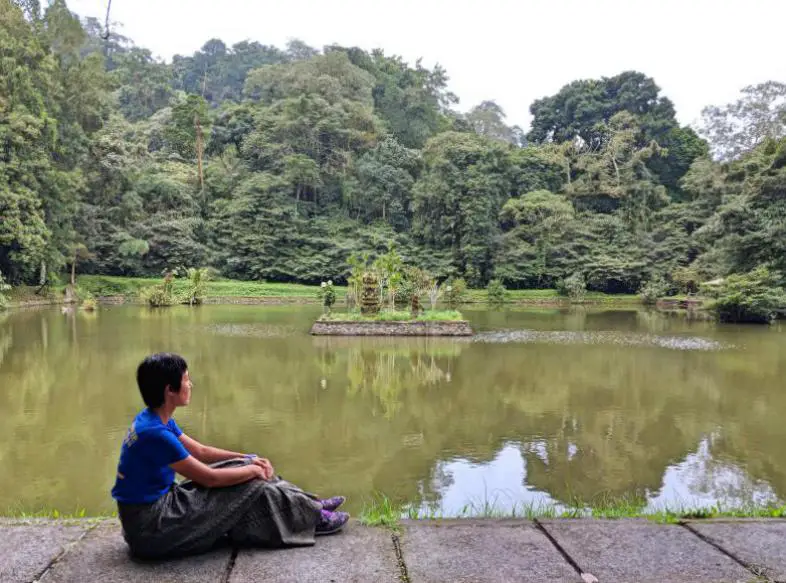 Pura Luhur Batukau Entrance Fee: 20,000 IDR ($1.30), includes sarong
Address: Jalan Penatahan-Wongayagede, Wongaya Gede, Penebel, Wongaya Gede, Penebel, Kabupaten Tabanan, Bali 85125, Indonesia
---
Recommended Restaurant in North Bali, Tabanan Area
If you're carving Chinese-Indonesian food, then come to this place! There are plenty of noodles and rice dishes to choose from. The Bakmi Goreng Special noodle is yummy.
Prices are reasonable and you get a lovely view of the luscious rice fields and even see a welcome sign in the fields.
The hot matcha latte is also delicious.
This restaurant has several locations throughout Bali, such as in Denpasar.
Address: Jl. Raya Bedugul, Br. Dinas Taman Panda Desa Batunya Kec. Baturiti Kab. Tabanan
---
Bali Itinerary Day 3 – Explore East Bali
On this day, we're heading to East Bali to visit the local attractions. Similar to North Bali, there aren't as many crowds on the east side. 
---
Pura Lempuyang 
Pura Lempuyang Entrance Fee: 55,000 IDR ($3.70 USD)
Address: Jl. Pura Telaga Mas Lempuyang, Tri Buana, Kec. Karangasem, Kabupaten Karangasem, Bali 80852, Indonesia
---
Lahangan Sweet 
The long wait time for Lempuyang Temple may be off-putting, so a fantastic alternative is Lahangan Sweet. 
It's a new attraction in the same area as Lempuyang where you can take beautiful photos of Mount Agung on treehouses and high in the skies. 
There are also fun spots to take photos, such as the large "Lahangan Sweet" Hollywood letters, boats, and other sections. 
Since this place is still a secret, you don't need to worry about the crowds yet. 
It's recommended to visit this place early in the morning. You'll have the best visibility with clear skies. It's possible to visit around sunset time. But, when the fog rolls in, the visibility is zero. 
To get here, you can either hike up about 15 minutes or take the Jeep for an additional fee.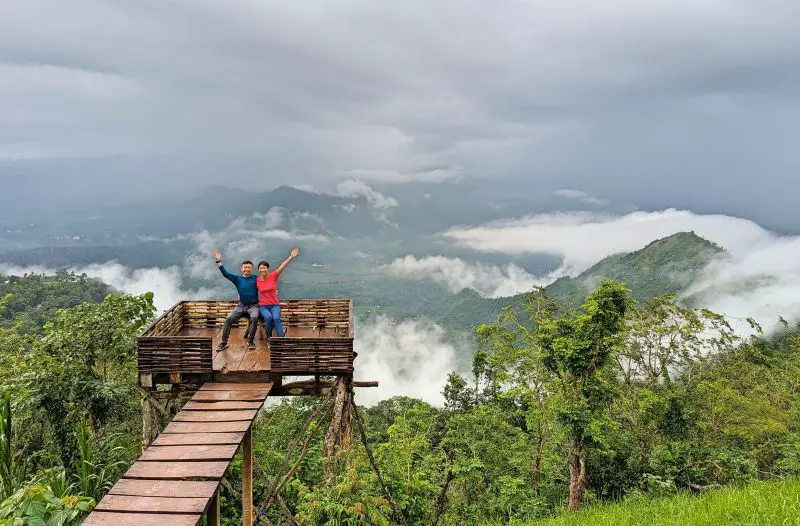 Lahangan Sweet Entrance Fee: 30,000 IDR ($2.00), Jeep (50,000 IDR/$3.30)
Address: Banjar Dinas Gulinten, Bunutan, Kec. Abang, Kabupaten Karangasem, Bali 
---
Tirta Gangga Water Garden
Located 20 minutes from Pura Lempuyang is Tirta Gangga Water Garden. This water palace is not large yet it's still a relaxing and pretty place to visit.
When you first enter the garden, you'll notice how immaculate the garden is.
On the right side is a pond with guardian statues and stepping stones. Follow the stone trail to walk around the pond and check out the well-fed koi fish (they are huge and swim around you). 
It's a gorgeous place to take photos, albeit a little crowded when visitors take photos on the stone so you're stuck for a minute. Passing people is possible but be cautious since there isn't that much room on the stone. 
Next to this pond area is another pool for people to bathe/swim in. 
The left side has a nice walking path with bridges. It's not as crowded as the right side, so you can enjoy the views from afar.
Tirta Gangga Water Garden Entrance Fee: 50,000 IDR ($3.30)
Address: Ababi, Abang, Karangasem Regency, Bali 80852, Indonesia
---
Pura Agung Besakih
Pura Agung Besakih, also known as the Besakih Temple and "Mother Temple" is the biggest and most sacred temple in Bali. 
It's located along the slopes of Mount Agung, and on a clear day, Mount Agung is such a beauty!
This temple complex is huge as it has 80 individual temples. Many people pilgrimage to Pura Agung Besakih from all over Bali for celebrations, burial ceremonies, and other occasions.
To visit the temple, visitors must wear a sarong and have a tour guide, which is included in the admission. There are tour guides that speak English and will take you around the complex. 
Unfortunately, we didn't get to visit many of the temples due to prayers and ceremonies happening but our tour guide did his best to bring us to the main attractions and take photos of us. 
A small tip is expected for the guide.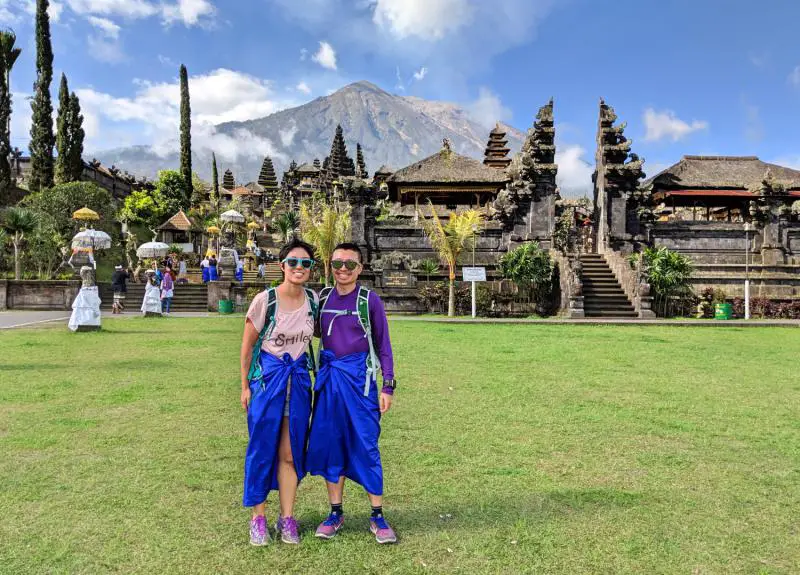 Pura Agung Besakih Entrance Fee: 60,000 IDR ($4.00), includes a guide and sarong rental
Address: Besakih, Rendang, Karangasem Regency, Bali 80863, Indonesia
---
Recommended Restaurant in East Bali
There are several warungs in front of the Tirta Gangga Water Garden that you can stop by along the way. 
Unfortunately, we didn't try them so we can vouch for their taste. However, there were a few tourists who ate at the warungs.
La Grande Restaurant
While this is a touristy restaurant, the food is delicious. 
The menu has a variety of food options from Balinese to Western food. There are sandwiches, burgers, pastas, traditional Indonesian dishes, and plenty of vegetarian options. 
We ordered the La Grande fish which was a grilled white fish with vegetables and drizzled in a buttery sauce. The fish was flaky and not overcooked. 
We also had the vegetarian gado-gado which had potatoes, cabbage, tofu, tempeh, cucumbers, and other veggies. Drizzle the veggies with the peanut sauce and the dish tastes magical. 
If you need to relax, they also have a swimming pool. 
Address: 1-minute walk from Tirta Gangga, Ababi, Abang, Karangasem Regency, Bali 80852, Indonesia
---
Bali Itinerary Day 4 – Explore Ubud
Ubud is an awesome place to stay in Bali. It's known for its endless yoga retreats and classes in Ubud. Plus, there are plenty of good restaurants, temples, rice patty fields, and things to do in Ubud in one day.
Don't forget to choose only 2-3 of the places listed here to check out. 
---
Goa Gajah
Goa Gajah Entrance Fee: 50,000 IDR ($3.50), includes sarong
Address: Jl. Raya Goa Gajah No.99, Kemenuh, Sukawati, Kabupaten Gianyar, Bali 80582, Indonesia
---
Kajeng Rice Fields and Juwuk Manis Rice Fields
Can't get enough of the rice patty fields? If you're in Ubud, check out the Kajeng Rice Fields and Juwuk Manis Rice Fields.
You'll love this place as it's free to access! It's a hidden gem tucked behind a residential area and a must-see in Ubud.
The two rice fields connect via a dirt walking path. Walking through the greenery and the manicured rice fields is peaceful. The path isn't crowded with visitors either. 
Since the rice fields are on private property, you are not allowed to walk directly onto the rice fields.
There are also smaller warungs offering cold and refreshing young coconut for 15,000 IDR ($1.00) each. 
Depending on where you started for the trail, there is a random abandoned building (and now an art corner) that you can walk through.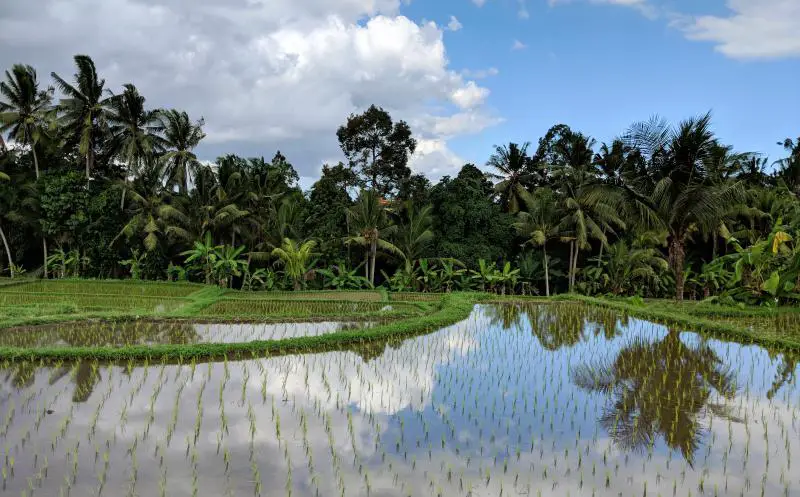 Kajeng Rice Fields and Juwuk Manis Rice Fields Entrance Fee: Free
Address: Jl. Kajeng No.88, Ubud, Kabupaten Gianyar, Bali 80571, Indonesia
---
Ubud Royal Palace
Located in central Ubud, Ubud Royal Palace (also known as Puri Saren Agung) is a popular landmark to check out for Balinese architecture. In the past, the palace was a place of residence for the Ubud royal family.
The palace area is small and can be seen in less than 10 minutes.
In the evenings, the palace has a Legong dance show which is a separate fee. If you want to see the performance, buy a ticket from one of the sellers standing in front of the palace. 
Ubud Royal Palace Entrance Fee: Free
Address: Jl. Raya Ubud No.8, Ubud, Kabupaten Gianyar, Bali 80571, Indonesia
---
Ubud Art Market
Located across from the Ubud Palace, take some time to explore the various shops and stores in the market building and along the side streets.
Stock up on paintings, figurines, sarongs, handbags, and more! If you want one of the fashionable rattan purses, you'll have a variety of designs to choose from at the market. Don't forget to bargain!
*As a heads up, the Ubud Art Market area is currently getting renovated. The vendors are spread into the side streets along the main road. 
Ubud Art Market Entrance Fee: Free
Address: Jalan Raya Ubud No.35, Ubud, Kabupaten Gianyar, Bali 80571, Indonesia
---
Pura Taman Saraswati
It's a great stopover to see Pura Taman Saraswati (Saraswati Temple) when you're visiting central Ubud. The temple is dedicated to the Hindu Goddess Saraswati.
The temple area is small, yet lovely with lotus growing in the pond. 
The evenings have a traditional dance performance where you can have prime seating at Cafe Lotus.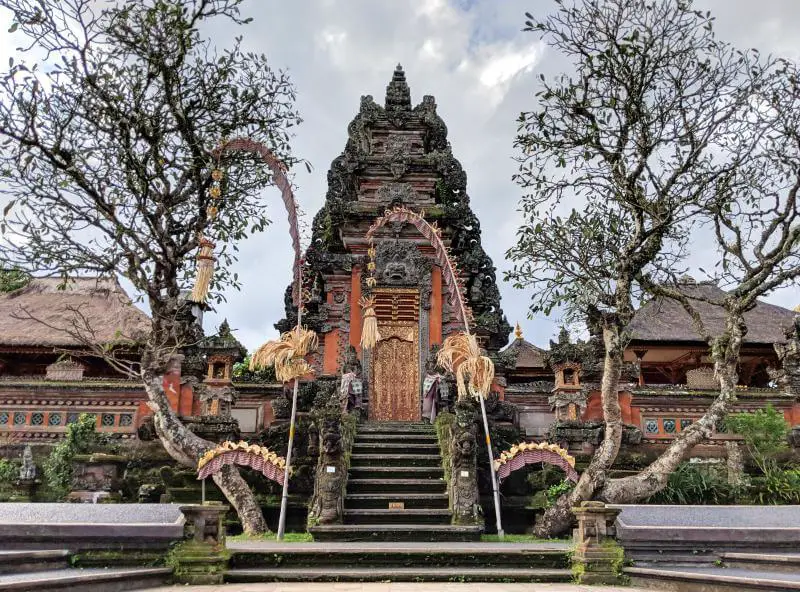 Pura Taman Saraswati Entrance Fee: Free
Address: Jl. Kajeng, Ubud, Kabupaten Gianyar, Bali 80571, Indonesia
---
Tegallalang Rice Fields
Tegallalang rice terrace is a fantastic side trip from Ubud as it's 25 minutes away from Ubud Palace. 
It's the perfect place to visit to get the picturesque spots of Bali and the green rice fields. You can never have enough greenery during a vacation.  
You can spend a few hours here going on a short hike through the rice terraces, trying one of the famous "Bali swings" or bird's nests, or hanging out at one of the warungs along the Tegallalang main street. 
As a heads up, many of the warungs will invite you to their restaurant so you can explore the rice terraces. But, you are not obligated to purchase any drinks or food. 
Read our Tegallalang rice terrace guide for more information such as the official entrance and hiking tips. 
Admission Cost: 25,000 IDR ($1.70)
Address: Jl. Raya Tegallalang, Tegallalang, Kabupaten Gianyar, Bali 80561, Indonesia
---
Ubud Monkey Forest
---
Recommended Restaurants in Ubud
Below are a few of our favorite restaurants to try. Check out the full list of the best places to eat in Ubud.
---
---
---
---
We loved the baked goods options from the matcha donut, coconut pandan bread, and almond croissants.
You can also do takeaway orders of items on the menu in the morning.
In addition, the dining area in the house and the back patio area are adorable with the decorations.
Address: Jalan Raya Andong, Petulu, Ubud, Petulu, Kec. Gianyar, Kabupaten Gianyar, Bali 80571, Indonesia
Bali Itinerary Day 5 – Depart Bali
It's time to leave Bali and head back to Ngurah Rai (Denpasar) International or Domestic Airport.
If you have time a few hours before your departure flight, you may want to stop by the Hidden Canyon to go canyoning for a few hours. 
Or, you can be ambitious and complete a Mount Batur sunrise trek before the day even starts! 
Note: Hiking Mount Batur is currently suspended until further notice. Read more here.
With your incredible experiences and adventures from visiting Bali in 4 days, now you can share with your family members and friends what an exciting place it is to visit!
---
How to Get Around in Bali
---
1. Rent a scooter/motorbike.
Know how to ride one? It's beneficial to rent one of these to have more flexibility with your schedule. 
It's one of the more affordable options as daily rates are between 60,000 IDR to 300,000 IDR ($4 – $20.10 USD).
The traffic is congested around the airport area and during the main rush hour. Therefore, it's not a good idea to learn how to drive a motorbike here. We saw many motorbikes squeeze between the cars and bypass the cars during traffic areas.
Drivers on motorbikes are more aggressive than drivers in cars. 
Please be careful by driving slowly and watching your surroundings. Motorbike crashes happen often and you see many visitors in bandages. Also, you must wear your helmet for safety. 
Here are two options for motorbike rental:
---
---
2. Rent a car.
Car rentals are affordable with prices ranging from 200,000 IDR to 300,000 IDR ($13.40 – $20.10 USD) per day. It's a good option if you want to visit Bali sights at your own pace. 
In Indonesia, the driver's seat is on the right side. So, if you're from the U.S. or places with the driver on the left side, you'll need to switch your mindset with turning into lanes and the steering wheel switches. 
Please inquire if there is any car insurance or what the process is for any damages during the rental. 
---
3. Hire a driver.
Hiring a driver is one of the easiest ways to not stress on your vacation. Bali's traffic is horrendous at times. The roads are not the greatest as they are windy, narrow, and sometimes a pothole mess. 
We always hire a driver when we travel to Bali. It's convenient since we don't need to worry about navigating the streets and finding parking at the local attractions. Plus, it helps to have a car when traveling to Bali in the rainy season since the rain can happen at any time. 
The private driver cost can range from 500,000 IDR to 700,000 IDR ($34-$47 USD) depending on your starting location and where you want to visit for the day. 
It's not the cheapest option but it's worth the cost and your own safety. Plus, it's helpful to have a driver when you have a large group traveling. 
We always have a driver for pick-up/drop-off at the airport and for day trips. The price is also fair due to the long distances each day. Our driver is safe on the roads and can provide tips on where to go in Bali. 
---
4. Book tours in advance. 
There is nothing wrong with taking tours! They're convenient as tours include pick-up/drop-off from accommodations and ticket entrances. Sometimes food is provided on the tour, so you'll need to check what is included. 
Check out the links through this post on places to visit for the day trip. You can also find tours along the main areas of your accommodations to book tours.
---
5. Take Ride-Hailing Cars or Motorbikes. 
Grab and GoJek are the most popular ride-hailing companies on the island. You must use a smartphone and have the apps on your phone to book a car or motorbike pick-up. 
The Grab and GoJek app works the same as Uber where you input the starting and ending location. When a driver arrives at your starting location, check the license plate to make sure that the information matches the app. 
The payment is often cashless as you can pay with a credit card through the app. Cash is also accepted but you'll need to have exact change. 
We suggest using Grab or GoJek for going short distances, such as in one area or to a neighboring area. We do not recommend using this for a long trip or to remote places since you may not get a driver to return to your accommodation. 
---
Where to Stay in Bali
Bali has all of the accommodations that you'd want – budget-friendly, guest houses, luxury, and resorts. It's hard to choose which one to stay in, let alone which area to stay in Bali.
---
Areas to Consider
Nusa Dua is an area where many of the all-inclusive luxury resorts and chain luxury hotels are located. It's located south of the island and is a bit isolated. You'll need to have transportation to/from the area for any day trips. 
Ubud is another fantastic area if you prefer nature and a quieter area. This area is located inland so it does not have any beaches or oceans accessible. But, you'll be surrounded by jungle, luscious trees, and rice fields. It's a popular spot for yoga retreats since it's such a peaceful area. 
---
Where Did We Stay?
Recommendation: Element by Westin Bali Ubud
In Ubud, we recommend the hotel, Element by Westin Bali Ubud. It's a mid-level hotel that averages around $95 USD per night. Since we're Marriott members, we used our hotel points for our stay. 
Rooms are clean and a good size, has tons of sunlight that come in, and are also eco-friendly with shampoo and body wash containers in the bathroom. Plus, this place is surrounded by so many trees!
The hotel is located within a 20 to 30-minute walk to central Ubud, so it is a little farther away. But, you won't encounter crowds and noise here.
Other complimentary amenities include the use of the fitness center, pool, yoga classes (unfortunately we couldn't take advantage of them due to our packed schedule), bike rentals on a first-come, first-served basis, and shuttle rides to and from the Ubud Monkey Forest. 
The hotel also has an on-site restaurant.
---
Additional Tips for Visiting Bali
Below is a snapshot of some additional Bali travel tips to know. 
Check if you need a visa or if you can get a visa on arrival. 
Currently, 90+ countries may enter Indonesia with a visa on arrival, such as the United States. It's valid for 30 days. The cost is 500,000 IDR or $35 USD, and cash is the only acceptable payment. 
Here are the additional currencies accepted – Singaporean Dollars, Hong Kong Dollars, Euro, Japanese Yen, British Pounds, Saudi Arabia Real, Thailand Bhat, Canadian Dollars, Swiss France, Korean Won, Malaysian Ringgit, and Chinese Yuan. 
---
You'll need to exhibit patience as Bali's roads are congested. 
Even though a place is 20 kilometers (12.4 miles) away, it can take over an hour to get there by car. 
Please account for travel time especially if you're going to areas north or east of the island. 
---
Respect the rules at the temples. 
Everyone must wear a sarong to cover the knees and also cover the shoulders.
Women on their menstrual cycle are also not allowed in temples.
---
Bali still uses cash as the main form of currency.
Cash is king in Bali! 
ATMs are available in the main tourist areas of Bali. You may need to go to several ATMs to find one that works with your card. 
Or, there are money exchange places. The exchange rate is usually listed outside of the building or kiosk. Please remember to check your currency to make sure that you received the correct amount. 
Some restaurants and stores take credit cards but will add a 3% surcharge for usage. You can ask ahead of time if the restaurant or store charges the fee before usage. 
---
Hydrate often!
It's hot and humid in Bali, especially if you're not used to the weather. 
Dehydration and heat stroke are very possible on your trip, so don't forget to bring and drink lots of water on your daily adventures.
---
You'll learn to love eating tempeh.
Tempeh is a fermented soybean that is delicious when fried. Every warung and restaurant has its own version of homemade tempeh.
---
Final Thoughts
We LOVED our time in Bali from seeing lots of temples, eating delicious foods, seeing endless rice fields, and more. Spending 4 days in Bali is not enough time, but it's a good start for first-time visitors. 
We've been back to Bali many times so check out our 2 week Bali itinerary for a longer visit.
If you need ideas on other places to visit in Indonesia, check out our posts: 
Visiting Bali soon? What places do you want to see in this 4 days in Bali itinerary? Let us know more about your upcoming Bali trip in the comments below or via our social media channels.
Love this post? Save it to your Indonesia Pinterest board.
Pin #1 photo credit: Andrea Torres via Scopio Photos
Pin #2 photo credit (clockwise from top): Lloyd Evans via Scopio Photos, OleSemenova via Depositphotos, Andrea Torres via Scopio Photos
Pin #3 photo credit: Filippo Cesarini via Scopio Photos