One place that needs to be on your neverending Bali adventure list is a Mount Batur sunrise trek. Located in northeast Bali, Mount Batur is one of the tallest mountains on Bali at 1,717 m (5,633 ft). It's still an active volcano so we had to experience this trek for ourselves.
We're huge hiking fans and love going on the trails wherever we travel so this was the perfect bucket list activity for our Bali itinerary. Plus, who doesn't love seeing the sunrise on top of a mountain?! 
We planned to trek Mount Batur during our first time in Bali but we didn't have enough time. Our plans were delayed with Mount Agung's eruption and taking a side trip to Komodo National Park. Regardless, we made it on our second visit and the trek didn't disappoint!
As a heads up, you'll start this adventure very early at 2:00am so it's good for those who are morning risers (we're still not!) 
In this post, we're sharing our experience with the Mount Batur sunrise trek and how to prepare for the trek including what to wear and what to bring. 
Now let's join hundreds of hikers up Mount Batur!
*Disclaimer: Visiting Bali? We have affiliate links in this post. As an Amazon Associate, we earn from qualifying purchases. If you click on the links and make a purchase, we receive a small commission. There is no cost to you. Appreciate the support.
---
Overview of Mount Batur Sunrise Trek
Mount Batur isn't too difficult to trek which is why it's considered one of the best Indonesian hikes to try. This hike doesn't need any equipment so it's more of a hike. If this is your first hike in a while, you may want to practice going up and descending on hills and walking over an hour without breaks.
Challenging level:

Easy to Moderate Level –

It's not too technical but you will need to be careful with some of the rocky areas.

Distance:

Around 5.3 miles (according to our GPS watch)

Summit height:

1,717 m (5,633 ft.)

Time to complete:

2.5 hours (without stopping) / Over 3.5 hours with breaks and watching the sunrise

Helpful tip:

Wear a jacket when you're at the top of the mountain. It's chilly and windy! More info on what to wear below.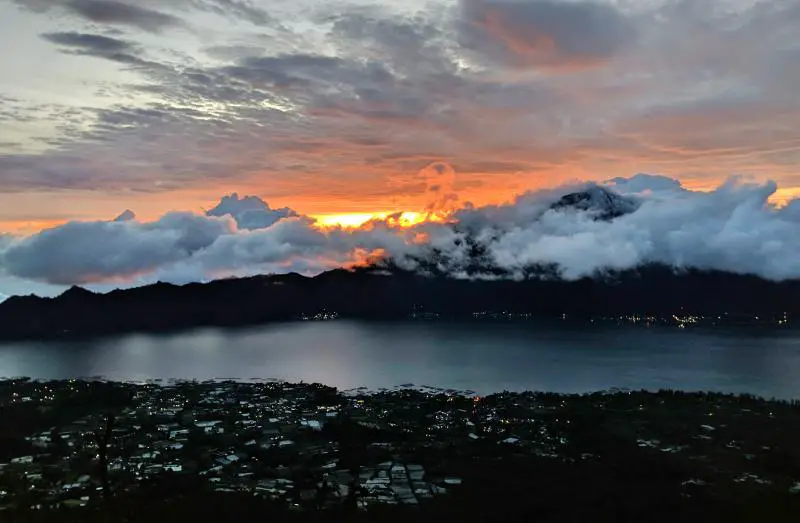 ---
Can You Climb Mount Batur Without a Guide? 
Climbing Mount Batur without a guide is doable yet we wouldn't recommend it. The hiking trail isn't marked (although you can see if there are worn-down paths) so there is a chance of getting lost. We think it's worth it to have a guide show us where to go. Your tour guide is included in the cost of the tour.  
---
How Much Does the Mount Batur Sunrise Trek cost?
The trek cost varies depending on if you decide to pre-book ahead of time or when you arrive in Bali. If you decide to prebook a trek, here are some options to consider:
We opted to find a local tour agency when we arrived in Bali. It's recommended to book a tour at least 1-2 days before your hiking date. You'll need to pay your complete balance before your hiking date.
Since we stayed in the Ubud area, we didn't have any problems finding a trek. We received quotes for the Ubud Sunrise Trekking company for 300,000 IDR – 400,000 IDR ($21-$28 USD) per person which includes pick-up and drop-off from our hotel in Ubud, breakfast, guides, and coffee plantation tour. You can choose to go to a hot spring instead of the coffee plantation visit but this will a different fee. 
In the end, we found an agency that offered the hike to us for 300,000 IDR ($21 USD) per person which we thought was a reasonable price for a group tour. 
---
What to Bring on Your Mount Batur Trek
You'll need to prepare in advance what you'll need to bring and wear in Bali and for this trek. Here are the recommendations below.
Water and snacks

– Here is our favorite

reusable water bottle

so you can reduce your plastic waste.

Headlamp

– Your guide may have flashlights but a headlamp is recommended. You'll have a better experience being hands-free when scrambling up the rocks. We love and use

these headlamps

.

Hat

– It'll keep your head warm when you're waiting for the sunrise and also protect you from the sun on your descent. Check out

this hat

.

Sunglasses

– You'll need these on your descent. Here are our

favorite sunglasses

for hiking!

Cash

– You can purchase snacks or coffee at the summit. Also, don't forget to tip your guides at the end of the trip. 
You may wonder if you should bring hiking poles. We wouldn't recommend it as the trail is narrow and the hiking poles may hinder your walking speed, especially if you need to scramble to get to the summit. 
---
What to Wear on Your Mount Batur Trek
Technical t-shirt

– Any moisture-wicking shirt will do!

Hiking pants or long pants

– Do not wear shorts. The wind at the peak of Mount Batur is brutal so your legs will freeze! We were cold with hiking pants on. 

Jacket

– Any windbreaker-type jacket will be great. You'll need this jacket when you reach the top of Mount Batur. We did a combination of a Patagonia R1 (men/

women

available) and a Houdini (men/women available) jacket.

Hiking boots or shoes with good traction

– We wore Nike running shoes which were fine. However, we would have preferred wearing hiking shoes as there were some areas where we could have rolled our ankles. Our favorite boots are

Lowa Renegade (women)

and

Solomon Quest 4D (men).

  
---
Mount Batur Sunrise Trekking Schedule
Your schedule may vary but this is what we experienced. It was a very early start. We're not morning people so it was pretty brutal to wake up around 1:30am with a few hours of restless sleep. 
1:30am – Wake up time to prepare for our hike.
2:30am – Pick up from hotel in Ubud.  
3:30am – Arrive at a warung for breakfast (fried bananas and hot coffee or tea).
4:10am – Start hiking and making your way up Mount Batur.
6:00am – Reach the summit to see the sunrise.
6:30am – Sunrise comes out at this time.
6:50am – Head back down and explore a caldera.
9:35am – Arrive at the coffee plantation.
10:30am – Arrive back at our hotel.
---
Our Mount Batur Sunrise Trekking Experience
Our goal was to sleep by 10:00pm and wake up by 1:30am so we would have 3.5 hours of sleep. Right before we turned off the lights, we contacted the Ubud Sunrise Trekking tour agency via WhatsApp to confirm our trek and pick-up. Luckily we did as the tour operator asked for a copy of our receipt for verification and confirmed our hotel location. 
Unfortunately, I had difficulty falling asleep due to anxiety. I didn't want us to miss our pick-up time so I kept glancing at the clock throughout the night. Justin didn't have any issues and fell asleep normally.  
When our alarm went off at 1:30am, it was just a quick change of clothes and last-minute packing of our water, snacks, jackets, and sunscreen. We're not morning people so getting up in the dark with little sleep was tiring.
Our driver picked us up from our hotel, Element by Westin, promptly at 2:30am. We were the last stop as our hotel was along the way to Mount Batur. It worked out great as we hopped into the van with 12 other people and then dozed off until we arrived at our breakfast location. 
After a quick break with our fried bananas and a cup of tea (or coffee if you prefer but we're huge tea drinkers), we went back to the van to arrive at the parking lot/ start of the trek.
Our group of 11 hikers met our two guides. Everyone received a box of hard-boiled eggs, two pieces of sliced white bread, and a banana for a second breakfast. We thought the guides would boil eggs on the mountain but it wasn't the case. 
Tip: The parking area is the only stop with bathrooms so you must use them here! There is a small fee to use the bathroom. During our visit, there were more local and not so clean bathrooms available where you didn't need to pay and these were located to the left of the women's bathroom. 
Now we're starting the trek! 
The trek was pitch black as we passed by farms, heard roosters crowing, and went up on the path. This is where your headlamp/flashlight will come in handy. Don't expect to go super fast up the trail as the walking path is narrow. You're sharing the trail with hundreds of other people so it will be a slow hiking pace. There is enough space for one person at a time to go up the trail but it can get very crowded. Fast hikers will need to exhibit patience if going up in a group. 
As we got closer to the summit, things got a little dicier. The hiking trail wasn't the flattest and you had to battle against the rocks/lava. This part is where hiking boots would have come in handy. We even had to do some scrambling to pull ourselves up some steep parts of the path. One of our guides pushed us along to ensure that we would make it to the summit area before 6:00am. 
We finally made it to the summit area. At this point, you could hang out in the hut area where coffee and tea are sold. 
With the help of one of our guides, we opted to go up higher to have a better view of the sunrise and to get away from the crowds. Our guide found a spot for us to sit and watch the sunrise.
We ate our second breakfast of the hard-boiled eggs and bread. It was so cold and windy at the summit so it wasn't as enjoyable to eat. Plus, we weren't hungry but knew we had to refuel for burning energy with the first half of the hike. 
The sunrise came up around 6:30am and it was stunning! The sky had layers of orange and purple while the sun peeked behind the clouds. We were lucky to have a clear morning to awe at the sunrise. 
Once the sun came up, a family of monkeys appeared to look for food. The monkeys weren't aggressive like the ones in Ubud Monkey Forest yet they tried their best to grab food.
I had a banana and some bread leftover in my box and the monkey must have smelled it. It tried to take the box when I wasn't looking! 
On our way down from Mount Batur, we stopped by the caldera area to browse around and take photos. We also had to take a photo with the Mount Batur summit sign that says "1,717 meters." It was a lot warmer once we went down the mountain. 
Our group didn't take the same path going back down to the parking lot. Maybe it was too technical or rocky to head back in the same direction. Instead, we took a shortcut and passed by Pura Ulun Danu Batur before arriving at the main parking lot. We didn't get a chance to stop by the temple but you could use the temple as a starting point for the Batur hike if going later in the day. 
Once we returned to the parking lot, everyone gave each other high-fives for completing the trek. It was such an accomplishment to hike for a few hours and in the dark. The best part was that it was still morning! 
We gave each guide 50,000 IDR ($3.50 USD) a tip as they did an excellent job with pacing the group on the trail and ensuring our safety.
After saying our good-byes to our guides, we went to our next destination, Satria Lewak coffee plantation. It was a lovely location in the forest with a hilarious sign of "Bali Cat Poo Chino."
Our group tried samples of 16 different coffee and teas. Some of the unique flavors were ginseng coffee, coconut coffee, mangosteen tea, saffron tea, and lemongrass tea. While we're not coffee drinkers, we tried the teas and they were a bit too sweet for us. There wasn't any obligation to purchase coffee or tea at the souvenir shop. 
The rest of the day was pretty much a blur. Once we got back to our hotel, we took a shower and then caught up on sleep for the next 4 hours. We were exhausted! The sleep was so nice after completing a trek early in the morning. 
Once you wake up from your nap, you'll need to refuel your energy. Since there are tons of restaurants to try, check out our list of cheap restaurants in Ubud.  
If you have the stamina for the rest of the day, consider taking one or more of these side trips from Ubud.
---
Final Thoughts
We had an awesome time trekking up Mount Batur to see the sunrise. The morning weather and clear skies couldn't have been any better. Plus, the hiking route is not too strenuous. 
While we probably won't do the hike again due to the early morning start and the crowds, we would love to hike Mount Agung in the future. The summit is even higher than Mount Batur at 3,031 meters (9,944 feet) and more of a challenge that is right up our alley. Hopefully, the mountain is not as active on our future visit.  
If you're traveling to other parts of Bali, check out our Bali posts for inspiration:
Have you trekked Mount Batur? What was your experience like? Share in the comments below. 
Save this post to your Indonesia Pinterest board!
Pin #2 photo credit: Joaquin Prats via Scopio Photos