Hiking Penang Hill was one of our most memorable experiences during our two days in Penang, Malaysia. Penang Hill (also known as Bukit Bendera in Malay) is a former colonial station built by the British during their occupation in Malaysia. Now it's a popular tourist attraction to explore nature, have stunning panoramic views of the city, and visit attractions.
Most visitors take the cable car up to the top of Penang Hill (for an additional fee). Yet, we thought hiking was the perfect way to start the day with some exercise and to get our outdoors nature fix. We also had to burn off the calories from two slices of delicious cake that we ate at China House the previous night!
There are over 26 different starting points to hike Penang Hill. Since we traveled with Justin's colleagues to Penang Hill and many decided to take the cable car, our smaller group of hikers happened to take the Heritage Trail to the Top Station route. It was the closest route to the cable car entrance and exit. 
In this post, we're sharing what to expect with hiking Penang Hill Heritage Trail and helpful tips on how to prepare for the hike. 
If you're planning to continue your Malaysia trip to other cities, check out our other post on how to spend 4 days in Kuala Lumpur.
Now let's start hiking!
*Disclaimer: Headed to Penang? We have affiliate links in this post. As an Amazon Associate, we earn from qualifying purchases. If you click on the links and make a purchase, we receive a small commission. There is no cost to you. Appreciate the support.
---
What Are the Different Penang Hill Hiking Routes?
As we mentioned earlier, you can choose from 26 trail entrances. It depends on how much time you have and where you want to start. You can take trails from the Botanic Garden (where one of the routes starts from a waterfall), Moon Gate, Youth Park, and more. Click here to learn more about the other hiking trails.
What is awesome about these trails is that they are not technical so a guide isn't necessary. Plus, the trails are marked and well-maintained. 
Hiking up Penang Hill is also FREE! There isn't an entrance fee no matter where you start your hike.  
---
Overview of Penang Hill Heritage Trail to Top Station
The Heritage Trail to Top Station is gorgeous as you're surrounded by trees and forests. It's so green and peaceful that you may never want to leave. You may even spot some monkeys in the trees. Here is an overview of what to expect with the trail:
Challenging level:

Easy-Medium as there are concrete stairs in the first half of the trail (It may be a bit challenging if this is your first hike in a while)

Distance:

5.8 kilometers (3.6 miles) round-trip (according to our GPS watch)

Summit height:

833 meters (2,733 feet)

Time to complete:

Approximately 2 hours and 30 minutes round-trip (This is just for the hiking part only and not for the time we took to explore the Penang Hill attractions)

Helpful tip:

Follow the white, red, or pink arrows to find the trail location
---
How to Get to Penang Hill Heritage Trail
The easiest way to get to Penang Hill Heritage Trail is to hire a Grab car and head to Penang Hill Lower Station. Grab is a popular ride-hailing company in Southeast Asia, to your starting point. Download the free app here. 
You'll also need to have a data plan to call the Grab, so pick one up when you arrive at the Penang International Airport. Click here to purchase a 4G SIM card.  
Or, if you're from the U.S. and are looking for an international phone plane, consider signing up for Google Project Fi. Receive a $20 USD credit when you sign up! We've used this phone plan since 2016 and you get 4G LTE in Penang. Plus you don't need to worry about buying a SIM card on arrival as your plan has data and text included. 
From our accommodation, Carnarvon House, in the George Town UNESCO area, it took about 30 minutes (about 8 kilometers / 5 miles away) to get to the Lower Station due to traffic.
You could also consider taking Bus #204 from the Komtar Bus Terminal but allot for a 50-minute bus ride. The bus will drop you off in front of the Lower Station. We suggest that you use Google Maps to see other bus options. 
We'll share more details on the actual hiking trail below. 
---
When Is the Best Time to Hike Penang Hill?
Our Grab driver mentioned that most people start hiking at 6:00am and finish at 8:00am. The earlier you start the better for cooler weather and fewer people on the trail. 
Oops. We failed on that point and started hiking after 9:45am. Within the first five minutes of walking, our group was already a sweaty mess. 
While you can hike the trail at any time and on any day, the weather gets very hot and humid as the day goes on. In the future, we will start hiking much earlier!
---
What to Wear for the Penang Hill Hike
---
What To Bring for the Penang Hike
Lots of water – We were unprepared for the humidity and heat and had to ration our water before reaching the summit. We use this reusable water bottle

and love it.

Mosquito repellent – The mosquitoes are vicious on Penang Hill. We received over a dozen bites on our arms and legs. You can purchase this plant-based spray. Another natural mosquito repellent is Tiger Balm

 which also helps relieves the mosquito bite itchiness. 

Sunscreen – Protect yourself from the sun with this sunscreen

. 

Microfiber towel – Or, any towel will do for your sweat. Check out this portable towel option

.

Cash – You can buy drinks and food at the cafe once you reach the top. 
Snacks – You may need to re-fuel halfway through the hike and there aren't any shops along the way. 
An extra set of clothes 
---
Our Penang Hill Hiking Experience
It was easy to find the Heritage Trail from the Lower Station entrance. We went to the left side of the building and continue through a small walkway. There was a small sign that pointed to the direction of the Heritage Trail. 
We passed through a parking lot, went up a paved road for a few minutes, and saw the entrance of the Heritage Trail on the right. You can't miss the sign of "Penang Hill Heritage Trail Since 1890," or in Malay, "Bukit Bendera – Laluan Wansan – Sejak 1890" on the giant rocks.  
Now the fun starts! 
The first part of the trail led to a set of concrete stairs. Luckily this area was shaded yet it was very steep. It was the hardest part throughout the hike so it was a combination of going up slowly (huffing and puffing on the way up) and taking brief breaks. 
What we noticed about this route was that it was surprisingly quiet. Maybe the locals already finished or this trail is known to be harder. There were a dozen people that we saw in the beginning part of the trail. Everyone was courteous to each other if there were faster hikers/trail runners that needed to pass. 
Once we reached the first milestone, Middle Station, it was such a relief. Middle Station was a former station of the older cable system used to go up the hill. You can still see the old line next to the current track.
Regardless, this is a great stopping point to take a rest break and take photos. We were a sweaty mess reaching this station, yet we soaked in the gorgeous views of Penang and the forest area. The cable car passed the area a few times during our break. In the back of our minds, we were envious of the people inside their nice air conditioning cable car as it was so hot outside. 
Tip: If you need to use the restroom, use it here. We didn't encounter another restroom until reaching the summit. 
We continued on our way up to more stairs. Eventually, the trail became a narrow single track as we passed by several houses and gardens. Unfortunately, this area wasn't shaded so your hat will come in handy.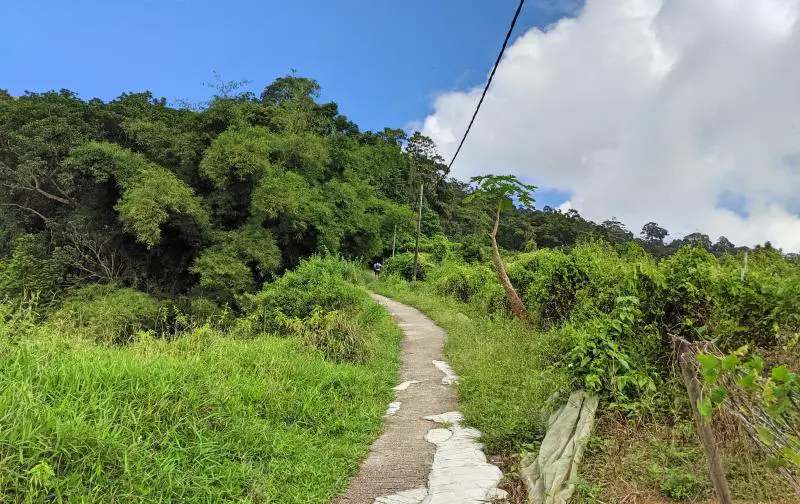 The next sub-station is Claremont Station. We opted to not take a break and continued on the hike. There is a signpost with the yellow signs and one arrow pointed to the "Top Station," so we knew we were on the right track.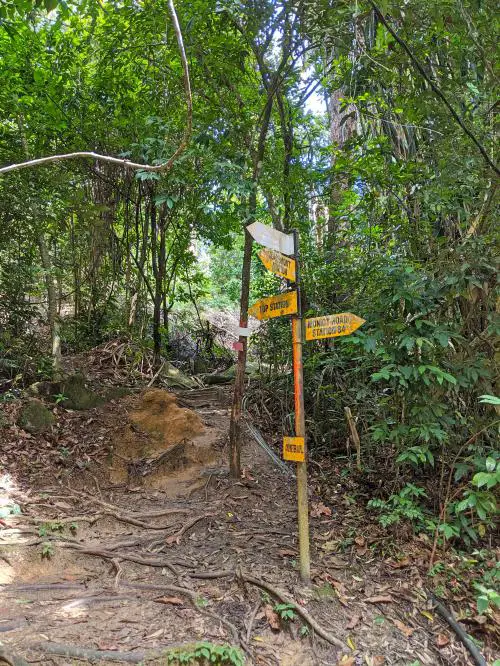 Now it's time to hike through the forest. The path was slightly muddy and had large tree roots coming out from the ground. Just stay alert with where you're walking. This is the only section where hiking boots would be handy. Otherwise, the walking path was not difficult. 
Once we got out of the forest, we reached the underpass of the cable car. This is another pretty spot to take photos since the underpass has an old and weather look. If your timing works out, your photo will have a cable car in the background. 
We followed the arrows to go underneath the bridge to walk on another set of concrete stairs. 
The stairs led to a paved road where we walked along the curved road for 10 minutes or so. We eventually saw a sign, "To Upper Station." The stairs were not in the best condition as there were some broken parts so be careful when walking up. 
We were in the home stretch as we walked up to another set of stairs and reached the Top Station! 
Yes! We finally made it to the Penang Hill summit! Well, at least to the Top Station gate. You have to pass through the cable station gate area to enter the area with the Penang Hill attractions. You'll get a better observatory lookout point for a better finishing photo. 
It took over 1.5 hours to get up to the hill yet it was worth the effort! 
---
Penang Hill Attractions at the Top
Since it was our first time visiting Penang Hill, we took advantage of the attractions and spent a few hours here. You may want to change into your extra set of clothes to feel more comfortable exploring the attractions. 
Some of the places that you can check out are:
Observatory look-out area
Locks of Love
Sri Aruloli Thirumurugan temple
Owl Museum
The Habitat

– We loved this place! It's a must-visit to experience more nature. Plus you get the opportunity to walk along suspension bridges, swing on the giant swings, and enjoy the luscious forest area. There is an option to go ziplining. While there is a fee to visit this place, we thought it worth the price as there aren't any crowds.
>> Purchase your tickets ahead of time and save money on admission here!
Cliff Cafe –

If you need a drink or a snack, check out the options here. You may need to get some cendol or fresh juice to cool you off from the hike. 
---
Going Down Penang Hill 
It was time to descend Penang Hill. While we could have done a different trail, we decided to go back the same way via the Heritage Trail and to the Lower Station. The descent took about 50 minutes and it was much easier. We did have to slow down in the forest area due to the mud and the tree roots. 
We reached the bottom of the hill around 3:30pm and there were still a few dozen people making their way up the hill. 
We did it! The whole trip of hiking and spending time at the Penang Hill attractions was almost a full day trip. It was so much fun that we would do this hike again and try another trail. The hike wasn't difficult (minus dealing with the humidity) but we would start much earlier next time.
If you still have energy after the hike, head to the Kek Lok Si Temple to see the largest Buddhist temple in Malaysia. It's a couple of miles away from Lower Station and a fascinating place to explore and take photos. 
---
Still Thinking About the Cable Car?
You may be exhausted reading about the hike and may consider taking the cable car instead. Another option is to do both – a combination of a hike and a cable car ride. 
Purchase the cable car tickets (whether it's one-way or round trip) at the Lower Station. The prices are:
One way ticket: 15 MYR ($3.60 USD) for adults and children 
Standard round trip ticket: 30 MYR ($7.20 USD) for adults and 15 MYR ($3.60 USD) for children 
Express round trip ticket: 80 MYR ($19 USD) for adults and 40 MYR ($9.60 USD) for children (You skip the long line if you get the Express ticket.)
>> Skip the line to purchase the cable car tickets and buy them ahead of time here. 
All you would need to do is to take the cable car in either direction and get off at the sub-stations (only available at the hour – 9:00am, 10:00am, etc) and hike from a certain point. Enjoy the AC in the cable car as much as you can! Plus, the combo hike/cable car will help you complete the route faster so you can continue with your day.
---
Have you hiked Penang Hill? What was your experience like? Share in the comments below.
Enjoy this post? Pin this post to your Malaysia Pinterest board.