Penang, Malaysia is one of those places that we would return in a heartbeat. While we loved exploring Kuala Lumpur, Penang is easily a favorite place to visit in Malaysia. From the recognition as a top foodie destination to the gorgeous nature and hiking opportunities, we can't get enough of this place!
We only had two days in Penang as we did a weekend trip with Justin's colleagues. While two days is a short time frame, it was enough time to experience the Malaysian culture and to wander around the small island. We appreciate the laid-back and slower pace of the city's vibe, friendly locals, and the affordability of accommodations and food.  
In this Penang 2 days itinerary, we're highlighting the awesome things to do in Penang including the well-recognized street art, mouth-watering places to eat, best places to stay, and how to get around. As you know us by now, we're including plenty of outdoor activities such as hiking and relaxing on the beach. Feel free to mix up the itinerary based on the amount of time that you have and your interests. 
Now let's continue to see how you can maximize your 2 days in Penang itinerary. 
*Disclaimer: Have a vacation in Penang? This post contains affiliate links. If you click on them and make a purchase, we receive a small commission. There is no additional cost to you. Appreciate the support.
---
Penang Itinerary: Day 1 – Explore George Town and Batu Ferringhi
On the first day in Penang, we're off to explore George Town, a recognized UNESCO World Heritage site in Malaysia since 2008 and later heading to the beach at Batu Ferringhi.
Whether you've landed in Penang in the morning or stayed in the city the night before, George Town is a great introduction to the capital city of Penang. The area is sprawling with rich culture from its food scene to the incredible street art to the beautiful temples.
At first glance, George Town may look a little dated and grungy compared to Malaysia's capital, Kuala Lumpur, and Singapore. Yet it's such a charming area that still preserves its original look and feel of the buildings and lifestyle. 
Our itinerary below is based on a DIY walking tour. If you prefer to have an organized tour of George Town, consider making a reservation to take this tour. 
Walk around and look for amazing street art in George Town. 
We're a fan of seeing street art around the world and George Town's artwork doesn't disappoint. It's one of the top things to do in Penang!
In 2012, Ernest Zacharevic, a Lithuanian artist, transformed George Town to a street art mecca. He created interactive artwork by combining everyday objects such as motorbikes and bicycles with paintings of local people. His artwork is playful and depicts Malaysian people in their everyday lives. 
You'll recognize the famous artwork such as,
The boy looking back on the motorbike (located near Lebuh Pantai and Lebuh Ah Quee)

The brother and sister sharing a swing (located near Pengkalan Weld and Gat Lebuh Chulia, next to the

35@Jetty Building

潮人居

)

The brother and sister reaching out of their window for the bike with the bamboo steamers  (located along Gat Lebuh Armenian and Lebuh Victoria, next to the

Ming Xiang Tai Pastry Shop

名香泰饼家)
Zacharevic's influence paved the way for George Town to now have dozens of designated street art locations in the main George Town. Besides the interactive artwork, you'll also notice wire artwork which also depicts the Malaysian culture and the city's history.
Take the time to travel through the popular areas to spot the artwork such as along Armenian Street and Victoria Street. Consider wandering through quieter streets and alleyways to find some hidden gems.
One of our favorites is of two cats in a yellow tub that says, "Please care n bathe me." The artwork is small and off an alleyway from Gat Lebuh Armenian and Lebuh Victoria that you can easily miss. Plus, we like the PSA that the stray cats need care too!
If you're interested in learning more about street art and its cultural influences, check out this post on the best street art books to read.
Wander around the Armenian Street and Little India.
Now we'll head to the cultural areas of Penang. The first stop is Armenian Street. As a former street that housed Armenian traders, it's now a hot spot to buy unique souvenirs, enjoy a cup of coffee at cafes, and of course, pose with the street art. 
Some highlights of the area include: 
Umbrella Street

is one of those Instagram spots in Penang with colorful umbrellas above your heads. While the street is small, it's filled with restaurants and fun street art. It's located in an alleyway near Zacharevic's Children on Bicycle street art.  

Hock Teik Cheng Sin Temple

福德正神庙 is a great spot to see a Chinese temple.
Not far from Armenian Street is Little India. Embrace your senses and the vibrant colors with the yummy Indian cuisine and shopping in the area. You can stop by the Sri Mahamariamman Temple which is the oldest Hindu temple in Penang. 
Head to the Chew Jetty.
Only a short walk away from Armenian Street is the Chew Jetty 姓周桥 (also referred to as Clan Jetty). It's a floating village area with clothing and souvenir shops and restaurants along the walking route. If you've been to Brunei's Kampong Ayer or Hong Kong's Tai-O Village, the look of the jetty area is similar. 
The walking route is an out-and-back once you reach the water area. The wooden walkway is tight and can get crowded with visitors so it's not best for those with claustrophobia. You can also see some street art in the area too. 
If you're hungry, grab a bowl of noodles at the Chew Jetty Big Bowl Noodles 姓周桥大碗公面. While we weren't hungry, this place looked intriguing. You can order a big bowl of noodles (seafood, beef, pork, vegetarian) for up to five people. The noodles are placed in a giant ceramic bowl (the bowl is bigger than your head!) for everyone to eat out of. The restaurant is closed every Wednesday. 
Spend the Afternoon at Batu Ferringhi Beach.
Let's take a break from exploring George Town by heading to the north side of Penang Island to Batu Ferringhi Beach. It's 19 kilometers (11.8 miles) away and takes about 40 minutes (depending on traffic) to drive there. The beach stretches about 4 kilometers (2.5 miles) so your Grab or taxi driver can drop you off anywhere.
While the water is not the greatest (we think it is a bit dirty) and the sand is coarse, the beach is a good spot if you're dying for some sun, beach time, or want to get away from the city center. For our group, the beach was our bonding and hang out time. You can hire a boat ride or a jet ski for some water adventures.
Depending on how late you stay in the area, there is an evening night market along the main road, Jalan Pantai Batu, that starts around 8pm. You can purchase souvenirs and eat street food. 
If you prefer to have a more sit-down environment for a meal,  we recommend that you try Andrew's Kampung. Located in an unassuming strip mall on the third floor, this place serves good Chinese food. The owner, Andrew, is super friendly and provided suggestions on what to eat. Prices are on the higher end compared to what you can get in George Town. We enjoyed our family-style meal of tofu clay pot, fried sea bass, fried squid, stir-fried veggies, and beef curry. There are plenty of vegetarian options here. 
Address: Eden Parade, Jalan Sungai Emas, Kawasan Perumahan Sungai Emas, 11100 Batu Ferringhi, Pulau Pinang, Malaysia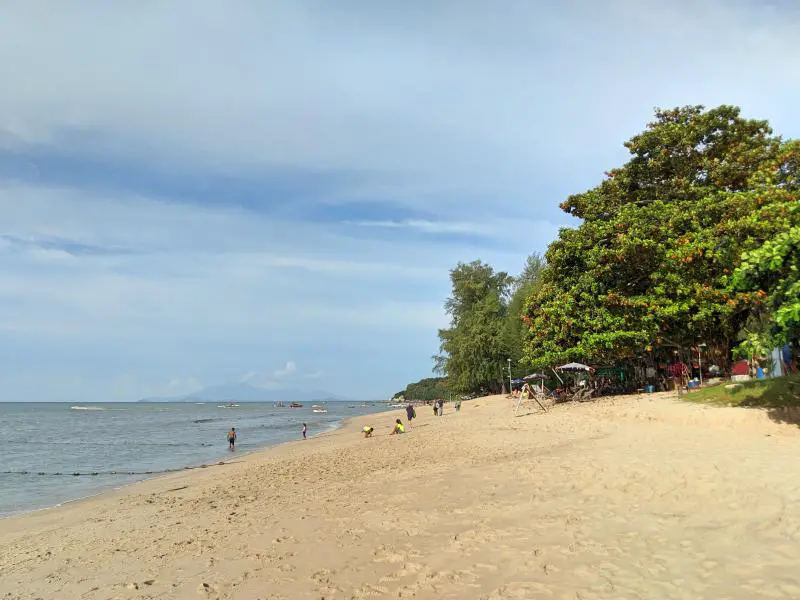 Return to George Town for the Night Market and Eat More!
George Town has a few night markets where you can eat your heart out such as Kimberley Street Food Market or Chulia Food Night Market.
We went to the Chulia Food Night Market where many hawker stalls set up shop along Chulia Street selling noodles, BBQ seafood, sandwiches, and more. A small bowl of wonton noodles will set you back 4.50 MYR ($1.08 USD). Prices are reasonable so you can stop by multiple shops.
You can also find more restaurants and bars along Love Lane. 
---
Penang Itinerary: Day 2 – Penang Hill and Kek Lok Si 
On our second day in Penang, we're off to get some exercise hiking up Penang Hill and also the largest Buddhist temple in Malaysia, Kek Lok Si. These two places are some of the most memorable  
Hike or Take the Cable Car Up Penang Hill.
Penang Hill is a top place to visit in Penang. With a summit of 833 meters (2,733 feet), it's the perfect place to work up a sweat to hike up Penang Hill and see the beautiful views of the city. Once you reach the top of the mountain, there are many attractions to visit so you can spend half a day here. 
We love hiking so we decided to trek up to Penang Hill summit. There are several hiking routes you can take depending on your starting location.
We took the Heritage Trail which you can get to from the Penang Hill Lower Station. This trail is not technical as you don't need hiking boots yet it's humid and hot if you start later in the day. Most of the hiking trail is shaded so that helps and you'll pass by lots of greenery and trees. There are a few resting spots along the way so you can take a break.
Give yourself a huge pat on the back once you hike to the top as it's no easy task. It'll take between 1.5-2 hours to reach the top of Penang Hill.
Read more about our experiences hiking Penang Hill here.
Tip: If you want to hike the trail, go early to beat the heat – before 7am! Don't be like us and start around 10am! Don't forget to bring lots of water as you'll sweat a lot. 
Penang Hill Cable Car
Not into hiking? Don't worry, you can purchase a round-trip cable car ticket for 30 MYR ($7.20 USD) for adults or 15 MYR ($3.60 USD) for children. 
The lines for the cable car can be very long and you can wait 30-60 minutes in line! If you want to bypass waiting in line, you can purchase a round-trip express ticket for 80 MYR ($19 USD) for adults and 40 MYR ($9.60 USD) for children.
Skip the line to purchase the cable car tickets and buy them ahead of time here. 
With your cable car ticket, you can feel free to get off at the sub-stations to hike up or down Penang Hill. The sub-stations for the cable car are only available at the top of every hour such as 9am, 10am, 11am, etc. 
At Penang Hill Summit
Once you reach the summit of Penang Hill, feel free to check out the various free attractions such as the observatory tower, locks of love, the colorful Sri Aruloli Thirumurugan temple, and grab a snack to eat at the Cliff Cafe. 
We also recommend that you visit The Habitat where you're surrounded by the forest. It's a fun spot to walk around on the suspension bridges, swing on the giant swings, see the view of Penang Hill on the top of Curtis Crest, and enjoy nature. The best part is that this place is quiet and doesn't have crowds!
You do need to pay a separate admission ticket to enter yet it's worth the price. For the adventure lovers, you can also do zip lining between the trees (for an additional fee). 
The standard admission cost is 55 MYR ($13.10 USD) for adults and 35 MYR ($8.40 USD) for children, seniors, and students. We purchased tickets at the counter, yet you can save money by purchasing tickets ahead of time. 
Save money with The Habitat tickets by clicking here.
Awe at the Kek Lok Si Temple.
Once you've reached the bottom of Penang Hill, take a Grab car to go to the Kek Lok Si Temple, the largest and one of the most beautiful Buddhist temples in Malaysia.
Your Grab driver will most likely drop you off at the lower level where you need to take cable cars to each of the levels. If possible, ask them to drop you off at the top level so you can bypass the tourist trap of the cable cars and walk your way down to the other levels.
The top area is lovely with the impressive Guanyin statue (Lady Buddha) standing tall at 30.2 meters (99 feet high). The pavilion around Lady Buddha is still in construction. Behind the Lady Buddha statue is an area with over 10,000 smaller Buddhas.
As with any temple, please be respectful when entering the temples as there will be people making prayers. You can buy good luck wishing ribbons for yourself,  family members, or friends. 
If you prefer a tour of Kek Lok Si Temple, combine the opportunity with a visit to Penang Hill. Consider this tour option. 
Stroll through Air Itam Dam.
Our friend who lives in Penang showed us this off-the-beaten-path place nearby the Kek Lok Si Temple. From the temple, if you drive (or walk) along the paved path for 2 kilometers (1.2 miles), you'll reach Air Itam Dam.
It's a reservoir area where you can also walk and run around the lake. It was a pleasant and quiet walk where we saw a few families of monkeys (macaques and dusky leaf monkeys – so cute!). Be careful when approaching the monkeys as they are wild animals!
At the end of the day, head back to George Town area to do some last-minute shopping or see things that you didn't get to on the first day.
---
If You Have 3+ Days in Penang
Two days in Penang is not enough time to visit everything, especially when it comes to trying all of the different food. If you have three or more days in Penang, consider visiting these other Penang attractions which are on our bucket list when we return. 
Penang National Park has plenty of hiking trails to keep you occupied for the day and you can even head to the beach. It's on the bucket list to visit Penang National Park's Meromictic Lake in the future. We also like how there is free admission to the park. If you decide to go on the canopy walkway, there is an admission fee. 
Penang Botanic Garden is an oasis of an area with greenery and beautiful plants. There is a hiking trail that leads to Penang Hill. You can also relax along the waterfall in the area. 
Go shopping in the Gurney Drive area

. We didn't have time to explore the glamorous area of Gurney Drive so we'll check it out on a return trip.
---
How to Get to Penang
Most visitors will fly into Penang Bayan Lepas International Airport  (airport code: PEN). For us, it was an easy 1.5-hour flight via Air Asia (one of our favorite low-cost airlines in Asia) from where we started in Ho Chi Minh City, Vietnam. 
If you're starting your Malaysia trip in Kuala Lumpur, you can take a domestic flight or consider other modes of transportation to get to Penang.
We loved how the airport was so convenient and orderly with immigration. It took us only five minutes to pass through immigration, considering that the line was short. 
To head to the main city area, the easiest way is to take a taxi, Grab car, or hire a private driver from the Arrivals terminal. Grab is Southeast Asia's equivalent to Uber ride-hailing. It's an efficient way to travel throughout the city and often cheaper than taking a taxi. Download the Grab app here. 
Don't forget that you'll need to have a data plan in order to use Grab or to browse the internet. Check out this post on the best Malaysian SIM card to purchase. We recommend that you buy one before leaving the airport. 
Save money and pre-purchase a 4G SIM card for pick-up at the Penang International Airport.
If you're from the U.S. and looking to upgrade your international phone plan, consider getting Google Project Fi. You can use data and text on this plan in over 200+ international countries without having to buy a SIM card and/or pay extra. We've used this plan since 2016 and love it! Sign up for Google Project Fi and get $20 off your bill.  
---
How to Travel Around Penang
If you're staying in George Town, then you can walk around everywhere. It's a walkable area with decent sidewalks (unlike what we're used to in Ho Chi Minh City). 
Another unique opportunity is to hire a cyclo. You get to sit in a carriage and the driver bikes around the city to major attractions. Depending on your driver, he can also act as your tour guide. Compared to other cyclos that we've seen in Southeast Asia, the Penang cyclos are adorable as they're decorated with stuffed animals and streamers for a more inviting ambiance. 
Consider taking the Penang Hop On and Off double-decker bus to visit the top highlights of Penang. Purchase your ticket ahead of time and save money!
For a free bus alternative, take the Central Area Transit (CAT) bus which stops by the popular and interesting places of Penang. Click here to see the routes. 
For distances farther away, it's recommended to hire a Grab car. We didn't see too many taxis driving around in George Town. The traffic in Penang can be slow so you'll need to be patient or travel during the off-peak hours.
---
What to Eat in Penang
Oh gosh, what to eat in Penang is the million-dollar question. It's no doubt that the food in Penang is amazing! There is so much delicious food to eat from the assam laksa to the char koay teow. With our limited time in Penang, we barely made a dent to try all the Malaysian and Chinese food. 
To get a taste of Penang street food, take one of these local tours:
Below are some of the restaurants in George Town that we tried and would recommend.
Mew's Cafe

is a fabulous spot to try traditional Malaysian food. You can choose to sit inside the restaurant or enjoy the patio. Choose from dishes such as beef rendang, nasi lemak, or noodle dishes. We tried the

beef rendang which had tender beef with turmeric rice, pineapple salad, and crackers. We also had the ikan samal with steamed sea bass in banana leaf served with blue rice. The fish was cooked perfectly and had a lot of good flavors from the coconut milk. Try the sago gula melaka for dessert as the pandan sago isn't too sweet with syrup and coconut cream. Main entrees are around 26-30 MYR ($6.20-$7.20 USD).
 Address: 77, Muntri St, Georgetown, 10200 George Town, Penang, Malaysia
China House

is a must-visit spot to eat in Penang to satisfy your sweet tooth. Come to this place with an empty stomach as you'll drool over the 30+ fresh-baked desserts from baklava to tiramisu. We tried two pieces of cake – passion fruit coconut butter cake and the fresh ginger cake. Both were heavenly yet the passion fruit coconut butter cake was the winner! It was moist and had a burst of flavor from the passion fruit cream. Each slice of cake is between 11-15 MYR ($2.60-$3.40 USD) and can be easily shared with two people. Besides dessert, you can also have meals for lunch or dinner. Just note that this place is busy so there will be a wait to grab a table and to get waiters' attention. 
 Address: 153, Beach St, Georgetown, 10300 George Town, Penang, Malaysia
 For more information: Website 
Toh Soon Cafe is a recommended place to eat a cheap breakfast. Locals and tourists line up to find a seat in a tiny alleyway. The menu only has a couple of items. The most popular item is the buttered toast with a running egg. It's one of those dishes that is so bad for you with the richness from the butter yet oh so good! We also recommend that you try one of the paper-wrapped items on your table. At first, it was a mystery to us yet it was a surprise to see a ball of rice with fried fish, hard-boiled egg, and spicy sambal. The flavors tasted similar to Indonesian food and brought us back to Bali. Three toast with eggs, 1 rice ball, and 3 drinks set us back 21.20 MYR ($5 USD). 
 Address: Lebuh Campbell, George Town, 10450 George Town, Pulau Pinang, Malaysia
Hong Kee Wan Thun Mee

(Hong Kee Bamboo Noodle

鸿记(廣式) 竹昇云吞面

) is your place if you want Hong Kong-style noodles. The restaurant makes their noodles daily and you can see them in person at 10am and 3pm. From one person pressing the dough down with a giant bamboo stick with his thigh to another person placing the dough in the noodle flattening machine and cutter, it's such a sight to see the process. 
 We recommend that you try the wonton noodles and the egg tart (it's one of the best ones that we've eaten!) If you   decide to upgrade to a large size, you'll get more than double the amount of noodles as the regular size. 
 Address: 37, Lebuh Campbell, George Town, 10200 George Town, Pulau Pinang, Malaysia
 For more information: Facebook 
Khoon Klanng Bak Kut Teh

is further away from the main tourist attractions yet it has delicious bak kut teh, braised pork ribs in a broth. While this bak kut teh version doesn't have the pork bone in the broth, unlike what we've had in Singapore, it comes with a nice addition of mushrooms and tofu. Our Grab driver recommended that we eat bak kut teh with yam rice and it didn't disappoint. 
 Address: 320, Jalan Perak, Jelutong, 11600 George Town, Pulau Pinang, Malaysia
---
Where to Stay in Penang
Finding accommodations in Penang is relatively easy depending on your budget and comfort. We suggest that you stay closer to the street art area (near Armenian Street) as it's a prime location.
As you can see from the Penang 2 days itinerary, you're in a central location for the sites and have easy access to affordable street food. Plus, wouldn't it be cool to stay at one of the guesthouses in the traditional Straits-Chinese architecture?! You'll recognize the tall buildings attached to other buildings and all having reddish rooftops.
Click here to find the best accommodations in Penang's George Town.
Our group stayed at the Carnarvon House in George Town which provided enough space and was a central location to the major Penang sightseeing places. We rented the entire building. If your group is smaller, you can rent individual rooms. The lower level has a huge living room and dining area. Upstairs has two levels of guest rooms and shared bathrooms with 2 shower rooms and 2 combo toilet/shower rooms with body wash provided. All rooms come with towels and air conditioning. The only bad part about this place was that there are mosquitoes everywhere. The cost is $30-$50 USD per room per night. Find availability and reserve a room at the Carnarvon Hotel.
You can also consider staying in the chic Gurney Drive area or at one of the resorts along the Batu Ferringhi beachside.  Here are some splurge/luxury options to consider:
---
Our two days in Penang went by way too quickly. We feel like we scratched the surface here. Regardless, we hope you've enjoyed reading this post on what to do in Penang in 2 days. Since there is so much to do here, we'll be back to Penang soon!
Have you visited Penang? What other places should we visit on a return trip? Share in the comments below.
Enjoy this post? Save it to your Asia Pinterest Board.