Four days in Singapore is an ideal amount of time to spend in this country. 
With the delicious Singaporean food, stunning nature reserves, historical sites, super clean roads, and glitz and glamor, you'll want as much time as possible to explore the highlights. 
Our first visit to Singapore for a short layover, and had the opportunity to revisit this country many times for a weekend trip from Vietnam. 
With the help of our favorite travel bloggers, here is our recommended 4 days in Singapore itinerary.
This itinerary includes what to do in Singapore in four days including popular and offbeat places, admission costs, places to eat, and other helpful Singapore travel tips. 
Each day is packed with attractions, yet you aren't obligated to see everything. Depending on your travel style, feel free to focus on 1 to 3 sightseeing activities that you want to see.
In addition, Singapore can be done on a budget so we've provided many free attractions. We also have tour options available for a more in-depth exploration of these attractions. 
Click on the links below to jump to a certain section of this Singapore 4 days itinerary:
*Disclaimer: We know that you're eyeing Singapore sightseeing activities! We have affiliate links in this post. If you click on them and make a purchase, we receive a small commission. There is no additional cost to you. Thank you for supporting us.
---
Helpful Singapore Travel Tips
Check if you need a Singapore visa.
Selected countries require a visa to enter Singapore. Click here to check if you need to apply for a visa in advance. 
Visitors coming from the U.S., Europe, Australia, New Zealand, and some areas of Asia do not need a visa and can stay between 30-90 days. 
---
Check the current Singapore travel vaccination requirements. 
If you're from an area with a high risk for yellow fever, then you'll need to show proof of a yellow fever vaccination on arrival. 
As with the COVID vaccination, it's not a requirement to enter Singapore. Quarantining is not required anymore. 
Read more about the vaccination requirements here. 
Note: You should have your COVID vaccine card on hand in case you go to other countries before or after Singapore and may require showing proof. 
---
Complete the SG Arrival Card 3 days before arrival.
All travelers must complete an SG Arrival Card 3 days before arrival. Click here to complete the online form. 
With the online form, you can complete it as an individual or a group. The person completing the form will need information such as passport and accommodation information. 
The group submission is helpful if you have a large travel group. We used the group submission when we had Justin, my mother-in-law, and I traveled to Singapore. 
The process is straightforward and will take a few minutes per person to complete. 
If you forget to do this before your flight, that's okay! Changi Airport has free wifi inside the terminal so you can complete the form online before going through Immigration. 
---
Immigration is fast!
Singapore's Immigration process is quick and efficient. There isn't anyone stamping passports as everything is done through automated machines. 
If you're a foreign visitor who has completed the SG Arrival Card in advance, 6+ years of age, have a machine-readable biometric passport, and a passport holder of one of the following countries below, then you can use the "Automated Immigration Lanes."
Southeast Asia (ASEAN) eligibility: Brunei, Cambodia, Indonesia, Laos, Malaysia, Philippines, Thailand, and Vietnam
Other countries eligibility: Australia, Austria, Belgium, Bulgaria, Canada, China, Croatia, Cyprus, Czech Republic, Denmark, France, Estonia, Finland, Germany, Greece, Hungary, Hong Kong, Iceland, India, Ireland, Italy, Japan, Latvia, Lithuania, Luxembourg, Macao, Netherlands, Malta, New Zealand, Norway, Poland, Portugal, South Korea, Romania, Switzerland, Slovakia, Slovenia, Spain, Sweden, United Kingdom, and United States
At the machine, scan your passport and your thumbprint to clear immigration. Afterward, you're free to go and explore Singapore. 
---
Singapore Currency
Singapore uses Singaporean dollars as its currency. It's easy to find ATMs around Singapore to withdraw money. There are money exchangers in Chinatown. 
You may have heard about Singapore and Brunei's Currency Interchangeability Agreement. 
In theory, you can use Singaporean dollars and Brunei dollars on a 1:1 exchange, so you can use Brunei dollars in Singapore and vice versa.
In reality, it's not practiced widely and you'll get your Brunei dollars rejected at many Singaporean stores and restaurants. 
We had leftover Brunei dollars from our Brunei layover and couldn't use it in Singapore. Even the bank wouldn't exchange it as they said that it is an accepted currency. 
Therefore, we don't recommend that you bring Brunei dollars into the country.
---
Buy a SIM Card at the airport. 
We recommend that you get a SIM card before you leave the airport. This is important to make calls, look up information on your phone, call ride-hailing cars, and more. 
There is free wifi in the Gardens by the Bay area. Otherwise, many restaurants do not share their wifi password with guests. 
Buy a 4G prepaid SIM Card here. 
Or, buy a Singapore e-SIM plan here. 
Consider Google Project Fi Plan (For U.S. Travelers)
If you're from the U.S. and want an affordable international phone plan with free data and text messages, consider signing up for Google Project Fi.
The phone plan has coverage for 200+ international countries with data and text included. You don't need to worry about incurring hundreds of dollars of international coverage. It's the ideal phone plan for travelers. 
We've used Project Fi since 2016 and highly recommend it. We don't need to get an additional SIM card. 
Sign up for Project Fi here and get a $20 credit.
---
Consider getting a Klook Pass Singapore or Go City Pass to visit multiple attractions. 
Since we're planning to visit many attractions on your Singapore 4 days itinerary, you may consider getting a special Klook Attraction Pass Singapore or Go City Pass. 
Option 1: Klook Pass
For the Klook Pass, choose 2 to 10 attractions that you want to visit, such as Gardens by the Bay, Universal Studios, Singapore Flyer, etc., and save money with this pass. You don't need to worry about buying individual tickets. 
Reviewers love how easy it is to redeem the vouchers and they say the pass is worth the price!
Buy the Klook Pass Singapore here.
Option 2: Go City Pass
For the Go City Pass, choose the number of days from 2 to 7 days and visit up to 35 attractions, tours, and museums on your pass. There isn't a restriction on the number of places that you can visit per day, so visit as many places as possible!
Similarly to the Klook Pass, you can save money and not have to worry about purchasing individual tickets. 
---
How to Navigate through Singapore
We recommend that you use Google Maps as you travel around Singapore so you know which MRT and bus stop to go on/off from. The times listed on Google Maps are accurate.
---
How to Get Around Singapore
Since we're sharing how to get to the various attractions, we thought it would be best to address how to travel around Singapore's transportation options.
Walking
Singapore is one of the most walkable places that we've traveled to. It's easy to walk over 10,000+ steps per day to visit many attractions, and this includes taking public transportation. 
The sidewalks are clean, wide enough for large crowds, and in excellent condition. 
As a heads up, pedestrians share the sidewalks with cyclists. Even though cyclists get their own lane, pedestrians may cross over between the pedestrian and bicycle lane so watch out for any cyclists. 
---
MRT and Buses
Singapore's public transportation system is easy to use and affordable. 
The Mass Rapid Transit (MRT) will get you around the entire country in one hour or less. It's a convenient and affordable way to travel around Singapore. For a copy of the Singapore MRT map, click here. 
You can also take the buses around town which are reliable and fast. You'll wait no more than 10 minutes at a bus stop. 
Tip #1: Buy the Singapore Tourist Pass
With this Singapore 4 days itinerary, you may consider purchasing the Singapore Tourist Pass (STP). 
The pass has a 1, 2, 3 days option where you can have unlimited bus and MRT rides each consecutive day. 
No need to worry about buying single rides each time as you use your card to enter/leave the MRT or bus. It's a huge time saver when you're on the go. 
In the end, you end up saving money if you use the MRT and buses many times per day with the STP.
At the end of your trip, return your STP within 5 days of the first issue date at any Transitlink Ticket office to get a refund for the rental fee on your card. If you keep the STP, the card will convert to a normal EZ-link card and you can add funds to it on a return trip. 
We purchased the 3-day pass at the Changi International Airport's TransLink Ticket Office where the MRT station is located (or you can visit MRT stations that sell STP). 
You may be wondering what about the fourth day in Singapore? We paid for the MRT rides as the STP expired. When buying single rides, don't forget to reuse your ticket. Every 3rd and 6th ride has a $.10 discount.
You won't regret getting this card to help with your traveling. 
Cost: 1 day (20 SGD / $14.55 USD), 2 days (26 SGD / $19 USD), 3 days (30 SGD / $21.80 USD) + 10 SGD ($7.30 USD) refundable rental deposit for the card
Tip #2: Use your credit card, debit card, or mobile phone for payment (NEW!)
Many train systems tend to use cash to purchase tickets or add funds to the transit card. Yet, there is a new system in place to ride Singaporean MRT and buses. 
You can use your credit card, debit card, or mobile phone to tap the MRT fare gate or card reader when entering the MRT or bus, and tap the same card again when leaving. Your card will automatically get charged. It's so easy! Read more here. 
While you don't get a receipt for your transaction, you can check your bank statements for the charges. 
---
Grab Ride-Hailing Car
Based in Singapore, use Grab, the ride-hailing app to hire cars. Grab is the same concept as Uber where you select your pick-up and drop-off location. 
It's a cashless transaction as everything is done through the app. You can pay the driver in cash but it's best to have exact change. 
Download Grab Here: iOS / Android
Note: You will need to have a data plan to call the vehicle. Therefore, buy a SIM card before you leave the airport. 
We used Grab a few times when a bus or MRT wasn't available. For example, we took Grab to go to Changi airport early in the morning before the first MRT train started, or visited an area where the nearest MRT station was a few kilometers away. 
---
Taxis
Taxis are available as another form of transportation around the island. 
---
Hop-On-Off Bus
Singapore has an open-top double-decker bus that takes you around the top landmarks of Singapore, such as the Merlion, Gardens by the Bay, Orchard Road, and more. There are two routes to take. 
Plus, you can hear the pre-recorded commentary in 12 languages – Chinese, Children Channel (English), English, French, German, Italian, Indonesian, Japanese, Korean, Russian, Spanish, and Vietnamese. Earphones will be provided, or you can use your own. 
You can purchase either a 1-day, 2-day, or night pass. 
Buy the Hop-On-Off-Bus Ticket here. 
---
Best Ways to Get from Changi Airport to Singapore Center
Take the MRT.
If you've packed light and want a cheap way to get to the city center, then take the MRT. The cost to get from the airport to Downtown is approximately 2.40 SGD ($1.80 USD) one-way.  
To get to the Changi Airport MRT, you take the free airport transfer bus to Terminal 1. 
If you want to head to the Downtown area, take one of these routes. 
Take the train from Changi Airport Station (CG2) to Tanah Merah Station (EW4), then transfer to the East West Line towards Tuas Link Station (EW33). 
Take the train from Changi Airport Station to Expo Station (CG1/DT35), then transfer to the Downtown Line towards Bukit Panjang Station (BP6/DT1).
---
Hire a private/shared car transfer. 
If you have a large group and a lot of luggage, then hiring a private or shared driver with a transfer to your hotel will be a better option. The driver will meet you at your designated meeting spot. 
Book one of these below:
---
Take the bus. 
The bus is another cheaper transportation option. Yet, there will be many stops along the way, so the ride may take longer. 
There are bus stops at Terminals 1, 2, and 3 in the basement bus area. Take bus #24, 27, 34, 36, 53, 110, and 858 to your destination.
For Terminal 4, there is a bus stop next to Car Park 4B, and then take bus #24, 34, 36, and 110. 
You'll need to have exact change for the bus, use the Singapore Tourist Pass, or your contactless card payment (credit card or debit card) to pay for the fare. 
---
Hire a taxi. 
This is another option in case you didn't book a private or shared transfer to your hotel. The cost will be on the higher side due to airport surcharges. 
Head to the Arrivals of Terminals 1, 2, and 3 and call for a taxi there. The cost is from 20-40 SGD ($14.50-$29), plus an additional surcharge cost.
The surcharge is for leaving the airport and costs between 6-8 SGD ($3.60-$5.80), or 25-50% of the final metered.
Click here for surcharge information.  
---
Map of Places to Visit in Singapore in Four Days
---
Singapore Itinerary Day 1: Gardens by the Bay and Marina Bay Sands
If you landed at Changi International Airport in the morning, hop on the MRT from Changi Airport Station (Green Line) and transfer to any of the other lines to your Singapore accommodations. Check in and drop off your luggage.
Afterward, we're off to explore your first full day in Singapore. We're spending the day at the Gardens by the Bay and the Marina Bay Sands area. 
Wear comfortable walking shoes as you'll be walking a lot between the two areas. 
If you haven't done so – consider buying the Klook Singapore Pass or Go City Pass and save money on multiple attractions!
---
1. Explore Gardens by the Bay. 
Gardens by the Bay is one of our favorite spots to visit in Singapore. It's a beautiful and inviting outdoor space with greenery. 
From the jaw-dropping Supertree Grove to the immaculate gardens and art sculptures, you're in for a treat to this natural wonderland. 
Depending on your time, spend at least 2 hours to up to an entire day here. Check out the following places below. 
Supertree Grove
The Supertree Grove, located in the Bay South Garden, is so unique. No wonder you see this splashed over social media. The tall trees stand 50 meters (164 feet) high with over 150,000 plants grown along the tree trunks. Plus, they help convert to solar energy to help light up the trees in the evenings. 
You must see the famous light show in the evenings, Garden Rhapsody (more information below).
OCBC Skyway
For another view of the Supergrove Grees, check out an aerial view from the OCBC Skyway. It's a 128 meters (419 feet) walkway that connects the trees. It's also another spot to see the evening light show.
Flower Dome & Cloud Forest
Add a visit to the cooling conservatories – Flower Dome and Cloud Forest. 
We loved visiting the Flower Dome to see various flowers from five continents and their seasonal floral decorations, such as Chinese New Year. Since we're from California, it was amazing to see Californian orange trees on display.
The Cloud Forest is also a good place to visit to cool off from the outdoor humidity. As you walk into the forest, the cool mist provides the ambiance of walking through a rainforest in the early morning. The indoor waterfall at the entrance is also a highlight of the forest. 
Floral Fantasy
Gardens by the Bay also has a new attraction called Floral Fantasy. While we haven't been here, it has the theme park vibe with a 4D ride and floral displays.
Tip: Flower Dome, Cloud Forest, and Floral Fantasy are cold! The temperature is from 23-25°C / 73-77°F, to keep the plants cool, so bring a light jacket.
How to Get There: Take the MRT to Bayfront Station (Blue or Orange Line) and follow the signs to Gardens by the Bay. It'll be a 10-minute walk to Supertree Grove.
Admission Cost: Depending on what you want to visit, the attraction costs vary. 
The outdoor area is free to view, including the outdoor gardens, children's garden, heritage garden, and more.
Cooled Conservatories (Flower Dome & Cloud Forest) if visiting both of these: 28 SGD ($20.30 USD) for adults; 15 SGD ($10.90 USD) for children (3-12 years old). 
OCBC Skyway: 8 SGD ($5.80 USD) for adults; 5 SGD for children ($3.60 USD) (3-12 years old). 
Floral Fantasy: 20 SGD ($14.50 USD) for adults; 12 SGD ($8.70 USD) for children
Buy tickets ahead of time to visit these Gardens by the Bay attractions.
---
2. Visit the ArtScience Museum at Marina Bay Sands.
Contributed by Annie from Off Goes Annie  
Marina Bay Sands Future World by TeamLabs at ArtScience Museum is an absolute must-do on any visit to Singapore. 
From the genius minds of the Japanese artist/scientist collaborative, TeamLabs has achieved something truly revolutionary in digital art. 
Future World is a fantastical place, where everything is visually stunning and surprisingly interactive. Immerse yourself in their world of light, marvel at the lifelike projections, and delight in your own playful creations. 
While Future World is a fantastic exhibition in its own right, it's also an Instagrammer's paradise, providing incredible photo opportunities! 
Starting with a digital waterfall, progressing to glow-in-the-dark Tetris, and culminating in a pixelated galaxy of crystal light – every detail has been attended to. 
There is a section of the exhibition where you can draw your own addition to TeamLabs' Future World, which then comes to life on the walls around you after being scanned in.  
TIP: An important thing to note for female visitors is that many of the installations involve mirrored flooring – make sure you're not wearing a skirt! 
Allow around two hours to explore Future World, then if your Singapore itinerary allows, spend some time in one of the three other exhibitions at ArtScience. 
How to Get There: Take the MRT to Bayfront Station (Blue or Orange Line) and follow the signs to the Marina Bay Sands. Or, if you're coming from Gardens by the Bay, cross the overpass which goes to the hotel. 
Head to the outdoor Promenade area to the white flower-shaped building, which is the museum.
Admission Cost: 
Museum Ticket (Future World + Special Exhibit): 39 SGD ($29 USD) for adults; 30 SGD ($22.25 USD) for concessions (seniors, students, those with disabilities, and children 2-12 years old)
Future World Only: 23 SGD ($17 USD) for adults; 18 SGD ($13.35 USD) for concessions (seniors, students, those with disabilities, and children 2-12 years old). 
Buy your tickets here and save money for the ArtScience Museum. 
---
3. Relax at Marina Bay Sands's Sands SkyPark.  
Contributed by Karolina from Lazy Travel Blog
On the 57th floor of the Marina Bay Sands Hotel is the iconic Sands SkyPark Observation Deck which promises panoramic views of Singapore's skyline. 
From that height, take a moment to find and appreciate Singapore's famous landmarks like the capsules of the Singapore Flyer and the long line of orange-roofed shophouses that line the Singapore River. 
Complement this visit by heading down to the Water Promenade to catch the free light and water show, Spectra, or sipping a delicious handcrafted cocktail from Avenue.
For a memorable break, you can also splurge on the Sandsational Escape which will include a night's stay at the Marina Bay Sands and access to the infinity pool that lines the rooftop, along with other perks. 
There are also packages and bundles that include buffet dinners or entry to other attractions on the website that may be worth checking. 
How to Get There: Take the MRT to Bayfront Station (Blue or Orange Line) and go to Marina Bay Sands's Hotel Tower 3. 
Although it's usually open from 9:30am to 10pm on weekdays and until 11pm on weekends, it's best to plan ahead and call +6566888826 as it's sometimes hired for private events and may be unavailable. 
It's also best to check the weather as rainy days will mean that the deck will be closed for the safety of the guests. 
Admission Cost: 
Tickets to the top are around 26 SGD ($19.30 USD) for adults and 22 SGD ($16.30 USD) for children 2 to 12 years of age, senior citizens 65+ old, and people with disabilities. 
For a family package of 2 adults and 2 children, the cost is 74 SGD ($54.90 USD). 
Buy your tickets ahead of time and save money on the SkyPark Observation Deck. 
Note: You'll need to book a time slot in advance on the SkyPark website. 
---
4. Head to the Gardens by the Bay's Garden Rhapsody Light Show.
We're going back to the Gardens by the Bay for the amazing evening light show, Garden Rhapsody. It's one of the most remarkable evening activities to do in Singapore. 
The colorful Supertree Grove 'dance' with classical and instrumental music from popular movies such as Back to the Future and Star Wars.
It's such an awesome outdoor concert that you may want to watch it more than once! 
Ok, we watched it two times during our trip on separate days and it was just as incredible to see the second time.
The free show occurs daily at Supertree Grove at 7:45pm and 8:45pm. 
TIP: It's recommended to visit the area 15 to 30 minutes before the start of the show if you want to find a spot to sit. Otherwise, you can stand anywhere and still enjoy the light show. 
How to Get There: From the Marina Bay Sands Hotel, cross the bridge and walk to the Supertree Grove area. Otherwise, take the MRT to Bayfront Station (Blue or Orange Line). 
Admission Cost: Free
---
5. Awe at the Marina Bay Sands Spectra Light and Water Show.
After you view the Garden Rhapsody light show, let's return to Marina Bay Sands for their own outdoor evening show called Spectra. 
If you love colorful lasers, water, and music then this 15-minute show is perfect for you. One of the coolest things about this show is seeing images projected into the water.  
The free show occurs from Sunday through Thursday at 8pm and 9pm, and Friday and Saturday at 8pm, 9pm, and 10pm. 
The best views are from the center of the Event Plaza or outside of the Louis Vuitton shop. 
Note: If you stand right in front of the water show on the lower level, you will get wet! It's refreshing, but you will feel colder halfway through the show. 
How to Get There: From Marina Sands Bay's The Shoppes, head to the outdoor Promenade's Event Plaza area.
Admission Cost: Free
---
6. Visit the Helix Bridge (Optional).
If you have extra energy, you can also cross the Helix Bridge. 
The Helix Bridge is a 280 meters (920 feet) length walkway for pedestrians and cyclists to cross. 
At night, the bridge lights up in green and red lights and the strands of light intertwine with each other like a DNA strand. 
It's a nice photo spot with the Marina Bay Sands in the background. 
How to Get There: From Marina Sands Bay's The Shoppes, pass the ArtScience Museum and continue straight until you see the connecting bridge. 
Admission Cost: Free
---
7. Visit the Singapore Flyer Ferris Wheel (Optional).
This may be a stretch to do on the evening of Day 1, so it can be pushed out to any of the other evenings on your trip. 
Looking to see Singapore's landscape at night? Visit Singapore Flyer. It's 165 meters (541 feet) high Ferris Wheel with awesome views of Marina Bay Sands. 
Your ticket also includes a visit through the "Time Capsule." It's the opportunity to learn about Singapore's history, present day, and future plans. 
A cool experience is the Singapore Flyer Sky Dining. You get to enjoy a 4-course dinner in a Ferris wheel capsule and see views of the city from above. 
How to Get There: Take the MRT to Promenade Station. Then go to Exit A, and walk 8 minutes to the Singapore Flyer. You can also take the bus. 
Admission Cost: 
Singapore Flyer & Time Capsule: 40 SGD ($29.70 USD) for adults; 25 SGD ($18.60 USD) for children (3 to 12 years)
Singapore Flyer Sky Dining: 355.22 SGD ($264 USD) per couple
Buy discounted tickets for the Singapore Flyer here. 
---
Singapore Itinerary Day 2: Little India, Kampong Glam, and Other Popular Areas
It's our second day in Singapore and we're exploring various ethnic areas of Singapore and other popular attractions.
1. Say hello to the Merlion at Merlion Park. 
Singapore's famous statue is the merlion, a lion's head with a fish body. There are several merlion statues located across the island. 
The popular spot to view the merlion is at Merlion Park, next to the One Fullerton shopping and dining complex. 
The merlion has water coming out of its mouth so you can get creative with posing with the merlion. 
We recommend that you visit this place first thing in the morning before the crowds come or late in the evening. 
The merlion has also made its way to international locations. If you visit Danang, Vietnam, you'll see a replica of the merlion at the Sun World Danang Wonders theme park. 
How to Get There: Take the MRT to Raffles Place Station (Red or Green Line) and head toward the Marina Bay to the Fullerton Hotel/One Fullerton area. You'll see the merlion along the waterfront.  
Admission Cost: Free
---
2. Explore Little India. 
​Little India is a booming area filled with bright, colorful buildings, good eats, and culture. 
You can spend a few hours exploring the streets to find souvenirs, try some of the best Indian cuisines at local shops, and see what life is like in this area. 
Former House of Tan Tenh Niah
One of the famous places to take photos is the Former House of Tan Teng Niah. This former Chinese villa was built in 1900 in the heart of Little India. During that time, Little India had many cattle and rattan businesses. Tam Teng Niah was a businessman who owned several factories making sweets. 
You'll recognize the restored building with its colorful walls and window panes. During our visit, we couldn't go inside the building. 
Tekka Centre
If you're looking for more variety of foods, stop by the Tekka Centre, which is a huge hawker area. It's a bit overwhelming at how many food stalls there are. From Indian and Malaysian, to Chinese food, you can find something to suit your cravings at affordable prices.
We had fish dum biriyani at Yakader Muslim Food which had a mountain of rice with fish and a hard-boiled egg on a banana leaf for 5.60 SGD ($4 USD). Hooray for using a sustainable product. With its huge portion, it's enough to feed two people
There are a lot of people eating here so you may need to find a seat in the outer perimeter of the dining area. Afterward, you can browse through the area to see the wet market or general shopping.  
Mustafa Centre
Interested in visiting a 24-hour shopping center? Visit Mustafa Centre to get your shopping fix. You'll find everything from household goods, electronics, groceries, and more. 
If you have a backpack or large purse, drop off your bag at the front/Security area before going inside. 
How to Get There: Take the MRT to Little India Station (Blue or Purple Line). 
Tour Options: 
---
3. Stroll through Arab Street.
Contributed by Wendy from The Nomadic Vegan
Arab Street is a bit of a misnomer because it refers not just to a single street but to an entire neighborhood in Singapore. 
It's thought to be named after an Arab merchant, Syed Ali bin Mohamed Al Junied, who once owned much of the area. 
This is Singapore's main Muslim quarter and is now a popular shopping and dining spot.
The Chinese, Malay, and Indians are probably the first ethnicities that come to mind when you think about the population of Singapore, but this tiny island is much more diverse than that. 
There is a significant Arab population, many of whom are descended from Yemeni merchants, as well as Muslims of Javanese, Bugis, and Boyanese descent. 
And of course, many of the Malay and Indian Singaporeans are Muslim as well.
Shop for perfumes, carpets, fabrics, and more, admire the brightly painted buildings, and enjoy an authentic Middle Eastern meal at one of the local restaurants.
How to Get There: Take the MRT to Bugis Station (Green or Blue Line). Take exit B and turn right. Keep walking past the Raffles Hospital fountain and the Village Hotel Bugis. You'll know you've reached Arab Street when you see the dome of the Sultan Mosque.
---
4. Let's find street art in Kampong Glam. 
Contributed by Sue from Travel for Life Now
Singapore is full of terrific street art. Surprised to hear that? There are many places in Singapore to see street art—Chinatown, Little India, Kampong Glam, and Tiong Bahru, to name a few.  
One of the best places to see street art is Kampong Glam and Haji Lane. 
Historically, Kampong Glam has been the center of the Malay and Muslim communities in Singapore. It's where the famous Sultan Mosque is located. 
Today, the area has become hip with thriving art activities.
On Haji Lane, there are interesting boutiques, bars, and restaurants. Many places are covered in art. 
A short walk from Haji Lane, you will find Aliwal Arts Center which also has a lot of art in the surrounding blocks. Wander the streets and enjoy shopping, eating, and street art.
How to Get There: Take the MRT to Bugis Station (Green or Blue Line). The borders of the street art area are Ophir Road (South), Victoria Street (West), Beach Road (East), and Crawford Street (North).
Tour Option: Click here for details of a Kampong Glam history tour
---
5. Eat at Hill Street Tai Hwa Pork Noodle Shop.
In case you need an afternoon snack, try this popular one Michelin star noodle shop called Hill Street Tai Hwa Pork Noodle. This place earned its star in 2016.
Located in the bottom level of a residential complex off of Crawford Lane, many people line up to try the bak chor mee. 
The springy noodles are topped with ground pork, meatballs, and a crispy piece of fried fish. The shop uses quality meat as the pieces are tender and full of flavor. You can have the noodles in soup or dry (no soup). 
The regular-size bowl is 8 SGD ($5.80 USD) and is a decent size for the noodle to meat ratio. If you want a larger bowl, then you'll have more meat in your bowl.  
Every bowl is made to order so you're guaranteed a hot bowl of noodles.  
TIP: We recommend that you visit during non-peak hours (ex: 2pm) so the line won't be as long. Otherwise, you may wait up to 1.5 hours in line. 
How to Get There: Take the MRT to Lavender Station (Green Line) and walk about 10 minutes to the residential complex. 
---
6. Head to Koon Seng Road and Eat at Old Airport Road Food Centre.
Contributed by Annie from Off Goes Annie 
Koon Seng Road is Singapore's 'old town' at its finest, creating a real juxtaposition with the city's modern skyline. 
Visit this beautiful street of Peranakan and ornate Chinese architecturally styled houses to feel like you're stepping back to the 1920s and 1930s. These infamous shopfront residences have been featured in books, films, and magazines globally. 
Seeing them is a definite bucket list checkpoint in any itinerary. Although a little further away from the main attractions of Singapore's city center, the architecture on Koon Seng Road is unrivaled by anywhere else in the city. 
To make the slightly longer journey well worth it, one of Singapore's best hawker centers can be found within walking distance of the beautiful Koon Seng Road. 
Walking back into the city center down the disused runway-now-road of Old Airport Road will bring you to the Old Airport Road Food Centre. 
This wonderful hawker center of an eclectic mix of traditional Singaporean food promises to suit any palette while providing a unique setting. 
Meals here are perfectly affordable and make for a great stop-off point after visiting Koon Seng Road. 
How to Get There: Take the MRT to Eunos (Green Line) or Dakota (Orange Line).
Singapore Itinerary Day 3: Chinatown, Botanic Garden, Hiking, and More 
For our third day in Singapore, we're off to Chinatown, visiting the Botanic Garden, going on a short hike, and other adventures.
1. Walk through Singapore's Chinatown.
Browsing through Chinatowns around the world is one of our favorite things to do. 
Singapore's Chinatown is more touristy compared to others that we've been to such as Incheon, South Korea, Sydney, and Perth, Australia. 
Yet, it still has the charm of good eats, the iconic Chinatown entrance gate, and lots of shopping opportunities for souvenirs. Popular items for sale are adorable merlion stuffed animals, Disney, and Japanese anime luggage tags, and tote bags with Singapore splashed over them.
Don't forget to use your hard bargaining skills if you shop in the outdoor market. You'll also get the opportunity to see colorful houses and red lanterns hanging in the area. 
Chinatown Visitor Centre
To get an introduction to Chinatown, stop by the Chinatown Visitor Tourist Centre. Located across from the famous Buddha Tooth Relic Temple, you can ask questions about Chinatown and/or what to do in Singapore. This place also has souvenirs. 
You can also download a copy of a DIY walking tour of Chinatown here. 
Buddha Tooth Relic Temple
Afterward, head to the Buddha Tooth Relic Temple. The lower level of the Buddhist temple is open to the public and is free to enter. You get the opportunity to see lots of Buddhas and Buddhist decor everywhere. 
One of the interesting parts about the temple is that you can see your personal guardian deity based on what year you were born/zodiac sign. It's like looking into your horoscope with the qualities of your deity. 
TIP: Please wear clothing that provides shoulder and leg coverage. If you're wearing tank tops and shorts, they will give you a sarong/scarf for coverage. Tours are also available to visit the other levels, yet you'll need reservations in advance.
Additional Places of Interest
Other temples that you can check out include the Sri Mariamman Hindu Temple and Thian Hock Keng Chinese Hokkien Temple.
How to Get There: Take the MRT to Chinatown Station (Blue or Purline Line). 
Tour Options:
---
2. Eat Your Way Through Chinatown.
As you can tell, we love eating in Singapore! Chinatown doesn't disappoint with the number of places to eat for breakfast, lunch, or dinner. 
Here are some places that we recommend that you visit – both hawker stalls and restaurants. 
Chinatown Complex 
Chinatown Complex is one of the largest hawker centers in Singapore. You can't miss the Bruce Lee street art at the entrance. 
Located near the Buddha Tooth Relic Temple, there are hundreds of stalls to choose from on the second level. You can try a little bit of everything depending on what you want to eat. 
We loved trying the fish head soup at An Ji (Stall #02-194) with the creamy soup base and the large fish head.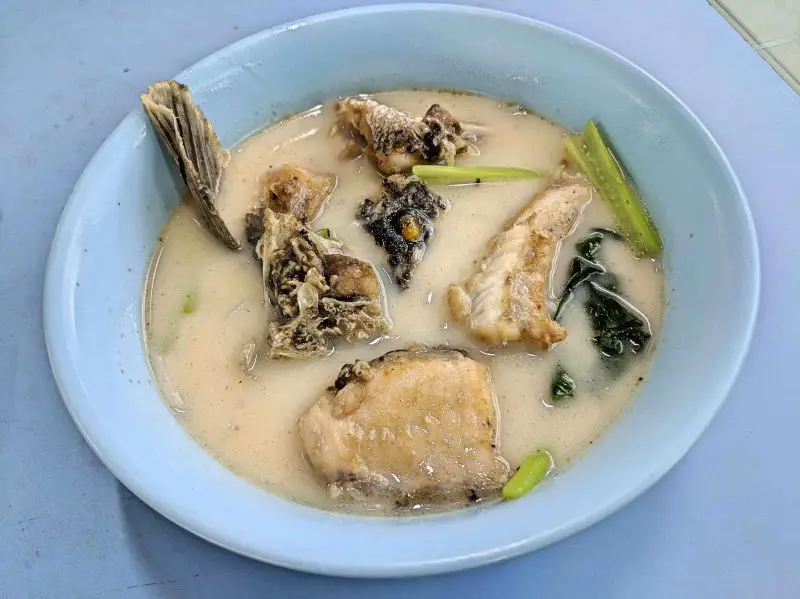 Maxwell Food Centre
Maxwell Food Centre is one of the best hawker centers in Singapore.
With the proximity to Chinatown and the variety of food options, you can visit here multiple times during your 4 days in Singapore. If you fancy laksa, chili crab, BBQ pork and chicken, Indian food, or fresh sugarcane juice, there is a shop available. 
If you love Hainan chicken and rice, you must try the Tian Tian Hainanese Chicken Rice stall. It received a Michelin Bib Gourmand recognition for its delicious chicken and rice. You can choose between a small, medium, or large size plate. 
The small chicken and rice is 5 SGD / $3.70 USD and is one of the moistest chicken that we've eaten. You can't miss this spot as they have one of the longest lines. Once the chicken sells out, the shop closes for the day.
Another option is Ah Tai Hainan Chicken Rice. The former chef of Tian Tian opened his own chicken and rice shop and it's just as good. Depending on your preference, this place has bone-in chicken and the meal comes with a side of soup. 
If you like chili crab, consider visiting Dingdinghong Mala HotPot (鼎鼎紅麻辣香鍋) (Stall #41). They have 2 sizes – 800g or 1 kg, depending on how many people will eat the crab. We got an 800g chili crab for 48 SGD for 2 people to share, and it's yummy. Add a side of rice and stir-fried vegetable for a complete meal. This place also sells other Chinese food. 
Hawker Chan
This former small hawker stall in Chinatown has branched out to international locations. With its one Michelin star rating earned in 2016-2018, try one of the most delicious Hong Kong-style food at Hawker Chan.
We've only been to the location on Smith Street and it's been consistent every time we've visited. The bbq pork with noodles and soy sauce chicken with rice are recommended. It'll cost around 11 SGD ($8 USD) for these two items. Check out their website or Facebook for more information.
Ocean Curry Fish Head 
One of the things to try is fish head curry. 
When we came across Ocean Curry Fish Head, we know we had to try it. The restaurant started in 1983 and has several shops in Singapore. 
The huge claypot of bubbling fish head in the spicy Indian curry sauce with a side of rice was delicious. 
We underestimated the size of the fish head and half of its body. It was more than enough to feed two people. Check out their Facebook for more information.
---
3. Stroll through Singapore Botanic Garden. 
Singapore's Botanic Garden is a must-see for nature lovers. Recognized as a UNESCO World Heritage Site in 2015, this 82 hectares (202 acres) is a relaxing getaway to see greenery and beautiful plants. 
You'll need a few hours if you want to walk through the entire garden as it's huge! You can bring food and beverages to have a picnic in the garden.
If you have questions about the park, visit one of the five Visitor Centers at the main entrances of the park (Tanglin, Nassim, Tyersall, Bukit Timah, and Jacob Ballas Children's Garden).
There are many walking paths that you can explore such as the Fragrant garden, Healing garden, Bonsai garden, and more. 
Stop by the Eco-Lake which is nearby the MRT station where you can see dozens of turtles sunbathing on the rocks. 
More information about the gardens is here. 
How to Get There: Take the MRT to the Botanic Garden Station (Blue or Orange Line).
---
4. Take a break at Adam Road Food Centre.
You may have developed some hunger after exploring the Botanic Garden. Head to the Adam Road Food Centre, which is a smaller hawker area (about 20 stalls). 
We tried the nasi lemak for some Indonesian cuisine at Adam's Nasi Lemak and the big shrimp noodle soup at Adam's Road Noo Cheung Big Prawn Soup. You can also take a rest and have a drink here. 
How to Get There: From the Botanic Garden MRT Station (Blue or Orange Line), walk over the overpass, turn left once you reached the end of the overpass and then you'll see the food center on the right-hand side. It's about a 5-10 minute walk. 
---
5. Learn about Chinese mythology at Haw Par Villa.
Did you know that the creators of Tiger Balm, Aw Boon Haw and Aw Boon Par, opened Haw Par Villa, also called Tiger Balm Garden, in 1937? 
This is one of the unique places to visit in Singapore as this theme park focuses on Chinese mythology and folklore.
While the theme park is a bit weathered and needs a much-needed paint job, it's interesting to see the various statues and the depiction of the Chinese stories. 
You'll need to come up with your own version of the Chinese stories as many of the artworks do not have signage. Come prepared to look at some very odd statues.  
The most striking attraction is the Hell Museum, showcasing the Ten Courts of Hell. It's not a child-friendly attraction with dismembered body parts, decapitated heads, and blood. 
You walk in a cave and see what happens to people who commit atrocities such as murder and thief. The more drastic the atrocities, the more suffering the person has in the afterlife. 
It makes you think about what you've done in the past and how karma will catch up to you.
How to Get There: Take the MRT to the Haw Par Villa Station (Orange Line).
---
6. Hike up to Mount Faber Peak. 
Need your daily dose of outdoor nature? Let's hike up to Mount Faber Peak, formerly called Telok Blangah Hill. It's the second-tallest hill in Singapore. 
What is awesome about this place is that you get to have an aerial view of Sentosa Island and even take the cable car to go to the island where Universal Studios is located. 
Note: You could visit Universal Studios on this day, but it may be too rushed. We've included this option for the fourth day. Another option would be to spend some time at Sentosa Island and see the local attractions. Read more about Sentosa Island here. 
To reach the peak from the MRT, follow the signs to the park, and go along the Marang Trail. You'll navigate through the peace and quietness of the forest. 
TIP: Watch out for potential monkeys in the forest area. 
While the hike isn't technical, you'll need to have a good pair of walking shoes to go up the steps. Visit this place either in the morning or the late afternoon to escape the crowds, humidity, and heat. 
You've reached the peak when you see Faber Point, a building that has a cable car and a connecting restaurant and bar. On the other side, it's a view of a residential area. 
For another view of the city skyline, walk another five minutes past Faber Point to a viewpoint. You'll also see a merlion statue at this peak. Head back in the same direction to return to the MRT station.  
How to Get There: Take the MRT to HarbourFront Station (Orange and Purple Line). Follow the signs to Mount Faber. 
---
7. Go shopping at Vivo City Mall.
Before you head back to the main downtown area, visit Vivo City Mall, the largest mall in Singapore. You can use the mall as a way to cool off in the air-conditioning, especially after the hike. 
Luckily the mall connects with the HarbourFront MRT station. 
The mall has your favorite brands from Aldo, H&M, Adidas, Nike, and more. Check out the Food Republic for a snack or meal. 
How to Get There: The mall is connected to the HarbourFront MRT Station (Orange and Purple Line).
---
Singapore Itinerary Day 4: Free Day and Offbeat Spots
Your trip to Singapore is almost close to the end. The four days in Singapore have passed by quickly! 
On this day, feel free to visit attractions that you may have missed before or head to the nearest shopping center (ie: Orchard Road) to buy last-minute gifts for friends and family members. 
If your schedule allows for more sightseeing, check out one or two of these popular and less-visited places in Singapore before heading to the airport. 
---
1. Enjoy the thrills at Universal Studios Singapore.
Contributed by Erin, Never Ending Voyage
The movie-themed Universal Studios Singapore on Sentosa Island is a fun day out for theme park fans. The park features a variety of rides and shows. 
Battlestar Galactica is not to be missed if you love roller coasters. This dueling coaster features a blue inverted coaster representing the Cylons and a seated red coaster representing the Humans. If you don't like going upside down, stick with Humans as Cylons is intense. 
The Revenge of the Mummy is a fast roller coaster in the dark with some fun surprises as you set off in your jeep through an ancient Egyptian tomb. 
Transformers is a thrilling 3D experience where you zoom down city streets chased by giant fighting robots—you feel like you're in a Transformers movie. 
Other highlights are the Jurassic Park river rafting adventure (you will get wet!) and the impressive live stunt show Waterworld. 
Universal Studios does get busy so it's best to arrive before the park opening at 10am and avoid weekends. 
Read this guide to the best Universal Studios Singapore rides for more details and tips on avoiding long queues. 
How to Get There: Take the MRT to HarbourFront Station (Orange and Purple Line) and connect to the Sentosa Express monorail to Waterfront station, which is a short walk from the park. The monorail is a little more expensive than standard MRT rides (5 SGD/$3.60 USD return), but you can use your MRT card to get straight on. 
Admission Cost: Adult tickets are 82 SGD/$60.85 USD; children (ages 4-12) 61 SGD/$45.25 USD.
Save time and buy your Universal Studios tickets ahead of time here.  
---
2. Explore Sungei Buloh Wetland Reserve.
Contributed by Sue from Travel for Life Now
There are many outdoor activities in Singapore from nature reserves and Gardens by the Bay to day trips to St. John's and Kusu Islands. 
Sungei Buloh Wetland Reserve is a unique experience in Singapore. It's one of the four nature reserves in the country. Bukit Timah, Labrador, and the Central Catchment and the other three.
Sungei Buloh is a wonderful place to see birds and animals in their natural environment. If you are lucky and patient, you will catch sight of mudskippers, monitor lizards, and the occasional crocodile. 
From September to March, it's the best place to see migratory birds (kingfisher, sun bird, heron, egret, sandpiper, and Himalayan swiftlet) and there are numerous bird blinds/hides that provide shelter from the sun. 
The walking trail is easy and goes through the mudflats and mangroves. The Reserve was recently expanded to include a large area of tidal ponds in the Buloh Besar River.
It's recommended to go early in the day when the animals are more likely to be active and before it gets too hot. Bring plenty of water and insect repellent. There are 2 visitor centers, but very limited access to food and water.
How to Get There: Sungei Buloh is off the beaten track and it takes some time to get there. Take the MRT to Kranji Station (Red Line) and then bus 925 to Kranji Reservoir Carpark B. The visitor center is a short walk from there.
---
3. Pay your respects at the Kranji War Cemetery.
Contributed by Marya from The Beau Traveler
You can rarely find Kranji War Cemetery in the list of must-visit places in Singapore. Even if you ask a local Singaporean, the possibility is high for them to never go there.
The cemetery is currently maintained by the Commonwealth War Graves Commission. Once a burial ground for the former Woodlands Military Hospital on World War II during the Japanese occupation in Singapore, the Commonwealth government eventually transformed it into a military cemetery after the war.
Despite not being popular among the locals, the site is often visited by the family of the British military. Especially those who have got their relatives buried during the war. 
It's free entry but remember to stay mindful around the cemetery.
If you're the kind of traveler who loves history, it's a great place to pay respect for the lives that have been taken because of the war. The cemetery is also the resting place of the second president of Singapore, Benjamin Henry Sheares.
How to Get There: Located close to the Malaysian border in Woodlands, take the MRT to Kranji Station (Red Line). It'll take around 45 minutes by MRT, so it's quite a journey. From Kranji station, you can either order a Grab car or take a 20-25 minute walk to the cemetery.
Admission Cost: Free
---
4. Hike through the Central Catchment Nature Reserve, MacRitchie Reservoir Park, & TreeTop Walk.
Contributed by Kenny from Knycx Journeying
One thing that impressed us the most about Singapore is that for a small island, it has no lack of greeneries and nature. 
While the country is a safe haven that enjoys stable and relatively calm weather (except the notoriously afternoon downpour), you could always grab your bag and go out to a park or go for a hike.
The center of Singapore is a natural reserve, where the reservoir, tropical forest, and the Singapore Zoo resides. 
Other than that, the Central Catchment Nature Reserve is located in the southern part of the natural reserve where visitors may find a couple of hiking trails that suit different ages and needs. 
The MacRitchie Reservoir Park has 6 walking trails ranging from 3 kilometers (1.9 miles) to 11 kilometers (6.8 miles). It's recommended to take route 6 to experience TreeTop Walk, a free-standing suspension bridge known for its scenic nature views.
As you make your way to the TreeTop Walk, take a deep breath of the fresh air, read the signs, and learn about some of the native creatures like a flying dragon and paradise tree snake. 
If you are lucky, you may spot a Malayan Colugo, also known as the 'flying lemur,' which can camouflage itself in the shades of trees as you are walking through the bridge.
How to Get There: Take bus 52, 74, 93, 157, 165, 852, or 855 to Lornie Road bus stop, and then a short walk to the entrance of MacRitchie Reservoir Park. 
---
5. Adventure through Bukit Timah Nature Reserve.
Contributed by Loredana from Destguides
Bukit Timah Nature Reserve, with 'Bukit Timah' meaning 'hill tin' in the Malay language, is located in the center of Singapore, about 12 kilometers (7.5 miles) from the central business district. 
It's on top of Singapore's highest hill, Bukit Timah Hill. In October 2011, it was labeled as an ASEAN Heritage Park as it's one of the largest areas of rainforest left in the country.
At the Reserve, you can walk, run or hike, and others even rock climb, or mountain bike. There is an actual designated trail for mountain biking within the park, which is known as the Bukit Timah Mountain Bike (MTB) Trail.
Here, you'll also find several different kinds of plants and animals, such as monkeys (crab-eating!) and palm trees (fan). 
Before you begin your adventures in the Reserve though, it might be useful for you to visit the Bukit Timah Hill Visitor Centre to learn more about the park's biodiversity through its various displays and touchscreens on flora and fauna that can be found there. 
How to Get There: You can take a bus, the Downtown MRT Line, or a taxi/car to the Reserve. If you're taking the MRT, go to Beauty World Station (Blue Line) and take Exit A. If you're taking a bus, then take it to Upper Bukit Timah Road and get off at the stop that is opposite to the Bukit Timah Shopping Centre.
---
6. Visit the Jewel at Changi Airport.
Before your departure flight to your next destination, we highly recommend that you visit the Jewel, next to Terminal 1 at Changi Airport. The Jewel is open to the public, so you do not need to check in your flight and cross Security to enter this place. 
The Jewel has restaurants, shopping, and activities for children and adults to enjoy. 
You'll want to grab a meal here before going on your flight as there are better food options than inside the terminal. Try restaurants such as Din Tai Fung, Tsuta Japanese Soba, Jumbo Seafood, and more. Check out the offerings here. 
What is awesome about this place is the world's tallest indoor waterfall called the Rain Vortex. It's quite a sight to see a waterfall in the middle of a building. Plus, the waterfall is surrounded by green plants and a forest area. 
Canopy Park is another place to check out. There are mazes, bouncing nets, and lots of fun for younger guests. You can also walk and climb on a suspended giant net. 
How to Get There: Once you enter Terminal 1, follow the signs to the Jewel. From the check-in area to the Jewel entrance, it'll take 10 to 15 minutes of walking one-way. 
Unfortunately, trolleys are not allowed inside the Jewel. You'll need to leave them outside of the main entrance and bring your luggage with you inside. 
Admission Cost: Free
---
Where to Stay in Singapore
There is no shortage of places to stay in Singapore. We noticed that Singapore accommodations are higher priced compared to other Southeast Asia countries, yet there are plenty of budget-friendly places to stay at. Remember to book in advance. 
Click here to find accommodations in Singapore on Booking.com.
Find Singapore accommodations on Agoda here. 
---
Where We Stayed
We stayed at the Four Points by Sheraton, located in the Robertson Quay river area. 
Since we're Marriott Bonvoy members, we used hotel points to stay here. Regardless, we would pay for this hotel on a return trip. 
Our room was a bit older looking, yet clean, and had a comfortable bed. Breakfast was not included in the room. 
The hotel is conveniently located as there are bus stops outside the hotel. There is a bus that goes to the nearest MRT station, Clarke Quay (Purple Line). 
Find availability and make a reservation for Four Points by Sheraton here on Booking.com.
Find pricing for Four Points on Agoda here.
---
If you need other choices, check out these recommendations based on reviews:
Budget Options 
Cube Boutique Capsule Hotel – Singapore has lots of capsule hotels to target budget travelers. What is interesting about Cube Boutique is that there are capsules available for couple travelers so you can share a queen size bed. Private rooms are also available. This place is located in Chinatown so you can hop onto the Chinatown MRT Station (Blue or Purline Line). 
Beary Best Hostel – Here is another affordable place to stay if you're on a budget. There are mixed dorm rooms and private rooms available. The private rooms are smaller and have bunk beds but you do get privacy. Since this hostel is in Chinatown, you can go on the Chinatown MRT (Blue or Purline Line) to travel around.
Luxury Options
Conrad Centennial Singapore – Located in the Marina Bay area, this hotel is close to many of the Singapore attractions and restaurants. The nearest MRT is the Promenade Station (Orange and Blue Line) which is only a few minutes away by walking. 
Pan Pacific Singapore – One of the hottest spots in Marina Square with stunning views of Marina Bay. The rooms have spectacular views and modern decor. Plus, this hotel is close to the MRT – Promenade (Orange and Blue Line), Esplanade (Orange Line), and City Hall Station (Red and Green Line). The Gardens by the Bay is less than 1 mile away from the hotel. 
---
Final Thoughts
We love Singapore and would recommend it as a fantastic stop in Southeast Asia. 
There are so many things to do in Singapore in four days and we barely scratched the surface. Even though we've been to Singapore a few times, we still haven't seen everything yet. 
We can't wait to come back to eat more Singaporean food, explore more of the hawker food culture, and go on more hikes. 
Huge thank you to our travel blogger friends who contributed to this post. Check out their current adventures and follow them on their social media channels for more inspiration. 
What are you most excited to see in your upcoming Singapore trip? If you've been to Singapore before, let us know where we should visit next in the comment box below.
Like this post? Save it to your Asia Pinterest board.
Pin #1 photo credit: Ronniechua via Depositphotos
Pin #2 photo credit: Laura Plenzich via Scopio Photos
Pin #3 photo credit: Heather Holding via Scopio Photos