Visiting Brunei for a short or long layover and need tips on what to do? You've come to the right place! 
If you've landed at Brunei International Airport (airport code: BWN), you're flying with Royal Brunei Airlines, Malaysia Airlines, Cebu Pacific Airlines, Air Asia, or Singapore Airlines. We flew with Royal Brunei Airlines from Ho Chi Minh City, Vietnam with our final destination to Bali, Indonesia.
The Brunei airport facilities are limited – a few souvenir shops and the Royal Brunei Sky Lounge (airport lounge). Otherwise, there aren't many offerings so it can be a little boring to pass time. A better way to maximize your Brunei layover is to go explore the city!
What is great about visiting Brunei is that the capital, Bandar Seri Begawan, is 15 minutes by car from the airport.
There are plenty of things to do during your Bandar Seri Begawan stopover, including visiting popular tourist attractions. Everything is within walking distance! Don't worry, you can view all these places yourself. The city isn't crowded with tourists and locals are friendly, so you'll have an easy time visiting various places. 
If you're not interested in the DIY approach, consider taking one of these Royal Brunei Airlines tours. The tours are 2-7 hours and you have your choice of the following tours: City, Bandar Splendour, Brunei by Night, Kampong Ayer, and more. The tours have an additional fee.
We also included other tours that you can take in this Brunei layover guide. 
Now, let's leave the airport and check out places to visit in Brunei that you can see during your layover. After your layover, consider continuing your travel through Southeast Asia to Cambodia, Vietnam, Thailand, and more.
Check out our other layover guides in other cities: Singapore in 8 hours, Sydney, Australia in 12 hours, Narita, Japan, and Beijing, China.
*Disclaimer: This post contains affiliate links. If you click on them and make a purchase for your Brunei travels, we receive a small commission. There is no additional cost to you. Appreciate the support.
---
Map of the Where to Go in Brunei 
---
Where is Brunei?
When we first booked a layover to Brunei, we used Google Maps to find out where Brunei is.
Located in the Southeast Asia island of Borneo, Brunei is officially called the "Nation of Brunei, the Abode of Peace" and "Negara Brunei Darussalam" in Malay. It's a small yet affluent country that has lovely architecture, culture, and has the main exports of oil and natural gas.
---
General Information for Brunei Layover
Time Needed in Brunei
Depending on your layover, you can spend as little as 2 hours to see 1-2 attractions or 5+ hours browsing the area in more depth. We had 5 hours to see the main attractions in Bandar Seri Begawan and it was the perfect amount of time.
Brunei Visa Requirements
You may need to get a visa depending on your country of origin. Check out more information about the visa application here and determine if your country is exempt from getting a visa. As U.S citizens, you can come without a visa and stay for 90 days. If traveling for less than 24 hours, a visa is not required.
Luggage Storage at Brunei Airport
During our research, there wasn't any good information about storing luggage at the airport. We recommend checking in your luggage from your original destination to your next destination so it's held at the airport until your next flight.
Although we didn't proceed this way, some visitors reserved a room at the Times Hotel near Brunei Airport and stored the luggage at the hotel. The Times Hotel is a five minutes car ride from the airport.
**If you plan to stay overnight in Brunei, check out these accommodations in Bandar Seri Begawan here. 
Where to Purchase SIM Cards
You can easily buy a SIM card in Brunei at the airport if you need data coverage for your layover. If you're planning to use the DartBrunei rideshare app (more information below) or need Google maps to travel around.
Due to our short layover, we opted not to buy a SIM Card and used paper maps as our guide. Plus, we needed to practice our map reading skills!
Where to Exchange Money in Brunei
Brunei uses Brunei dollars as its currency. There are a couple of money exchange places in the airport and an ATM. In Bandar Seri Begawan, there are several ATMs along Jalan Sultan Street. It's easy to find these places.
Currently, there is a Currency Interchangeability Agreement between Brunei and Singapore where their currencies have a 1:1 ratio. Therefore, you can use Singaporean dollars in Brunei and vice versa! In theory, it's a good idea but it's not practiced and often looked down upon.
**Note: We tried to use Brunei dollars in Singapore but most places do not accept Brunei currency. Do not bring Brunei currency into Singapore as it's a hassle to try to find a vendor who will accept it.
How to Leave the Brunei Airport
After you go through immigration and exit the Arrivals gates, there are several ways to head to Bandar Seri Begawan if you're planning to explore the city on your own versus the Royal Brunei transit tour.
1. Taxi 
Take a taxi which takes 15 minutes to go to the main area. Taxis should be metered if leaving from the airport.
If not, you'll need to negotiate the price. The cost is expensive considering it's a short ride.
The fare ranges between $15-$20 Brunei Dollars (BND) / $11-$15 USD. Cash is only accepted as payment.
For the return trip, taxis aren't as prevalent so you may need to go to a hotel to request one when heading back to the airport.
2. Bus
There are 6 bus routes in the Bandar Seri Begawan. From the airport, catch one of the purple buses outside of the Arrivals gate that heads to the Bandar Seri Begawan bus station. Bus fares start at $1 BND / $.70 USD.
3. Ride-hailing app
Download the newest DartBrunei app on iOS or Google Play. It's convenient, easy to use, and the equivalent of Grab in Southeast Asia and Uber in the U.S.
You choose your starting and ending location and someone will pick you up to go to your next destination. Using this app is a good option if you're not close to a hotel to ask for a taxi. (Although we didn't use this app, we would consider it for a longer stay in Brunei).
According to the DartBrunei app, you have the option to pay the fixed price, have a metered taxi, or rent the driver and pay by the hour. Currently, payment is in cash or via Dart Credits which you top up via a Visa or Mastercard credit card. 
Brunei Tourist Information
As you exit the Arrivals gate, there is a tourist information booth on the right-hand side. If you arrive in the late evening, no one will be present at the tourist information booth and the marketing materials and maps are stored away.
Another location is at the Kampong Ayer Cultural and Tourism Gallery which is at the Kampong Ayer water village. You can pick up maps and ask questions about the city.  The only way to get here is via a water taxi, which we'll share more information below.
Opening Hours: 9:00am to 4:30pm (Monday-Thursday, Saturday)
---
Best Things To Do During Your Layover in Brunei
If you're keen on exploring these sites on your own, go for it! Otherwise, book this half-day city tour where you can see the best places to visit in Bandar Seri Begawan. 
Don't forget to have travel insurance since you never know what may happen on your trip!
1. Take a water taxi to visit Kampong Ayer, one of the largest water villages in the world.
Kampong Ayer is known as the "Venice of the East" and is an eye-opening way to see how life is like on the water. With over 10,000 people living in the village, living in the water village is as normal as living on the mainland.
To get to the water village, head towards the Brunei River and hail a water taxi. The water taxis are the main form of transportation when living in the village. The ride is cheap at $1 BND / $.70 USD. It'll drop you off across the water unless you have a destination in mind.
One of the best ways to see this area is by foot. First, stop by the Kampong Ayer Culture and Tourism Gallery for tourist information. Then, browse around the area. You'll notice a mix of newer and older housing areas. Many of the houses are colorful (which is gorgeous to see during the sunset). Plus there are dozens of schools, a mosque, and even a police station on stilts. Locals even set up their own convenience store in their house.
Locals are also very friendly. A group of people waved at us to join their party with food and drinks. Although a nice gesture, we politely declined as Kampong Ayer was our last destination before heading back to the airport.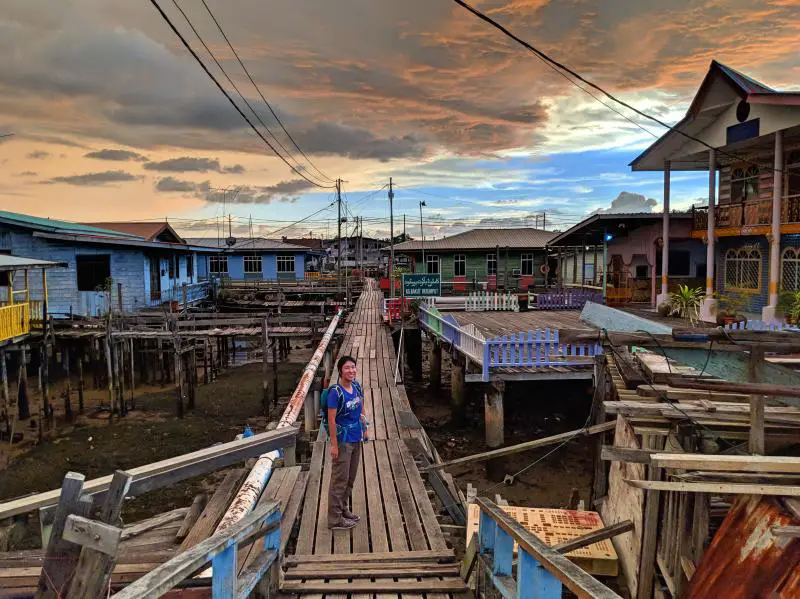 2. Explore the mangroves on a water taxi.
If you have more time, hire a water taxi (either the same one that took you across to Kampong Ayer or another one) to take you on a Mangrove Tour. A gentleman approached us on the mainland regarding the Mangrove Tour and he called one of the water taxis along the Brunei River.
Don't forget to negotiate the price with the captain before you depart the water. The gentleman promised us one price that was too good to be true and the captain said another price. We ended up negotiating for the cost of $40 BND / $29 USD for two people for a 1 hour and 15 minutes ride.
Book this Brunei Water Village Tour ahead of time.
The captain will take you down the canals of the river to see mangroves, birds, crocodiles, and even see the proboscis monkey. It's such a beautiful ride along the river with the greenery and the quietness of the river.
Beware that the proboscis monkeys are hard to find in the trees and they jump around in the trees quickly. Unfortunately, you won't be able to get out of the boat to get a closer look due to the mangroves and also your safety.
It's recommended to have wildlife spotting equipment such as binoculars to see the monkeys better. As with photo shooting, a camera with a zoom lens will be helpful to capture the energetic monkeys.
The end of the tour included a boat ride and walk through Kampong Ayer and we returned back to the mainland. 
3. Capture the beauty of the Sultan Omar Ali Saifuddien Mosque.
You can't miss this ornate mosque, Sultan Omar Ali Saifuddien Mosque, along the Brunei River. With the gold domes and the marble towers, it's a picturesque mosque. Feel free to browse around the outside of the premise to take photos. On the riverside, you'll see a ceremonial barge which is also beautiful and complements the mosque.
During our visit, visitors were not allowed to enter the mosque due to the praying times. Robes are available during times where visitors can explore the inside of the mosque.
Address: Jalan McArthur, Bandar Seri Begawan BS8711, Brunei
Opening Hours: 8:30am to 12:00pm, 1:30pm to 3:00pm, 4:30pm to 5:30pm (Sunday-Thursday), 4:30pm to 5:30pm (Friday-Saturday)
4. Learn about the current Sultan at the Royal Regalia Museum.
Visit the Royal Regalia Museum to learn more about the Sultan and see the various gifts and artifacts received from other countries. The museum highlights the wealth of the Sultan from the intricate jewelry, detailed clothing on display to several chariots stored throughout the museum, and much more. It's a bit overwhelming to go through everything. One thing that we did enjoy was seeing a photo of the current Sultan cycling and staying active.
Museum admission is free. You'll need to store your handbags and cell phones in the lockers. Photos are not allowed inside the museum except for the main entrance area. Shoes are not allowed in the museum.
Address: Jln Sultan Omar Ali Saifuddien, Bandar Seri Begawan BS8611, Brunei
Opening Hours: 9:00am to 5:00pm (Monday-Thursday, Saturday-Sunday), 9:00am to 11:30am and 2:30pm to 5:00pm (Friday)
5. Enrich your mind and learn about the history of Brunei.
Next to the Royal Regalia Museum is the Brunei History Centre. If you want to learn more about the history of Brunei or are a history buff, come here to explore further. Admission is free. You need to remove your shoes before entering.
Address: Jln James Pearce, Bandar Seri Begawan BS8610, Brunei
Opening Hours: 9:00am to 5:00pm (Monday-Thursday and Saturday-Sunday)
6. See buzz from buyers and sellers at the Tamu Kianggeh local market.
Stop by the Tamu Kianggeh Market to see the action of the local market along the Brunei River. It's an open-market and best to come early in the morning to see the variety of produce and household goods for sale. By the late afternoon, everything is closed and cleared out.
Address: Jln Sungai Kianggeh, Bandar Seri Begawan BS8111, Brunei
Opening Hours: 8:00am to 5:30pm
7. Wander through the Teng Yun Chinese Temple.
Tucked behind a parking garage and across from the Tamu Kianggeh Market is the Teng Yun Chinese Temple. It's the only Chinese temple in Bandar Seri Begawan. Although small and free to visit, you may consider making a prayer or at least see the architecture. 
Address: Jln Sungai Kianggeh, Bandar Seri Begawan BS8111, Brunei
---
Other Places to Visit for an Extended Trip to Brunei
Due to our limited time, we couldn't see everything. Here is what is on our list for a future visit to Brunei.
1. Visit the largest mosque in the area, Jame' Asr Hassanil Bolkiah Mosque.
We know, how could we miss this place?! It's about 3 km (1.9 miles) from the main Bandar Seri Begawan area and we didn't have enough time to stop by.
To get here, take a taxi or the bus (01C, 20, or 22) and head to the Jame' Asr Hassanil Bolkiah Mosque. It's a grand mosque that can hold up to 5,000 people during a prayer session. You can't miss the 29 gold domes and the beautiful architecture.
Similar to Sultan Omar Ali Saifuddien Mosque, you must dress conservatively and some days may be closed to visitors.
Consider stopping by the mosque during the nighttime to practice your night photography with the illuminating domes.
Address: Simpang 127, Bandar Seri Begawan, Brunei
Opening Hours: 8:00am to 12:00pm and 2:00pm to 3:00pm (Monday-Wednesday, Saturday), 10:30am to 12:00pm and 2:00pm to 3:00pm (Sunday)
 

 

View this post on Instagram

 
2. Embrace nature at the Ulu Temburong National Park.
If you're craving nature, the Ulu Temburong National Park is the place to go! It was the first national park established in Brunei. Walk on the wild side through the luscious rainforests and even have the opportunity to walk across the canopy suspension bridge.
3. Visit other forest areas in Brunei for more greenery.
You won't be disappointed with visiting other locations in Brunei for more nature. Some of the other recommended places are the Berakas Forest Recreational Park and Bukit Ladan Forest Reserve.
4. Explore Selirong Island (Palau Selirong).
The only way to get to Selirong Island is by water taxi or via a tour from Bandar Seri Begawan. The best part about this island is that you can walk across an elevated platform to spot proboscis monkeys, flying lemurs (colugos), and other wildlife in the mangrove forest. It would be an incredible sight to see the wildlife. 
 

 

View this post on Instagram

 
5. Take a trip to Seria.
It'll be interesting to see more of Brunei and its economic focus on producing oil. Seria is a town about 1.5 hours away from Bandar Seri Begawan. You can see the "nodding donkeys" (the machinery that goes up and down drilling for oil and looks like a donkey).
Plus, stop by the Seria Energy Lab (formerly known as the Oil & Gas Discovery Centre), a science center that provides a history of the petroleum industry and interactive hands-on workshops.
Address: Simpang 16, Seria, Brunei
Opening Hours: 8:30am-2:00pm (Tuesday-Thursday, Saturday-Sunday)
6. Check out Kuala Beliat.
It's the second largest town after Bandar Seri Begawan. There are some exciting attractions to see such as the Masjid Kampong Pandan, Tea Pot Roundabout, Billionth Barrel Monument, Lumut Lighthouse, and more.  
---
Helpful Tips With your Brunei Layover
Brunei's main religion is

Islam

. Remember to dress appropriately when entering a mosque, such as covering shoulders and knees. Mosques will provide robes if you intend to walk inside the mosque.

On Fridays, Bandar Seri Begawan shuts down

from 12:00pm to 2:00pm for prayers. Everything is closed from banks, restaurants, taxi drivers, etc. If you're hungry or need to go somewhere, prepare ahead of time! Having hanger pains is worse!

In Bandar Seri Begawan, there are plenty of restaurants to try during your visit from local cuisine to Italian, Western foods, and more. We didn't get a chance to stop by for a meal but the local places smelled delicious as we walked by. If you want cheap local foods, stop by

Tamu Selera

has the hawker-style feel, or the

Gadong Night Market.
Address:
Tamu Selera: Jalan Padang, Bandar Seri Begawan BS8411
Gadong Night Market: Simpang 37, Bandar Seri Begawan, Brunei 
If you travel to Brunei during the summertime, please be aware of the national holidays as places will be closed. 
---
We had a blast during our layover in Brunei and it was a worthwhile trip. We would have never known about this mighty country.
With plenty of things to do in Brunei, it was well worth the time spent exploring in 5 hours. It beats staying around at the airport all day long. Although we didn't get to see everything, we'll be back to Brunei for an extended trip.
Definitely consider the opportunity to leave the Brunei International Airport and maximize your layover if you can!
What you are the most excited to see during your Brunei layover? Let us know in the comments below!
Save the pins for your Asia travel boards on Pinterest!
Photo credits: Instagram images used in this post with photographers' permission.
Pin #1 & 3 photo credit: Tarran Goodwin via Scopio Photos