What are your plans during the summer break? If you have extra vacation time and eyeing a summer trip to Asia, then you're in luck. 
Whether you're looking to escape to a beautiful island or want to explore the outdoors, Asia has many places for you to visit. During the summertime (June through August), some destinations will experience intense heat and humidity and monsoon season, but don't let that stop you from enjoying yourself. 
Here are the 25 best summer destinations in Asia to check out. We've collaborated with our favorite travel blogging friends and highlighted cities and areas from West Asia, Southeast Asia, South Asia, and East Asia. Read more to find out popular to non-touristy and quiet spots that you can visit. 
Enjoy your time off!
Click to jump to certain areas of this post. 
Check out our other posts in this series for more travel inspiration: 
*Disclaimer: This post contains affiliate links. If you click on them and make a purchase, we receive a small commission. There is no additional cost to you. Appreciate the support.
---
Map of Places to Visit in Asia in Summer
---
Summer Spot in West Asia
1. Petra and Wadi Rum, Jordan
By Ben, Ticket 4 Two Please
Recommended Month to Visit: August
Jordan is a fascinating Asian country to visit in summer and nowhere is this more apparent than at the country's two most famous sites – Petra and Wadi Rum. 
First up on your Asian adventure is Petra. While visiting one of the wonders of the world at the height of the Middle Eastern summer can be challenging, you're guaranteed to have fantastic conditions and the utmost chance of viewing the famous site in its best light. 
The Wadi Farasa trail in Petra is one of the best hikes in Jordan during the summer. Try to get to the top of the trail, near the High Place of Sacrifice, in time to watch the sunrise over the Street of Facades – it is a truly magical experience. 
Wadi Rum, sometimes referred to as the Valley of the Moon, is an otherworldly setting in the heart of the Jordanian desert. It leaves you feeling as though you've stepped away from Earth and entered an entirely new planet. 
August is the best month to visit Wadi Rum because of the chance of seeing the spectacular meteor showers in the night sky towards the middle of August. The most famous of all, the Perseids Shower, typically culminates in mid-August and is a true spectacle to behold. 
The easiest and most stress-free way to visit both Petra and Wadi Rum is to hire a car and follow a Jordan Road Trip Itinerary, enabling you to have plenty of time to explore both of Jordan's most famous sights. 
---
Summer Destinations in Southeast Asia
2. Cat Tien National Park, Vietnam
By Jackie and Justin, Life Of Doing
Recommended Month to Visit: Any time from June to August
If you're looking to escape the concrete jungles of Ho Chi Minh City, then a trip to Cat Tien National Park is your answer. Located 150 kilometers (93 miles) from HCMC, Cat Tien National Park is a fun nature spot to spend a few days or for a quick weekend.  
While the summer is considered the rainy season in South Vietnam, it's still a good time to visit this national park. The rain doesn't last all day, just for 30 minutes, and then the skies will clear up. Just a heads up that there are tons of mosquitoes here, so bring your bug repellent.
This national park has dense forest areas, so you'll cool off from the heat. Wander through the forest to see tall Tung trees or do a combination of a walk/bike ride to reach Crocodile Lake. There is also a waterfall nearby the Botanic Garden area. 
Those who love wildlife will enjoy riding an open-top Jeep at the Night Safari. You get the chance to see wild pigs, deer, birds, and more. There is also a chance to trek and see gibbons at sunrise. You'll hear them when you've entered the park. 
Camping is allowed in this national park. Or, there are affordable guesthouses located close to the entrance of the national park. You can stay in your own private bungalow.
---
3. Bao Loc, Vietnam
By Jackie and Justin, Life Of Doing
Recommended Month to Visit: Any time from June to August 
Bao Loc, located in the Central Highlands area, is a unique place to visit in Vietnam. The main city is small, yet the outskirts are known for growing tea such as oolong and green tea. When driving through the countryside area, you'll see endless amounts of green tea plantations along the mountainside. 
Even though June to August is considered the rainy season, it's normal to have heavy showers for 20 minutes and then sunny skies afterward. A little rain won't hurt your trip. The evenings are cooler since you're in higher elevations. 
The main tourist attraction is visiting the Dambri Tourist Area. It has two of Vietnam's best waterfalls to see – Dambri and Dasara Waterfalls. Dambri is the taller waterfall with 70 meters (230 feet) of powerful cascades, while Dasara has gentler falls. Unfortunately, swimming isn't allowed at the base of the falls. Afterward, you can wander through the area to ride a Ferris Wheel, swan paddleboat, and even go swimming at the pool. 
Another popular spot to visit is Linh Quy Phap An Pagoda to see the sunrise. There is a pretty photo spot from the pagoda where you can get a panoramic photo of the Japanese torii gate and the layer of clouds in the background. 
After visiting Bao Loc, feel free to extend your trip and spend time in Dalat to see more waterfalls and enjoy the clean, crisp air.  
---
4. Bandar Seri Begawan, Brunei
By Jackie and Justin, Life Of Doing
Recommended Month to Visit: Any time from June to August
Brunei is a tiny country located on Borneo Island and bordering Malaysia in Southeast Asia. While it's not a touristy destination, it's a unique stopover destination to explore. 
Bandar Seri Begawan is the capital and has plenty of attractions to visit. There is a mix of city life with museums and restaurants, tons of rainforests, and beautiful mosques. 
There are a few museums to learn about the history of the country and the Sultan. Check out the Royal Regalia Museum and Brunei History Center.
One of the coolest things to do is to hire a boat and ride along the mangrove forest and Kampong Ayer, the floating village. The mangrove forest may have a few proboscis monkeys hiding. The floating village is also fun to walk around and see how people live above the waters. You may be even invited to someone's house for a meal. 
Visit the two famous and picturesque mosques, Sultan Omar Ali Saifuddien Mosque and Jame' Asr Hassanil Bolkiah Mosque. They are beautiful with the architecture and colors while also showing opulence with gold plating everywhere. Since Brunei is an Islamic country, please have proper clothing coverage. The mosque will provide robes to cover the clothes. 
If you visit during the summer, there are a few holidays to know as places will be closed. July celebrates H.M. Sultan's birthday and Eid al-Adha (Feast of the Sacrifice), and August has Al-Hijra (Hijri New Year.) 
---
5. Bali, Indonesia
By Jackie and Justin, Life Of Doing
Recommended Month to Visit: Any time from June to August
It comes as no surprise that Bali is on the list of places to visit in Asia during the summer season. The gorgeous greenery and rice fields, beautiful temples, and plenty of beaches are attractive attractions for visitors to experience. Schedule at least 4 days or up to 2 weeks for your Bali trip. 
Bali has the driest weather during this time so you won't have to worry about the rain dampening your trip. It'll be hot and humid, so you can enjoy all of the bucket list worthy outdoor adventures. 
Consider trekking Mount Batur to see the sunrise, walking through a hidden canyon, learning how to surf, strolling through Tegalalang Rice Terraces, and visiting the monkeys at Sacred Monkey Forest. Of course, visiting a waterfall or two is also on the list.  
Otherwise, relaxing on the beaches, getting massages, staying by the pool at your resort, and getting your Vitamin D is also good option for a low-key vacation. 
If the crowds are too much to handle, consider taking a boat ride to visit the three smaller islands of Nusa Islands (Nusa Penida, Lembongan, and Ceningan). There are some surreal landscapes and viewpoints of the coastline. Kelingking Beach on Penida Island is a must-visit for the coastline views and the steep hike to the beach. 
---
6. Komodo National Park, Indonesia
By Jackie and Justin, Life Of Doing
Recommended Month to Visit: Any time from June to August
Komodo National Park, in the Flores area of Indonesia, is a beautiful place to visit. Recognized as one of the UNESCO World Heritage Sites, Komodo National Park is home to the carnivorous Komodo dragons. They live on Komodo and Rinca Island. 
A typical one-day tour to Komodo National Park starts in Labuan Bajo and includes a visit to Padar Island, Rinca or Komodo Island, and a snorkeling site or a beach with pink sand. You'll travel to these destinations by slow boat or speedboat. 
Padar Island is a lovely island where you hike to the peak and see the blue lakes surrounding the island. 
Depending on the water currents, the tour will take you to either Komodo or Rinca Island. Rinca is closer to Labuan Bajo and has plenty of Komodo dragons to see. The Komodo dragons are huge and can be 3 meters/10 feet long! A guide is around to maneuver the Komodo dragons in another direction if they get too close to the guests. 
The last stop is a visit to a pink beach or snorkeling depending on the schedule. 
If you have more time, consider spending 2-3 days at this national park. You get the chance to do more snorkeling and scuba diving, visit both Komodo and Rinca Island, and stay overnight on a boat. Since the weather is humid, you'll want to spend as much time in the waters as possible.
---
7. Sumatra, Indonesia
By David and Intan, from The World Travel Guy
Recommended Months To Visit: Any time from June to August
Sumatra is one of the biggest islands in the world, but much of it is still unexplored by international tourists. 
Although it has a tropical rainforest climate and rainfall all year round, the summer season is a great time to visit because it's slightly drier. There is still plenty of rain at this time, but it usually comes in the evenings and at night.
North Sumatra is the most popular province on the island for travelers, and it's loaded with great things to see and do. From the international airport in Medan, you can go do some jungle trekking at Bukit Lawang to see Sumatran Orangutans and other unique wildlife, visit an elephant sanctuary at Tangkahan, or take a driving tour around Lake Toba, which is the biggest volcanic lake in the world. Toba is also home to the Sipiso Piso Waterfall, which is one of the tallest waterfalls in Indonesia.
If you want something further off-the-beaten path, the coast of Sumatra is lined with smaller islands like Bangka, Belitung, Nias, Mentawai, and the Banyak Islands. You can get on a boat to do island hopping tours and see perfect white sand beaches away from the tourist crowds.
---
8. Khao Sok National Park, Thailand
By Jessie, Pocket Wanderings
Recommended Month to Visit: June 
The beautiful Khao Sok National Park is a large nature reserve in Surat Thani, Southern Thailand. Home to the man-made Cheow Lan Lake, dense rainforest, and rare wildlife species, it's an unforgettable place to visit. 
With limited phone signals and hardly any electricity, it's the perfect destination for a digital detox and a chance to reconnect with nature.
Although the summer months bring the rainy season in Thailand, it's an ideal time to visit Khao Sok National Park because visitors can enjoy river tubing and other activities. Some of the water-based activities are weather-dependent and require the conditions of the rainy season to go ahead. June marks the start of the rainy season, so it provides the right conditions for river tubing but still offers some fair weather and warm temperatures.
Other activities on the water include bamboo rafting, kayaking, and swimming. For those who prefer to stay on land, the jungle offers plenty of hiking opportunities – although it can get slippery in the wetter months. 
As Khao Sok National Park is quite remote, it's best to stay overnight. Accommodation generally consists of floating raft houses, which sit on the water. A stay in one of these floating bungalows is a truly memorable experience. They range from budget to luxury, depending on your personal preferences.
---
9. Pai, Thailand
By Martina, The Global Curious
Recommended Months to Visit: June, July, and August are the wettest months yet perfect for lush nature and no crowds.
Precisely 129 kilometers (80 miles) northwest of Chiang Mai lies a beautiful village where all hippy dreams come true. Home of artists, lovely locals, cool hangouts, and a night market, Pai tops it all up with a lush jungle and a calm, long winding river.
Even though some suggest Pai as a day trip, it's worth spending between 3 to 4 days exploring and enjoying its slow pace – and some of its many nature spots.
On one hand, you can explore this cute village, have a drink at any of its many pubs with live music, stroll up and down the walking street, and grab food at the night market. 
However, the best lies outside town, where you can venture either by booking an excursion or renting a scooter. Traffic can indeed be tricky, and streets are not too bright. Yet, a scooter won't force you to go fast, and most stops are close to each other – say from a 10 to 20 minutes drive, depending on how you organize your day.
Some great spots to check out in just 2 or 3 days are the Pai Bamboo Bridge Trail, Pam Bok Waterfall, Pai Canyon, and the White Buddha – great for sunset! 
If you want to learn about reforestation in the area, plant trees, and see an elephant roaming around freely, get in touch with the folks at Conserve Natural Forests.
---
10. Koh Samui, Thailand
By Karen, Are We There Yet Kids
Recommended Months to Visit: July and August
Thailand is always a bit hit or miss over the summer months in terms of weather. Much of the country is experiencing the rainy season. This means days of rain, making exploring the outdoors difficult. 
However, these months are classed as the hot season in Koh Samui. Any tropical storms you experience in July and August on the island will be short-lived and thrilling to watch. Visiting during summer also means fewer crowds and better prices than the peak months of January and February.
Koh Samui is Thailand's second-largest island and one of the most beautiful. It's home to wide stretches of white sandy beaches and a bright turquoise sea. For the most exquisite beaches, steer clear of busy Chaweng and head to the often deserted Taling Ngam on the West Coast or Lipa Noi for the best sunsets on the island. 
A short hike to Namuang Waterfall 1 is a must-do to take in the scenery and cool off in the clear natural pool at its base. Or spend a day visiting the many temples located on the island. The Big Buddha near the airport is one of Koh Samui's most popular attractions.
Don't miss the amazing night markets in Bophut and Lamai to purchase great value souvenirs and sample the incredible street food. If you're visiting during a full moon, then it's an easy boat trip across to Koh Phangan to attend the fabulous full moon party.
July and August are popular months to visit Koh Samui with kids as it is the school summer holidays. It's the perfect place for a family holiday.
---
11. Bako National Park, Borneo, Malaysia
Recommended by Martina, PlacesofJuma
Recommended Months to Visit: Any time from June to August
One of the best destinations to visit in Asia in summer is Bako National Park in Borneo, Malaysia. At this time of year you can expect little rain, but a lot of good weather. Also, the journey by boat is easy to organize at this time, which can be difficult in the monsoon season.
While exploring the Bako National Park in summer, you'll enjoy amazing natural beauty with lots of interesting wildlife and also breathtaking beautiful beaches. In any case, you'll have the chance to see the most famous animal with big-nosed monkeys – the Proboscis Monkeys. They're hanging around in the trees and are easy to find.
Another highlight is the Bako National Park's bays. You'll find many different sand beaches, but also impressive sandstone cliffs and limestones. For example, the Sea Stack is an interesting rock formation that looks like a cobra head.
Getting to Bako National Park can easily be arranged from Kuching. From there, take the bus number 1. Once arriving at the Bako Jetty, purchase a boat ticket to the Park entrance. The beach can be reached by a 1.5-hour hike from the National Park headquarter or by boat tour.
One to two nights is the perfect amount of time to spend inside the park. Bako National Park offers various accommodation options such as a hostel with multiple beds, private bungalows, and a campsite. It's recommended to book your favorite place to stay in advance.
---
12. Perhentian Islands, Malaysia
By Campbell and Alya, Stingy Nomads
Recommended Month to Visit: Any time from June to August
The Perhentian Islands are two beautiful little islands, Perhentian Kecil and Perhentian Besar, located on the coast of North-East Malaysia, very close to Thailand. These spectacular tropical islands with perfect white beaches and crystal clear water offer excellent scuba diving, snorkeling from the beach, and some nice, short hiking trails. 
June is a great month to visit the Perhentian Islands due to the good weather and ideal diving conditions. It's not the peak of the tourist season yet, mainly being very busy over weekends. July and August are excellent months to visit for diving and weather conditions, but it gets very busy in these months, so book accommodation ahead of time. 
Perhentian Kecil is a more lively island with more resorts and many backpackers. While you're here, check out Long Beach. It's a fantastic beach for swimming and snorkeling. You'll see sharks and big fish. Watching the sunset and relaxing from one of the beach bars is also recommended here. 
Perhentian has excellent scuba diving. Some of the best dive sites are Tokong Laut, a beautiful dive site rich in marine life, and the largely intact Sugar Wreck, a sunken freighter lying in 20 meters (65 feet) of water. Rent snorkeling gear and a kayak, and paddle between Long Beach and Coral Bay to see beautiful corals and marine life. 
There are some short hiking trails through the dense jungle connecting resorts and villages on the island.
---
13. Singapore
By Mar, Solo Female Travelers Club
Recommended Month to Visit: August
There are many festivals in Singapore throughout the year. While some fireworks are thrown for Chinese New Year and New Year's Eve, nothing beats the celebration that takes place during National Day on August 9th every summer, making it a fun time to be around. 
The celebration commemorates the day Singapore became independent from Malaysia in 1965 and gets bigger every day.
Preparations and rehearsals, including fighter jets flying over the sky, start as early as June and practice happens with a live audience. On the day, a few thousand lucky Singaporeans will be elected at a lottery to attend the live show, while the rest will watch on TV or from a distance. 
Besides the National Day Military Parade, which is a big deal, and the performance by the fighter jets, the star of the show is a shinny firework display that used to take place over the Marina, with the famous Marina Bay Sands Hotel behind.
The best way to enjoy the celebrations is by booking a spot at one of the many rooftop bars from where the fireworks can be seen. Depending on where they take place this could be the fancy 1-Altitude, the fashionable Mr. Stork, or even the top of the Marina Bay Sands. 
Other events happen across the city throughout the day, with outdoor concerts, light projections on the main museums, and more. Because everyone is out and about and the atmosphere is celebratory, it's a great time to meet people even if you are solo. 
Sit at one of the many hawker centers and strike up a conversation with the locals to learn more about the city-state.
---
14. Trincomalee, Sri Lanka
By Maria & Katerina, It's All Trip To Me
Recommended Month to Visit: August
With constant temperatures all year long and two separate monsoon seasons, Sri Lanka is one of the best year-round destinations to visit in Asia. However, the best time to plan a trip to the east coast of the island and the seaside town of Trincomalee, in particular, is the summer.
One of the main reasons to add Trincomalee to your itinerary in the first place is that, unlike the beach towns located on Sri Lanka's southern coast, Trincomalee isn't affected by mass tourism. Quaint Trinco is easy-going and authentic, while its most spectacular beach, Nilaveli, doesn't attract hordes of tourists. Not even during the peak summer season.
While in Trincomalee, you can embark on an exciting whale-watching boat trip. For the more adventurous, scuba diving and snorkeling are also very popular. However, the fun doesn't stop there. From Trincomalee, you can join a boat tour to either the exotic Pigeon Island or the gorgeous Kunchikumban Aru Lagoon.
Back on land, there is no shortage of hidden gems to explore in and near Trincomalee. Originally built in 1624, Fort Fredrick is a historic place with breathtaking ocean views. Another must-see attraction near Trincomalee is the site of the seven Kanniya Hot Springs, whose water is said to have healing properties.
Whatever you choose to do during your summer trip to Trincomalee, there's one thing you most definitely don't want to miss, and that is watching the sunrise on Nilaveli Beach.
---
15. Siem Reap, Cambodia
By Emma, Wanderlust and Wet Wipes
Recommended Month to Visit: August
Arguably, there is no bad time to visit Cambodia. Whether you're visiting Siem Reap with kids in January, backpacking in October, or are there for a temple tour in August, there is no avoiding this spectacular place. 
With around 50 Buddhist and Hindu temples, the UNESCO recognized Angkor Wat Archaeological Park is the main reason people visit. Spend a full week exploring the most popular sites such as Angkor Wat, Bayon, Preah Khan, Phnom Bakheng, and Banteay Srei.
There is so much more to do in and around Siem Reap. The nearby lake of Tonle Sap is stunning. With careful planning, you can visit a few of the 171 floating villages with a responsible boat operator, or tour around in canoes. When visiting in the rainy season, the lake has a flat flood plain and is considerably bigger and more impressive when it's full.
For outdoor adventurers, spend a day hiking in Phnom Kulen National Park. Check out the waterfalls and temples, as it's another place recognized by UNESCO. Other fantastic outdoor activities include Angkor Zip Lining and Angkor Wat Putt. 
For a quieter afternoon, head to the silk farm or to Apopo Landmine Museum which showcases the hero rats that have been trained to detect some of the 6 million landmines still left unexploded all over Cambodia. 
In the evenings, grab dinner at somewhere like Haven, New Leaf Eatery, or Spoons where underprivileged locals are trained up and employed. Phare Circus is another great activity – its profits support the free education, professional arts training, and social support programs of a nearby art school.
---
South Asia Places in Summertime
16. Goa, India
By Anukrati, Bulbul On the Wing 
Recommended Months To Visit: Any time from June to August
The first thing that comes to mind when thinking about Goa would be the beaches and the parties. It's what most people perceive, but there is a less explored hidden side to this Konkan state. 
If you're looking for a unique travel experience, you should explore the beautiful state during the monsoon season between June and August. 
There are many advantages of visiting Goa during the monsoon season. You're likely to get great deals on flights due to less demand. In addition, the hotel tariffs tend to decrease for the low season. Most importantly, you would have the tourist attractions to yourself due to fewer crowds.
There are top two things that you can do in Goa during this season. First, check out Parra Road, one of the prettiest roads here. It's lined with lush palm trees and overlooking fields on both sides. Also, it's a popular site shown in many movies, such as Alia Bhatt's character cycling in Dear Zindagi.
Secondly, visit Divar Island to check out Bonderam, the Festival of Flags. It occurs annually on the fourth Saturday of August. It's worth witnessing the festivities and parade. 
Irrespective of the time of the year, Goa always guarantees a memorable experience.
---
17. Spiti Valley, India
By Soujanya, The Spicy Journey
Recommended Month to Visit: June
Spiti Valley is a cold desert in India, located in the state of Himachal Pradesh. It's famous for its vast, dry, dramatic, and stunning landscape. Due to the difficulty in reaching there and lack of cellular connectivity, Spiti is not for the faint-hearted. 
To reach Spiti Valley, one has to arrive in Delhi first. From here, there are two routes to be followed to reach Kaza, the ancient capital of Spiti, and the one where most travelers set up their base to explore the valley. 
The first one is Delhi-Manali-Kaza. This is a shorter but treacherous route and is closed in the winter months due to the heavy snow. Therefore, it's recommended to visit in June when the roads are safe and the weather is pleasant. Whereas the other route, Delhi-Shimla-Kaza is longer but is open throughout the year.
In Spiti, it's common for most travelers to follow an 8-day Spiti Valley itinerary. It involves staying at one of the many hotels, homestays, or hostels in Kaza and then exploring the rest of this area by bus or by renting a car or bike. 
You can't miss out on seeing Hikkim where the world's highest post office is located or Chicham bridge, Asia's highest bridge. Other places to explore in Spiti Valley include the majestic Key (or Kee) Monastery, Langza, Dhankar, Tabo, Pin Valley, and Kibber, famous for sightings of the snow leopard in winter.
---
18. Andaman Islands, India
By Trijit, Budget Travel Buff
Recommended Month to Visit: June
Surrounded by pristine white-sand beaches and blue turquoise water, Andaman Island is one of the best summer destinations in Asia. It's a union territory of India, located in the southeastern part of the Bay of Bengal. 
Unlike other popular places, this is a less crowded beach in India. Whether you're a solo traveler, traveling with your family, or looking for a romantic vacation, Andaman Islands is the best option for you. 
Port Blair is the capital city of Andaman and Nicobar Islands. Start your trip by visiting the infamous Cellular Jail, a popular attraction and a historical sight in Andaman. 
If you are not a history person, book a ticket for Havelock Island. Private catamaran (recommended to save time) or government ferry (budget-friendly) are available to reach Havelock Island. It's a must-visit place that offers stunning views of white-sand beaches, crystal clear water, lush green forest, and plenty of water activities. 
Explore the award-winning Radhanagar Beach which ranked Asia's best beach by Time magazine in 2004. Kalapathar Beach is another highlight. This spectacular beach is popular for the stunning sunrise. Swimming is not possible because of the sharp rocks, but it's an amazing place to take pictures for your Instagram feed.
Adventure enthusiasts can explore the underwater universe by snorkeling, scuba diving, and sea walking. Enjoy the close view of the colorful corals and countless sea fish that swim around you. Jetskiing, kayaking, parasailing, and boating are also available on Havelock Island.
Tip: Even if you visit Andaman Island in summer, you must keep a raincoat handy.
---
Summer Places to Visit in East Asia
19. Kanazawa, Japan 
By Alyse, The Invisible Tourist
Recommended Month to Visit: June
While a majority of tourists opt to avoid visiting Japan in summer, it could be argued June is one of the best times to explore Kanazawa. Located in Ishikawa prefecture, its preserved Edo-era wooden townhouses, samurai history, and practicing geisha earned it the name "Little Kyoto."
Home to one of the country's top 3 gardens, Kenroku-en is a must to add to a Kanazawa itinerary. Meandering pathways beneath leafy surroundings offer abundant shade, a welcome respite from the early summer sun. Enjoy the beautifully landscaped garden in its full glory, with its flowers, moss, and cool running streams.
Summer is the perfect time to try the local specialty, gold leaf ice cream! Kanazawa is responsible for almost 99% of Japan's gold leaf production, where it was once in high demand in imperial cities such as Kyoto and Edo (now Tokyo) centuries ago.
Some of the most fun things to do in Kanazawa are cultural experiences. Learn about the tea ceremony process from a geisha, take a pottery class, walk in the footsteps of the ruling Maeda Clan at Kanazawa Castle, see how samurai once lived at Nomura Clan Residence, and even explore a "ninja" temple with hidden trap doors and secret passageways. 
As Kanazawa's attractions are quite spread out, it's wise to use the local loop bus to get around. The popular Suica (IC) card and JR Passes do not work on these buses, so be sure to have some spare yen to pay the driver when boarding.
---
20. Xi'an, China
By Bec, Wyld Family Travel
Recommended Month to Visit: August (June, July, and August are the hottest months in Xi'an, but towards the end of August the hot days ease off a little bit.)
For many, a trip to Xi'an, China is all about the Terracotta Warriors but there are many more things to do in Xian. While the epic Terracotta Warriors should not be missed you can find yourself immersing yourself in a brilliant mix of sites, cultures, and tastes.
For day activities in Xi'an, visit the Big Wild Goose Pagoda, Danfeng Gate, and Daming Palace. A walk up the Grand Tang Mall will provide you with sculptures in the center and small stalls that sell ice cold drinks throughout the day. Tang Paradise is the perfect place to spend an afternoon wandering around the gardens that the Tang dynasty called their own for many years.
If you are traveling to Xi'an with kids, a visit to the Xingqinggong Park has a small variety of amusement park rides that'll keep them happy. Join some of the locals who are dancing or doing Tai Chi. 
Don't forget to hire some bikes and ride the great Xi'an City Walls. It's a bit bumpy and the bikes can be a bit rough, but it is a lot of fun. Alternatively, you can easily walk them too.
Foodies will love Xi'an. The best place to sample all of the best food in Xi'an is the Muslim Quarter. Spend some time at the Bell Tower and the Drum Tower (sunset there is also magnificent) before making your way into the crowded food streets of the Muslim Quarter. Here you will find great food and drinks that will fill you right up!
---
21. Kunming, China
By Pafoua, Her Wanderful World
Recommended Months to Visit: Anytime from June to August
Kunming is the largest city in China's Yunnan province. It's known as the "Spring City" for its year-round moderate climate, which makes Kunming one of the best summer destinations to visit in Asia as you'll escape the heat.
Due to the spring-like climate of Kunming, you'll see flowers blossoming all year-round and an abundance of green trees and plants. With such nice weather, the nearby Dianchi Lake is a wonderful place to spend the day walking, boating, or just relaxing in the sun.
Kunming is also home to many minorities and ethnic groups where you can visit Yunnan Ethnic Minorities Village located near Dianchi Lake. Each minority village will be designed according to its own cultural style.
Another amazing site to see in Kunming is Stone Forest Park which features limestone karst formations naturally carved by erosion. Hike through the forest to see beautiful karst towers and caves. You should book a driver ahead of time to save you time in reaching the Stone Forest, and the park can be easily self-guided.
Kunming is a huge transportation hub so you can fly directly into Kunming Changshui International Airport, take the fast train, or bus into the city. 
Although the temperatures are nice and comfortable, it can get rainy in the Spring City so pack a rain jacket and water-resistant shoes for all the walking you may be doing. 
Kunming is an amazing hidden gem in China and is a must-see on your Asia bucket list! 
---
22. Kashgar, China
By De Wet and Jin, Museum of Wander
Recommended Months to Visit: Any time from June to August
Kashgar in far western China's Xinjiang province is an incredible Silk Road city and one of China's most exotic places to visit. The hot, dry summers are the best time to experience this stunning ancient city with more than 2000 years of history. 
Kashgar doesn't feel much like China but rather like Central Asia. The people look different, and the language sounds and looks a lot more Arabic than Chinese.
Put aside at least one full day to explore the Old Town of Kashgar, get lost in the labyrinth of alleys, relax tea at one of many Uyghur teahouses, see the intricate mosques and tombs, and try the tasty street food.
The Kashgar Bazaar and Livestock market are also not to be missed. Kashgar has always been a trading center, and at these markets, you can still get a sense of what the Silk Road must have been like ages ago. Uyghur, Kazakh, Tajik, Pakistani, Afghan, and Han Chinese traders from the surrounding region descend on Kashgar to trade in anything and everything: from camels and yaks to dried fruit, watermelons, and jokes.
Kashgar is also the starting point of the Karakoram Highway, which runs between China and Pakistan. If you're there in summer, you MUST go on this incredibly epic journey (it's closed in winter due to snow). Along the way, you'll see some of the best mountain scenery on earth.
Traveling along the Karakoram Highway carries the risk of altitude sickness, so drink plenty of water and pack some paracetamol just in case. 
---
23. Hong Kong (Hong Kong Special Administrative Region of the People's Republic of China)
By Jackie and Justin, Life Of Doing
Recommended Month to Visit: Any time from June to August
Hong Kong is one of the vibrant places to visit in Asia. With the blend of Eastern and Western cultures, tall skyscrapers, non-stop shopping, and delicious foods and dim sum, you'll need a few days to explore this area. 
Expect summertime weather that is hot and humid, around 88℉/31℃. If you plan to spend most of the time outdoors, you'll need to stay hydrated on your visit. 
Even though Hong Kong has tall buildings, there are some photoworthy spots to check out. Check out Chi Lin Nunnery and temple grounds, Choi Hung Estate for the colorful apartment buildings, Man Mo Temple, and Victoria Peak. 
If you need some time away from the main area, take a day trip to Lantau Island. Here, you can spend the day at Disneyland. Hikers will enjoy hiking along Lantau Peak and seeing the greenery along the mountain. Another highlight is to see the giant Tian Tan Buddha at Ngong Ping. 
Other day trips can include visiting Macau or Tai O, a fishing village. 
At night, head back to Kowloon to the Tsim Sha Tsui Promenade, Avenue of Stars, or anywhere along the harbor to see the free light show, Symphony of Light. The 15-minute show has skyscrapers lights up across the harbor to various instrumental music. 
---
24. Xiaoliuqiu Island, Taiwan
By Mariza, Hoponworld
Recommended Month to Visit: August (Keep an eye on the weather forecast as typhoons could impact your trip.)
When summer hits, most people flock to the shores of southern Taiwan to bask in the sun. Although there are loads of amazing beaches in this part of the island, there is one place that has remained one of Taiwan's best-kept secrets, Xiaoliuqiu Island.
Xiaoliuqiu is a small coral island less than 30 minutes boat ride from Kaohsiung. The island only measures about 6.8km², but despite its size, it's full of incredible things to do and the most stunning scenery imaginable. 
Boasting turquoise-colored waters, colorful coral reefs full of green sea turtles, and all kinds of fish, Xiaoliuqiu offers some of the best snorkeling and scuba diving opportunities in Taiwan. Recently, it has even become the go-to spot for free diving. 
There are oodles of beautiful beaches where you can bake in the sun and spot sea turtles right from the shore. 
If you get tired of lounging on the beach, explore the island's fascinating hiking trails and geological sites like Vase Rock and the Houshi Fringing Reef. 
Other huge musts are the Beauty Cave and the Black Dwarf Cave. You could spend hours strolling these labyrinth-like cave systems as the scenery is truly spectacular. The Black Dwarf Cave, in particular, is a cool place to learn more about Xiaoliuqiu's history during the Dutch colonial rule.
Another highlight is the food! Fresh seafood is a staple here, and you'll find dozens of restaurants ready to serve you the catch of the day.
Regardless of the weather, Xiaoliuqiu is a real hidden gem and a great add-on to any Asia summer bucket list! 
---
25. Jeju Island, South Korea
By Linda, Linda Goes East
Recommended Months to Visit: Any time from June to August
Travelers visiting South Korea in the summer shouldn't miss the opportunity to check out Jeju Island. The largest island in the peninsula is a popular summer destination among Koreans and international visitors, especially to escape the summer heatwave on the mainland.
The summer season on Jeju Island starts at the end of June and all the beaches are open for swimming. July and August are the hottest months of the year – around 29ºC (84°F). These weather conditions are perfect for surfing (the ideal waves are between June to October), diving, and swimming. The best beaches are Hyeopjae, Hamdeok, and Jungmun Saekdal Beach.
Jeju Island formed millions of years ago due to volcanic activity. You can check out various natural attractions related to volcanoes on the island. 
The most popular attraction is Hallasan, an ancient ​​shield volcano and the highest mountain in South Korea. The crater is home to a large lake that formed after the last eruption around 1000 A.D. Hiking enthusiasts shouldn't miss the chance to hike this volcanic mountain! For non-hikers, visit the 20-meter (65 feet) tall Oedolgae Rock formations that are the result of volcanic activity.
The volcanic soil has also made it the ideal tea-producing area. Green tea grown on Jeju is world-famous and you can visit tea plantations to learn more about the history of tea in Korea. Korean tea brand Osulloc even has a plantation museum here that is worth a visit.
Check out this 1-week Jeju Island road trip guide to learn more about Jeju's picturesque beaches, UNESCO sites, and unique local culture. 
---
Final Thoughts
After reading this post, where do you want to go in Asia in the summer? Let us know in the comments below. 
With 25 destinations to check out, you can have an adventure-packed or relaxing schedule filled with hiking, water activities, and/or beach time. Thanks again to our travel blogging friends for their recommendations. 
Have fun on your summer break from June to August. 
Check out our other blog posts on where to go in Asia:
Like this post? Save it to your Asia Travel Pinterest board.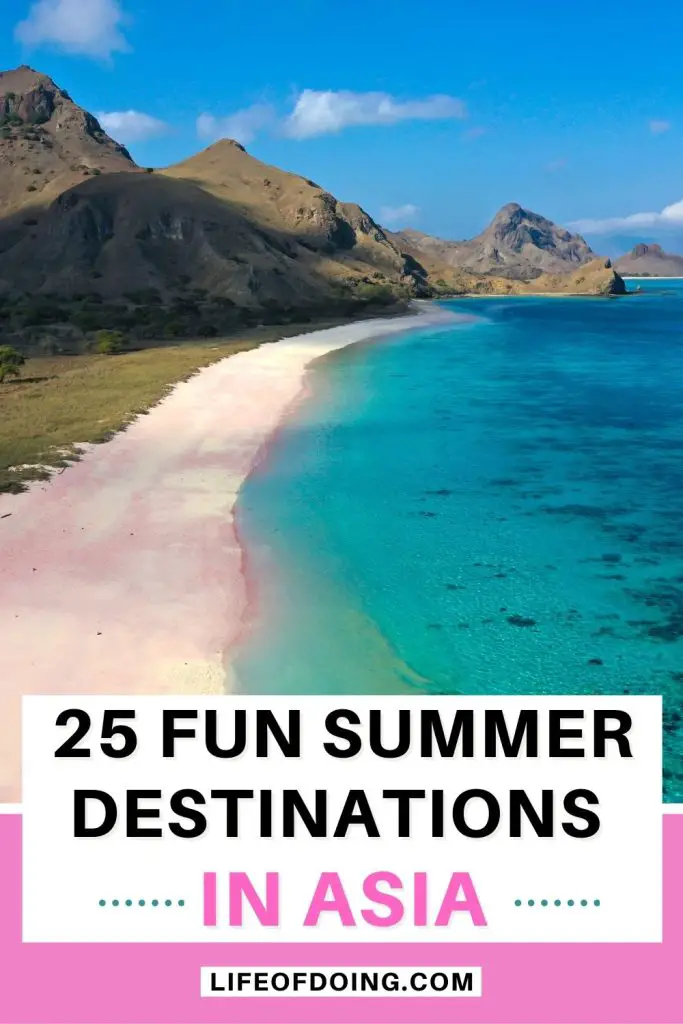 Featured photo and pin #1 photo credit: Gatot Adri via Scopio Photos