Nusa Penida is the largest island of Nusa Islands, Indonesia, and one of the must-visit attractions to check out is Diamond Beach. 
Located on the eastern side of the island, it's a memorable place to explore when you have 1 or 2+ days on Nusa Penida. 
Diamond Beach is absolutely gorgeous with clean, soft white sand and sweeping views of smaller islands and clear waters. Before you reach the beach, there is some hiking required to capture the beautiful photos with limestone stairs and the ocean. 
We've been here two times on two different occasions and always love coming here. 
In this post, we're sharing tips on visiting Diamond Beach such as how to get there, admission cost, and more. We want you to enjoy your time here! 
*Disclaimer: This post contains affiliate links. If you click on them and make a purchase, we receive a small commission. There is no additional cost to you. Appreciate the support.
---
Best Time to Visit Diamond Beach
You can visit at any time of the day. The beach area gets hot so you may want to avoid the hottest time of the day for your visit.
---
How to Get to Diamond Beach
First, you'll need to get to Nusa Penida from Bali. Nusa Penida does not have an airport. 
The easiest way is to take a 50-minute speedboat from Sanur Harbour to Nusa Penida. You can arrange the boat ticket yourself. Click here to buy the speedboat ticket. 
Or, go on a day tour to Nusa Penida. The day tour includes the speedboat ride. 
---
If you're in Nusa Lembongan or Nusa Ceningan, you'll need to take a short 10-minute boat ride from Nusa Lembongan to Nusa Penida. The boats depart at the yellow bridge on Lembongan. 
---
If you're already in Nusa Penida, then you can hire a private driver, ride a motorbike, or go on a day tour. 
Having a driver is a fantastic option for visitors who cannot ride a motorbike. It's a safer option since you don't have to worry about getting lost. This option is pricier but it's worth it for larger travel groups since the cost is divided among everyone. Click here to arrange a private driver. 
Driving a motorbike is for those who want to go on an adventure. It's a cheaper option than having a driver and you can be flexible with your schedule. As a heads up, the roads on Nusa Penida are steep so driving requires skills.
The day tour is another option and includes everything from the driver, admission cost to attractions, Bali to Nusa Penida boat transfer, pick-up/drop-off from Nusa Penida harbor, and parking.
Book a spot for an East Nusa Penida day tour from Bali here. 
---
Admission Cost
The admission cost is 25,000 IDR ($1.65 USD) per person. It includes access to both Atuh Beach and Diamond Beach and a small water bottle. 
Parking costs 5,000 IDR ($.33). 
Payment for both is at the ticket booth.
---
Is a Guide Needed?
No, a guide isn't necessary for Diamond Beach. 
If you have a guide/driver, then he/she will be helpful to lead you to the bottom of the beach. There is a challenging part near the bottom due to climbing down ropes. We'll share more about this below. 
---
How Much Time to Spend at Diamond Beach
It's up to you and your schedule. If you want to relax for an hour or two, you're more than welcome to! 
If you're on a day tour, you'll need to ask your driver/tour guide if there is a time limit as there are other sights to visit. 
---
Things to Know About Visiting Diamond Beach
1. The short hike down to Diamond Beach is very challenging. 
From the parking lot to the bottom of Diamond Beach, it requires climbing down a set of limestone stairs.
The stairs are not even and have a low ceiling (so it's not ideal for tall people). Take your time hiking down.
The walkway is also narrow so you'll need to wait for people to take photos to pass. 
Do not attempt if you have any of these issues: 
Difficulties with stairs
Have knee problems
Have a fear of heights
Are claustrophobic
Cannot climb down and up ropes
Next to the Diamond Beach stairs, there is a covered awning with benches. It's the perfect spot for those who have any mobility issues to rest. 
---
2. Once you get near the bottom, you'll need to go rappel down a boulder and use the ropes. 
This section requires some physical strength. Please be careful when going down this part and take your time. Everyone waits their turn to climb down. You'll need to use the same route to climb back up.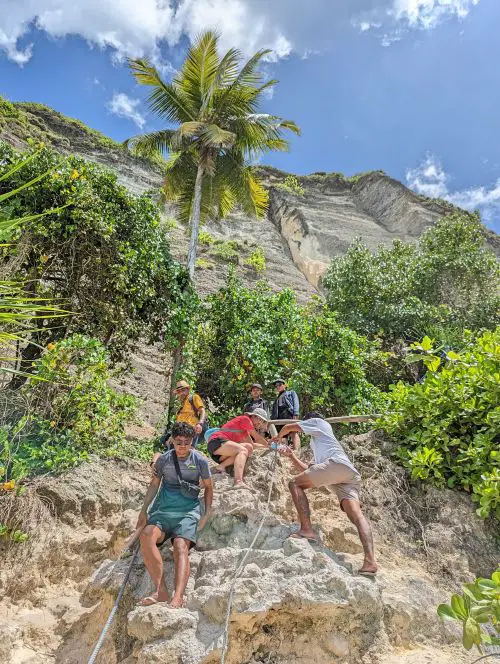 ---
3. Do not go climb down the stairs if it's raining. 
The route can be slippery if rain occurs. Plus, it will be challenging to go up and down the boulder. 
---
4. Riding the swing is pricey. 
Towards the bottom of the limestone stairs, you can ride a swing. Bali is famous for the bucket list swings overlooking the ocean, and Diamond Beach has its own version. 
The Diamond Beach Swing is not cheap as it'll set you back 200,000 IDR ($13.15 USD) per person. Our driver said that it was 250,000 IDR ($16.40) per person before the pandemic. For those on a budget, this excursion may be skipped. 
---
5. Wear your swimsuit in advance. 
Once you reach the beach, it's an open area. There aren't any changing rooms or restaurants to change your clothes. You could find a spot to change towards the end of the beach and away from the entrance. 
Otherwise, it's recommended to wear your swimwear before going to Diamond Beach. 
---
6. Bring your own towels and umbrella. 
We've been to Diamond Beach on two separate occasions and there aren't any beach chairs or bean bag chairs for rent. We appreciate that this beach doesn't have any of these bench chair hawker people. 
Since there isn't any shade here, you'll need to bring your own beach gear from towels and umbrellas. 
---
7. Bring snacks and water. 
On the Diamond Beach side, there isn't a kiosk selling snacks or drinks. You'll want to buy them ahead of time and bring them with you. 
---
8. You'll need to check if swimming is allowed at Diamond Beach. 
At the time of our visit, it wasn't allowed due to the large waves and strong currents.
While there wasn't a lifeguard to oversee the water, people still swam so swim at your own risk. 
---
9. Do not litter. 
Diamond Beach does not have any garbage cans, so waste management is a challenge here. On the way down to the beach, there are huge mounds of plastic water bottles along the side of the trail and in the trees. 
We saw tourists throw their water bottles into the tree without any thought. The water bottles will eventually get burned, but the trash is an eyesore. 
Please bring your trash with you to properly dispose. Otherwise, Diamond Beach will just get dirtier. 
---
10. Visit Atuh Beach and photo spots afterward. 
Once you're done with Diamond Beach, you'll need to take the same walking route back up to the top. 
From there, you can take a path to walk down to Atuh Beach, relax, and swim in the teal-colored water. There are chairs and umbrellas to rent here. 
To be honest, we've never been to Atuh Beach and have only seen it from an aerial view. After climbing up and down Diamond Beach and scorching in the heat, we've always been tired and skipped Atuh Beach. 
Or, you can take photos at several photo spots at the edge of the cliff. One of the popular spots is a large wooden bench that overlooks smaller islands and clear blue waters.
Final Thoughts
Diamond Beach is worth the visit when you're in Nusa Penida. 
It's a memorable spot to check out with the views of the ocean from the white limestone stairs. If you're able to go down to the beach, you'll love the clean beach. 
While you're in the area, check out Rumah Pohon Treehouse. It's the Instagram-worthy photo spot from a treehouse with similar landscape views of Diamond Beach and Thousand Islands Viewpoint.
Also, visit these other beautiful Nusa Penida attractions on your trip – Kelingking Beach, Angel's Billabong, and Broken Beach.
Check out our other Bali posts which include Nusa Penida: