Indonesia, located in Southeast Asia, needs to be on your travel bucket list. There are over 17,000 islands to explore in this country and all have their own charms and uniqueness. 
Whether you're looking for beautiful landscapes, nonstop adventures, incredible waterfalls, memorable hiking trails, relaxation, or cultural experiences, you're guaranteed to have a memorable vacation. 
With the help of our travel blogging friends, we're narrowing down the best 17 islands in Indonesia. The list is in no particular order and ranges from popular to less crowded places. 
Each of these islands has a focus on adventurous experiences. Don't worry. There are plenty of beaches and other activities shared for a more relaxing vacation. 
Now, let's pack our luggage and head to one or more of these amazing Indonesian islands. 
*Disclaimer: This post contains affiliate links. As an Amazon Associate, we earn from qualifying purchases. If you click on them and make a purchase, we receive a small commission. There is no additional cost to you. Appreciate the support.
---
Helpful Tips About Visiting Indonesian Islands
Let's do our part and keep these Indonesian islands clean for current and future visitors. Here are some tips to consider when visiting any of the islands. 
Throw away your trash properly. Let's keep the beaches and ocean clean and free of litter.  
Bring sunscreen that is coral-reef safe. Indonesia has many snorkeling opportunities so it's best to wear sunscreen that won't damage the corals. Check out this option. 
Stay hydrated. It gets hot in Indonesia so you want to drink as much liquids and water as possible.
Figure out transportation options ahead of time. Depending on your comfort, you can rent a motorbike. Just remember to wear a helmet!
Rain can occur at any time. If you're writing a motorbike, have a backup plan of visiting a cafe or pulling off to the side of the road in case rain happens.  
Bring a reusable water bottle. Reduce your plastic waste and bring your own reusable water. Many of the islands do not have any way to recycle plastic bottles. You can ask your accommodations or restaurants if they have any filtered water to refill your bottles. Buy this water bottle.
Always have cash. Stay prepared and visit an ATM or exchange cash ahead of time. Sometimes the ATMs don't work properly and you'll need to visit several to find one that works.  
Buy travel insurance before your trip. It's highly recommended to have travel insurance in case something happens on your trip. Whether your luggage gets stuck somewhere or if you need to get medical attention, you'll want to have travel coverage for the extra expenses.
---
Map of the Best Indonesian Islands
---
1. Bali
Whenever someone mentions Indonesia, the first island that comes to mind is Bali. It's truly one of the best islands in Indonesia to visit. 
While some may say that this island is too touristy, Bali has beautiful places to enjoy your vacation. 
Whether you want to lounge at the beaches and beach clubs to see the sunset, visit amazing waterfalls, eat delicious foods, go temple hopping, or awe at the gorgeous landscapes (such as the rice terraces and volcanoes), you'll have plenty of opportunities to cross off things on your Bali bucket list. Hanging out at the guesthouse or resort is also perfectly fine to destress.  
Adventure seekers will love the opportunity to hike Mount Batur at sunrise or cycle through a local area and the rice fields. You can also learn and practice your surfing skills at the numerous surfing schools. 
You'll want to spend at least 4 days here or up to 2 weeks on the island. While 2 weeks may seem like a long time, it's recommended to take the slower route and truly relax and enjoy this paradise!
Transportation around the island is limited to driving a motorbike, hiring a driver, or taking a taxi. The island is large so you'll need to account for the long travel time if heading to quieter areas in eastern or northern Bali. 
---
2. Nusa Penida
Located south of Bali mainland, Nusa Penida (Penida Island) is the largest and most popular island out of the three Nusa Islands (the other two are Ceningan and Lembongan). 
Penida is a fantastic spot to relax on the numerous beaches, see gorgeous landscapes, and go on adventures. 
For those seeking beautiful views and a secluded beach, Kelingking Beach is a must-visit. With the green cliffside that looks like the backbone of a T-Rex and the endless blue waters, it's a swoonworthy spot to awe at its beauty. 
The fun doesn't stop as going to the secluded beach requires a hike down the steep makeshift staircases. Take your time as the steps are uneven sizes. 
Other places to see the gorgeous waters and unique rock formations include Broken Beach, Angel Billabong, and Diamond Beach. Diamond Beach is another beautiful beach that has the "Bali swing" overlooking the ocean. 
Nusa Penida's famous treehouse, Rumah Pohon Treehouse, is another place to see views pretty views similar to Diamond Beach. Yet, it has a picturesque spot from the treehouse.
Nusa Penida has snorkeling or diving opportunities and one of the day trips is to snorkel or dive along with the manta rays.  
The easiest way to travel around Nusa Penida is by motorbike. Hiring a car is another option and a safer way to travel as motorbike accidents are common. 
It's possible to do a day trip to Nusa Penida from Bali, but it's preferred to take the slower route and explore. Two days in Nusa Penida is a decent amount of time to wander around.
---
3. Nusa Ceningan
Nusa Ceningan (Ceningan Island) is the smallest island out of the Nusa Islands. It's a quiet island with only a handful of attractions and guesthouses here. 
The top attractions include seeing the cliffside views from Ceningan Cliffs, awing at the vibrant blue and turquoise waters at the Blue Lagoon, or surfing. You can also learn how to scuba dive here as there is a diving school.
It's easy to get here from Nusa Lembongan by riding a motorbike or bicycle. You need to cross the Golden Bridge and start exploring. Cars are not allowed on the bridge. It's possible to walk around Ceningan if you don't have a motorbike or bicycle as transportation.  
You can easily spend about an hour or two on this island. Then, the rest of the day can be spent on Nusa Lembongan lounging on the beach, swimming in the ocean, or hanging out at cafes and restaurants. 
---
4. Nusa Lembongan
Nusa Lembongan (Lembongan Island) is a fun, yet quiet Indonesian island to spend a day on. 
Most visitors spend their time on Lembongan on the beaches or resorts to relax. There are plenty of beach spots to see the sunset. 
Compared to Nusa Penida, Lembongan has only a handful of attractions to check out. 
Devil's Tear, located close to Dream Beach, has some of the bluest water that we've seen. You can walk along the edge of the cliffside, yet make sure that you're not in a designated splash zone. The waves crash into certain areas of this area and you will get wet! 
Another cool spot is the Mangrove Forest. You can take a boat tour through the peaceful mangroves. Or, you can rent a canoe or stand-up paddleboards from a nearby cafe and explore the area.
Lembongan Island can be explored by motorbike or bicycle. Although, there are steep hills that will be challenging for those on a bicycle. 
Nusa Lembongan is easy to get to from Bali as there are direct speedboat rides that take 30-minutes one way.
5. Padar Island
Padar Island is a beautiful island to visit in Indonesia. It's usually the first stop on your Komodo National Park day tour. Expect to spend about an hour here before continuing the tour to either Komodo or Rinca Island.
This island is known for the gorgeous landscape views of the three turquoise bays and sandy beaches. It's a memorable view which is why you see it pop up often on social media. 
To get this photo spot, you have to hike up the hill. The hiking path is short and has stairs and a dirt path. It's doable for all visitors – just take it slow as the top of the hill is slightly steep. Wearing shoes will help with getting traction and getting up the hill. 
Once you're done soaking in the beauty of this area, follow the same way down the hill and head back to your boat.
---
6. Rinca Island
Komodo National Park, a recognized UNESCO World Heritage Site, has two islands to see Komodo dragons – Rinca and Komodo Islands. Rinca Island is to the west of Padar Island and is a smaller island compared to Komodo. 
The most adventurous thing to do on the island is to observe the Komodo dragons in their natural habitat. 
The Komodo dragons are carnivorous and can be up to 3 meters (10 feet) in length. They have a powerful aura with their strong bodies and flicking of their tongues to determine the location of the next prey. 
Visitors must take a tour with a tour guide for safety. The tour guide ensures that the Komodo dragons aren't too close to you. The Komodo dragons are known to run fast too! The guide can also spot the hidden Komodo dragons in the foliage. 
The tour includes a short hike to see the views of the surrounding waters. 
Visiting Rinca Island is truly a fascinating island in Indonesia to see wildlife!
---
7. Karimun Jawa
By Una, Wandernity
Karimunjawa (or Karimunjava) is an archipelago of 27 islands in the Java Sea. It's lesser-known than other Indonesian islands like Bali or the Gili Islands, which makes it less touristy and more authentic. 
There is a small town on Karimun Jawa island that has the basic things any explorer needs – a few guesthouses, a scooter rental, a market, a few shops, a few bars and places to eat, and a port. 
It's cute, easy to navigate, and a great place to learn how to drive a scooter, as there is almost no traffic.
The best thing you can do in the Karimunjawa archipelago is to go on a snorkeling day trip. You can go to the port by the market in the morning and join one of the multiple boats offering a tour of the islands. 
A day trip usually includes multiple spots for snorkeling, lunch on an uninhabited island with freshly cooked fish, and watching the sunset on another tropical island.
You can find some adorable beaches on the main island Karimun Java as well. Ask your accommodation for recommendations.
Karimun Java can be reached from a port in Jepara, Java. It's located 80 kilometers (50 miles) northwest of Java island. Taking a ferry or a speedboat are the most popular ways to get there. 
It's also possible to fly to Karimun Java (airport code: KWB), but it's more expensive. 
---
8. Belitung Island
By David & Intan, The World Travel Guy
The island of Belitung, in Sumatra, is almost as big as Bali (about 4,800 square kilometers), but it's not nearly as well known, even though it has lots of great things to see and do. 
You can drive around to different sights on the main island, or take boat tours to the smaller islands and sandbars nearby.
The island hopping boat tours in Belitung are especially popular and worthwhile because you can see some of the best Indonesia beaches, with beautiful white sand and turquoise water, great snorkeling with fish and coral, and even an old colonial lighthouse on Pulau Lengkuas.
The main town in Belitung is located in Tanjung Pandan, which has plenty of hotels, restaurants, and an airport (airport code: TJQ) with flights from Jakarta or Kuala Lumpur. 
Infrastructure and access is improving every day. There is not much car traffic in Belitung and the roads are in good condition, so it's a great place to rent and drive a scooter.
You'll need at least one or two full-day boat tours to see all of the places near Belitung, although you could easily spend longer if you want to do more sightseeing and really get familiar with the area!
---
9. Lombok
By Lana, Wallflower in Wanderland
Lombok is a hidden gem within Indonesia with a tagline of "an unspoiled Bali." 
Unlike some of its neighboring islands, Lombok remains uncrowded which makes its endless dreamy white beaches and often empty turquoise waters even more special. 
Only a 20-minute flight from Bali, Lombok is very easy to get to. There are also a couple of different ferries you can catch: the fast ferry (around £40/$48 USD) and the public ferry (around £15/$18 USD). They are easy to book in person, but you can also book on 12GO. 
In terms of epic things to do in Lombok, there is plenty. The most popular activities include surfing, beach hopping, chasing waterfalls, experiencing incredible marine life, enjoying the nightlife, and island-hopping.
If you're a fan of the outdoors, consider climbing Indonesia's second tallest mountain, Mount Rinjani. Once you've reached the top, you'll be able to see an impressive view of the magical Segara Anak Lake. Make sure you pop along to Air Kalak hot springs too! 
Lombok not only offers a tranquil atmosphere, but also an incredibly unique culture. Lombok's local people are known as "Sasak" and make up roughly 85% of Lombok's population. There are numerous tours you can take to visit a traditional village to meet locals, learn about their culture, and take part in handicraft workshops. 
---
10. Papua
By Patricia, Ze Wandering Frogs
While Indonesia is composed of over 17,000 islands, Bali, Java, Flores, Komodo, Sumatra, and Borneo are the islands that most people know and visit. But for those looking for off-the-beaten-path adventures, Papua is the island to visit in Indonesia.
Officially named West Papua, the westernmost province of Indonesia is best reached by plane, with most flights arriving at the Sentani International Airport (airport code: DJJ) in Jayapura, Papua's capital and largest city. Arriving by boat is possible but takes much longer and is less reliable.  
What makes Papua genuinely unique is its distinct native Papuan people's culture and traditions going back thousands of years. However, there is not one Papuan culture per se, as each tribe has its own culture and traditions that vary from one to the other. 
Moreover, Papua offers an incredible, diverse landscape – from the marine life of the Raja Ampat islands, a scuba-diving paradise, to the tropical forests of the Highlands mountain ranges where the stunning Baliem Valley is. 
Hiking the Baliem Valley is a definite outdoor challenge with no marked trails, jungle-like settings, and going through remote villages in hot and humid conditions – a highly demanding hike best reserved for experienced hikers accompanied by a knowledgeable local guide.
The best time to visit Papua is from May to September, though the hiking season is better between June to August. Unfortunately, the months between December to April tend to see heavy rains, which makes travel difficult if not impossible in the more remote valleys.
---
11. Sumatra
By Jack & Abbie, A Couples Calling
Sumatra is one of the largest islands in Indonesia and is the sixth largest island in the world. With its towering volcanoes, lush rainforests, and beautiful lakes – this tropical paradise has so much to offer travelers. 
The main way to reach Sumatra is by air and you'll fly to the capital of Medan (airport code: KNO). From there, you've got a HUGE variety of adventures waiting for you.
One of the best things to do on this beautiful island is to go trekking through Gunung Leuser National Park. 
This is one of the only places in the world where you can spot the Sumatran orangutan, but if you're lucky, you might get to see other wildlife too. Gibbons, sun bears, Sumatran elephants, tigers, and rhinos all call this rainforest home.
During your time on the island, you'll also want to visit the spectacular Lake Toba. The lake is located within the crater of a super volcano, so is one of the coolest places to visit on the island.
If that's not enough to convince you, then you can even hike up Gunung Sibayak which is an active volcano!
Last but certainly not least, make sure you pay a visit to Sipiso Piso waterfall! It's one of Indonesia's highest waterfalls at a height of 120 meters (394 feet) and is a spectacular sight.
As you can see, there are so many fantastic places to visit in Sumatra!
---
12. Kei Islands
By De Wet & Jin, Museum Of Wander
Located in Indonesia's Maluku province, the Kei Islands are drop-dead gorgeous and if you're looking for some of the best beaches in the country, look no further. 
The Kei Islands consist of Kei Besar (Big Island) and Kei Kecil (Small Island), with Kei Kecil offering the most to visitors. 
Kei Kecil's trump card is its dazzling beaches where crystal clear water sluggishly laps onto sugary white sand beaches backed by palms swaying in the breeze. And best of all – you'll probably have these fantastic beaches all to yourself. 
There is not much to do in Kei islands other than enjoying its pristine beaches and tranquillity. 
Don't come here looking for nightlife or organized activities. You could get a fisherman to take you island hopping or fishing if you can tear yourself away from those idyllic beaches. 
Renting a scooter to explore the island will take you from one stunning beach to the next, while friendly locals will wave and greet you in the colorful villages scattered around the island. 
The best place to stay on Kei Kecil is along Pasir Panjang Beach, with its lovely beach. Coaster's Cottages is renowned for its laid-back charm, Maluku home cooking, and its right on the best beach.
Several daily flights reach the twin capital city of Tual/Langgur (airport code: LUV) via Ambon. It's also possible to get to the Kei islands by PELNI ferry from the Banda Islands. 
---
13. Pulau Weh
By Campbell & Alya, Stingy Nomads
Pulau Weh (Weh Island) is a small off-the-beaten-track island located close to Sumatra in the Andaman Sea. This little island has fantastic diving, crystal clear water, beautiful coral reefs, and a relaxed vibe far away from tourist crowds. 
It's a conservative Muslim island, so bikinis are not allowed and alcohol is not readily available. Therefore, this is not a party island, but a beautiful, cheap island with nice diving and snorkeling from the beach. 
As this island is not on the Southeast Asia tourist trail, prices are still low here so it's great for budget travelers. 
Scuba diving from Pulau Weh is beautiful with warm, clear water and an amazing variety of marine life covering the coral reefs. Reef sharks, bluefin trevallies, huge gorgonian fans, and thousands of Indian triggerfish are often seen on dives. 
Snorkeling is also good from boats or the shore. In front of Erick's Greenhouse or Yulia Guesthouse Pier, a variety of colorful fish and reefs can be seen snorkeling from shore. Snorkeling boat trips will take you to some beautiful reefs further from shore suitable for snorkeling. 
Gapang and Iboih are two nice beach areas to look for accommodation with great views of the ocean and some food places, motorbike rentals, snorkeling trips, and other shops around.
The only way to get to Pulau Weh is by boat from Banda Aceh in Sumatra. There are no flights to the island. To get to your accommodation on Pulau Weh Island, take a flight to Banda Aceh, jump on a ferry to Pulau Weh, and take a taxi.
---
14. Flores
By Catherine, Nomadicated
Further East than most tourists choose to wander, Flores in East Nusa Tenggara is best known as the home to the largest lizards on Earth, the Komodo Dragon. 
Beyond that claim to fame, Flores is filled with adventurous things to do, from learning about their 9 traditional ethnic groups, its direct location on the ring of fire, and encountering rare natural phenomena. 
Most people visit Flores for Komodo National Park, a highlight worth adding to any bucket list. Aside from getting dangerously close to the venomous Komodo Dragons, a tour to Komodo National Park will take you to the incredible tri-bay panorama on Padar Island, a scenic pink sand beach, and island-hop snorkeling. 
Divers should take the opportunity to explore one of the best dive sites in the world, with plenty of opportunities to see sharks, mantas, turtles, and extensive coral diversity. 
Venture inland to learn from Flores's 9 ethnic communities who still live in traditional villages. Make the 3-hour trek to the UNESCO Top Award of Excellence site (awarded in 2012), Wae Rebo, or one of the more accessible Ngada villages to join in on a ceremony where animal sacrifices are still a regular occurrence. 
Finally, don't miss a stop at one of Indonesia's most beautiful volcanoes, the tri-colored lakes of Kelimutu National Park. Depending on various factors, the lakes have been known to change from shades of blue to even a rusty red. 
---
15. Gili Trawangan
By Penny, GloveTrove
Gili Trawangan is one of the coolest islands to visit in Indonesia. Just off the coast of Lombok, Gili Trawangan is easily reached by a ferry from Bali or from Lombok. The ferries are easy to get and plenty at frequent intervals.
The intriguing thing about Gili Trawangan is that while it is a bit off the beaten path, it is a popular favorite among both backpackers and luxury travelers alike. The island is incredibly small and you can walk all around it. The luxury accommodation is situated a distance away from the hub and is quieter.
Don't expect to rent a motorbike here. There are no motor vehicles allowed on this island! You have to walk or get a horse-drawn van to take your luggage to wherever you want to go. So make sure you pack light.
Gili Trawangan is famous for its snorkeling around the island, diving both near the island and a little further out, and for the laid-back vibe. 
You can spend all day on one of the beaches just reading your book if the water sports don't catch your attention.
Other neighboring islands next to Gili Trawangan are Gili Air and Gili Meno. 
---
16. Java
By Martina, PlacesofJuma
One of the most beautiful islands in Indonesia is definitely Java. It's located between Bali and Sumatra and is a real travel highlight of the country. 
Java is well-known for its impressive volcanoes and mountains, but also for its impressive cultural sites to explore. The best time to travel to Java is from May to October.
Java is one of the largest islands in Indonesia and with more than 130 million inhabitants, 60% of Indonesia's population lives here. 
Thanks to its size, there is an endless variety of attractions here. Truly impressive is Prambanan, the largest Hindu temple complex in the country and a UNESCO World Heritage Site to boot. The Buddhist temple complex of Borobudur is also well worth seeing. Read how to visit Borobudur and Prambanan Temples in a day.
In addition, there are also numerous impressive natural wonders, such as the volcano Bromo and the sulfur volcano Ijen, where you can take unforgettable hikes. 
A real insider tip is Yogyakarta, which has made a name for itself not only as a cultural capital but also as a yoga center.
Thanks to its good location, you can arrive by ferry from the neighboring island of Bali which is perfect if you're planning to island hop in Indonesia. As mentioned earlier, the island is big. Nevertheless, you can go everywhere by bus or minibus. By train, there are good connections to the capital Jakarta.
---
17. Sulawesi
By Nina, Where in the World is Nina
While Sulawesi is a massive island in Indonesia (in fact it's the 11th largest in the world) it's often overlooked by its more well-known sister islands.  
If you're island hopping around Indonesia, don't hop over Sulawesi as it's definitely worth a visit.
The Hill of Love is a great spot to get some great views of a quaint and spiritual village that is sitting on an active sulphuric hill!
Waruga is a historical cemetery of the Minahasa people.
Tangkoko National Park is a gorgeous spot to hit up the beach and get up close and personal to the black macaque monkeys as you wander the forests.
If you're getting tired and need somewhere to relax, head to one of the best beaches in Indonesia, Tanjung Karang Beach! Powdery white sand and Bintangs await you.
Lastly, a day trip to Bunaken Island will be epic! The views are gorgeous and the snorkeling is filled with vibrant marine life. This is just a small sampling of some of the things to do on Sulawesi.
To get here, you'll likely find yourself flying out from Jakarta and probably landing at the international airport in Manado (airport code: MDC). To get around, you expect to take forms of public transport, shared taxis, and minibusses to your next destination.
---
Final Thoughts
Which of these Indonesian islands will you visit on your next trip? 
There are so many options to choose from depending on what you're interested in doing from water and sports activities, seeing wildlife to trekking up a mountain. 
Many thanks to our travel blogging friends who provided their top picks on the best Indonesian islands. Please follow their travels on social media. 
Looking for other islands to visit in Asia? Check out our Vietnam islands blog post here!
Happy travels!
Like this post? Save it to your Indonesia Pinterest board.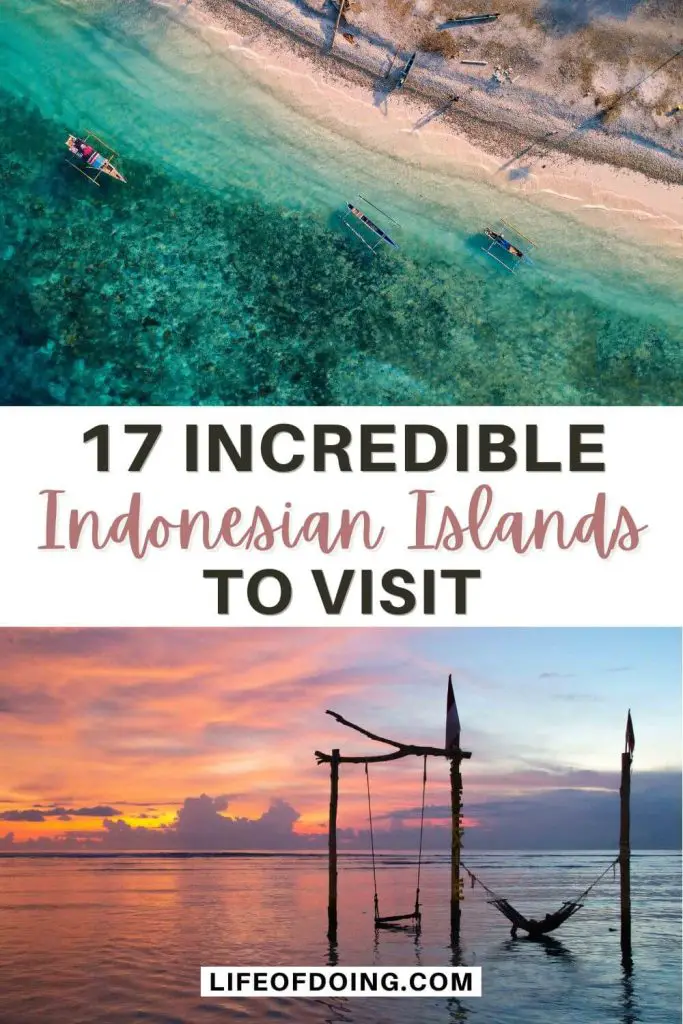 Featured photo credit: Arimacs Wilander via Scopio Photos
Pin #1 photo credit: Arimacs Wilander via Scopio Photos (Top photo); bruno.aar@hotmail.com via Depositphotos.com (Bottom photo)