Who wants to go on a day hike when visiting Carmel, Monterey, or heading to/from Big Sur, California? 
Check out Soberanes Canyon Trail which is nearby Carmel by the Sea. It's easy to complete the hike in a couple of hours.
Located in Garrapata State Park and nearby Soberanes Point and Bluff Trails, this is a short 3-mile out and back hike. The trail passes through various natural landscapes such as blooming wildflowers, cacti, and redwood trees. Therefore, you'll get some different views from the coastline (if you've been on the road for a while). 
Soberanes Canyon Trail connects to Rocky Ridge Trail, but Rocky Ridge has been closed for a while due to poor conditions. We visited this trail in July 2022 and see signs of the closure. 
Soberanes Canyon Trail is free to access and can be visited at any time of the day. 
Sounds interesting? Continue reading this Soberanes Canyon Trail guide as we share details about what to bring for your hike and top things to know about the hike. 
*Disclaimer: This post contains affiliate links. As an Amazon Associate, we earn from qualifying purchases. If you click on them and make a purchase, we receive a small commission. There is no additional cost to you. Appreciate the support.
---
Soberanes Canyon Trail Hiking Overview
This day hike is doable to complete for all ages.
Challenging level: Easy to Moderate
Distance: 2.5 to 3 miles round trip [The sign says 2.5 miles to complete]
Time to complete: 1.5 to 2 hours round trip 
Helpful tips: 

There are two portable toilets at the start of the trail. Please use these before hiking as there aren't any other toilets along the trail.
As mentioned before, Rocky Ridge Trail is closed due to trail erosion and conditions.
---
How to Get to Soberanes Canyon Trail
Soberanes Canyon Trailhead is between Big Sur and Carmel by the Sea so it'll depend on your starting point for your California coastal road trip. It's closer to Carmel though. 
The entrance to the trail is located right off Highway 1 at Gate 8, and across from the Garrapata State Park Bluff Trails. You can easily drive past it. Therefore, on Google Maps, search for "Soberanes Point Trail: Gate 8."
Parking is a dirt lot in front of Gate 8. There is plenty of space for cars who want to visit the other nearby sites, Bluff Trails and Soberanes Point if they don't want to hike. 
NOTE: Don't forget to lock your car and remove any valuable items in sight. 
---
From Carmel to Soberanes Canyon Trail
The distance is around 9 miles between Big Sur and Soberanes Canyon Trailhead and will take 15 minutes by car. 
The only way to get there is to travel along Highway 1 southbound. The destination is on the left. Click here for driving directions. 
---
From Big Sur to Soberanes Canyon Trail
Big Sur is 17 miles away from the trail. It'll take 25 minutes of driving to get there. 
Drive along Highway 1 northbound and the destination is on the right side. Click for driving direction.
---
When To Hike Soberanes Canyon Trail 
You can visit this trail at any time of the day. There isn't any signage about the opening and closing times at the entrance.
We started this hike at 1:30pm in July. It was warm outside but not too unbearable. As long as you have a hat, wear sunscreen, and bring water, you're good to go!
If you hike in the evening, you must bring a handlamp. The trail does not have any lights. 
The trail is narrow and goes through the forest area, so we do not recommend visiting here when it's raining.
---
What to Wear for the Soberanes Canyon Hike
Technical t-shirt – Wear a moisture-wicking t-shirt to absorb the sweat.
Comfortable pants or shorts 
Comfortable walking shoes – The trail isn't too steep so hiking boots are not necessary. We wore Nike Free shoes and they were fine for the visit.
Comfortable socks
---
What to Bring for Soberanes Canyon Hike
Backpack (optional) – You may not need to bring a backpack since the trail is short, yet it's helpful to have on hand to hold snacks and water. Check out our favorite daypacks here: men's day pack option / women's day pack option.  
Reusable Water Bottle – You must bring a water bottle as there aren't any water fountains in the park. These are our favorite reusable water bottles to bring with us everywhere.
Hat – The trail has a mix of sunny and shaded areas. Cover your head to protect yourself from the sun. Buy this hat.
Sunscreen – Protect your skin from the sun. Check out this sunscreen.
Sunglasses – Here are our favorite sunglasses.
Headlamp (optional) – If you plan to hike at sunrise or sunset, then you'll need a source of light.
Travel Insurance documentation – If you're flying into California to visit Monterey or Big Sur area, then it's recommended to have travel insurance. You never know what may happen during your trip!
---
Our Experience with Soberanes Canyon Trail
Soberanes Canyon Trail is a fun hike to do in the Big Sur area. Since we've seen some amazing coastal landscapes along the Pacific Coast Highway, it's a nice change of scenery to see nature and greenery.
Parking is easy and plentiful in front of Highway 1 and Gate 8. The area is shaded so you'll finish your hike with a cooled car. 
When entering the hiking trail, the first thing that you'll see is a sign regarding the trail distance and the closure of the Rocky Ridge Trail. The sign says that the trail is 1.25 miles one-way. (Although, it took us a little longer than 1.25 miles one way according to our Strava data). 
We hope the Rocky Ridge Trail reopens in the future. We would love to come back and complete the full trail, supposedly over 7 miles for the full loop. 
At the entrance, you'll see a few portable toilets. Don't forget to use them before starting the trek. 
The hike is mostly flat with some uphills. In the beginning, the trail passes through a cacti garden. It's random to see cacti as it's only in this one particular area and on the hillside. 
Afterward, the landscape changes to summertime wildflowers. Since we visited in July, we saw pink and yellow wildflowers blooming everywhere. It's a pretty spot to take photos. 
As a heads up, bees love this area since we saw many of them buzzing around and pollinating the flowers. As long as you don't bother them, they won't sting you. Just pass through the trail normally.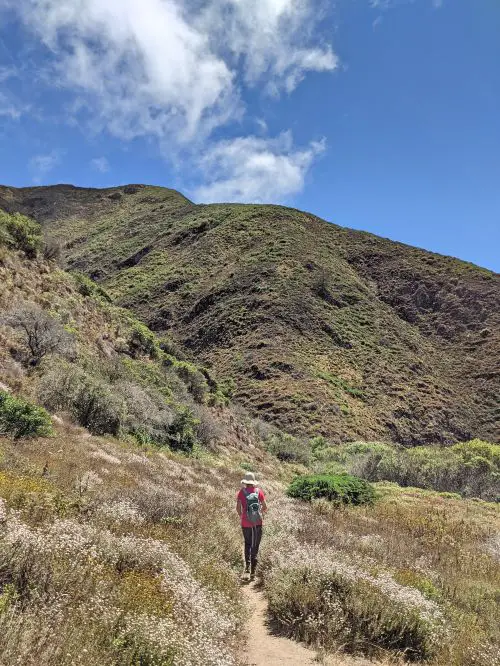 The second half of the trail is in the redwoods area. This area is a lot cooler as the redwood trees provided tons of shade. We passed by a dried up Soberanes Creek and it looked like you can go off the path to explore this area further. We saw a few people go off the path to the creek area, but we continued on the main path. 
We saw many trees fall down, and one giant trunk obstructed the path. All we needed to do is climb over it and continue.  
The end of the trail is a wide area inside the canyon in the forest area. You'll see the same sign as at the beginning of the trail regarding the trail closure.
There aren't any barriers continuing on the Rocky Ridge Trail. When you look further into the trail, there is dirt erosion so it's not safe to continue. Hopefully, the trail gets fixed in the future, or maybe there will be steps built in the future. 
Anyway, the end of the trail doesn't have any overlooks or viewpoints. It's just the forest area, so it's a bit underwhelming that the trail is done.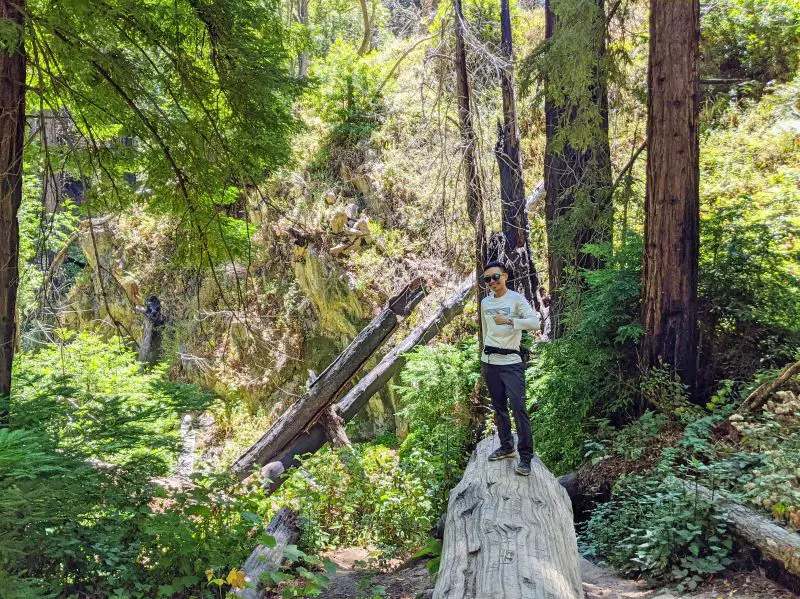 You could extend the time longer to hang out and have a snack break, or turn around and return to the parking lot in the same direction. 
What we enjoyed about the trail is how quiet it is. We saw only a handful of people on the trail and not everyone finished the canyon. Therefore, we had the trail to ourselves! 
Final Thoughts
Soberanes Canyon Trail is a quick hike to do when you're traveling to Carmel or Big Sur area. Since this hike is inland, you'll see more trees and plants along the trail rather than on the coastline. 
While the end of the trail ends abruptly, at least the scenery along the way is worth the trek. Plus, you'll get some good cardiovascular exercise when you do this hike, especially if you've been sitting in the car for a while. 
If the hike sounds too daunting, you can do the easy Bluff Trails which is right across from the Gate 8 entrance. 
Looking for another hike in Big Sur area? Check out Ragged Point Trail or Partington Cove Trail.  
Or, consider going to Pfeiffer Beach for the day.