Taking a road trip to Big Sur is one of the best and memorable experiences to do in California. 
Big Sur is located in the Central Coast of California and famous for this scenic driving route along Highway 1. You'll love seeing the photogenic views of the coastline, blue and turquoise waters, seasonal wildflowers, and cliffsides. 
With so many incredible stopping points and outdoor adventures to do in Big Sur, you may wonder where exactly to go. Don't worry. We have you covered! 
In this Big Sur road trip post, we've put together information on what to know about driving here, where to go (including hikes), places to stay and eat, and other helpful information. 
We're Californians, so it may be a shock that we've never driven along Big Sur's Pacific Coast Highway before. In the past, we've visited Monterey and Carmel (shortened for Carmel by the Sea) but never went beyond that. After driving through Big Sur, we understand the hype about this drive. 
If you're looking for beautiful landscapes, continue reading about how you can plan a trip here.
Click on the links below to jump to certain areas of the Big Sur travel guide:
*Disclaimer: This post contains affiliate links. If you click on them and make a purchase, we receive a small commission. There is no additional cost to you. Appreciate the support.
---
Big Sur Road Trip General Information & Travel Tips
How Many Days Should You Visit Big Sur? 
We suggest that your Big Sur itinerary includes at least 2 days, so it's perfect for a weekend trip.  
The Big Sur area isn't long and will take about 2 hours one way without stopping from Monterey/Carmel to the end of Big Sur, and then you'll reach Ragged Point and San Simeon in San Luis Obispo County. 
There are many beautiful viewpoints and stops along the coastline so it'll be impossible to just drive directly through Big Sur. You'll want to take your time to drive along the coast and go hiking, hang out at the beach, and just awe at the landscape. 
---
Can You Visit Big Sur in One Day? 
Yes, it is possible to do a day trip to Big Sur. 
You'll need to strategically plan ahead of time which places to visit and stick with the schedule. Otherwise, you'll get sidetracked when stopping by every single vista point and won't have enough time.
---
Which Way to Visit Big Sur – North or South?
It's up to you whether you want to go northbound or southbound along Highway 1! There is no wrong or right way to do your Big Sur road trip. 
We started our trip from Carmel, nearby Monterey, and made our way south along Highway 1. 
---
Best Time to Visit Big Sur 
Spring (March to May) has pleasant weather ranging from 65-70℉ (18-21℃). It's the perfect temperature to go hiking and explore the outdoors.  
Summer (June to August) and fall season (September to November) are the popular times to visit Big Sur. It's the dry season so there is little to no rain; although rain may occur in October and November. The temperatures range from 70-77℉ (21-25℃). 
Winter time (December to February) is the coldest time of the year with a high of 60℉ (15℃). Expect the most rain out of the year. If there is a rainstorm, avoid the campgrounds and the hiking trails. 
---
Don't Forget Travel Insurance.
We highly suggest that you get travel insurance for your trip, especially if flying into California.
Accidents happen and you may need to get medical attention. Or, your luggage is missing on arrival. Having travel insurance will help ease issues that may occur on the trip. 
---
Preload Maps Ahead of Time. 
Cell phone reception and data are limited and mostly non-existence along Highway 1. You'll only get reception in Monterey/Carmel or San Simeon. 
While driving along Highway 1 is easy and is one lane in the north and south directions, you'll still want to have maps. 
TIP: Preloaded the maps for an "offline version" to your phone. Or, take screenshots of Google maps to use on the trip. 
---
Save Your California State Park Day Use Ticket. 
If you plan to visit several California state parks along Highway 1, do not throw away your parking day-use ticket. You're allowed to use the ticket at more than 1 park per day. 
Parking cost varies depending on vehicle size. Day use cost $10. Click here for the pricing list. Exact cash or credit cards are accepted as payment. 
Parks do not charge those who walk into the park or bicyclists.  
---
How to Get to Big Sur
If you're flying into California, then the closest airports to Big Sur will be San Jose (airport code: SJC) or San Francisco (airport code: SFO). 
If you're starting from Southern California, then you'll fly to Los Angeles (airport code: LAX).
---
From San Francisco to Big Sur
It's around 145 miles from San Francisco to Big Sur. The drive will take 2.5 hours. The best way to travel is by taking 101 South and then 1 South once you reach Monterey. Click for driving directions. 
---
From San Jose to Big Sur
San Jose is 100 miles from Big Sur and will take 1 hour 50 minutes of driving. The fastest way is to take 101 South to 1 South. Click here for driving directions. 
---
From Monterey to Big Sur
Many visitors stop by Monterey on their way to Big Sur. The distance between Monterey and Big Sur is 30 miles and will take 45 minutes. The only way to get there is to take Highway 1 Southbound. See driving directions here. 
---
From Los Angeles to Big Sur 
Driving from Los Angeles to Big Sur is quite a distance between 300-365 miles depending on the route. The shortest route is to take 101 North to 1 North. Expect to take 5 hours 20 minutes to 6 hours of driving. See the driving route here. 
TIP: You may consider spending overnight in Santa Barbara, San Luis Obispo, Pismo Beach, Solvang, or San Simeon to break up the long drive. 
---
How to Travel Around Big Sur
Driving a car is the only way to travel around Big Sur and the neighboring towns. You have more freedom to set your schedule and to enjoy the car ride. It's very doable to drive along the roads. 
If you need to stop somewhere, pull over to the far right of the highway so other cars do not hit you. Some Big Sur stopping points have a designated parking lot. 
TIP: For travelers flying into California, reserve a car in advance. The summertime is considered a high peak season so car rentals may be limited. 
Another option is to ride a bicycle along Highway 1. The road conditions are smooth and ideal for riding a bicycle. The only thing to worry about is the cars driving fast and the hill climbs with curvy lanes. We saw a few solo riders doing this route. 
---
Where to Stay in Big Sur & Nearby Areas
Places to Stay in Big Sur
Staying overnight in Big Sur would be a luxurious treat. Many of the places are resorts or lodges in the forest areas. 
As a heads up, the places aren't cheap (over $400 per night) and need to be reserved way in advance, especially during summer. Check if there is a minimum stay requirement. 
Read reviews and check availability for accommodations in Big Sur here. 
Here are some places to consider in Big Sur:
Note: Since Big Sur has limited data signal, many places do not have wifi or any charging ports! If this is the case, bring a portable battery charger. 
---
Consider staying in Carmel or Monterey for more budget-friendly options. Plus, you'll have easier access to various restaurants and shops. 
Places to Stay in Carmel 
Carmel is about 26 miles (40 minutes drive) away from the heart of Big Sur, so it's not too far to drive back to stay overnight somewhere. 
Find accommodations in Carmel here
Below are places to consider when staying in Carmel based on the high reviews. Expect to pay over $200-$400+ per night for a room. 
---
Our Recommendation: Comfort Inn
We stayed at Comfort Inn Carmel by the Sea, located in the main Carmel area, for 2 nights and the experience was pleasant. 
Reserve a room at Comfort Inn Carmel here.
We had a room on the lower level and it was recently renovated. The room was clean and came with a mini fridge and mini coffee maker. The wifi was strong enough in our room.  
The walls are on the thinner side so you will hear neighbors and doors shutting. Bring earplugs if you're sensitive to noise. 
Breakfast is included in the room cost and there was a nice spread of cereal, oatmeal, pastries, eggs, and sausage. You can even make your own Belgium waffles. 
The parking lot is small and fits smaller cars. There is free parking along Torres Street. 
We enjoyed how this place is within walking distance to many restaurants and boutique shops in Carmel. We ate at Flying Fish Grill and enjoyed the fresh sea bass entrees. 
You can also walk to Carmel Beach which is .6 miles away and will take 12-15 minutes.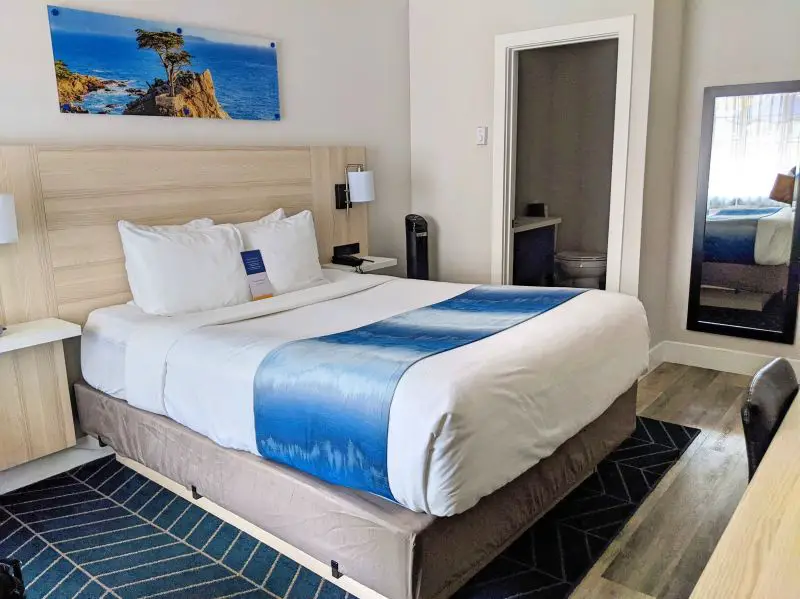 ---
Places to Stay in Monterey 
Monterey is only 4 miles (10 minutes drive) away from Carmel so it's another good place to stay overnight. You may find more affordable accommodations in Monterey compared to Carmel. 
Click here for a list of Monterey accommodations. 
Here are some options to consider based on the high reviews. 
---
Map of Where to Go in Big Sur
---
Top Places to Visit On Your Big Sur Road Trip 
Point Lobos State Nature Reserve
A visit to Point Lobos State Nature Reserve is a must-visit for any trip to Big Sur or if you're visiting Monterey and Carmel only. 
Located at Carmel by the Sea, Point Lobos is a beautiful place to start or end your Big Sur road trip. We've been here two times and love it every time! 
Spend an hour or longer walking and hiking around the swoonworthy coastline and coves, seeing unique plants and foliage (such as laced lichen), and observing sea lions and seals basking on the rocks and beach at Sea Lion Point. 
No matter where you're located, you'll see the vibrant blue waters of the Pacific Ocean.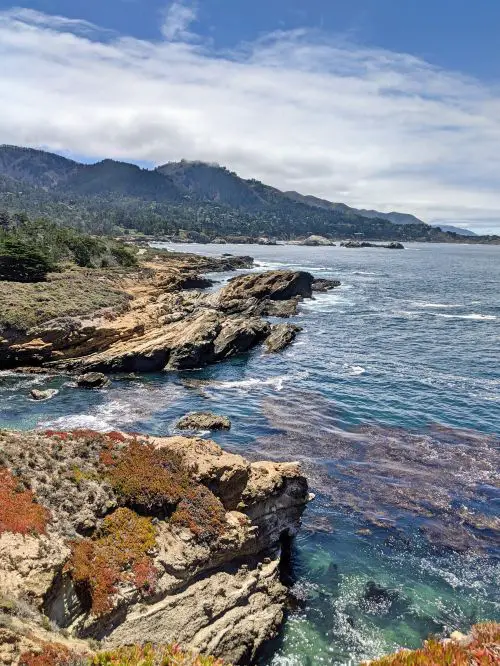 Tip: When you enter the nature reserve, take a photo of the Point Lobos map. It outlines various hiking trails. Or, pay $2 at the entrance for a visitor's guide/map. 
Wear your comfortable walking shoes as you may walk/hike longer than expected. We walked over 5 miles here! 
From the entrance, we took the route: Carmelo Meadow Trail – Granite Point Trail – Cabin Trail – North Shore Trail – Sea Lion Point Trail – Sand Hill Trail – Lace Lichen Trail. There were some uphills but they weren't steep. 
We didn't have a chance to visit the southern areas of Point Lobos. On a return trip, we'll hike the southern trails to reach China Cove.  
If you get the chance to visit Whalers Cove on the north side of the nature reserve, check out the Whalers Cabin. Built by the Chinese fishermen, it's now a history museum sharing more about the former abalone and whale industry in the area. 
If you don't know where to walk, join a free guided walking tour. The nature reserve has guided walks on most days of the week. Get the chance to join a group and walk around different areas of the nature reserve and learn more about the history. Check out the schedule here. 
Parking: Vehicles pay $10 to park inside. Exact cash or credit cards are accepted for payment. 
If the parking lot is full or if you want a free option, you can park outside along Highway 1 Southbound. It's normal to see a line of cars parked outside of the entrance and visitors walking a few minutes to enter Point Lobos.  
---
Garrapata State Park Bluff Trails and Soberanes Point
Located in Garrapata State Park, Bluff Trails and Soberanes Point are two walking trails along the coastline. You'll get to see the seasonal wildflowers and of course, the gorgeous blue waters. 
Bluff Trails is very flat and the path is easy to follow. It's doable for those with young children.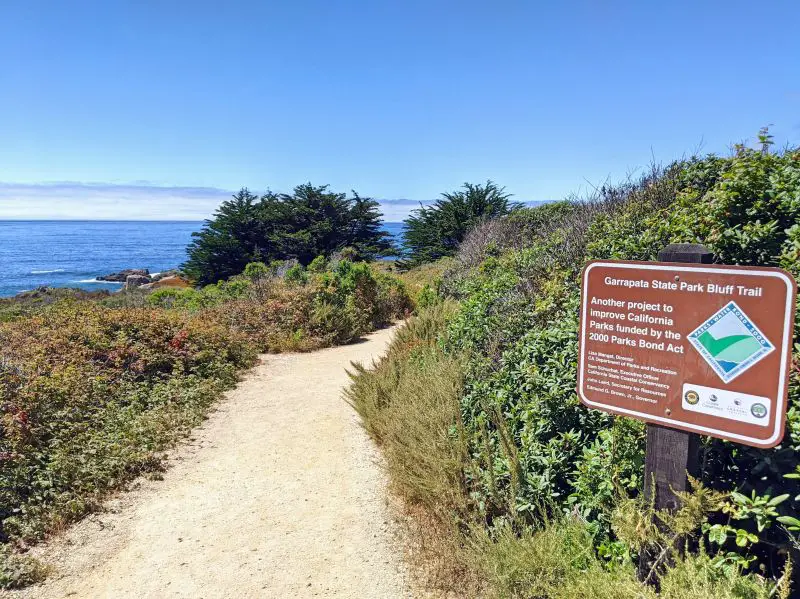 Soberanes Point has more hiking trail opportunities to wander through. 
Parking: Parking is along Highway 1. There is also Gate 8 dirt parking lot for Soberanes Canyon Trail and you can walk to either of these places. 
---
Soberanes Canyon Trail
Nearby Bluff Trails and Soberanes Point is Soberanes Canyon Trail. It's one of the hiking trails to conquer in Big Sur. You can skip the Bluff Trails and Soberanes Point if you prefer a nature trail or are pressed for time. 
The 2.5 to 3 miles out and back hiking trail is also located in the Garrapata State Park. 
The route is supposed to be over 7 miles and includes the Rocky Ridge Trail and a loop for Soberanes Canyon Trail but portions of the trail are closed due to poor conditions. 
The hike takes you through various beautiful landscapes such as the cacti garden on the hills, pink and yellow wildflowers with bees buzzing everywhere, and the quiet redwood forests. You'll need to cross over a fallen redwood tree as you walk closer to the canyon. You will not get any coastal views here as you're traveling inland. 
Once you reach the canyon, you'll see the sign about the closure of the Rocky Ridge Trail; therefore, it's the end of the trail. There aren't any barriers to prevent you from continuing on the trail, but you can see mudslides and fallen tree branches on the steep areas of the trail. Do not risk the dangers!  
Parking: On Highway 1 North, there is a dirt parking lot for vehicles (referred to as Gate 8). The trail entrance is on the same side as the dirt lot.  
---
Calla Lilly Valley
During the springtime, there is a walking spot along Highway 1's Garrapata State Park that has wild white calla lilies in full bloom. The short walk leads to Garrapata Beach. 
We found out about this place from the Bay Area Hiker Facebook Group. 
During the summertime, the calla lilies are gone. Yet, there are wildflowers in the area to check out. 
We didn't stop by this place but we'll be back to check out this spot in the spring. 
---
Rocky Creek Bridge
Constructed in 1932, Rocky Creek Bridge is a historic bridge with a cliffside view from Highway 1 Southbound. It's a famous bridge that has one arch and is made with reinforced concrete. 
Rocky Creek is under the bridge, but the water level was low on our visit.  
There is a vista point to see the beach and ocean. Unfortunately, the property is private and there isn't any way to walk down to the bottom of the cliff. 
Beware: This is not the iconic Bixby Bridge which is about a 1 mile away. Rocky Creek Bridge looks similar to Bixby Bridge.
Parking: From Highway 1 southbound, there is a small turnout for parking.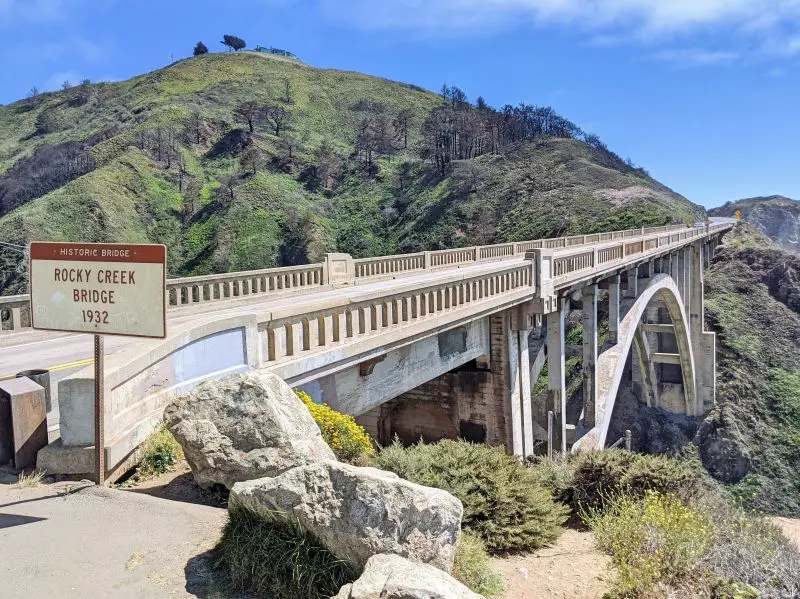 ---
Bixby Bridge 
Bixby Bridge is one of the most photogenic spots along your Big Sur road trip. Whenever you see photos or souvenirs of Big Sur, this is the place!
Built in 1932, this historic bridge is similar to the Rocky Creek Bridge with one arch reinforced by concrete. The bridge overlooks the Pacific Ocean and has Bixby Creek under it. 
There are two views that you can get of the Bixby Bridge. First is the view from Highway 1 South with the arch, cliffside, and ocean. Second is from the northeast side where you get the arch along with the ocean in the background. 
Which one is better? We loved both of them and they provide different perspectives of the bridge.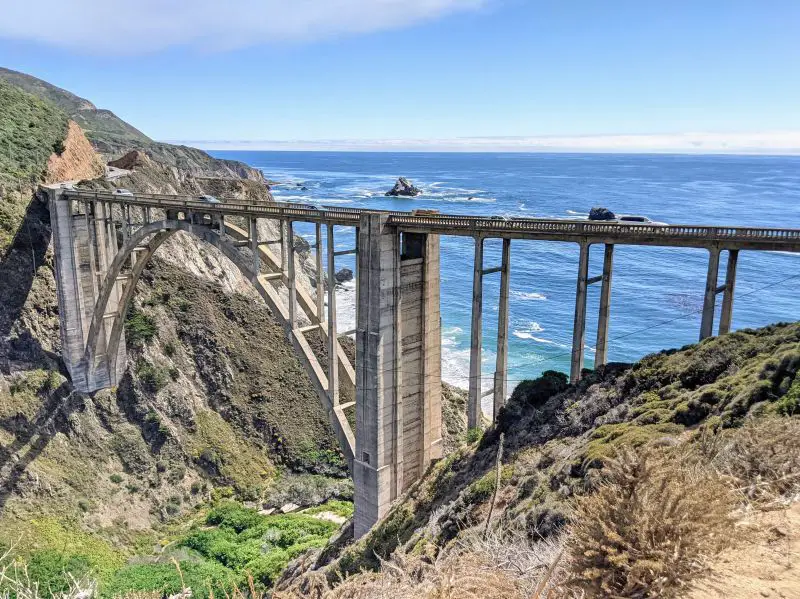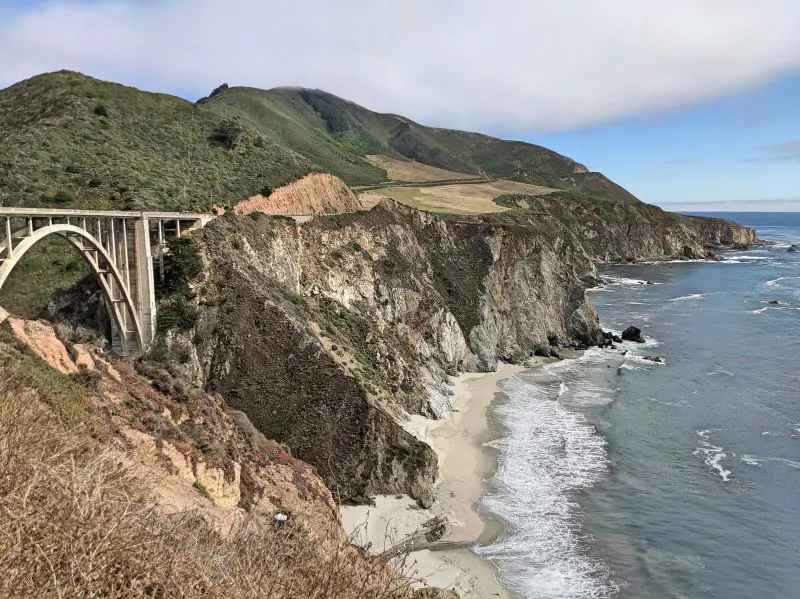 Note: The bridge gets very crowded so be patient with the photo opportunity. 
Parking: When going southbound on Highway 1, there is a small turnout right before crossing the bridge and a few cars can park there. There is a dirt lot across the turnout and visitors walk across to view the other side of the bridge. 
---
Pfeiffer Big Sur State Park
Pfeiffer Big Sur State Park is where you can easily spend a few days here to go camping and hiking. 
Camping needs to be reserved at least 6 months in advance, especially in the high peak season. 
As for hiking, there are various trails and distances ranging from .50 to 8 miles round trip. The longer and more adventurous trail, Pine Ridge Trail, is 23 miles one-way. 
Unfortunately, we didn't have a chance to visit Big Sur State Park this time. It's on the bucket list to visit Big Sur River Gorge and swim/walk through the peaceful gorge. 
Parking: There are a few parking lots for day-use visits and costs $10 per vehicle. 
---
Pfeiffer Beach
In the heart of Big Sur is Pfeiffer Beach. It's a hidden beach spot to spend a few hours or the whole day. We saw many families hanging out on the beach and having picnics. 
Check out the unique purple sand on the dunes. It's worth the visit to see this since we haven't seen it anywhere else. 
Keyhole Rock, an arch in a giant rock, is a photogenic spot to see the waves pass through. 
You can also walk along the beach and see the waves pass by. The waves are rougher here so you may not want to swim in the water. 
TIP: We suggest that you visit this beach early – either in the morning or before noon. Once the parking lot is full, cars cannot go down the road to the beach. We had to go here twice since we couldn't enter in the late afternoon on the first day.
To Get Here: You can easily miss the road to enter the beach since there isn't any signage.
To find the beach entrance, you must find the yellow sign, "Narrow Road – No pedestrian. No RVs and trailers" and turn into the street. It's easier to spot coming from Highway 1 Southbound.
Then you drive 2 miles on a narrow and windy road until you get to the parking lot.  
Parking: The parking lot is small and holds 65 vehicles so you need to get here early. Cost is $12. Exact cash or credit card is accepted for payment. 
---
Partington Cove Trail
Partington Cove, a part of Julia Pfeiffer Burns State Park, is one of the best hikes to do in Big Sur. 
It's a short 1-mile round trip hike that gives you beautiful views of the coastline. It's mostly flat with only the start/end of the trail with a slight hill.
The hiking route splits to two routes – one goes through a wooden tunnel to the coast and another goes to a rocky beach.
The two routes aren't marked but you can follow them both and they'll lead you to the waters. If you have the time, check out both of them as they provide different views of the coast. 
For us, we prefer the view after going through the tunnel. There is a cove and the area has nice contrasting views of the rocks with trees. 
Parking: There is only parking along Highway 1.  
---
McWay Falls
McWay Falls is one of the pretty waterfalls in North America to check out. Located in the Julia Pfeiffer Burns State Park, McWay Falls is an 80-meter waterfall that flows onto a secluded beach and to the ocean.
It's easy to get to the there is a flat and easy walking path from inside the park that takes you to a viewing platform. There isn't any way to walk directly to the beach and waterfall. 
Do not attempt to see the waterfall from Highway 1. The view will be terrible. It looks like there used to be a shortcut from Highway 1 to the viewing platform but that has been sealed off. 
While the waterfall has cascades all year round, the falls are very small, especially from the viewing platform. Therefore, it's a very short visit here. 
Parking: This state park has self-parking only. There isn't a staff member at the entrance, but there is a box to add your payment. The cost is $10 per vehicle. Please be honest and support the state park if you do park here! 
You can also park along Highway 1 Northbound for a free option. Parking will be tight. Watch for cars before opening the doors. 
---
Limekiln State Park
This state park was on our list of places to visit to go visit the Limekiln Waterfall, but all trails are closed due to the 2020 Dolan Fire. 
Currently, the campgrounds and beach are open to the public, so there are options if you want to visit!
---
Ragged Point & Ragged Point Trail
When heading northbound on Highway One, Ragged Point is considered the starting point to Big Sur. It's only 15 miles away from San Simeon. 
At Ragged Point, stop to get something to eat, stay overnight at the inn, and refuel on gas.
If you aren't tired from the day, hike the Ragged Point Trail. It's a short .80 mile round trip hike that leads to Ragged Point Beach. It's a bit steep in some areas but has some incredible views of the oceanside.
There is supposedly a waterfall called Black Swift Waterfall, but we saw a thin stream of water.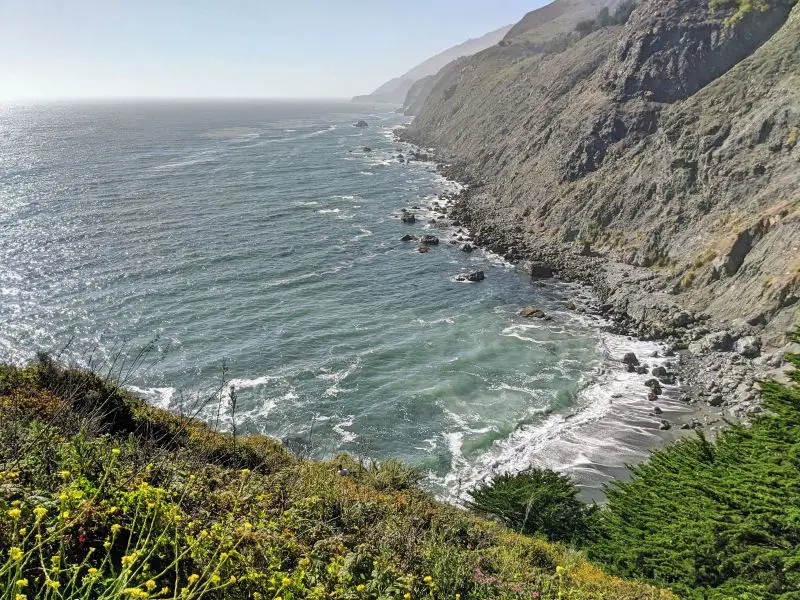 Parking: There is a parking lot for guests. 
Other Places to Visit Beyond Big Sur
If you have more time on your Big Sur road trip or want to continue your Pacific Coast Highway road trip along Highway 1, consider visiting these spots (if going southbound on Highway 1). 
---
Places to Eat in Big Sur
To be honest, we did not stop at restaurants for lunch or dinner as we wanted to maximize our time on the road trip. We brought snacks with us to sustain us all day until dinner back in Carmel.  
In Big Sur, here are the popular restaurants and spots to consider: 
Big Sur Deli – Known for to go sandwiches and buying snacks. 
Big Sur Bakery – This is the only place that we visited which we'll share more below. Delicious pastries and baked goods. Lunch and dinner are available here but reservations are needed for dinner. 
The Sur House – Located in the adult-only resort, Alila Ventana, The Sur House offers American cuisine made with organic and fresh ingredients. Breakfast, lunch, and dinner are available here. 
Nepenthe – This is the most famous restaurant with jawdropping views of the cliffside. Lunch and dinner are offered here. 
---
Our Recommendation: Big Sur Bakery
We did a quick stop at Big Sur Bakery to pick up a few baked goods. They were decadent and good for sharing. 
We heard about the almond croissants but they were sold out on our visit. (We visited in the afternoon after 1pm).  
Instead, we had a mocha cookie (more like a fudge brownie cookie), ginger scone, and lemon tea cake. They weren't too sweet and were a decent size. Expect to pay around $5 per item. Credit cards are accepted here. 
---
Final Thoughts About the Big Sur Road Trip
We hope you get the chance to explore Big Sur and the coastline at least once in your life. It's a special place to visit and drive through for beautiful landscapes, nature, and outdoor activities. We look forward to revisiting this area!
If you have any questions about this Big Sur trip, please feel free to ask a question in the comments below. 
Like this post? Save this pin to your Pinterest board.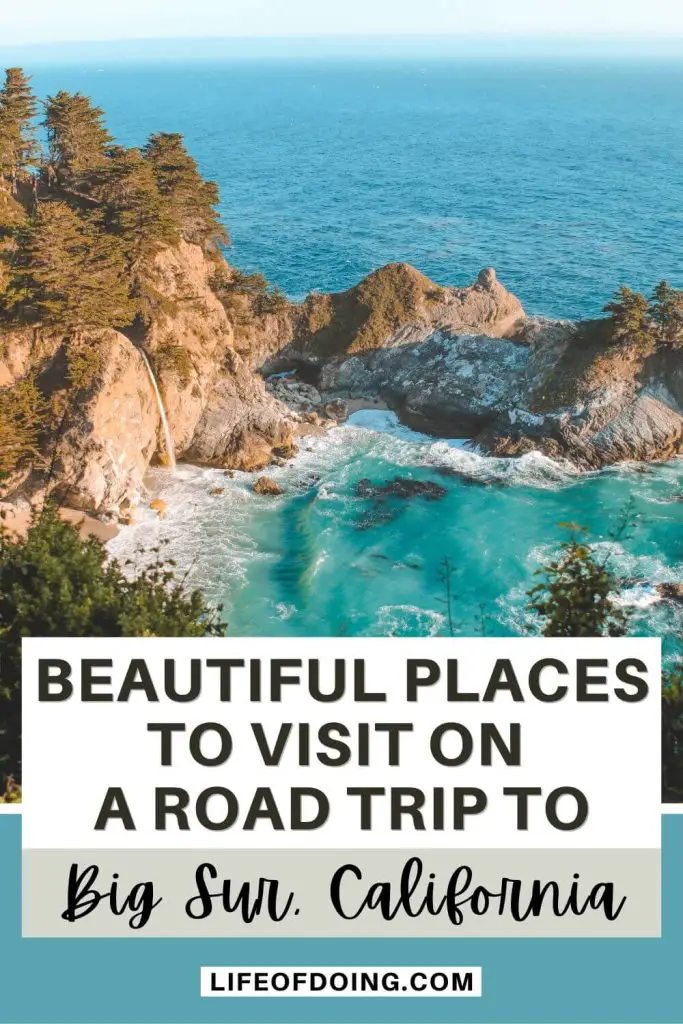 Pin #1 photo credit: Ava Sanborn via Scopio Photos