Visiting Oceano Sand Dunes was one of the coolest highlights of our Pismo Beach day trip. 
Oceano Dunes (also referred to as Oceano Dunes State Vehicular Recreation Area and Oceano Dunes SVRA), located in Oceano, is a part of the Pismo State Beach where vehicles or rented ATVs can drive on the beach. (This will be banned on March 18, 2024.) 
Since renting an ATV was a bit costly (about $100 per hour), the Oceano Sand Dunes is the perfect spot where ATVs aren't allowed and visitors can enjoy the gorgeous, undisturbed sand dunes. 
With no crowds, no noise pollution, and endless sand dunes to walk around, it's a hidden gem when visiting the Pismo Beach area. It's a cool sight for families, children, and dogs to explore.
It's also FREE to visit! 
Continue reading this Oceano Sand Dunes guide on how to get there and helpful tips.
*Disclaimer: This post contains affiliate links. If you click on them and make a purchase, we receive a small commission. There is no additional cost to you. Appreciate the support.
---
Directions to Oceano Dunes Non Vehicle Area
You'll see this place located on Google Maps as "Oceano Dunes Non Vehicle Area." 
The sand dunes location is not straightforward as it's located behind the Pacific Dunes Ranch RV Resort (1205 Silver Spur Pl, Oceano, CA 93445) which seems a bit odd, but the public can access them.
How to Get to Oceano Dunes from San Luis Obispo
San Luis Obispo is the largest city near Pismo Beach. It's about 17.6 miles away and takes 22 minutes one-way.
From San Luis Obispo, take 101 South. 
Exit Hinds Avenue/Price Canyon Road (Exit 190B).
Take CA-1 South, and you'll pass through Oceano town. 
Turn right at 22nd Street. 
Turn right at Silver Spur Place. (You'll pass through farmlands.)
Turn left onto 3rd Street. 
You'll see the sign for Pacific Dunes Ranch RV Resort. 
There is a dirt parking lot where you can park in front of the wooden fence. It's free to park here. (We confirmed this public parking spot with the workers at the RV check-in spot.) 
From the parking lot, walk towards the right side of the road on Burlingame, and follow the road until the end. 
You'll pass through many parked RVs and trailers. After a five-minute walk, you'll see the entrance to the dunes. 
Click here to see the driving directions on Google Maps.
---
How to Get to Oceano Beach from Santa Barbara
Oceano is accessible as a day trip from Santa Barbara, another beach destination. It's 81-84 miles away and will take 1.5 hours to get there. 
There are two ways to get there:
From 101 North to CA-154 West/San Marcos Pass. Then take 101 North and exit N Thompson Avenue in Nipomo. Follow Los Berros Road to CA-1 North. Then you follow the road and will reach 22nd Street and 3rd Street. Click here for the full driving directions. 
This second route is similar to the first one but cuts through CA-1 earlier instead of heading through Nipomo. Click here to see these driving directions. 
---
When To Explore the Oceano Dunes
You can visit the Oceano sand dunes at any time during the day. The weather can get hot in the mid-morning to the afternoon so you want to bring water and wear sunscreen. 
As we entered the RV resort parking lot, a worker asked if we had water due to the heat and the walking distance to the dunes. 
---
How Much Time is Needed at the Dunes?
As long as you want! You can spend 10 minutes here or hours. 
We spent one hour here and thought it was the ideal amount of time to take photos and play in the sand. 
---
What to Wear When Visiting Oceano Dunes
Comfortable t-shirt – We suggest wearing a moisture-wicking t-shirt as you may work up a sweat when walking up and down the dunes. 
Comfortable pants or shorts 
Dress – If you prefer to wear a dress, go for it! Anything comfortable works. 
Sandals (Optional) – It's not necessary to wear sandals or shoes on the dunes but you'll need to wear some sort of footwear when walking through the RV parking lot. You can also leave the sandals at the sand dunes entrance if you don't want to carry them. 
Sunscreen – Check out this sunscreen.
---
What to Bring for Oceano Sand Dunes
Daypack – If you plan to stay for a while on the sand dunes, bring a daypack to hold supplies and snacks.
Water – Stay hydrated. Use reusable water bottles to reduce plastic waste.
Camera 
Trash bag – The sand is very clean so please bring back any trash with you. 
Snow sleds or saucers – Feel free to bring your own plastic snow sleds or saucers and go down the sand. It'll be a fun experience!
---
Our Thoughts on Oceano Sand Dunes
When entering the Oceano Sand Dunes, your jaws will drop. You'll love seeing the beige-colored sand that stretches for miles. 
It's such a picturesque place to wander around since there isn't anyone here. We saw a handful of people during our visit and everyone was spread out. 
What we loved about this place is that the sand is super-fine and soft. The bottom of our feet is sensitive when it comes to coarse sand so the soft sand was welcoming.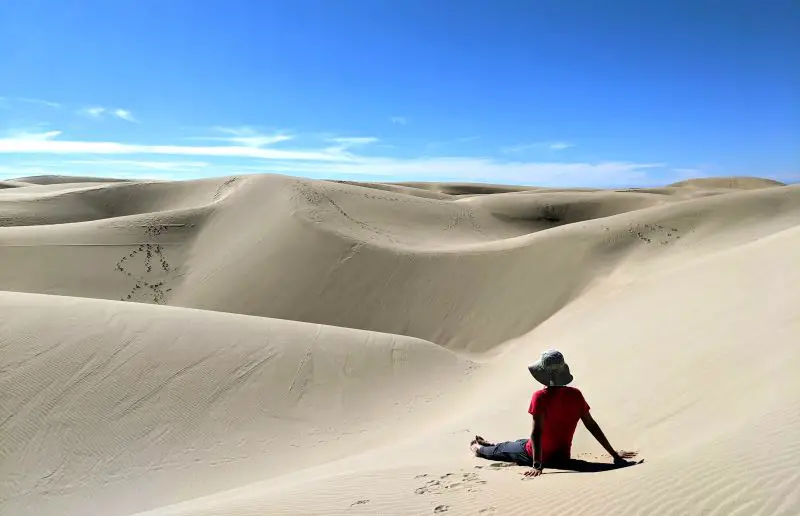 You're welcome to climb up and down the sand dune hills, run through the sand, draw any artwork in the sand, or even go sledding. If you have a snow sled or saucer, feel free to slide down the dunes. 
The natural sand artwork from the winds is stunning to admire. 
Besides the footprints left behind on the trail, we also saw quite a bit of dog prints. Therefore, it's a dog-friendly place to visit.
As you walk towards Pismo Beach, you can hear the ATVs. It is possible to reach it, but know that it's a bit of a walk from the sand dunes entrance. There are many hills to walk through and you'll need to find a path that has less plant foliage. 
Tip: You may want to wear your sandals in this area as the dry branches stick up from the ground and can hurt the bottom of your feet. 
Final Thoughts
If you have the time when visiting Pismo Beach, add a visit to the sand dunes in Oceano. It was a top highlight of our day trip. You won't regret it and will have so much fun. 
Check out our other sand dunes experiences around the world: