If you're looking to escape from the craziness of Ho Chi Minh City, let's head to Mui Ne (Mũi Né in Vietnamese). Located in South Vietnam, this coastal town in Phan Thiet (Phan Thiết) is the perfect place to add to your Vietnam itinerary to rejuvenate yourself with beach time and also outdoor activities.
With many activities in Mui Ne, you won't be bored and have plenty of fun adventures during your stay. Want some relaxation along the beaches? Go kitesurfing? Or, admire the beautiful landscapes of the sand dunes and the coastline? Mui Ne has you covered.
In this post, we're sharing the incredible things to do in Mui Ne, how to get there, and other important tips to plan your Mui Ne trip.
What we like about Mui Ne is that this area is close to Ho Chi Minh City, so it's a good weekend trip from Ho Chi Minh City. It's a popular destination for local Vietnamese and Russian tourists. Yet Mui Ne doesn't have the crowds like in Nha Trang.
We love the quiet beach town vibe in Mui Ne and recently have been here twice in two months with family members and friends. Plus, Mui Ne has some of the freshest seafood in Vietnam (our first choice for seafood is still Ly Son Island).
In this Mui Ne post, you'll learn the following.
Best time to visit Mui Ne
How long to stay in Mui Ne

Must-see things to do in Mui Ne

How to get to Mui Ne

Transportation options 

Where to stay in Mui Ne

What to eat in Mui Ne
If you're interested in other beach destinations in Vietnam, check out our posts on Danang, Phu Quoc Island, Quy Nhon, and Con Dao Islands.
*Disclaimer: Yup, we have affiliate links in this post. Click on any of the links and make a purchase, and we receive a small commission. There is no additional cost to you. Thank you for supporting Life Of Doing!
---
Best Time to Visit Mui Ne
Any time is the best time to visit Mui Ne. The rainy season is similar to Ho Chi Minh City from April to November, yet it has low rainfall. We went in late September and mid-November and didn't have any issues with the weather. It will be hot and humid – in the 26-32℃ (79-90℉.) Stay hydrated with fresh coconuts and water!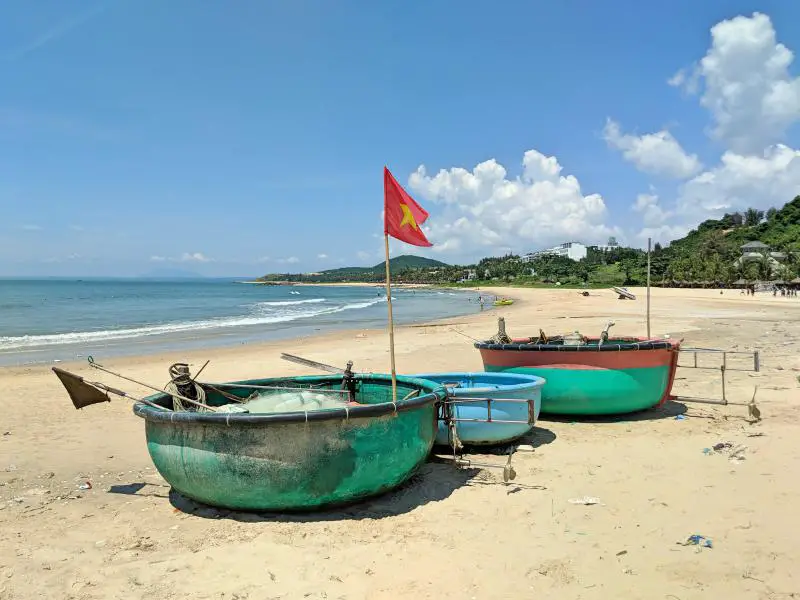 ---
How Long to Stay in Mui Ne?
If you want to rush through the main highlights of Mui Ne, you can easily go through it in one day. To enjoy the beach life and relaxation, it's best to stay at least two days in Mui Ne.
A good weekend schedule from Ho Chi Minh City is to leave on Friday morning and depart Mui Ne on Sunday morning to return back to Ho Chi Minh City.
---
Incredible Things to Do in Mui Ne
Check out the following outdoor attractions to do in Mui Ne. If you're seeking nightlife, Mui Ne is not the place to be. It's very quiet in the evenings and almost empty on the streets.
1. Take a Jeep Tour
Mui Ne is known to offer Jeep Tours to see the White Sand Dunes, Red Sand Dunes, Fairy Stream, and Fishing Village (which we'll share more details below). If you have a large group or don't want to rent motorbikes, taking the Jeep Tour is easier. Tours are four hours and the driver takes you to the four locations. Choose either a morning tour from 4:30am – 8:30am or an afternoon tour from 1:30pm – 5:30pm. Additional costs to the Fairy Stream is not included in the price.
If you had to choose between the morning or afternoon tour, take the morning tour. It's awfully early but worth it. We've taken both tours and prefer the morning one.
The morning tour route is White Sand Dunes, Red Sand Dunes, Fishing Village, and Fairy Stream. There is more action at the Fishing Village and fewer people walking along the Fairy Stream. Plus, you'll have cooler weather in the morning.
The afternoon tour route is the Fairy Stream, Fishing Village, White Sand Dunes, and Red Sand Dunes.
The best way to organize a Jeep Tour to ask your accommodations if they offer the service. You can choose whether to have a private tour or join a group tour.
Private tour:

If you have a private Jeep tour, the cost varies. Delight Hotel offered 450,000 VND ($20 USD) total for four people, while Coco Sand Hotel offered 650,000 VND ($28 USD) for four people.

Group tour:

Joining the group tour would be around 120,000 VND ($5.10 USD) per person.
If the hotel doesn't offer the service, you can go along the main street to ask for pricing. Negotiations are possible. We were quoted 280,000 VND ($12 USD) per person (for our group of four) which was highway robbery and much higher than from our hotel.
Otherwise, the easiest way is to Book a Jeep Tour here.
When visiting the four locations, it's best to wear sandals/flip flops versus closed-toe shoes. Otherwise, you will get sand everywhere!
2. White Sand Dunes
The White Sand Dunes (Đồi cát Trắng) is a major draw in Mui Ne. The calm and quiet area (minus the ATV noise) is the ideal area to enjoy the sunrise. Sit on the soft and fine ivory color sand and soak in the moments. The sand is clean and free of garbage.
There are two sand dunes to visit – one with a high summit and one that is slightly lower. You could take an ATV ride to the top of the sand dunes, but they are expensive. The higher summit hill cost 300,000 VND ($12.85 USD) per person while the lower hill cost 200,000 VND ($8.60 USD) per person for the round trip ride. We rode the ATV the first time and it was a bumpy ride that was only a few minutes to get to the top of the sand dunes.
Otherwise, walking is an excellent option and will take around 20 minutes. You can't beat a good leg exercise.
3. Red Sand Dunes
After seeing the white sand dunes, the red-orange sand dunes (Đồi cát bay Mũi Né) is pretty but not as impressive. It's a good location to spot the sunset and see the views of the ocean. Located close to the main city area, we noticed more garbage in the sand and sellers pushing visitors to rent a thin piece of metal to slide down the dunes for 20,000 VND ($.85 USD).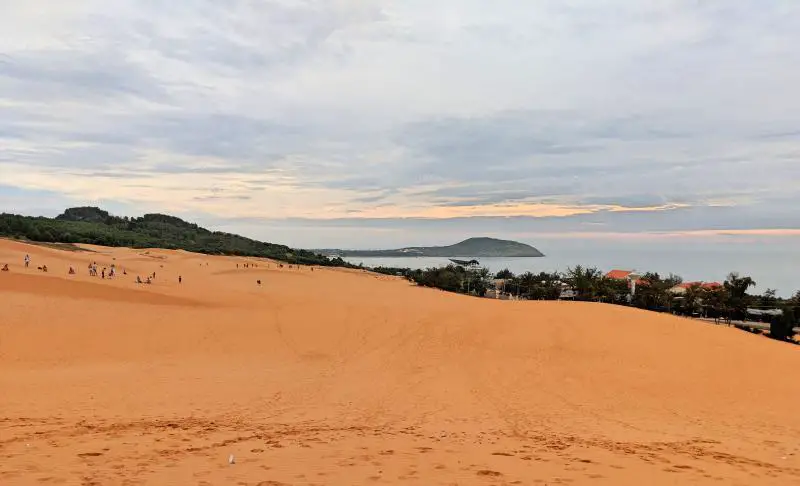 4. Fairy Stream
After spending time at the sand dunes, it's time to cool off in the Fairy Stream (Suối Tiên). It's a 45 minute – 1-hour journey where you walk barefoot along the red-orange stream. You leave your sandals/shoes near the entrance. Along the way, you'll see white and red sand dunes and limestone formations and can also relax at the cafes along the stream.
If you walk the length of the full stream, you'll reach a small waterfall at the end of the route. Be careful when visiting the waterfall as the ground has a lot of rocks that will stab your feet. This is the only area where you would need some sort of foot protection (unless you bring your sandals with you).
Admission is 15,000 VND ($.65 USD) for adults and 7,000 VND ($.30 USD) for children.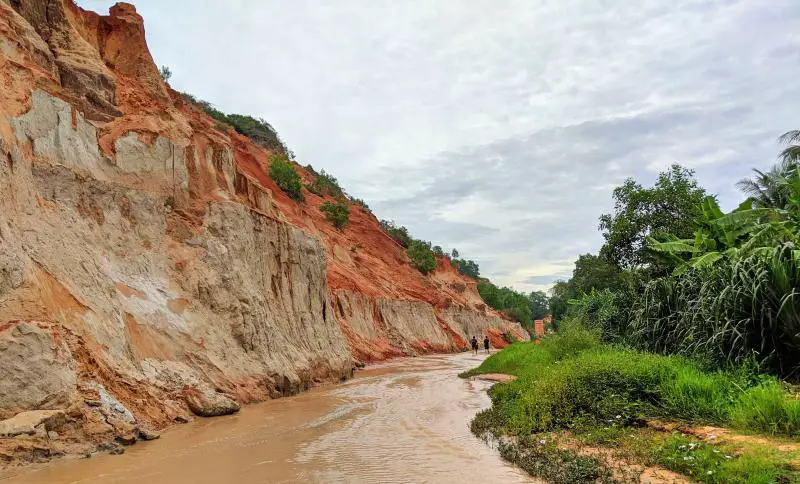 5. Fishing Village
The Fishing Village is a must-visit during the morning. (In the afternoon, the area closes up so it's not as exciting.) The smell of seafood exudes in the air as fishermen bring their small round boats and haul onto shore and separate their catch by categories – fish, crabs, etc. Chatter from the vendors and buyers overtake the calmness of the ocean. Although we had a quick 20 minutes in this area, it made a huge impression of us on the daily life of fishermen in Mui Ne.
If you want to buy seafood, this is the place to be. Don't forget to negotiate! We had a few sellers come up to us to sell 2 large lobsters with steam cooking for 500,000 VND ($21.40 USD) and a whole bucket of large shrimp for 300,000 VND ($12.85 USD). Unfortunately, we didn't have anywhere to cook the shrimp or we would have jumped on that deal.
Don't worry. There are plenty of restaurants in Mui Ne that offer fresh seafood and the daily catch.
6. Kitesurfing
Mui Ne is a popular place for kitesurfing due to the waves. What is kitesurfing? It's similar to snowboarding where you use the waves to surf along the waters on your board and also have a kite to help with movement.
Along Nguyen Dinh Chieu, you'll see advertisements for kitesurfing lessons. Whether you're a beginner or advanced level, consider taking a lesson or two during your stay.
7. Spend time at the beaches.
Most people rave about the beaches at Nha Trang yet the sand at Mui Ne is softer. One of the best places to relax at the beach is Mr. Dia Rock (Đá Ông Địa) which is nearby the Sea Links City Resort. The beach isn't dirty with garbage and the ocean is warm. More people tend to visit this area during the afternoon to view the sunset yet it isn't overly crowded.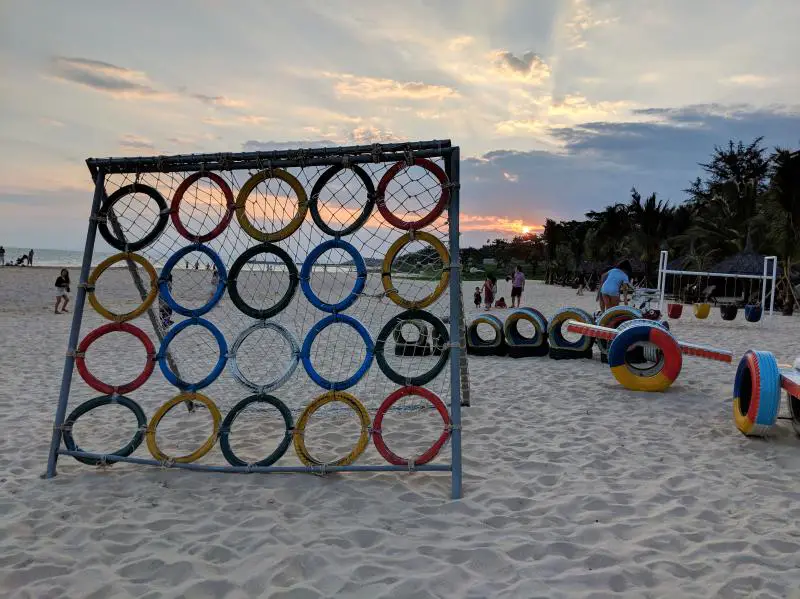 8. Forgotten Land Sand Sculpture Park
Can't get enough of sand? Visit the Forgotten Land Sand Sculpture Park (Công Viên Tượng Cát) in Phan Thiet.
It's a hidden gem to see the interpretation of Vietnamese folklore, fairy tale stories, and iconic places made out of sand carvings. The 14 international sand sculptures did an impressive job with their carvings, especially the details in each of the sculptures.
Take the time to read through the various signs to learn about each artwork. Signs are available in Vietnamese and English. If you or your children want to create your own sand sculpture, there is a section to practice your carving skills.
Definitely spread the word about this place as we were the only ones at this park during our two visits here. It's well worth supporting the artists and artwork here.
Admission is 100,000 VND ($4.30 USD) for adults and 70,000 VND ($3.00 USD) for children
Address: D19, Khu Dân cư Kênh Bàu, P. Xuân An, Thành phố Phan Thiết, Bình Thuận Province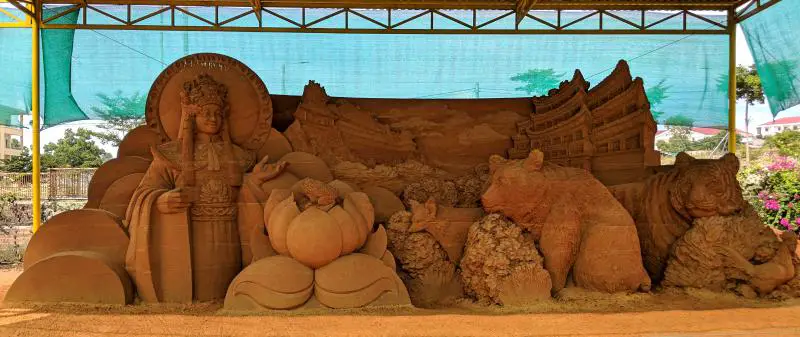 9. Optional Places to Visit
We didn't get a chance to visit these places but are recommended by our hotel receptionist.
For wine lovers, check out the RD Wine Castle. Located in the Sea Links City Resort, take the time to explore the picturesque castle. You can also take a wine tour and sample wine. All of the wine is imported from Napa Valley of California, United States.
Address: Nguyễn Thông, Phú Hài, Thành phố Phan Thiết, Bình Thuận
The Po Shanu Cham Towers is one place to see the towers made by the Cham people. If you're heading to Phan Thiet, you'll see the towers from the main road. The unique architecture of the three towers with the reddish bricks honors the Shiva, the Hindu deity. You can also see the Cham Towers at the Po Nagar Cham Tower in Nha Trang and My Son Sanctuary, a UNESCO site, in Duy Phu.
Address: Phú Hài, Thành phố Phan Thiết, Bình Thuận Province
 

 

View this post on Instagram

 
If you're a fan of hiking through a forest area, check out Ta Cu Mountain. It's a part of the TCC World Ta Cu tourist attraction. The main highlight is seeing a gorgeous white reclining Buddha at the top of the mountain. The statue sits at approximately 476 meters (1,564 feet) high. A cable car is also an option to reach Buddha. 
Address: Thuận Nam, Hàm Thuận Nam District, Bình Thuận Province
---
How to Get to Mui Ne
From Ho Chi Minh City
Option 1: Sleeper Bus
The easiest way to get to Mui Ne from Ho Chi Minh City is by taking the sleeper bus, one of the top ways to get around Vietnam. They're awesome as you get to recline and sleep on your way to your next destination. Plus they have air conditioning and provide a water bottle. If you're tall (more than 5 feet 7 inches/1.7 meters), then this may not be a good option) as the feet area may be too cramped.
It takes about 5 hours from Ho Chi Minh City to Mui Ne with 2-3 stops for bathroom/eating breaks. There are various companies that offer sleeper buses, such as Futa Bus and Hanh Cafe off of Phu Ngu Lao street in District 1. Cost is between 120,000 – 135,000 VND ($5.10 – $5.80 USD) per person for the one-way route. The buses will drop you off at your hotel.
Option 2: Train & Taxi
Don't want to take the sleeper bus? Consider doing the combo route of taking the train and taxi. From Ho Chi Minh City, take the train to Phan Thiet. The train takes four hours and costs between 136,000 – 150,000 VND ($5.80 – $6.40 USD) per person for a one-way route for the cushioned seat with air conditioning. Afterward, take a 30 minutes taxi from Phan Thiet to Mui Ne. It should cost between 300,000 – 400,000 VND ($12.85 – $17.15 USD) for the ride.
From Other Locations
You can get to Mui Ne from Da Lat (about four hours on the bus), Nha Trang, or other locations via bus. Check with your accommodations if they can book a bus ride for you or you can go directly to the bus station to make a reservation.
---
How to Get Around /Transportation Options in Mui Ne
1. Walk
Mui Ne is a walkable city. Most of the hotels are along Nguyen Dinh Chieu (Nguyễn Đình Chiểu) so you could walk from one end to the other. It would take over an hour. Plus, all of the restaurants and souvenir shopping opportunities are along the street.
2. Motorbike
You can easily rent a motorbike from your hotel or find a vendor along the street. Rental is around 120,000 VND ($5 USD).  Be careful on the roads and slow down. If you're heading to the sand dunes, there are checkpoints where police stop motorcyclists. In the main Mui Ne city area, there isn't a lot of traffic so you'll be fine driving.
3. Taxi
Taxis are plentiful in Mui Ne as you'll see 1 or 2 every 20 seconds. Flag down a Mai Linh taxi (official taxi of Vietnam in the green car) on the road to get to your next destination.
If you like taking rideshares, such as Grab, only Grab motorbikes are available in Mui Ne. 
---
Where to Stay in Mui Ne
Mui Ne has a variety of accommodations to fit any budget from hostels, guesthouses, to fancy resorts.
Click here to find and reserve the perfect accommodation for your Mui Ne trip.
If relaxing at the beach is your top priority, choose a 4 to 5-star resort that has a private beach attached to their property such as Coco Beach Resort.
We're into affordable places that are also clean and comfortable for less than $20 USD per night. Here are two places that we've stayed at and recommend.
Delight Hotel

– The rooms at Delight Hotel are clean, large, comes with air conditioning, and has a private bathroom. Like most of Southeast Asia, mosquitoes can be found in Mui Ne and the room comes with a mosquito net. If you want breakfast, you'll need to request it in advance. The receptionists are friendly and are always available to answer your questions. Jeep tours and booking of bus travel available here.

 Check availability at Delight Hotel and reserve a room here

.
     Address: 109 Nguyễn Đình Chiểu, Phường Hàm Tiến, Thành phố Phan Thiết, Bình Thuận, Vietnam
Coco Sand Hotel –

This guesthouse is down an alleyway which makes it a quiet place to stay. Rooms are clean and come with air conditioning, mini fridge, and a private bathroom. Breakfast is not provided here. If you don't want to go to the beach, the courtyard has a mini beach and hammocks which is good for relaxing in the afternoons. The hotel offers Jeep tours and reservations for bus travels. One minor opportunity for improvement is that the receptionist isn't always available at the front desk, so you'll need to flag a family member down to get their attention.

Check availability at Coco Sand and reserve a room here.
     Address: 119 Nguyễn Đình Chiểu, khu phố 1, Thành phố Phan Thiết, Bình Thuận
---
Where to Eat in Mui Ne
Hungry? Mui Ne has plenty of dining options to choose from. It's one of the most diverse places for restaurants as you can get your choice of Indian, Russian, Armenian, Middle Eastern, and of course, Vietnamese food. You have to eat fresh seafood as there are many seafood BBQ restaurants in the area.
Here are our recommendations for places to eat in Mui Ne:
1. Seafood Restaurant (Nhà Hàng Chợ Hải Sản)
Best place for seafood at reasonable prices. The seafood was most likely caught in the morning! We went here two nights in a row. It's that good! Choose seafood from the tank and have it cooked in any way you want. Or, choose from shrimp, clams, and other seafood from the menu. If you love eating fish, the grilled whole red snapper is delicious at 120,000 VND ($5.15 USD). Credit cards are accepted here.
Address: 70 Nguyễn Đình Chiểu, khu phố 1, Tp. Phan Thiết, Bình Thuận, Vietnam
2. Sau's Banh Mi
It's our go-to place for fresh and cheap bánh mì (sandwiches). Choose from chicken, pork, or egg. Cost is between 12,000 – 15,000 VND ($.50 – $.65 USD). Also try the rice noodles with pork, fresh cold coconuts, fruit smoothies, and iced coffee. The family that makes the bánh mì are friendly.
Address: 117 Nguyễn Đình Chiểu, khu phố 1, Tp. Phan Thiết, Bình Thuận, Vietnam
3. Choi Oi
This is a good place for healthy and fresh Vietnamese food. Plenty of vegetarian options. Flavors are more Western-style so it's not as bold with the fish sauce usage. The avocado shake is a must-try. Cost of dishes between 50,000 – 70,000 VND ($2.10 – $3.00 USD).
Address: 115 Nguyễn Đình Chiểu, khu phố 1, Tp. Phan Thiết, Bình Thuận, Vietnam
4. Katie's Coffee House
We came here for dessert only. The Belgium waffles are heavenly with a huge scoop of ice cream, chocolate syrup, and topped with mango and banana slices. Don't bother with the French waffles as it's the same waffle size as the Belgium waffle with a choice of topping. Dessert cost between 80,000 – 120,000 VND ($3.40 – $5.15 USD)
Address: 115 Nguyễn Đình Chiểu, khu phố 1, Tp. Phan Thiết, Bình Thuận, Vietnam (next to Choi Oi) – There is also a kiosk on the same road but food is for takeaway only.
5. Thailand Style Rolled Ice Cream
You'll see many vendors along the street selling the Thailand-style rolled ice cream. Choose either a single fruit flavor or mix two flavors (ie: mango and strawberry) for 30,000 VND ($1.30 USD). It's quite a show to see the ice cream maker mash the fruit along with the milk, flatten the mixture, and then rolled the rectangular pieces into eggroll pieces.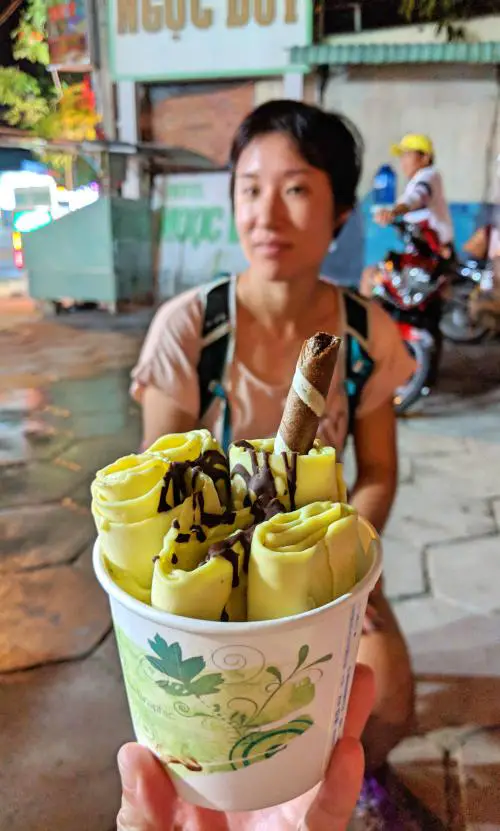 ---
Hope this post has inspired you to visit Mui Ne, Vietnam when you visit South Vietnam. It's worth the extra effort to come here to relax and check out the various attractions in Mui Ne.  
Do you want to visit Mui Ne when you travel to Vietnam? What gets you most excited about visiting Mui Ne? Share a comment below.
Love this post? Save it on your Vietnam or Asia boards on Pinterest!
Photo credit: Instagram images used in this post with the photographer's permission.
Pin #2 photo credit: Ekaterina Abramova via Scopio Photos