Phu Quoc Island (Phú Quốc) is known as one of the best islands in Vietnam to visit. Located south of Cambodia and in Vietnam's Kien Giang Province, Phu Quoc has everything that you can ask for – pristine beaches, fun attractions, and pure relaxation. We had a quick weekend getaway in Phu Quoc and enjoyed every minute of it. A visit to Phu Quoc is also a perfect addition to your vacation in South Vietnam.
Here is our recommended Phu Quoc 2 days itinerary which provides a good introduction to this island. With this 2 days itinerary, you'll discover the what to do in Phu Quoc, places to stay, where to eat, transportation options, and more.
For this 2 days Phu Quoc Island guide, click on the links below to learn more and jump to sections.
*Disclosure: Headed to Phu Quoc?! We have affiliate links in this post. If you click on them and make a purchase, we receive a small commission. There is no extra cost to you. Appreciate the support.
---
How Long to Stay in Phu Quoc?
We had two days in Phu Quoc Island as we left at 6:15am on Friday and returned on Monday by 1pm. It was a short weekend trip from Ho Chi Minh City and enough time to recharge from the week.
On a return visit, we would stay for three to four days. With plenty of things to do in Phu Quoc, such as beaches, local attractions, lounging around, and hiking, you'll need more time to explore.
---
How to Get to Phu Quoc
The easiest way to get to Phu Quoc Island is to fly from your original destination in Vietnam to Phu Quoc International Airport (Phu Quoc airport code: PQC). You can take Vietnam Airlines, VietJet Airlines, or Jetstar Airlines from Ho Chi Minh City or Hanoi. From Ho Chi Minh to Phu Quoc Island, it's a quick 1-hour flight.
Don't forget to purchase the tickets a few months before your date to get the cheapest price, especially on VietJet. We booked our tickets 3 months ahead of time.
---
How to Get Around on Phu Quoc
Similarly to other places in Vietnam, the best form of transportation is via motorbike/scooter. The beaches and local attractions aren't close together and far from most hotels unless you're staying in a resort area. Although we love walking to various places, walking around Phu Quoc consume most of your day.
You can rent a motorbike from the airport or from your hotel/accommodation. If renting from the airport, there will be guy holding up a sign that says, "Cho Thue Xe May" (English translation: "Motorbike for Rent") but you'll need to know Vietnamese for pricing. For 2.5 days, it was 370,000 VND ($16 USD) for an automatic motorbike.
What is great about Phu Quoc is that the roads are wide, mostly paved, and not a lot of traffic. We encountered some areas that didn't have any riders which would be perfect to practice your motorbiking skills if you're a new rider.
Taxis are available on the island but we didn't see too many of them.
---
Phu Quoc Itinerary – Day 1: City Attractions & Beach Time
Hooray. You've arrived in Phu Quoc. You're most likely recharged from the short plane ride and ready to explore the island. Take a taxi or rent a motorbike from the airport to drop off your luggage at your Phu Quoc Island accommodation. Now, we're off to explore the Phu Quoc attractions.
Phu Quoc Countryside
Phu Quoc is famous for growing pepper, and once the pepper dries then it's known as the "peppercorn." There are four varieties grown on the island – black, red, green, and white. The black pepper is considered the highest quality on the island due to the nutrients from the soil. Why not see the pepper plants for yourself at the Phu Quoc Countryside?!
The Phu Quoc Countryside is a nice getaway from the main area of Phu Quoc. Located towards the north of the island, it's a peaceful ride to this farm area. Take a free 45-minute tour of the farm area with a purchase from the store or ordering drinks from the bar. The store has plenty of peppers on sale such as black pepper, white pepper, red chili pepper, chili salt, and more which are perfect as souvenirs.
During the tour, the best part was seeing the fresh peppers on the trees and even trying a green pepper pod (it's a potent pepper flavor). The tour passed by the Kinh Beer on-site microbrewery which produces beer exclusively for Phu Quoc Island.
Although the tour didn't take up the full 45 minutes, we wish there were more fruits grown in the area as it seems like most of the fruits was already harvested for the season.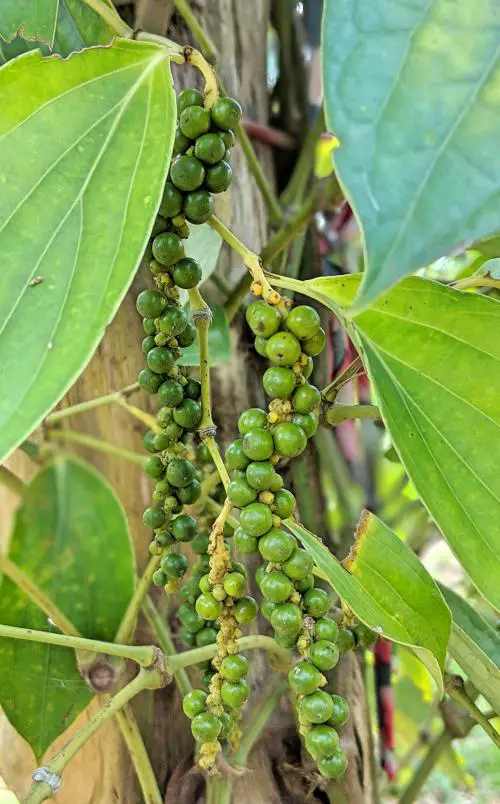 Sao Beach
If you're longing for quality beach time, then head down to the south of the island to visit Sao Beach (Bãi Tắm Sao). Sao Beach is one of the best beaches on Phu Quoc with some of the whitest sand that we've seen in Vietnam. It's much better than the beaches at Nha Trang and Mui Ne.
With free admission and parking, it's a popular place to hang out throughout the day. Feel free to rent a lawn chair to get some sun or find a spot to relax along the beach. For the lawn chair rentals, we saw one place had them for 50,000 VND ($2.10 USD) for the lawn chair and 30,000 VND ($1.30 USD) for the mattress.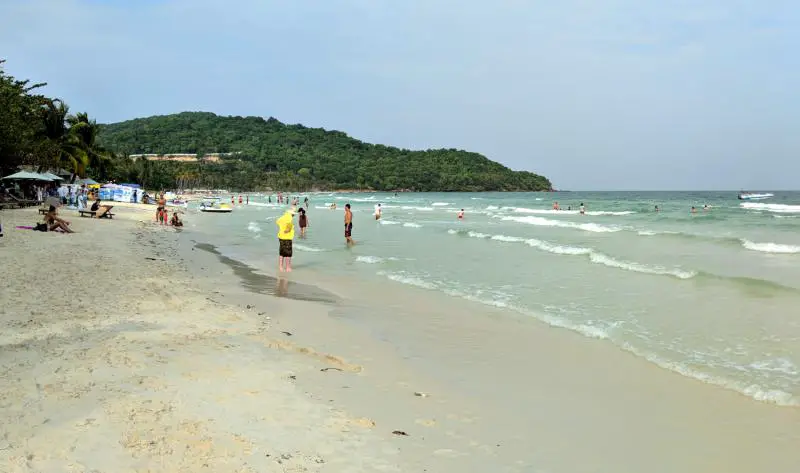 You'll love swimming in the clean, blue, and warm waters. Swings tend to be the Instagram craze so don't forget to take your obligatory swing photos during the low tide. Jet skis are available for rental.
If you're hungry or thirsty, there are several restaurants in the beach area to order food and drinks. You can also find sellers selling grilled fish balls and meats on sticks or sliced fruits along the beach.
Phu Quoc Night Market
Visiting the night market is an incredible way to end the day with shopping and eating. The Phu Quoc Night Market is easy to find with the lit sign of "Chợ Dêm Phú Quốc" off of the intersection of Ly Tu Trong and Bach Dang If you've been eyeing a fruit print shirt and matching hat, you can buy the set here or purchase other souvenir items.
As with food, try one of the fruit crepes, Thai rolled ice cream, samples of flavor nuts, and more. There are also restaurants in the area to grab dinner.
Unfortunately, the street is narrow so you'll share the road with motorbikes who are trying to take the same road. It can get crowded so if you're claustrophobic, you may want to avoid.  
---
Phu Quoc Itinerary – Day 2: Snorkeling Day Trip
We're off to our day trip today with John's Tours which consisted of visiting pearl and sim wine shops and snorkeling at two islands, Gam Ghi Island and May Rut Island.
John's Tours is a well-known tour agency on the island that provides daily boat and island day tours. You can also book online or directly at John's Tours agency office for booking. However, we purchased the tour from a representative (or maybe the middleman) who was nearby the Night Market. It cost us 400,000 VND ($17 USD) per person for the tour as we had a group of 10.
Morning Session
The tour started with a 7:30am morning pick up from our hotel. We went to breakfast and to two pearl stores – one at Long Beach Pearl Center and another off of a side street. Unfortunately, it wasn't a tour of the pearl production but a place to purchase beautiful pearl jewelry. Not sure why we had to go to two places as we sped through the second pearl place in a few minutes.
We also went to a small sim wine factory. The production of sim wine is one of the unique aspects of Phu Quoc Island. The wine is made from the purple fruit from the rose myrtle tree so it's on the sweeter side. Our mini-tour also had the opportunity to try samples of the wine and purchase the ones that we liked.
Tip:
If you buy the sim wine or any other alcohol and are flying domestically in Vietnam, you can bring the (up to 5) unopened bottles onto the plane. No need to check in your luggage. What an accommodating way to bring back some souvenirs to your friends living in Vietnam.
The driver dropped us off at the An Thoi Harbor to board one of the dozen John Tour boats. We waited for an hour on the boat for guests to arrive until departure past 11:30am.
Tip:
Bring snacks and extra water with you prior to getting on to the boat. Lunch is served after 1:30pm. The boat has a snack bar area to purchase things but the prices are higher.
Afternoon Session
Our snorkeling tour consisted of visiting two islands, Gam Ghi and May Rut, and lunch on the boat. The waters around the two islands were stunning blue and also warm. The tour provides complimentary snorkels, fins, and life jackets if you don't know how to swim. While the snorkel gear is average, it's recommended to bring your own. 
The Gam Ghi Island is a good introductory place to go snorkeling to see a variety of fish and corals. If you go farther out from the crowds, some of the corals are massive.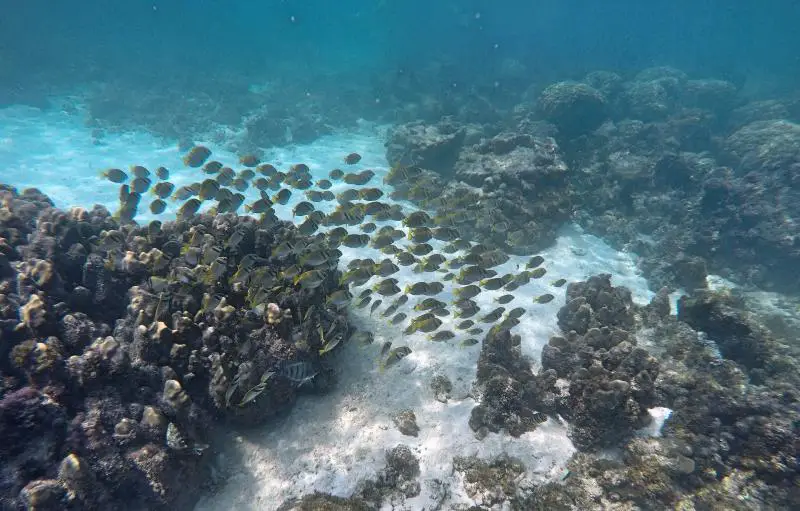 Lunch is on the boat and served family style. The meal consisted of fried fish, morning glory vegetables, pork and vegetable soup, shrimp and pork claypot, eggs, rice, and fresh fruit. It's a balanced meal to regain energy from our first snorkeling adventure.
After lunch, the next snorkeling destination is at May Rut Island. Although not as impressive as Gam Ghi with the corals and fish, it's still a nice place to wade in the waters. The water is shallower as we were closer to the beach so snorkels and fins aren't necessary. Some visitors opted to relax on the beach instead of snorkeling or went fishing here as the boat provides the fishing equipment.
Whew! What a full day before going back to the main island.
The end of the day consisted of dinner nearby the hotel. You can also go back to the Night Market.
---
Phu Quoc Itinerary – Day 3: Departure
It's time to say good-bye to the island life and head back to the airport to catch your flight. Don't forget to return your motorbike rental.
If you have extra time prior to your departure, visit a beach to see the sunrise or for a last minute swim in the area.
We recommend that you check out the Bai Truong Beach (Bãi Trường). Although you cannot see the sunrise as this beach is on the west side of Phu Quoc, it's an awesome area to check out Burning Man-esque sculptures. Climb up the giant bamboo made sculpture and check out the unique head and long-legged elephants sculptures.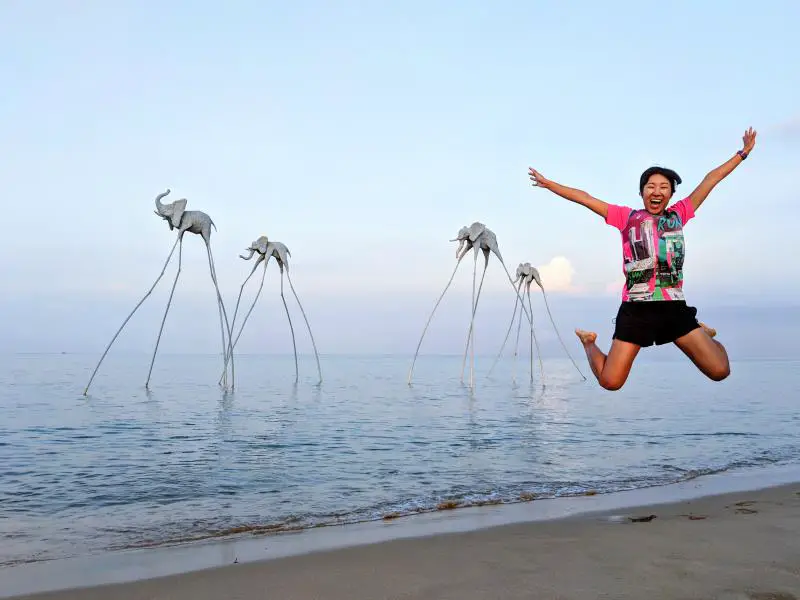 To find this beach location, it's next to the Kosmos Phu Quoc Villa and Golden Sand Bar. It's a tranquil place to spend an hour in the morning.
---
Add these Other Places During your Phu Quoc 3 Days Itinerary
If you have extra time on your third or additional days on the islands, consider visiting these places:
Ride the long cable car.
What better way to get an aerial view of the island than to take a long cable car ride?! It's a 8 km (5 miles) ride to An Thoi and Hom Thom Island, aka Pineapple Island and the location of the Sun World Hon Thom Nature Park. Sun World is the largest amusement park company in Vietnam that has two well-known theme parks in Danang – Sun World Ba Na Hills and Sun World Danang Wonders. 
Visit the Phu Quoc Prison Museum.
While this place is not for the faint of heart, it's an eye-opening place to learn about the history of the Vietnamese torturing people during the Vietnam War. The prison was known to use extreme torture and punishments, such as placing people in barbed wire cages called "tiger cages." (If you're in Ho Chi Minh City, you can see similar torture devices at the War Remnants Museum or when visiting Con Dao Islands.)
Tour a fish sauce factory.
You can't help but visit a fish sauce (nước mắm) factory when you're in Vietnam. Fish sauce is the most important sauce in Vietnamese cuisine. Yes, it's a strong scent as it ferments in the barrels but oh so good!
Phu Quoc is known to produce a lot of fish sauce. Visit one or more of the factories to tour the facilities and learn about this pungent sauce. Check out the Khai Hoan Fish Sauce Factory or the Phung Hung Fish Sauce for the tour.
Hike to the Suoi Tranh Waterfall
We're huge fans of waterfalls and would love to see this waterfall on a next visit. It's recommended to visit during the rainy season from May to September as the cascading falls will be larger.
---
Where to Stay in Phu Quoc
Luckily Phu Quoc accommodations are plentiful based on your budget. You can choose the cheaper guesthouses, hotels, or all-inclusive resorts. Click here to find your perfect accommodation in Phu Quoc.
We stayed at the Sun and Sea Hotel which was less than a 10-minute motorbike ride to the Night Market. The no-frills hotel was clean, quiet (even though it's along the main road), had air conditioning, and provided water bottles for our stay. Plus, there was motorbiking parking. Although we didn't have breakfast at the hotel, there are plenty of local restaurants in the area. Rooms are around $30 USD per night. Click here to reserve a room at Sun and Sea Hotel.
---
Where to Eat in Phu Quoc
We noticed that the food on Phu Quoc island was more expensive than in Ho Chi Minh City. While there are Western food options, the best bet to keep cost down is to eat local Vietnamese food or even local seafood restaurants. Here are some recommended places to eat.
Bún Kèn Út Lượm
Established in 1980, this street stall serves a hot bowl of bún kèn. The dish has rice noodles in delicious coconut soup with ground up fish mixed with lemongrass, chili, and garlic and topped with papaya salad. The soup is a similar flavor to the Malaysian laksa. It's a perfect spot for breakfast and only costs 25,000 VND ($1.10 USD).
Address: off of the main road, ĐT 47 and TT. Dương Đông, Phú Quốc, Kien Giang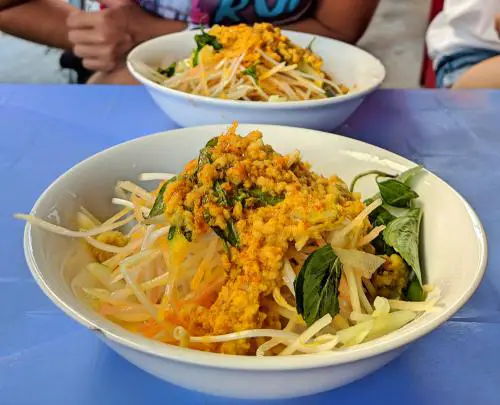 Bánh Canh Phụng
This is a popular noodle shop that serves bánh canh bột lọc with fish cake, pork bone, and chicken. The noodles are thicker due to the tapioca flour and rice mix. The broth is sweet with the mix of the meats and seafood. Located nearby the Night Market, this place is a good place for breakfast. A bowl of noodles is 40,000 VND ($1.70 USD).
Address: 27 Đường Bạch Đằng, TT. Dương Đông, Phú Quốc, Kiên Giang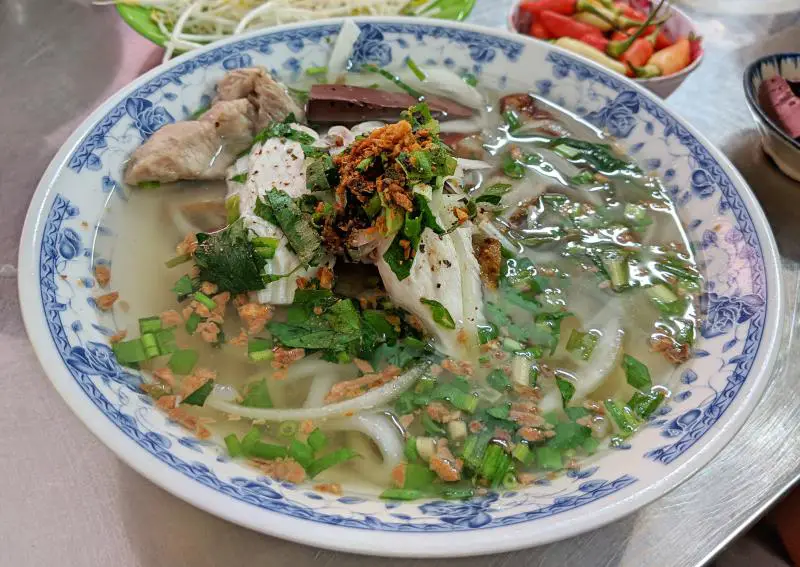 Giang Nam Seafood Phu Quoc
You have to try the seafood on Phu Quoc Island. This restaurant serves tasty grilled seafood from fish, shells, shrimps, and more. Check out their seafood offerings for the day. We found the combo platters were affordable at over 100,000 VND ($4.30 USD) and even had fresh fish for 50,000 VND ($2.15 USD) each. Although service was a bit slow and the electricity went out one time, it was still a good experience for BBQ seafood.
Address: 125 Đường Trần Hưng Đạo, Dương Tơ, Phú Quốc, Kiên Giang
Aroi Dessert Cafe
If you need a drink to cool off from the heat, check out Aroi Dessert Cafe. It's a cute place to hang out with your friends and enjoying dessert (the matcha roll cake is good!) and tea or coffee. In the back patio area, you can sit on a bean bag or couch to enjoy views of the ocean.
Address: 24 Đường Trần Hưng Đạo, TT. Dương Đông, Phú Quốc, Kiên Giang
---
We've wrapped up our 2 days itinerary in Phu Quoc Island. It's a wonderful place to add to your South Vietnam itinerary for some beach time and relaxation.
If you want to head to another picturesque island in Vietnam, check out Ly Son Island or Con Dao Islands. Both are hidden gems with fewer tourists compared to Phu Quoc Island, yet has beautiful waters and snorkeling opportunities. 
Headed to Phu Quoc? What are you the most excited for when visiting? Let us know in the comments below.
Love this Phu Quoc guide? Save this post to your Vietnam Pinterest board.
Featured photo credit: Anton Shuvalov via Unsplash