Traveling to Vietnam and need some inspiration on practical things to buy in Vietnam as gifts for yourself, families, and friends? You're in luck as there are plenty of beautiful and useful souvenirs to buy.
From the stunning handicrafts and artwork to delicious snacks and coffee, we're sharing some of the best souvenirs from Vietnam that you need to purchase. We'll also share food-related gifts that you can purchase from regional areas such as Ben Tre and Can Tho in the Mekong Delta, and Phu Quoc Island.
We know that your loved ones don't need another keychain or magnet so here's a list of souvenirs that are affordable, unique, and an awesome reminder of your travels if you decorate your home or office.
Head to the nearest local markets, night markets, shopping center or browse around the bookstores and boutique stores to find these gifts. Even if you don't typically buy souvenirs, you may come across something that may never see again (cue the FOMO – Fear of missing out). You'll never know what you'll find during your shopping adventure.
Don't forget to bargain if there aren't any prices listed, especially at the local markets. If you know some Vietnamese then that can help with your bargaining skills.
Now, let's find souvenirs to buy in Vietnam!
---
Best Souvenirs from Vietnam That are Practical and Affordable
1. Conical Hats
Conical hats, also known as rice patty hats, farmer's hat, and nón lá in Vietnamese, is one of the iconic accessories for the Vietnamese people. The hats are made out of bamboo or palm leaves and are durable and light. They help shield people's faces from the sun. It's recommended to find the conical hats with the chin strap so the hats won't slide down your head. You'll find the plain hats or ones that are decorated with stitchings or paintings.
We love wearing these hats, especially during boat rides. They were a lifesaver during our boat ride through the mangroves at Tan Lap Floating Village as the sun can get too hot in the afternoon.
Where to Buy: You'll find the conical hats at the local markets (ie: Benh Thanh Market in Ho Chi Minh City) or if you're in a tourist destination spot.
2. Vietnam Fruit Shirts (Printed Hawaiian Shirts)
Thailand is famous for printed elephant pants. Vietnam has its version with fruit shirts that is simila to printed Hawaiian shirts.
You'll see these unisex shirts at the night markets and at the tourist markets. Choose from banana, pineapple, watermelon and pineapple, or other mixed fruit patterns. The banana shirts are the most popular. Besides the shirts, you can even get matching shorts, a baseball cap, or women's maxi dresses. Children and baby clothing are also available in these fun prints. These shirts are one of the best things to buy in Vietnam for loved ones.
Where to Buy: Head to the nearest local market or night market to pick up these shirts. If you're in Hoi An, you'll see vendors seeling these clothing items everywhere.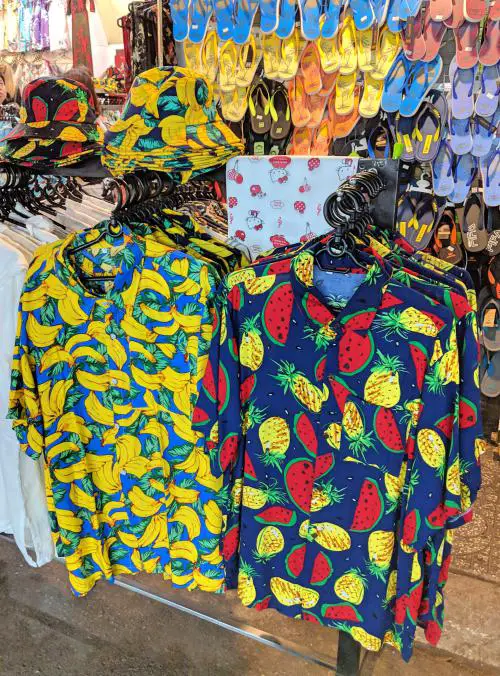 3. Vietnam T-Shirts
If you have friends and family who are t-shirt collectors, Vietnam has fun and cheesy t-shirts to purchase as souvenirs. For example in Ho Chi Minh City, you can find a Patagonia logo with Saigon print shirt that says, "Saigonia."(We're not sure about the copyright infringement but it's a cool shirt. Or find food-related shirts such as "I Love Phở," "Phở King," Tiger beer, or even of the Vietnam flag – red shirts with the yellow star. There are so many "punny" options.
Where to Buy: Check out the night markets or local markets for the latest designs.
4. Tailored Clothing and Shoes
This is a gift more to yourself than to family and friends, but you can get customize clothes, such as áo dài (Vietnamese outfits) and suits, and shoes made for you. While Hoi An is famous for having tailored clothes made, you can get these done in the main cities such as Ho Chi Minh City or Hanoi. 
What is great about the tailored clothes is that you can choose your style (it's best to bring a photo of your design), choice of materials (silk, linen, wool, etc), and have the fit made to your body size. We've had dress shirts, suits, and business pants made in Hoi An during our Vietnam family trip back in 2013.
If you're in Ho Chi Minh City, check out Minh Nguyen Tailor on 38 Thủ Khoa Huân in District 1 as Justin recently had a suit and a two shirts made.
The process is the same for choosing your shoes. I had a pair of boots made and they were great. It was too hard to find the right boot size in the U.S. due to my calf size.
Tip:
Don't forget to add at least 3 days to your Vietnam itinerary to account for fittings and adjustments to your customized items.
5. Lacquerware
Vietnam prides themselves with their lacquerware skills. It takes about 20 stages to produce lacquerware products from bowls, jewelry boxes, paintings, wine bottle holders, and more. During our trip to Hanoi, we saw incredible paintings of Vietnam landscapes created by eggshells and mother of pearl. It's an intricate process with creating the lacquer from resin and designing the product, yet the details are superb. For someone who loves art, it's the perfect souvenir to bring home.
Where to Buy: Local markets and souvenir shops will sell the lacquerware. If you're on a tour, you can ask your tour guide to bring you to a lacquerware shop. 
6. Bamboo and Coconut Products
For sustainable Vietnamese souvenirs, consider purchasing products made from bamboo or coconut. Choose from a variety of bamboo kitchenware such as spoons, chopsticks, bowls, and straws. As with coconuts, we like the bowls made out of the coconut shells. It's great for holding dessert. Another fun item is a small hand purse made of the coconut shells. The great thing about these items is that they are light and won't add too much load to your luggage. 
Where to Buy: We found a lot of the coconut products sold in the Mekong Delta area (which is a good place to visit as a day trip) as coconuts are plentiful in Ben Tre. You can also find these at the local markets and souvenir shops.
7. Reusable Bags Made from Rice Bags
Plastic usage is a huge issue in Vietnam. With the lack of proper recycling, plastic bags end up in the rivers or burned.
To travel sustainably, we recommend using reusable bags. It's not just any reusable bags but ones made out re-purposed rice bags. They're unique, stylish, and a good conversation starter. The bags come in different sizes and types such as grocery, messenger, duffel bags, laundry, and even some for your laptop and tablets. You definitely want to have one or more of these bags to bring back from Vietnam. 
Where to Buy: We found these at the Saigon Eco shop on 65-61 Lê Lợi, Bến Nghé, Ho Chi Minh.
8. Silk Lanterns
If you've been to Hoi An, you'll remember the colorful lanterns illuminating along the streets. The lanterns are stunning with the silk patterns and are always a crowd favorite. To brighten your home or transform your backyard, purchase a few of these lanterns as gifts.
Where to Buy: You can get these at the local market in the main Vietnam cities. If you're in Hoi An, you can find these lanterns everywhere for purchase.
9. 3D Pop Up Greeting Cards
You'll often find vendors on the side of the street selling the 3D pop up greeting cards. The cards are beautiful with the intricate designs that pop up. Choose from a variety of designs such as birthdays, congratulations, or a blank card with a Vietnam landmark. The great thing about these cards is that they're flat and won't take up space in your luggage.
Where to Buy: We've seen these for sale by people sells these on the sidewalk nearby Ben Thanh market in Ho Chi Minh City. You can also find these at the local markets but they may be harder to find.
10. Postcards
When was the last time you received a letter in the mail? Although postcards are typical souvenirs, we like to send postcards to ourselves and to families and friends. There is something special about a handwritten postcard that traveled thousands of miles to arrive in your mailbox. The Vietnam postal service is incredibly slow so you may receive your postcard 2-3 weeks after postage.
If you're in Ho Chi Minh City, send your postcard from the iconic Central Post Office (Bưu Điện Trung Tâm Thành Phố) in district 1.
Where to Buy: Any souvenir shop or post office.
11. Woven Handicrafts
If you love unique handmade handicrafts, visit the women in the ethnic minority areas of Vietnam. The women are often in rural and impoverished areas and sell their handicrafts as a living. The woven products are gorgeous with the colors and traditional patterns. Purchase items such as purses, wallets, backpacks, scarfs, and more. You'll get the opportunity to see the women creating their work and have the chance to talk with them (helpful if you have a Vietnamese-English translator.) Let's be responsible travelers and support these women preserving their culture. 
Where to Buy: If you're in the Cat Tien National Park area, check out the Ta Lai Village to see the Ma, Stieng, and Tay ethnic people. We've also met a woman weaving products in the Chicken Village area in Dalat.
12. Coffee
The Vietnamese coffee is strong, especially their iced coffee with condensed milk and sugar (cà phê sữa đá). As souvenirs, the popular coffee bean choices are: Robusta, Arabica, and civet (also known as weasel poop.)
We don't recommend the civet coffee as the civets live in small cages and are force-fed coffee cherries in order to defecate them. Also, most low-cost weasel poop coffees are not produced by civet cats but by a chemical process.
We suggest buying the beans from a coffee shop to ensure that the coffee is authentic. There was a coffee scandal in 2018 of a seller low-grade ground coffee mixed with batteries and dirt.
Tip:
Don't forget to get a "phin" coffee filter to enjoy a cup of intense coffee.
Where to Buy: Local markets, souvenir shops, or coffee and tea chains such as Trung Nguyên Legend and Phúc Long Coffee & Tea.
13. Tea
Tea is also an important drink in Vietnam. Many of the teas in Vietnam are grown in Bao Loc, the Central Highlands close to Dalat and Northern part of Vietnam. We always recommend loose leaf teas versus the tea bags for better flavor. We love the tea from Dalat's L'ang Farms brand for their oolong tea.
Besides the traditional tea shops, the tea culture has changed with an influx of pearl milk tea shops in the main tourist and university areas. Look for the Taiwanese milk tea shops, such as Gong Cha and Koi Tea to get your boba tea fix. 
Where to Buy: Local markets and grocery stores
14. Cashews
You can never have enough snacks/food to bring back from Vietnam. This country is the leading cashew exporter and for good reason. While most people recognize the cashews, the Vietnamese cashews are no ordinary cashews. They are 1.5 times the size of regular cashews, salted, roasted, and even have skin on them. Don't peel off the skin as they provide a unique flavor to the cashews.
Where to Buy: You can find these at the local supermarket or head to the local market to purchase in bulk. You'll find a giant bag of cashews at the sellers' shop.
15. Dried Fruits
Living in Vietnam has spoiled us as we have fresh access to tropical fruits every day. Since you can't transport fruits back home, bring back dried fruits as souvenirs.
Not only are the dried fruits a healthy snack, but also colorful. Choose from purple dragon fruit, jackfruit, soursop, guava, mangoes, pineapples, strawberries, kiwi, and much more. Check the packaging or with the seller if the dried fruits have added sugar.
Where to Buy: We prefer the local supermarkets as they've been pre-packaged and will have an expiration date. You can also find them at the local market. 
16. Vietnam Chocolate
Did you know that Vietnam produces cacao and makes chocolate? The chocolate is pretty good too! It's one of the best food souvenirs from Vietnam. 
The two popular chocolate companies are Marou and Alluvia Chocolatier. Marou is a popular choice as the company was started by two French people who wanted to find good chocolate. They use cacao from 6 provinces in South Vietnam – Dak Lak, Lam Dong, Dong Nai, Ba Ria, Tien Giang, and Ben Tre in their products.  In Ho Chi Minh City, several restaurants use Marou in their desserts. The other company, Alluvia Chocolatier, uses cacao from the Mekong Delta it's grown in rich alluvium soil to give the chocolate a unique flavor. 
Where to Buy: There are specific Marou and Alluvia Chocolatier stores in the main cities such as in Ho Chi Minh City. Visit the Maison Marou Saigon that has beverages and desserts (must try them as they are decadent!) and sells chocolate bars (Address: 167-169, Calmette, Phường Nguyễn Thái Bình, District 1, Ho Chi Minh City). You can also try specialty grocery stores as these are considered higher-end chocolates (ie: Annam Gourmet Market in Ho Chi Minh City). 
17. Coconut candy from Ben Tre
Ben Tre is located south of Ho Chi Minh City and along the Mekong Delta. It's known as the capital of coconuts.
If you visit Ben Tre on a Mekong Delta tour, don't forget to purchase coconut candy. The candy is made on-site at the local facility and the coconut milk is mixed with unique flavors such as peanut, pandan, and durian. It has the perfect amount of sweetness and wrapped in an edible rice wrapper.  
Where to Buy These: If you can't take a tour, head to your local supermarket to pick up a package of the coconut candy. 
18. Hu Tieu Noodles from Can Tho
Have you had a hot bowl of hu tieu (hủ tiếu) during your trip? If you loved the noodles, take a Can Tho tour of the Cai Rang Floating Market, and purchase the rice noodle from a local factory.
What is unique about the rice noodles is that they are colorful and naturally dyed from local vegetables such as beets (for purple color) and an orange spiky fruit called gấc (for orange color). Normally you see the plain white colored noodles at the supermarket. This would be a wonderful souvenir from Vietnam for someone who loves to cook.
Where to Buy These: We haven't seen the noodles sold anywhere else besides Can Tho's noodle factory. 
19. Peppercorn from Phu Quoc Island
Phu Quoc is well-known to grow various peppers on the island due to the nutrients on the island. While you explore Phu Quoc, stop by a pepper farm to see the fresh peppers for yourself. You can purchase black, red, green, and white pepper either grounded or peppercorns at the farms. The popular items are the black peppercorn as these are considered the highest quality peppers and the chili salt which is used for cooking and paired with unripen fruits.
Where to Buy These: Support the local farmers on Phu Quoc and purchase the peppers from them. At least you'll know that they are fresher than at the local supermarket. 
20. Sim wine from Phu Quoc Island
If you are a wine lover, consider purchasing sim wine while you visit Phu Quoc. The wine is made from the purple fruit from the rose myrtle tree, so the flavor is sweeter.
Tip:
On Vietnam's domestic flights, you can bring up to 5 unopened bottles of wine through Security.
Where to Buy These: You can find a local sim wine producer to purchase the wine. 
---
We hope you enjoyed this list of what to buy in Vietnam. While this is a snapshot of what to buy, you'll need to check out the various stores and markets to see what is good to purchase. Every city has various offerings that will satisfy your shopping needs.  
There are some things that we didn't mention such as hand embroidery, silk products (ie: silk scarves), wooden clogs, and snake wine, but you're more than welcome to purchase them.
While you're in Vietnam, add these places to your Vietnam itinerary
Which Vietnam souvenirs are you interested in purchasing? Share a comment below.
Headed to Vietnam? Save this post to your Vietnam Pinterest board.​