We're almost done with January, and time is going by quickly! It's been almost a month since we moved from California to Vietnam (our anniversary date is December 2017). We wanted to share an update on living in Ho Chi Minh City (or Saigon as we'll use interchangeably) as expats.
Adjusting to our new lives here has been easy. We've traveled to Vietnam before so we knew what to expect with the environment and crazy traffic. The weather warm. It's usually about 25°C (77°F) at night and 32°C (90°F) in the day. Our bodies have sort of adjusted to the humidity. The past few days have rained even though it's the dry season. When it rains, it dumps. It's an interesting experience to see streets flooded and the streets empty until the rain stops. Regardless, we have this guide of what to do on a rainy day in Ho Chi Minh City.
Our apartment in Vinhomes Central Park in the Binh Thanh district (located between District 1 city center and District 2 Thao Dien) is beautiful. The Central Park community park is well-maintained, spacious, and a good place to hang out.
In addition, the food has been out of this world with both Vietnamese and other cuisines. We'll share more about each of these items in more detail later.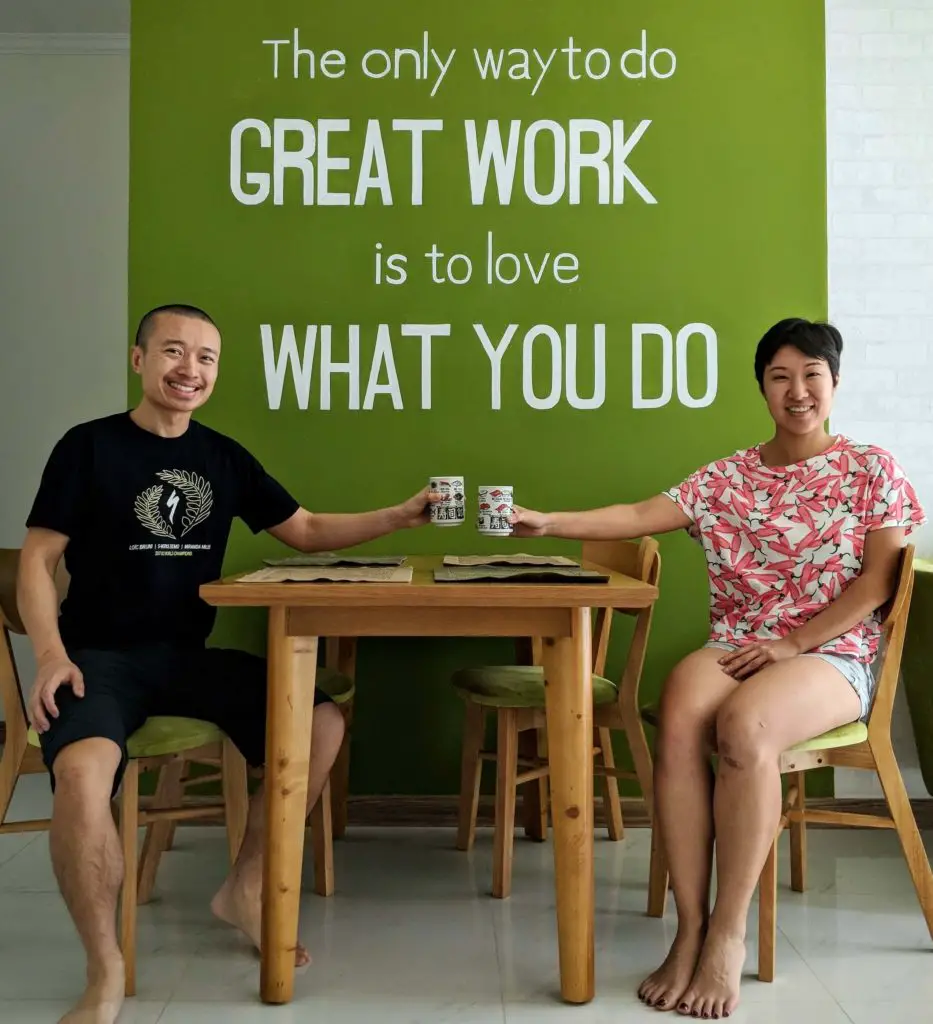 Some people ask if we miss home. Home is where the heart is, yet haven't missed the Bay Area California too much.
Our families and friends are in our thoughts and we continue to stay connected via email, text, Facebook Messenger, WhatsApp, and other social media platforms. We're grateful for our families for managing our incoming mail and helping out with our personal things from afar.
The time difference is a challenge as Vietnam is 15 hours ahead of California, but everything works out. It's also winter season back home and the rest of the U.S. After seeing friends' photos of snow and rain, we don't miss the chapped hands and lips or wearing 2-3 layers of jackets to stay warm.
Below are some of our experiences as expat living in Ho Chi Minh City. If you're living in Ho Chi Minh City, please share us your experience with this city and don't hesitate to reach out to us to meet up!
---
Life is calmer outside the District 1 city center.
We loved the hustle and bustle of District 1 as tourists. How can you forget the craziness with the narrow streets filled with scooters and cars, the smell of cooked foods on every street corner, and hundreds of people hanging out around the shopping malls and Nguyen Hue pedestrian street in the late evenings? It's an experience that everyone should have at least once in their lives.
After living in Binh Thanh district, it's a relief to be away from the noise and the crowds. Don't need to worry about bumping into another person in front of us while walking. Life is less stressful and simpler. It's fun and relaxing to walk down an alleyway or a side street to see how people managing a living – selling produce, running a coffee shop, restaurant, scooter repair business, and more. Every week we take a stroll along Võ Duy Ninh for our produce shopping and buy fresh soymilk and tofu.
---
We walk around everywhere.
Public transportation is limited in Saigon, which is why traffic is horrendous. Some of the ways to get around Ho Chi Minh City are local buses and ride-hailing companies, such as Grab to help you get to your destinations. We often take a Grab ride from Binh Thanh district to District 1 city center and it could be less than $2 USD depending on the time and traffic conditions. It's quite affordable.
We're hopeful that the Ho Chi Minh Metro system will be completed by the time we leave Saigon in 2020 so we can ride it. The main hub is at Ben Thanh Market in the heart of District 1 city center. It'll end in Suoi Tien Amusement Park, which is a great day trip to visit from the Ho Chi Minh City center.
---
Driving in Ho Chi Minh City via Motorbike Is Chaotic.
During our first month living in Ho Chi Minh City, we didn't own a motorbike. Motorbikes are ubiquitous in Vietnam. We utilize our two legs and walk around as much as we can. On a good day, my Fitbit fitness tracker has over 18,000 steps (equivalent to 7+miles). Not having a motorbike limited our travel abilities at the time, especially during commute hours. If you travel during the commute hours, you'll see the gridlock everywhere!
Update: We ended up purchasing a used Honda Vision in February 2018 with a help of a friend. Justin didn't know how to ride a motorbike until he had to drive it back home. Trial by error. Traffic is still chaotic yet Justin knows how the road operates. It's like a school of fish on the road.
I'm not confident with my motorbike driving abilities and I'm still scarred from the accident on Easter Island. I'll stick with using Grab if I need to go out. 
---
Crossing the streets is scary and doable.
Some may saying that crossing the streets in Saigon is one of the most daunting things to do. Rules are "suggestions" in Saigon. Many of the streets don't have a crosslight or a crosswalk. What are you supposed to do? Waiting for traffic to subside will never happen with the incoming scooters and cars.
Here are some helpful tips:
It's best to watch the direction of the incoming cars, motorbikes/scooters, and carefully walk across the street while keeping a steady pace. You also need to watch out for the opposite direction as many motorbike drivers tend to drive against traffic.

Do not stop in the middle of the street, otherwise, an accident will occur.

Do not cross if there are lots of cars or buses either. The bigger vehicle wins.
Motorbikes travel slowly (less than 10-20 mph) so the drivers maneuver their motorbikes in any direction whether it is in front of you or behind you. It's much safer than what it looks like. You can apply the same technique to cross 4-8 lanes of traffic.
Once you cross the street, you can take a big sigh of relief.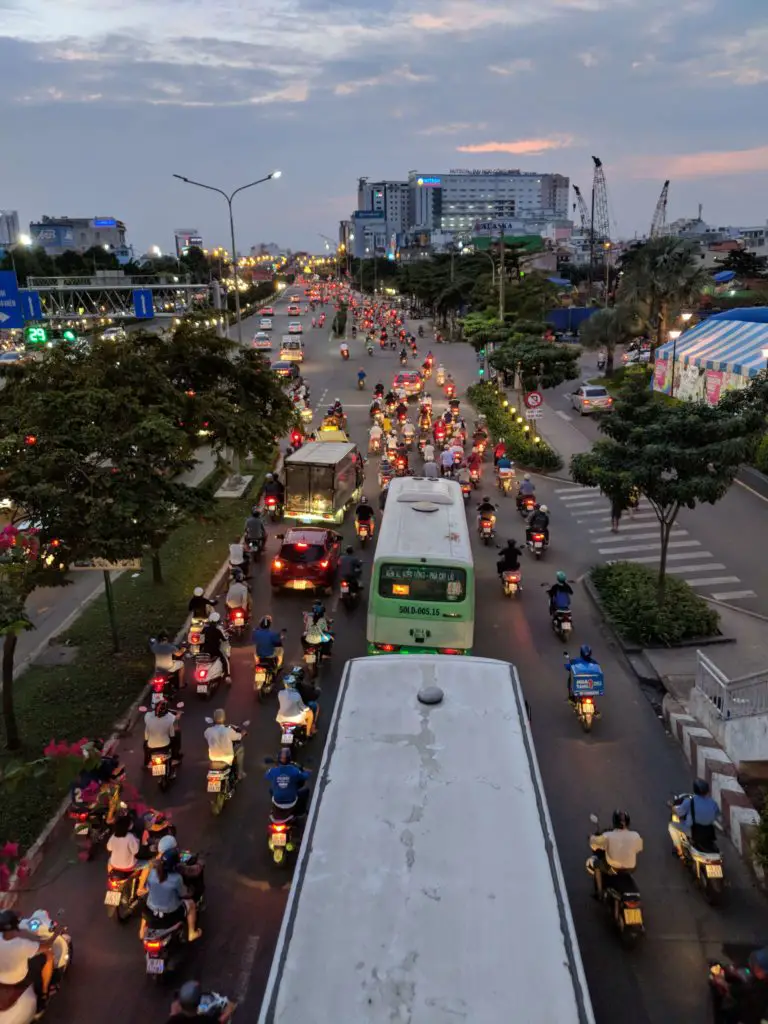 ---
Language barrier is challenging.
During our first week out, we ventured to a side street to buy produce and didn't know how to say anything in Vietnamese. After using hand gestures and praying that no one would overcharge us, everything turned out okay. We had several vendors pull out the money from my wallet since we didn't know numbers yet.
Learning Vietnamese is a necessity to build connections with people. Although many people speak English in Saigon, the local restaurants do not have an English menu and it would take some time to translate everything in the Google Translate app which doesn't yet support live Vietnamese translations.
After receiving some recommendations, we registered with Vietnamese Language Studies for our classes. We feel victorious after the first week of study as we know our numbers and how to greet people. Thank you to our instructor, Cô Thùy, for her patience as we grasp the language.
---
Food is amazing with the flavors and cheap.
We loved Vietnamese foods back in San Jose and Los Angeles, California. The food in Saigon is as good, if not better. The umami flavors of the fish sauce, chili, and fresh herbs along with the meats and vegetables make a delicious meal. We also can't forget ché as dessert!
Portions are smaller than what we're used to, so we end up ordering twice the amount of dishes and have food coma after the meal. Luckily we don't have a scale to weight ourselves since we're eating way too much.
The food is cheap compared to the U.S standards. Back at home, lunch would cost $8-$10+ USD, and in Saigon, you can eat a healthy and filling meal between $1-$5. $5 may be on the high end too. Many of the local noodle shops advertise a bowl for 20,000 VND – 25,000 VND ($.88 to $1.10). Or you can eat vegan food with a plate of rice for the same price. We try to cook at home a couple of times a week, but we eat at restaurants more often now.
Besides Vietnamese food, Saigon has an awesome variety of foods with some restaurants tasting pretty authentic. There are hamburgers, pizza, Indian, Japanese, Thai, Middle Eastern, and burritos too. So many places to choose from to satisfy your palate. 
Since we love the Japanese food in Ho Chi Minh City, we created a guide on the delicious and affordable Japanese restaurants to try!
---
Buying things is easy.
We thought it would be challenging to buy necessity items in Saigon. However, our area has convenience stores called VinMart on every street. It has everything from household goods to groceries.
If we're looking for a wider selection of items, we travel to Mega Market (along Song Hành, An Phú, An Khánh) in District 2. It's similar to a Super Walmart back in the U.S, and has everything from clothes, 50 different ramen/instant noodles, household goods, groceries, and more. If you do go to Mega Market, the store doesn't give plastic bags at checkout and encourages customers to bring their own bag or purchase a reusable one.
As with buying groceries, everything gets weighed by someone at the department's counter who adds a barcode sticker on it. The process is faster for the checkout cashier as there isn't a need to weigh the product.
---
Any place is good to hang out.
Saigonese know how to relax and enjoy life. Any place can be a place to sit down and enjoy oneself. Whether it is hanging out an overpass to fish in the Saigon River or on a beach chair on the sidewalk, it's awesome to see people embrace relaxation and enjoyment. We've even seen people set up a hammock on the water docks or between two poles. Life is complete when also having a cup of coffee or tea, can strike up a conversation with a neighbor, or even sing karaoke together on the sidewalk.
By the way, the Saigon people know how to celebrate national events and have a party. When there is a football match and Vietnam wins, you'll see and hear the celebration on the roads with flags waving and honking from motorbikes. Traffic may be a mess after the winning match, so just a fair warning!
---
We're thankful for the opportunity to live in another country. We can't wait to explore more of the area and the rest of the country.
Do you live in Ho Chi Minh City as an expat? What are your thoughts regarding living here?
Read More About Vietnam Travels:
Pin post for later!