Ho Chi Minh City (Saigon) is pancake-flat so if you're looking for a day hike in South Vietnam, you'll need to spend 1.5+ hours one-way to get to the nearest hiking trail. One of the popular places to go hiking or even trail running is Dinh Mountain (Núi Dinh in Vietnamese). 
Located in Ba Ria-Vung Tau Province and close to the coastal beach town of Vung Tau, it's a moderate hiking trail through the forest and has mini waterfalls to explore. Dinh Mountain's hiking trail distances vary depending on your hiking level and are doable to complete in 3+ hours round trip. 
We've been to Dinh Mountain three times since living in Ho Chi Minh and enjoy leaving the city for day trips. We join a hiking group each time since we love the vibe and enthusiasm from the other hikers.
If you're itching to experience this Nui Dinh day hike, continue reading this post on how to hike Nui Dinh Mountain on your own, how to prepare for this hike, and what to know about the trail.
*Disclaimer: This post contains affiliate links. As an Amazon Associate, we earn from qualifying purchases. If you click on them and make a purchase, we receive a small commission. There is no additional cost to you. Appreciate the support.
---
Dinh Mountain Hiking Overview
Dinh Mountain is suitable for all hikers as there are different routes to take. Beginners will enjoy the routes that are 3-5 kilometers (1.9-3.2 miles) long, while advanced hikers can tackle the 7-13 kilometers (4.4-8 miles) long trails. 
The trails are not marked that well. While there are colorful markers of red, blue, yellow, and green routes, you can get lost as there are side trails everywhere. For your first visit, it's recommended to go with a local or friend who knows the hiking route.  
Challenging level: Easy-Moderate
Distance: Various from 3-13 kilometers (1.9-8 miles)
Summit height: The highest peak overlooks Vung Tau and reaches 460 meters (1,500 feet high) high. There isn't a summit market so the height is based on our Strava information. 
Time to complete: 3-4+ hours round trip (for the 13 kilometers route)
Helpful tips: The trail isn't marked so you'll need to follow the signage of red, white, green, or yellow stripes along the trail. The colors represent which route you're on. Do not follow the red arrows that are attached to trees as they point in various directions and will confuse you.  
---
How to Get to Dinh Mountain
From Ho Chi Minh City to Dinh Mountain
It's recommended to leave Ho Chi Minh City early so you can have cooler weather hiking up Nui Dinh. We recommend leaving HCMC between 4:30am to 6:00am. 
The easiest way to get to Dinh Mountain is by hiring a driver or riding a motorbike. You can also ride a bicycle as we've seen some parked in the parking lot. From Ho Chi Minh City's Ben Thanh Market to Dinh Mountain, it's 72 kilometers (44.7 miles) and will take 1.5-2 hours one-way depending on traffic. Motorbikes and bicycles will take a little longer as they cannot use the highway. 
There are two routes for parking. Input "Suối Đá" (click here to see pin) or "T.A.C Station" (click here to see pin) into Google Maps for directions. Suối Đá is a good location if you want to visit the waterfalls during the rainy season. Otherwise, use the "T.A.C Station" pinpoint and drive up on the mountain until you reach a parking lot (Chỗ gửi xe leo núi Dinh) here. This is a more popular starting point for hiking Nui Dinh.  
You'll leave HCMC along CT01 Highway and then go on QL51 Highway as you head towards Ba Ria. 
From Vung Tau to Dinh Mountain
It's easy to get to Dinh Mountain from Vung Tau. It'll take 25-30 minutes as the trail is only 18-22 kilometers (11-13.7 miles) away. Head along QL51 towards Ba Ria and take the exits to either Suối Đá or T.A.C Station. 
---
When To Do the Dinh Mountain Hike
It doesn't get any better than South Vietnam weather since it's consistent all year round. The average temperature is 27-30℃ (81-86℉) so you can do this hike at any time.
While the rainy season (May-October) may deter you from doing the hike, it's still doable. Most of the trail is covered so the hiking trail won't be too muddy. Also, the rainy season would be better to visit as there will be waterfalls for you to swim in. During the dry season, the water dries up.
As with any hike in South Vietnam, it's recommended to start the Dinh Mountain hike as early as possible for cooler weather. The heat humidity is always a challenge. Luckily, many parts of the trail are covered by trees so there is shade available.
Weekends tend to be the most crowded so you may consider visiting on a weekday.
---
What to Wear for the Nui Dinh Mountain Hike
Technical t-shirt – Wear moisture-wicking shirts as you'll be sweating with the rolling hills.
Comfortable hiking pants or shorts – Any hiking pants or shorts will work with this hiking trail. 
Hiking boots or running shoes – The route isn't technical so hiking boots aren't necessary. Yet, it's helpful to have when hiking down steeper areas. We wear these: men and women hiking boots. You can also wear running shoes if you plan to run along the trail or want to wear lighter shoes as a portion of the trail is paved.
---
What to Bring for the Nui Dinh Hike
Water – Purchase water at the small shop next to the parking lot or bring your own. To reduce plastic waste, we recommend that you use this reusable water bottle.
Snacks 
Hat – Some parts of the trail get sunny so it'll be helpful to have this hat.
Sunscreen – Protect your skin from the sun. Check out this sunscreen.
Sunglasses – Here are our favorite sunglasses.
Rain gear or umbrella – If you encounter rain, feel free to bring a rain jacket or an umbrella. Buy this portable umbrella and/or men rain jacket or women rain jacket. You can hide under a tree until the rain passes. 
Swimsuit – If you plan to hang out in the waterfalls
Cash  
Trash bag – The trail doesn't have too much garbage which is great to hear, yet you want to bring your trash back home or to your next destination. Along the main road, there is a collection of plastic water bottles which is a shame to see. Recycling is non-existent in rural areas. 
Health or travel insurance documentation – It's always helpful to have some sort of travel or health insurance documentation on you. You may get injured on your hike and may need medical assistance from nearby facilities. Buy travel insurance here. 
An extra set of clothes and toiletries– There are showers available if you want to wash up before returning to Ho Chi Minh City. Bring toiletries and a towel. It costs 10,000 VND ($.40 USD) per person to use the showers.
---
Admission Cost to Nui Dinh Mountain
The hiking route is free to access! There is a small parking fee for motorbikes and vehicles at the parking lots.
What to Expect on the Dinh Mountain Day Hike
We can't stress this enough. Before heading on the hike, you must memorize or take a photo of the hiking routes. There is a board next to the parking lot on Dinh Mountain. It's easy to get lost in the forest area since there are small routes that look like hiking trails, but who knows where you'll end up. 
That's why we also recommend bringing a friend who knows the routes. It's always good to have the "buddy system" for support. 
Tips Follow the markers with the red, blue, green, or yellow stripe. 
Starting the Hike
We're starting the hiking route from the parking lot on Dinh Mountain which you can get to from following the road from T.A.C Station entrance. We're specifically focusing on the red route and cutting across the yellow route (to follow along the road) so it'll be about 12 kilometers (7.6 miles).
From the parking lot area, continue straight on the road. After a few minutes, Dinh Mountain welcomes you by going uphill. It'll be a leg burner starting. You'll need to push through since there are rolling hills. 
You'll turn left when you see a sign for Chùa Hang Mai (Hang Mai Pagoda) and this will take you to the peak. You'll have to climb up more hills. 
Once you enter the forest area, there are gorgeous bamboo plants and tall trees to provide shade. It's peaceful to walk through since there won't be anyone around.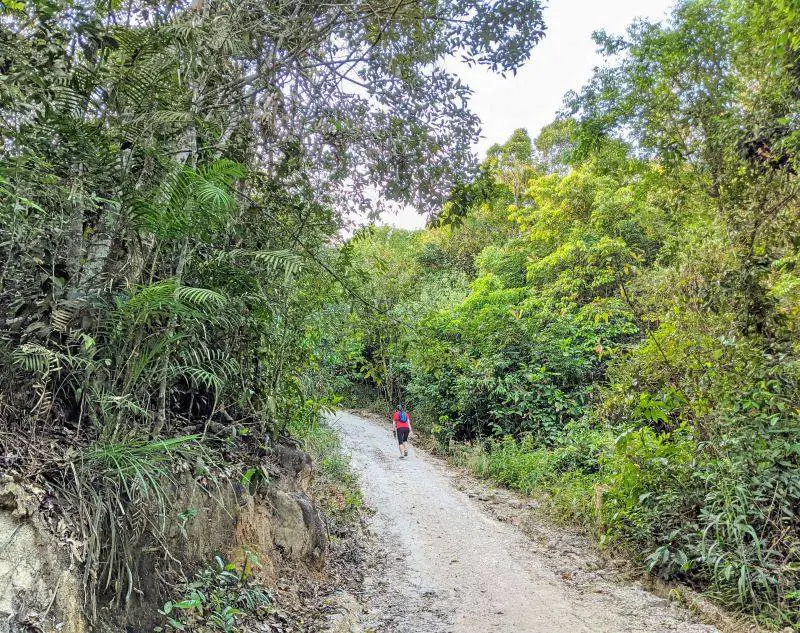 Reaching the Summit (Peak of the Compass)
After 40 minutes, you'll see a T-intersection with a bench and blue 20L water jugs on the hiking route. You'll also see a rock with the phrase, "Đỉnh La Bàn" (translated to "Peak of the Compass") in yellow. Turn left and climb up the route. This is where you'll reach the highest peak of Nui Dinh at 460 meters (1,500 feet high).
Congratulations!! You've reached the giant rock overlooking the Ba Ria-Vung Tau area. Enjoy the views from above and take a short rest. You'll also notice a faded compass that has been painted on the rock. 
Depending on what time you visit this summit, you may see people camping overnight here or watching the sunrise.  
Head back down to continue the rest of the hiking. Don't forget to turn left!
Tip: Be careful when going downhill as there are lots of dry leaves on the ground. We've seen many people slip and fall for going too fast down this path. 
Continue the trail and you'll pass through smaller temples and pagodas. There are some beautiful Buddha statues for photo opportunities. If you're Buddhist, you can also pray.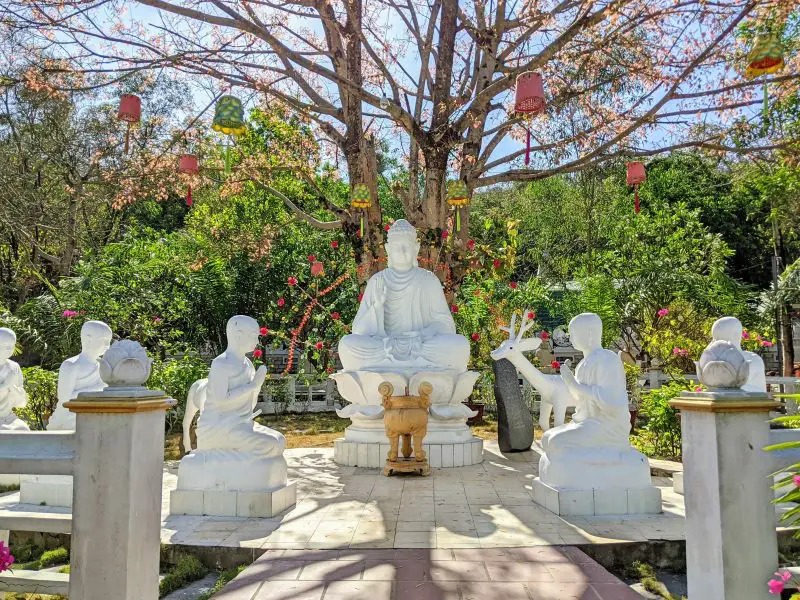 You'll end up on a wide paved road where you'll turn left and continue the route. There will be forest and trees on both sides of the road and you continue until the T-intersection and then turn right. Don't forget to follow the red stripe marker! 
Reaching the Waterfalls
You'll eventually reach Suối Đá and you can swim in one or all 5 of the waterfalls during the rainy season. Look for the signage (hồ for waterfall). It's required to wear life jackets if you decide to swim in the falls. Don't expect huge waterfall cascades like in the Dalat area as it's more of a stream. 
During the non-rainy season, the waterfall stream area is dry so cross over the rocks and continue the hike. Make sure that you're following the red marker and head back up the mountain. The signage is to Hồ #5 (Waterfall #5.) 
**Note, there is a larger waterfall called Suối Tiên which has a larger waterfall compared to Suối Đá. We haven't been there yet so we're not sure where it's located. 
Getting Lost
Once you climb up the route, there will be a point where you reach the trail and need to decide whether to turn left or right. The red marker disappears. Don't panic! You're not lost yet!
Turn right and continue the path. You'll end up seeing a pagoda with a giant Buddha and walk along the railing with barbed wire. This part requires some hill climbing but it's not as steep as when starting the hike.
Continue turning right and walk through the forest. Then you'll reach the bottom of the mountain and on the main road. Remember how we went up the road from T.A.C Station? This is it!
Returning to the Parking Lot
If you want to return to the car and parking lot, turn left on the road. Now you're on the "yellow" route. 
You can continue on the red route but we're not sure where it continues. There are several red markers along the main road yet we haven't done that part yet. 
Since it's the main road, you'll share the road with vehicles. If you need refreshments, there is a kiosk selling fresh sugarcane juice (nước mía), fresh coconuts (trái dừa), and cold drinks. 
Otherwise, you're almost at the parking lot! Don't worry. This last bit on the road is flat so you can take your time and have a leisure walk. 
Once you've reached the parking lot, sit down, stretch your legs, and relax. Take a shower if you want to freshen up before returning to Ho Chi Minh City or visit Vung Tau for beach time. You could also extend your weekend trip by staying overnight in Vung Tau.
---
Final Thoughts
Hiking Dinh Mountain is a fun day hike to do when you're living in Ho Chi Minh or stopping over from Vung Tau. Since it isn't far from either of those two places, it's a nice little getaway for some adventure and nature time. Enjoy your time on the mountain!
Looking for fun things to do in Ho Chi Minh City? Check out these posts: