Whenever our family and friends visit Vietnam, we suggest that they stop by Ho Chi Minh City (also still referred to as "Saigon," the original name of the city before the Vietnam War) to say "hello." Ho Chi Minh City is located in the southern part of Vietnam. Since we've been living here for over three years, we love showing the best of Ho Chi Minh City to everyone! Yay to a local's perspective!
How many days should you stay in Ho Chi Minh City? We suggest spending at least three days in Ho Chi Minh City as a part of a longer Vietnam itinerary. You could visit as you make your way from North to South or focus specifically on South Vietnam. Three days is the perfect amount of time to explore the city without feeling rushed and burned out. If you have extra time in Ho Chi Minh City, consider spending 6 days here.
When you first arrive, you'll notice how large and busy it is. With motorbikes and cars everywhere and over 19 districts (areas) and 5 districts in the rural area, there is a lot of activity in the city. Depending on your direction, you could still be in Ho Chi Minh City if driving two hours away from the city center.
While Ho Chi Minh has a development boom with a new subway line and apartment buildings, it's still a fabulous city, albeit a little chaotic to explore, go shopping, eat delicious food, and learn about Vietnam history. 
With this Ho Chi Minh City 3 days itinerary, we're sharing the top things to do in Ho Chi Minh City, how to travel around the city, and other helpful travel tips. We'll also include pricing to the attractions in Vietnamese dong (VND) and U.S dollars.
The 3 days will go by quickly! We're assuming that you've landed in Ho Chi Minh City either super early in the morning or the previous night. Feel free to change the itinerary depending on your timing and your interest. 
Now, continue reading on what to do during your three days in Ho Chi Minh City!
Click to jump to a specific section of the Ho Chi Minh City 3 day itinerary. 
Disclaimer: Visiting local Ho Chi Minh City attractions? We're giving you a heads up that this post contains affiliate links. If you click on them and make a purchase, we receive a small commission. There is no additional cost to you. Appreciate the support.
---
When to Visit Ho Chi Minh City
Ho Chi Minh City has two seasons – 1) hot and humid or 2) hot, humid, and rain. The average temperature is 30-32℃ (86-90℉) in Ho Chi Minh City. 
The rainy season is from April to October, while the dry season is from November to March. Since we're in Southeast Asia, prepare for rain throughout the year.  Luckily, the rain doesn't last all day. It'll rain for an hour and then skies will clear up.
Don't worry. The rain is a normal part of life. Many people hide underneath awnings or stay at a cafe. 
---
How to Get to Ho Chi Minh City
Most visitors arrive in Ho Chi Minh City by plane and land at the Tan Son Nhat International Airport (or Domestic Airport). You'll need to have a visa before landing at the airport. If you're a U.S. citizen, you can apply for an e-visa here.
**Note: At the time of publication, tourists are not allowed to enter Vietnam. We'll keep monitoring the situation until the borders re-open.
After going through Immigration and getting your check in luggage, it's easy to take an official taxi to your accommodations.
Once you exit the Departure doors, turn left to the end of the pillars and there will be an official taxi queue. You can also call a ride-hailing car via Grab app with a pick-up in the waiting zone. We'll share more information about the transportation options in the section below. 
*Tip: Stop by one of the SIM card counters as you exit the airport to pick up a SIM card. You can get unlimited 4G data for cheap at around 200,000 VND ($8.70) for 2 weeks. Or, click here to pre-order your SIM card in advance and pick up at the airport.
From the Domestic Airport side, the taxi queue is outside of the Arrivals doors. Just walk straight across to see the row of taxis. 
From the airport to the city center (District 1), it'll take about 30 minutes by car depending on traffic. 
---
How to Get Around Ho Chi Minh City
Traveling around Ho Chi Minh City is easy. There is plenty of public transportation available such as local buses, ride-hailing cars, and taxis. We'll provide a snapshot of how to get around Ho Chi Minh City below.
Taxis are plentiful and you can track one down in the main areas of Ho Chi Minh City. Take either a Mai Lin (green color) or a Vinasun (white color) taxi as these are two reputable companies and they use the meter to track the payment. Some taxis accept credit cards as payment.
Grab ride-hailing is Southeast Asia's equivalent to Uber. It's the popular ride-hailing service in Vietnam. You can also use other companies such as Go-Jek. Grab will have either cars or motorbikes available and payment can be done via credit card through the app or by cash. 
Walking is doable yet the sidewalks are not the greatest. Most of the time, sidewalks are used for parking motorbikes so you'll get a sliver of a pathway. Or, end up walking on the side of the street. 
---
Map of Where to Go in Ho Chi Minh City 
---
Ho Chi Minh City Itinerary: Day 1 – Local Attractions
On your first day in Ho Chi Minh City, we're exploring the historical landmarks of the city and wandering around District 1.
1. Visit Notre Dame Cathedral.
After you've enjoyed your breakfast either at your hotel or from a street vendor, head to the Notre Dame Cathedral (Nhà thờ Đức Bà Sài Gòn in Vietnamese). This church is one of the famous buildings in Ho Chi Minh City. The architect, Jules Bourard, designed the Cathedral and the French-built it between 1863-1880. It's been used for service since 1959. 
Roads were built around the cathedral as it's now located in the middle of a traffic circle. Just remember to cross the street slowly! 
The front of the cathedral is a Virgin Mary statue, so it's a nice photo shot with the cathedral in the background. 
Unfortunately, visitors are not allowed to enter the cathedral. Since July 2017, the cathedral is getting major renovations and is expected to reopen in 2023 or later. 
Address: 1 Công xã Paris, Bến Nghé, Quận 1, Hồ Chí Minh
2. Cross the street to go to the Central Post Office.
Ho Chi Minh City's Central Post Office (Bưu điện Trung tâm Sài Gòn) is another iconic landmark. You can't miss the golden yellow building with French architecture. The Central Post Office was constructed between 1886-1891. It's still currently used as a post office building.  
When you first enter the post office, you'll see a giant portrait of Ho Chi Minh (also known as Uncle Ho) in the back of the building. It's as if he is watching over the visitors and locals who enter the post office. 
If you're not sure who Ho Chi Minh is, he is an important political figure as he was a former president of Vietnam, the leader of the nationalist movement against the French, and a proponent of Communism. More information about his biography here.
Even though it's your first day in Ho Chi Minh City, you can buy souvenirs at the gift shops. The prices are fixed so you don't need to worry about bartering. You can also buy postcards from the gift shops and send them from here. There are spots inside the post office to write postcards. 
Address: 2 Công xã Paris, Bến Nghé, Quận 1, Hồ Chí Minh 
Opening Hours: 7:00am-7:00pm (Monday-Friday), 8:00am-6:00pm (Saturday-Sunday)
3. Browse through Book Street. 
If you're coming out of the Central Post Office, turn right and walk 1 minute to go to Book Street (Đường Sách Thành Phố Hồ Chí Minh). It's one of the hidden gems in Ho Chi Minh City.
You'll love the opportunity to explore small bookshops selling books in English and Vietnamese. You may score a good bargain too! Some of the shops sell adorable gifts such as recyclable tote bags, journals, and birthday cards. There is also a cafe if you want to sit down for a break. 
Another reason to visit this place is that it's shaded and covered with trees. Plus, motorbikes and cars are not allowed to go through the street so you'll have peace of quiet in a touristy location. 
Address: Đường Nguyễn Văn Bình, Bến Nghé, Quận 1, Hồ Chí Minh
Opening Hours: 8:00am-10:00pm
*Tip: If you need a snack break after visiting these three attractions, check out My Banh Mi which has delicious sandwiches and fresh juices. This place is close to the Post Office.
Address: 57 Nguyễn Du, Bến Nghé, Quận 1, Hồ Chí Minh 70000
Opening Hours: 7:00am-10:00pm
4. Visit the Independence Palace.
Ready to transport yourself back to the 1970s? Independence Palace (also known as the Reunification Palace and Dinh Thống Nhất) is a former home and workstation of South Vietnam's President during World War II.
The building finished construction in 1966 but received damages during the war. The front gate was bulldozed on April 30, 1975, to signify the end of the Vietnam War (American War in Vietnam's history).
Independence Palace has four levels. All the rooms are preserved so you won't be able to enter, however, you can see from the doorway or walkway. You'll get the chance to look inside the rooms where important meetings were held. There are also insights into the lifestyle of the President's family with the cinema, entertainment room with a bar, and helipad.
If you head to the top level, a helicopter is present on the helipad. The basement level is interesting as it's the bunker level with the communication system in place. 
You'll need a minimum of an hour to explore this building. 
Address: 135 Nam Kỳ Khởi Nghĩa, Phường Bến Thành, Quận 1, Hồ Chí Minh 700000
Opening Hours: 8:00am-4:00pm (They are closed during lunchtime)
Admission Cost: 40,000 VND ($1.70 USD)
5. Hang out at the coffee shop at Cafe Apartment.
You may be exhausted from walking around and the humidity, so head to a coffee shop to relax and rest. 
Visit the name-branded coffee shops such as Trung Nguyên Legend, Highlands Coffee, Phúc Long and Tea, and Cộng Cà Phê. There is even Starbucks but it's way overpriced. 
For a unique opportunity, sit at one of the coffee shops/cafes at Cafe Apartment along Nguyen Hue Walking Street. Cafe Apartment is one of the coolest places to visit during your 3 days in Ho Chi Minh City. As a former apartment building, it's now converted to a building with boutique shops and cafes. The building itself is a bit dilapidated but it's a part of the charm. 
Take the flight of stairs to visit each of the levels. Or, you can take the elevator and pay 3,000 VND ($.13). 
You can't go wrong with any of the cafes. Try the iconic drink, iced Vietnamese coffee with condensed milk (cà phê sữa đá). The coffee has a stronger flavor using robusta beans and also filtered with a coffee phin. The cafes also have tea and iced beverages. 
Address: 42 Nguyễn Huệ, Bến Nghé, Quận 1, Hồ Chí Minh
Opening Hours: 8:00am-10:00pm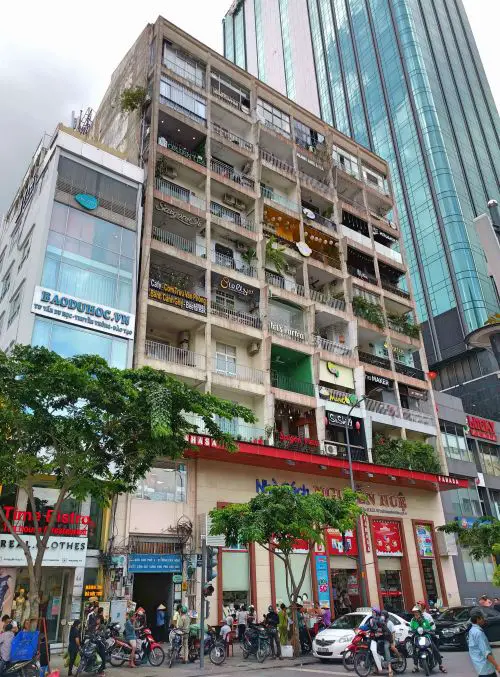 6. Walk along Nguyen Hue Walking Street.
Nguyen Hue Walking Street (Nguyễn Huệ) is one of the best spots to go people-watching. While you can walk along this 900 meters/.5 miles long pedestrian-friendly walking street after your break at the Cafe Apartment, we suggest that you eat dinner and return to this street in the evening. 
The evenings are where you'll see children playing and families and couples hanging out on the benches. Similar to New York City, some people dress up as characters such as Elmo or Cookie Monster to take photos with visitors. There are people who are clad in gold (including a painted gold face) and pretend to be a mannequin. You'll need to pay a tip (minimum of 20,000 VND/$.90) to take a photo with them. 
Depending on the time of your visit, the walking street may have performances and festivals. These activities will be closer to the riverside. You can also consider crossing the major road to walk along the river. Just cross very slowly!! Cars and motorbikes will not stop for pedestrians.
On the weekends, Nguyen Hue Street is closed to motorbikes and cars so you can walk around freely. 
Several photo spots along the walking street are:
Cafe Apartments

– The building is photogenic as the building lights up. 

Ho Chi Minh Statue

– Since you've already seen him at the Central Post Office, you'll see a bronze version of him with his right arm in the air in front of the People's Committee of Ho Chi Minh City's building. Head to the main street, Le Thanh Ton to see the statue. 

Saigon Garden – It's a building connected with Starbucks and is a hidden gem! When you walk through the lower level of the building, there are many plants and trees along the walkway. It's a peaceful oasis to walk through and take photos. When you walk through the other side of the building, you'll reach Koi Tea (if you need your Taiwanese bubble tea fix!)
7. Visit Ben Thanh Market Night Market.
You've already accomplished a lot on your first full day in Ho Chi Minh City. If you have the stamina, check out the Ben Thanh Market Night Market. The night market is around the Ben Thanh Market building.
You'll find souvenir items such as coffee, clothing (tons of counterfeit Nike and Under Armour stuff), shoes, and backpacks. You can also skip as we'll head to the Ben Thanh Market shops tomorrow.
**At the time of publication, the night market is closed. We'll update this section when it reopens. 
Address: Chợ, Đ. Lê Lợi, Phường Bến Thành, Quận 1, Hồ Chí Minh 700000
---
Ho Chi Minh City Itinerary: Day 2 – Local Attractions & Shopping
On your second day in Ho Chi Minh City, we're visiting a museum, doing some shopping, and also giving yourself some TLC (tender loving care). You may be tired from the previous day, so we'll visit fewer attractions today. 
1. Learn about Vietnam's history at the War Remnants Museum.
War Remnants Museum is an important museum to visit in Ho Chi Minh City. The museum focuses on the Vietnam War, known as the "American War" in Vietnam.
You'll get the opportunity to see the Vietnamese's point of view on the war and how the Americans were the instigators. The museum has English and Vietnamese translations underneath the photos and exhibits. 
Bring some tissues as you read through the harrowing stories of Agent Orange and how this toxic chemical affected people's lives years later. It's sad to see genetic defects passed down through generations. 
Outside the museum has helicopters and vehicles used during the Vietnam War. It also has an example of the "tiger cages" used when the Vietnamese tortured revolutionary people during the war. To be honest, the "tiger cages" shown are not quite the same as what was used.
If you have the chance to visit Con Dao Islands, you'll see that the tiger cages are small rooms where people are chained by the legs or arms.
You'll need at least 1.5 hours to thoroughly go through the exhibits. As a heads up, the museum is biased and has anti-American propaganda. While we're Americans, we understand the biases and the hardships that the Vietnamese people endured. You just need to have an open mind and understand the Vietnamese point of view. As with any war, there are no winners or losers. 
Address: 28 Võ Văn Tần, Phường 6, Quận 3, Hồ Chí Minh 700000
Opening Hours: 7:30am-4:30pm (Closed during lunchtime)
Admission Cost: 15,000 VND ($.65)
2. Use your bargaining skills at Ben Thanh Market.
Yesterday, we suggested that you visit the night market, and today, we're heading inside Ben Thanh Market (Chợ Bến Thành). It's the largest and most popular market to visit in Ho Chi Minh City. The market opened in 1912 and has over 1,000 vendors selling local goods and produce. 
The best thing to do at Ben Thanh is the walk around the endless aisles. It can get overwhelming so take your time. You'll see similar stuff such as ceramic bowls, workout clothes, tropical fruit clothing, souvenir items, and household goods. While it's not stated, many of the branded stuff is counterfeit. 
You'll notice that the goods are not marked with a price. Since this market is in the center of District 1, you'll experience the inflated "tourist prices." It's expected to bargain so you can get the best deal. If you go to Ben Thanh Market when it first opens, vendors tend to give you a good deal as you're the first customer of the day. It's seen as "good luck" if you're the first customer. 
If you don't want to bargain, the outer perimeter of the market has stores with fixed pricing. You'll pay a slightly higher amount for fixed pricing. 
Tip: The building does get hot and stuffy as the day goes on. The ventilation is poor. 
Address: Chợ, Đ. Lê Lợi, Phường Bến Thành, Quận 1, Hồ Chí Minh 700000
Opening Hours: 7:00am-7:00pm
3. Walk around for more shopping. 
If you want to do more shopping, there are boutique stores along Lê Lợi street. You can find fun items such as bags made out of rice sacks or handbags made out of paper. We love browsing through these shops:
Duy Tan – Saigon Artisan

– This place has creative household goods. I love the variety of items such as handbags made from paper and ceramics. 
Address: 84 Đ. Lê Lợi, Phường Bến Thành, Quận 1, Hồ Chí Minh
Opening Hours: 9:00am-9:30pm
Gingko

– Love the clothing at Gingko. They're priced a bit higher but you'll get clothing made in Ho Chi Minh City. The designs are unique as they incorporate Vietnamese culture such as riding a scooter and seeing jumbled cables on the telephone poles.
Address: There are multiple locations. The largest store, Ginkgo Concept Store is at 92-96 Đ. Lê Lợi, Street, Quận 1, Hồ Chí Minh.
Opening Hours: 8:30am-10:00pm
You can also head to Saigon Square 1 which has similar stuff for sale like in Ben Thanh Market but focuses more on clothing. The best part is that the seller is not as aggressive as in Ben Thanh Market and the building has air conditioning. It's also not as touristy as you see more locals buying stuff here.
Address: 81 Nam Kỳ Khởi Nghĩa, Bến Nghé, Quận 1, Hồ Chí Minh
Opening Hours: 9:00am-8:00pm
Across from Saigon Square is Saigon Centre for department stores. When visiting Saigon Centre, head to the basement level of Takashimaya store (which connects with Saigon Centre) for delicious Japanese food. We love getting baked goods from Yamazaki Bakery and fresh sushi for takeout. 
Address: 65 Đ. Lê Lợi, Bến Nghé, Quận 1, Hồ Chí Minh 70000
Opening Hours: 9:30am-9:30pm (Monday-Thursday), 9:30am-10:00pm (Friday-Sunday)
4. See Ho Chi Minh City from an observatory deck. 
If you're interested in seeing Ho Chi Minh City from above, head to Saigon Skydeck at the Bitexco Financial Tower. You'll get the opportunity to view the city at a staggering height of 262 meters (859.6 feet).
Address: 36 Hồ Tùng Mậu, Bến Nghé, District 1
Admission: 200,000 VND for adults ($8.60 USD), 130,000 VND ($5.60) for children (4-12 year olds), seniors (65+), and disabled. 
Skip the lines and buy discounted tickets to Saigon Skydeck in advance here. 
If you want another option, head to Vinhomes Central Park's Landmark 81. Located in Binh Thanh district (about 20 minutes away from Bitexco Financial Tower by car), Landmark 81 is the tallest building in the city at 461 meters (1,512 feet). The Sky View is the observation area between floors 79-81. 
Landmark 81 has a VR game area. You can also try the Miwaku Premium Restaurant, a Japanese fusion place, or Miwaku Cafe Lounge. Just note that the restaurants are on the higher-end due to the awesome views of the Saigon River. 
**We're a bit biased to Landmark 81 since we've been living in Vinhomes Central Park since the beginning of our stay. It's recommended to walk around the park and enjoy the scenery. Children will also love the two playground areas. 
Address: Vinhomes Central Park, 208 Nguyễn Hữu Cảnh, Vinhomes Tân Cảng, Binh Thanh District
Admission: Price varies depending on the time of day. Buy your Landmark 81 tickets in advance here. 
5. Indulge yourself with a massage.
We don't want you to experience travel burnout so self-care is important. Having a massage is one of the best things to do in Ho Chi Minh City. There are reputable massage places to spend 1.5 hours or more to relax and remove tension from the body. 
We've tried a few massage places in District 1 – Miu Miu 3 (also has 4 other branches in the city), Mộc Spa, and Cát Mộc Spa. Any of these places would be a great option!
Miu Miu 3 is our go to place due to the location, and they have an amazing aroma with hot stone, Thai, and Shiatsu massages. You can choose your pressure intensity (light, medium, or hard) for different parts of your body.
Moc Spa uses coconut oil if you do the aroma massage with hot stone.
Cat Moc Spa's Thai massage is a bit intense but oh so good! 
Expect to pay around 430,000-520,000 VND ($18.50-$22.50) for a 90-minute massage at these places. The massages are worth it, plus, they are affordable!
6. Experience the craziness along Bui Vien Walking Street.
If you're looking for the nightlife with cheap alcoholic drinks, affordable restaurants, and loud club music, head to Bui Vien Walking Street. It's also known as the "Backpacker's Street" as many backpackers stay in this area due to the cheap hostels and guesthouses. 
While this place isn't for everyone, we recommend that you visit this street at least once during your Ho Chi Minh City 3 days itinerary. It's Ho Chi Minh's version of Las Vegas with the flashing lights and large signs and a good place to just people-watch. You'll see sellers pulling their carts selling dried squid, people eating snails and shelled seafood on the side of the road, and people blowing fire out of their mouths. 
Tip: Motorbikes and cars are allowed to pass through the street. Watch your belongings and your phone as petty theft occurs here. 
If you're hungry, there are a couple of restaurants to check out. We've tried the following:
Baba's Kitchen

– This Indian restaurant has lots of vegetarian options! 
Address:  274 Bùi Viện, Phường Phạm Ngũ Lão, Quận 1, Hồ Chí Minh
Bún Chả 145 – This tiny Vietnamese restaurant serves bún chả, Vietnamese rice noodles with grilled pork. You'll need to wait in line to eat here. Unfortunately, it's not vegetarian-friendly.
Address: 145 Bùi Viện, Phường Phạm Ngũ Lão, Quận 1, Hồ Chí Minh
Sara Ethiopian

– This Ethiopian restaurant serves some of the tastiest Ethiopian food that we've eaten. (We tried half a dozen Ethiopian places near our hometown in San Jose, California.) Love eating the vegan combo platter as it has six different vegetable options. The injera is so soft and fresh!
Address: 45 Đỗ Quang Đẩu, Phường Phạm Ngũ Lão, Quận 1, Hồ Chí Minh 
Bui Vien Street is about a 20-25 minute walk from Ben Thanh Market so it's recommended to request a Grab car or taxi if you stay up all night. 
---
Ho Chi Minh City Itinerary: Day 3 – Free Day Or Day Trip
On your third day in Ho Chi Minh City, we recommend that you take the time to explore other areas of the city. Or, you can leave Ho Chi Minh City to go on a day trip. Below are some options to consider. We suggest that you choose 1 or 2 attractions depending on where you're going.
If staying in Ho Chi Minh City, check out these places.
1. Explore Chinatown in District 5.
Ho Chi Minh City's Chinatown (also referred to as Chợ Lớn in Vietnamese) is a bustling area with local markets and delicious Chinese food. The best way to explore is to either take a walking or a motorbike tour. You'll get the opportunity to visit traditional temples such as Thien Hau Temple and local markets. 
If you visit Chinatown before the Lunar New Year (Tết Holiday), then you'll see the streets decorated with Lunar New Year decorations. From lanterns to lucky money, it's a gorgeous sight to see the festivities. 
2. Pose with interactive artwork at Artinus 3D Art Museum.
One of the coolest things to do in Ho Chi Minh City is to take photos with 3D interactive artwork at Artinus 3D Art Museum. Pose with ocean creatures, King Kong, shapes, and more. It's a fun place for children to enjoy. This place is located in District 7, so you'll need to take a taxi or call a Grab car to get there. 
Read more about our experiences at Artinus 3D here.  
3. Learn how to cook Vietnamese food. 
You've probably eaten a lot of delicious Vietnamese food during your time here. To remember what you've eaten, consider taking a cooking class. It's a meaningful opportunity to learn more about the Vietnamese food culture and to get hands-on experience in making your favorite dishes. Once you've finished making your food, enjoy your meal since you've put in the hard work and effort. 
Click here to reserve your spot for the cooking class. 
If going on a day trip from Ho Chi Minh City, consider these options. 
1. Take a Mekong Delta tour.
The Mekong Delta is an important river as it connects China, Cambodia, Thailand, Laos, Myanmar, and Vietnam. At a staggering 4,350 kilometers (2,703 miles) long, the river is used to transport goods, farm fishing, and a mode of transportation. 
To get a glimpse of life along the Mekong, take a one day tour to Ben Tre. This area is known to grow fresh coconuts.
In your one day tour, you'll get the chance to ride the sampan boat, try tropical fruits, hear traditional Vietnamese singing, visit a bee farm, try coconut candy, and more. We highly suggest that you buy the coconut candy as souvenirs as they are made fresh and so delicious. The coconut candy with durian is our favorite.  
If you have additional days in Ho Chi Minh, consider taking a tour to Can Tho to see the Cai Rang Floating Market (Chợ nổi Cái Răng) with produce and fruits sold on boats, visit a rice noodle factory, and more.
Check out our Can Tho guide for more information. 
2. Visit the former tunnels used during the Vietnam War at Cu Chi.
Cu Chi Tunnels is one of the highlights of visiting Ho Chi Minh City. If you're interested in crawling through a tunnel that the Viet Cong soldiers experienced during the Vietnam War, then this attraction is perfect for you! 
The tunnels are 250 kilometers (155 miles) long and there are two tunnels to experience – Ben Dinh and Ben Duoc. Most tours will take you to the Ben Dinh tunnels which have been enlarged to accommodate tourists. 
Your tour guide will explain the history and how the tunnels were used during the war. The best part is to crawl into an actual tunnel! Don't forget to have someone take a photo of you going down the tunnel. If you're claustrophobic, you can skip the tunnel part since the walking space is tight.
Click here to reserve a spot for a half-day tour to Cu Chi Tunnels.
3. Embrace the beauty at Tan Lap Floating Village.
Tan Lap Floating Village is a hidden gem in Vietnam. It's a quiet eco-tourism place where you get the opportunity to embrace nature and escape the crowds.
As a part of the Mekong Delta, you'll get the chance to explore the tranquility of the cajuput forest and mangroves. Plus, you can take a 30-minute boat ride through the river or try traditional Vietnamese games. During the September time frame, you'll see beautiful lotus flowers blooming in the waters. 
---
Where to Eat in Ho Chi Minh City
Ho Chi Minh City is the perfect place to eat. There are so many incredible restaurants to eat your way through the city. From Vietnamese food to Western-style food, you'll get the opportunity to try a variety of options. If you're a vegetarian or vegan, there are plenty of restaurants to choose from!
We plan to have a larger list of the best places to eat in Ho Chi Minh City. Check out our posts of delicious burgers and desserts places to visit! For now, here is a snapshot of restaurants to try.
Mountain Retreat | Vietnamese
We love Vietnamese food at Mountain Retreat. It's affordable and so yummy! The dishes are smaller so you can order a variety to try with your group. We're fans of the deep-fried baby tilapia, garlic fried rice, morning glory vegetables with garlic, and fried tofu.
Plus, you have to come here for the rooftop setting! You'll get to see the Saigon Centre, Bitexco Financial building, and other high-rises from the roof. It's also a good spot to see the sunset. 
Call to make a reservation specifically for the rooftop dining area. 
Address: Rooftop, in the alley of 36 Đường Lê Lợi, Bến Nghé, Quận 1, Hồ Chí Minh 
Pizza 4P's | Pizza
We know. Pizza flavors and how pizzas are made are personal choices. Yet, the pizzas at Pizza 4P's are delicious! The Japanese owners originally couldn't find mozzarella cheese in Vietnam and instead of importing it, they decided to make their own. The house-made cheese is made at a cheese studio near Dalat, in the Central Highlands. 
All the pizzas are really good. There are traditional toppings such as parma ham margherita and burrata anchovy. The pizzas with creative toppings are spicy seafood, salmon sashimi, tandoori chicken curry, and shrimp mayo. If you're a vegetarian, there are vegetarian options. Yay! The four flowers pizza is one of our favorites and has four different types of greens as toppings.
You'll need to make a reservation in advance. 
Address: There are multiple locations. For a full list of locations, click here.
Ebisu | Japanese
We eat a lot of Japanese food – at least three times a week. Ebisu is a solid Japanese restaurant. The menu is extensive as it has small appetizers, sushi, grilled foods, homemade udon, and more. We love the quality of the sushi here and order the 10 piece sushi nigiri moriawase every time. 
Address: 35 Bis, Đường, Mạc Đĩnh Chi, Đa Kao, Quận 1, Hồ Chí Minh 
66 Song Hành, Khu đô thị An Phú An Khánh, Quận 2, Hồ Chí Minh
---
Where to Stay in Ho Chi Minh City
Ho Chi Minh City has an abundance of Airbnbs, hostels, guesthouses, hotels, and luxury hotels to choose from. Depending on your budget, you can have a private bedroom and bathroom for $20 per night for 2 person occupancy. Or, you can stay at a higher-end hotel for over $100 per night.
Since most of Ho Chi Minh City attractions are located in District 1, it's recommended to stay closer to the Ben Thanh Market area. You'll be within walking distance to restaurants, bars, and clubs. 
Make a reservation at one of the accommodations in Ho Chi Minh City here.
Here are some options to choose from based on the positive reviews.
Budget-Friendly (Under $50 per night)
Lotus Boutique Hotel

is a good place to stay overnight due to the location. It's nearby the Fine Arts Museum and only a few minutes walk to Ben Thanh Market. The hotel offers complimentary breakfast, ensuite bathroom, and access to the swimming pool on the rooftop.

Make a reservation for Lotus Boutique Hotel here. 
Tam Hostel

is also another affordable option. While breakfast isn't provided, guests enjoy the location and the friendly staff. There are bunk bed mixed dormitories, private rooms, and family rooms available.

Reserve your spot at Tam Hostel here. 
Mid-Range ($50-$99)
Win Suites

is in the perfect location as Ben Thanh Market is only a block away. Guests appreciate the friendly staff and the complimentary breakfast. If you need to relax, the hotel has a rooftop swimming pool and jacuzzi.

Book your room for Win Suites here.
Central Palace Hotel

is a fabulous location as it's close to the Independence Palace. Guests love the spacious rooms and comfortable beds. Breakfast is included in the price, although there are mixed reviews with the offerings. Otherwise, there are also plenty of restaurants nearby the hotel.

Book a room at Central Palace here.
High-End ($100+)
Norfolk Hotel

is a good option as it's only a five-minute walk from Ben Thanh Market. When Justin used to travel to Ho Chi Minh City often, he stayed at this hotel many times. This hotel is recommended for business travelers or those who want a quiet room. The complimentary breakfast buffet is delicious with noodle soup, fresh fruit, and pastries. The room has free wifi and fresh fruits.

Reserve a room at Norfolk Hotel here

.

Caravelle Hotel

and the

Grand Hotel

are the splurging type of hotels with luxurious amenities in your room. Enjoy the breakfast buffets and access to a swimming pool.

Make a reservation for Caravelle

or

Grand Hotel here

. 
---
Final Thoughts
Your 3 days in Ho Chi Minh City has come to an end. We hope you enjoyed exploring the city with our insider tips and made awesome memories. Depending on your itinerary, you could either head south to one of Vietnam's islands – Con Dao or Phu Quoc or head to Central or North Vietnam. Have a safe trip!!
Check out our other Vietnam posts to help you with your Vietnam travel planning:
Have any questions about this Ho Chi Minh City 3 day itinerary? Post them in the comment box below.
Save this post to your Vietnam Pinterest Board!
Featured photo and pin #1 photo credit: phong.tran via Depositphotos.com