Traveling to Ho Chi Minh City in the rainy season?! That is great news! 
Most visitors would tend to avoid Vietnam and its rainy season with the fear that it'll downpour all day long. However, it's not like that at all. We think it's one of the best times to visit Ho Chi Minh City (also referred to as Saigon). The rain is quite refreshing and helps clear away the dirt on the roads and smog and pollution in the air. 
The best part is that there are plenty of things to do in Ho Chi Minh City during the rainy season.
How do we know so much about the weather? We consider ourselves as locals as we celebrated our third anniversary living in Ho Chi Minh City. We've braved and survived the rain and we'll be here for a third rainy season. If we can do it and so can you! In reality, it's not that bad.
Read more on what you can do on a rainy day in Ho Chi Minh City. Feel free to accomplish an attraction or two. You'll bound to enjoy something on this list that will make the day much better. Whether you have 1 day, 3 days, or 5+ days in HCMC, take advantage of the indoor activities!
**Disclaimer: This post contains affiliate links. If you click on them and make a purchase, we receive a small commission. There is no additional cost to you. Appreciate the support.
---
What is Ho Chi Minh City's Rainy Season Like? 
The rainy season in South Vietnam is from April to October. Sometimes it'll extend to the beginning of November depending on how Mother Nature feels. The dry season is from November to March. 
In Ho Chi Minh City, the rain can happen at any time of the year even during the dry season. During the rainy season, it's a little wetter. Imagine a short 30-minute and up to an hour of heavy downpour, and then sunny, clear skies right afterward. If there is a typhoon (which is rare), then you'll encounter rain all day long. Otherwise, rain is normal. 
The weather stays constant throughout the year around 85℉ (29℃) and is 1-2 degrees cooler after the rain. 
Some Things to Note:
Have an umbrella with you on hand for the random rain.
Do expect some flooding in some areas, such as Le Thanh Ton in District 1, Nguyen Huu Canh Street in Binh Thanh District, and out of Thao Dien area in District 2. Wearing sandals would be the best option in flood-prone areas so you can wash your feet easily afterward. 
If you're walking, wait underneath an awning or somewhere along the side of the street until the rain passes. One time, we hid underneath the umbrella of a women's food cart. We were going to move but she nodded and said, "Không sao" ("No problem.")  
If you're riding a motorbike, pull over to the side of the road to either wait until the rain settles down or put on your poncho (or double poncho for two people to share) and continue on your way. It's normal to drive through the rain, however, please be extra cautious on the road. 
---
Top 11 Things to Do During Ho Chi Minh City's Rainy Days
1. Visit museums.
What we enjoy about Ho Chi Minh City is that there are a handful of indoor museums to visit. From the popular museums such as the War Remnants Museum to the smaller art museums, there is something for everyone to spend a few hours to soak in new knowledge. Even if you've visited these museums before, you may have missed something on your first trip. 
We recommend that you visit these museums:
War Remnants Museum

– This museum focuses on the Vietnam War and the impact it had on its country and people. You'll need some tissue for the

Agent Orange

section as the victims' stories are heartbreaking.
 Address: 28 Võ Văn Tần, Phường 6, District 3
 Admission: 15,000 VND ($.65 USD)
Independence Palace (Reunification Palace)

– This well-preserved museum takes you back to 1966-1970s where you get a glimpse of former South Vietnam President's offices and his living quarters. 
 Address: 135 Nam Kỳ Khởi Nghĩa, Phường Bến Thành, District 1
 Admission: 40,000 VND ($1.70 USD)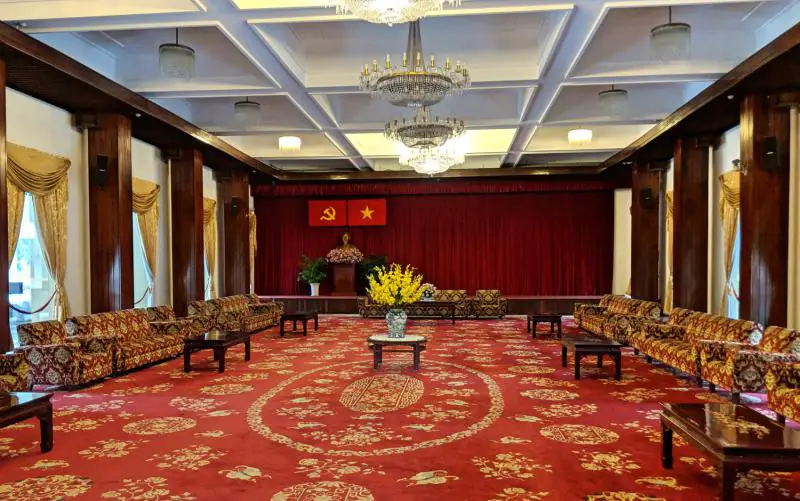 Southern Vietnam Women Museum

– Did you know that many women contributed to the Vietnam War and other city-wide demonstrations? This small museum is a hidden gem to see what these women have done for the country. 
 Address: 202 Võ Thị Sáu, Phường 7, District 3
 Admission: Free
Ao Dai Exhibition

– This ao dai

(

áo dài in Vietnamese)

exhibit showcases gorgeous Vietnamese traditional dresses. It highlights the evolution of the ao dai fashion to what it is today. While this place is only on one floor, there is a larger Ao Dai Museum located in District 9. 
 Address: 77 Nguyễn Huệ, Second Floor, Bến Nghé, District 1
 Admission: 100,000 VND ($4.30 USD)
Artinus 3D Art Museum

– Technically this is not a museum even though it's called one. Yet, it's a fun place to interact with 3D artwork and showcase your awesome and creative poses.

Check out our experience at Artinus 3D Art Museum here. 
 Address: Số 2 Đường số 9, Tân Hưng, District 7 (You'll need to have an alternative mode of transportation to get here as it's not walkable from District 1).
 Admission: Between 170,000-220,000 VND ($7.30-$9.50 USD) for adults, 120,000-170,000 VND ($5.20-$7.30) for  children. Cost varies depending on the day and time of the visit. 
2. Take a cooking class and learn how to make Vietnamese food. 
After eating through Ho Chi Minh City, you probably have a favorite Vietnamese dish or two. On a rainy morning or afternoon, let's put on an apron and learn how to make your favorite Vietnamese foods in a cooking course. 
We're fans of taking cooking courses on our travels since it's the opportunity to learn from locals on the traditional way of making the dish and specific cooking techniques. Your cooking class may also have a tour of a local market so you get to see your fresh ingredients. 
The best part about the cooking class is going through the steps of prepping ingredients, cooking the food, and eating your creation! You're the chef and you've put in the hard work to make it! 
Reserve one of these cooking tours below:
3. Enjoy a coffee break. 
Hanging out at a cafe and drinking Vietnamese coffee is a popular pastime for locals and visitors. It doesn't matter what time of day it is or if it rains as people need to have their iced Vietnamese coffee with condensed milk (cà phê sữa đá in Vietnamese). The coffee is known to have a stronger flavor due to the use of robusta beans and is filtered by the coffee phin. 
We don't normally drink coffee so we recommend that you check out this list of the top 15 cafes to try while you're here. 
You'll find plenty of cafes on each corner of the street whether you're in District 1 or other districts. 
Try coffee at the coffee chains such as Trung Nguyên Legend, Highlands Coffee, Phúc Long and Tea, and Cộng Cà Phê. We've been to Trung Nguyên Legend to try the weasel poop coffee and Cộng Cà Phê to try their teas and non-coffee beverages. Regardless, Cộng Cà Phê is known for using coconut milk/cream with their coffee and teas. The coconut milk with green rice and milk tea with ginger is delicious. 
You can also find smaller boutique coffee shops at the Cafe Apartments off of Nguyen Hue Walking Street. Or, even try the sidewalk cafes with awnings where you sit/almost squat on the tiny lawn chairs and watch the rain pass.  
Take your coffee break further by taking a 2-hour coffee tour! Click here to learn more about roasting and brewing and reserve your spot now. 
Tip: If you're concerned about the ice in Vietnam, it's safe to consume. Most of the ice used by restaurants and cafes is manufactured and uses filtered water.
4. Don't like coffee? Drink bubble tea instead!
We're on Team Tea and love drinking Taiwanese bubble tea/boba. Luckily, Ho Chi Minh City has a plethora of bubble tea shops to choose from.
Head to the cross street of Đường Huỳnh Thúc Kháng and Hồ Tùng Mậu, nearby the Nguyen Hue Walking Street. There are a dozen of bubble tea shops from Koi, Gong Cha, Sharetea, and more to get your boba fix. Many of the shops will have indoor seating. We're a fan of Koi since the golden honey bubbles are soft, chewy, and has the right amount of sweetness. 
5. Eat delicious food.
When all else fails, let's go eat delicious food! Ho Chi Minh City has so many incredible restaurants to try. You can have every cuisine possible from Vietnamese, Japanese, Indian, Ethiopian, Thai, Western-style, vegetarian, and more. Plus, you can choose whatever price range that you have if you want. 
Since it's hard to determine where to eat, we will have a post on the best restaurants to try in Ho Chi Minh City soon! 
If you're a fan of eating Japanese food, check out our guide of affordable Japanese restaurants to try in Ho Chi Minh. Otherwise, try these burger places or dessert shops.
6. Go bowling.
We recently found out about this bowling alley at Superbowl Vietnam on the 5th level of the Diamond Plaza Shopping Mall. This 10-lane bowling alley is retro with the decor and the old-school monitors for score-keeping. Regardless, it's a fun place to go bowling for an hour. 
The bowling balls are well-used so it may be challenging to find the right size. Since many of the bowling balls are made in the U.S., the number on the ball is the weight in pounds versus kilograms. 
Address: 34 Lê Duẩn, Fifth floor, Bến Nghé, District 1
Admission Cost: Choose to play either a game or for one hour. It's a better value if play for one hour and cost between 300,000-450,000 VND ($13-$19.50 USD), depending on the day of the week and the timing. Shoe rentals are 15,000 VND ($.65).
7. Play board games.
If you love board games, stop by one of the board games places to play your favorite game! There are hundreds of board games to choose from such as Settlers of Cattan, Sushi Go, Exploding Kittens, and more. If you don't know how to play, the friendly workers will provide the instructions in English or Vietnamese. 
We've been to Board Game Station in District 1, which is a great place to spend a couple of hours playing. Plus you have to be inside from the rain anyway! 
While you can drop-in to play, it's recommended to call in to reserve a table. It can get crowded in the afternoons. 
For the District 1 location, there aren't any parking spots in front of the venue. Therefore, Board Game Station validates your motorbike parking for the nearby parking lot so it's free parking. 
Address: 30 Cô Bắc, Phường Cầu Ông Lãnh, District 1 and 94/8 Võ Oanh, Phường 25 Bình Thạnh District
Admission Cost: There is a fee to play. We usually get a drink + 2 hours of play for 60,000 VND ($2.60 USD). You can choose any drink on the menu from milk teas, iced tea, soda, fresh coconut, and others. The drinks are on the sweeter side.  
8. Test your cardio skills at an indoor trampoline house. 
Jump Arena is an indoor trampoline house, which is a great indoor activity when it rains. It's one of the best places for children and adults to get their exercise. Who knew bouncing around freely, flipping into foam pits, playing basketball or dodgeball, and practicing rock climbing skills require a lot of cardiovascular skills! 
We've been to the District 2 location and had a blast. We spent 2 hours bouncing around on a weekend. To be honest, 2 hours is a long time as we were already out of breath after 5 minutes of bouncing! Our lung capacity is severely lacking. One hour is a reasonable amount of time to spend here. 
Address: Various locations such as in District 2, District 7, District 10, and Thu Duc District. Check out the locations here.
Admission: The cost varies depending on location. It can be 100,000-60,000 VND ($4.30-$7 USD) for one hour depending on the day of the week. You must wear grip socks which can be purchased at the venue for 50,000 VND ($2.15).
9. See Ho Chi Minh's skyline from an observatory deck.
Want to feel like you're king or queen of the world? Head to the two tallest buildings in Ho Chi Minh City – Bitexco Financial Tower and Landmark 81. Both have observation decks for you to get an aerial view of the city and the Saigon River. While the view during the rainstorm will be hazy and a bit ugly, just wait until the rain passes for better panoramic views. 
Saigon Skydeck

is in the Bitexco Financial Tower in the center of District 1 at an incredible 262 meters (859.6 feet) high.

Read our experience at the Saigon Skydeck here

. 
Address: 36 Hồ Tùng Mậu, Bến Nghé, District 1
Admission: 200,000 VND for adults ($8.60 USD), 130,000 VND ($5.60) for children (4-12 year olds), seniors (65+), and disabled.
Skip the lines and buy discounted tickets to Saigon Skydeck in advance here.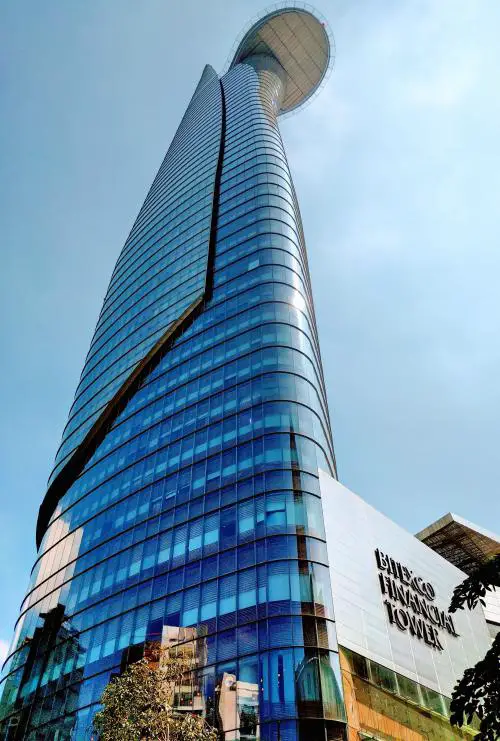 Landmark 81

is currently the tallest building in Ho Chi Minh at 461 meters (1,512 feet) high. The

Sky View

is between floors 79-81. Check out the VR game area or try the

Miwaku Premium Restaurant

, a Japanese fusion place, or Miwaku Cafe Lounge. Even though we live in Vinhomes Central Park, we haven't been here yet. It's on our to-do list to see the view. 
 Address: Vinhomes Central Park, 208 Nguyễn Hữu Cảnh, Vinhomes Tân Cảng, Binh Thanh District
 Admission: Price varies depending on the time of day. Buy your Landmark 81 tickets in advance here.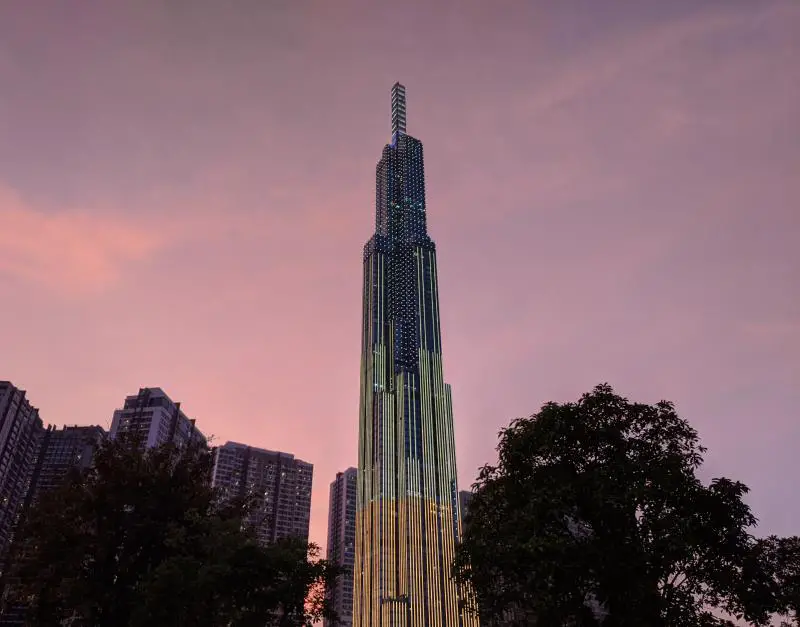 10. Go shopping.
Shopping therapy is a good answer when outside is rainy. Luckily, Ho Chi Minh City has many shopping centers and markets to choose from, especially if you're staying in District 1 area. If you need shelter from the rain, head to one of the following places to get your shopping fix. 
Ben Thanh Market

– We know. This place is ultra touristy but it has a lot of souvenir items, ceramics, clothes, and stuff all in one location. Take your time to navigate through the aisles as it can get overwhelming with the sheer volume of stuff. Before buying something, don't forget to bargain. We would say to avoid buying fruits as they are overpriced. 
 Address: Chợ, Đường Lê Lợi, Phường Bến Thành, District 1
Saigon Centre

– This is a high-end shopping center with top brands such as Coach, Gap, Lacoste, Nike, and a connecting Takashimaya department store. We usually come here to eat versus shop. Our go-to places are

Miyama Cafe

for a slice of delicious matcha millecrepe or the basement level of Takashima. The Japanese baked goods at

Yamazaki Bakery

and matcha desserts at

Azabu Sabo

are so delicious.
 Address: 65 Đường Lê Lợi, Bến Nghé, District 1
Saigon Square

– This place is right across from the Saigon Centre and focuses on clothing and some souvenir items. The vendors are not as aggressive as in Ben Thanh Market and the building has air-conditioning! You can get some good pricing on knockoff Nike and Under Armour workout gear. Don't forget to bargain. 
 Address: 81 Nam Kỳ Khởi Nghĩa, Bến Nghé, District 1
Vincom Mall –

There are several locations throughout the city, such as in the city center, Landmark 81, and District 2 (the largest shopping complex in HCMC). The shopping mall has many of your favorite brands, a large food court, a movie theater, and an indoor ice rink.  
 Address: Click here to see the locations. 
11. Get a massage.
What better way to enjoy the rainy weather in Ho Chi Minh City than to pamper yourself with a massage?! Ho Chi Minh City has some of the most affordable massages you can find for 90 minutes to 2 hours. 
We recommend the massages at Miu Miu. The choices for full-body massages are Aroma with hot stone and oil, Thai, and Shiatsu. The aroma massage is the perfect introduction to a massage as it's very relaxing. Sometimes we hear people fall asleep! We go here every few weeks to enjoy a 90-minute Thai or Shiatsu massage. 
Before your massage, you're given a welcome drink and a form so you can check off the areas that need more or less pressure.
It's recommended to make an appointment a few days in advance. You may be able to get a same-day appointment if the rainstorm is terrible and people cancel their appointments.  
Address: Click here to see the Miu Miu locations.
Cost: A 90-minute massage starts at 600,000 VND ($21.50 USD) with tip included. 
---
We hope that you're still considering visiting Ho Chi Minh City during the rainy season! As you can see, there are many options for you to learn something new or relax!
Planning a trip to Ho Chi Minh City, Vietnam? Check out the posts below:
Which of these attractions would you visit on a rainy day in Ho Chi Minh City? Share in the comments below. 
Like this post? Save it on your Vietnam Pinterest board.
Featured photo credit: Theodore Phathu via Scopio Photos
Pin #1 photo credit: Daniel Poggioli via Scopio Photos
Pin #2 photo credit: Sergey Korshunov via Scopio Photos