Thinking about visiting Mount Takao as a day trip from Tokyo's city center? You're at the right place! 
Mount Takao (also known as Takaosan 高尾山) is technically in the outer west of Tokyo in the city of Hachioji yet it's still an awesome place as a day trip. It was one of our favorite experiences in Tokyo. We've been to Tokyo four times (three times in 2019), so we've done quite a bit of exploration of the area.
If you need some time with nature, then Mount Takao is for you! Our main priority was hiking Mount Takao. We love hiking at new places whenever we travel and Mount Takao didn't disappoint. The mountain is gorgeous especially with the colorful leaves throughout the season. After spending one day on Mount Takao, we felt refreshed with our overall well-being. 
In this Mount Takao guide, we're sharing the top things to do on your Mount Takao day trip, how to get there, and what to expect. 
---
How to Get to Mount Takao from Tokyo
Japan has an impressive subway system so it's easy to travel between cities from Tokyo. To get to Mount Takao, take the Shinjuku Station (新宿駅) via the Keio line to Takaosanguchi Station (高尾山口駅). The travel time will take 55 minutes if using a Semi-Limited Express line. 
Tip: Use Google Maps to set your departure time and it'll provide the subway schedules including transfer stops (if necessary.)
Once you exit the station, check out the giant Mount Takao map. You can see which trails you want to conquer. Take a photo of the map so you can refer to it throughout the day.
Afterward, take a right turn and head towards the main area of Mount Takao to start your journey.  
If you miss this map, there is another map of the different trails in the main courtyard seating area.
---
What to Expect When Visiting Mount Takao
Mount Takao is a popular destination for locals and visitors as access to the mountain is free. All you need to do is pay for transportation and food (if eating on the mountain). 
When to Visit Mount Takao?
Any time would be best to visit Mount Takao. Spring would be beautiful with cherry blossoms. Autumn is another gorgeous time to visit. We went at the end of November and still had fall-colored leaves. It was lovely to see the bold orange and red leaves from maple trees.
We would not recommend visiting during the rainy season as some of the hiking trails would be slippery and muddy. If you decide to visit Mount Takao during the rain, check out these safety tips on hiking in the mud. Stay safe on the trails!
It's best to come early in the morning and on a weekday. We can imagine how popular this place is on weekends. 
We went here on a Friday mid-morning and were surprised at the crowds. People waited in long lines for restaurants and cable cars. Luckily the line to purchase either the cable car and chair lift was short since there is a ticket machine. Visitors need to account for some waiting time for the cable car to go up the mountain. 
Prepare for Weather On the Mountain
Don't forget to bring extra layers of clothes as it does get cold up on the mountain! If you're planning to hike, wear proper clothing and bring hydration. You also want to bring a headlamp if you're planning on summiting or descending the mountain in the dark.
---
Recommended Things To Do On Your Mount Takao Day Trip 
1. Hike Mount Takao.
Hiking Mount Takao is a fabulous way to explore nature and incorporate your workout for the day. The summit isn't too high at 599 meters (1965 feet) so it's very doable to complete the round trip in a couple of hours. You do not need a guide as the trails are well-maintained and easy to follow. The chance of getting lost is very low.
What we love about Mount Takao is that there are 8 trails to complete depending on the amount of time that you have. Therefore, you can visit this place many times and have a different experience every time! Expect to spend 60-90 minutes for the ascent. 
Hiking shoes aren't necessary but they will be helpful if taking the dirt paths. We used Nike Free shows and were fine.
The main trail and the most popular is the Omotesando Trail (Trail #1). This 3.8 kilometers (2.3 miles) one-way trail is great for beginner hikers as the path is paved. Along the way, you'll stop by the spiritual Yakuoin Temple and Monkey Park (more information below). There is even a large tree with an octopus statue next to it. Many people rubbed the top of the octopus's head. Maybe it's for good luck?!
We went up Inariyama Trail and came down via Omotesando Trail (Trail #1). The 3.1 kilometers (2 miles) one-way Inariyama Trail was a lot of fun. It had everything we wanted from hiking through the fall leaves and steep hills. The path isn't paved so it's great to walk over tree roots and logs. There is an observatory deck along the trail to use as a rest stop. 
You finally reached the summit! Take the time to take photos from several viewpoints. You can also take a rest break in the designated seating area. Unless you come early, it will be crowded as you're meeting hikers from other trails and those taking the cable car or chair lift. 
Don't forget to take a photo with the stone podium that has the height of the Mount Takao summit. Show off your accomplishments on social media!
2. If you can't hike, take the cable car or the chair lift to the Mount Takao summit. 
Many people opt to take the one-way or round trip cable car or chair lift up for their Mount Takao experience. It's an accessible and faster way to get to the summit (about half the time to hike up.) Just note that there will be some walking when exiting the cable car or chair lift stations at the summit. The cable car and chair lift stations are along Trail #1 so they're easy to find if you're planning to take either option for the descent. 
While we didn't take these options, we noticed that the chair lift looked more like a ski lift. It must be an exhilarating opportunity to take the chair lift with the breathtaking views of the mountains and the breeze in your hair. 
Cable Car and Chair Lift Admission Cost: 490 yen ($4.50 USD) one way / 950 yen ($8.70) round trip for adults, 250 yen ($3.20) one way / 470 yen ($4.30) round trip for children
Payment: Cash only
3. Browse through the souvenir shops.
At the base and top of the mountain, there are a few souvenir shops to purchase snacks or gifts. It's a great spot to stock up on snacks before or during the hike. We saw vendors selling roasted chestnuts, grilled mochi, and ice cream. As for gifts, there are dried soba, adorable flying squirrel stuffed animals, mochi gift boxes, candies, and more.  
4. Eat soba. 
Mount Takao is known for serving delicious soba. It's thin noodles made out of buckwheat and/or other wheat flour. Soba is served as a cold dish where you dip in the soba sauce or a hot dish in a soup. 
There is some hygge-ness to eating a bowl of noodles. It's so comforting. Plus eating soba will help with carbing up before your hike.
At the base of the mountain, there are a few soba shops to choose from. We tried Momiji-ya Honten (高尾山蕎麦 紅葉屋 本店). Even though there was a line, it went by quickly. It was recommended to have soba with the grated yam (nagaimo) so we had it with mountain veggies and a raw egg. We had this dish cold and it was one of the best soba dishes that we've eaten in Japan. The nagaimo texture may not be for everyone's taste as it's gooey and slimy, but the texture compliments the soba when mixed in. We also ordered hot soba with mushrooms to change up the flavors. Dishes are between 650-1200 yen ($6-$11 USD). 
Address: 2208 Takaomachi, Hachioji, Tokyo 193-0844, Japan (〒193-0844 東京都八王子市高尾町2208)
Opening Hours: 10am to 4pm
Payment: Cash only
You can also eat soba when you reach the summit of Mount Takao. Two restaurants provide stunning views of the mountain area. 
5. Awe at the beauty of the Yakuoin Temple. 
While you're on Trail #1, you'll encounter the Yakuoin Temple (高尾山薬王院). This is an awesome Buddhist temple to browse through. The temple was built in 744 and used to pray to tengu gods. Tengu are mythical creatures with human facial features, long-noses, and wings and thought to protect Mount Takao. You can see a few of the statues at the main temple entrances. Feel free to get a lucky fortune, pray, and take photos of the architecture.  
Address: 2177 Takaomachi, Hachioji, Tokyo 193-0844, Japan (〒193-0844 東京都八王子市高尾町2177)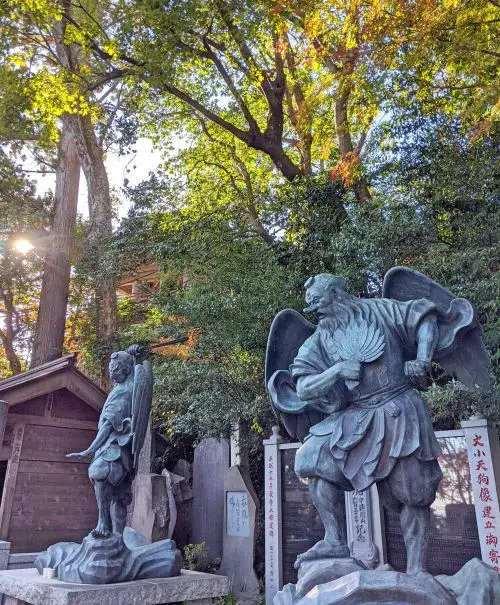 6. Visit Mount Takao Monkey Park and Wildflower Garden.
On your way up or down along Trail #1, you'll pass by the Monkey Park and Wildflower Garden (高尾山さる園・野草園). If you love monkeys and/or want the chance to feed them, then visit this place. There is a connecting garden to explore.
Due to our time constraints, this is one place that we didn't visit. Plus, we didn't know the conditions of how the animals are treated. If you've been to this place, please leave a comment below on your experience. 
Address: 2179 Takaomachi, Hachioji, Tokyo 193-0844, Japan (〒193-0844 東京都八王子市高尾町2179)
Opening Hours: 9:30am to 4:30pm
Admission Cost: 430 yen ($4 USD) for adults, 210 yen ($1.90) for children
Payment: Cash only
7. Explore the Takao 599 Museum. 
At the base of Mount Takao area is Takao 599 Museum. It's a free museum that provides more information about the area such as animals and plants. Although it's small, it's a good place to spend 30 minutes. Plus, it's child-friendly with the exhibits and an indoor kid's area. 
The main attractions are on the first floor. The first thing that you'll notice when you enter is the wall of animals that have been preserved through taxidermy (also known as the "Nature Wall.") You'll see a flying squirrel, wild boar, raccoon dog, to smaller birds. If you have the chance, check out the 10-minute video that projects onto the Nature Wall. It incorporates the animals and how they live on Mount Takao over the four seasons. During our visit, the museum showed the video every hour. Across from the Nature Wall are exhibits of seasonal flowers, plants, and insects. 
Since you're in the mountains, it can get cold. The museum has an on-site cafe so you can warm up by purchasing a hot beverage. 
Address: 2435-3 Takaomachi, Hachioji, Tokyo 193-0844, Japan (〒193-0844 東京都八王子市高尾町2435-3)
Opening Hours: 8:00am to 5:00pm (April – November) and 8:00am to 4:00pm (December – March)
How to Get There: From the Takaosanguichi Station, it's a five-minute walk to the museum. 
---
It's time to go home after an adventurous day in the Mount Takao area. From the pretty views on Mount Takao summit to the various hiking adventures, we hope you enjoyed your one day in the Mount Takao area! Hope you can incorporate this area into your upcoming Tokyo itinerary.
Check out our other Tokyo posts to help you with your planning:
Interested in visiting Mount Takao? What do you want to see or experience the most? 
Save this post to your Japan Pinterest board.