Visiting Sanrio Puroland in Tokyo, Japan was a dream come true. As an avid Sanrio fan since I was 8 years old, this place has been on my Japan travel bucket list for years. I'm pleased to say that it was well worth the visit to spend the day at Sanrio Puroland!
Located in the Tama prefecture, it's one of the most adorable and popular places to visit in Tokyo. With over 1.5 million guests visit here each year, there are lots of fans.
If you love the iconic Hello Kitty, Badtz Maru, and other Sanrio characters, want to experience an indoor theme park of kawaii-ness (cuteness overload) or have kids that like Hello Kitty, then schedule a visit to come here now!
Sanrio's motto of "Small Gift, Big Smile" will pretty much have you smiling all day long here.
While you may think that Puroland is only for children, (well, it is catered to them), however, all ages are welcome to come here, including adults like us. I even brought Justin here with me and he enjoyed his time.
In this Sanrio Puroland guide, we'll share how to get there, how to purchase tickets, our experiences of the shows and low thrill rides, where to shop, what to eat, where to stay in Tokyo, and more information on this theme park. 
If you have more time in Japan, add these activities to your Japan itinerary:
Disclaimer: If you love Sanrio as much as we do, just note that this post contains affiliate links. If you click on them and make a purchase, we receive a small commission. There is no additional cost to you. Appreciate the support.
---
How to Get to Sanrio Puroland
The easiest way is to connect from your starting location and head to the Tama Center Station (多摩センター駅) via the subway.
From Shinjuku Station (新宿駅) to Sanrio Puroland, take either the Express or regular line towards Hashimoto on the Keio line (purple line) or the Odakyu line (dark blue line) towards Karakida and get off of at the Tama Center Station. It'll take about 45 minutes one way. You can use your prepaid Suica or Pasmo card to pay for the fare.
Once you leave your subway, walk about 10 minutes to the entrance. As you exit the Tama Center station, you'll notice the Sanrio motifs everywhere from the platform station signs to the stained glass ceiling art of the characters. Seeing the decor already gets you excited for what is to come.
Climb up a set of stairs and then turn left when you see the small shopping/restaurant area. Look for a McDonalds to see if you're going the right direction. Continue straight and you'll finally reach the entrance.
---
Sanrio Puroland Entrance Fee
Depending on when you visit, there are different ticket prices:
Weekdays

– 3,300 yen ($30 USD) (adults) / 2,500 yen ($23 USD) (children ages 3-17) / Free for children under 2 years old

Holidays & Weekends

– 3,800 yen ($34.50 USD) (adults) / 2,700 yen ($24.50 USD) (children)
If you arrive after 2pm, there are also discount tickets where you can find more about it here.
Purchase Puroland tickets online via a third party seller or at the ticket agency in front of the amusement park.
Want to save money? Buy your tickets here!
We purchased from Klook and saved 40% off our weekday ticket price. What a bargain at $18 USD! You'll save 48% off for holidays and weekends. The Klook ticket was easy to redeem. We printed it ahead of time (or you can show the e-ticket QR code in the Klook mobile app). The theme park representatives scanned the QR code and we were allowed to enter the theme park.
Puropass
If you don't like to spend the time in lines, consider purchasing a Puropass for an extra fee. It's a fast track type of pass where you can skip the lines and have premium seating for the rides and shows.
The cost varies depends on what you're interested in and are sold in limited quantities. Some examples:
To have optimal seating for the Miracle Gift Parade, the pass is 2,000 yen ($18 USD) per person.

Quicker access to the Sanrio Character Boat Ride for 500 yen ($5.50 USD) per person or 1,000 yen ($9 USD) for a family pass of up to 4 people.
More information on costs and where to purchase the pass will be included in your visitors' guide.
---
When To Visit Sanrio Puroland
It's not open every day, so don't forget to check the online calendar for opening and closing times. Any time is suitable for a visit as everything is indoors. No need to worry about extreme heat, rain, or typhoon season. This place is accessible friendly with elevators and escalators.
We suggest that you visit the theme park on a weekday. It was crowded when we went a Friday and can only imagine the intensity of the crowds on weekends. We also recommend that you visit when the park opens to maximize your time. You'll get a schedule of the shows and attractions for the day and can coordinate around the showings.
---
How Long to Stay in Sanrio Puroland?
You can stay all day long at Puroland. We stayed for 6 hours and didn't get to see everything. Most of the time we were waiting in line to the rides and shows as we didn't get the Puropass.
---
Sanrio Puroland Layout
When you first enter the theme park, you'll be on the third floor and will be welcomed by a giant Hello Kitty themed statue with flags of her friends. During our visit, there was Hello Kitty, My Melody, and Little Twin Stars. It's too cute!
The park has four floors but it is a bit of a maze. Have that map handy at all times.
First Floor

– This is where many of the shows occur: at the Marchen Theater, Entertainment Hall, Fairyland Theater, Discovery Theater. You'll recognize it with the Wisdom Tree in the center of the area. Sanrio Town is another section that has a food court, My Melody & Kuromi ride, and Gudetama Land in Strawberry Hall.

Second Floor

– This floor has the Sanrio Character Boat Ride and Sanrio Town with Lady Kitty's House.

Third Floor

– It's the entrance and exit location. If you're celebrating a birthday or anniversary, stop by the information counter for a special surprise.

Fourth Floor

– Go crazy with shopping and restaurants.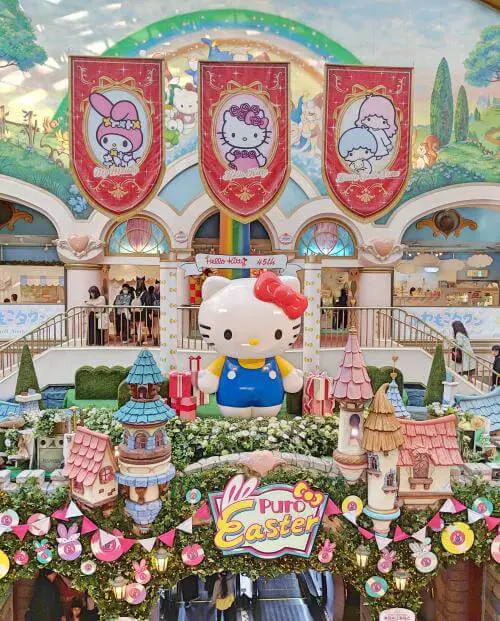 ---
Best Attractions to Visit in Sanrio Puroland
Here are some recommended things to do here. As a heads up, most of the shows and performances will be in Japanese and will not have an English translation. However, that should not deter you from seeing your favorite kawaii Sanrio characters.
1. Sanrio Character Boat Ride
Hello Kitty has invited all of the friends to a party and you're a part of the festivities. This ride is similar to Disneyland's It's a Small World as you sit in a boat and see all of your favorite Sanrio characters preparing for the party. It's a fun ride with cheerful songs, characters swinging from the ceilings, and dancing everywhere. The ride doesn't have any dips so no need to worry about that. Don't forget to smile as there is a photo opportunity along the journey. You can purchase your photo once the ride ends.
Since this is a popular ride, it's recommended to go on this one as soon as possible. Otherwise, you may wait in a long line that snakes through the building. The line moves slowly as the seats aren't filled up all the way. It's probably done on purpose to encourage visitors to purchase the ride photo if it's just your own group.
Location: Puro Village Second Floor
2. Miracle Gift Parade
On our visit, the Miracle Gift Parade only had one showtime so it was a popular attraction. The 30-minute parade has two storylines. The first part is dancing and singing around the Wisdom Tree. Spot your favorite characters (Keroppi and Badtz Maru – check!) and check out the amazing ribbon acrobatics. The second part is of Hello Kitty, Daniel (Hello Kitty's boyfriend), and friends saving the day from evil people. Wave your illuminating heart-shaped wand during certain parts of the show. The wand can be purchased prior to the show.
Tips:
In your map insert, it recommended sitting in the viewing area one hour before the parade started. If you don't want anyone blocking your view, then follow this advice. Since we came out of watching the Kawaii Kabuki show prior to the parade, we had 30 minutes before the parade and sat a few rows from the front.
You have to sit on the floor. Either grab some tissue from the bathroom or sit on your guide map if you don't want your clothes to get dirty. Or, do what the locals do and bring your own picnic floor mat.
Location: Puro Village First Floor
3. Kawaii Kabuki Show
Meet Hello Kitty, Badtz Maru, Pompompurin, Dear Daniel, and Cinnamoroll in kabuki style with their elaborate costumes, storyline, and music. The storyline is based on warriors fighting a ghost. We were in awe at what an amazing job Sanrio did with the characters' intricate warrior costume designs. Unfortunately, you cannot take videos or photos of the show but a DVD is available for purchase.
Location: Puro Village First Floor
4. Gudetama: The Movie Show
Can you imagine everyone's favorite egg, Gudetama as a director? We know Gudetama's allure with his laziness and butt crack. Here is your chance to see it create a movie clip with the help of the audience members. You may get picked to speak with the Gudetama itself (helpful if you speak Japanese). We didn't understand Japanese but thought parts of the show was funny.
Location: Puro Village First Floor in Discovery Theater
5. Gudetama Land
Did you say free games? We're headed to Gudetama Land. Everyone receives a Gudetama passport which allows you to play games. Practice your egg cracking skills or go bowling and knock down mayo and soy sauce pins. Your card will also allow you to take photos with large scaled Gudetama sculptures and you can purchase photos as you exit the area.
Location: Sanrio Town First Floor in Strawberry Hall
6. Lady Kitty House
While Hello Kitty isn't our favorite character, it's always a pleasure to meet her in person. Hello Kitty sends a warm greeting via video as she invites you to her house (English subtitles available.) Walk through Helly Kitty's elegantly designed house and take photos of her closet which includes purses and makeup and her tea room.
Afterward, meet Hello Kitty, give each other hugs and kisses, and take photos. There is a photographer taking photos and will not take them via cell phones. (If you have another person who doesn't want to take a photo with Hello Kitty, then he/she can use their cell phone to take photos from a side view.) You can purchase photos on your way out. Unfortunately, you can't bypass the meet and greet and must stand in line before you leave.
Location: Sanrio Town Second Floor
7. My Melody & Kuromi Mymerroad Drive
Sit in a My Melody cart and you'll go through My Melody's childhood and life. It's an enjoyable ride with 6 photo spots. We were too busy snapping photos of My Melody that our pictures came out terribly. Once you finished your ride, you can edit your photos with e-stickers and purchase your photo.
Location: Sanrio Town First Floor
8. Meet and Greet with Characters
Throughout the day, we saw guests taking photos with various Sanrio characters, such as Hello Kitty and Cinnamoroll along the first floor and the fourth floor. We didn't notice any scheduled times on when the characters would appear but the Information Desk on the third floor may provide more details.
---
Where to Shop in Puroland
What is great about this place is that every level has some sort of shopping. You can easily break the wallet and buy everything. There is unique Sanrio merchandise versus what we've seen at the other Sanrio stores. I wanted to buy a cute Sanrio character headband but they had Pompompurin, My Melody, and Kuromi. I would have loved a Keroppi one! If we were back in my childhood days, I would have spent all my allowances at these stores.
For foreigners, there is a tax-free opportunity. Spend 5,000 yen ($46 USD) at Puroland on the same day and get it tax-free. Transactions do not have to be at one store. Head to the Tax-Free Counter on the fourth floor.
---
What to Eat in Puroland
You won't have any issues with finding a place to eat. Head to the food court on the first floor for Sanrio shaped foods or the fourth floor for restaurants. We didn't try any foods as we think theme park foods look adorable but don't necessarily taste good.
---
Where to Stay in Tokyo
While you can easily take the subway to get to Puroland from central Tokyo, you may consider staying overnight at Keio Plaza Hotel in Tama. It's one of the fun themed hotels to stay in Tokyo! If you can't get enough of Hello Kitty, there are specific Hello Kitty rooms available and you can also have Hello Kitty themed breakfast.
Check for availability and make a reservation for Keio Plaza Hotel.
Need other options? Click here to find accommodations when you're in Tokyo!
---
Sanrio Puroland Facts
Address: 1 Chome-31 Ochiai, Tama, Tokyo 206-8588, Japan
Founded: 1990
Official Website (English): https://en.puroland.jp/
Tickets: Purchase here to save money!
Credit Cards: Accepted
Wifi: This place has free wifi that works.
---
We hope you enjoyed this Sanrio Puroland guide. It's highly recommended that you add this place to your Tokyo itinerary.
It's close to the main Tokyo center (versus Sanrio's Harmonyland nearby Beppu of Oita Prefecture on Kyushu Island) and is a fantastic day trip from Tokyo. When will be your next chance to meet Hello Kitty and friends again?
Interested in visiting Sanrio Puroland? What are you the most excited to see in this place? If you have more questions, ask us in the comment box below.  
Headed to Tokyo, Japan? Save this post in your Tokyo Pinterest board.