Besides relaxing along the beaches while you're in Danang, Vietnam, consider adding an outdoor theme park to your Danang itinerary. You may have heard of Sun World Ba Na Hills that has the iconic Golden Hands Bridge yet there is another place that deserves recognition – Sun World Danang Wonders (also called Asia Park).
Sun World Danang Wonders is an amusement park with children and high thrill rides, a large Ferris wheel called the Sun Wheel, and 10 different miniaturized Asian countries in the park (similar to Disney World's Epcot.) From the affordable ticket prices to no lines for the rides, we consider this place as one of the best things to do in Danang during the evenings. My sister and I originally weren't planning to come here, but we're so glad that we did!
In this Danang Wonders guide, we're sharing our experience and tips on how to get to there, entrance fee, when to visit, the layout of the place, best attractions to visit, and what to eat here.
*Disclaimer: Visiting local Danang attractions? We're giving you a heads up that this post contains affiliate links. If you click on them and make a purchase, we receive a small commission. There is no additional cost to you. Appreciate the support.
---
How to Get to Danang Wonders
Located in the Hai Chau district (Hải Châu in Vietnamese) along the west side of the Han River, it's convenient to get there with transportation options such as motorbike, taxi, or ride-hailing app, such as Grab.
This place is easy to spot with the Sun Wheel Ferris wheel that illuminates various colors in the evening. You'll see this Ferris wheel when departing the Danang International Airport.
From the airport to Danang Wonders, it's a 6 kilometers (3.7 miles) ride so it'll be around 15 minutes to get there. If riding a motorbike, there is a parking area with a small parking fee.
---
Danang Wonders Entrance Fee
The tickets can be purchased at the ticket booth near the entrance and cost the following:
Adults: 200,000 VND ($8.60 USD)
Children between 1-1.3 meters (39-51 inches): 150,000 VND ($6.40 USD)
Babies and children below 1 meter (39 inches): Free
>> Want to save money? Buy discounted tickets here!
We purchased tickets off of Klook one day prior to our arrival. Adult ticket cost us $5.35 USD per person, while children tickets are $3.35 USD. It's such a great deal! You save even more money by buying the discounted tickets.
Redeeming the Klook voucher was easy but you need to follow the directions. You cannot redeem at the theme park and only at Fortune Hotel (Address: 360 2 Tháng 9, Hoà Cường Bắc, Hải Châu, Đà Nẵng). It's a 10-minute walk from the entrance. A paper copy or the e-copy through the Klook app is needed to receive the physical ticket.  
---
When to Visit Danang Wonders
This place is unusual compared to other theme parks as it opens from 3:00pm to 10:00pm daily.
We suggest that you visit this place on a weekday and right before the sun sets. The park lights up once the sun sets.
During our visit on a Monday late afternoon, this place was practically empty the 3 hours we spent here. Most of the workers hung out in front of the ride entrance to wait for guests to stop by. As we love riding roller coaster rides, it was amazing to go on them consecutive times and without any wait. Sometimes we had the rides all to ourselves.
---
Danang Wonders Layout
The theme park is a decent size at 868,694 square meters. As you enter the park, there are plenty of signs directing you to various parts of the theme park. The park is separated by three sections:
International culture zone

Amusement park

Sun Wheel Ferris wheel
The main thing to note is that the International culture zone theme is throughout the park. While Disney World's Epcot focues on 11 countries around the world, this place is similar with highlighting 10 Asian countries. Ten countries is a snapshot of over 50 countries in Asia, depending on your viewpoint on how many countries there are in the world.
The park focuses on Cambodia, China, India, Indonesia, Japan, Korea, Nepal, Singapore, Thailand, and Vietnam, by integrating the architecture and amusement park rides to each of the areas. There are plenty of children rides available so refer to your guide map for the location, height requirement, and thrill level.
Some of the countries have specific cuisines dedicated to the area, such as Japan's Mochi Restaurant and China's Panda Restaurant. During our visit, it didn't seem like the restaurants were open.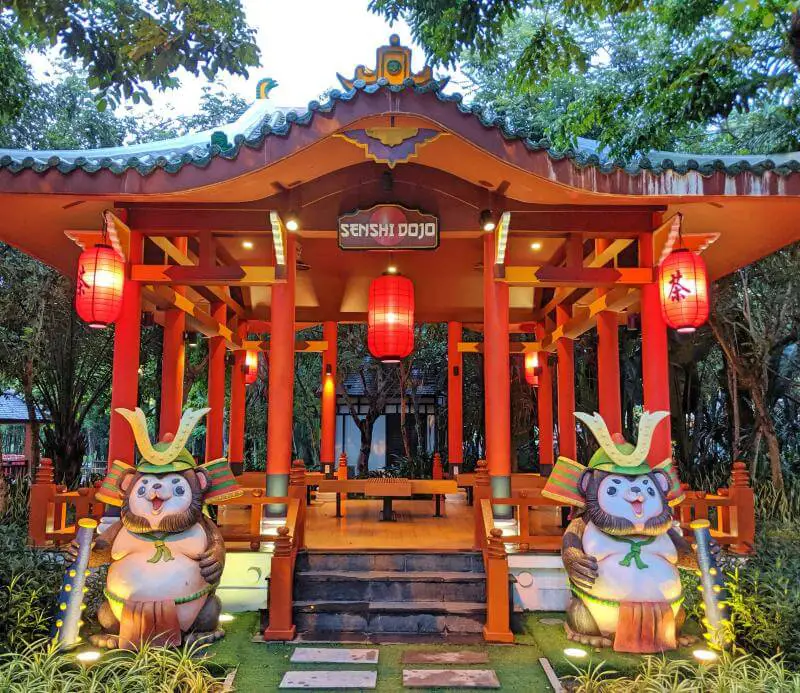 ---
Best Attractions to Visit in Danang Wonders
Here is a list of our memorable and favorite things to do at Danang Wonders.
1. Clock Tower
As you exit the main ticketing area, you'll see the Clock Tower that has the Asian countries represented on all four sides of the tower. It's a cute design and a precursor of what to expect in the park.
Location: Vietnam Zone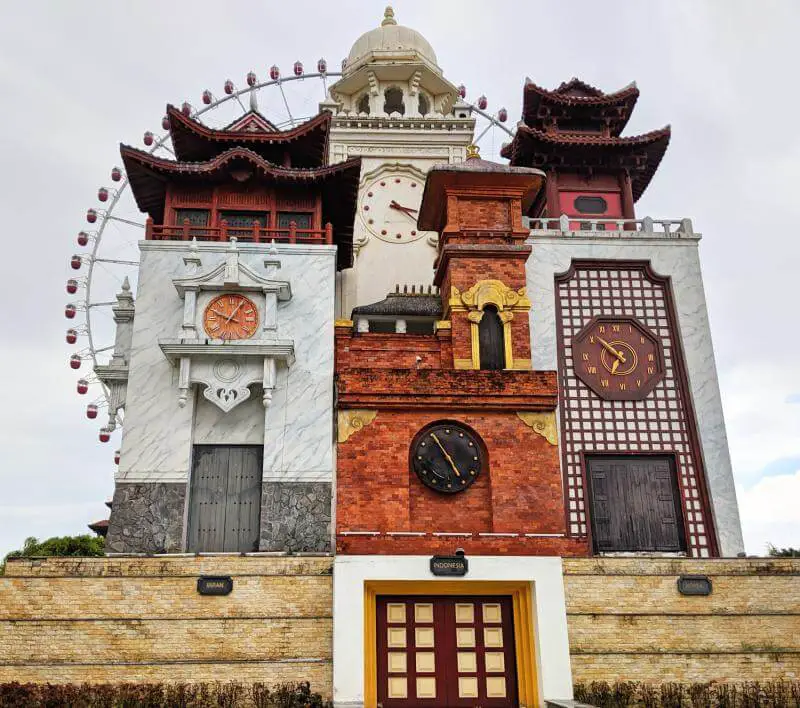 2. Sun Wheel Ferris Wheel
The 115 meters (377 feet) Sun Wheel is one biggest Ferris wheels in the world and a must-see attraction here. The Ferris wheel is really slow as the full rotation takes 20 minutes. Hop on one of the 64 cabins (the ride representative will help you board your cabin as the wheel doesn't stop). The cabin is safe to sit in as the windows are covered with railings so you can't fall out or stick your arms out of the cabin. During your ride, check out the lovely views of Danang city from the peak of the Ferris wheel.
Once you depart from the Ferris wheel, head to the two dragon boats and the Buddha statue which overlooks the riverfront. Afterward, head to the exit to the indoor Family Entertainment Center. You can play games for free. Children can also play in the ball pit and do other activities.
Location: Vietnam Zone
3. Monorail
The theme park isn't large yet the monorail is a fun way to ride along the perimeter of the park. Each carriage holds four people per train and has blue mood lighting inside. Our favorite part was stopping in front of the Sun Wheel across the water. It's picturesque to see the glowing Ferris wheel with the reflections in the water. The ride itself takes about 15 minutes and will pass by an undeveloped and dark area.
Location: Vietnam and Nepal Zone
4. Angkor Wat
Are we in Siem Reap, Cambodia? A replica of Angkor Wat and Ta Prohm (Tomb Raider temple) is a surprising addition to the park. Since we've been to Siem Reap to see the temples, we can say that this replica looks very similar to the real ones on a smaller scale.
Location: Cambodia Zone
5. Queen Cobra Ride
If you're a fan of fast roller coasters with dips and turns, then the Queen Cobra ride is for you. It's fast and you're legs will dangle in the air. We recommend that you do this ride in the evening for greater thrills. You won't be able to see where you'll flip and turn next! We loved this ride so much that we went on it three times.
Location: India Zone
6. Singapore Sling
In the guide map, Singapore Sling is considered one of the most thrilling rides in the world. We can see how this ride is on this list. If you're afraid of heights, you may want to skip on this one. Your heart rate will beat higher as you slowly start swinging and gaining momentum. All of a sudden, you'll rotate 360 degrees as your feet suspends above your head. It's thrilling, yet makes you question the safety of the ride as you're upside down! It's a ride that will make you feel out of your comfort zone.
While you're in the area, check out the Singapore Merlion statue (half lion, half fish). It looks like the real one that we saw during our Singapore layover and our 4 days in Singapore.
Location: Singapore Zone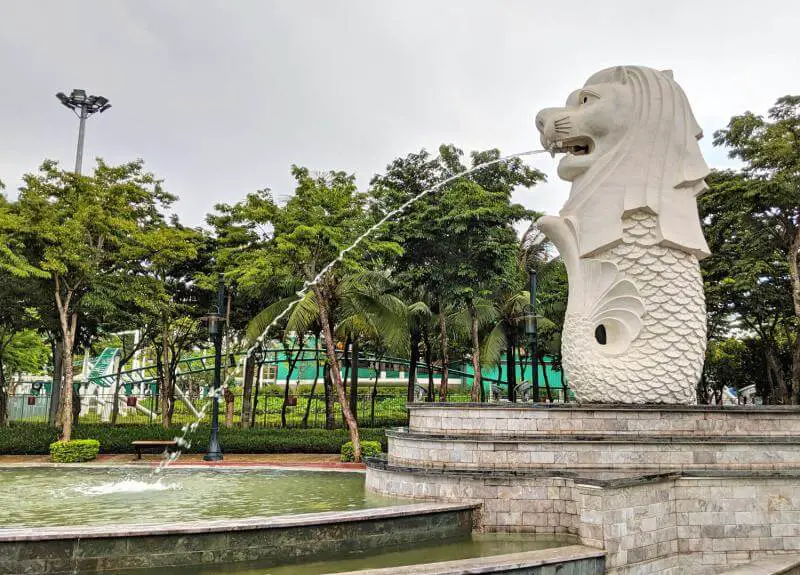 7. Paradise Fall Ride
As you can see, we love going on fast zippy rides. The Paradise Fall ride is where you sit on an ATV replica and go along the tracks. There aren't any upside flips for this ride.
Location: Korea Zone
---
What to Eat at Danang Wonders
As we mentioned earlier, some of the restaurants weren't open during our visit. However, you can stop by one of the carts to purchase snack items such as takoyaki in the Japan zone, fish cakes and meat on skewers, and popcorn throughout the park. The cost was under 50,000 VND ($2 USD) for the snacks.
Otherwise, you can go offsite to eat either at Lotte Mart (a five-minute walk from the theme park) or head back to the city center.
---
Helpful Tips for Danang Wonders
Wear comfortable shoes as you will walk around the amusement park.

You may consider eating a meal before you go to the park.

It's best to visit around sunset as the park opens more rides.

If you carry a backpack or purse, feel free to either leave it with storage at the entrance area. Otherwise, all of the rides have lockers.
---
Sun World Danang Wonders Facts
Address: 1 Phan Đăng Lưu, Hoà Cường Bắc, Hải Châu, Đà Nẵng
Founded: 2014
Opening Hours: 3:00pm to 10:00pm
Official Website (English): https://danangwonders.sunworld.vn/?lang=en  
Tickets: Purchase discounted tickets here!
---
Inspired to visit Sun World Danang Wonders amusement park? Don't hesitate to go here. Plus, you may have the whole place to yourself! We would consider coming back to Danang just to visit this place again.
Need ideas on where to go after Danang? Check out our other Vietnam posts to help with your planning.
Headed to Danang? If you have questions on Danang Wonders, let us know in the comments below.
Save this post to your Vietnam Pinterest board!