Most travelers tend to visit Danang, Hoi An, and Hue during their visit to central Vietnam. One place that needs to be on the list is Quy Nhon (Quy Nhơn or Qui Nhơn in Vietnamese).
Located in the Binh Dinh Province and between Hoi An and Nha Trang, Quy Nhon is a quiet coastal city with beaches, delicious seafood, beautiful landscapes, historical landmarks, and very little tourists. It has plenty of activities to offer for all visitors.
In this post, we're covering the top 9 things to do in Quy Nhon and helpful travel tips on how to get to Quy Nhon, how to get around the city, and where to stay.
We decided to come to Quy Nhon for a weekend trip with friends and to take a quick break from Ho Chi Minh City.
What surprised us was that tourism isn't developed here so it's truly a hidden gem. We saw a handful of tourists in the main city area and on the beach. It was nice to be in an ambiance with the small city feel. We hope you can come here as soon as you can before this city becomes too popular.
If you're looking for other beach areas in Vietnam, check out our posts: Con Dao, Ly Son, Mui Ne, Nha Trang, and Phu Quoc.
*Disclaimer: We're giving you a heads up that this post contains affiliate links. If you click on them and make a purchase, we receive a small commission. There is no additional cost to you. Appreciate the support.
---
Map of Where to Go in Quy Nhon
---
Top 9 Things to Do in Quy Nhon
Here is a list of the top attractions in Quy Nhon for your Quy Nhon itinerary. We recommend that you visit Quy Nhon for a weekend or 2+ days. 
1. Banh It Towers
During the 2nd to the 15th centuries, the Cham people lived in Champa, which is now central and south Vietnam. They built many temples in the current Binh Dinh province during the 11th and 13th centuries.
The Cham tower architecture in Vietnam looks like what you see in Angkor Wat in Siem Reap, Cambodia, with the use of bricks and stonework.
The Banh It Towers (Tháp Bánh Ít) is one of the most well preserved and largest tower complexes that we've seen in Vietnam. The others that we've seen are in Nha Trang's Po Nagar Towers and Phan Thiet's Po Shanu Towers. (If you're in the Danang area, visit My Son Complex which is recognized as one of the UNESCO World Heritage Sites in Vietnam.)
Located about 16 kilometers (10 miles) from the main city area, you won't encounter any crowds here. To reach the towers from the parking lot, you'll need to climb up a steep set of stairs. Unfortunately, there isn't an elevator or an accessible friendly alternative.  
There are four towers – Main tower (dedicated to Kalan), Gate tower (Gopura), Fire tower (Kosagrha), and Stele tower (Posah). Pass through the Gate tower before heading to the Fire and the Main towers.
Fire and the Main towers are the two must-see towers to take photos due to the beautiful brickwork and the moss and plants growing from the roof. You'll have incredible views of the countryside and rice fields from here.
The Main tower has a praying area, yet there is a strong bat smell due to bats living inside. The Stele tower is smaller and on a lower level off to the side of Fire and Main towers.
There are English translated signs for each of the towers.
Admission: 15,000 VND ($.60 USD)
Address: Phước Hiệp, Tuy Phước District, Phước Hiệp Tuy Phước Bình Định
2. Twin Towers
Twin Towers (Tháp Đôi) is one of the top things to do in Quy Nhon. It's a popular sight to see another Cham towers. This place is easier to get to as its 3 kilometers (1.9 miles) away from the main city area so you'll see more tour buses and local visitors.  
Compared to Banh It Towers, the Twin Towers has only two towers. The towers aren't exactly identical as one tower is taller than the other.
One tower has a linga statue with a praying area so it is smoky inside. If you have allergies or are sensitive to incense, then it's best not to go inside.
The other one doesn't have anything inside. Unfortunately, there isn't any signage about the history of the towers.
Admission: 20,000 VND ($.90 USD); 3,000 VND ($.10 USD) for motorbike parking
Address: 1071 Trần Hưng Đạo, Đống Đa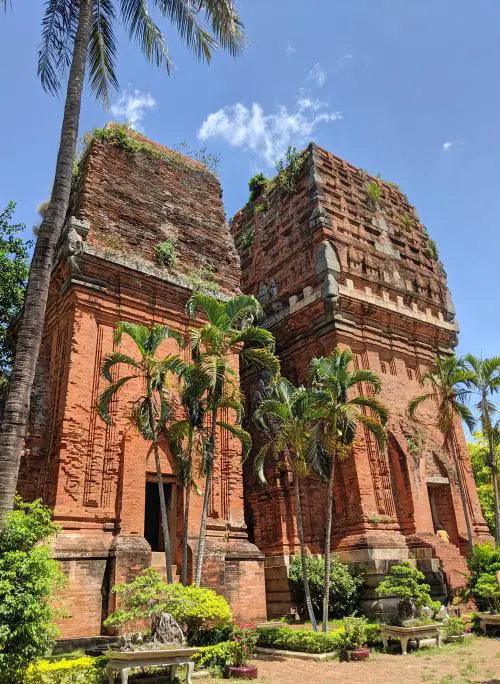 3. Quy Nhon Beach
Quy Nhon beach is a convenient location as it's in the heart of the town.
Whether you go in the morning to see the sunrise or in the afternoon to cool off from the heat (summertime from April to August is brutal with the weather), you'll see plenty of locals as it's their go-to place to visit and relax.
When we visited at 5:00am, the beach already had hundreds of people taking their early morning stroll and swim in the water. Everyone takes their exercise seriously in the mornings. In the afternoon, children flew kites and young adults played soccer and other games on the beach.
We enjoyed the fine golden orange sand and the lack of hawkers monopolizing the area with rental lawn chairs.
One aspect that we noticed was that the ocean water was dirty and browner than expected so we didn't swim in it. You'll find better water at Ky Co Beach which we'll share below. Or head south to the Bai Dai Beach.
Admission: Free
Address: Off of Xuân Diệu Street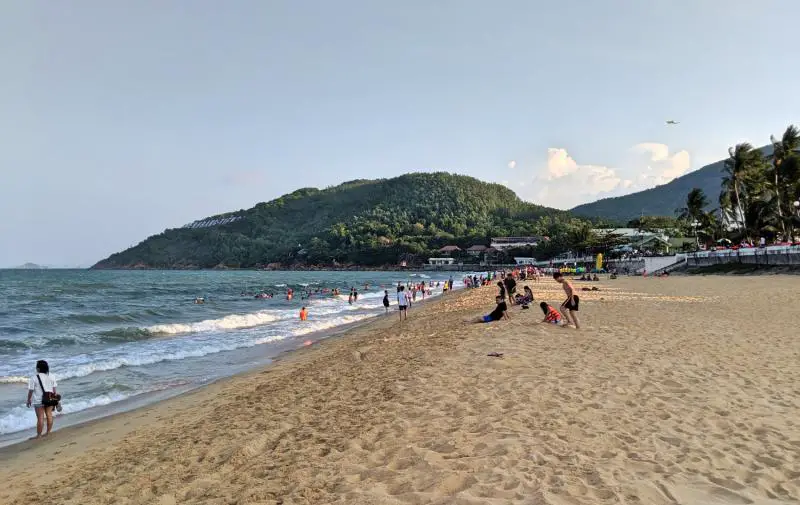 4. Stone Egg Beach
At the southern end from the Quy Nhon beach is Ghenh Rang Hill. It's a perfect oasis to get away from the city and to enjoy nature, greenery, and quietness.
We took a short walk to the Hoang Hau Beach (also known as the Stone Egg Beach and Queen's Beach).
According to the sign, Queen Nam Phuong, the wife of the last king, Bao Dai, loved this place and used it as a resting spot from the royal duties.
Calling it a beach is a stretch as there isn't any sand yet there are hundreds of large smooth egg-shaped rocks. It's a great place to see the sunrise and to take photographs. Swimming is not recommended here due to the rocks.
Admission: Free
Address: 01 Hàn Mặc Tử, Ghềnh Ráng
5. Eo Gio
Eo Gio (​Eo Gió and translated as "Windy Waist") is a lovely spot to spend an hour to view the coastline of the Nhon Ly area.
From an aerial view of this area, the mountains look like the curve of the waist, thus the name of this area.
The paved and dirt pathways from the entrance lead to the bottom of the hill where you can take photos of the coastal landscape and the clear waters. It can get windy as you walk down.
While swimming isn't recommended, you can dip your feet in the refreshing waters and also see fish and marine life.
Admission: 25,000 VND ($1.10 USD)
Address: Nhơn Lý Area, nearby the FLC Quy Nhon Resort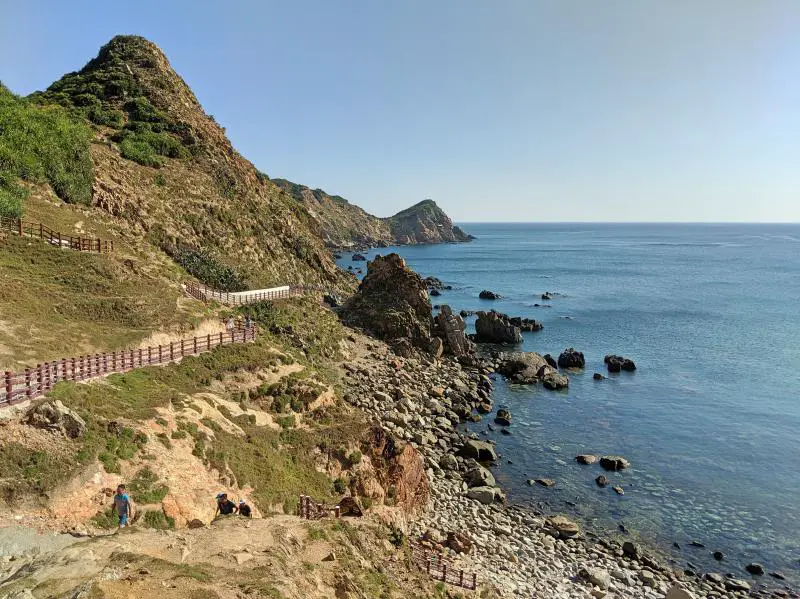 6. Ky Co Beach & Go Snorkeling
Ky Co Beach (Bãi Kỳ Co) is one of the best beaches in Vietnam and the most popular attraction in Quy Nhon. It's located over 25 kilometers (15.5 miles) from the main city.
This area is known as the "Maldives of Vietnam" and you can see why. Although the Ky Co Beach is now a part of the Ky Co Resort area, the white sandy beaches are immaculate and the waters are crystal blue. It's well worth the drive to get here for your beach adventures.
If you decide to come here, prepare for the crowds. Many speedboats drop off visitors at the dock. The beach area isn't that large and there aren't a lot of seats.
The prime seating area is close to the ocean with umbrellas and lawn chairs. The convenience to the ocean will set you back 300,000 VND ($13 USD) to rent the two lawn chairs (and you have to rent both). Squatters aren't tolerated as there is a security person to watch the available spots.
There is also a snorkeling spot nearby the beach where you can see huge corals, such as brain lobe coral, and fish. Since there aren't a lot of visitors, the corals are still in pristine shape.
While you can drive a motorbike to get to Ky Co Beach, most visitors come here via a half-day boat tour.
We did this with a local tour company, Đăng Khang, as they approached us on the road while we were en route to the Eo Gio area. There are other companies that you can choose from. It's helpful to know Vietnamese to help communicate with the agency.
The tour consisted of admission to Eo Gio, Ky Co Beach, a snorkeling spot, a speedboat ride, and a ride to/from the dock. Our cost was 230,000 VND ($10 USD) per person for the tour.
Admission: 60,000 VND ($2.60 USD) to the beach and extra fees for chair rentals and drinks
Address: Nhơn Lý area, in the Ky Co Quy Nhon Resort area
7. Have a drink at Surf Bar on the beach.
Surf Bar is a trendy outdoor bar that serves alcoholic and non-alcoholic drinks such as tea, fresh juices, and smoothies on the beach. There are two locations next to each other.
With the bright lights strung around the area and hearing the waves from the ocean, it's a relaxing hangout spot in the evenings.
Currently, there isn't much nightlife in the city. As a heads up, there are some hawkers who go into the area selling lottery tickets and snacks.
Address: Along the beach at Xuân Diệu Street
8. Eat delicious seafood.
It's no surprise that Quy Nhon has many seafood restaurants. With easy access to fresh seafood, you can have it every day during your stay. Snails and shelled seafood are often cheaper while the large shrimps and fish are pricier. It depends on your budget.
Here are two restaurants where we enjoyed eating seafood:
Address: Hem 22, 40 Duy Tân
Address:  124 Phan Chu Trinh, Phường Lê Lợi
9. Hang out at the drink and dessert shops.
During the summertime, it's hot in Quy Nhon – around 36-38℃ (97-101℉), so it's best to find an indoor place with air conditioning in the afternoons. We love how this city has plenty of coffee and dessert shops to relieve yourself from the heat. Plus the drinks and desserts are delicious.
Here are some places that we tried:
Address: 81 Trần Phú, Lê Hồng Phong
Address: 316 Phan Bội Châu, Trần Hưng Đạo
Address: 134 Ngô Mây, Nguyễn Văn Cừ
---
How to Get to Quy Nhon
The easiest way to get to Quy Nhon is by taking a short one-hour direct flight to Phu Cat Airport (Airport code: UIH). You can get here daily from Ho Chi Minh City, Hanoi, and Hai Phong from VietJet Air, Pacific Airlines, Vietnam Airlines, or Bamboo Airways.
Bamboo Airways is the newest Vietnamese airline carrier with headquarters in Quy Nhon. We suggest that you reserve the flights on the low-cost carriers at least 1 month in advance so you can get the cheapest price possible.
Once you land at the Phu Cat Airport, take a 30-40 minute taxi ride to the main city area. 
Taking the train is a cheaper option yet will take much longer. If you're coming from Ho Chi Minh City, you'll ride the Reunification Express Train which departs from District 3. It'll take 12 hours to reach Dieu Tri Rail Station in Quy Nhon. From Hanoi, the ride is 20-22 hours. Check the schedule and cost here.
The last option is to take the overnight bus which is another affordable option. The bus from Ho Chi Minh City will take 14 hours. Check out the schedule and cost from Futa bus (one of our favorite bus companies to travel through Vietnam.)
---
How to Get Around Quy Nhon
Motorbike is the best way to get around Quy Nhon (and all of Vietnam). Ask your accommodations regarding renting a motorbike and pricing. Our rental was 130,000 VND ($5.60 USD) per day.
Tip: We noticed many locals driving in the opposite direction of the roads and do not stop at red lights.  Therefore, slow down when crossing the street to lessen your chances of a motorbike accident. Don't forget to wear your helmet while riding.
Electric bicycles or bicycles are another great way to travel around the city. It's an environmentally friendly way to travel. We saw quite a few locals using bicycles.
Walking is doable if you're staying along the beachside or the resort and don't plan to explore anywhere.
Metered taxis such as Mai Linh are available. We also saw motorbike drivers through Grab, the ride-hailing app, but didn't check if there were Grab cars.
---
Where to Stay in Quy Nhon
We prefer staying at accommodations nearby the city center versus at the resorts as there are more restaurant options. Here are one budget and one high-end Quy Nhon hotel options based on your preference.
Budget
As you know, we like to stay in clean and affordable places. We highly recommend Duy Tan Home. It's off a side street in a residential area, so it's a quiet neighborhood. Plus, the beach is a five-minute motorbike ride. There are private rooms with ensuite bathrooms and those with outside private bathrooms.
Our room was adorable with the colorful decor and came with water bottles, tea, coffee, water kettle, and plenty of towels. While our room didn't have an ensuite bathroom, the room was slightly larger and we had our own private bathroom with key access. The sinks are communal.
The owners of the guesthouse were very nice and treated us like family. They also speak English.
>> Check availability and make a reservation at Duy Tan Home.
Splurge
>> Want more hotel options in the city? Check out availability and reviews of accommodations here.
---
Even though we had a short time here, we had a great time exploring the area. We would recommend that you add this place to your Vietnam itinerary if you're craving quietness or looking for a unique place to visit.
Looking to extend your Vietnam trip? Add these places to your itinerary:
Interested in heading to Quy Nhon, Vietnam? If you have any questions about the places that we've been to, let us know in the comments below.
Planning a trip to Vietnam? Save it to your Vietnam Pinterest board.