Traveling to Vietnam and need tips on how to stay on a budget? We're here to help!
Vietnam is one of the budget-friendly countries to visit in Southeast Asia whether you're visiting for 1 week or up to a month. 
How much does it cost to travel around Vietnam? Expect to spend between $30-$50 USD per person which includes accommodation, food, transportation, and attractions. For a more comfortable experience, you can spend from $50-$100+ per day. Therefore, a 2-week Vietnam trip will have an expenditure between $420-$1,400 for one person. 
In this post, we're sharing how to travel to Vietnam on a budget. We'll cover money saving tips on accommodations, ways to travel around Vietnam, food, attractions, and currency.
We know a lot about Vietnam since we currently live in Ho Chi Minh City (Saigon) for over 4 years, and have also done our fair share of traveling around the country. Our traveling style consists of staying within a reasonable budget but still having fun visiting attractions and doing outdoor adventures. 
Before you read this post, check out our Ultimate Vietnam Travel Tips for Your First Visit and Best Reasons to Visit Vietnam posts. 
*Disclaimer: This post contains affiliate links. If you click on them and make a purchase, we receive a small commission. There is no additional cost to you. Appreciate the support.
---
Vietnam on a Budget – Accommodations
1. Travel to Vietnam in the quieter, off-season.
There is no bad time to visit Vietnam, yet many tourists will visit here during the springtime and summertime (from May to August) and Christmas time (December) since that coincides with the typical vacation schedule. 
Depending on your schedule, visit Vietnam during the quieter months from September to April. You'll experience fewer crowds as you travel throughout the country. 
You'll just need to check on the weather as some areas such as Central Vietnam will have heavy rains and floods. 
South Vietnam will be warm and hot all year round with the rainy season from April to October. 
If you travel to Northern Vietnam, such as Sapa, Hanoi, and Ninh Binh from November to January, it will be cold and rainy, so you'll need to pack warmer clothes. 
---
2. Stay in boutique guesthouses, hostels, or homestays.
Vietnam has some of the most affordable accommodations that you can experience. We suggest staying overnight at a guesthouse, hostel, or even try a homestay. 
While you can stay at a hostel for $10 a night in the bigger cities, you can get a private room with a bathroom for $20-$30 per night at a boutique guesthouse. After traveling all day, you'll want to have privacy and not have anyone bother you. 
Breakfast is usually included in the room price or it can be added for a nominal price. We love saving money on food costs if breakfast is included. 
Staying in a homestay is another unique experience. You get the chance to stay at a local's house, talk with the locals and the family, and have a meal or two with them. We recommend this homestay opportunity if you're doing a trek through Sapa. 
Check out places to stay in popular Vietnam cities: 
---
3. Consider staying at a hotel or resort for a night. 
Ok, you're probably wondering why we would even recommend a hotel or resort when we're talking about saving money. 
Many of the swanky hotels and resorts in Vietnam can be around $100+ per night, which can still be an affordable option if you have a higher budget or are traveling with a family. If traveling during the slower season, then they're even cheaper with discounted prices. 
With these hotels and resorts, you'll get the hotel amenities such as a swimming pool, gym access, and includes breakfast. 
---
4. Take advantage of credit card points and hotels in the larger cities. 
Another way to save money on Vietnam accommodations is to use your credit card or hotel points that you've earned for hotels in the bigger cities, such as Hanoi, Danang, and Ho Chi Minh City. There are plenty of international hotel chains in Vietnam such as Marriott, Hilton, and Intercontinental. 
You'll need to read further into the rewards program and how to redeem the points. Use the points before they devalue. 
Here are some things to consider before using the points:
What category/level is the accommodation? 
How many points are needed to redeem for the accommodation? 
What is the value of the room if you use points versus paying cash?
Can you use both points and cash payment if you don't have enough points?
---
Vietnam on a Budget – Transportation
With so many awesome places to visit in Vietnam, you'll need to figure out how to travel around the country. Luckily, the transportation options are affordable. 
Before we give an overview of the transportation options, we have this in-depth Vietnam transportation guide so you know the best options to take. 
5. Flying around the country. 
Taking domestic flights is the fastest way to travel between cities if you're short on time. It will take over 2 hours to go from Ho Chi Minh City to Hanoi. 
Flights can be as cheap as $20 one-way. Check out the budget airlines such as VietJet, Pacific Airlines, or Bamboo Airways. Delays happen often with budget airlines so expect the worst. 
Vietnam Airlines is a government-backed airline and will cost a bit more for flights, yet it's a 4-star airline according to Skytrax and usually departs on time. 
---
6. Take an overnight sleeper bus or train. 
The local way to travel between cities is by taking a sleeper bus or train. The sleeper bus has reclined seats so you can stretch out your legs and rest for a few hours. A 5-6 hour ride from Ho Chi Minh City to Dalat (in the Central Highlands) costs around $6 one-way. 
Taking the train can take a long time yet it's a cheap way to travel. Many locals take the train to return to their hometown for the Tet Lunar New Year holiday. You can choose the type of seating whether you want a comfortable or hard seat or a lie-down bed in a sleeper train. Reservations are needed in advance. 
When we took the overnight train from Ho Chi Minh City to Nha Trang, the ride was 9 hours and cost about $30 one-way.  
---
7. Riding a motorbike.
If you feel comfortable driving a motorbike, this is the cheapest way to travel around a city. Rentals are about $5-$6 per day. There won't be any insurance so you'll need to drive carefully. You must wear a helmet as it's required. 
Do not attempt to learn how to ride a motorbike in the major cities. You will get in an accident and injure yourself. 
The safer way is to visit a remote location, such as Con Dao Islands, where the roads aren't congested and very wide so you can practice driving here. 
---
8. Taking ride-hailing cars or motorbikes or taxis. 
In Vietnam, Grab is the most popular ride-hailing service to use in the major cities. Other ride-hailing companies are Be and GoJek. Download these travel apps in advance so you can start using them when you leave the airport.
You can request either a car, van, or motorbike to take you to your next destination. You don't need to worry about negotiating a price. Plus, you can set up a cashless payment and have the transaction paid with a credit card. If going within the city, it'll only be a few dollars for the ride. 
Taking a taxi is another option to use when traveling within a city. Use a reputable company such as Mai Linh and Vinasun as these taxis calculate the fee by using a meter. Some of the cars will allow credit cards for payment.  
---
Vietnam on a Budget – Food
9. Eat locally and street food.
From the mouthwatering hot noodle soup (phở) to the sizzling Vietnamese pancakes (bánh xèo), there is no doubt that Vietnam has some of the best food to try. What is great about Vietnam is the opportunity to try these foods at local restaurants. Plus, it's cheap too.  
Street food is available but it's not to the same degree as what you see in Taiwan or Thailand. The stalls are more spread out as the setup is on the sidewalk or within a local market versus designated street food or street market area. 
Regardless, a bowl of hot soup can cost between 35,000-80,000 VND ($1.50-$3.50) depending on the quality of ingredients. You can also buy a sandwich (bánh mì) from a sidewalk street vendor starting at 10,000 VND ($.45).
If you're a vegetarian or vegan, there are tons of local vegan shops to try. Find a "quán chay" which is a local vegetarian/vegan shop. They usually sell rice plates or hot noodle soups for cheap – under 20,000 VND ($.88) per plate or bowl. 
---
10. Eat Western food in moderation. 
Vietnam has many foreigners living in the major cities such as Hanoi, Danang, and Ho Chi Minh City, so there is a large amount of Western cuisine available. Plus, there is Starbucks and McDonalds to have a taste of home. 
The Western food is delicious and the flavors are close to what we're used to in the U.S. The cost is 2-3 times higher than eating local Vietnamese food (around 120,000-250,000+ VND / $5.20-$10.85) so you'll need to be cognizant about the cost or limit the amount. 
If you're in Ho Chi Minh City, check out our food guide:
---
11. Buy fruits from the local wet market versus the supermarket. 
One of the unique experiences to have in Vietnam is to try tropical fruits. From dragon fruit to mango to durian, the fruits are sweet and bursting with antioxidants and nutrients. 
You can buy fruits from the supermarket yet a cheaper option is to visit the local market. These markets are in designated neighborhoods or an alleyway where sellers line up along the street selling fruits, vegetables, eggs, seafood, and other household goods. 
These tropical fruits are everywhere. You'll need to ask for the price or negotiate (if you plan to buy a large quantity) as the prices aren't listed anywhere. 
---
12. Take a cooking class to learn how to make Vietnamese food.
We love taking cooking classes during our travels and we recommend taking a Vietnamese cooking class. They're available in many of the cities. 
It's a good opportunity to learn a new cooking skill, learn how to make your favorite Vietnamese foods, make the food, and eat your creation. Plus, taking the class can save you money as there is a meal involved! You will be very full after eating your creation. 
A cooking class is usually half a day which includes a trip to the local market to buy fresh ingredients for the class. Many of the classes offer vegetarian options as long as you give notice in advance. Expect to pay $20-$30 for a class.  
13. Coffee and beer are cheap in Vietnam. 
Coffee and beer are the two most consumed beverages in Vietnam. 
Many locals start their day with an iced coffee with or without condensed milk (Cà phê sữa đá is with milk; Cà phê đen đá is plain iced coffee) and continue to have coffee all day long. You can sit on the side of the road and enjoy a cup of coffee for 20,000 VND ($.88). More upscale places have coffee starting at 40,000 VND ($1.80). 
Beer lovers will also appreciate the cheap beer. You can get a can of beer for 10,000-20,000 VND ($.44-.88) at local restaurants. The most well-known local beer brands are Tiger, Bia 333, and Heineken. Craft beers are also available and these will cost a bit more. 
---
Vietnam on a Budget – Attractions
14. Many Vietnamese attractions are free or have a small fee to enter. 
Learning about Vietnamese history and culture is a fantastic way to understand more about the country.
Luckily, Vietnam's attractions such as museums, National Parks, UNESCO sites, and waterfalls will not break the bank as the admission fee will be free or a few dollars. Visiting local parks, temples, pagodas, beaches, and hiking trails, are free to enter. Therefore, you can still experience all fun and exciting bucket list activities in Vietnam. 
Some of the top things to do in Ho Chi Minh City have a cheap entrance fee. The Independence Palace costs 40,000 VND ($1.70) for adults while the War Remnant Museum costs 15,000 VND ($.65) for adults. 
---
15. Theme parks are more expensive. 
Vietnam has plenty of amusement parks to add some variety to your itinerary. Many of the theme parks are family-friendly and have children-friendly rides such as VinWonders Nha Trang in Nha Trang and Sun World Danang Wonders (Asia Park) in Danang. Currently, the most popular one on social media is Sun World Ba Na Hills in Danang. 
The only downside is that they're pricey. Expect to pay around $30 per person for an entrance fee. 
You'll also need to factor in the budget for food and drinks. It'll be at least 100,000-200,000 VND ($4.30-$8.70) per person for a meal. 
Heads up: You may need to take a cable car to get to the park. The ride is included in the admission cost.
---
16. Schedule day tours when you arrive. 
Taking tours can be a fantastic way to explore an area. If you're flexible with your schedule and want to go on a day tour, you can schedule them 1-2 days in advance. You don't need to pre-book before arriving (unless it's a specific tour that sells out quickly). 
All you need to do is walk to a tour agency and inquire about the day tours and pricing. You can also ask your accommodations if they offer tours.  
Last-minute day tours can be cheaper and a budget-friendly option to see the best attractions. 
If you're in Ho Chi Minh City, here are recommended day trips that you can consider going on. 
---
Vietnam on a Budget – Currency
Vietnam is a cash-based country so you'll need to have cash on hand. The currency is in Vietnamese dong. The current exchange rate as of July 2021 is $1 USD = 22,970 VND. 
The good news is that ATMs and money exchange places are available in the major cities and touristy areas. 
17. Use an ATM card with no bank transaction fees. 
Vietnam's ATMs are convenient yet they do not give a lot of money out per transaction. Most ATMs give  2-3 million VND ($87-$130) per transaction + a minimum of a 60,000 VND ($2.60) bank transaction fee. We've seen HSBC give 6.8 million VND ($295) per transaction + 136,000 VND ($5.90) bank transaction fee. 
The fees add up, especially if you need to do 2-3 withdrawals at one time. 
Since we travel internationally, we use the ATM card offered through Charles Schwab High Yield Investor Checking Account. This is only available for those who live in the United States. Charles Schwab automatically refunds you at the end of every month for all ATM bank fees. It's quite exciting to see the refunds on the monthly statements. We love this perk and have used this ATM for years. 
---
18. Use a credit card without any foreign transaction fees. 
Merchants in the larger cities and touristy areas, such as Hanoi, Ho Chi Minh City, Danang, and Nha Trang, accept credit cards as payment. It's recommended to use a credit card without any foreign transaction fees so you can save money. 

If you're from the U.S., we recommend using either the Chase Preferred Sapphire Card or Chase Preferred Reserve Card for our travels. We've been using these cards for years. Both cards do not have foreign transaction fees, earn points for every expense, and also have other perks. They do have an annual fee (Preferred is $95, Reserve is $550) yet your regular expenses and travel will cover the cost of the fee. It's a win-win situation to save money on your travels.
---
Final Thoughts
We hope you enjoyed reading these Vietnam budget tips and how you can save money on your next trip. No matter how long you spend in Vietnam, your money will go far. You won't need to sacrifice and spend the bare minimum to have a memorable time here. 
If you have any questions about Vietnam or anything mentioned in this post, ask them in the comment box below. 
Like this post? Save it to your Vietnam Travel Board on Pinterest.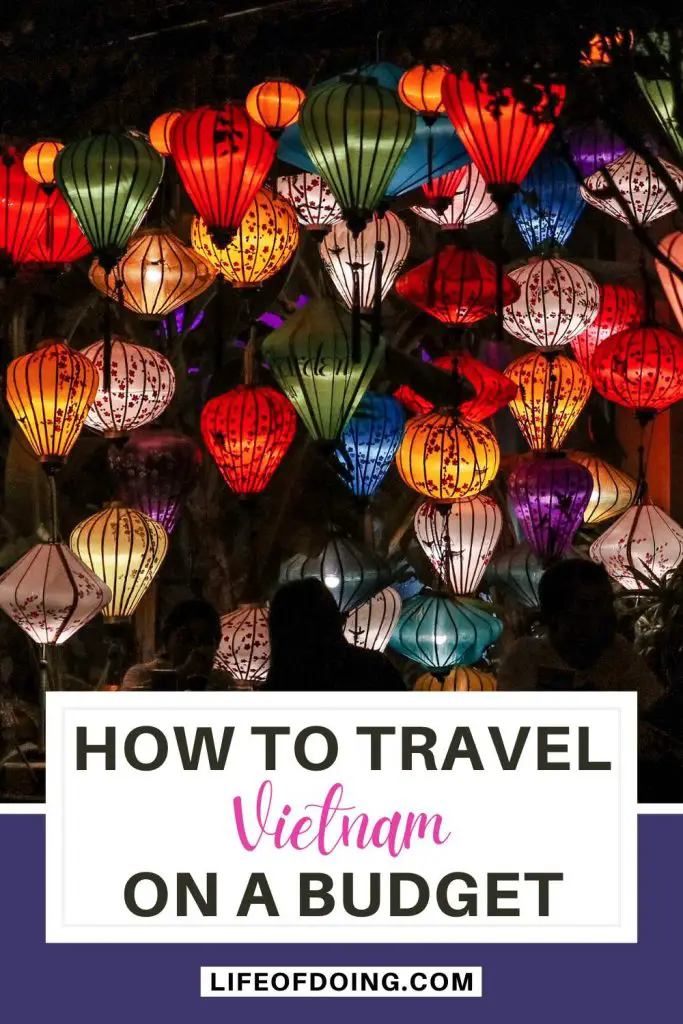 Featured photo credit & pin #1 photo credit: Annabelle Farrugia via Scopio Photos