During the planning phase of our trip to Danang, Vietnam, the first place that my sister and I both wanted to see was the famous Golden Hands Bridge (officially called the Golden Bridge). The marketing for the Golden Bridge has been fantastic with the epic drone videos (although drones aren't allowed) and the Instagram photos of the two giant stone hands holding up the walkway. 
What you may not have realized is that the ultra-hyped Golden Bridge is only a small part of the Sun World Ba Na Hills theme park and resort. It's called a "fairyland" and "heaven on Earth" due to the cooler weather, beautiful views of the hills, low-key thrill rides, and entertainment. You'll get the Disney World's Epcot vibe as you walk through a miniature version of Europe. 
In this Sun World Ba Na Hills guide, we're sharing what you need to know about visiting this popular attraction and what to do in Ba Na Hills. We stayed for five hours and enjoyed our visit. Whether you have a half-day, full-day, or an overnight stay, it's worth the experience if you want a day trip from Danang city center. 
*Disclaimer: We're giving you a heads up that this post contains affiliate links. If you click on them and make a purchase for your Vietnam trip, we receive a small commission. There is no additional cost to you. Appreciate the support.
---
Why Visit Sun World Ba Na Hills?
If you've been in Danang for a few days and need a change of scenery from the beaches and city life, Sun World Ba Na Hills resort is a great place to get some crisp, fresh air. Located in Danang's mountains at an altitude of 1,487 meters (4,878 feet) above sea level, this place is surrounded by stunning greenery and trees that extend for miles.  
You'll have the opportunity to ride one of the longest cable car rides, visit manicured gardens, explore the French Village and other European themed places, eat European and Vietnamese cuisine, stay overnight at the fancy Mercure Hotel, play games, and much more. The resort is expanding even more as there are construction areas for future hotels and attractions. If you have children, this place is a fun getaway for them as well. We'll share more about the highlights of things to do here below. 
---
How to Get to Sun World Ba Na Hills From Danang City Center
Sun World Ba Na Hills is approximately 30 kilometers (19 miles) from Danang's My Khe Beach, so it'll take around 45 minutes to get there. There are several transportation options that you can get here:
1. Ride your rented motorbike and park it in the parking lot.
2. Take a taxi or a Grab motorbike or car. Download the free ride-hailing app here.
You'll need to have a SIM card to use Grab, so we recommend that you pick one up on your arrival at the Danang airport. Click here to save money and pre-purchase your SIM card.
Another opportunity is to change your international phone plane. If you're from the U.S, consider switching to Google Project Fi. You can use data and text in over 200+ international areas without needed to pay extra. We've used this plan since 2016 and love it! Sign up for Google Project Fi and receive a $20 USD credit!
3. Hire a driver. We contemplated taking a Grab car or having a driver. The price was similar to hiring a Grab car but we didn't want to deal with the possibility of getting stranded at Ba Na Hills. (Note: There were Grab drivers hanging around in the parking lot during our visit.) 
Therefore, we booked a driver two days before our trip via Klook. It was easy communication between Klook and me to confirm our hotel location. Our driver was on-time for pick-up and was very safe on the roads. We communicated to him when we were done for pick-up back to the city center.
>> Reserve a private driver for Ba Na Hills here. 
4. Take a tour which includes transportation. A tour isn't necessary as you can walk around the theme park by yourself. However, here are two options to consider:
5. If you're coming from Hoi An, it's recommended to hire a private driver. Click here to reserve a one-way or round-trip way here.
---
When to Go to Ba Na Hills
We suggest that you visit on a weekday as it will be less crowded. Even then, there are thousands of visitors each day. Avoid the weekends and Vietnam holidays unless you like to wait in lines. 
As with the timing, you can visit at any time of the day. As a warning, most of the tour buses arrive past 9:00am so the theme park is super crowded from the morning to after lunchtime. 
If you're only looking to take photos on the Golden Bridge with fewer crowds, plan to arrive between 7:00am – 7:45am. Therefore, you'll need to leave Danang between 5:45am – 6:00am and then take the 20 minutes cable car ride to the bridge. Or, you can visit in the late afternoon before sunset which will provide the "golden hour" glow in the photos. 
---
Ba Na Hills Entrance Fee
A visit to Ba Na Hills is expensive compared to other local attractions in Danang. (Even the sister amusement park, Sun World Danang Wonders is a steal at 200,000 VND/$8.60 USD for adults.) The Ba Na Hills ticket price is:
Adults: 750,000 VND ($32 USD)

Children between 1-1.4 meters: 600,000 VND ($25.60 USD)
The price includes the cable car rides, access to the Ba Na Hills theme park, and most games in Fantasy Park. It excludes the wax museum, several Fantasy Park indoor sports activities, and the buffet meal.
You can buy your tickets in advance either online or at the entrance gate. 
>> Want to save money? Buy discounted tickets to Ba Na Hills here & save money! (This link will also have options if you want to add on the lunch or dinner buffets for a reasonable price at one of the on-site restaurants.)
We purchased our discounted tickets through Klook as they had the best deal. It was easy to redeem our e-voucher at the Klook counter in the entrance gate area. 
---
What to Do at Ba Na Hills
Here is our list of recommended things to do in Ba Na Hills. We didn't get to see everything as we stayed for half a day, so we look forward to returning again to explore further. 
1. Ride the cable cars throughout Ba Na Hills.
The attractions are spread out between two main hillsides so everyone needs to ride cable cars. The cable cars are sturdy and can withstand strong winds so you don't need to worry about swaying. 
Currently, there are five cable car lines with more lines added to the future. Each cable car can hold up to 10 people, so you'll share a car with other visitors.
From the Hoi An station at the main entrance to the Golden Bridge, it's a 20-minute ride. From the French Village to the Hoi An station, it's about a 30-minute ride. 
If you have the chance, take a cable car ride from L'indochine station to the Toc Tien Station at the main entrance. This line earned four Guinness World Records, including the "longest non-stop single-track cable car" in Vietnam. Another highlight includes seeing the incredible Toc Tien waterfall along the way. 
There is an option to take a funicular between D'amour Station and Le Jardin Station. It makes it easier to see the area after crossing the Golden Bridge, such as the Le Jardin d'Amour Flower Garden. Linh Ung Pagoda, etc. We didn't have a chance to take it as we walked instead. 
2. Walk along the Golden Bridge.
Who knew that the Golden Bridge would boost tourism to this place? It opened in June 2018 and is located at an altitude of 1,414 meters (4,639 feet). The Golden Bridge is easy to spot when you exit the station as there are two large stone hands holding the bridge right in front of you. The background of the stunning mountain landscape makes this an extra special place.
What surprised us during our visit was that the bridge wasn't that long. If you didn't stop by to take photos, it would take about 2 minutes to walk across. 
Tip: Since the bridge is a popular spot, you'll need to be patient with taking photos at the right time. Stay assertive with your photo spot as groups of people will cut without knowing that you're waiting or photobomb. You may have a few wedding photographers asking you to move. Otherwise, visiting early in the morning or late afternoon will have fewer crowds in your photo. 
While we've heard that people would visit the Golden Bridge and immediately leave, we think the other parts of the theme park is well worth the visit. 
3. Take photos of everything.
Sun World Ba Na Hills did an excellent job creating lots of picturesque spots. Once you leave the Golden Bridge, there are playful statues (more like the hands and heads popping out from the ground), painted staircases, and beautiful flowers everywhere. Around the Le Jardin d'Amour Flower Garden entrance, you can pose with an adorable cable car topiary. 
4. Wander through the Le Jardin d'Amour Flower Garden. 
The Le Jardin d'Amour Flower Garden is one of our favorite spots at Ba Na Hills. There are 9 different gardens that have different themes and architecture, such as the Love Garden, Memory Garden, Heaven Garden, etc. It's the perfect spot for those who love colorful and well-manicured gardens. We loved the garden that had the giant peacock's head with plants for its body and the main central garden that is also a maze. 
While you're in the area, stop by the Debay Wine Cellar if you want to enjoy a glass of wine. Otherwise, it's best to skip this attraction. You'll first walk through an underground wine cellar that was built by the Fench in 1923. The walkthrough looks like an attempt to highlight the process of winemaking but it's a bit creepy and has a haunted house vibe. Luckily, the saving grace is that you end up at the restaurant to try specialty wines. 
5. Visit the Linh Ung Pagoda to see the Big Buddha.
Danang has three Linh Ung Pagodas – one at Ba Na Hills, one at Marble Mountain, and one in Son Tra area that is also called Linh Ung Pagoda. We're pleased to say that we visited three of the Linh Ung pagodas during our trip! Here, you'll find a huge Buddha statue overlooking the statue. During our visit, it was around Buddha's birthday, so the area had streams of colorful ribbons surrounding Buddha. 
6. Roam around the French Village. 
Head back to the cable car station at the Golden Bridge to go to the next destination – the French Village. While we haven't been to France to compare the architecture, you'll notice the European inspired facade such as the Saint Denis Church which is another hot spot for wedding photos. With the restaurants, stairways, and stores, the entire area is great to take photos.
The main area also has music and dance performances. We didn't receive an entertainment schedule and couldn't find one online. Whenever something appeared, we would watch the performance. 
There are also entertainers taking photos with visitors. Check out the invisible man or the person who looks like a statue. We couldn't help ourselves and had to take photos with three women standing on stilts. They were so eloquent when they walked by and greeted guests. 
Although not in France, you can also travel to Germany to the Beer Garden and try beer and international cuisines.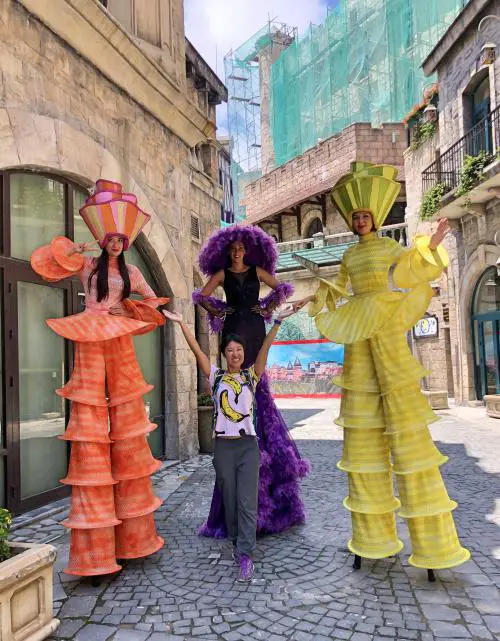 7. Feel the need for speed on the Alpine Coasters.
Interested in riding an alpine coaster? It's where up to two people sit in a bobsled type of vehicle and get the opportunity to ride along the mountainside. 
At Ba Na Hills, there are two alpine tracks to try this opportunity. Both Alpine Coaster 1 and 2 provide the same experience. If you're short on time, head to Alpine Coaster 2 which is located nearby the Louvre Station. The line goes by faster as there is a double track. Alpine Coaster 1 is next to Fantasy Park. 
We had a blast trying both of the lines. The best part is that you get to control your speed with the brake levers. Push forward to accelerate and pull back to slow down. There are signs to remind you to slow down around the curved areas, but I liked to go fast down the curves. 
Before you go on the ride, the ride representative reminds you to not bump the person in front of you (it's not a bumper cars ride) and you needed 20 meters (65 feet) apart throughout the ride. 
Tip: Don't forget to smile for the cameras for the photo opportunities. You can purchase your souvenir photo as you exit the ride for 60,000 VND ($2.60 USD). Your photo will come with an online code so you can download an e-copy.
If you would like to ride another alpine coaster in Vietnam that is even faster, head to Dambri Waterfall Tourist Area in Bao Loc.
8. Play games and go on rides at Fantasy Park. 
If you're seeking games and low-seeking thrill rides, visit Fantasy Park, an indoor entertainment area. Many of the rides and games are included in your entrance fee. 
We highly recommend the drop tower ride in the center of the area. You're strapped to a seat and the ride goes up and then drops back down. However, this ride is different than ones that we've been on as there are some unexpected twists when dropping down. The extra twists make the experience more thrilling. 
Although we didn't have a chance to fully explore the multi-level area, we passed by the 3D and 4D rides and a Jurassic Park type of ride which looked interesting. 
The Wax Museum is located in Fantasy Park. You'll need to pay for an additional fee to enter the museum. 
9. Check out the other spiritual attractions nearby the French Village. 
If you want to see Buddhist inspired architecture, head to the various spiritual attractions behind the French Village Mercure Hotel. Vietnam has a high Buddhist population so it makes sense to have a spiritual attraction area for visitors to experience. 
Check out the Linh Phong monastery and the Linh Phong Thin Tu Pagoda. You'll get more incredible views of the hillside from the pagoda. You'll also see a statue of Lady Buddha while you're at the pagoda. 
Tip: The walking path to these attractions has a lot of stairs so it's best to avoid if you have knee or leg problems. 
If you do decide to walk up and down the stairs, pay attention to the amplified insect buzzing noises when you walk through the trees. We think the noises are from hidden speakers to provide more of an outdoor ambiance. 
10. Eat your way through the park. 
The theme park has 14 restaurants with international cuisine that you can try. From French to Chinese to Vietnamese cuisine, you can eat your way through the park. Unfortunately, we didn't try any of the restaurants as they were on the higher price – 250,000 VND ($10.80 USD) and above. However, you can save money by purchasing your admission ticket with a lunch buffet. The lunch buffets offer 80+ variety of foods to try. 
You can also opt to try the food from the outdoor vendors. In the Beer Garden area, there are several of these types of vendors. We saw a whole roasted pig on a spit and roasted duck. If you don't know what to order, they have plates of what the dish looks like so you can see before ordering.
---
Where to Stay in Ba Na Hills
A unique experience is to stay overnight at the Mercure Hotel in Ba Na Hills. Who wouldn't want to stay in a European village?! The hotel rooms price is on the higher side as one night for two people starts at $120 USD, excluding admission cost. Check availability and reserve a room at the Mercure Hotel here. 
If you don't want to stay overnight, you can consider renting a room for 3 to 6 hours or sign up for a spa package. 
Otherwise, head back to Danang for your Danang accommodations. Find the perfect accommodations in Danang and make a reservation here.
---
Other Helpful Travel Tips
Wear comfortable walking shoes as you'll walk a lot.

The weather is cooler, so you may need to bring a light jacket. Otherwise, the weather is a nice break from the humidity in the city center.  

Bring an umbrella for an unexpected rainstorm or to shield yourself from the sun.

Stay hydrated.
---
Sun World Ba Na Hills Facts
Address: An Son Village, Hoa Ninh Commune, Hoa Vang Dist., Danang
Founded: 2009
Opening Hours: 7:00am to 10:00pm for the cable cars (daily)
Official Website (English): https://banahills.sunworld.vn/en/
Tickets: Purchase your discounted tickets here!
---
Overall, we had a fun experience at Ba Na Hills and hope you consider adding this place to your Danang itinerary! We would consider going back once the construction has finished for the newest additions to the resort. 
If you're looking for more ideas on your Vietnam planning, check out our blog posts below:
Have you been to Ba Na Hills? If so, what was your favorite part of your experience? Let us know in the comments if you have questions about this guide.
Save this post to your Vietnam Pinterest board!
Pin #2 photo credit: Lucia de la Hoz via Scopio Photos