Shh.. we have to tell you a secret. Ly Son Island (Đảo Lý Sơn in Vietnamese) in South Central Coast of Vietnam is absolutely stunning. Phu Quoc (Phú Quốc) Island gets the press and glory. However, Ly Son Island is a mesmerizing hidden gem and offbeat destination, and one of the fun things to do in Vietnam. It isn't spoiled by tourism yet!
We're here to share with you this complete traveler's guide on how to travel to Ly Son Island, accommodations, transportation, the must-see things to do on Ly Son Island, and how much to budget for the visit.
Ly Son Island is great if you want 2 days or a weekend trip from Ho Chi Minh City, Hanoi, or anywhere in Vietnam. From the stunning views of the coast, endless garlic and onion fields (this area is well-known for these) and the freshest seafood, you'll be in awe by the beauty of this island. Plus, you can explore the Ly Son Island's attractions on your own. No tour needed. Hope you get some inspiration to travel to this island as soon as possible.
Onwards to the Ly Son Island guide. Click on the links below to jump to the various sections:
* Disclosure: We have affiliate links in this post. As an Amazon Associate, we earn from qualifying purchases. If you click on them and make a purchase, we receive a small commission. There is no extra cost to you.
** Prices listed are as of August 2018
---
Why Visit Ly Son Island?
Ly Son Island is in Quang Ngai Province (Quảng Ngãi)  and 30 km (18.6 miles) away from the mainland. The main island is in total 10 km² (3.9 miles²). There are other two islands in this area, An Binh/Be island (Đảo Bé) and Mu Cu islet (Hòn Mù Cu). This small yet mighty Ly Son Island is an inactive volcano and has a few craters.
If you love garlic and onions, Ly Son Island should be high on your bucket list. It's also known as the "Kingdom of Garlic" with the garlic fields everywhere. You'll smell the garlic as you stroll past them. The garlic production is unique as it's grown on the volcanic rocks and covered with white sand from the beaches. Ly Son garlic has a milder flavor and smaller bulbs. There are even one-bulb garlic grown here!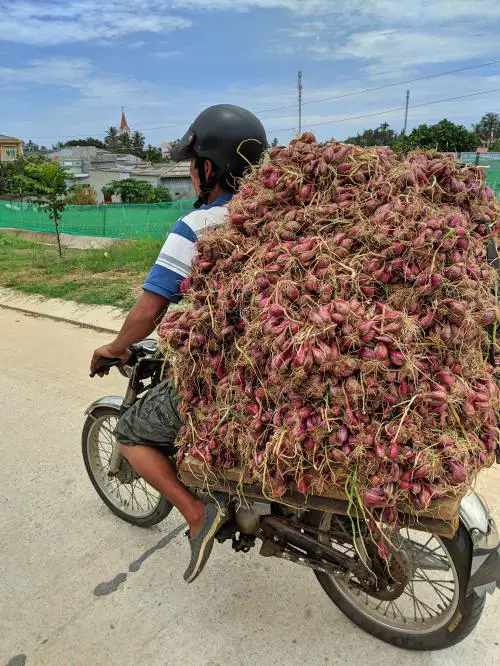 The island is also an awesome place to relax. It's untouched from tourism (for now) and has the small town charm. It's rare to see foreigners on the island so it's the perfect place to unplug. English is rarely spoken here, so you can practice your Vietnamese or come with friends who know the language. We can foresee a tourism boom here as there is construction along the coastline and a future market area/shopping area (Chợ Dêm Lý Sơn).
---
Best Time to Visit Ly Son Island
Ly Son Island's weather is warm all year round and is great to visit at any time. The best times to visit are:
December to February

for mild, warm weather
It tends to rain more during September to November, but you can also visit during this time frame.  
---
How to Get to Ly Son Island
Getting to Ly Son Island is a bit tricky. There isn't a direct way to get to the island by airplane and you'll need to take various transportation options. You'll need to head to Chu Lai International Airport, take a taxi to Sa Ky Port, and then take a ferry to the island. We've provided the instructions below for the easiest way if coming from Hanoi or Ho Chi Minh City.
1. Take a flight to Chu Lai International Airport
If you're coming from Hanoi (airport code: HAN) or Ho Chi Minh City (airport code: SGN), you can book a flight to Chu Lai International Airport (airport code: VCL). This is the closest airport before heading to Sa Ky Port to take a boat. Take flights from Jetstar Pacific Airlines, VietJet Air, or Vietnam Airlines from Hanoi and Ho Chi Minh City. Flight cost starts at 1,00,000 VND ($77 USD) for round trip and direct flight. It's best to purchase tickets 1-2 months prior to departure for the best deals. From Ho Chi Minh City, the flight was a quick 1 hour and 15 minutes one-way.
2. Take a taxi or pre-hire your driver to head to Sa Ky Port.
Once you grab your luggage, you'll need to head straight to the Sa Ky Port from the airport. You can either take a taxi or hire a driver ahead of time to head to the port. The distance is 46 km (28.5 miles) and will take about 1 hour to get there.
If you have a large group, consider hiring a mini-bus for the journey. You can Google, "xe buyt Chu Lai – Sa Ky" (bus from Chu Lai to Sa Ky), and contact companies for quotes. It's best to know Vietnamese or have a friend who knows the language to make arrangements. The ride may be a bit bumpy as the roads aren't the greatest with potholes everywhere.
3. Take a speedboat from Sa Ky Port to Ly Son Island.
Speedboat leaves several times a day. We left at 9:00am. It's recommended if you can buy your speedboat tickets ahead of time either at the port (2 days in advance or the morning of) or at the ticket agency in the city. If you have a large group, arrangements can be made ahead of time. (We had a group of 10.)
Tip: If you pre-arrange a driver, ask if he/she can help you with purchasing the speedboat tickets ahead of time.
One way- tickets prices vary from 151,000 VND ($6.50), 161,000 VND ($6.90), and 171,000 VND ($7.30). The more you pay, the faster the boat arrives to the island. Tickets contain your seat number. The boat holds around 70-80 people and it goes fast! You'll reach the island in 30 minutes.
The boat ride can be choppy depending on the waves. Better bring your motion sickness medication or you'll be seasick. The seat pockets have plastic bags for those who get seasick.
4. You've arrived at the Ly Son Island port and Ly Son Island!
Head to your accommodations to check in and start your day.
Foreigners must register at the port or at the police station, which is a five-minute walk from the port. Remember to do this or you'll be brought to the police station without any explanations.
There is still a military presence on the island along with military training grounds. Don't be surprised to see soldiers resting in caves or on the beach.
Note: When returning back to the mainland, follow the instructions in reverse. You'll need to purchase the boat tickets from Ly Son to Sa Ky Port ahead of time (or at the same time as getting to Ly Son Island).
---
How to Get Around Ly Son Island
It's recommended to rent a motorbike to travel around the island. There are a few taxis on the island. Our guesthouse had semi-automatic motorbike rentals available for 150,000 VND ($6.50) per day. The island has a lot of dirt roads, so be careful on the motorbike when driving on these paths.
---
How Much Time Needed at Ly Son Island
Two days is the perfect amount of time to spend on Ly Son Island as it's a small island. You can easily motorbike throughout the island in a few hours. The culture for this island is on the slower side, so relax and enjoy the attractions on the island.
---
Where to Stay in Ly Son Island
Most of the guesthouses (also called nhà nghỉ) and hotels are within a 5-10 minute walk from the port. The price range for guesthouses is 220,000 VND to 310,000 VND ($9-$13) per night. Don't expect fancy resorts as this island is not as developed. We can foresee large hotels and resorts in the future to accommodate future tourists. Book accommodations, see prices and read reviews on Ly Son Island hotels here.
We stayed at Dai Hang Guesthouse (Nhà Nghỉ Đại Hằng) for two evenings. It is a no-frills type of guesthouse. Rooms are a decent size, has air conditioning, and a private bathroom. If you share a room with four people, the accommodations are tight. The two beds are side by side and the room is tiny. We would recommend individual rooms instead. Check availability and make reservations at Dai Hang Guesthouse here.
---
Things to Do in Ly Son Island
Now we're off to explore Ly Son Island's attractions including beaches and viewpoints. A tour isn't necessary as you can motorbike everywhere.
1. Mount Thoi Loi (Núi Thới Lới)
Ride your motorbike to one of the highest peak of the island, Mount Thoi Loi (Núi Thới Lới). There are many stopping points along the route to take panoramic photos of the coastline. You'll be in awe of the turquoise waters and how high you are from the edge of the cliff. We can see why couples stop here to take their engagement photos. If you go further up the hill, another stopping point is a flagpole with the Vietnam flag.
Tip: Do not go all the way up the mountain or passed the flagpole. You'll be stopped by the military since it's a training facility.
2. Cau Cave (Hang Câu)
Getting to Cau Cave requires some good handling skills on your motorbike. You'll pass by garlic fields and drive through a dirt path to the parking area.
Tip: Park your motorbike at one of the vendors in the area before heading to the cave. Although it's advertised as free parking for the covered parking area, it's not really free. You'll need to purchase a drink or a fresh coconut (which is refreshing and delicious) as a courtesy.
Cau Cave is an impressive cave that leads directly to a small beach and the ocean. It's a great location to take sunset photos. Inside the cave isn't very deep and doesn't lead to any trails. Although you can sit on premium seatings on wooden reclining patio chairs for an additional fee (10,000 VND/ $.40).
Snorkeling or swimming is one of the best things to do in this area. You may have seen the circular wooden boats nearby the Ly Son port. Well, it's time to ride one before you go on a snorkeling adventure! It's better to go snorkeling as there are sharp rocks and coral near the shores and they will hurt your feet unless you're wearing water shoes. Plus, the coral is slowly dying with people stepping on them.
Visit one of the vendors in the parking area and hire him to take you out to go snorkeling for an hour. You get to go out to the ocean in the round wooden boats and see plenty of colorful fish in! The excursion includes the rower, life jacket, water shoes, and mask if you don't have a snorkel or swim goggles. If you have a large group, ask for a discount. Cost was around 50,000 VND ($2.15) per person for our large group of 10.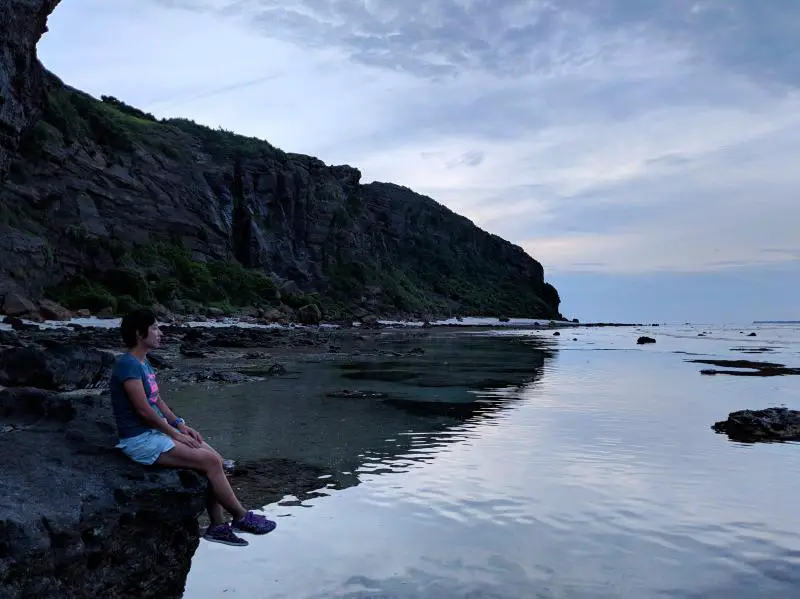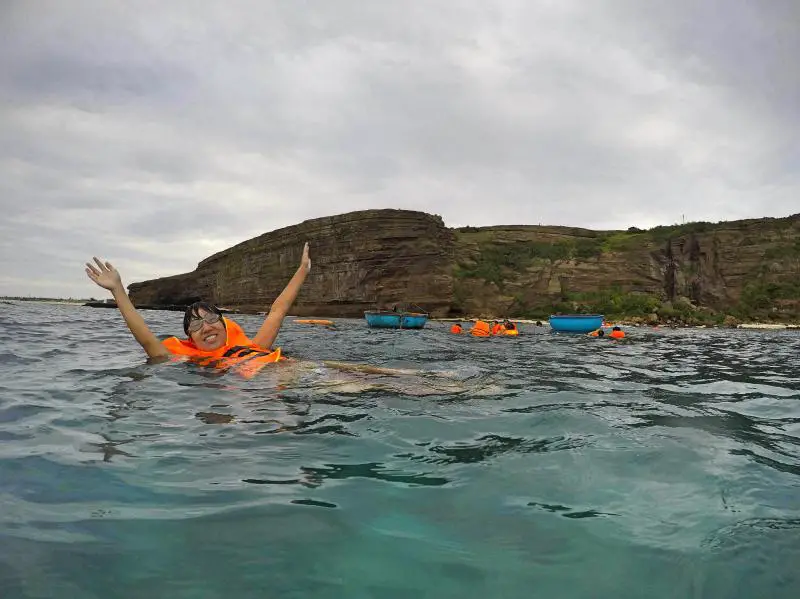 Read More: Explore caves in Vietnam
3. Hang Temple (Chùa Hang)
On the north side of the island, there is Hang temple. From the motorbike parking area, take the stairs down to see a temple inside the cave. It's a unique experience to see visitors and residents give their prayers in a cave. In front of the temple is a smaller version of the Guanyin, Goddess of Mercy, statue.
4. To Vo Gate (Cổng Tò Vò)
The picturesque To Vo Gate is on the east side of the island. It's a natural arch made from the volcanic lava. Visit this place early in the morning as there will be fewer visitors. It was very crowded during the sunset time frame.
There are a few vendors in the area where you can park your motorbike. No need to repark your motorbike at another lot if heading to the Duc Temple as you can walk to the next destination.  
5. Duc Temple (Chùa Đục)
Duc Temple is a 10-minute walk from To Vo gate and you'll walk past the cemetery. The cemetery is not dark and gloomy but has beautiful colors on the tombstone to remember those who have passed.
Right across from the main entrance of the Duc Temple, there are a few vendors selling souvenirs and have motorbike parking. Once you go up a set of stairs, you'll see a tall Guanyin statue facing the ocean. From there, you can head to the Duc Temple to see the Buddha temple or the Gieng Tieng Mountain. You'll also see a panoramic view of the island from this area.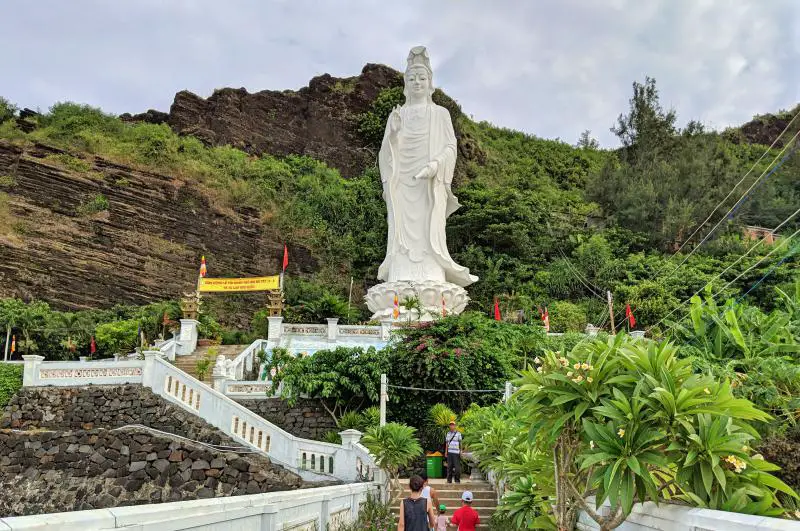 6. Gieng Tien Mountain (Núi Giếng Tiền)
Hiking up the Gieng Tien Mountain is another highlight of the trip. From the Guanyin statue, head right and take the stairs and a dirt path for 10-15 minutes. You'll pass small shrines and temples. Once you reach the top of the mountain, you'll see the luscious green inactive crater and another perspective from behind the Duc Temple area. Unfortunately, you cannot go up the summit of the mountain as the path is overgrown and gated.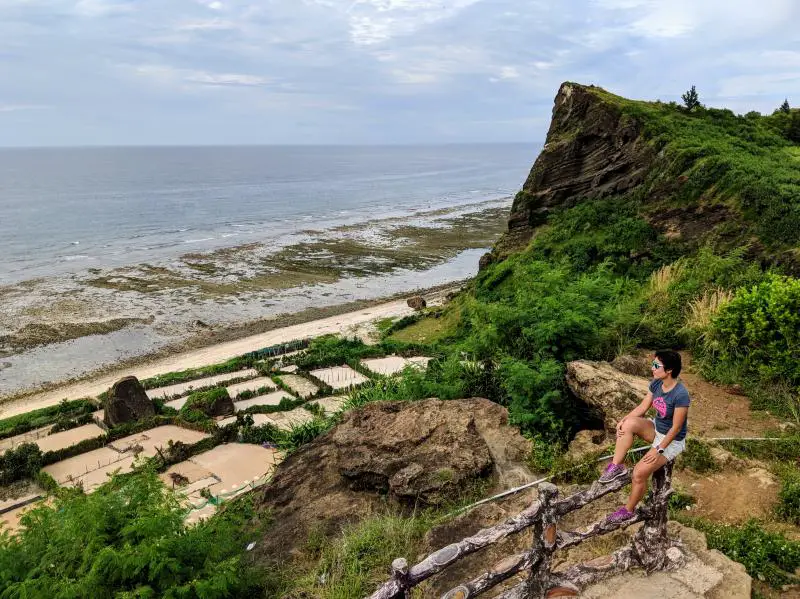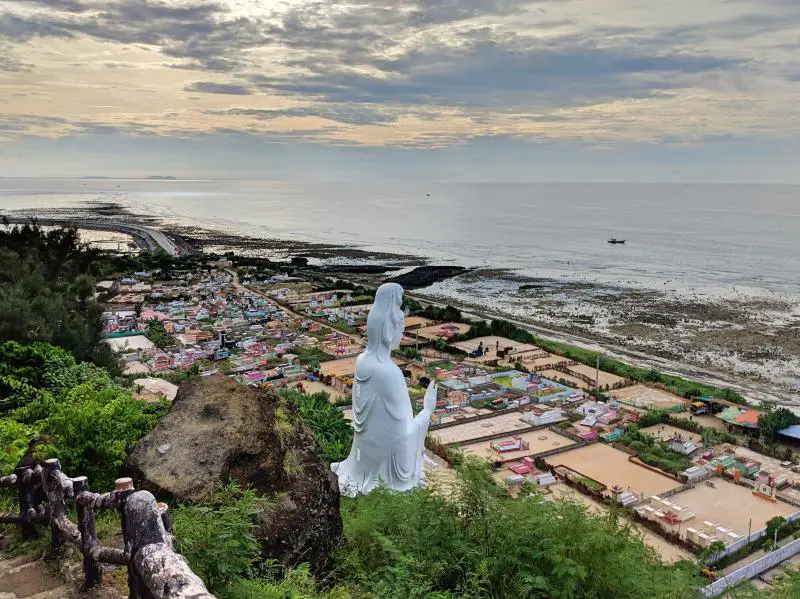 7. An Binh / Be Island (Đảo Bé)
An Binh is also known as the "little island" due to its size. If you're craving white sandy beaches, palm trees, and swimming, then come to this place for a few hours.
Boat tickets can be purchased on the day of departure and at the ticket agency nearby the port. The boat departs and returns to the main island several times a day. There aren't any boats after 3:00pm, so you allocate your time appropriately on the island. The ride is less than 15 minutes. Ticket price is 80,000 VND ($3.40) round trip.
When you first get off the boat, there will electric golf carts eager to take you to the only swimming location at the other end of the island. Included in the price is a round trip drive to and from the port, a covered resting area to buy drinks, and an enclosed area to hose down after swimming. Expect to pay around 10,000-15,000 VND ($.40-$.60) per person. Your driver may also bring you to a bridge area which is nearby the port. The bridge overlooks the beautiful ocean. Fee is 5,000 VND ($.20).
Swimming location is beautiful with clear waters. From the resting area, walk down the cliff to get to the beach and water. One of the downsides of the area is that the area has a lot of rocks and the waves are strong. Even if you're a strong swimmer, you can get swept away by the waves. Consider wearing a life jacket if swimming farther out. Another option is to take one of many circular wooden boats to snorkel to calmer waters at 60,000 VND ($2.60) per person.
If you have a chance, consider walking from the resting area to the port. The walk takes 15 minutes. You'll see lots of garlic and onion fields. Plus, you can see the new street art which encourages sustainability and saving the environment.
8. Other highlights
There are lots of temples to visit on Ly Son Island. Am Linh Tu Temple (Âm Linh tự) is a place of worship for the missing Hoang Sa soldiers during the war or anyone who passed without any recognition from family or friends.
Mu Cu Islet (Hòn Mù Cu) is an uninhabited area on the east side of the island. It's known as a good photography location with the black rocks and the lighthouse.
---
What to Eat in Ly Son Island
1. Anything made with garlic (it's the specialty!) 
You can never have too much garlic in your food!
2. All the seafood
The seafood is one of the freshest that we've eaten in Vietnam. Plus, it's very affordable. Pick your seafood, choice of cooking method, and enjoy! You can't go wrong with any of the seafood restaurants along the coast or if you decide to eat nearby the port.
Recommended restaurants:
Phat Hai Seafood (Quán Ăn Phát Hải)
We had seaweed salad with garlic, grilled squid, and fish hot pot. The grilled squid was delicious and cooked perfectly. Everything was fresh and bursting with flavor.
Khoi Chieu Restaurant (Quán Khói Chiều)
This is another restaurant where you can choose your own seafood and have it prepared to your liking Food was good. The service at this restaurant can be improved as we received a stir-fried seafood noodle dish without ordering it even though it was a mistake from the restaurant.
Dai Hang Restaurant (Cởm Hải Sản Đại Hằng)
Head back to the main port area. Our guesthouse has a restaurant on the ground floor. It's a popular place to eat at for lunch and dinner. The food was good and had huge portions! Some of the items we ate were fried tofu, egg with sea urchin, fish soup, fried fish, squid, and more.  
3. Fruit smoothies (sinh tố trái cây)
Cool down and rehydrate at the fruit smoothie stalls nearby the port. You can't go wrong with a 25,000 VND ($1.10) smoothie and to hang out in the evening.  
4. Sticky rice (xôi) and Sandwiches (bánh mì)
As you head to town from the port, there are two kiosks that sell sweet sticky rice (xôi ngọt) and sandwiches (bánh mì) for breakfast. The sweet sticky rice is affordable at 10,000 VND ($.40) and delicious. It's one of the best sticky rice that we've eaten due to the sugar and salty peanut topping and the colorful rice with corn and beans. The sandwiches are also filling at 15,000 VND ($.60).
Read More: Learn how to cook Vietnamese food
---
Important Things to Pack
Here are some helpful things to bring when you're on the island.
Passport if you're a foreigner

Sunscreen

(Try to purchase one that is coral reef safe!)

Enough cash (No one takes credit cards.)

Sandals / Flip Flops (These are our favorite sandals:

Men Fanning / Women Fanning

)

Swimsuit
---
How Much Does It Cost to Go to Ly Son Island?
We've mentioned a lot of costs throughout the post and now it's time to consolidate how much it costs to go to Ly Son Island. Depending on your choice of accommodations and activities, prices may fluctuate. Price is for one person below.
| | |
| --- | --- |
| Airfare | 1,800,000 VND |
| Transportation from Airport to Sa Ky in mini-bus | 150,000 VND |
| Speedboat ticket from Sa Ky to Ly Son round trip | 322,000 VND |
| Hotel for 2 nights | 175,000 VND |
| Food | 500,000 VND |
| Boat ticket from Ly Son to An Binh round trip | 80,000 VND |
| An Binh transportation & shower | 10,000 VND |
| Snorkeling at Cau Cave | 55,000 VND |
| Motorbike rental | 150,000 VND |
| Total For One Person | 3,242,000 VND ($140 USD) |
---
Wow! We did a lot of activities at Ly Son Island and it was worth the experience. We hope you consider visiting Ly Son Island in the future and using this traveler's guide for reference! It's one of the best affordable weekend trips that you can take in Vietnam. Plus, there are plenty of views, must-see activities, and things to do to keep you occupied for spending at least 2 days in Ly Son Island, Vietnam. Definitely add it to your Vietnam itinerary.
What other islands have you explored in Vietnam? What are you the most excited about when visiting this hidden gem, Ly Son Island?
Read more about our adventures in Vietnam
Like the post? Save it to your Asia Travel Bucket List on Pinterest!