Want to visit a waterfall on your next trip to Vietnam? Check out this post on the best waterfalls in Vietnam to add to your Vietnam itinerary. 
We're huge fans of visiting waterfalls and make an effort to see a waterfall when traveling through Asia. 
Since we're living in Vietnam, we're on the quest to visit as many waterfalls in Vietnam as possible. The country doesn't disappoint with many beautiful waterfalls to check out from North to South Vietnam. 
Since we've already piqued your interest, continue reading this Vietnam waterfall guide to learn about the 11 best and beautiful waterfalls to visit. We're off to see waterfalls in popular, touristy places to those in offbeat locations. Some of the waterfalls require hiking. Enjoy chasing waterfalls!
*Disclaimer: This post contains affiliate links. If you click on them and make a purchase, we receive a small commission. There is no additional cost to you. Appreciate the support.
---
Map of the Vietnam Waterfalls Locations
---
1. Gio Waterfall, Phong Nha-Ke Bang National Park
Phong Nha-Ke Bang National Park, located in Central Vietnam, is known for its gorgeous caves and outdoor adventures. When exploring Phong Ke-Bang National Park, add a visit to the Phong Nha Botanic Garden to see the Gio Waterfall (Thác Gió in Vietnamese).
To get to Gio Waterfall, you'll need to take a short 10 to 20-minute walk through the forest area and then scramble down the rocks. From there, you can see how huge this waterfall is. 
You can get closer to the top of the waterfall, but you'll need to be careful and use the ropes on the side of the walking path. Due to the water cascades, the walking path is very slippery on the rocks and very dangerous so young children should not attempt to do this. 
Unfortunately, there isn't a good resting area to enjoy the waterfall yet it has some huge cascades to see!
For places to stay in Phong Nha, click here for accommodation options.
---
2. Pongour Waterfall, Dalat
Dalat in Lam Dong Province is one of the fantastic places to visit in Vietnam as the area has many waterfalls to visit. 
Pongour Waterfall (Thác Pongour) is one of the best waterfalls in Dalat to visit as it's the second-largest waterfall in Vietnam. It's located 50 kilometers (31 miles) away (1 hour by car) from the main Dalat City Center. 
You'll need to take a short walk from the parking lot to the base of the falls. You can also view the cascades from above (check out our featured photo for this view.)
What makes Pongour waterfall unique is its multi-tiered layers. During the rainy season, the cascades are massive, yet eloquently rushes down to the bottom of the falls. 
You can walk along the first level of the waterfall tier but you need to be careful. The rocks are slippery due to the moss. The water is refreshing (maybe too cold depending on when you visit) if you decide to sit or stand underneath the falls. 
Check out places to stay in Dalat here.
---
3. Elephant Waterfall, Dalat
Elephant Waterfall (Thác Voi) is a massive waterfall with powerful cascades. Located in the Lam Dong Province, it's 28 kilometers (17 miles) away (50 minutes) from the Dalat City Center. 
From the parking lot, you can view the waterfall from above or take a short walk down to the falls. Take your time walking down to the falls as it's misty and the walking path can be very slippery.
At the bottom of the falls, you can see the rushing cascades and you may even see a rainbow appear. 
If you're brave enough, you can go behind the waterfalls for a unique view. The challenging part is that you'll need to use your arms and straddle your legs between rocks and branches to reach this area. This area is practically a wind tunnel and you'll get drenched from the water pressure.
---
4. Tam Tham Waterfall, Dalat
Tam Tham Waterfall (Thác Tàm Thàm) is a hidden gem of a waterfall in Dalat. It's located behind Langbiang mountainside in Lam Dong Province. Most people haven't heard of this place, so you can have the waterfall all to yourself! 
This waterfall has gentle cascades that you can swim in. At the bottom of the falls, there is a pseudo slide made naturally from the rocks. Your tailbone may get bumped a lot when sliding down. 
There are plenty of rest spots at the base of the falls to dip your feet too. 
The easiest way to reach the waterfall is to hire a Jeep to drop you off along a walking path to get you to the falls. 
The more adventurous way is to hike to the waterfall from the main road, Đường Mười Chín Tháng Năm. Allocate at least 6 hours round-trip. The hiking route passes through greenhouses, farmlands, and covered forest areas. You'll need to cross monkey bridges or large tree trunks and/or streams to reach the waterfall. 
---
5. Datanla Waterfall, Dalat
Datanla Waterfall (Thác Datanla) is one of the accessible waterfalls to visit in the Dalat area. It's only 9 kilometers (5.6 miles) away from the Dalat City Center. It's a popular tourist spot since there is an alpine coaster, cable car, and other fun attractions.
This waterfall is not too high at 20 meters (65 feet), yet the adventurous travelers will love canyoning off of Datanla Waterfall. It's considered one of the fun activities to try in Vietnam. 
6. Dambri Waterfall, Bao Loc
Dambri Waterfall (Thác Đambri) is a part of the Dambri Tourist Area in Bao Loc, Lam Dong Province. It's considered one of the tallest waterfalls in the province at 70 meters (230 feet) high. 
The top thing to know about Dambri Waterfall is that the cascades are fierce. When standing in front of the waterfall for photos, you will get drenched. It's as if you've stood outside during the pouring rain for a few minutes. The neighboring shop sells ponchos if you prefer to not get wet. 
During the dry season, you can walk down to the bottom of the waterfalls and cross the walkway to reach the other side. Unfortunately, the cascades are too powerful during the rainy season and you won't be able to cross.  
Afterward, you can visit the Dasara Waterfall (more info below), ride the Ferris Wheel, take a swan boat ride, and do other fun activities at the tourist area. 
Check out accommodations in Bao Loc here.
---
7. Dasara Waterfall, Bao Loc
Dasara Waterfall (Thác Đasara) is nearby Dambri Waterfall. We call it the "sister waterfall" of Dambri Waterfall since it's smaller and has calmer cascades. 
You can't miss this waterfall since there is a sign to the right of it. 
The fun and exciting way to get to this waterfall is by taking the alpine coaster, located nearby the parking lot, and making your way down the mountain. You control the speed of the alpine coaster by pulling and pushing a lever.
---
8. Unnamed Waterfall, Sapa
While Love Waterfall and Silver Waterfall are popular waterfalls to visit in Sapa, there is an unnamed waterfall that is small, yet oh so beautiful to experience in the mountainside of Sapa. 
It's a hidden gem in Vietnam since you can only get there by trekking through the Ta Van to Supa Valley in the Muong Hoa mountainside. Since you're able to get there on foot, enjoy this ultra-clean waterfall! We love how there isn't any garbage around the area. 
You can swim in the waterfall, but it was too cold during our visit in late November.
To get to this waterfall, you need to take a trekking tour from Sapa to Ta Van area. We took a trekking tour with Zaazaa Trekking and highly recommend Zaazaa's service. It was exciting to see Zaazaa show us this hidden spot. Check out our Sapa 2-day trekking experience here. 
Find the perfect accommodation to stay in Sapa here.
---
9. Silver Waterfall, Sapa
When visiting Sapa, one of the waterfalls to add to the list is Silver Waterfall (Thác Bạc). The cascades are worthy to check out since they're over 100 meters (328 feet) high! The water cascades are massive so there is a walking bridge to see a closer view of the falls. 
You can make a short stop here if you plan to hike up Fansipan Mountain from the Tram Tom starting location. 
Love Waterfall is also nearby Silver Waterfall so it can be visited on the same day. 
Check out this day tour of Love Waterfall & Silver Waterfall here.
---
10. Ban Gioc Waterfall, Cao Bang
Ban Gioc Waterfall (Thác Bản Giốc or Ban Gioc-Detian Waterfalls), located in Cao Bang Province on the North Vietnam-China border, is one of the most beautiful waterfalls in Vietnam to witness. 
As the fourth largest cross-borders waterfall in the world, Ban Gioc needs to be on your Vietnam bucket list. It's such a gorgeous place to visit and the cascades of 30 meters (98 feet) and a length of 300 meters (984 feet) is mesmerizing to see. There are two parts to this waterfall – the main one with large falls (that is shared with China) and the smaller falls (on Vietnam side). 
We recently had a chance to visit Cao Bang, and the photos of Ban Gioc Waterfall on social media truly show how epic this place is.
Check out our Cao Bang travel guide for more information.
Click here to find a place to stay in Cao Bang.
---
11. Hang En Waterfall, An Toan
Hang En Waterfall (Thác Hang Én or K50) is another fantastic waterfall to check out in An Toan, Binh Dinh Province, in Central Vietnam. This 50 meter (164 feet) high waterfall is located in the Kon Chu Rang Nature Reserve. There are 9 other waterfalls in this reserve, but this one is the more popular one to visit. 
You'll need to hike about 17 kilometers (10.5 miles) through the forest to get to the falls and will need to stay overnight at a campsite. Therefore, it's recommended to go on a tour to see this waterfall. Read more about the waterfall here. 
This waterfall is on our bucket list to see in the future.
---
Final Thoughts on Vietnam Waterfalls
How many of these waterfalls do you want to see in Vietnam? While we haven't seen all of these waterfalls yet, we plan to do more travels around Vietnam soon! We'll update this post accordingly for more awesome waterfalls that you need to check out.
Don't forget to check out our posts on Vietnam travel tips and what to pack for Vietnam.
Check out our other waterfall posts: 
Like this post? Save it to your Vietnam Pinterest board.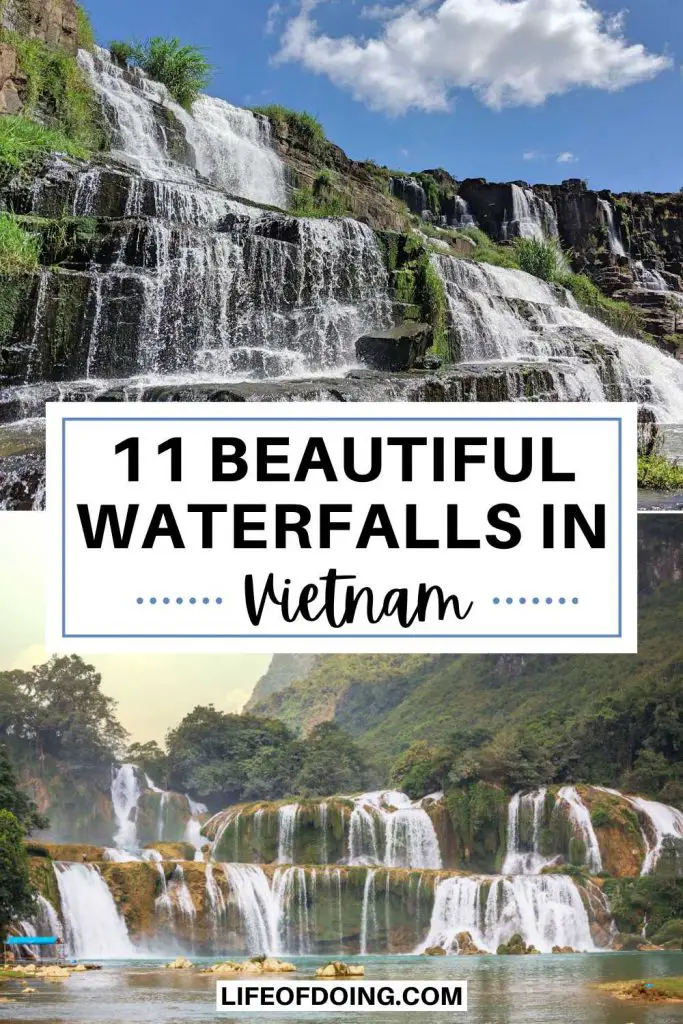 Pin #1 photo credit (bottom): kamchatka via Depositphotos.com