Cao Bang (Cao Bằng in Vietnamese) in northern Vietnam is one of the unique places to visit. This province is located close to the Vietnam-China borders and is famous for its beautiful mountain views, waterfalls, and landscapes.
Many tourists don't usually visit Cao Bang on their first trip to Vietnam as it's far from Hanoi. Yet, it's one spot to add to the bucket list for a return trip.
As you know, we've been living in Vietnam for over 4 years and finally had the chance to visit this area. We loved our visit since Cao Bang isn't touristy and is a quieter alternative to other large cities in North Vietnam. 
In this Cao Bang travel guide, we're sharing tips on how to plan for a trip to Cao Bang, places to stay and eat in Cao Bang, and most importantly, the top things to do in Cao Bang.
Click here to jump to certain areas of this Cao Bang post:
*Disclaimer: This post contains affiliate links. If you click on them and make a purchase, we receive a small commission. There is no additional cost to you. Appreciate the support.
---
Important Cao Bang Planning and Travel Tips
Why Visit Cao Bang? 
The northern and eastern areas of Cao Bang are recognized as the Non Nuoc Cao Bang UNESCO Global Geopark in 2018. The area has high mountains with elevations of 1,000-2,000 meters (3280-6561 feet), pretty limestone karsts, and gorgeous lakes and waterfalls. 
Many local ethnic minorities live in this area and still maintain their customs and traditions. 
---
How to Get to Cao Bang
Cao Bang does not have an airport and Hanoi is the closest large city with an airport. 
From Hanoi to Cao Bang, the easiest and most convenient way to travel there is by overnight bus. The distance is 288 kilometers (179 miles) from Hanoi's Old Quarter and takes around 6-7 hours. The overnight bus has seats where you can almost lie flat and you can stretch your legs. 
Another option is to take a car or minivan. This is a more expensive option and may be the only option if traveling on a group tour. 
You can also get to Cao Bang from Ha Giang, which is what we did on motorbikes. From Meo Vac town in Ha Giang to Trung Khanh District in Cao Bang, it is 250 kilometers (155 miles) took over 7 hours to travel. It was a long motorbike ride.  
---
How to Travel Around Cao Bang
The best way to travel around Cao Bang is to use the following transportation:
Motorbike – Renting a motorbike will be helpful to travel to the various sights as they aren't close together.
Car or Taxi – If you don't know how to drive a motorbike, then you can hire a driver or get a taxi to get to your destination. Tours will often use cars or minivans to travel around. 
Tip: The data reception in the rural areas of Cao Bang is limited so you want to download the offline maps of your destinations. 
As with the SIM card, consider getting a Viettel SIM card. MobiFone is not great at getting reception in this area.  
---
How Many Days Should You Spend in Cao Bang?
It depends on your schedule and what you want to do. You'll need at least 2-3 days for your Cao Bang itinerary to see the attractions. 
We stayed in Cao Bang for 4 days/3 nights as we had more time to explore and not feel rushed.
---
Should You Do a Cao Bang Tour or Do It Yourself?
Doing a tour is much easier and stress-free. Everything is taken care of for you but you'll have less control over the schedule. 
Visiting the Cao Bang attractions is doable to do by yourself, especially if you rent a motorbike. You need to plan accordingly as Cao Bang Province is very large and driving to sights can take over 2 hours one-way. 
**Don't forget to get travel insurance in case you need medical attention or anything related to the trip. 
**Our Recommendation**
We did a private motorbike tour as we continued our trip to Cao Bang from Ha Giang. We went with our friend and tour guide, Sỹ. 
He has been to Cao Bang many times, so we felt confident with having a guide. It was easier for us to have everything organized by Sỹ and for him to show us the best of Cao Bang.
I sat behind Sỹ on the motorbike while Justin drove a motorbike and followed us. Navigating the roads by ourselves would have taken twice as long as we would have gotten lost a lot. 
We loved our trip with Sỹ as we spent one week with him for Ha Giang and Cao Bang. We wouldn't hesitate to hire him again for future trips.
He is very professional and it was super easy to communicate with him over Facebook Messenger when booking the trip. He is a fun person to hang out with and talk to. Plus, he takes beautiful photos.
If you're interested in a private tour or joining one of his group tours, check out Disy Travel on Facebook for more information.
---
When is the Best Time to Visit Cao Bang?
You can visit at any time of the year. Yet, spring (March to April) or fall (September to October) are ideal times to visit. 
In the spring, the weather is warmer around 28-30℃ / 82-86℉. We personally visited Cao Bang in the mid-April time frame.
In the fall, the weather is on the hot side at 29-31℃ (84-89℉) but with fewer rainy days. The fall season is known for the golden rice fields so you'll see golden fields everywhere. 
Summertime (May to August) is hot (around 32℃ / 90℉) and rainy so you may not want to visit. July tends to have the most rain out of the year.
---
Where to Stay in Cao Bang
Cao Bang is a large city and province so it depends on which area you want to stay in. Many of the accommodations are affordable homestays and guesthouses, so you won't see any large resorts here.  
Click here to see all of the accommodations in Cao Bang. 
---
If you want to stay in Cao Bang's city center in Thach An District, then you'll be close to the weekend night market and restaurants. 
We stayed at the Primrose Homestay and it was great! The private rooms have an ensuite bathroom, air-conditioning unit, and a comfy bed. The inside rooms don't have a window to see outside, but there is a window that gets natural light from the rooftop. 
The location is ideal as it's only a block away from the main walking street and restaurants. 
This place also offers motorbike rentals. 
Book a room at Primrose Homestay here. 
---
If you want to stay close to Ban Gioc Waterfall in Trung Khanh District, then consider staying at Lan's Homestay. The homestay is next to the stream and has open lands with buffaloes, horses, and goats roaming around. Plus, it's only a 10-minute motorbike ride to the waterfall. 
There are private rooms and individual beds in the common area. Definitely use the mosquito net provided as there are lots of insects here. There is a shared shower and toilet area separated by men and women. 
Since the area is isolated, the homestay offers lunch and dinner here. 
The owner is very friendly and speaks Vietnamese, Chinese, and English. Three dogs live on-site and they are friendly and adorable. They'll paw your leg when they want to try some of your food. 
Book a room at Lan's Homestay here. 
---
Map of Cao Bang Places to Visit
---
Top Things to Do in Cao Bang
1. Visit Ban Gioc Waterfall. 
Everyone visits Cao Bang to check out Ban Gioc Waterfall (Thác Bản Giốc in Vietnamese). It's one of the most beautiful waterfalls in Vietnam and top waterfall in Asia to visit. We can see why this is a top attraction to visit in Cao Bang. 
There are two parts to the waterfall – a smaller one to the left and the larger one with multiple tiers on the right side. Unfortunately, you can only see the lower level of the larger waterfall from the main viewing area. 
The cascades are 30 meters (98 feet) and a length of 300 meters (984 feet).
One of the unique aspects of this waterfall is that it's a cross-border waterfall and is shared by Vietnam and China. It's considered the fourth largest cross-border waterfall in the world. 
China calls this waterfall, Detian Waterfall. On the China side, visitors ride along an escalator along the mountain to see a panoramic view of the full waterfall. Visitors from China cannot see the smaller waterfall on Vietnam's side. 
Both Vietnam and China have their own boats on the designated sides so visitors can get a closer view of the waterfall. There is an additional fee for this option.  
While it may be tempting to be close to the China border, do not attempt to cross the border illegally! 
Address: TL 211, Đàm Thuỷ, Trùng Khánh, Cao Bằng 
---
2. Wander through Nguom Ngao Cave. 
Love walking through caves? Don't miss Nguom Ngao Cave (Dộng Ngưởm Ngào in Vietnamese, Tiger Cave in ethnic Tay language). It's the largest cave in Northern Vietnam and it's a cool spot to see stalactites and stalagmites in various shapes such as a tiger and eagle.
The main area of the cave is paved and well-lit. Just follow the path to various sightseeing spots.
Tip: Visit this place early in the day to avoid the large crowds. Otherwise, it gets very crowded and loud in the main cave area. 
We suggest that you take the longer experience tour. The price is higher than the normal ticket at 200,000 VND ($8.70) per person (normal ticket price is 45,000 VND/$2.00), yet it's worth it. 
It's a two-hour tour with a guide. Our guide spoke Vietnamese and basic Chinese and our tour guide, Sỹ, translated to English. 
You get the chance to walk deeper into the dark caves and see more gorgeous stalactites and stalagmites. Some of the cool sights include natural limestone sculptures that look like terrace rice fields or an upside-down lotus flower.
We even saw a cave entrance that looked similar to Hang En and Son Doong Cave in Phong Nha.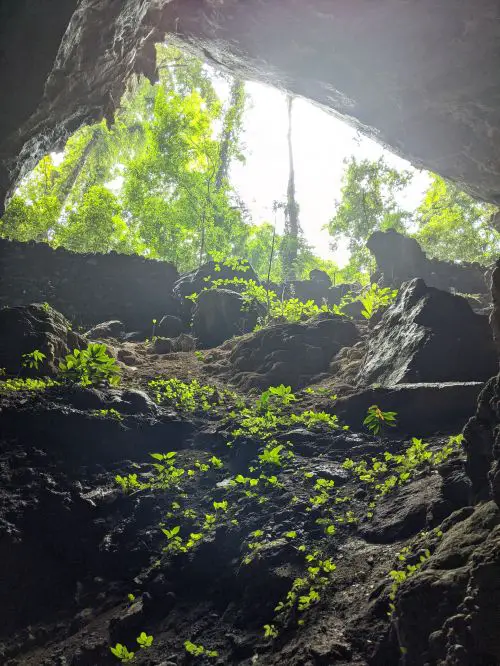 Since you walk through ankle-deep streams and dark areas, you must wear sandals and headlamps (provided for free). There are some sketchy spots where you walk directly on the limestone and must duck your head for low clearance areas. 
Nguom Ngao Cave is 3.8 kilometers (2.3 miles) away from Ban Gioc Waterfall so you can combine the two places for a day trip. 
Address: Đường vào động Ngườm Ngao, Đàm Thuỷ, Trùng Khánh, Cao Bằng
---
3. Drive Along Me Pia Pass. 
Whether you're driving from Cao Bang to Ha Giang or vice versa, you need to drive along the Me Pia Pass (Đèo Mẻ Pia). It's known as one of the most dangerous passes in the area, yet one of the coolest spots to visit in Cao Bang. 
Due to the sharp, windy path along National Highway 4A, there are 14 sharp turns and twists (also referred to as 14-story) along the mountain. The road is only 2.5 kilometers (1.5 miles) long.
Driving along here is exhilarating and terrifying at the same time with so many blind spots along the curves. Take your time driving on the curves. 
Note: This place is about 3 hours away from the Cao Bang city center, so it's not that close if you want to visit as a day trip.
Address: Xuân Trường, Bảo Lạc District, Cao Bang 270000, Vietnam 
---
4. Do a short hike to see Me Pia Pass. 
If you have time, consider going on a short 2-kilometer (1.2 miles) round trip hike to see a panoramic view of the gorgeous Me Pia Pass from the top of the mountain. 
To get to the peak, park at the coffee shop at the top of the Me Pia pass and then cross the street. Follow the red arrows and hike your way up past rocks and trees. (The hike is technical with the rocks and mud, so do not attempt when it's rainy.) Then you'll get to the scenic spot to overlook the beautiful pass. 
---
5. Walk through Cao Bang Walking Street on the Weekends
If you're visiting Cao Bang city center on Fridays or Saturdays from 7:30pm to 11:00pm, check out Kim Dong Walking Street (Phố Đi Bộ Kim Đồng). 
The roads are closed to vehicles so pedestrians can enjoy street food, street performances, and traditional games without any disturbances. The game area has the most crowds as it's children-friendly with board games and interactive games (ie: tug of war and jump ropes). 
The walking street is over 600 meters (.37 miles) long, yet it's very crowded with locals and visitors. 
Address: Kim Đồng, P. Hợp Giang, Cao Bằng
---
6. Wander through Co La Waterfall and the surrounding area. 
Co La Waterfall (Thác Cò Là) is a smaller waterfall to check out. While it's not as grand as Ban Gioc Waterfall, it's a beautiful place with greenery and water streams flowing. Besides the waterfall, there are several monkey bridge crossings and a walking path through rice fields. 
Address: RJP6+9MM, Bản Ruộc, Trùng Khánh, Cao Bằng
---
7. See the sunset from God's Eyes /Angel Eye.
One of Cao Bang's hidden gem is visiting God's Eye Mountain (Núi Mắt Thần or Núi Thủng) in Thung lũng Núi Thủng Nà Ma (Tuyệt Tình Cốc) valley area. 
When you enter this area, you'll notice several lakes, buffaloes roaming around, and open wide green fields. It's such a peaceful place to explore and relax. 
The main attraction is the unique mountain with a hole in it which is considered the "God's Eye." Unfortunately, you can't hike up this mountain, so you can only admire it from afar. 
There is a small waterfall, Nam Tra Waterfall (Thác Nặm Trá), that you can walk to from the main area. 
You can visit this area at any time of the day. Yet, seeing the sunset from here is extra special with the orange and pink hues in the skies. 
Camping overnight is also available. Everything is provided from the tent, sleeping mats, sleeping bags, table set-up, drinking water, and food (dinner and breakfast). When the lakes are filled with water, the camping organizers provide SUP (stand-up paddleboards). 
Note: There aren't any public toilets here so you'll need to use the "mountain toilet." Hopefully, there will be ways to address the sanitary issues in the future. 
Note: When you enter this open area, be careful with driving. The road is very steep with tiny rocks everywhere and can be muddy. Do not attempt to drive down when it's rainy or muddy. Cars are not recommended to go down the road as they may get stuck in the mud. 
Address: Q8M4+238, Cao Chương, Trà Lĩnh, Cao Bằng, Vietnam
---
8. Visit Pac Bo Village. 
Pac Bo (Pác Bó) is a small village that has two main sightseeing places – Pac Bo Cave (Hang Pác Bó or Hang Cốc Bó) and Le Nin River (Suối Lê Nin). 
The Pac Bo Cave is where Ho Chi Minh lived after returning to Vietnam from China and his travels in 1941. The cave is small yet has enough space for a bed and a campfire. The cave's temperature is much cooler than the outside heat. 
The Le Nin River is the most turquoise river that we've seen in Vietnam. The clear water has thousands of fish flourishing. We can see why Ho Chi Minh chose this area to go fishing and has a sign designating his fishing spot. 
From the parking lot, take the electric car to get you to the main area of the cave. Otherwise, it's a very far walk. 
Address: X3P2+R5J, Trường Hà, Hà Quảng, Cao Bằng, Vietnam
---
Where to Eat and Drink in Cao Bang
If you're staying in the main Cao Bang city center, then here are some restaurants that we tried:
2K Tea – This is a popular spot for frozen yogurt and drinks. The frozen yogurt with the jackfruit is delicious. The yogurt isn't too sour and has the perfect amount of sweetness from the jackfruit. We tried lemon tea which is average. 
Address: 36 Phố Kim Đồng, P. Hợp giang, Cao Bằng
Chay Đạo Quán – We had a quick vegan meal here and it was yummy. Lunchtime has a buffet but we went here for dinnertime. We ordered rice with the chef's choice of various side dishes – tofu and seaweed soup, mushroom with pineapple, spring rolls, and faux intestine with black beans.
Address: 210 Bế Văn Đàn, P. Hợp giang, Cao Bằng, Vietnam
Bánh cuốn at 28 Hong Viet Street – We mentioned how we stayed at Primrose Homestay and a few stores down is a local spot to eat bánh cuốn. It's rolled rice cakes with egg or pork inside and eaten with hot soup. You can order as many bánh cuốn as you want, but they get filling!
Address: 28 Hồng Việt, P. Hợp giang, Cao Bằng, 270000
Nhà hàng Ngon Restaurant – If you have a large group or want to have Vietnamese food, then try this place. It has a large banquet hall but there are smaller rooms in the back for more privacy. We tried a variety of fresh vegetables, pork belly with shrimp, and roasted duck. The portions are huge.
Address: Số 05 Hoàng Như, P. Hợp giang, Cao Bằng
---
Final Thoughts about Cao Bang
If you have the chance to visit Cao Bang, then add it to your Vietnam itinerary. Many tourists and local Vietnamese haven't visited this area so you can discover a new place. You won't be disappointed with the things to do in Cao Bang and the jaw-dropping views.
Have any questions about Cao Bang? Ask one in the comment box below.
---
Check out our other North Vietnam posts for more inspiration: