Getting around Vietnam is not the easiest for first-time visitors. There are many different transportation options in Vietnam to choose from such as taking a sleeper bus to trains or taking a boat. You have to consider the number of people in your group, budget, comfort level, and time.
As residents of Ho Chi Minh City, we like to take day trips and weekend trips. Since we don't drive a car, most of our trips involve a multi-step process of taking a taxi to a bus station, riding a bus for a few hours, and then motorbiking or taking a taxi to arrive at the destination.
Unfortunately, Vietnam doesn't have a functioning metro system in place unlike the neighboring Kuala Lumpur, Singapore, and Bangkok. The first-stage of the metro system infrastructure in Hanoi is done, while it's still getting built in Ho Chi Minh City. 
To lessen the confusion, this travel guide highlights the best transportation in Vietnam and how to get around Vietnam with these 12 options. You'll use a combination of these options during your Vietnam itinerary. 
Let's continue to see some of the top ways to travel through Vietnam. 
*Disclaimer: Visiting Vietnam? This post contains affiliate links. If you click on them and make a purchase, we receive a small commission. There is no additional cost to you. Appreciate the support.
---
Getting Around in Vietnam By Motorbikes 
After you first land in Vietnam, one of the first things that you'll observe is the sheer number of motorbikes everywhere. It's intense to see hundreds of motorbikes on the road throughout the day. 
Riding a motorbike is a way of life for the locals to travel within the city. Plus, it's one of the best ways to travel in Vietnam as you can squeeze between the cars and ride through narrow alleyways and streets. 
Renting a motorbike is affordable and can be done through your accommodations or at a motorbike rental place. The cost starts at 120,000 VND ($5.20 USD per day). 
Driving a motorbike requires skills especially with the intense traffic like in Ho Chi Minh City and Hanoi, so it's not necessarily the safest option to travel.
If you don't know how to ride a motorbike, the large cities are not the place to learn how to ride one (unless you're staying for a while and will take driving lessons). You're better off learning how to ride one in the countryside or a quiet place with little traffic such as Con Dao Islands or other smaller islands. 
Another option to experience a motorbike ride is as a passenger. Sign up for a motorbike street food or city tour. It's a unique way to explore the city as the drivers are safe and know their way around the city.
We took motorbike city tours in Dalat, Nha Trang, and Danang with OneTrip and loved our experience. (No affiliation but truly enjoyed the friendly tour guides and the city highlights. It's best to check with the OneTrip team on the current tours as the offerings have changed.)
Tips for riding a motorbike in Vietnam
If you ride a motorbike with 50cc or less, you don't need to have a Vietnamese driver's license. Anything higher, then you legally need to have a Vietnam driver's license. 

Wear a helmet at all times and use your turn signals often. The police can pull you over for breaking the rules and you'll need to pay a "fine" (more like a bribe) to pay off the infraction.

Wear a mask to cover your nose and mouth for the pollution. 

Stay in the designated motorbike lanes versus driving in the car lanes. 

Be careful on the road. Drivers often don't follow rules and they don't look around them – only in front of them. Whoever is in front has the right of way. People tend to go in the opposite direction of traffic too.

If you decide to ride a motorbike for longer periods (ie: 2+ hours), we recommend that you take rest stops during the ride. As a passenger, it can get uncomfortable riding a motorbike after 45 minutes.  
---
Getting Around in Vietnam by Ride-hailing app (ie: Grab) 
Ride-hailing apps such as Grab and GoJek Vietnam is a safe and cheaper alternative than taking taxis. Our go-to app is Grab as we use it for both transportation and food delivery. 
To use Grab, the app interface is the same as the U.S's Uber. (Uber is not available in Southeast Asia anymore as Uber sold its Southeast Asia shares to Grab.) You request either a motorbike and/or car and input your pick-up and drop-off location. It's an easy way to get from point A to point B and you know your pricing for the ride. No haggling required. If you have a large group, order a larger 7-seater car. 
Depending on the app, it can be a cashless transaction and your ride is charged to your credit card. Cash transaction is an option but you'll need to have exact change. 
Tips for using Grab
If you're from the U.S, consider switching your phone plan to Google Project Fi. You can use data and text in over 200+ international countries. Yes, Vietnam is covered! It's a good option if you don't want to buy a separate SIM card. We've used Project Fi since 2016 and love the plan! Sign up today and get a $20 credit!
Watch out for surge pricing due to high traffic and rain. If the pricing is more than usual, then you should take a taxi instead. We've seen the morning price from our house to the

Tan Son Nhat (HCMC) International Airport (Airport code: SGN) for over 300,000 VND ($13 USD) when it's normally around 120,000 VND ($5.20 USD.

  

Check the license plate to verify that you're in the correct vehicle. There have been scams of drivers saying "Grab" and then show you the app, but it's not the right vehicle. If you take the motorbike, make sure that your Grab driver is also wearing the Grab helmets and t-shirt or jacket. 
 

 

View this post on Instagram

 
---
Getting Around in Vietnam by Taxi 
In Vietnam, taxis are affordable and are a good alternative if the Grab app isn't working for you. We use taxis when some of the Vietnam cities do not have Grab available. Rates are based on distance and not too expensive. Some of the vehicles have credit card machines. If you have a larger group, find a 7-seater taxi.  
Use an official metered taxi company – Mai Linh and Vinasun. These companies also have mobile apps available to book rides.
Stay away from the other so-called "official taxis" that copy the names or use similar colors to Mai Linh and Vinasun as they charge higher prices per kilometer. It's recommended to show the driver a Google Map with the location of the address. 
To call for a taxi, wave your hand up to flag one down or have your hotel call a taxi on your behalf. 
---
Getting Around in Vietnam by Cars 
Unfortunately, visitors are not allowed to rent cars in Vietnam. It's better that way as driving on the road can be intense with the road conditions and the heavy traffic. You may have several close calls with potential accidents with motorbikes, trucks, and/or buses. Expect to get honked at by lots of people.
For less stress, you're better off taking a Grab car, taxi, or hiring a driver (a more expensive option). 
---
Getting Around in Vietnam by Public Buses
Public buses are available within the main cities. It's cheap to use city buses.
In Ho Chi Minh City, the starting fare is 5,000 VND ($.20 USD) for a ride that is a few kilometers away. Try the BusMap app (for Ho Chi Minh, Hanoi, and Danang) for bus information and routes. Some of the buses have air conditioning too. You can use Google Maps to find the bus stop locations. 
If you're at the bus stop and you see your bus coming, wave your hand to notify the bus driver to stop. Otherwise, they will not stop and continue with the route. 
---
Getting Around in Vietnam by Sleeper Buses
Sleeper buses are one of the most affordable ways to travel in Vietnam. It's our favorite way to travel to other cities.
The sleeper buses are overnight buses used for longer routes. From Ho Chi Minh City to Dalat, it will take 5 hours if you take the 10:00pm bus or 6 hours if traveling in the daytime. We've taken the bus to Dalat, Can Tho, and Mui Ne.
The buses have three rows of seats and a top and bottom level. We prefer the top level and the seats next to the window so our daypacks can rest against the window. The seats are comfortable and you get the opportunity to recline in your chair (about 160° degrees angle).
Guests receive a water bottle, wet napkin, and a blanket. Some companies state that there is free wifi on-board, but it has never worked for us. 
Don't worry. There are bathroom breaks at rest stops during the ride and you can purchase snacks and drinks. 
Tickets start at 120,000 VND ($5.20 USD) one-way.
Some of the reputable bus companies that we've taken are Sinh Tourist, Futa Bus, and Thanh Buoi. If you'd like to reserve a spot, you can stop by a ticket agency a few days beforehand, have someone who speaks Vietnamese to call on your behalf or reserve a seat online at the company's website or vexere.com. 
You may have heard about sleeper buses that have been in accidents. It is common as the bus drivers have a schedule to follow and drive extremely fast in the middle of the night. Knock on wood, but we've had safe experiences during our rides. 
A fancier version of the sleeper bus is a VIP bus. You get the opportunity to lie down fully and have your own cabinet with a private TV. We took this VIP bus from Hanoi to Sapa and it was a luxurious way to get to Sapa.  The cost is high so expect to pay around $20-$25 per person one-way.
Tips for using sleeper buses
If you're a light sleeper, you may not be able to sleep as the bus drivers honk a lot and tend to swerve around traffic. Bring an eye mask and wear earplugs if you're sensitive to light and noise, respectively. 

The sleeper buses are better for those who are not too tall – around 5 feet 10 inches (1.78 meters) and shorter. If you're taller, the ride may be uncomfortable for the long legs. 

Do not bring any strong-smelling tropical fruits such as durian or jackfruit. Since you're sharing the space with others, other people may be sensitive to the smell. 
If you have a lot of luggage, there is an undercarriage for storage. Just don't forget to take your stuff with you when you leave the bus. 
---
Getting Around in Vietnam by Trains
Taking the train is another comfortable option. It's a slower route yet you can enjoy a different view of the country. You have your choice of hard seat, soft seat, or a spot in a bed. There are 4-bed and 6-bed carriages available. All with air-conditioning. 
From Hanoi to Ho Chi Minh City via the Reunification Express line, allocate a 35-hour one-way train ride. The one-way cost of the ride starts at 1,000,000 VND ($43 USD). There are shorter routes to choose from such as Mui Ne, Quy Nhon, Danang, and more along the coastline. Book your spot on the train here on Vietnam Railways. 
---
Getting Around in Vietnam by Plane
The fastest and convenient way to travel around Vietnam is by taking a domestic flight. Vietnam has 23 airports (11 international and 12 domestic).
There are several domestic airlines to travel between the country. The three low-cost domestic airlines are VietJet Air, Pacific Airlines, and Bamboo Airways. Vietnam Airlines is the country's international airline and also travels domestically. 
If you make reservations a few months in advance, you can score some great deals on airfare (ie: $20 USD for one way). 
A flight from Ho Chi Minh City to Hanoi takes 2 hours one-way and the one-way cost is 400,000-800,000 VND ($17-$35 USD). 
Tips for flying in Vietnam
If you're using VietJet, we recommend that you take one of the first flights in the morning. VietJet has a higher chance of delays as flights are later in the day. 

The low-cost airlines are strict with their weight and you're only allowed to bring 7 kilograms (15.4 pounds) onto the flight. Otherwise, pay for the check-in luggage option when you're making your reservation. It'll be cheaper than paying the luggage fee at the airport.  

For domestic travel in Vietnam, you're allowed to bring up to 5L of liquids. So you can bring water through Security. We brought back bottles of unopened sim wine, one of the

unique souvenirs to purchase

from

Phu Quoc

, on our flight back to Ho Chi Minh City. 
---
Getting Around in Vietnam by Cyclos
Cyclos are a fun way (albeit a bit touristy) to see the various sightseeing attractions. You get to ride in the front carriage of a bicycle.
We've seen the cyclo rides available in Ho Chi Minh, Hanoi, and Hoi An. We even had the opportunity to ride one in Hanoi during our first visit to Vietnam as we navigated through the Old Quarter.
If you decide to hire a cyclo driver, negotiate a firm price before starting the ride.
---
Getting Around in Vietnam by Boat
Vietnam has various boat options depending on what you're doing. The options are sampan, ferries, speedboats, and cruise boats. 
You'll use a sampan boat if you're on a Mekong Delta tour and/or heading to the floating markets. It's a calm ride and the river waves aren't too large. The boat driver will have life vests to wear for safety.
If you're interested in taking a Mekong Delta tour, check out this option. 
The ferries are used to transport both cars and motorbikes and people from one province to another. For example, when we went to Can Gio Monkey Island from downtown Ho Chi Minh City, we used a ferry to cross the Saigon River. The ferry cost varies if you have a car, motorbike, or no vehicle.
Speedboats are helpful when crossing the ocean. The high-speed boats are fast and will get you to your destination in no time.
Tip: If you get seasick, you should take motion sickness medication before boarding the boat (ie: Dramamine).
From our experience, the speedboat from Sa Ky Port to head to Ly Son Island had super choppy waters which made a few friends have motion sickness. However, the larger speedboats from Vung Tau to Con Dao Islands are not bad at all and you could only feel the boat moving when standing up. 
One of the fun experiences in Vietnam is to go on a Halong Bay cruise. Halong Bay is recognized as a UNESCO World Heritage site and is a beautiful place to see the natural limestone karsts in the water. You'll get the opportunity to stay overnight on a wooden junk boat, explore hidden caves, visit a floating village, and soak in the beauty of the area.
For tour options, take a day tour of Halong Bay or spend two days on a cruise. We recommend that you stay on the boat for at least two days.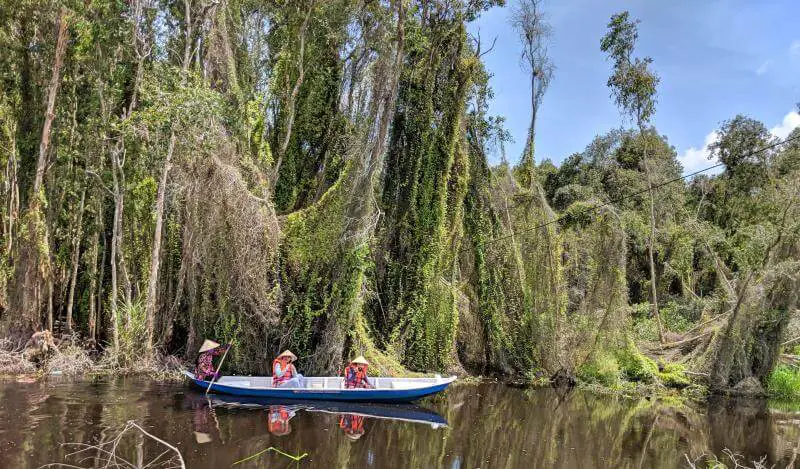 ---
Getting Around in Vietnam by Bicycle

 
Riding a bicycle is a great way to explore the non-touristy areas of Vietnam such as the outskirts of Hoi An, Tam Coc, Ninh Binh, Phong Nha (Bong Lai Valley), and Con Dao Islands. It's an eco-friendly travel option too!  
The daily rental cost is between 80,000-100,000 VND ($3.50-$4.30 USD) per day. Ask your hotel accommodations if they have rentals available.
We wouldn't recommend that you ride a bicycle in larger cities due to traffic and road quality. If you do ride a bicycle, then you may consider riding early in the morning with fewer cars around. 
A more adventurous route would be to consider touring the country by bicycle. We've seen people post their photos and experiences on Ho Chi Minh City Expat Facebook photos. They've cycled from Hanoi to Ho Chi Minh City and took a few months to complete. 
---
Getting Around in Vietnam by Walking 
Walking around is another healthy option to explore a city. We prefer to walk as much as possible. It allows you the flexibility to navigate through the alleyways, stop by any place along your walking route, and let you go at your own pace. 
Crossing the roads in Vietnam can be stressful and scary, so we provided some tips below. 
Tips for walking in Vietnam
The sidewalks are not pedestrian-friendly as they are used for motorbike parking. They will be slanted so be careful when walking. 

Before crossing the street, watch both ways to see if there are drivers in the opposite direction. Slowly walk your way across the street. Do not run or stop. The motorbike drivers will go around you. Slow down when there are larger vehicles (ie: a bus) drive towards you. Congratulations, you've reached the other side of the street!
---
Now you're better prepared to figure out your transportation options in Vietnam and how to travel around the country easier. If you're still confused by what transportation you should take, ask us in the comments below.
Check out these places to visit on your next Vietnam vacation:
Save this post to your Vietnam board on Pinterest.
Pin #1 photo credit: phuongphoto via Depositphotos.com
Pin #2 photo credit: Alyshia Turchyn via Scopio Photos