Three days in Sapa, Vietnam is a reasonable amount of time to see the mountainous area in North Vietnam.
This small city is located in Lao Cai, which is about 5 hours northwest of Hanoi, so it's a fantastic addition to a North Vietnam itinerary or weekend getaway. 
Most visitors head to Sapa to enjoy the breathtaking landscape views of the green rice terraces and rice fields, go on bucket list worthy hikes and treks, visit ethnic villages, and escape the large city.
While the main Sapa Town is developed and a bit touristy, there are many incredible things to do in Sapa and the surrounding area. You'll love your time here, especially the adventure lovers, and won't want to leave! 
In this Sapa 3 days itinerary, we're providing an easy to follow itinerary on what to do in Sapa, how to get to Sapa, and other helpful travel tips.
Since we love hiking, we've included hiking/trekking opportunities and other fun adventurous outdoor activities that you can try. We've been to Sapa on two separate occasions and love our experience each time.
Click to jump to certain areas of this Sapa travel guide. 
Before you check out this 3 days in Sapa itinerary, here are some helpful Vietnam guides to also browse through:
*Disclaimer: Traveling to Sapa? This post contains affiliate links. If you click on them and make a purchase, we receive a small commission. There is no additional cost to you. Appreciate the support.
Before arriving in Sapa, it's recommended to buy a SIM Card at Hanoi Airport (Noi Ba International Airport) or set up a Vietnam eSIM before your arrival. You'll need to have access to data during your Vietnam travels
For those in the U.S. looking for an international phone plan, consider Google Fi (formerly Google Project Fi). We love this phone plan and have used it since 2016. We get access to data and text in 200+ countries without additional roaming fees, and it works in Vietnam. Learn more and try it for free here. 
---
Best Time to Visit Sapa
With the cooler climate and mountains, Sapa can be visited at any time of the year. The dry season is from October to May and the wet season is from June to September. 
If you plan to trek, you may want to avoid the rainy season as the hiking paths are muddy and slippery. Or, just go along for the adventure as rain can happen at any time of the year. You may be lucky and not experience any rain.
If you're looking for the iconic green and yellow rice terraces, the best time to visit Sapa is from the end of August to the beginning of September. This will be a photogenic time to visit Sapa before the rice harvest begins.
Don't worry if you're not able to visit during this time since Sapa is beautiful no matter when you visit!
We traveled to this area in November and the mountains with the rice terraces were still beautiful and green. Although the rice fields were empty, the landscapes were still breathtaking to witness.  
---
How to Get to Sapa
Most travelers visit Sapa from Hanoi, Vietnam's capital.
Since Sapa does not have a domestic airport, visitors must use various transportation options such as sleeper buses, limousine vans, cars, and overnight trains to get to Sapa. 
Depending on your budget and the amount of time you have to travel between the cities, the fastest way to get to Sapa from Hanoi is by limousine van, sleeper bus, and private car. Expect to take 6+ hours one way to get to Sapa. 
We recommend the luxury sleeper buses where you can have your own cabin and lie down flat.
The longer and more leisurely option is to take the overnight train. As a heads up, the train goes from Hanoi to Lao Cai, and then you'll need to take a 1 hour bus or taxi from Lao Cai to Sapa.
To return to Hanoi, you'll need to use the same or different transportation option. 
---
How to Get Around Sapa
Sapa's main area is small, so you can easily walk around to navigate the side streets and local attractions.
Taxis and motorbike taxis are available if you plan to visit the outskirts of Sapa. You can head to Sun Plaza and grab a taxi in front of the building. Or, you can hail one that is driving around the main town.
In the evenings, cyclos also offer rides around town. 
You can also rent a motorbike if you plan to explore the ethnic villages on your own. It's a cost-effective way to travel around Sapa. 
---
Sapa Itinerary – Day 1: Explore the Town
You finally made it to Sapa from Hanoi!
Depending on your mode of transportation, you'll arrive in Sapa either early in the morning (6:00am-7:00am) or in the afternoon (around 1:00pm).
Since the long travels may be tiring, we're taking it easy on your first day in Sapa. After checking into your Sapa accommodation, we're exploring the main attractions of Sapa town. 
1. Wander through the narrow streets of Sapa. 
When you arrive in Sapa Town, you'll notice how touristy it is. It's not the sleeper town it used to be as the area has been fully developed with hotels and restaurants. 
Yet, there are pockets of the town that are quieter. All you need to do is wear comfortable walking shoes and wander around the town.
You'll see souvenir shops selling teas and trekking gear, shops selling roasted chestnuts and toasted bread made out of chestnuts, and plenty of cafes and restaurants. 
Sapa Town does have hills and stairs so you may end up going up or down a steep set of stairs. Or, you can turn around to take the main roads. 
Note: Google Maps may not be accurate as the construction of new hotels may have changed the walking paths. 
---
2. Walk around Sapa Lake.
Close to the center of town is Sapa Lake. While the lake doesn't look anything special, it's a nice way to get some quietness and fresh air.
It's a calm lake to walk around and you can stop by the cafes nearby.
In the late afternoon/evenings, there is a kiosk selling grilled skewered foods such as seafood and vegetables. 
---
3. Snap a photo in front of Sapa Station/Sun Plaza. 
Did the yellow building in the center of Sapa Town catch your eye? It's the Sapa Plaza which has three levels.
The first floor is the Sapa Station to purchase tickets to Sun World Fansipan Legend and/or take the funicular up Muong Hoa to the Fansipan cable car station.
The second floor is shopping and the third floor has restaurants and a convenience store selling souvenirs, snacks, and drinks.
The Hôtel de la Coupole – MGallery also connects to the Sun Plaza. 
As one of the prettiest places in Sapa with the French architectural building and elegant decor inside, it's no wonder visitors stop here to take photos. You'll see many visitors take photos in front of the Sapa Station sign/door.
The evenings are also pretty to take photos.
---
4. Visit the Notre Dame Cathedral. 
One of the local attractions to visit in Sapa is the Notre Dame Cathedral. It's located diagonally from the Sapa Plaza, and you can't miss the brick construction.
This Catholic church was built in 1895 by the French and still offers services. During our visit, the church had Christmas decorations and lights which brightened the area. 
As a heads up, young children sell souvenirs and bracelets in front of the cathedral in the afternoons and evenings.
We suggest that you do not purchase souvenirs from children or take photos of them as they're most likely not in school and receiving an education. 
---
5. Take the cable car and visit Sun World Fansipan Legend. 
If you have a few extra hours available, consider taking the cable car up to Sun World Fansipan Legend. It's one of the best Sapa attractions to visit!
You may recognize the name, "Sun World" as it's one of the large entertainment companies in Vietnam that also produced popular theme parks such as Ba Na Hills and Danang Wonders in Danang. 
Fansipan is the highest mountain in Vietnam at 3,143 meters (10,312 feet) and is also the highest in Indochina (Laos, Vietnam, and Cambodia.)
Previously, visitors would trek Fansipan in one or 2 days. (We hiked Fansipan and we'll share more information about hiking it below).
Since the cable car's opening in 2016, it now takes about 20 minutes to reach the Fansipan summit and Fansipan attractions, such as pagodas, Great Buddha, Lady Buddha (Guanyin) Statue, and more.
Visitors flock to the Fansipan signage which emphasizes the 3,143 meters. If the weather is clear, you'll see the views of the Fansipan mountains.
Tip: Wear comfy walking shoes as you'll walk up the stairs to reach these places.
To take the cable car, you can go to the Fansipan/Hoang Lien cable car station which is a 15-minute drive away from Sapa Town.
Or, take the Muong Hoa funicular from Sapa Station to Hoang Lien cable car station and then take the cable car to Fansipan Mountain. Read more about taking the Fansipan funicular and cable car here.
Save money with your Fansipan Legend cable car tickets here. 
---
6. Visit Sapa Night Markets.
(Currently Closed) The Tinh Night Market (Chợ Tình Sapa in Vietnamese) is located next to the Sapa Plaza and is an opportunity to buy souvenirs such as handmade handbags, bracelets, jewelry, and more. It's an opportunity to support female vendors as they make their products. The Night Market opens after 7:00pm. 
There is another market, Sapa Market (Chợ đêm Sapa) that is 1.4 kilometers (.87 miles) away from Tinh Night Market. It's recommended to take a taxi or you can take a stroll over to get there.
We passed by this place as we entered Sapa from Lao Cai City. It's more of wholesale buying of goods and products.
---
Sapa Itinerary – Day 2 & 3: Trekking
On your second and third day in Sapa, it's recommended to go on a trek to explore the iconic rice terraces and landscapes.
You'll also get the chance to smell the crispy, fresh air and visit ethnic villages to meet the ethnic minority people and see how their lifestyles are.
In Sapa, there are five main ethnic Hmong, Dao, Xa Pho, Tay, and/or Day people. About half of the ethnic minority people are Hmong. 
We recommend that you do a 2 days trek with a 1 night at a homestay at a local family's house. You can also do day trips if you prefer to not trek as long each day. 
Choose from a variety of treks such as visiting Cat Cat Village to Y Linh Ho, Sa Sen to Hau Thao, Lao Chai to Ta Van Village, and Ma Tra to Ta Phin Village. 
We highly recommend the trek from Sapa Town to Lao Chai and Ta Van Village. It's a tranquil walk through rice terraces and the opportunity to see breathtaking views of the valley.
The trek isn't too difficult as it's mostly flat with some hills on paved and dirt paths. You'll also get the chance to see a secret waterfall on the second day. 
The daily treks include a local guide, water bottle, and meals (the number of meals depends on how many days you're trekking). 
Recommendation for the trekking guide: Zaazaa from Zaazaa Trekking – We loved trekking with Zaazaa and you won't be disappointed with her services. She is highly recommended as she is easy to work with and can tailor your trek as needed. We trekked with her twice on two different trips and loved the routes.
Don't forget to pack hiking boots and hiking clothes. Hiking boots are necessary since you'll walk through rice fields and they are muddy. 
Check out our Sapa trekking guide for helpful tips on how to prepare for a trek and how to choose a trekking guide. 
---
Sapa Itinerary – Other Places to Visit in Sapa
Sapa deserves at least 5 days of exploring if you have the time. If you have 4+ days in Sapa, add these other fun places to visit to extend your stay.
Climb Mount Fansipan. 
We mentioned that you can take the cable car to go to the Fansipan summit.
If you're the adventurous type, try trekking Fansipan in 1 or 2 days. The challenging trek will push your body to climb the tallest mountain in Vietnam. The forest area is quiet and serene and you'll encounter only a handful of other hikers on the trail. 
We hiked Fansipan in 1 day and it was pretty tough mentally and physically. Yet, it was such an accomplishment to reach the highest point of 3,143 meters (10,312 feet). 
Tip: Plan for this Fansipan trek on the first day of your Sapa itinerary and then go on your Sapa trek to ethnic villages for the rest of your itinerary. The Sapa trek is "easier" and will give your legs and knees the much-needed rest and recovery. 
If you hike in 2 days, you'll stay overnight at a campsite. The trek includes a chef and porters so everything will be set up at your campsite. 
---
Visit the Love & Silver Waterfalls. 
If you're a waterfall chaser, then add these two Vietnam waterfalls – Love and Silver Waterfalls to the bucket list. 
Love Waterfall (Suối Vàng Thác Tình Yêu in Vietnamese) requires a short 20-30 minutes of easy walking to reach the waterfall. The waterfall has a height of 100 meters.
Visitors love seeing this waterfall surrounded by the luscious forest area of Hoang Lien National Park.
This waterfall is near the Tram Tom entrance to trek Fansipan, so you could combine a visit if you're a fast hiker. 
For an exhilarating experience in Sapa, you can also go canyoning off Love Waterfall.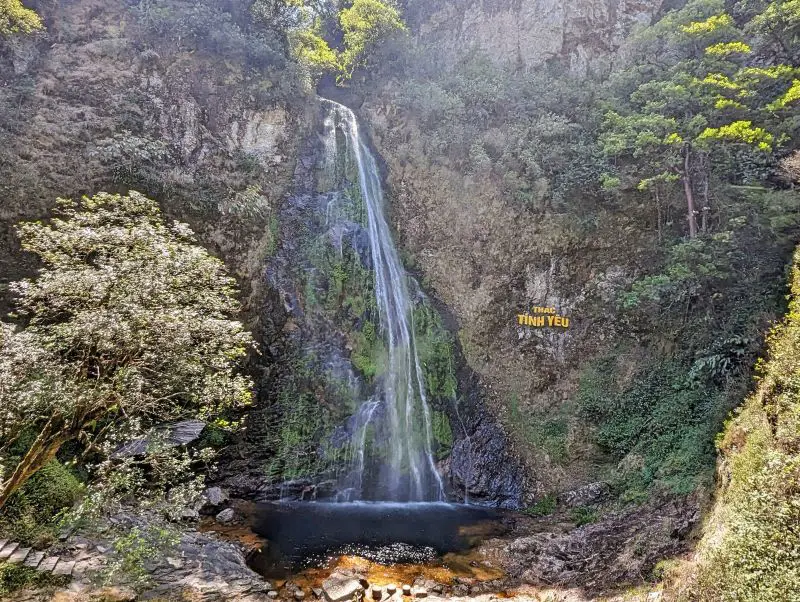 ---
Silver Waterfall (Thác Bạc in Vietnamese) has waterfall cascades that are over 100 meters high. It's easy to get to as it's located off the main highway. Follow the walking path and stairways to see the Silver Waterfall up close.
To see both Love and Silver Waterfall in one day, check out this private tour option. 
---
Visit Bac Ha Market on Sundays.
One of the unique attractions to visit in Lao Cai is the Bac Ha Market (Chợ Văn hóa Bắc Hà).
It's the largest market where ethnic minorities sell their colorful handicrafts and goods. Plus, it's a picturesque place as you'll see people in their colorful traditional outfits.
Since this market is only open on Sundays, it gets crowded with tourists. 
But you can also visit on Saturdays to see the horses and buffaloes for sale. It was originally on Sundays but too crowded.
You'll need to organize a tour, hire a taxi, or drive a motorbike to get to this market as it's about 2.5 hours one-way from Sapa. 
---
Explore Sapa Heaven's Gate at O Quy Ho.
If you want more fresh air in Sapa, consider visiting Sapa's Heaven Gate (Khu Du Lịch Cổng Trời Ô Quy Hồ in Vietnamese).
This tourist area has lovely views of the mountain pass of O Quy Ho, picturesque sceneries, and its own version of Bali's Pura Lempuyang gates.
The highest point at this tourist spot is 2,035 meters (6,675 feet), so you can take a photo with the triangular landmark that highlights the height above sea level.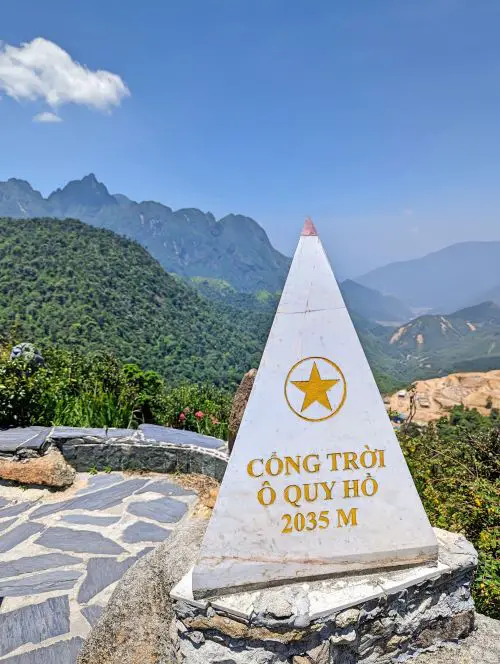 ---
Where to Eat in Sapa
Considering that Sapa Town isn't large, there are plenty of restaurants to choose from. Choose from Vietnamese to Western-style food. Expect to pay around 130,000-200,000 VND ($5.60-$8.60 USD) for a dish. Most restaurants are cash-only. 
Popular Vietnamese foods to try in Sapa include salmon (which tastes more like trout since it's leaner), sturgeon, dried buffalo, horse meat, and sticky rice in a bamboo stick. 
One thing that we noticed was that many of the successful restaurants get copied, whether it's the name or the items that they sell. We saw four hot pot restaurants next to each other on the main road, Ngu Chi Son Road.
Also, Muong Hoa Road has many sellers located only a few feet away from each other grilling sweet potato, corn, and other snack items in the evenings. 
---
Here are some of the Sapa restaurants that we tried and enjoyed. We followed the trend of visiting restaurants with "Good Morning" in the name. 
Good Morning Vietnam – Located off Fansipan Street, this restaurant has some delicious Vietnamese cuisine.
We ordered sizzling deer and a sizzling salmon plate. The salmon had a sweet teriyaki sauce which was highly addicting. Both dishes were delicious and our clothes smelled like the sizzling platter afterward.
If you need more rice, feel free to ask for extra. 
Address: 63B Fansipan, street, Sa Pa, Lào Cai
---
Good Morning View Restaurant – This restaurant is in the quieter part of Muong Hoa. During lunchtime, this place advertises beef noodle soup. We came for dinner and ate some delicious food. 
Try the refreshing papaya salad and salmon spring rolls as appetizers. We loved the salmon spring rolls since it was also stuffed with dried wood ear mushrooms, carrots, and other vegetables.
The sizzling sturgeon platter and trout in banana leaf are also tasty main dishes. The sturgeon was interesting since it has a curry flavor. You can also ask for more rice if needed. 
Address: 047 Mường Hoa, TT. Sa Pa, Sa Pa, Lào Cai 333100
---
Good Morning Sapa – We were impressed with the number of salmon dishes offered at this place.
The sizzling salmon with peppercorn platter is a winner and the sauce was finger-licking good.
We also had a platter of mixed vegetables and a bowl of shrimp coconut curry.
Unfortunately, the curry didn't come inside a coconut. It also had a more Japanese-ish flavor and a slight sweetness from the coconut milk. 
On the weekends, this restaurant also offers BBQ skewered foods such as fish balls and vegetables. You can pick some up as a snack on your way to and from the main town. 
Address: 014 Mường Hoa, TT. Sa Pa, Sa Pa, Lào Cai
---
Where to Stay in Sapa
Due to Sapa's increase in tourism, there are hotels and guesthouses everywhere in the main city center. You can get a room at a reasonable price of $30 USD per night for 2 person occupancy.
There are also luxury eco-hotels available that are outside of the city and will require transportation. 
Check out Sapa accommodation options here on Booking.
Click to check pricing and availability on Agoda.
---
Here are two budget-friendly Sapa accommodations that we stayed at:
My Boutique Hotel and Spa – This boutique hotel is one of the best places to stay in Sapa!
The location is about a 10-minute walk away from the Sapa Plaza and is quieter. The rooms are chic and have beautiful furniture and decor. The bathrooms also have a separate tub and shower.
You may never want to leave the room since the bed is way too comfortable and so cozy, especially on a cold night.
We opted to not have breakfast included in the meal as there are restaurants along the street to find something to eat. The cost per night starts at $38 for a 2 person occupancy. 
Reserve a room at My Boutique Hotel here on Booking. 
Check pricing and availability on Agoda here.
Address: 55 Mường Hoa, TT. Sa Pa, Sa Pa, Lào Cai
---
Sapa Relax Hotel and Spa – The central location of this hotel is one of the reasons to stay here.
You're only a few minutes walk from the Sapa Plaza and can see the building outside of the hotel entrance.
The rooms are large and comfortable. Breakfast is included in the room cost and consists of a buffet line of stir-fried noodles, fried rice, vegetables, sausages, eggs, and made to order noodle soup. The cost per night starts at $28 for 2 people. 
Reserve a room at Sapa Relax Hotel here. 
Check pricing and availability for Sapa Relax on Agoda here.
Address: 19A Đông Lợi, TT. Sa Pa, Sa Pa, Lào Cai
---
Prefer the luxury accommodation options in Sapa? Check out Topas Ecolodge, Topas Riverside Lodge, and Sapa Clay House.
These are popular eco-friendly and luxurious places that overlook the mountainous region. They have an in-house restaurant and swimming pool. Expect to pay $130-$500+ per night for a room with 2 person occupancy.
On a return visit to Sapa, we'll try one of these places as they have positive reviews and are highly recommended in the Ho Chi Minh City Expat Facebook groups.
---
Final Thoughts
It's time to say goodbye to your fun three days in Sapa. It's one of the most beautiful places to visit in Vietnam and you won't regret visiting here.
We hope you enjoyed this itinerary and are inspired to plan your Sapa trip in the future. 
If you need more tips on planning a trip to Vietnam, check out our posts below:
Which places are you the most excited to visit in Sapa? If you have other questions, ask in the comment box below. 
Like this post? Save it to your Vietnam Pinterest board!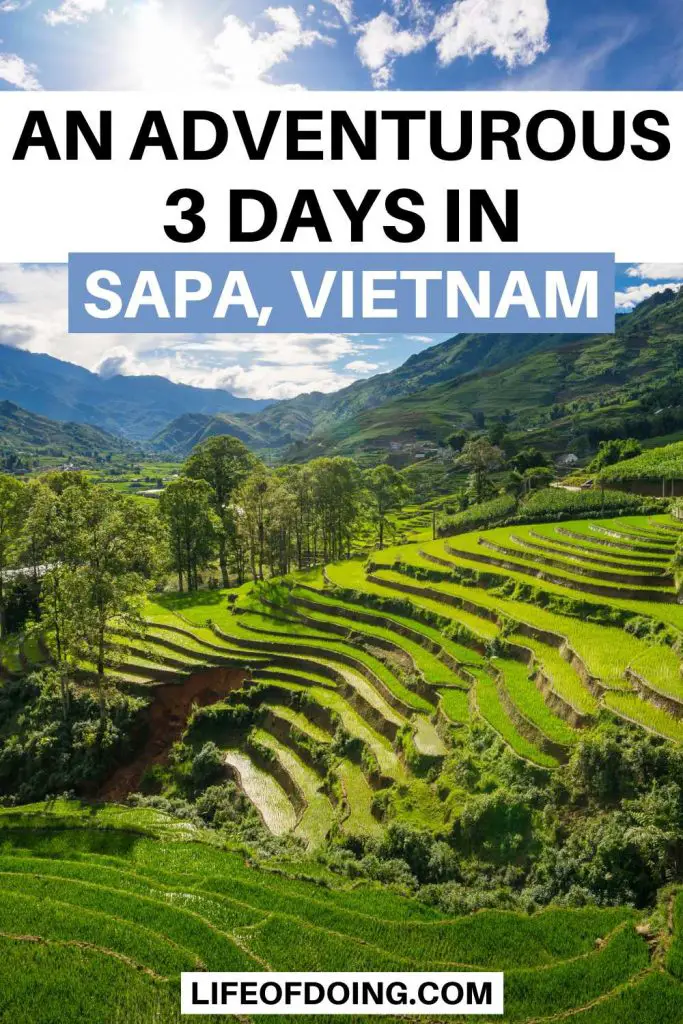 Featured photo credit: empty_vectorist via Depositphotos.com