After exploring the best of Sapa by trekking through jaw-dropping rice terraces and ethnic minority villages and taking the cable car to Fansipan, there is another popular attraction to check out – Bac Ha Market (Chợ Văn hóa Bắc Hà in Vietnamese). 
Located in Bac Ha District in Lao Cai Province, Bac Ha Market is a destination famous for the largest Sunday local market in the area. Hundreds of locals and tourists visit this market. 
If you're looking to see the hustle and bustle of a local market, try local foods, admire ethnic minority people (Hmong, Dao, Tay) wearing colorful traditional outfits, or want to get some last-minute souvenirs, then consider adding this place to your Sapa itinerary. 
In this guide, we'll share what you need to know about visiting Bac Ha Market, such as planning tips, transportation, and nearby places to visit. 
Visiting Bac Ha Market requires some planning as it's 100 kilometers (62 miles) away from Sapa, so this will be a long day trip. You'll need to schedule at least a full day to visit here including lunch and any additional stopovers. 
We had the chance to visit Bac Ha Market on our second trip to Sapa, and it was a fun day trip.
*Disclaimer: This post contains affiliate links. If you click on them and make a purchase, we receive a small commission. There is no additional cost to you. Appreciate the support.
---
Before your Sapa trip, buy a SIM Card at Hanoi Airport (Noi Ba International Airport) or set up a Vietnam eSIM before your arrival. Since you're going to a remote place, you'll need to have data access.
For those in the U.S. looking for an international phone plan, consider Google Fi (formerly Google Project Fi). We have used this plan since 2016 and would recommend it. We get access to data and text in 200+ countries. The plan works in Vietnam and there are no additional roaming fees. Learn more and try it for free here.
---
Do You Need a Tour Guide for Bac Ha Market?
If you're visiting Bac Ha Market on your own, then a tour guide is not necessary. You can easily explore the market and wander through the aisles by yourself. 
However, if you're looking to buy souvenirs and need a translator, then it's helpful to have a guide. 
---
How to Get to Bac Ha Market from Sapa
Bac Ha Market is 100 kilometers (62 miles) from Sapa city center and will take 2 hours and 30 minutes one way. It's recommended to arrange transportation ahead of time due to the long drive. 
Click here to see the driving directions from Google. 
TIP: The driving route is very windy around the mountains. If you get car sick, stop by a pharmacy in Sapa and buy motion sickness medication. 
---
By Private Driver or Taxi 
Hiring a private driver or taxi is ideal for the trip to Bac Ha Market. 
Ask your accommodation if they can arrange one in advance. They can talk with the taxi company and ask for pricing. 
Ideally, it's better to have a flat rate versus a metered rate. Otherwise, the metered rate will be high. 
---
By Motorbike
If you rented a motorbike in Sapa, feel free to drive it to Bac Ha Market. It's a long drive on a motorbike, so take breaks as needed. Please follow the driving rules and wear a helmet. 
Interested in renting a motorbike in Sapa? Learn more here.  
---
By Tour
Taking a group or private tour is a convenient option and includes pick up to/from your Sapa accommodation, lunch, and a guide. 
Click here for a group tour option that departs from Sapa. 
---
*Our Recommendation*
We arranged a private tour with Zaazaa Trekking. 
The tour included a guide, round-trip transportation to/from Sapa, lunch, and a visit to Ban Pho Village and Lao Cai, Vietnam – Hekou, China border. We paid $120 for 2 people. 
Since we already trekked with Zaazaa through ethnic minority villages for 2 days, it was easy for us to extend our Sapa tour with her. 
Her husband is a taxi driver, so he drove us to the market. Zaazaa led us through the market and took us to lunch. 
---
Best Time to Visit Bac Ha Market
The market is open all year round on Sundays (and now Saturdays). We visited in May and it was a lovely morning, albeit a bit hot after lunchtime. 
The market is the liveliest on Sundays, so it's recommended to get there first thing in the morning around 9:00am. That means you'll need to leave Sapa at 6:30am. 
The market closes around 2:00pm, and you see the crowds dwindle after 12:30pm. 
You can also come on Saturdays to see large animals for sale such as horses and buffaloes. Sundays were too crowded, so the sale was moved to Saturdays. 
Don't worry. You can see smaller animals on Sundays such as ducks and dogs, which we'll mention more below. 
We do not recommend that you visit when it's raining. The market is located on a road, so it will get muddy with the rain.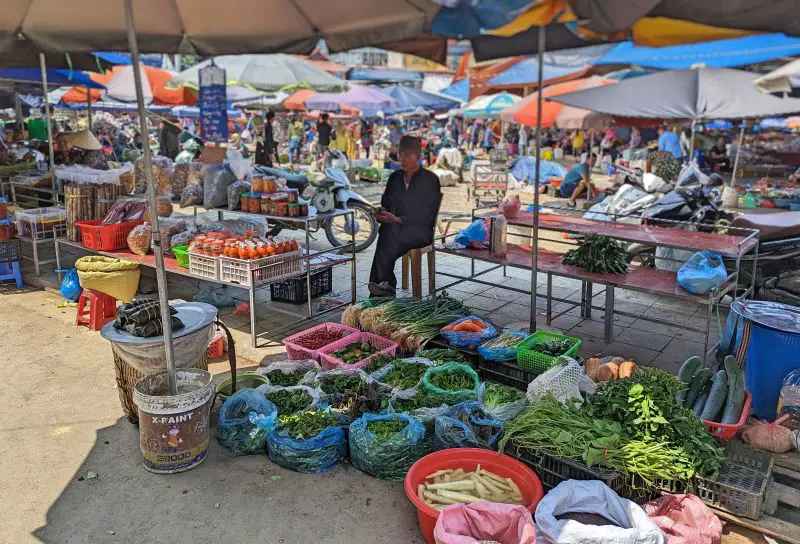 ---
Bac Ha Market Admission Cost
It's free to visit the market.
---
How Much Time Is Needed to Visit?
You'll need at least 1 hour here. After a while, the vendors and stuff for sale start to repeat. 
Things To Know When Visiting Bac Ha Market
It's a maze and can be initially overwhelming. 
Once you enter the market, it's a bit chaotic. There are vendors everywhere – on both sides of the street and in the middle of the street. 
It's best to visit one section and then slowly make your way to other areas. 
There are many things for sale such as household goods, rice, spices, fresh produce, snacks, toys, and more. 
What we noticed is that the vendors do not call or wave at you to come visit their stalls. It's a comfortable experience compared to other local markets that we've been to. 
---
Use your bargaining skills. 
Unfortunately, many of the items for sale do not have a price. 
If you want to buy something, you'll need to use your bargaining skills to get the best price. 
---
Buy souvenir items here. 
If you're short on time and eyeing souvenirs, check out the handicrafts such as colorful bowls made out of coconuts, embroidered tote bags, stuffed toys, lacquerware, pillowcases, etc. 
Note: You can also find similar items back in Sapa city center. 
As a heads up, many of the souvenir items are made in China and imported. 
Therefore, you'll need to ask the sellers if any of the stuff they're selling is made in Vietnam or Sapa.
You can also ask your guide if she/he knows if the handicraft is made locally. The guide often creates handicrafts made with indigo at home as a side hustle.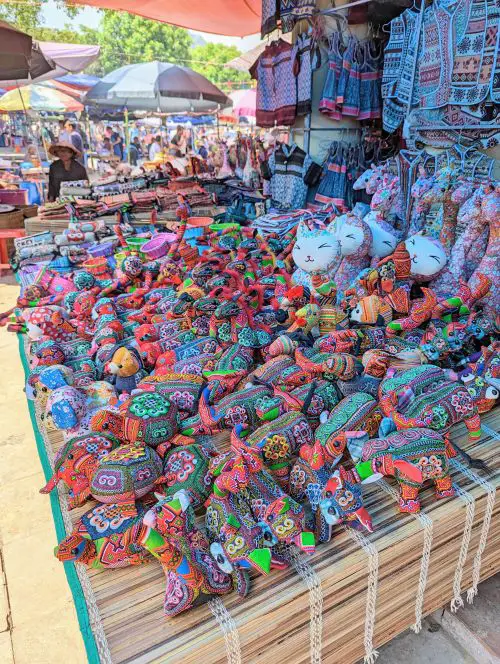 ---
Animals are for sale.
Located in the back of the market in a smaller parking lot, there are animals for sale. The animals will be someone's pet or be raised as future food. 
Note: If you're triggered by this type of activity, it's best to skip this section. 
As mentioned earlier, Saturdays have buffaloes and horses for sale. Since we didn't come here on a Saturday, we haven't experienced what it's like to see buffaloes and horses in one location. 
On Sundays, there are dogs, cats, pigs, and ducks for sale. 
The dogs and cats are on leashes, while pigs are in cages or stuffed in a sack to prevent movement. The ducks are contained in a large box and chirp away when people pass by.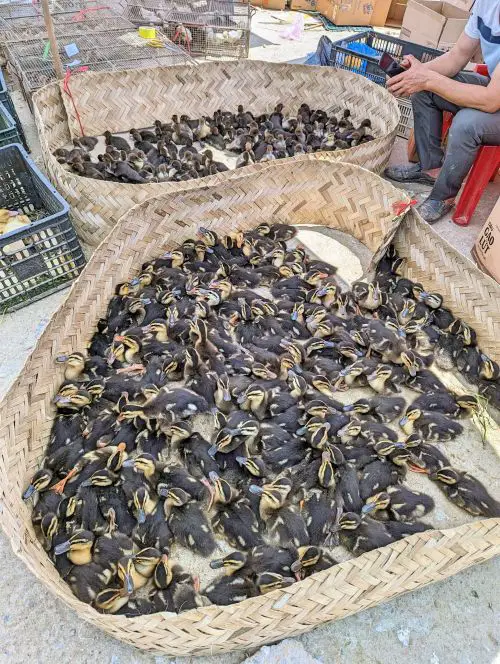 When we visited, we saw a seller and a buyer discussing a transaction for a pig. The pig was in a sack to prevent movement and then weighed. We're not sure if the transaction happened or not but weighing the pig was a big deal.    
---
Beautiful traditional outfits are everywhere. 
One of the coolest parts about visiting this market is seeing ethnic minority women and children wear their traditional outfits. They're often handmade and display their ethnic group's colors and design patterns. 
If you love the designs, you can buy a traditional outfit such as skirts or formal wear at the market. Children's sizing is available. 
Don't forget to negotiate for a good price. 
---
Where to Eat Around Bac Ha Market
The market has snacks that you can try such as chestnut cakes and glutinous flour cakes. Or, you can head to the outer edge of the market where there are a few noodle shops. 
If you prefer a sit-down restaurant, try Ngan Nga Bac Ha Hotel. It's located a few minutes from the market, so it's easy to get to. 
We saw a lot of foreigners as tour groups eat lunch here.
Zaazaa, our tour guide, preordered our food but walk-in guests can order a la carte from the menu. 
We had fried fish, French fries, egg rolls, shrimp with celery, stir-fried squash leaves, and daikon. It was a lot of food for the three of us. 
The flavors were average as the food in Northern Vietnam tends to be on the saltier side. However, we can't be too picky since we're in the countryside. 
---
Other Places to Visit in Lao Cai
After visiting the market, there are two places that we went to and would recommend that you visit in Lao Cai. 
Explore Ban Pho (Bản Phố) Village 
This is a small village about 15 minutes from the Bac Ha Market. The area is known for making corn wine. Each house has its own recipe for corn wine. 
While we didn't get a chance to see any corn wine being made, we entered a local's house to see what it looked like. It's a simple dwelling with a large living room and a kitchen for cooking and wine production. 
---
Visit the Lao Cai, Vietnam – Hekou, China border
We've been to the Vietnam-China border in Ha Giang and Cao Bang, so we were excited to see the one at Lao Cai. 
There is a large gate and a pedestrian bridge to cross the border. 
Unfortunately, we didn't have a China visa to cross and see Hekou. We could only admire from afar. 
Next to the border gate on the Vietnam side, there is a small pagoda, Đền Mẫu, and a small marble milestone that says, "Vietnam 102 (2), 2001." China's side has the milestone 102 (1) directly across the river.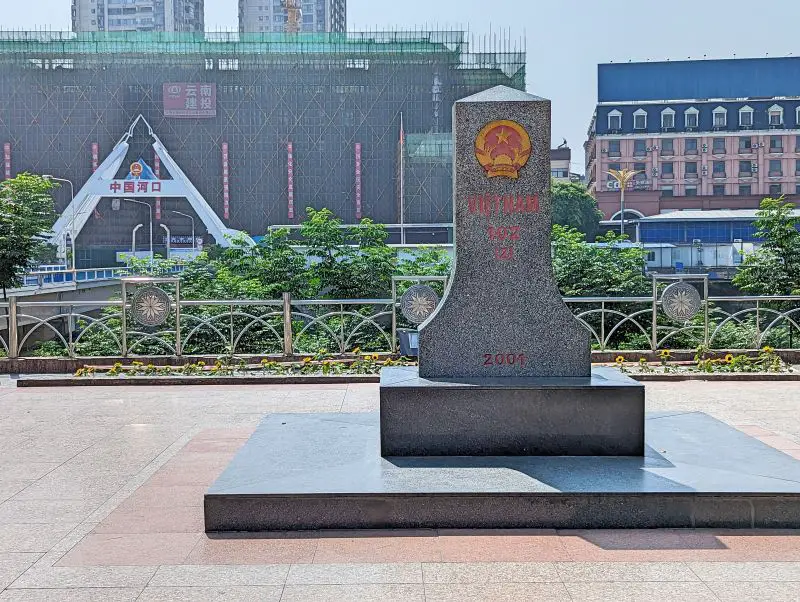 If you're hungry, there are a few sellers in front of the pagoda selling soft tofu desserts, chestnut cakes, and cold drinks. 
---
Final Thoughts
Is it worth the visit to Bac Ha Market? Yes and no. 
Yes, if you have the extra time and want to see the hype of Bac Ha Market. One of the highlights is seeing livestock for sale and all of the gorgeous traditional outfits that locals wear. Stopping by the Vietnam-China border on the way back to Sapa is a fun side trip. 
No, if you're short on time. The stuff for sale is similar to other traditional markets in Sapa. Plus, the long drive from Sapa to Bac Ha District can be a deterrence. 
Regardless, we enjoyed our day trip to Bac Ha Market. It was an energetic place to visit, especially on a Sunday. 
---
If you need other places to visit in Sapa, here are our recommendations: