Need a place to visit in Sapa, Vietnam? Consider checking out Love Waterfall and Golden Stream (Suối Vàng Thác Tình Yêu in Vietnamese). 
Nestled in the forest area of Hoang Lien National Park, Love Waterfall is considered one of Vietnam's top waterfalls to visit. 
With the gorgeous 100 meters (328 feet) high falls and the surrounding greenery, Love Waterfall's incredible views are worth the visit. 
The waterfall is located only a short drive away from the Sapa city center, so you can stop by anytime on your Sapa itinerary. It requires a short 15 to 25-minute walk to see the waterfall, yet you can go at a relaxing pace to observe nature and peace. 
In this Love Waterfall guide, we're sharing information on how to get there, admission cost, what to know about visiting here, and other helpful details. 
*Disclaimer: This post contains affiliate links. If you click on them and make a purchase, we receive a small commission. There is no additional cost to you. Appreciate the support.
---
We recommend that you buy a SIM Card at Hanoi Airport (Noi Ba International Airport) or set up a Vietnam eSIM before your arrival. You'll want to have access to data when traveling in Vietnam.
For those in the U.S. who are looking for an international phone plan, consider Google Fi (formerly Google Project Fi). We've used this phone plan since 2016 and have access to data and text in 200+ countries. It's great since the phone plan doesn't add additional costs for international travel. Learn more and try it for free here. 
---
Do You Need a Tour Guide to Visit Love Waterfall?
No, you do not need to have a guide as Love Waterfall is doable to reach on your own. The walking route to the waterfall is easy to follow, so you will not get lost. 
If you would like to have a tour guide, here are some options: 
---
How to Get to Love Waterfall from Sapa Center
Love Waterfall is 14.4 kilometers (8.9 miles) from the center of Sapa and will take 30 minutes to get there by car. You'll need to figure out which transportation option works best for you. 
---
Insider Tips
We suggest that you combine a visit to Love Waterfall and Silver Waterfall in one trip. Silver Waterfall is 2.6 kilometers (1.6 miles) from Love Waterfall and is a 7-minute drive by car ride. Silver Waterfall can be visited either before or after Love Waterfall. Read more about Silver Waterfall here. 
---
Option 1: Take a taxi
It's convenient to hire a taxi from the Sapa city center. 
Many taxis drive around the main area with the Cathedral and Sapa Station. Taxis also sit in front of the Sapa Station waiting for customers, so you can get one easily.  
The taxi drivers will wait for you at the parking lot for each of the destinations that you want to visit.
My mom and I decided to take a taxi and the driver took us to three locations, Silver Waterfall, Love Waterfall, and Đỉnh đèo Ô Quy Hồ. The driver charged us 500,000 VND ($21 USD) for the round trip. We thought it was a reasonable rate as the trip took a few hours. 
---
Option 2: Drive a motorbike 
If you know how to drive a motorbike, you can rent one in town and drive to Love Waterfall directly.
Click here to book a motorbike rental ahead of time. 
---
Option 3: Take a tour
We mentioned two tour options in the previous section. These will have a private car for you to visit the waterfalls and other attractions, depending on the itinerary. 
---
Love Waterfall Parking Lot
Located right off the main road (QL4D), there is a small parking lot for motorbikes and cars next to the Nui Xe Ranger Station (Trạm Kiểm Lâm Núi Xẻ). 
The Ranger Station is a two-story building with green and yellow signage. This building is used for registration when hiking Fansipan in one or two days. 
The Fansipan hike and Love Waterfall entrance start from the parking lot. 
---
When to Visit Love Waterfall
The waterfall is open from 9:00am to 5:00pm. 
You can visit this waterfall at any time of the year.
---
Admission Cost to Love Waterfall and Golden Stream (Suối Vàng Thác Tình Yêu)
The ticket office is next to the parking lot, so you can't miss it. The cost is 70,000 VND ($3.00 USD) per person. Payment is cash only. 
The cost is higher than Silver Waterfall, yet the admission fee helps maintain the Hoang Lien National Park, one of Vietnam's National Parks. 
---
Things to Know Before Visiting Love Waterfall (Thác Tình Yêu)
You'll need to do a short 1.1-kilometer walk from the ticket office to Love Waterfall. The walking path is mostly flat, but it does veer in two directions – left or right. The left side has a hiking trail through the forest and has a slight incline. The right side is a flat course and is along the river (the Golden Stream). 
Expect to take 15-25 minutes one-way for the walk depending on your walking speed 
You can swim at the bottom of the waterfall. The water may be cold. You'll need to wear a swimsuit ahead of time as there aren't any changing areas. 
The National Park has some benches and tables for a picnic. Please throw away the trash properly to keep the park clean.
Love Waterfall Experience
After trekking through ethnic minority villages for a few days and visiting Fansipan Peak, visiting Love Waterfall was a nice change of pace. It was a chance to destress from the previous days of intense traveling and hiking. 
Once paid for the ticket, we followed the walking path. A portion of the path is made out of stone, so it's well-maintained. There are some stairs but they aren't steep, just a gradual decline towards the bottom of the hill.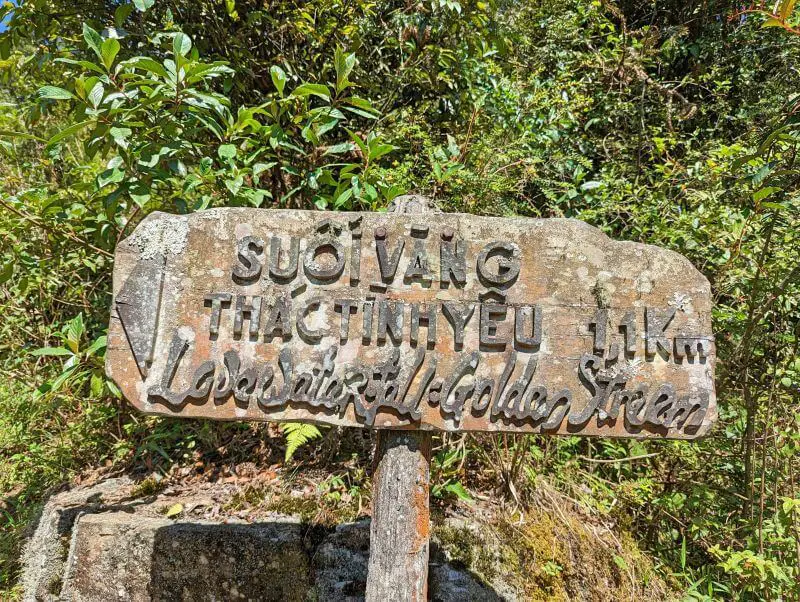 We had to cross the river (Golden Stream), but luckily the stone path made it easy. There wasn't much water in the river, but we can see how this area could get flooded during the rainy season.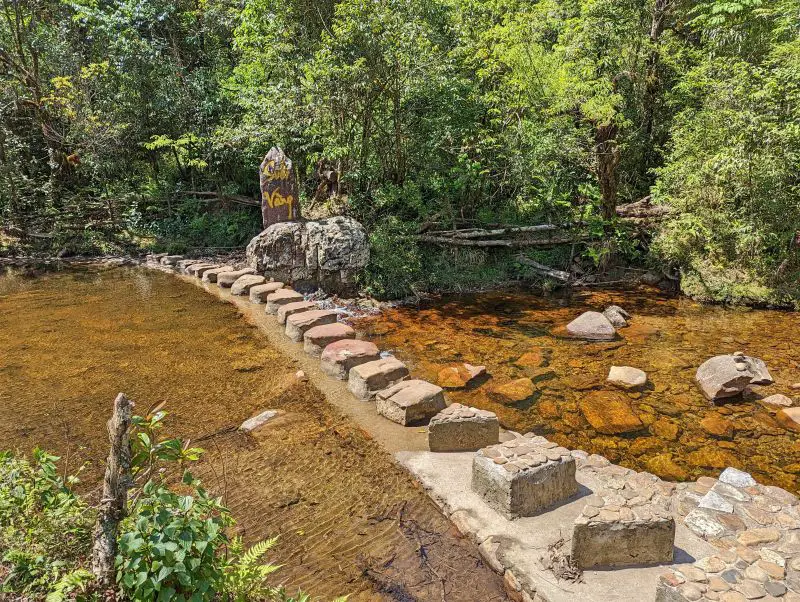 At the fork, there were two ways to reach the waterfall. 
Going left required a short hike through the forest. The hike was not intense but did require some climbing. It's great for those who want a mini hiking adventure and to have a short cardio burst. 
Going right was the flatter route next to the river (the Golden Stream). There were nice views along the river. As a heads up, portions of the trail were muddy but it shouldn't deter you from not taking this route. 
Not sure which way to go? Try both! We went up the hiking route to the waterfall. On the way back to the parking lot, we walked along the river. 
Once we reached Love Waterfall, we were in awe at the beautiful cascades. The quietness and greenery of the jungle make it the perfect place to destress. 
It was super misty as we got closer to the falls, so prepared to get wet. 
The bottom of the falls had a heart shape made out of stone, which was perfect for the "love" theme. 
Many visitors went to the viewing platform to take a photo with Love Waterfall. 
TIP: Depending on the time of your visit, the sun could be in the photographer's face, so the waterfall gets washed out in the photo. We covered the phone with an umbrella or hat to lessen the lens flare in the photo.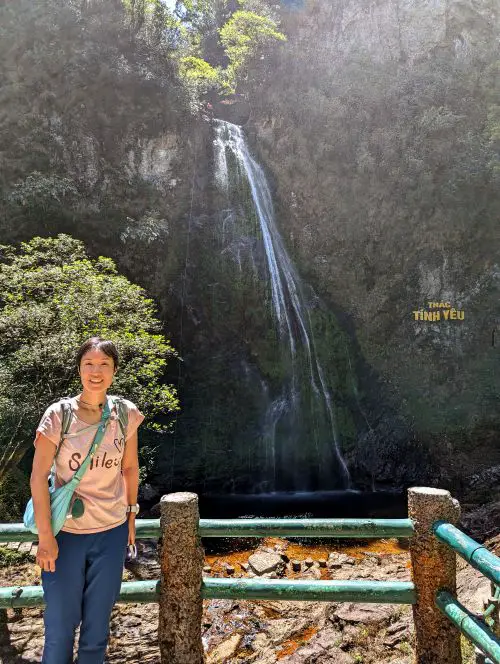 At the top of the falls, we saw a few people preparing to rappel down Love Waterfall. We didn't see them descend but it was cool to see that there is another unique way to see this waterfall. 
We enjoyed how this place wasn't crowded with tourists. The short walk to the waterfall may deter people from visiting, yet the fresh air and peaceful environment were worth the visit. 
---
Final Thoughts
Love Waterfall is a lovely attraction in Sapa to visit. We recommend that you stop by here if you have a few days in Sapa. 
You can easily combine this trip with a visit to Silver Waterfall or Fansipan to make it a complete day trip from Sapa City. 
Enjoy your time in Sapa!
Looking for other posts about Sapa? Check out our posts below: