Is it worth visiting Silver Waterfall (Thác Bạc in Vietnamese) in Sapa, Vietnam? Yes, it is!  
After exploring Sapa for the breathtaking rice terraces views, hiking or taking the cable car to Fansipan Peak, and trekking to various ethnic minority villages for a few days, visiting Silver Waterfall is a nice change of pace. 
Located only 20 minutes from the city center, it's easy to reach this popular tourist attraction. You can also combine visits to other nearby local attractions as a day trip from Sapa. 
What is fantastic about Silver Waterfall is that it's one of the best waterfalls in Vietnam. If you're a waterfall chaser, you'll love the gorgeous cascades at 200 meters (656 feet) high and the surrounding greenery on the mountains.  
In this Silver Waterfall guide, we'll share tips on how to visit here, what to expect, admission costs, and more. 
*Disclaimer: This post contains affiliate links. If you click on them and make a purchase, we receive a small commission. There is no additional cost to you. Appreciate the support.
---
We recommend that you buy a SIM Card at Hanoi Airport (Noi Ba International Airport) or set up a Vietnam eSIM before your arrival. It's important to have access to data when traveling in the country.
For those in the U.S. who are looking for an international phone plan, consider Google Fi (formerly Google Project Fi). We love this phone plan and have used it since 2016. We get access to data and text in 200+ countries. There are no additional costs to the data plan. Learn more and try it for free here.
---
Do You Need a Tour Guide to Visit Silver Waterfall?
No, it's not necessary to have a tour guide for Silver Waterfall. 
Everyone follows the same walking route to see the waterfall. Since the route is one-way, it's easy to navigate on your own.  
But if you're looking for tour options with transportation, here are options to consider: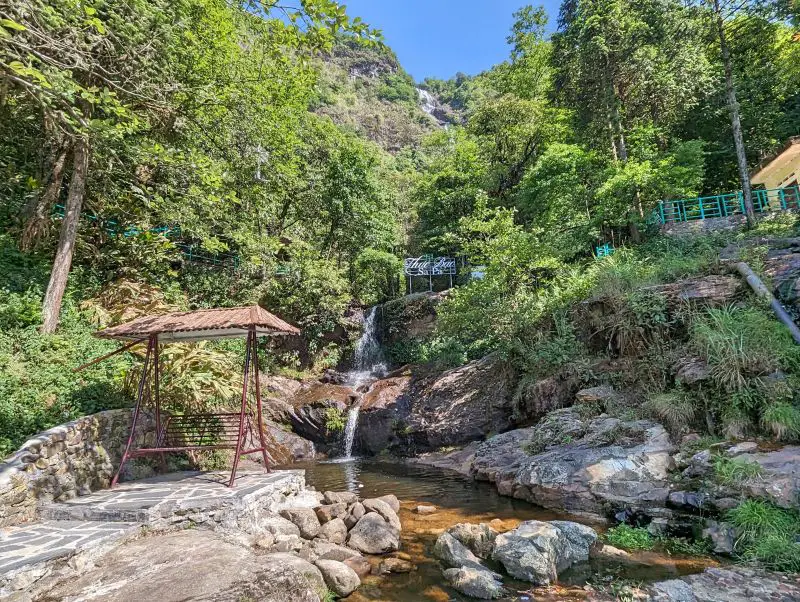 ---
How to Get to Silver Waterfall from Sapa
Silver Waterfall is located 12 kilometers (7.5 miles) from Sapa city center and will take around 20 minutes to reach there by car. There are many different transportation options to consider. 
---
By Taxi
The easiest way is to hire a taxi from the Sapa city center. Many taxi drivers wait for passengers in front of the Sapa Station, so you can hire one from there. 
You'll need to inquire whether the taxi driver will charge by metered distance or a flat fee for the round trip. 
My mom and I took a taxi, and the driver charged us 500,000 VND ($21 USD) for the round trip. We went to Silver Waterfall, Love Waterfall, and Heaven Gate (Khu Du Lịch Cổng Trời Ô Quy Hồ), a scenic spot and tourist attraction. 
---
By Private Driver
Many of the tours mentioned in the previous section have private drivers. The drivers are not tour guides (unless stated in the tour program), so they will wait for you in the parking lot. 
---
By Motorbike
If you've rented a motorbike, feel free to drive directly to Silver Waterfall from the Sapa city center. 
Click here to book a motorbike rental.  
Please remember to wear helmets as the roads are windy. 
---
Parking at Silver Waterfall
Parking is on the side of the road and nearby the waterfall exit area. 
---
When to Visit Silver Waterfall
The waterfall is open from 7:00am to 5:00pm. You can visit the waterfall at any time of the day. 
We visited at 9:00am, and it was quiet for a few minutes. Afterward, other groups arrived to see the waterfall.
---
Silver Waterfall (Thác Bạc) Admission Cost
The cost is 20,000 VND ($.84) for adults and 10,000 VND ($.42) for children. Cash is only accepted as payment. 
With the low ticket cost, this is a budget-friendly place to visit in Sapa. 
---
Things to Know Before Visiting Silver Waterfall
Silver Waterfall can be viewed from the main road (QL4D). But it's recommended to pay for the admission and walk closer to the waterfall. 
It's a quick visit to Silver Waterfall. Expect to spend around 10 to 15 minutes exploring Silver Waterfall.
Visitors cannot swim at the bottom of Silver Waterfall. There isn't a way to visit the bottom of the falls as it's blocked. Therefore, it's not necessary to wear a swimsuit here. 
Follow the walking path. It's only one way in and out so this helps with traffic flow. 
Walking up the stairs is required to view the top section of the waterfall. The concrete stairs are sturdy. Visitors with knee, leg, or mobility issues can hang out in the bottom area and view the waterfall from there. 
Silver Waterfall (Thác Bạc) Experience
After paying for the ticket at the ticket office, we walked through the gate and were instantly in awe at Silver Waterfall. At the base, there was a pretty view of the waterfall. 
But we knew there was more to come. We followed the sign to go up the stairs. 
We reached another viewpoint at the halfway point.
This time, we saw the top of the waterfall, a bridge, and the "Khu Du Lịch Thác Bạc" sign (translate to "Silver Waterfall Tourist Area"). It was hard to get a clear photo of the waterfall due to the turquoise fencing, but it was still a nice view. 
After some more stairs, we were finally on the bridge and saw a closer view of the peak of the waterfall. The bridge has awesome views of the water cascade rushing down to the bottom of the area. 
Considering that we visited in mid-May, at the start of the summer season, we were surprised to see a good water flow rushing down. 
As we descended, we stopped by a covered rest area to take another photo of the waterfall.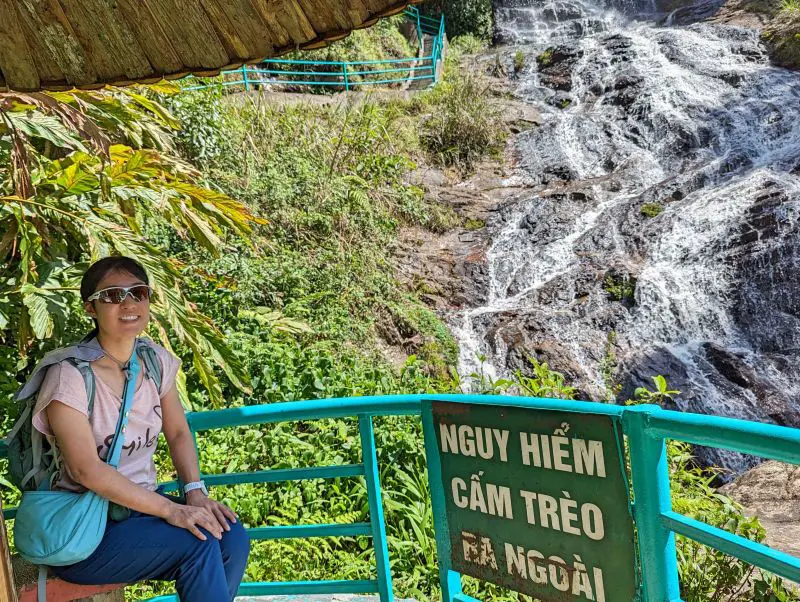 Then we exited and continued our journey to the next waterfall, Love Waterfall. 
Overall, we appreciated the quick visit to Silver Waterfall. 
---
Final Thoughts
If you have a few days in your Sapa itinerary, you'll want to visit Silver Waterfall. With its convenient location and well-maintained walking path, it's a beautiful waterfall to check out.
Afterward, consider exploring Love Waterfall as it's only a few kilometers from Silver Waterfall. 
Happy waterfall chasing! 
Check out the other Sapa posts that we've written: